Easy and Delicious Vegan Rock Cakes (Updated 2023)
This post contains links to affiliate websites, such as Amazon, and we receive an affiliate commission for any purchases made by you using these links. We appreciate your support!
Vegan Rock Cakes, buttery, sweet, old-fashioned and so simple to make, I love cakes that remind me of my nan and this was her favourite recipe!
PIN my Vegan Rock Cakes to make later
If you love these simple old-fashioned bakes, you might like my spiced cake buns, Chelse Buns, vegan apple crumble or traditional vegan Eccles cakes or sultana loaf, all of which are so simple to make!
Rock cakes are little cakes for the tin that last for about a week, or however long your family can resist them! My grandma made them for many, many years, seemingly without using a recipe, just eyeballing the ingredients until the dough felt "right" and then dolloping it out on baking sheets.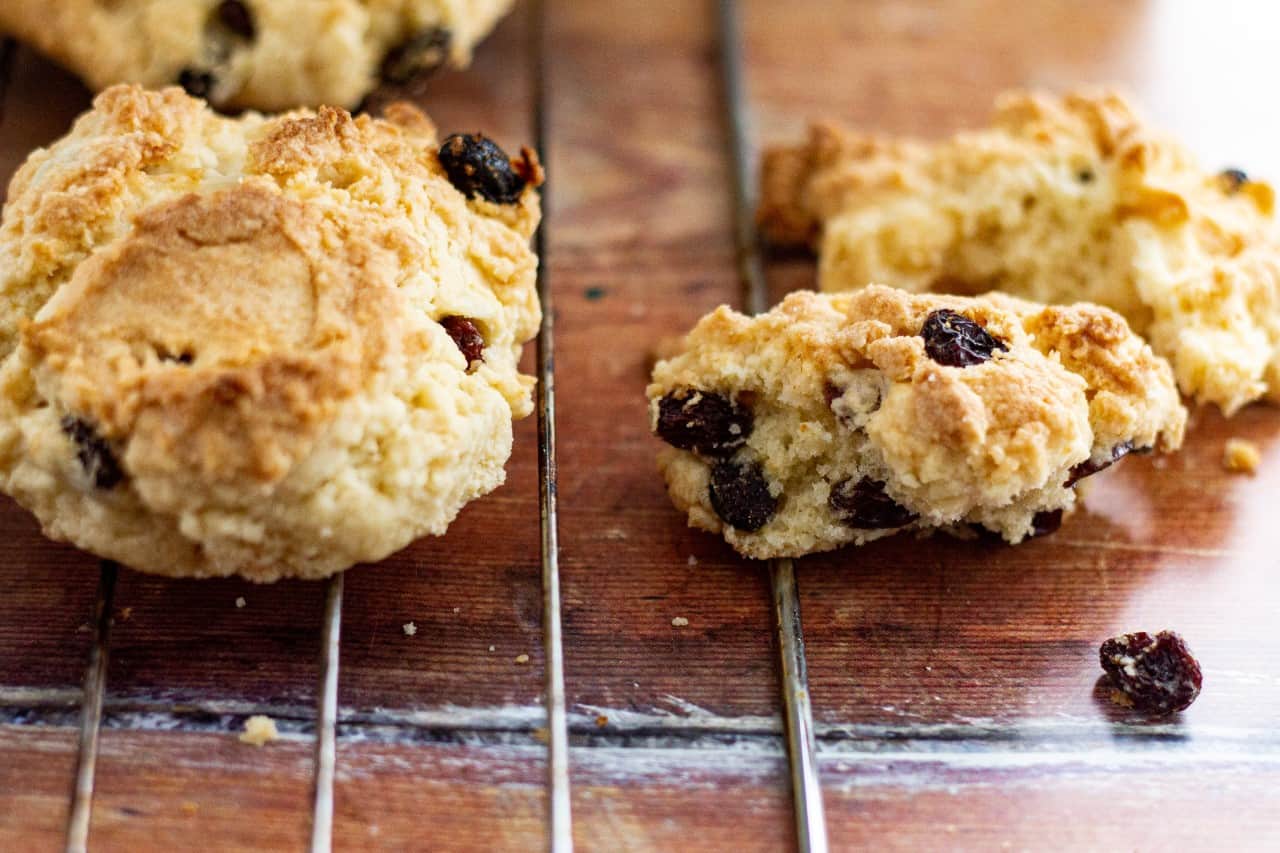 But What Are Rock Cakes?
You may have encountered Rock cakes in cookery classes at school, where some of the first things you learned to cook were cupcakes, buns or rock cakes, their simplicity and almost foolproofness making them perfect for indelicate little hands to make.
Mrs Beeton has a recipe for them in her classic 1861 Book of Household Management, so one would assume that the recipe is actually from further back than that.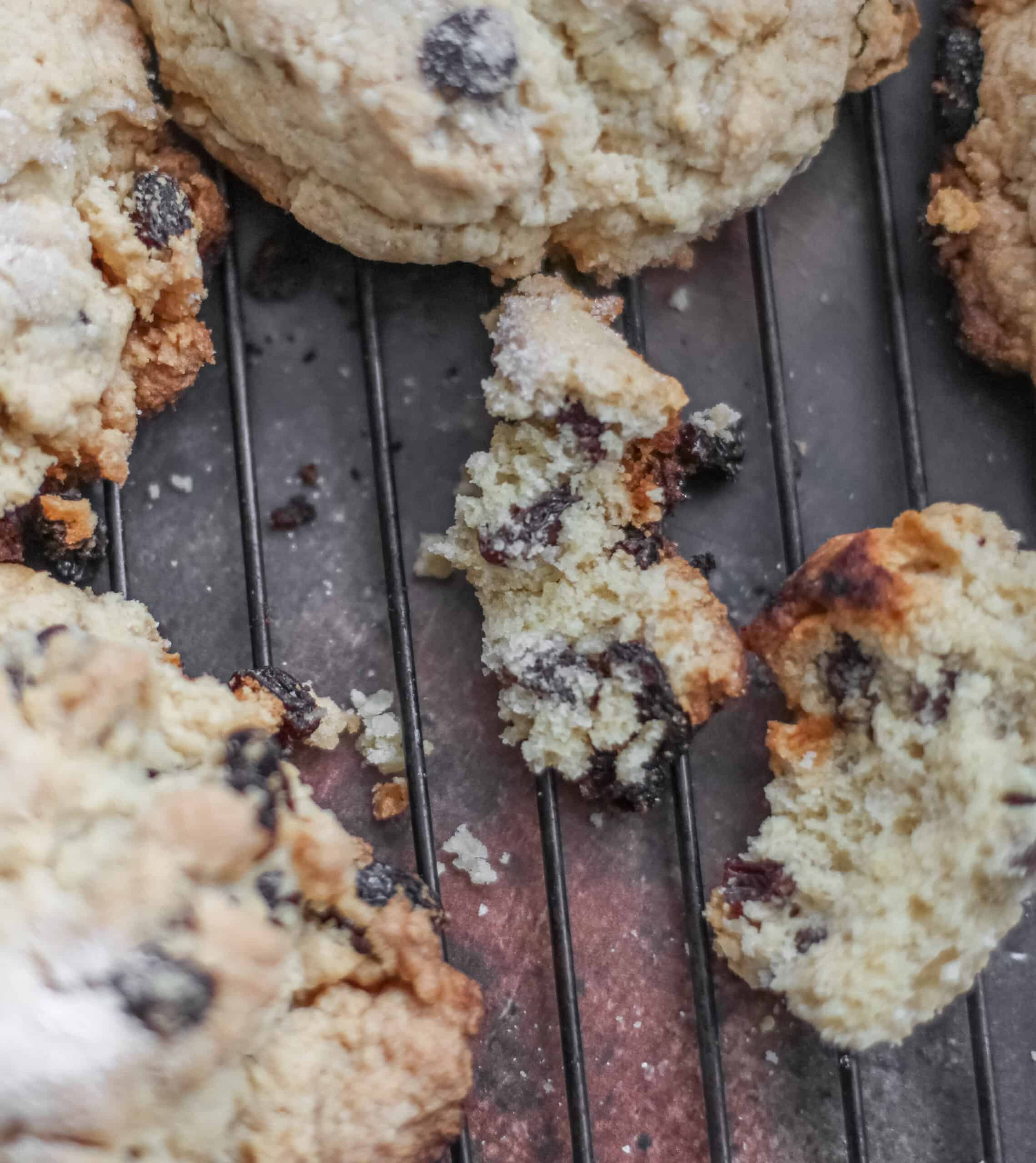 In fact, they became extremely popular during the second world war as a cheaper treat, the traditional recipe only uses one egg (which I've replaced here with egg replacer), and little sugar, relying instead on dried fruit to add sweetness. My recipe does use a little more sugar because I prefer them on the sweeter side, but feel free to halve the sugar quantity if you'd rather.
Because they are nubbly, bumpy little cakes, they were given the rather unappealing name of Rock cakes, which doesn't really do the flaky, sweet texture justice! However, one bite of them, especially straight from the oven, and you will fall in love with this simple, old fashioned treat. Crunchy on the outside, meltingly soft on the inside, I love them plain, but my grandad loved his served with a little strawberry jam and butter, a bit like a scone!
What is the difference between Rock Cakes and Scones?
Rock cakes are very similar to scones (see my recipe for vegan scones here) in both taste and texture, light, sweet, flakey, slightly crumbly, buttery cakes, studded with raisins and dropped in dollops onto your baking sheet. That's where the difference is between scones and Rock cakes (also called Rock Buns): Scone dough is rolled out and rounds are stamped out using cutters, giving a uniform shape that is perfect for splitting and filling with jam and cream.
Ingredients: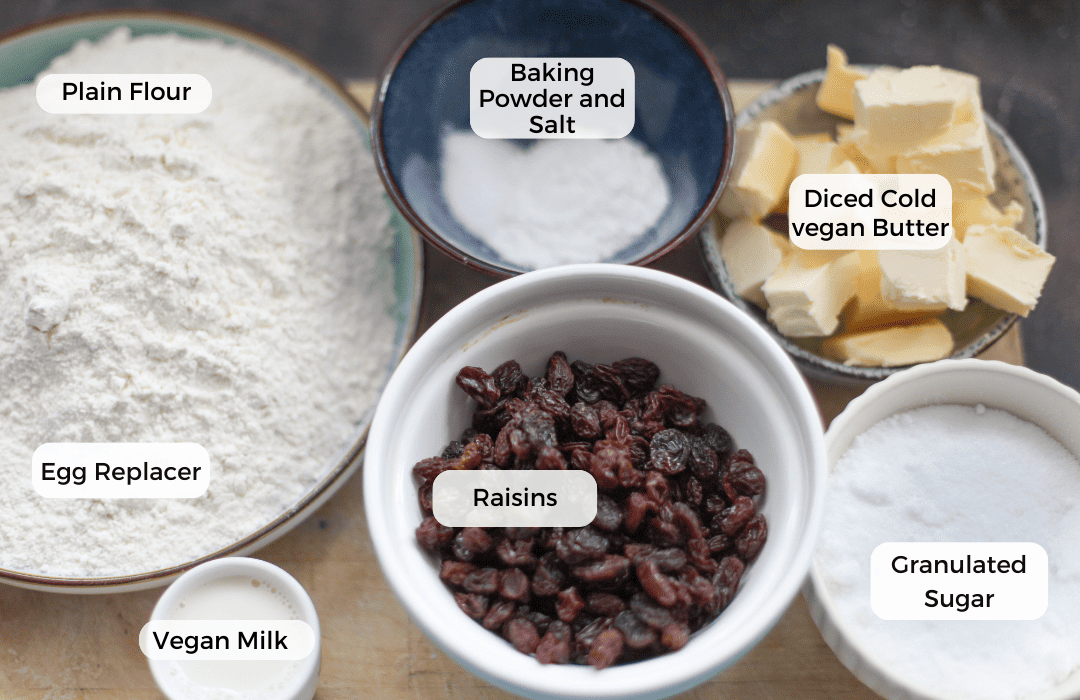 Plain Flour or all purpose flour. You can use gluten free flour but you may need a little more or less liquid. GF flour has slightly different properties to normal flour and can be more or less absorbent of liquids.
Baking Powder. Just to help give these little cakes a bit of a rise, but most importantly, their delicious flaky texture.
Sugar. I use white granulated. I also love to sprinkle some on the top for a little crunch!
Vegan Butter, cold cold cold. You can also use Vegan Margarine if that's all you have.
Pinch sea salt. A pinch of salt in baking always helps balance and round out flavour.
Egg Replacer whisked up water. I've written before about vegan egg replacers and, in this instance, powdered egg replacer (such as Orgran) is perfect because it doesn't add too much additional liquid to the mixture.
Raisins or Sultanas. My grandma used to traditionally use currants, but I don't like them!
Soy Milk or dairy free milk of your choice, to help bind the mixture. You could use almond milk, oat milk, cashew milk or coconut milk.
This is ONLY a list of ingredients for the recipe; please see recipe card below for complete printable recipe.
Method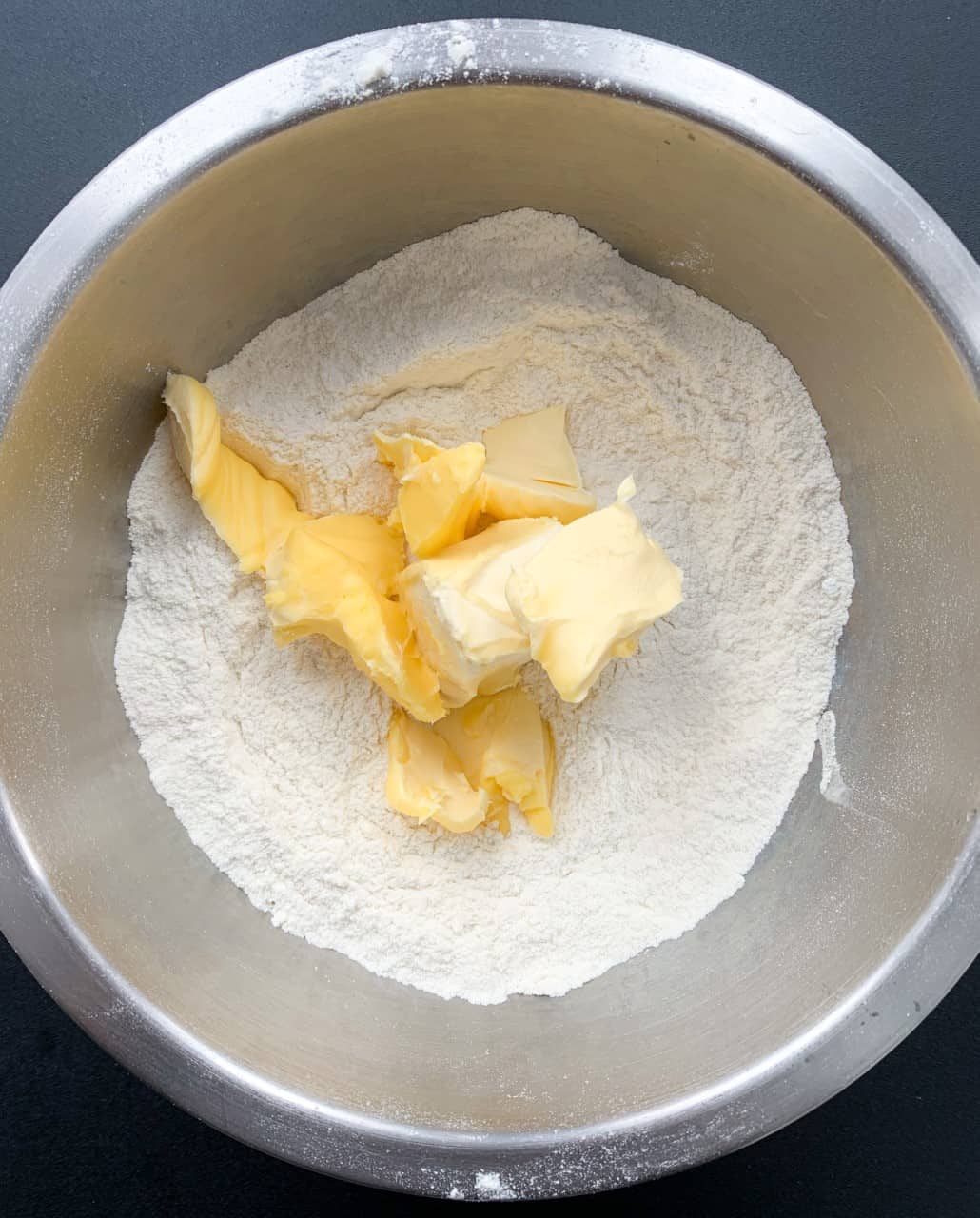 They are so easy to make, and Rock Cakes are easy to make vegan too! I love any sweet treat that I can make in less than an hour and these definitely fit the bill.
Firstly, rub together the flour, baking powder, sugar and vegan butter until you have a breadcrumb texture. Rubbing simply means gently working the fat into the flour using your thumb and forefingers. It also helps to aerate the mixture, giving a light texture.
Then mix in your prepared vegan egg and dried fruit. I nearly always use Orgran No Egg Replacer in my baking as I find it the most reliable replacer on the market.
Finally, bring your mixture together. You might need to add a little milk to get a cohesive texture. You don't want to beat the mixture as you will lose the light texture, so if it still looks a little lumpy, that's fine. Don't overmix!
Then, very gently, pull small apple sized balls of the dough off your mixture and drop onto a lined baking sheet.
Bake for about 25 minutes or until lightly golden brown. That's it!
Can I Make Gluten Free Rock Cakes?
Yes! Simply exchange the flour for your favourite gluten free flour mix. You might need to add a little extra milk to bind the mixture, as GF dough can be a little bit crumbly and temperamental to work with!
Additions to your Rock Cakes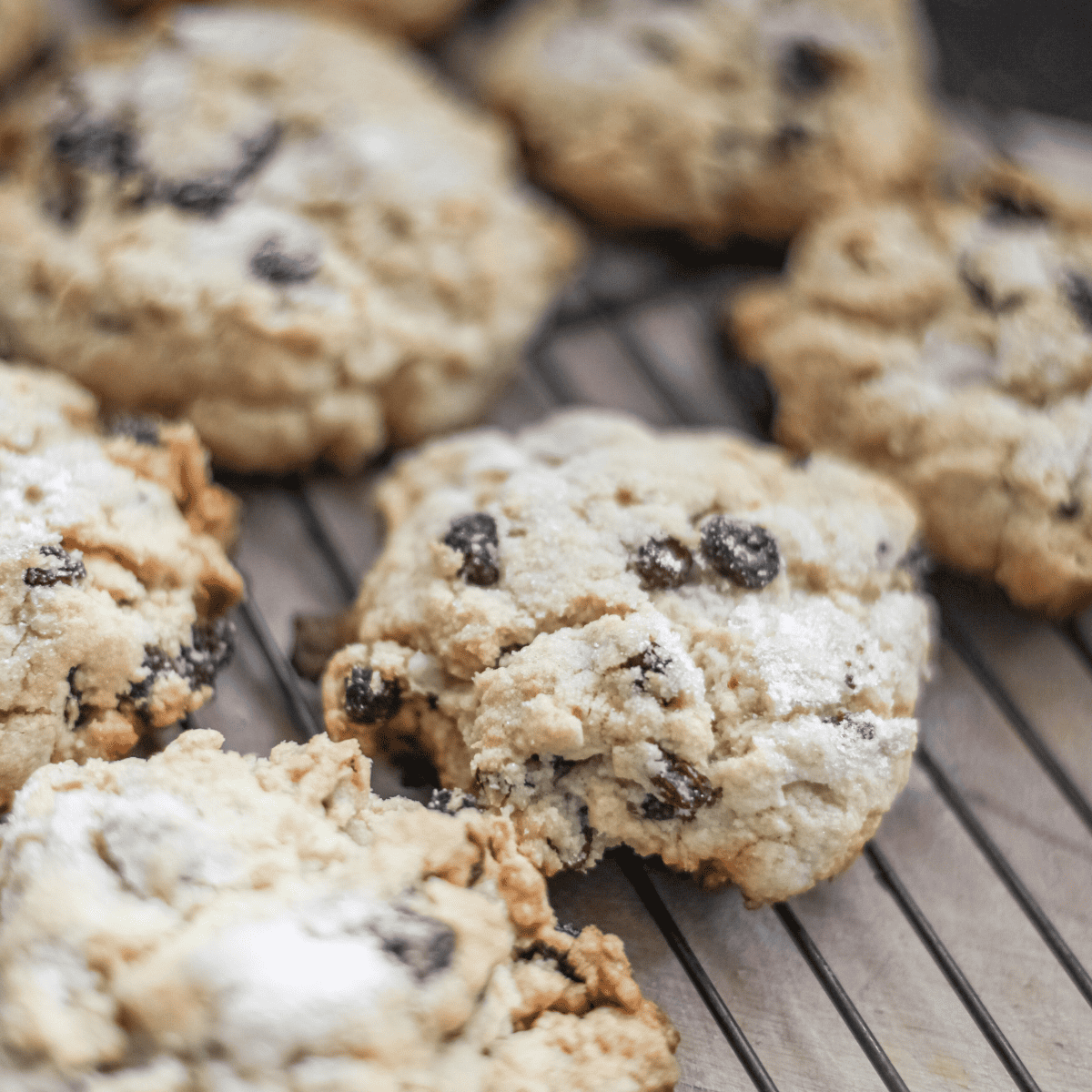 You can personalise your Rock Cakes in several different ways!
Dried cranberries instead of raisins
Chocolate Chips instead of raisins
Add some spices, mixed spice or ginger would make a delightfully festive flavoured Rock Cake!
FAQ
Can I freeze vegan Rock Cakes?
You can! They freeze really well, just bake and cool them completely. Place them in a freezer safe container. To thaw, simply remove how many you need from the freezer and bring up to room temperature. You could warm them through in the microwave if you like .
Can I make Gluten Free Rock Cakes?
Yes! Simply use your favourite gluten free blend of flour. You may need to add a little more milk to help the mixture become cohesive.
Try my other delicious vegan baked treats
How to Make Vegan Rock Cakes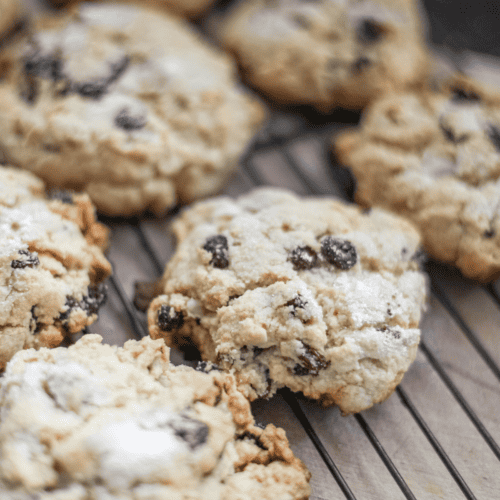 How to make the Old Fashioned favourite, a super quick recipe!
Ingredients
350

g

Plain Flour

2

tsp

Baking Powder

¼

tsp

Salt

150

g

Sugar

175

g

Butter

vegan, cold and cubed (or use margarine)

1

tbsp

Egg Replacer whisked up with 2 tbsp cold water

160

g

Raisins

or sultanas

2

tbsp

Soy Milk

or plant-based milk of your choice (you may not need to use all of it)
Instructions
Preheat your oven to 190c

In a large bowl, whisk together the flour, salt, sugar and baking powder.

Now, add the butter/margarine and gently rub this into the dry mixture until you have breadcrumb texture

Now add the raisins, distributing through the mixture using a wooden spoon

Add the egg replacer and stir thoroughly until the mixtures starts to clump together

Add a tablespoon of milk and keep gently mixing until the clumps get bigger and are sticking to the back of the wooden spoon. If you can pick up a clump and it adheres, then you're ready to do!

Now, older recipes say to drop forkfuls of the mixture onto your baking sheet, but I prefer to pinch off large hunks (about the size of a satsuma) and drop them onto the sheet like that.

You should get between 10-12 rock cakes from the mixture. No need to flatten them down.

Bake for about 25 minutes or until light golden brown.

Remove from oven, let cool for 5 minutes on the baking sheet, then remove to a cooling rack.
Nutrition Facts
How to Make Vegan Rock Cakes
Amount per Serving
% Daily Value*
* Percent Daily Values are based on a 2000 calorie diet.