Comforting and Cosy Vegan Fruit Crumble Recipe
There is no dessert that says "hug in a bowl" like a warm crumble drenched in custard or ice cream. My vegan crumble is quick to make and tastes scrumptious!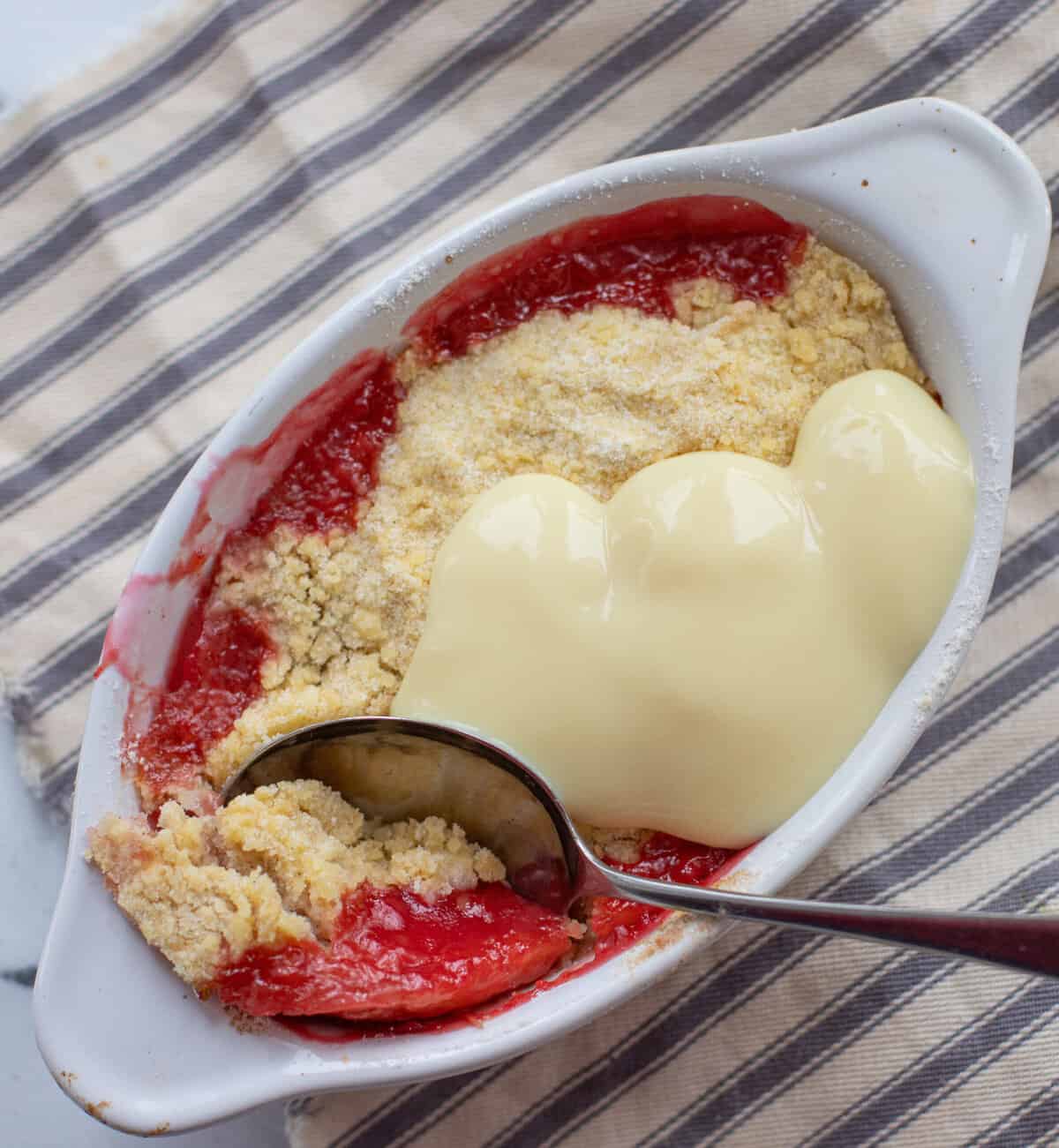 The perfect winter dessert, yet a decent crumble can be made all year round, utilising the best fruit of the season, be it rhubarb, blackberries, pears, raspberries etc.
This was inspired by my old-fashioned vegan gingerbread cake, quick vegan apple turnovers and my nans rock cakes, all absolute classics!
This vegan apple crumble is inspired by a recipe from a vintage Cranks cookbook and it uses a mixture of white and wholemeal flour to give a nutty, crunchier taste to the crumble. It also uses brown sugar instead white, adding a rich depth of flavour to both the apples and the topping.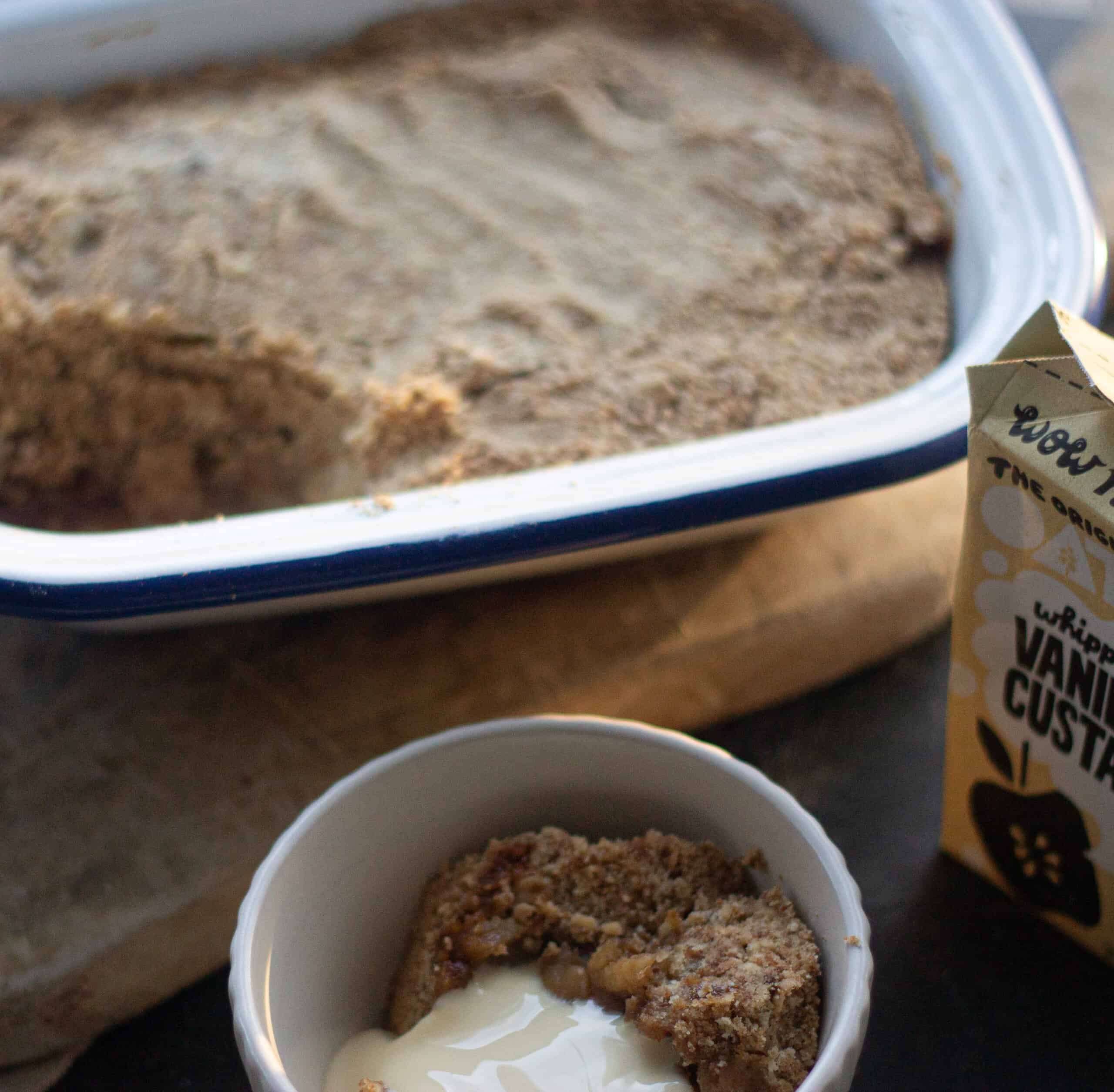 What is a Crumble?
A crumble is a simple and cheap dessert, made using stewed fruit, sprinkled with butter, sugar and flour rubbed together. This topping, not quite pastry, not quite cake is one of the simplest, humblest pudding elements there is.
You can make your crumble a bit more fancy if you like: try adding some oats or crumbled granola to your flour/sugar/butter mix. Add some blackberries to the apples, or try rhubarb and ginger. There are lots of options, but my favourite will always be the way I had it as a girl, with simple stewed apples.
How do you make a Crumble Topping?
If you have never made pastry or a crumble topping, you might not know what I mean by "rubbing in".
What this term means is to rub the fat element (be it butter, margarine or lard) into the flour using your fingertips. So if you imagine that you have got something sticky on your fingers and you rub your thumb and fingers together to try and get it off, that's the motion you need to apply to rub fat into flour.
You want to keep rubbing the fat into the flour until the mixture resembles coarse sand and no large lumps of fat are present in the flour.
Ingredients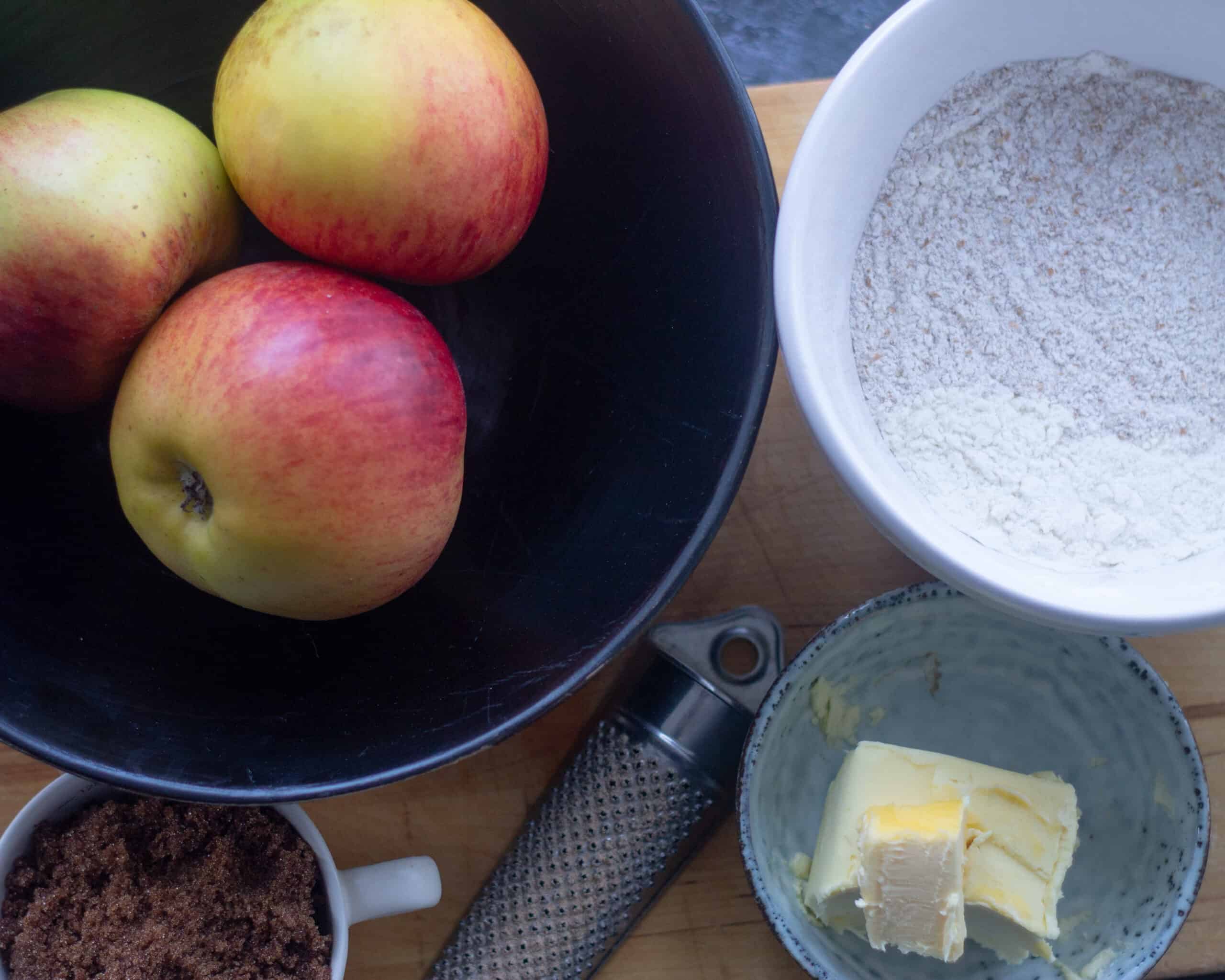 apples. I use a mixture but you could use all cooking, or all eating
brown sugar, to add a rich, caramel sweetness
flour
vegan butter
This is ONLY a list of ingredients for the recipe; please see recipe card below for complete printable recipe.
Instructions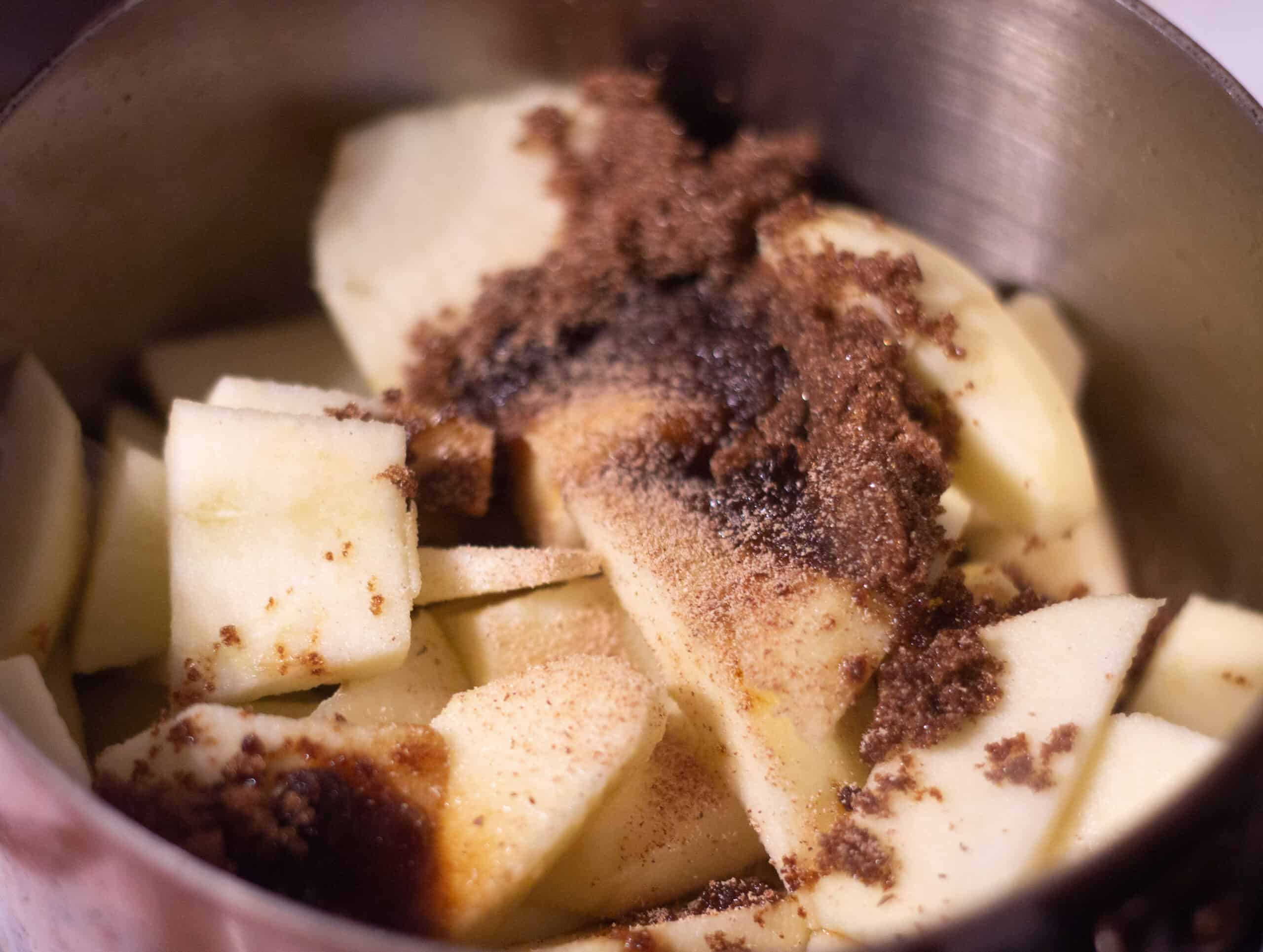 Peel, core and chop the apples. Place in a saucepan with the water, sugar and spices (if using). Simmer until just starting to turn tender, but not collapsed.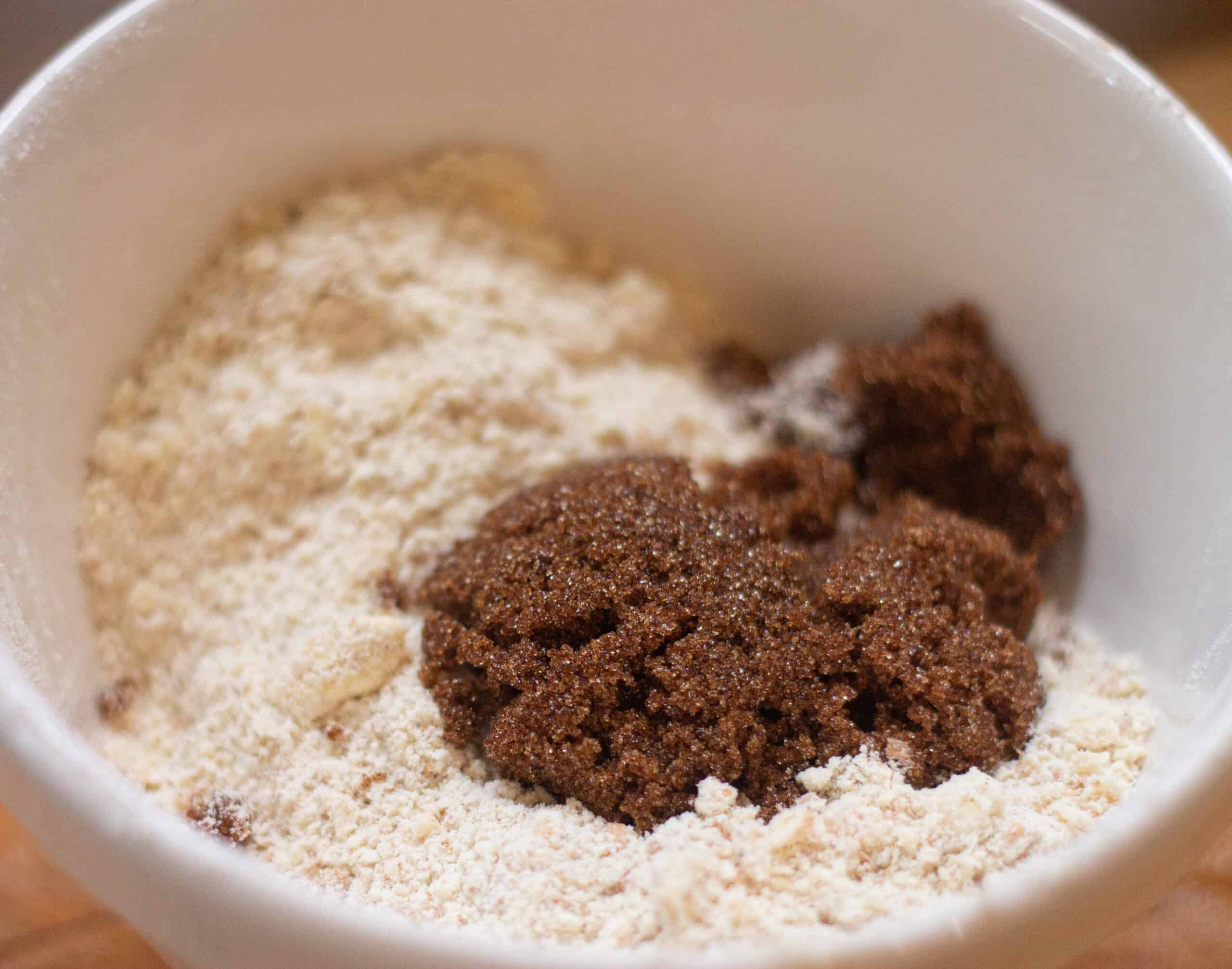 Whilst the apples are cooking, make the crumble topping. Rub together the flour and butter until you have a sandy consistency. Then stir in the brown sugar
Place the cooked apples in your baking tin and leave to cool for 5 mins or so.
Then sprinkle with the crumble topping, pressing down gently. Bake until golden.
Hint: try adding some chopped nuts, granola or oats to your flour mixture to give a delicious crunchy texture!
Substitutions
Apples – you could use plums, raspberries, pears, rhubarb, or any combination of your favourite fruits
Flour – use gluten free flour instead to make this gluten free
Storage
Crumble does keep OK, covered, in the fridge for a couple of days, although it does become increasingly stodgier as the days go by (not that I mind that). I recommend warming it up and adding extra custard!
Top tip
You can prep crumble earlier in the day if you want to serve it in the evening or even the next day. Simply cook the apples and place in the baking dish. Make the crumble mix and store in a bowl, covered in the fridge. When you're ready to cook, simply sprinkle the crumble mix on top of the fruit and bake!
FAQ
How to I make a gluten-free crumble?
Easy! Simply swap out the plain flour for your favourite brand of gluten-free plain flour.
Simple Vegan Apple Crumble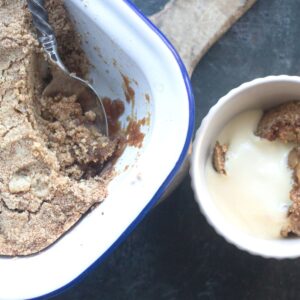 A classic and simple comfort pud
Equipment
1 22cm Baking Dish

I use an enamel pie dish
Ingredients
700

g

Apples

-

before peeling and coring, I use whatever apples I have in the house

3

tbsp

Water

50

g

Brown sugar

Nutmeg

-

freshly grated
Crumble topping
75

g

Butter

-

vegan

175

g

Flour

-

I used a mixture of 100g plain, 75g wholemeal

50

g

Sugar

-

I used brown sugar again
Instructions
Place the apples, sugar, water and a grating of nutmeg into a saucepan and bring to a gentle simmer.

Cook for about 10 minutes, or until the apples are starting to feel tender but are not collapsing.

Place in your baking dish and leave to cool whilst you prep the topping and preheat the oven

In a small mixing bowl, rub the butter into the flour until it resembles sand.

Sprinkle over the top of the cooled apple mixture. Gently press down the mixture.

Serve with custard or vanilla ice cream!
Please note that where the recipe asks for milk, butter or yogurt, this refers to any plant-based version that you prefer.
Nutrition Facts
Simple Vegan Apple Crumble
Amount per Serving
% Daily Value*
* Percent Daily Values are based on a 2000 calorie diet.