Spiced Peaches – A delicious edible gift
Spiced peaches recipe – as part of my Edible Gifts series, these simple Spiced Peaches make an unusual gift for the foodie in your life. Peaches soused in a brandy/clove spiced syrup served with any Boxing Day meal sound divine. but this is actually an old Southern recipe.
I think that any preserved or pickled fruits have such an affinity with the festive season, whether it's the bountiful Thanksgiving table, or table full of cold cuts on Boxing Day. Preserved food implies that a certain level of thought and care has gone into it: the idea of making something in the summer to be enjoyed in the winter requires a certain level of both forethought and organisation that I don't always have!
If you love the idea of making a handmade hamper for your loved ones, try adding my vanilla extract and vanilla sugar to basket! Or how about some dairy-free caramels, soft, chewy and so moreish or my fruity sugarplums!
I am always aghast that you can buy peaches in the winter, they are always tiny, mealy and hard, and even when ripe, they have no flavour.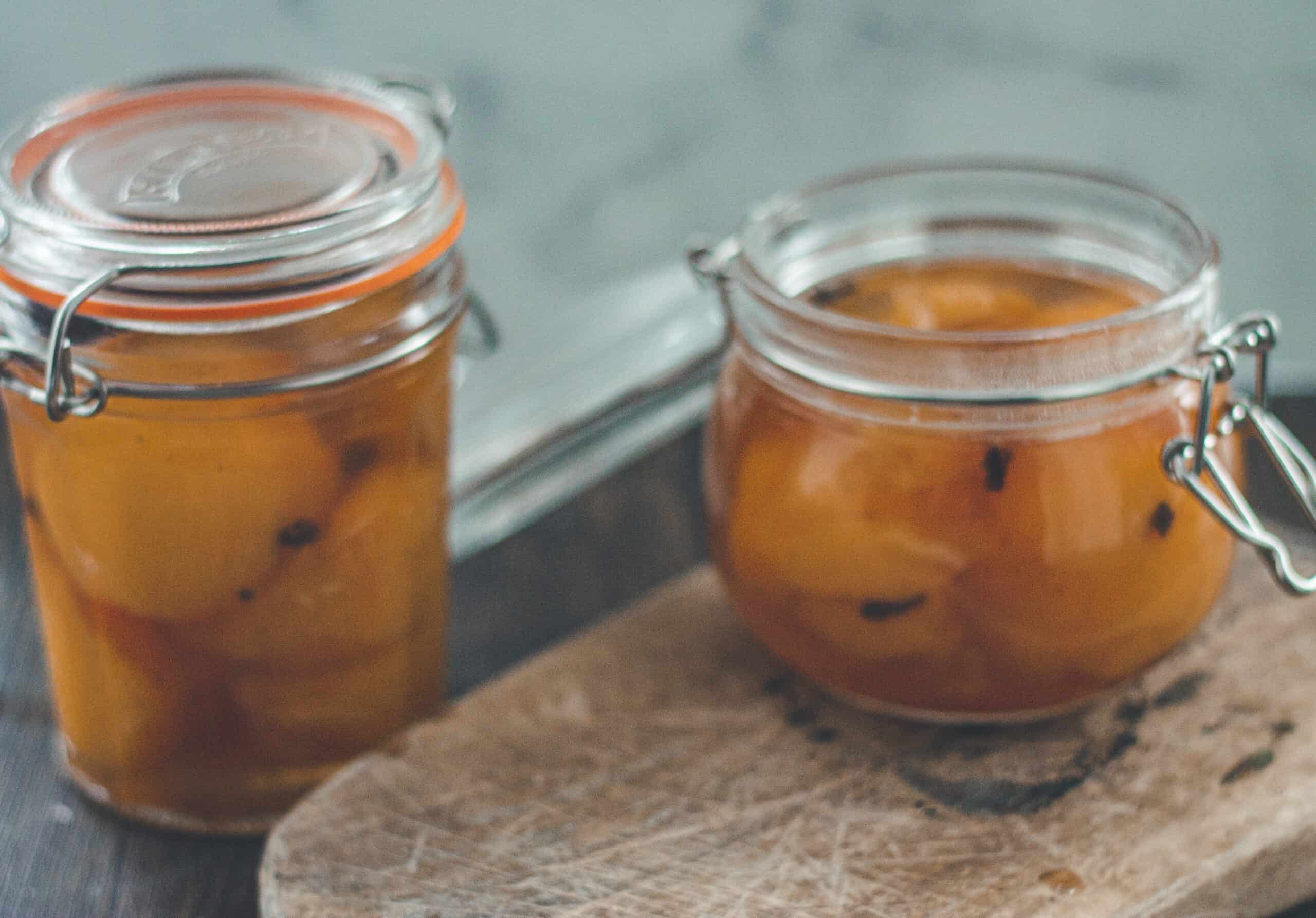 When I came across punnet after punnet of peaches reduced in Tesco the other evening (48p for 6!), I started to hatch a plan.
Even though peaches are in no way a festive fruit in the UK, they do seem to fit in perfectly with the other fruits of the season and serving them poached and spiced seems the perfect way to bring their unique fragrant flavour to the holiday season.
What are Spiced Peaches?
Spiced peaches are peeled peaches (I use a vegetable peeler to remove the velvety skin before poaching) that are simmered until tender in a spiced sugar syrup. The syrup is then bolstered with some brandy (to make them last a little longer) and placed in a jar. That's it! They really are super simple.
You can serve them with your vegan or otherwise charcuterie board, alongside the boxing day leftovers or in a large bowl on the thanksgiving table. You can also serve them with curries or diced up into cous cous.
Label for your Spiced Peaches
If you don't like my super basic Dymo labels, you might prefer to print up this classic, simple label for your bottles of Homemade Spiced Peaches. To print the label, right click on the image and open in new tab. Then save image as to your desktop. You should be able to resize and print the image from there.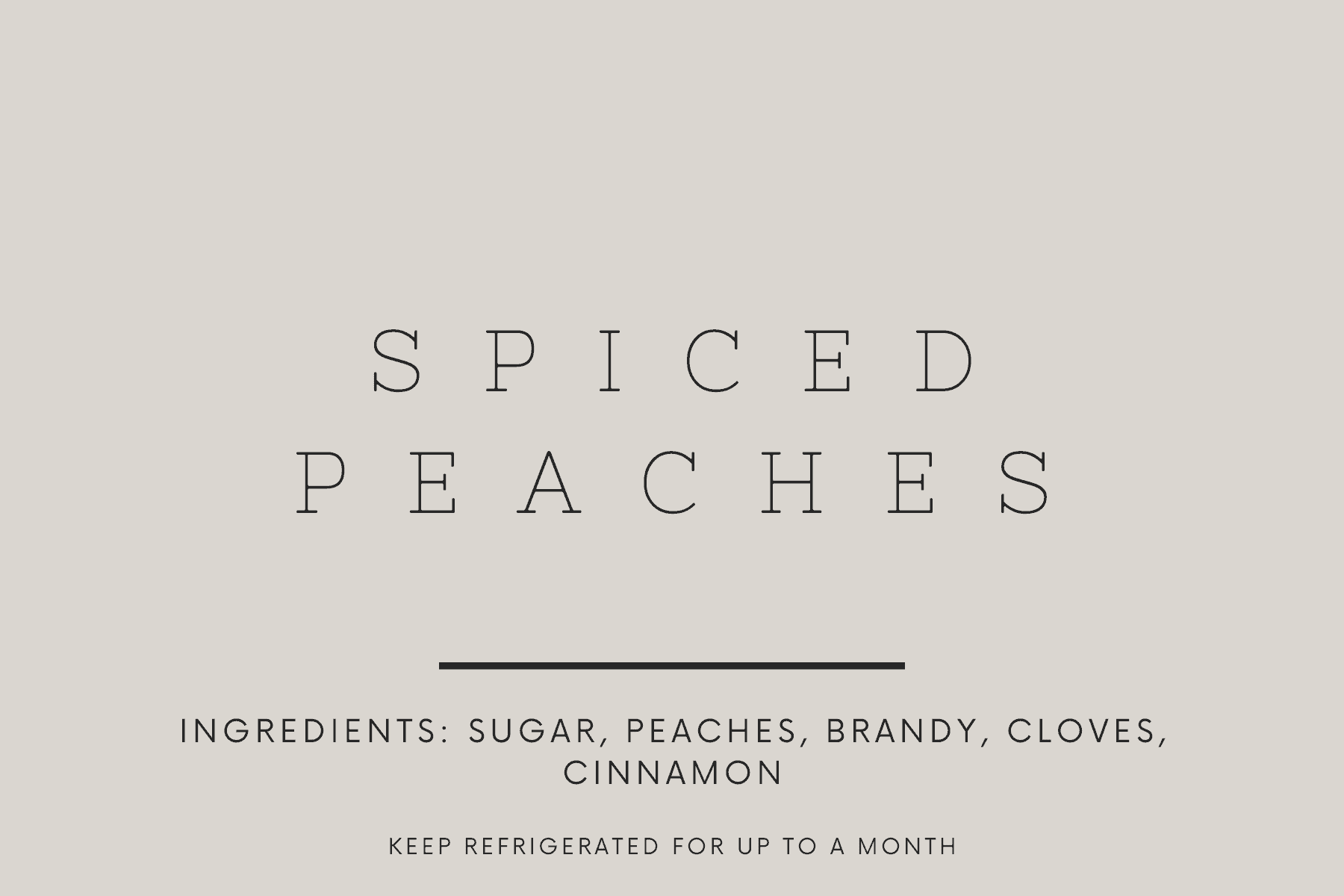 Ingredients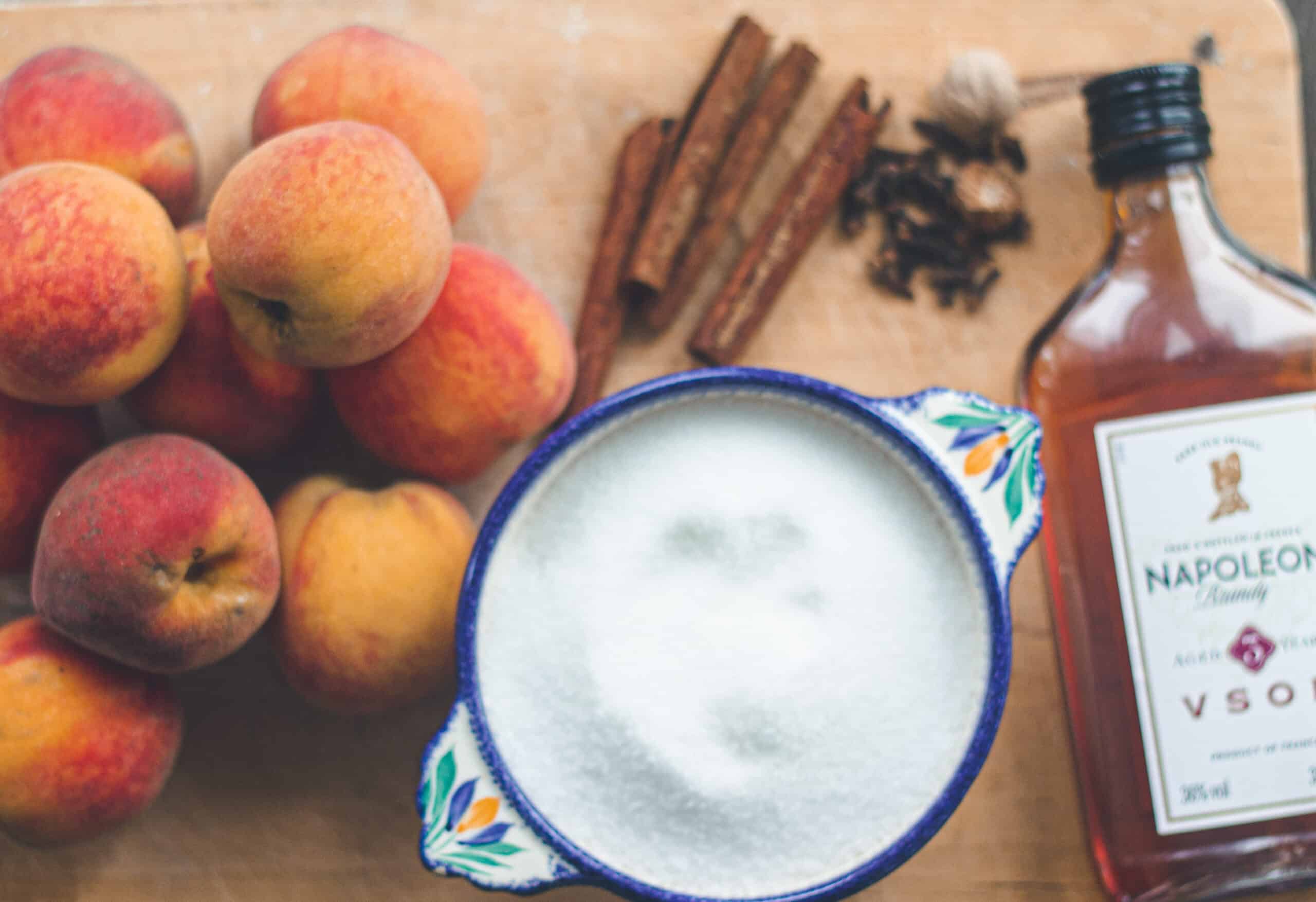 peaches
brandy
cloves and cinnamon sticks
sugar
See recipe card for quantities.
Instructions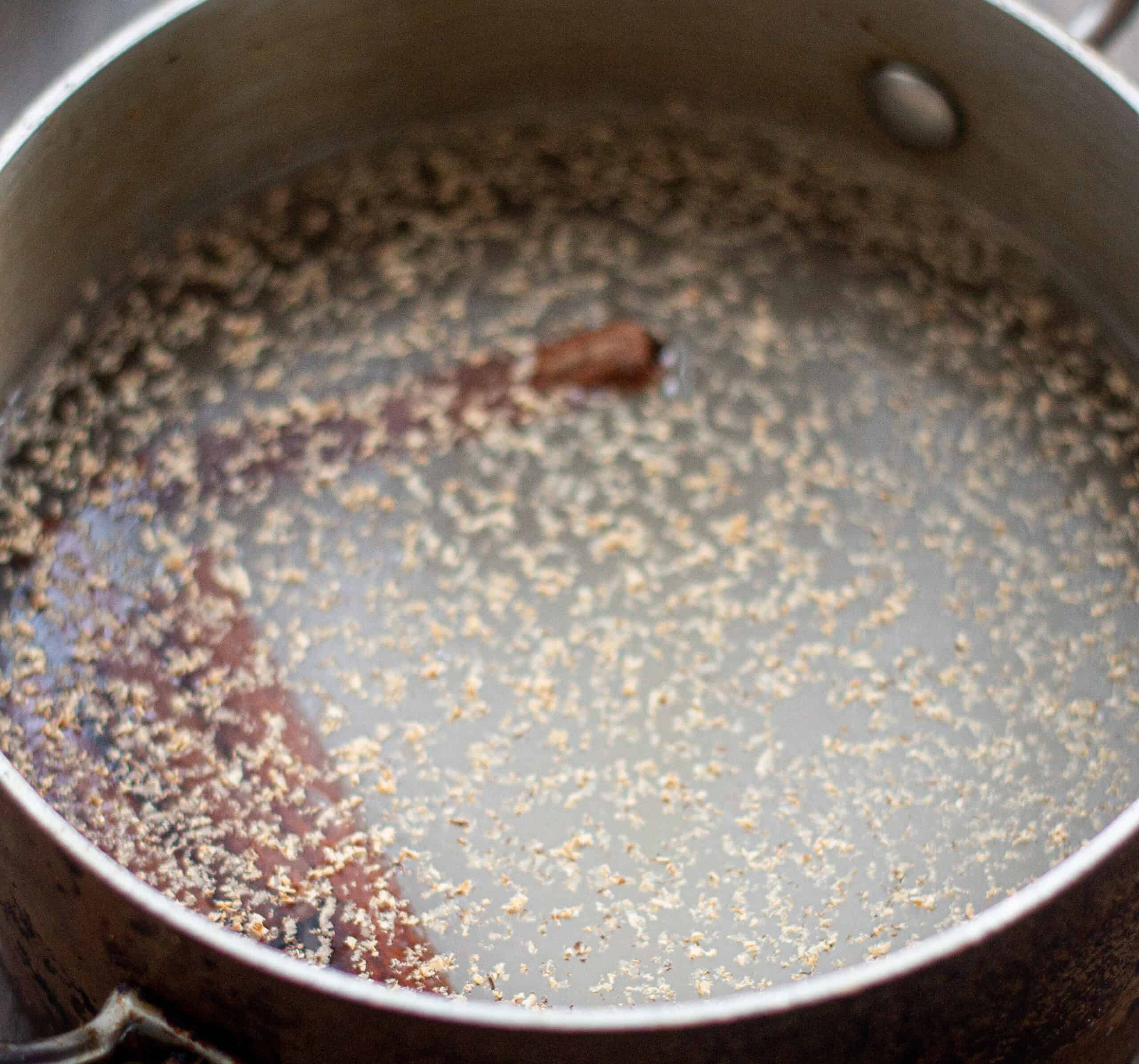 Dissolve the sugar in the water, and add the cinnamon sticks and grated nutmeg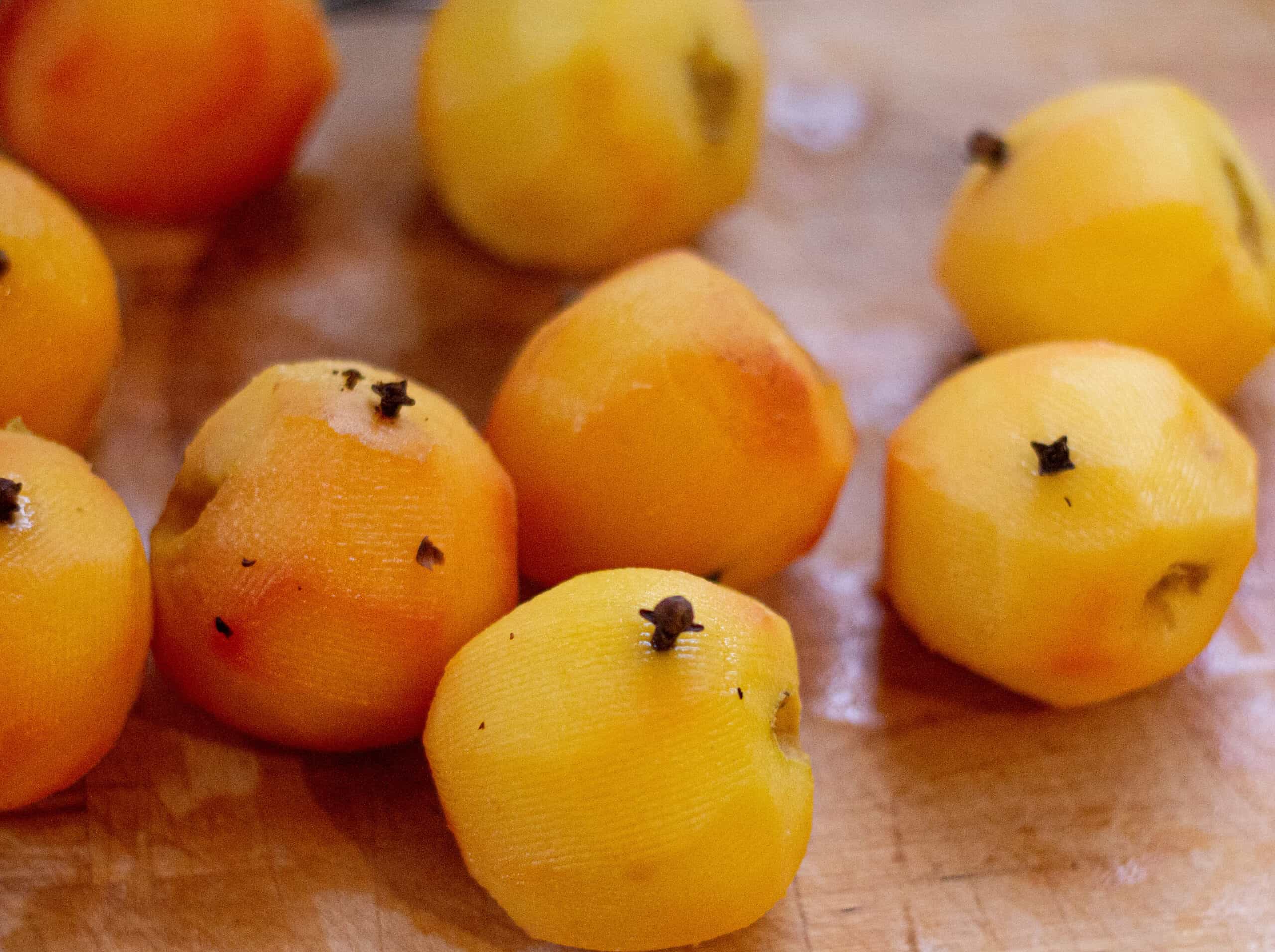 Peel the peaches and stud with whole cloves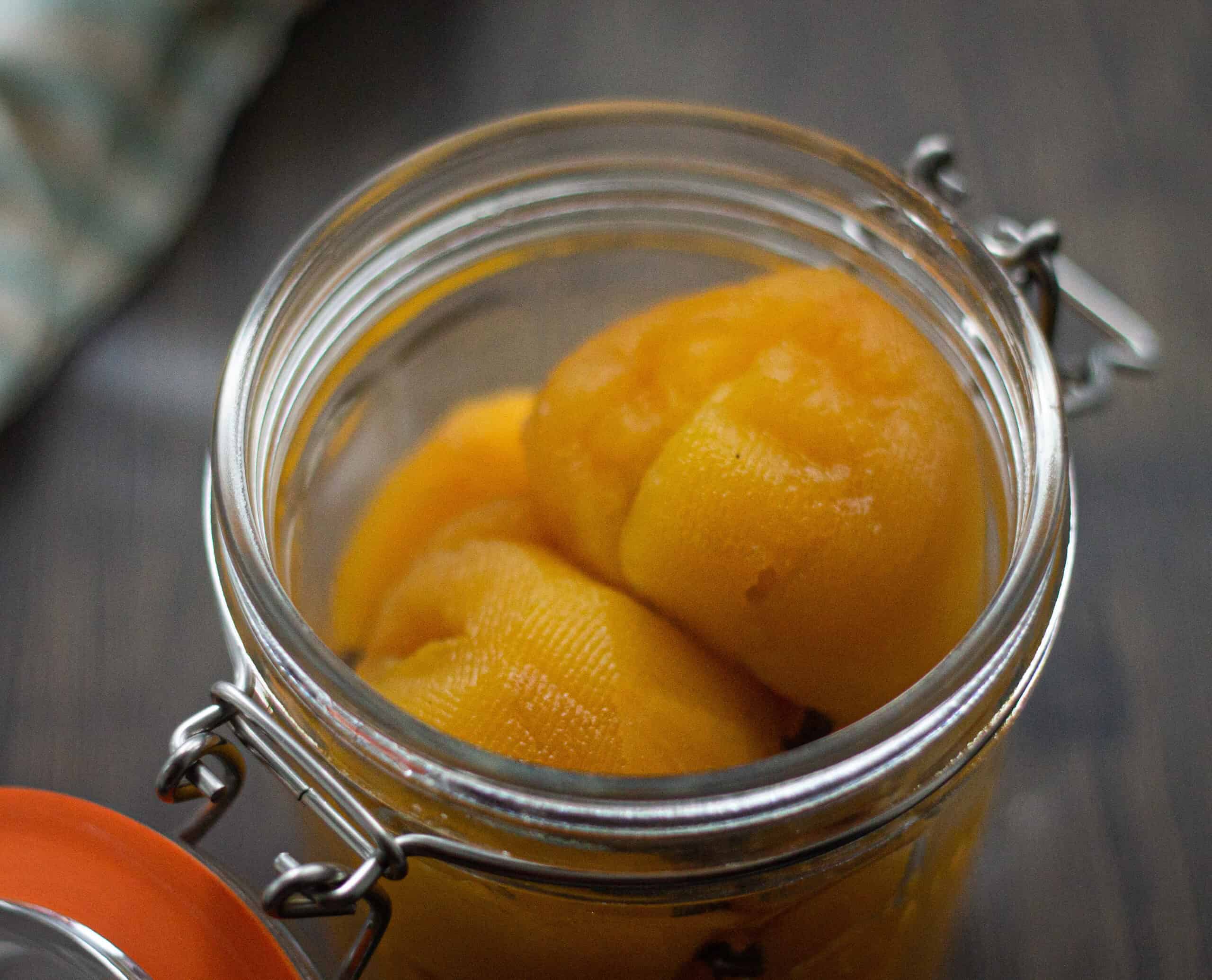 Place the simmered peaches into a jar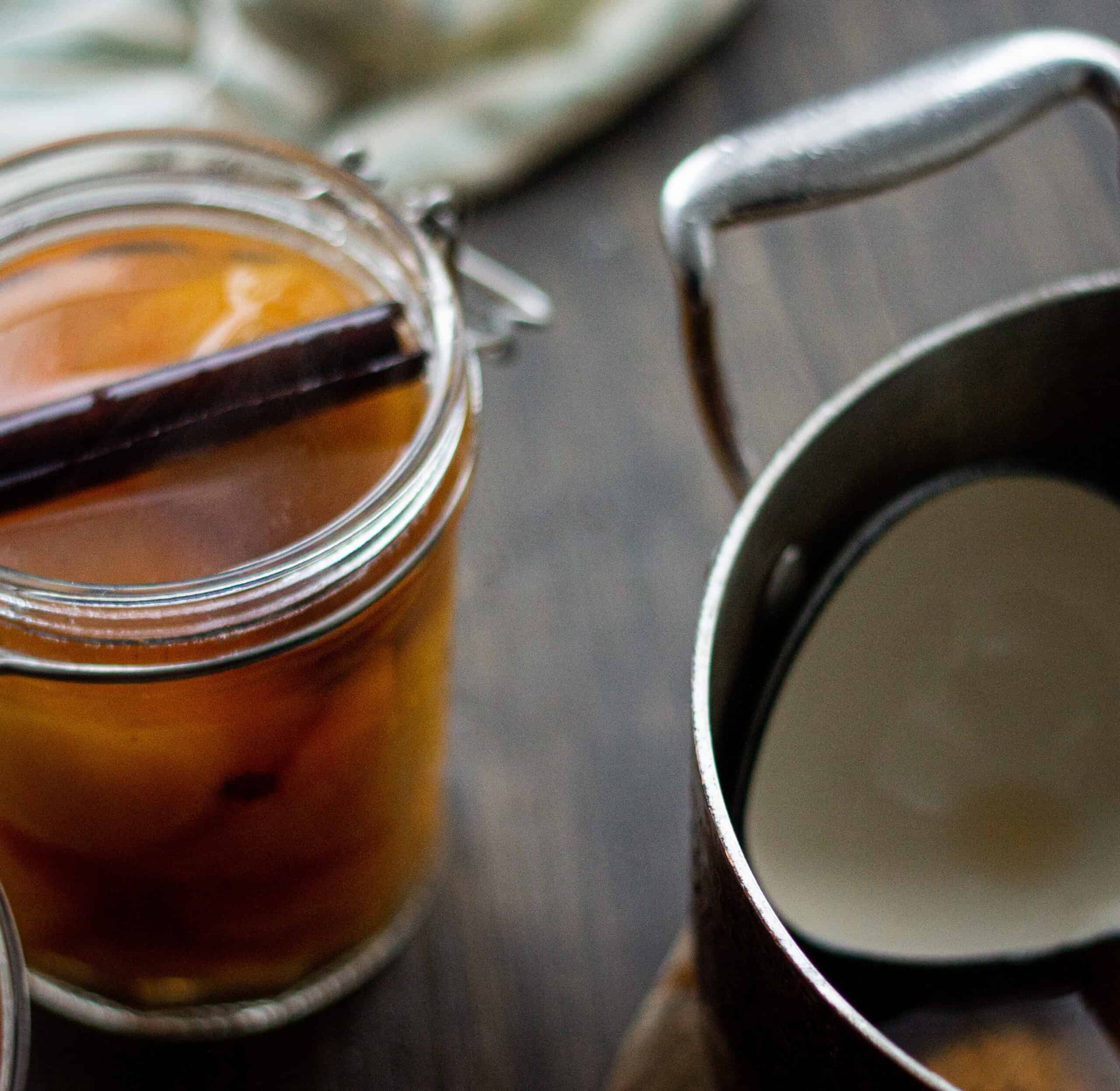 Add brandy to the syrup then pour this over the peaches.
Substitutions
Peaches – you could use nectarines or apricots instead. You could also use plums, pears or even pitted cherries. Of course, poaching times will vary between fruit.
Brandy – you could use your favourite rum, bourbon or whiskey.
Spices – you could use vanilla, star anise, any combination of your favourite spices, even bay leaves!
Equipment
I used two Kilner 3/4 litre jars, both sterilised for this recipe. You can, of course, use whatever jars you have.
Storage
You can store these for up to 4 weeks in the fridge, so if you are planning to make them as a gift, you only need to prep them a couple of days in advance.
I would not recommend freezing these peaches.
Spiced Peaches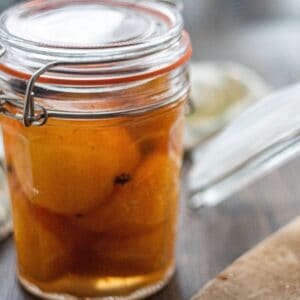 A delicious edible gift or perfect to serve with vegan charcuterie
Equipment
2 ¾ litre kilner jars, sterilised

or one 1½ litre jar
Ingredients
10

Peaches

I used small, but if using large, then you will only need 6

Whole Cloves

570

ml

Water

350

g

White sugar

2

Cinnamon sticks,

broken

⅛

tsp

Nutmeg

grated

100

ml

Brandy
Instructions
Using a vegetable peeler, peel the peaches, and remove any little bits of stalk left.

Meanwhile, add the water, sugar, cinnamon and nutmeg to a large pan and bring to a gentle simmer to dissolve the sugar.

Stud each peach with 2 cloves and place them carefully in the sugar water.

Simmer for 10-15 minutes or until tender but not mushy. This will vary depending on the size of the fruit.

Once tender, carefully lift the peaches using a slotted spoon and place in your prepared jar(s).

Remove and discard the cinnamon sticks.

Stir the brandy into the sugar syrup, stir well, then pour this over the peaches, covering them completely.

Leave to cool completely before sealing and storing for a couple in a cool place before serving.
Nutrition Facts
Spiced Peaches
Amount per Serving
% Daily Value*
* Percent Daily Values are based on a 2000 calorie diet.