Dipped Not Boiled Pretzel Recipe
A simple and easy recipe for pretzels, dipped not boiled and naturally vegan!
Try my other simple vegan bakes, no knead muffin bread and my so-quick-it's-ridiculous beer bread.
Much like bagels, pretzels are still somewhat of a novelty in the smaller, more 'sheltered' villages of little Britain. It takes a long while for us to accept culinary change, particularly if they are in anyway associated to a culture we may not understand and what is considered part of the fabric of US cuisine (so much so, that – according to dubious fact machine, Wikipedia – 2 Lbs of pretzels are consumed every year – by every American), it could be another 3 decades before it is fully integrated over here.
Until today, I had locked away that uniquely salty soft bread treat in the taste-bud part of my brain or console myself with airplane pretzels (and if you have been lucky enough to be on a post-peanut flight, you will probably have been given Snyders of Hanover pretzels, those little golden packets somehow holding all the promise of your holiday right there on the tray in front of you).
After baking pretzels, I wondered why I had waited so long, and it wasn't just my lack of artistic ability or not being able to curl them into their familiar shape. Pretzels are perhaps one of the easiest yeast-based breads to make and certainly tastier than any long-rising loaf.
However, like any bread that has many years (nay, centuries) of history preceding it, the pretzel is not without controversy. Only yesterday did we encounter this. On investigation of various recipes, my friend insisted the pretzels MUST BE BOILED BEFORE BAKING. I, on the other hand, pointed out this recipe, that merely dips the raw, formed pretzels in hot sugary water, then leave to prove for half an hour before baking. Much easier than boiling.
What are Pretzels?
For those of you who have never tasted a hot soft pretzel, it has an almost indefinable savouriness, much like cabbage or oysters, a saltiness that is pleasurable without being wincing (although, unlike cabbage and oysters, I love pretzels dipped in chocolate). There is also a second layer of flavour that comes from the bagels being brushed with melted butter, the slight separation of the butter giving a rich shine to the thick, golden twists.
This ancient treat has roots in Germany, Italy and even France, documented as early as the 7th Century. A rather charming story tells how an Italian Monk folded little pieces of dough into an intricate twist referred to as 'Pretiola', meaning 'little reward' which was given to diligent children who learnt their prayers. There are also other stories: a German baker desperate to save his life if only he can produce a bread for the Duke of Wurttemberg through which the sun can be seen twice. In another religious twist (pardon the pun), legend also suggests that the pretzel could have garnered its unique appearance through its yeasty depiction of the Holy Trinity or perhaps the position that monks adopt when in prayer.
Whilst the true history of the Pretzel remains shrouded in mystery, this curly treat remains firmly in favour.
We love to serve them with my creamy vegan baked potato soup.
Ingredients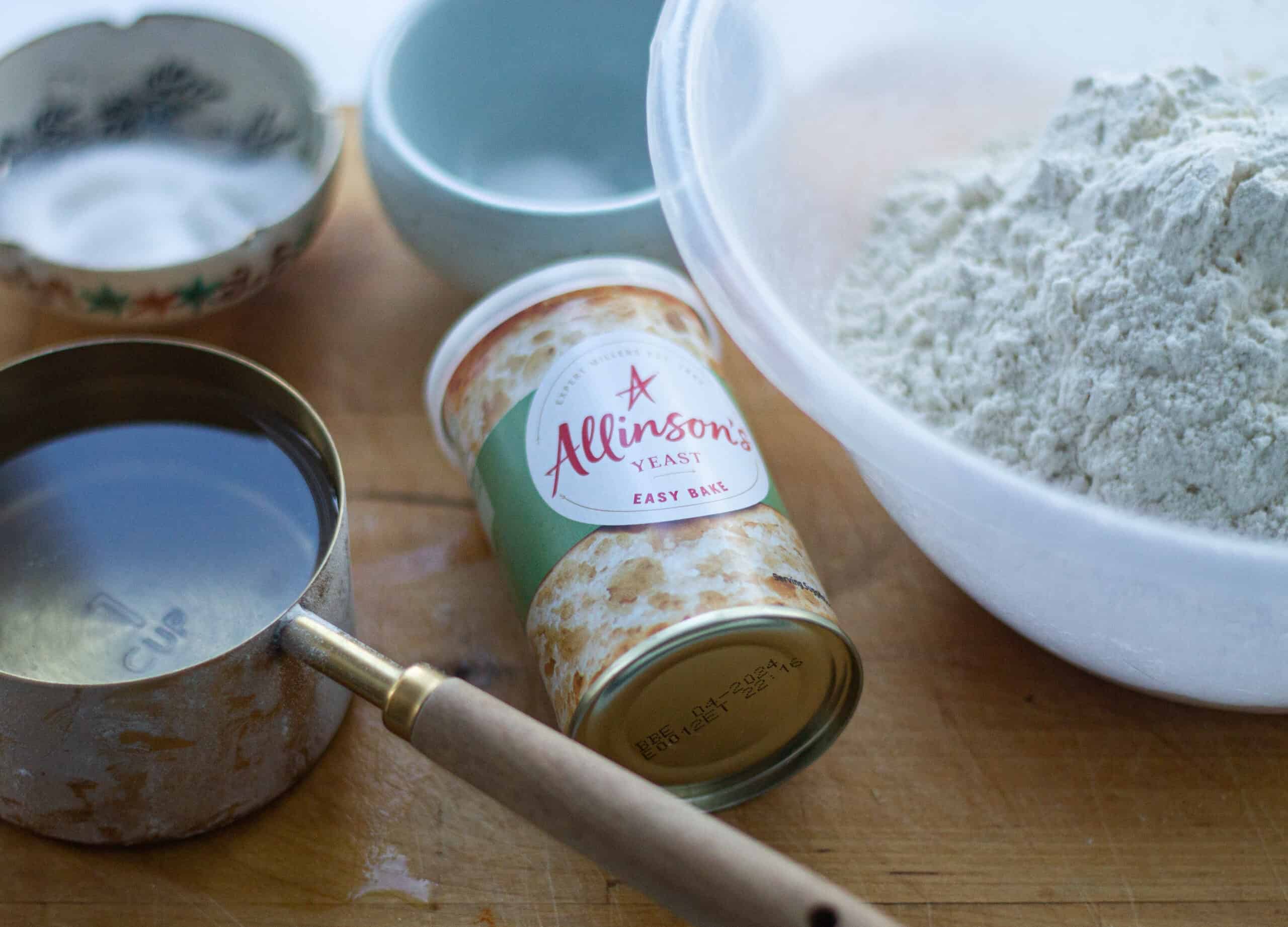 Flour. I use strong white bread flour
Yeast. Make sure your yeast is fresh, even the kind that comes in foil sachets. Nothing is worse than wasting bad yeast on a batch of ingredients.
Sugar. This helps activate and feed the yeast. Later on in the recipe, it also forms part of the dip.
Butter. Vegan of course. This helps ensure that you have glossy pretzels, when brushed with melted butter at the end of baking. Also helps any toppings stick.
Method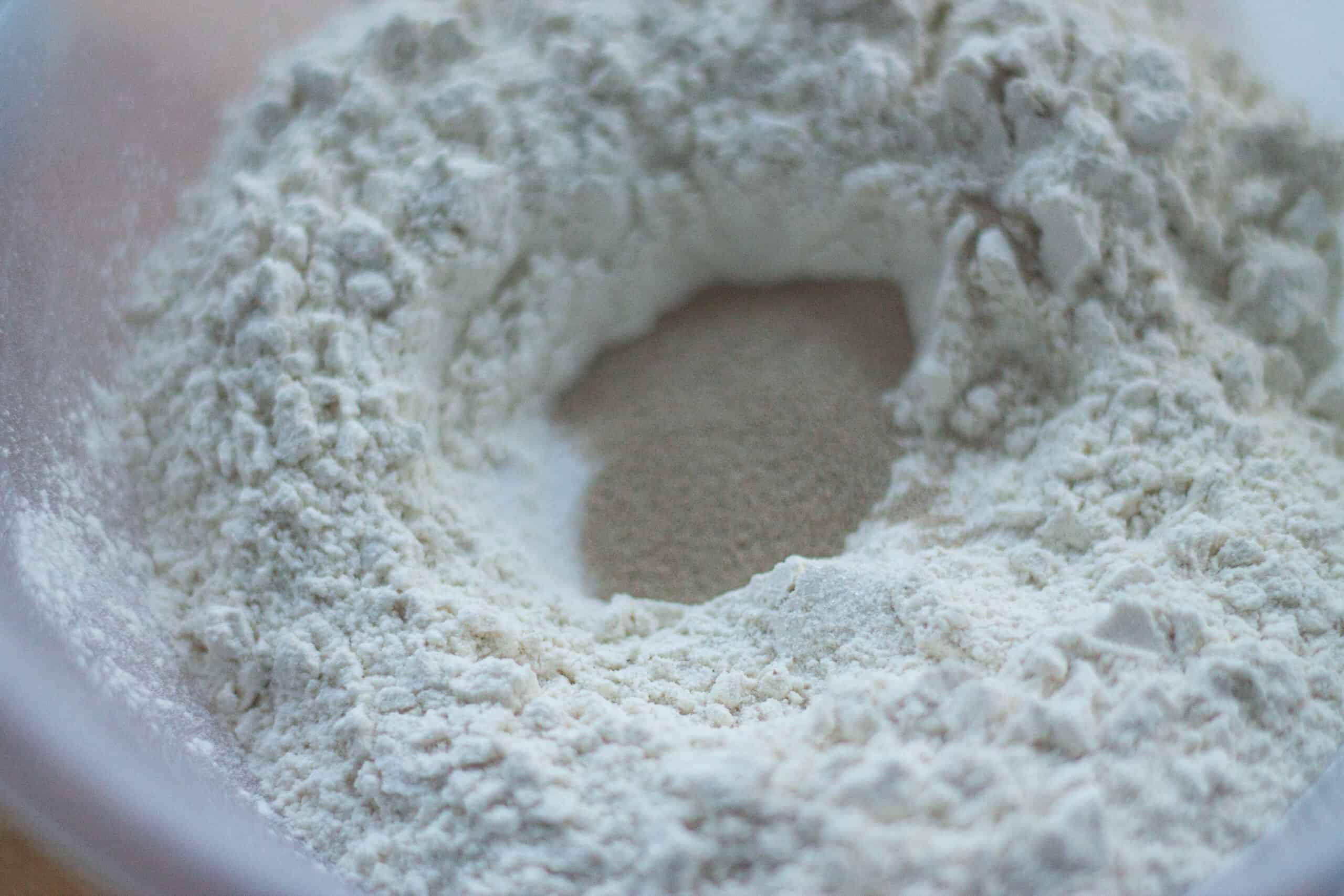 Adding the yeast to the flour and sugar
Mix until you have a shaggy dough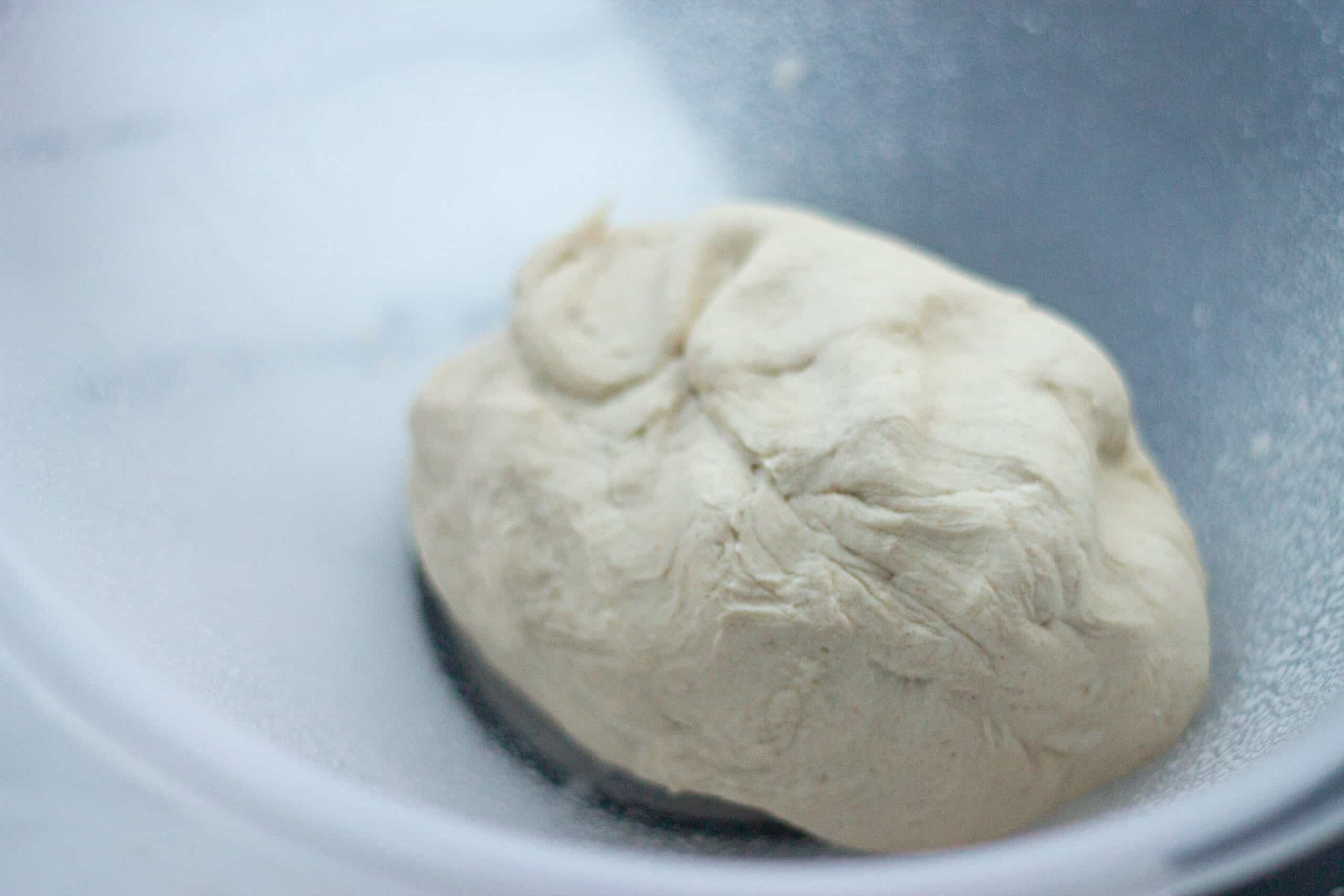 After kneading, leave the dough in a bowl for at least an hour or overnight to rise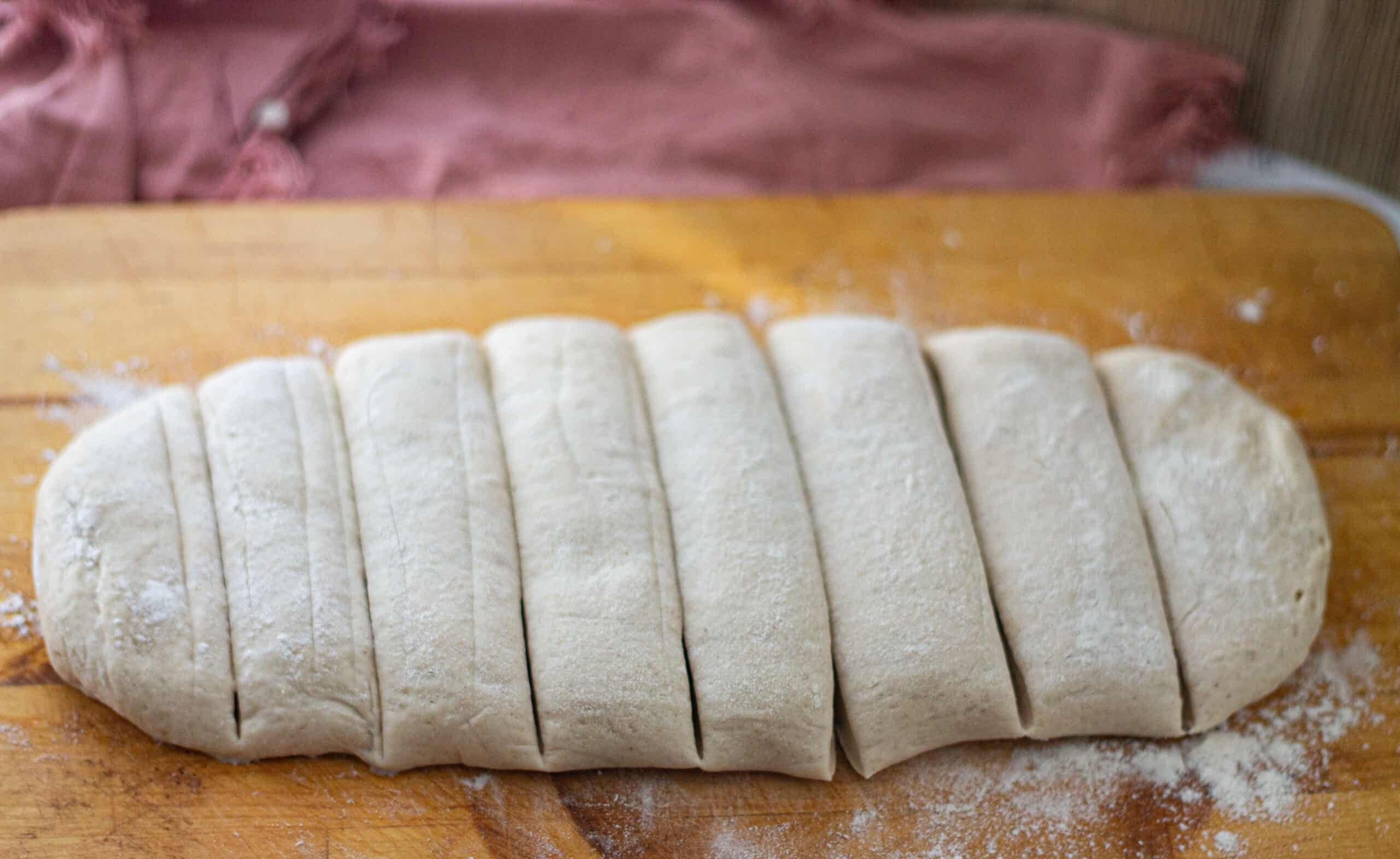 Knock the dough back, then form into a rough cylinder, then divide into 8
Roll the dough into balls, ready to form into pretzel shapes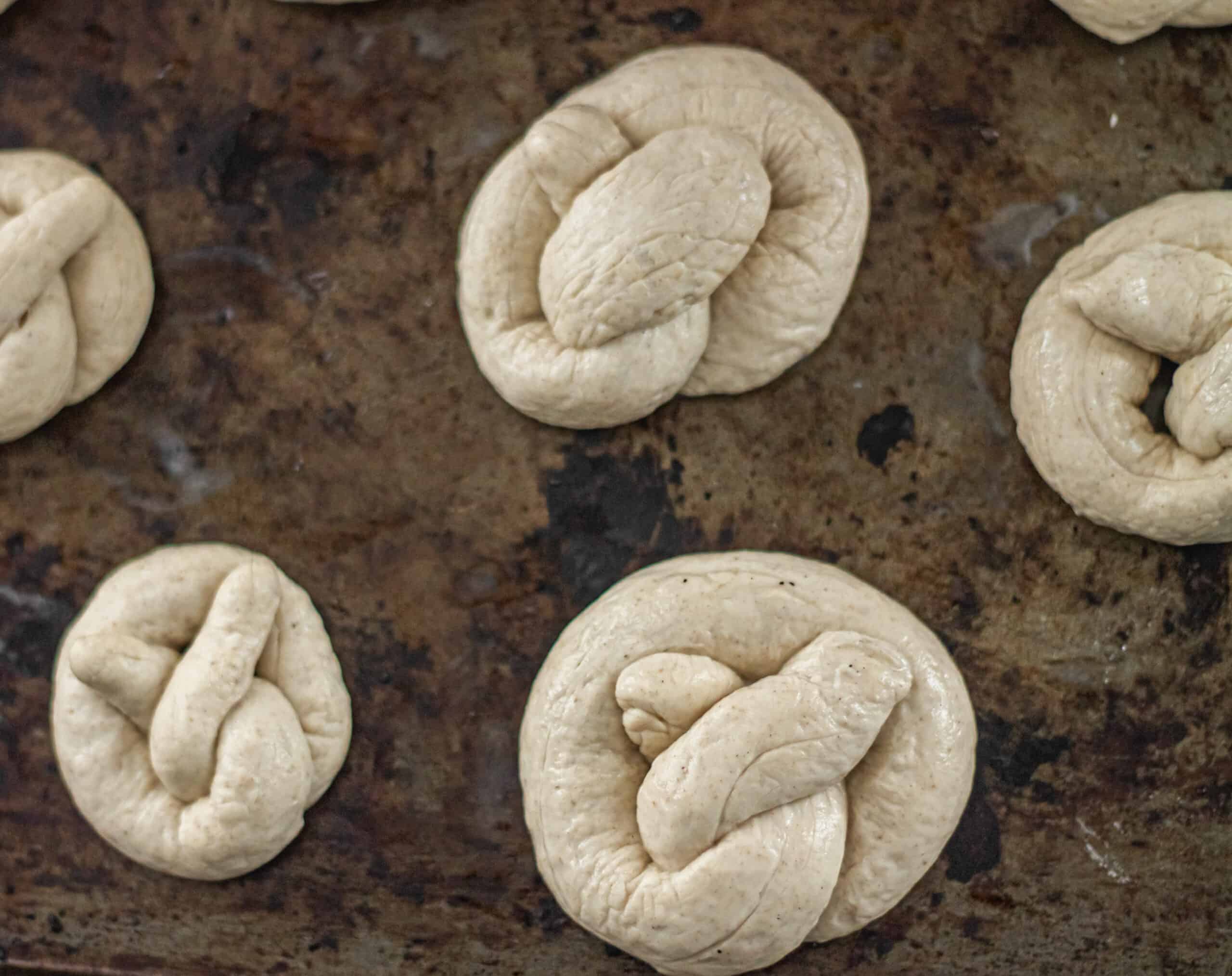 Once formed into the classic pretzel shape, carefully dip into the sugar water mix
Actually, these are so simple to prepare, but you do need to have a little prep space worked out, and do stick to the instructions, otherwise you might find your dough gets a little over-risen.
Make the dough. The easiest dough ever. Mix together the flour, yeast, sugar, water and salt. Then knead for about 10 minutes until you have a smooth dough. Leave to rise for an hour at room temperature, or overnight, covered, in the fridge.
Roll into a cylindrical shape, about 12″ long by 3″ dia and cut into 8 equal pieces. I weighed mine to get them all roughly the same (about 70g).
Roll each piece into a ball, then, as you form each pretzel, keep the other dough balls covered with a clean tea towel.
To make the pretzels, roll the dough into a 14″ long tube. This is where it is helpful to have a lot of spare counter space! This can seem a little time-consuming as pretzel dough is quite springy, so you need to be relatively firm with the dough to stop it shrinking.
Once you have your tube shape, form your pretzels as follows:
Place each pretzel onto a lightly oiled baking sheet, covered again, until you have 8 pretzels.
Now, in a wide shallow bowl, dissolve the sugar into warm water, then dip each pretzel into the water bath, leaving it for 15 seconds. I find it easy to use a wide spatula to lift the pretzels into the water, otherwise they might lose their shape a little, if you do it by hand.
Sprinkle with salt, or Everything but the Bagel and leave to rise for a final time, whilst you heat the oven.
Once the oven is as hot as it will go, bake the pretzels until golden brown.
Remove from oven and brush immediately with melted butter.
Tip
If you find the process of making the pretzel shape tricky, try making pretzel breadsticks instead, cutting each tube shape into 3 or 4 equal lengths, then following the dipping process but without the folding.
To store your homemade vegan pretzels, keep in an airtight container, once cool, and then warm up again in the oven. They are best served fresh, but are OK the next day heated up. After that, they go pretty dry.
FAQ
Can you freeze pretzels?
You can once cold, but make sure to reheat them in a hot oven to crisp them up. They won't be as good as fresh.
Dipped Not Boiled Salted Pretzels
A simple vegan recipe for Pretzels
Ingredients
2½

cups

Plain Flour

½

teaspoon

Salt

7

g

Instant Yeast

-

Instant Yeast

1

teaspoon

Sugar

1

cup

Warm water
For the Glaze:
½

Cup

Warm Water

1

teaspoon

Sugar

3

tablespoons

Butter

-

Vegan, melted. I find it has a better flavour when it has cooled slightly but is still liquid

Maldon Salt or Everything but the Bagel for Sprinkling
Instructions
Place the flour in a large bowl. Make a well in the middle and pour in the yeast and sugar.

This could be where mythology enters into my repertoire but it has also worked for me: add the salt to the side of the flour so that it doesn't touch the yeast. The salt slows down the action of the yeast.

Pour the warm water over the yeast and sugar in the centre of the bowl, and working from the centre outwards, stir well with a wooden spoon until a messy dough is formed. You will probably need to add more warm water.

Once you have achieved a well combined but shaggy looking dough that is only slightly sticky, turn out onto floured board and knead for about 10 minutes or until the dough is soft and smooth.

Place in an oiled bowl and cover loosely with clingfilm. Leave to rise for half an hour or place in the fridge overnight.

Once the dough has doubled, maybe even tripled in size, gently punch down (is there such a thing as a gentle punch, I wonder), remove from the bowl and form into a rough cylindrical shape. Cut into 6-8 equal pieces.

Dissolve the sugar into the half a cup of warm water.

Roll each piece into a long, thin sausage shape, 24 inches long, then form into the pretzel shape. Dip each formed pretzel into the sugar water for 15 seconds, and place on a baking sheet. Sprinkle with sea salt.

Preheat oven to 230c (or 250c if yours goes that high) and leave the pretzels to rise for another 15 minutes.

Cook for 6 minutes, then rotate them so that the pretzels that were at the front of the oven, are now at the back, and cook for another 6 minutes.

Remove from the oven, brush with the melted butter until it has all been used up and serve hot!
Please note that where the recipe asks for milk, butter or yogurt, this refers to any plant-based version that you prefer.
Nutrition Facts
Dipped Not Boiled Salted Pretzels
Amount per Serving
% Daily Value*
* Percent Daily Values are based on a 2000 calorie diet.