Deliciously Easy Vegan Spanish Paella
This post contains links to affiliate websites, such as Amazon, and we receive an affiliate commission for any purchases made by you using these links. We appreciate your support!
This easy vegan paella recipe is a delicious and flavorful twist on the traditional Spanish dish. Made with wholesome plant-based ingredients, it is a perfect option for those following a vegan diet or wanting to try something new. Packed with aromatic spices and colorful vegetables, this vegan paella is a crowd-pleaser that will satisfy both vegans and non-vegans alike. It's a simple yet impressive dish, sure to become a favorite in your recipe repertoire. Try my vegan paella recipe today and enjoy a taste of Spain without the meat or animal products!
Does the word Paella remind you of a hot holiday by the beach, somewhere Mediterranean, or perhaps a food fair, huge paella dishes, 5″ wide, filled with bubbling saffron rice and peppers and emerald green peas? More often than not, it will also be topped with seafood or chicken or rabbit. My easy paella made without meat is full of fresh veg and lacks none of the flavour of the original!
Inspired by my Italian vegan risotto, my quirky roasted beetroot risotto, my speedy vegan gnocchi with broccoli and sausage, spicy jambalaya and my plant-based soutsoukakia, comforting, homely and delicious recipes from the Mediterranean.
What is Paella?
Considered the dish of Valencia, although most people outside of Spain think of Paella as a Spanish dish, and I think it is probably cooked for tourists, as there is a certain expectation to try paella when you visit Spain.
Paella is the Valencian word for frying pan, and traditional paella is cooked in a wide, shallow frying pan (although one with handles on both sides).
Paella rice is used in this dish, to ensure the correct texture. Whilst Paella is creamy, it is not like risotto, nor is it dry. It is usually made using a short-grain rice called Bomba, although the rice I bought in Tesco was simply called Paella rice! You must use a short-grain rice though, and if you can't find paella or bomba, use arborio or even sushi rice.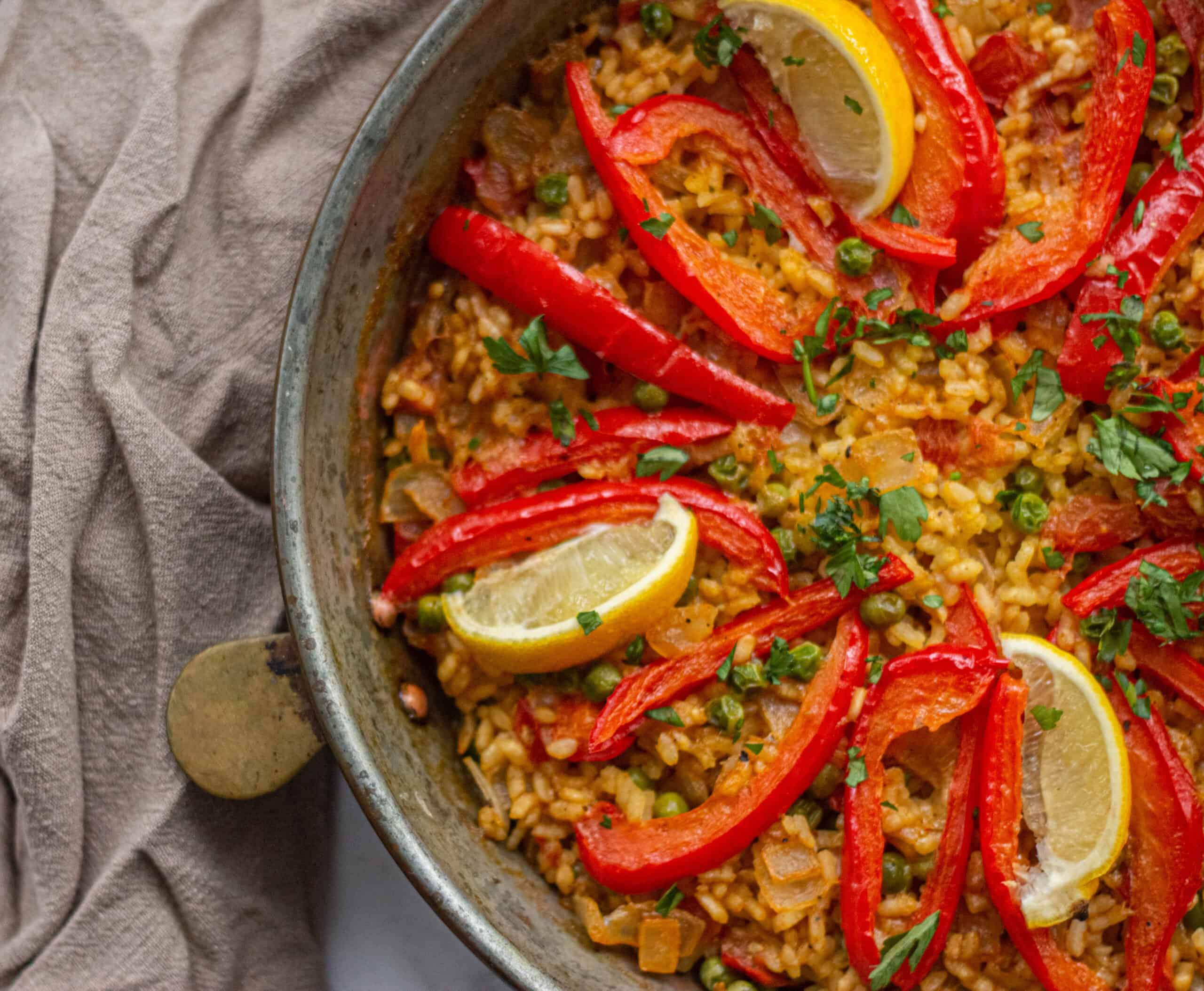 The flavour of vegan Spanish Paella comes from very simple ingredients: paprika, a cup of frozen peas, stock, onion, bell peppers, saffron threads, olive oil. It has a rich, savory flavor, redolent of peppers, smoky from paprika and sweet from the onions and tomatoes. This dish is traditionally cooked outside, over an open flame which gives Paella a distinctive smoky taste; paprika works particularly well to replicate that flavor for the indoor cook.
This vegan paella recipe is very easy and quick to prepare and cook, and is a perfect supper dish, or lunch meal for several, as it doubles up very easily.
Ingredients and Substitutions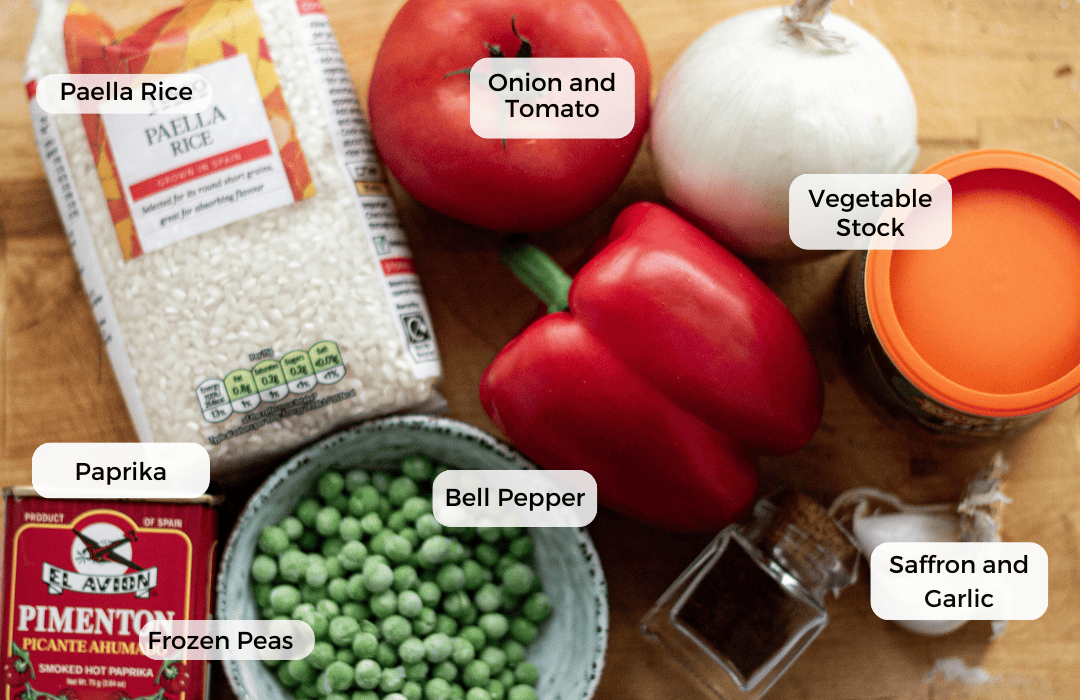 paella rice. Note: You can use any short grain rice, arborio, or even pudding rice or sushi rice, just rinse it through a couple of times first
red bell pepper. There is no substitute for this.
peas, I use frozen petits pois. More traditional recipes also use fresh broad beans
other vegetables: some vegan paella recipes also add some diced zucchini / courgette.
saffron and paprika
stock – I use Marigold bouillon. It imparts a rich stock flavor to the dish. Do not omit the stock.
This is ONLY a list of ingredients for the recipe; please see recipe card below for complete printable recipe.
Instructions
After frying the peppers in olive oil, sauté the onions, garlic, tomato and peas until soft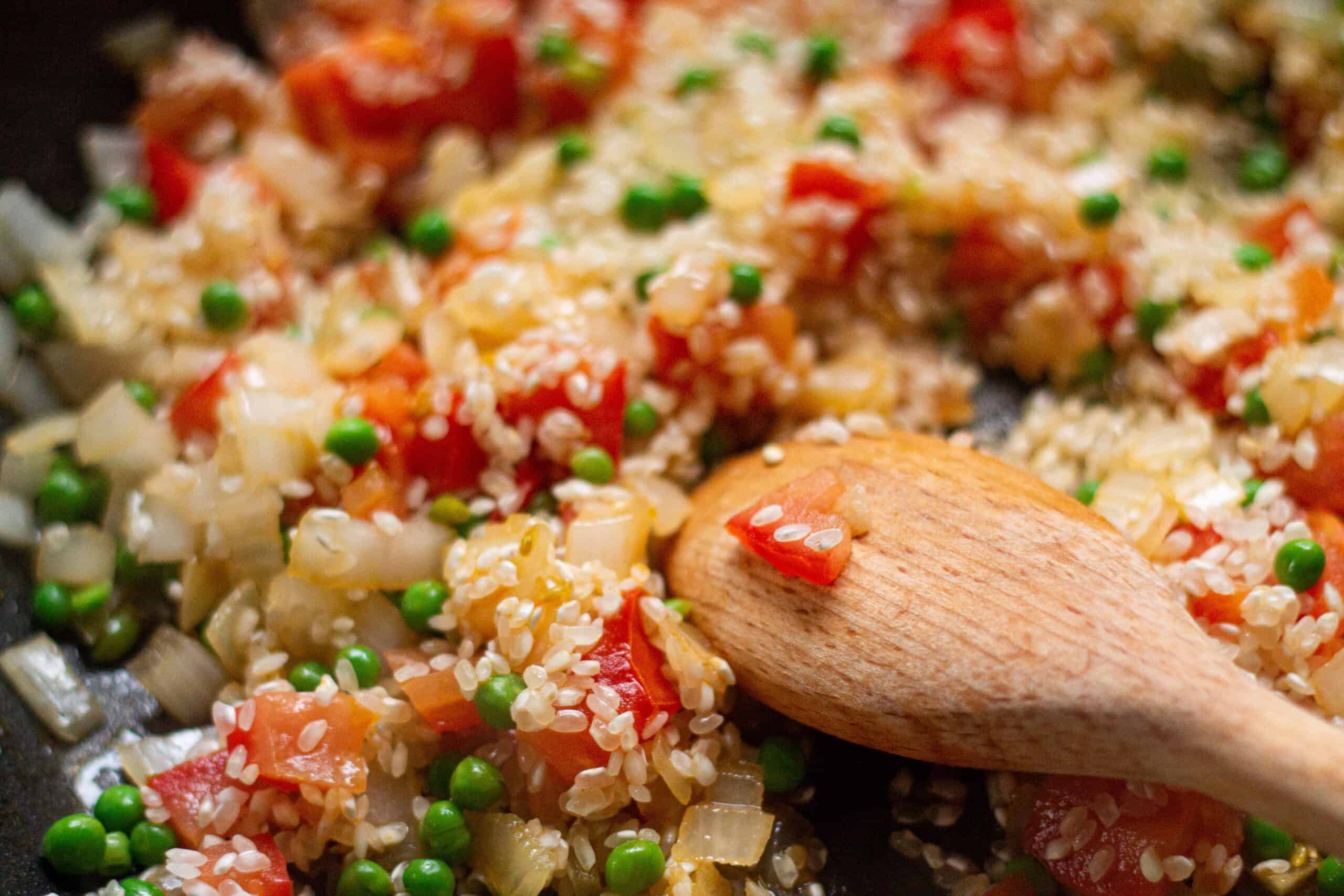 Add the rice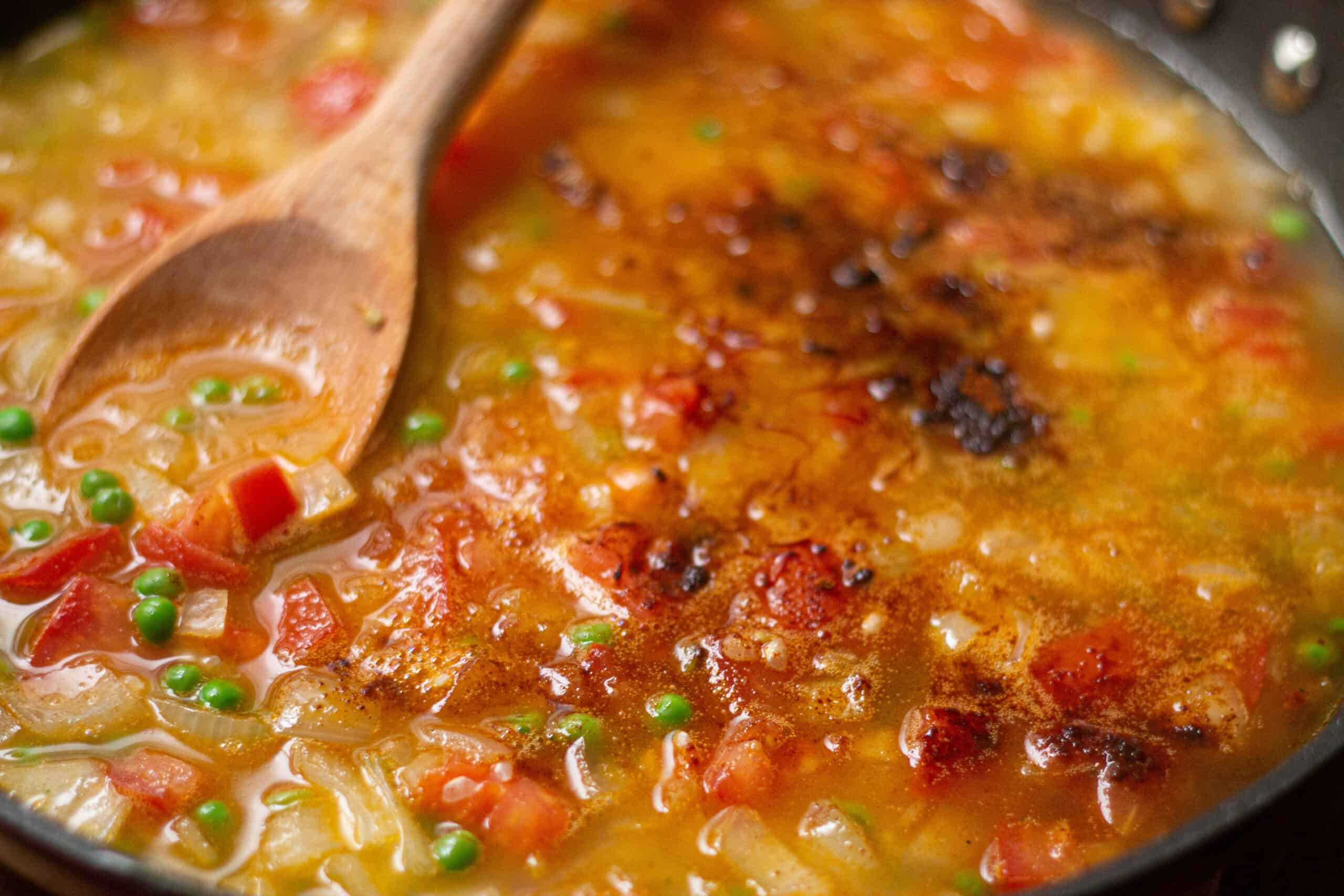 Then add the stock, paprika and saffron
Simmer at high heat for 5 minutes before adding back the fried peppers and simmering gently for another 15 mins
Hint: if the rice looks like it is cooking a little dry but it still quite al dente, add another half cup of stock.
Variations
Spicy – add chili pepper flakes while cooking to imbue heat into the dish, or fresh chilis. This is not traditional though!
Deluxe – add some vegan chicken pieces or chopped artichoke hearts
Equipment
I recommend using a paella pan to cook your risotto in, however, I use a flat bottomed tarte tatin tin as I don't have a paella pan! The key is that the heat is distributed evenly on the bottom of the pan, so any heavy bottomed pan will work.
Storage
Store the cooled paella, covered in the fridge, and reheat thoroughly in a saucepan until piping hot. I actually prefer to eat my paella cold.
Vegan Paella doesn't stand up well to freezing.
Top tip
Paella is delicious served lukewarm, and is a perfect lunchbox treat! This recipe makes enough for 4 lunches!
Simple but delicious vegan Paella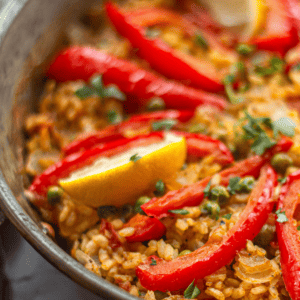 How to make the traditional Valencian rice dish, but veganised!
Equipment
1 Paella Pan 12" dia

or heavy based skillet or frying pan
Ingredients
4

tbsp

Olive Oil

1

Onion

-

large, peeled and finely diced

3

Garlic

-

cloves, peeled, finely diced

1

Bell Pepper

-

red, deseeded, and cut into thin slices

1

Beefsteak Tomato

-

cut into small dice

½

cup

Peas

-

frozen

1

cup

Rice

-

Paella

3

cups

Vegetable Stock

¼

tsp

Saffron

1

tsp

Smoked Paprika

Salt and Pepper to taste

1

Lemon

-

cut into wedges

Parsley

-

fresh, finely chopped
Instructions
Heat the olive in the bottom of your paella pan, or skillet, and fry the sliced red peppers for 5 minutes. Remove from the oil and place to one side.

Add the onions and garlic to the oil and cook until translucent.

Add the chopped tomato and frozen peas, cook for a minute, then add the rice, stock, paprika and saffron.

Cook over vigorous heat for 5 minutes before turning down to the lowest setting.

Return the fried peppers to the top of the top and cook over low heat until the rice is tender.

Once done, serve with lemon wedges and sprinkled with chopped parsley.
Please note that where the recipe asks for milk, butter or yogurt, this refers to any plant-based version that you prefer.
Nutrition Facts
Simple but delicious vegan Paella
Amount per Serving
% Daily Value*
* Percent Daily Values are based on a 2000 calorie diet.