A white sandwich loaf is essential for any baker's repertoire, and this loaf is perfect for sandwiches, toast and midnight snacking!
PIN my easy white Sandwich Loaf to make later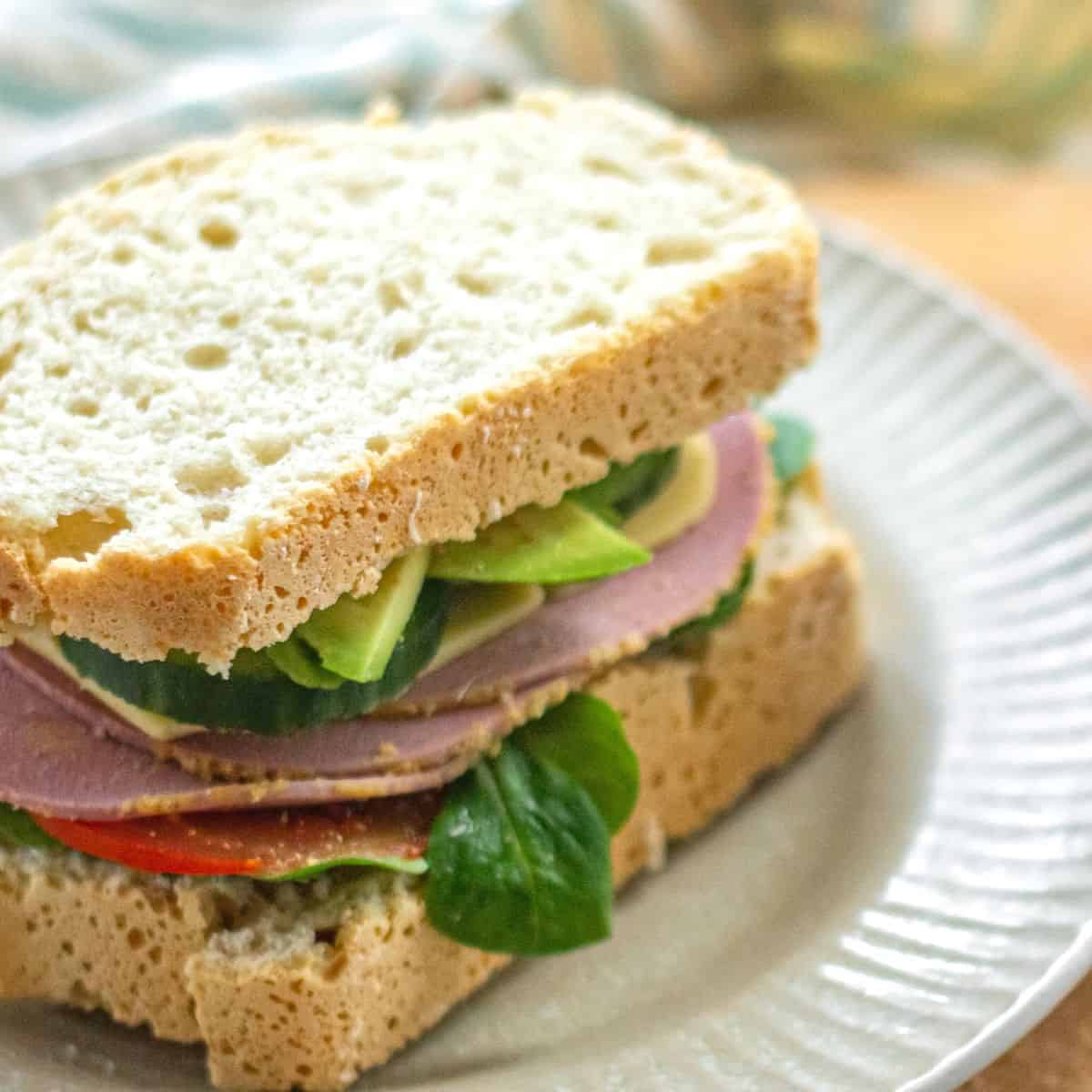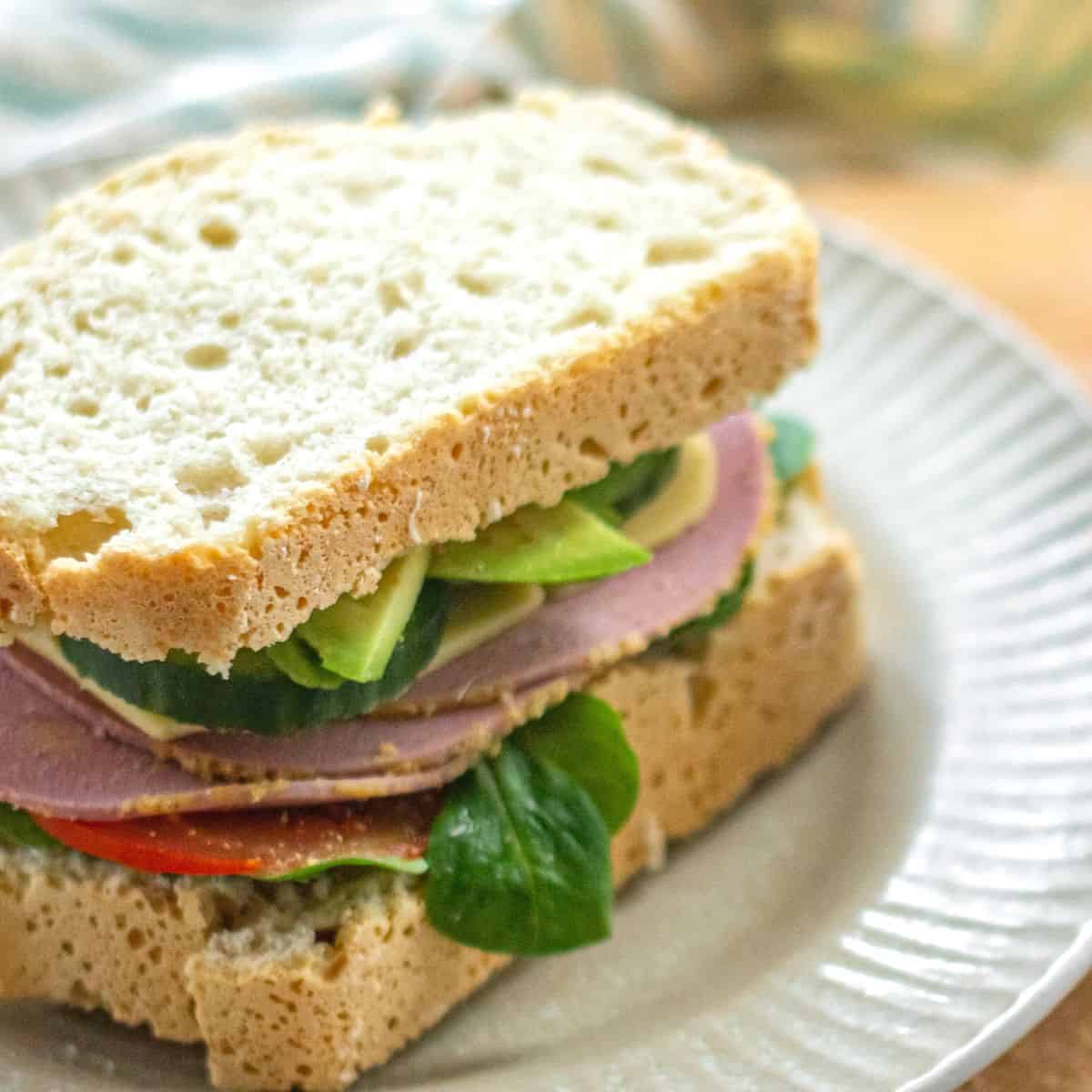 Everyone needs a basic white sandwich loaf in their repertoire if they enjoy making fresh bread, and this one is perfect for all your sandwich needs!
This was inspired by my simple loaf of bread which is enhanced with some wholemeal flour, and tastes great spread with my vegan fruit butter.
Jump to:
Baking is a bit addictive I think. Once I had mastered how to bake a loaf, I wanted to make more and more. The feeling of understanding how and why a process succeeds and fails is empowering, particularly in the kitchen.
How to save over-proofed bread dough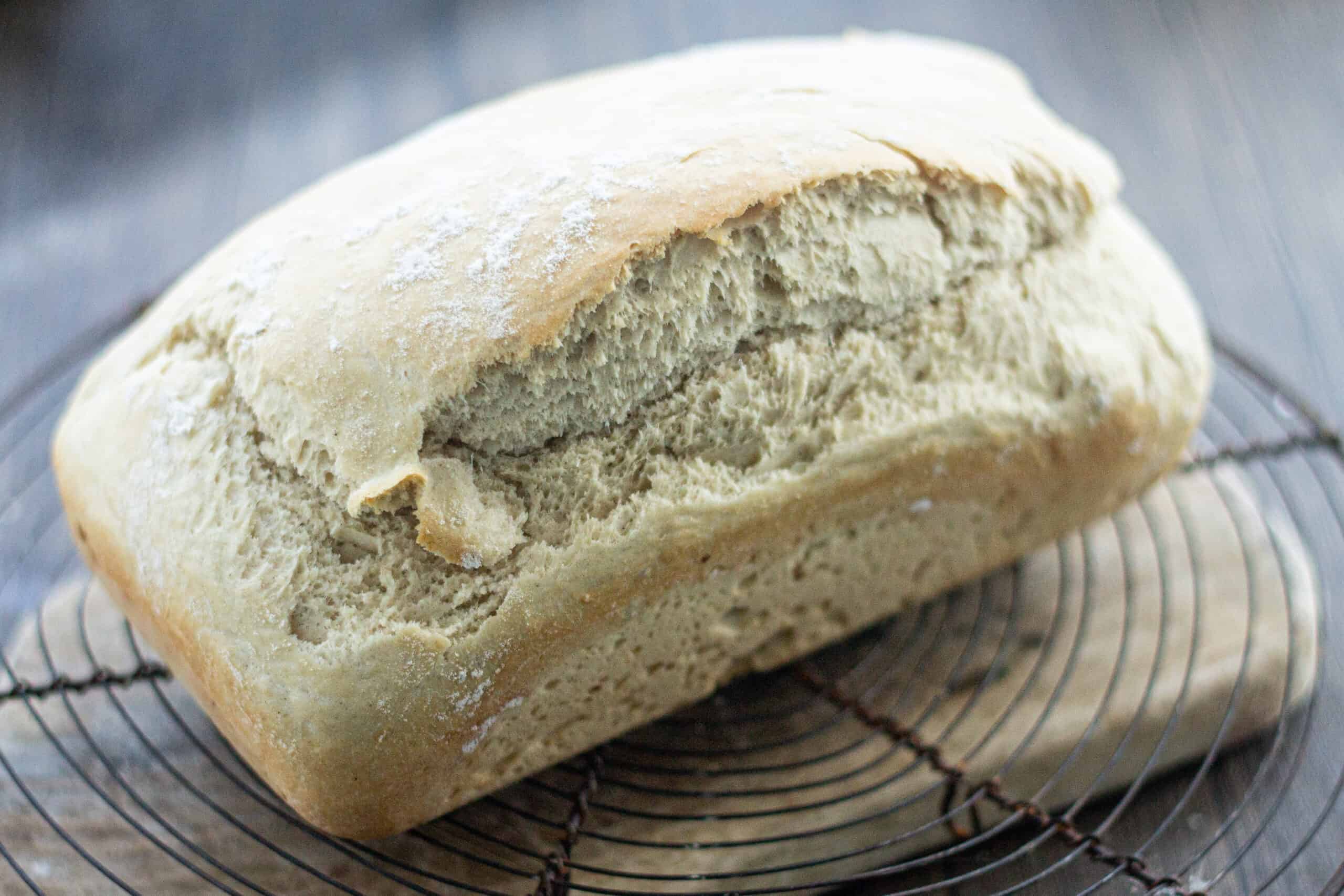 For example, I made a loaf with J on Saturday night. We all fancied some fresh bread. So, I made the dough for him, with the instructions to knead it. He did this with much enthusiasm and the dough rose amazingly, with lots of air bubbles. Clearly he is much better at kneading than me!
So, I knocked it down, shaped it and put it in the fridge to bake in the morning. I thought that this would inhibit the second rise. Unfortunately, every time someone looked in the fridge, the loaf was rising more and more. I knew that it was going to overprove. And, by the morning, it had indeed over-proofed. The dough had reverted back in texture to pre-kneading. it was brittle and had no softness to it at all. It also had a beer smell to it. A final visual check: poke your finger in the dough. If the hole stays, the dough has no more rise left. It the dough slowly closes back up, the dough is still good.
Why is over-proofed dough no good? Because when you bake it, it won't rise so you will just have a solid brick of bread. Over-proofing usually happens if you leave it on the second rise for too before baking. Usually placing the dough in the fridge will inhibit the yeast, but if it's particularly active it will still keep rising, even in the fridge.
How to tell if dough is over-proofed
If the dough is over-proofed:
It will not feel soft and yielding
The dough will be brittle, not elastic
A finger poke hole in the dough will not spring back
It may have an alcohol fragrance to it
Can you save over-proofed dough? I did a quick google search and found that all was not lost, simply knock out any air left, reshape and leave to rise for another two hours. It worked!
So, it was helpful to know what caused the problem and also how to fix it. This comes from both practice and also from Google!
This loaf shouldn't cause you any problems at all though. It is a simple, trouble-free dough that requires a simple ten minute knead.
Ingredients
strong white flour
yeast
melted vegan butter
salt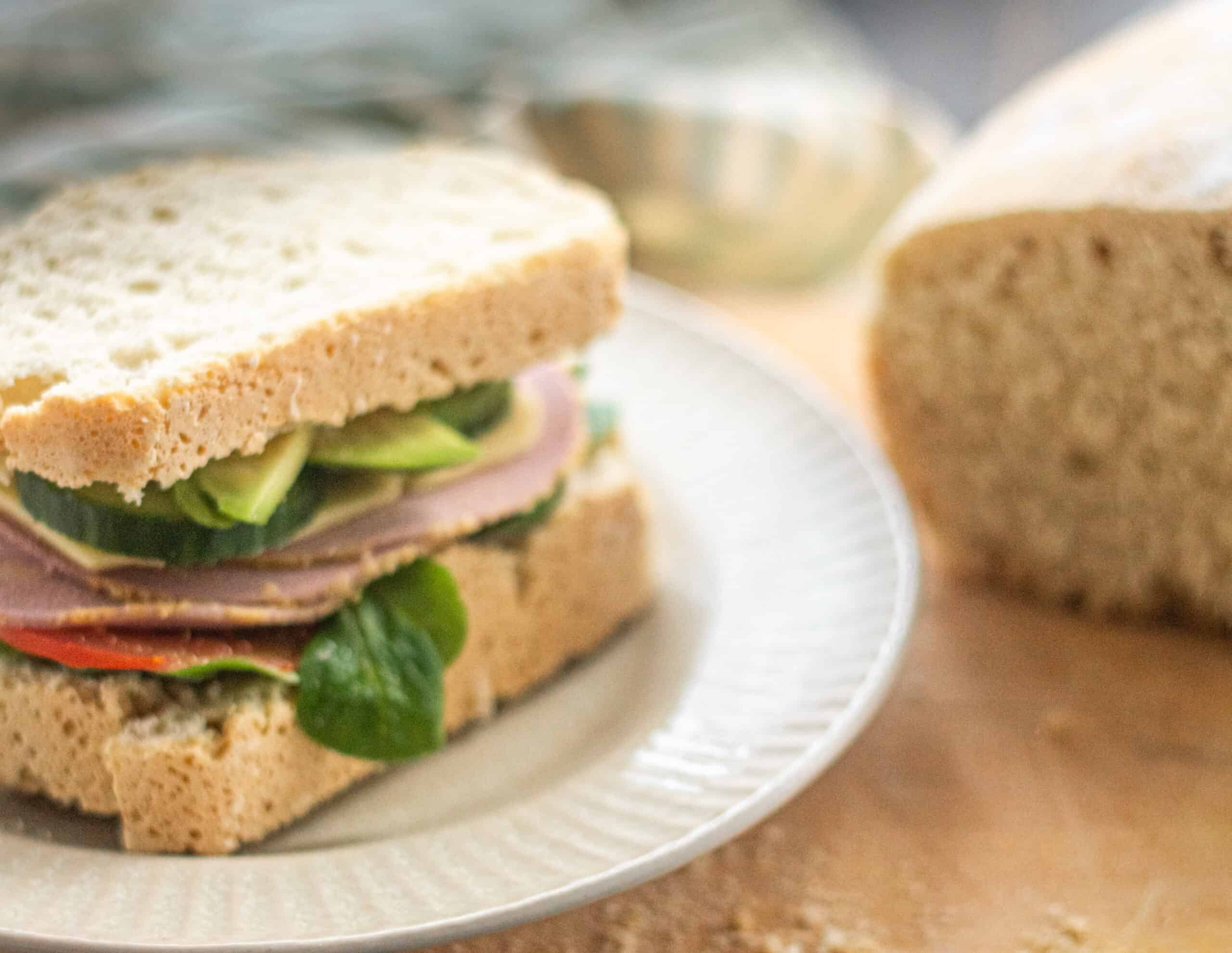 (This is ONLY a list of ingredients for the recipe; please see recipe card below for complete printable recipe. Or if you use the JUMP TO RECIPE at the top of the page, it will take you directly to the complete recipe.)
Instructions
Whilst your yeast is activating, sift the flour and salt into a large mixing bowl and add the melted butter.
Now add the activated yeast mixture.
Mix well with a wooden spoon until you have a kneadable dough, then knead for 10 minutes or until soft and springs back to the touch. Leave to rise for 2 hours.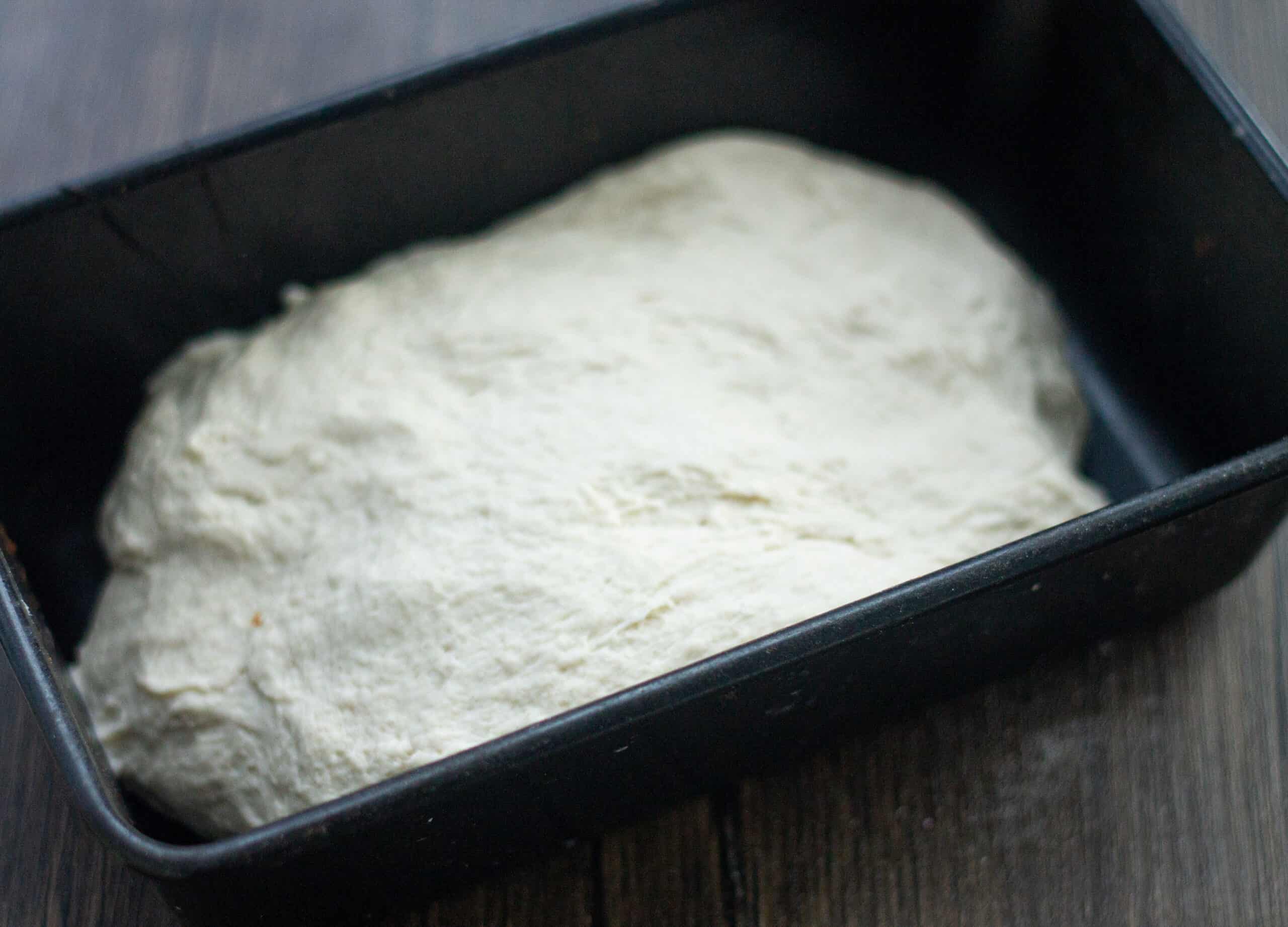 Once doubled in size, knock back then place in two lightly oil loaf tins (this recipe makes two loaves). Leave to rise for another half an hour, then bake.
Storage
Store the baked loaf in a bread bin or wrapped in tinfoil, and it will keep fresh for a couple of days. Will still be good for toasting for several days after.
Once cool, you can freeze the loaf by wrapping in several layers of clingfilm. Thaw out in a low temperature oven or at room temperature.
📋 Recipe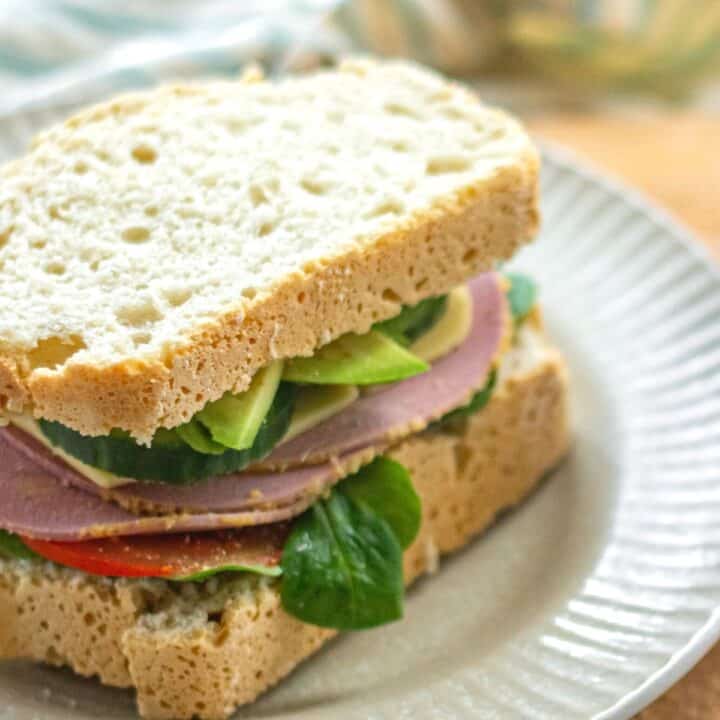 PRINT
How to make a couple of cob loaves, perfect for sandwiches, toasting or filling with dip!
Equipment
2 2lb loaf tins

or make free-form loaves
Ingredients
1

teaspoon

Instant yeast

1

teaspoon

Sugar

570

ml

Warm water

Butter

vegan, melted and cooled

2

teaspoon

Salt

1200

g

White Flour

strong, bread, you may need extra or less
Instructions
Activate the yeast in 200ml of the warm water, along with the teaspoon of sugar.

Meanwhile, sift the flour and salt into a large mixing bowl and melt the butter.

Make a well in the flour and add in the melted, cooled butter, the remaining warm water and the frothy activated yeast.

Mix well with a wooden spoon, adding more flour or water if necessary, until you have a cohesive ball of dough that you can knead.

Turn the dough out onto a lightly floured worksurface or cutting board and knead for 10 minutes or until smooth and soft.

Place the dough back in the bowl, cover with a tea towel and leave to rise for a couple of hours (this maybe a shorter length of time in a warmer house or with very active yeast).

Once the dough has doubled, knock it back and divide into two balls.

Knead each ball for another couple of minutes before placing in the loaf tins

Leave to rise for another 30mins to an hour (until doubled again).

Bake the loaves for 20 minutes at 220c before turning down the heat to 200c.

Now take the loaves out of their tins and place them directly on the shelf of the oven to give you a nice crust.

They are baked if they sound hollow when you tap on the bottom of the loaf.

Leave to cool completely on a baking rack.
Nutrition
Nutrition Facts
White Sandwich Loaf
Amount per Serving
% Daily Value*
* Percent Daily Values are based on a 2000 calorie diet.
Nutritional Information Disclaimer
The automated nutritional information on my recipes can often be inaccurate due to the limitations within the programming. For exact measurements, there are lots of apps and websites that can calculate this information more accurately.
Tried it and Loved it?
Mention @sweeterthanoats or tag sweeterthanoats!