How to Make Easy Vegan Chia Pudding – a quick, simple and easy breakfast or pudding!
Easy vegan chia pudding recipe. If you're here looking for the world's most simple breakfast, look no further. Chia seeds stirred into plant-based milk with some sweetener is possibly the most implausibly delicious breakfast ever!
Chia Seeds are all the rage, daahhling, these days. Little wonder, they are quite the little powerhouse and versatile too. Great sprinkled on salads, they have a similar texture to poppy seeds with a delightful nutty flavor.
Try my other awesome vegan breakfast ideas
But mixing chia seeds with liquid is when you get to see what the Chia Seed can do. You see, the Chia Seed, when wet, is inclined to become mucilaginous. That's not a very nice word, is it? But to vegans who need replacement thickeners or egg substitutes, this is a very handy property indeed.
What are Chia Seeds?
What of the health benefits? Chia (or Salvia Hispanica, so named because of the region it grows in) means "oily" in Nahuatl, but this is really an understatement. Chia Seeds are high in essential fatty acids and Omega 3 and 6, which is fantastic for vegans as we no longer eat fish. Omega 6 is great for a healthy heart.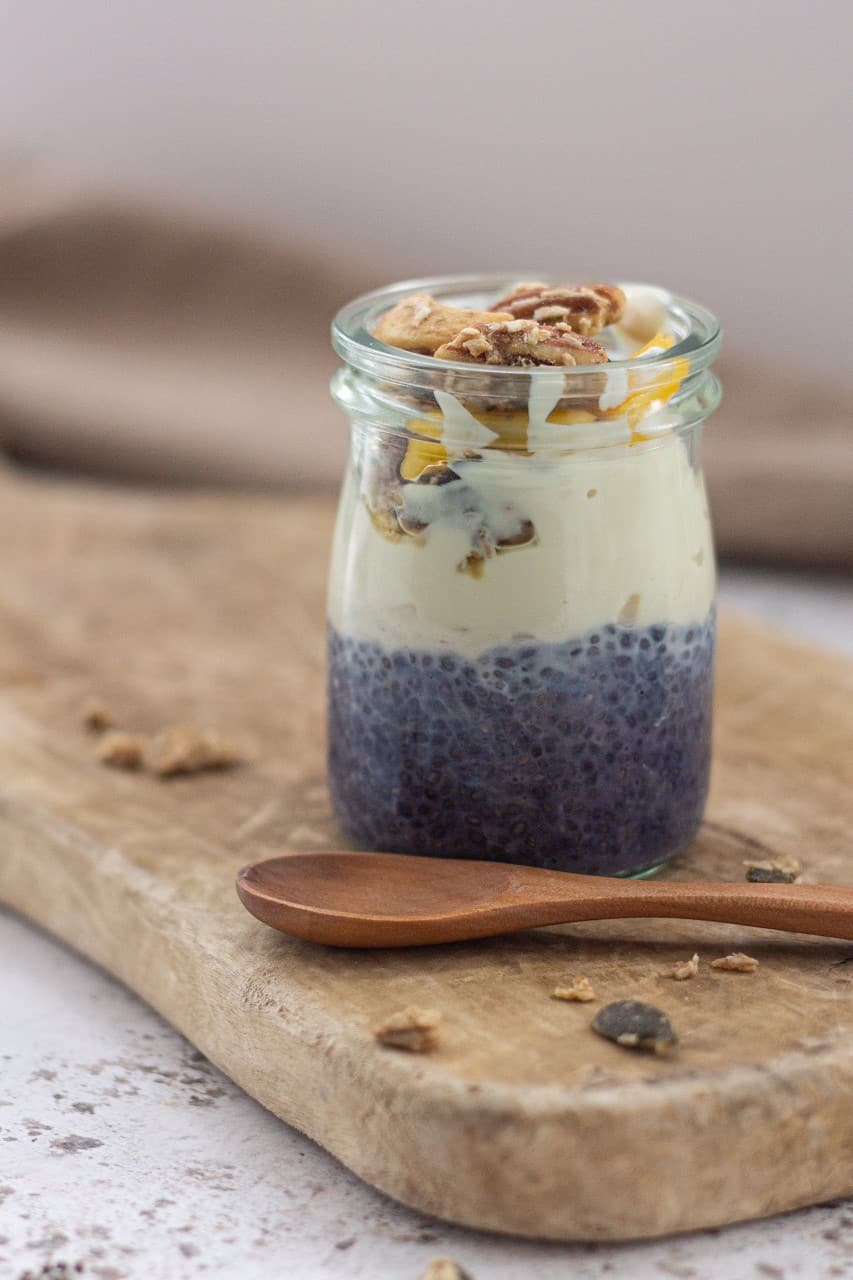 Studies are currently being conducted using Chia as a way of controlling blood sugar, they are high in fibre and full of minerals that may be missing in a vegan's daily diet.
How to Serve Chia Seeds
So, that should be reason enough to think about adding Chia to your daily diet but how do you eat them? I stir them into my morning oatmeal, or blend them into a smoothie. I've also sprinkled them on avocado toast. My favourite way to eat them though is to make a Chia Pudding. There are so many ways to serve it, but we think it's best with some coconut milk, desiccated coconut and a dash of pure maple syrup and then top it with your favourite smoothie.
Oh, and it's a breeze to make; you just require an element of patience. It needs to thicken overnight in the fridge. Note: just for fun I added a little food colouring to make them look cool! This is optional and adds no nutritional content, but does feed the eyes!
Ingredients for the base recipe.
Chia Seeds, of course! You can use as many tablespoons of chia seeds for as many servings as you need. You can use white chia seeds or black chia seeds.
Sweetener of choice. You could use maple syrup, date syrup or rely on the natural sweetness of some fruit.
Plant milks. sweetened or unsweetened almond milk, soy milk, rice milk, coconut milk: whatever your preference, these all work perfectly with these tiny seeds!
Flavourings. This is where it gets fun! Add a topping of crunchy granola, some vegan Greek yogurt or thick, creamy coconut yogurt, vanilla extract (I recommend this), coconut flakes, your favorite fruit, and even some cacao nibs! I also love to stir in a dollop of peanut butter.
My simple chia pudding recipe is the perfect make ahead breakfast, you can use your favorite type of milk, and if you want a thicker pudding, add a few more seeds.
Let's Make Delicious Vegan Chia Pudding!
In a small mason jar, add your chia seeds.
Add a teaspoon of cocoa powder if you want to make chocolate chia pudding. You could add a tablespoon of vegan protein powder too.
Add your favourite non-dairy milk, a pinch of sea salt and your sweetener.
Whisk well until everything is combined.
Place in the fridge for a couple of hours, whisking it occasionally.
You will see that the seeds start to thicken the milk and become the consistency of creamy pudding.
These are the basic ingredients a simple chia pudding.
You can leave it overnight and the next day, give it a good stir and then add your toppings!
You have made creamy chia pudding and discovered the easiest, most delicious breakfast!
One Step Chia Pudding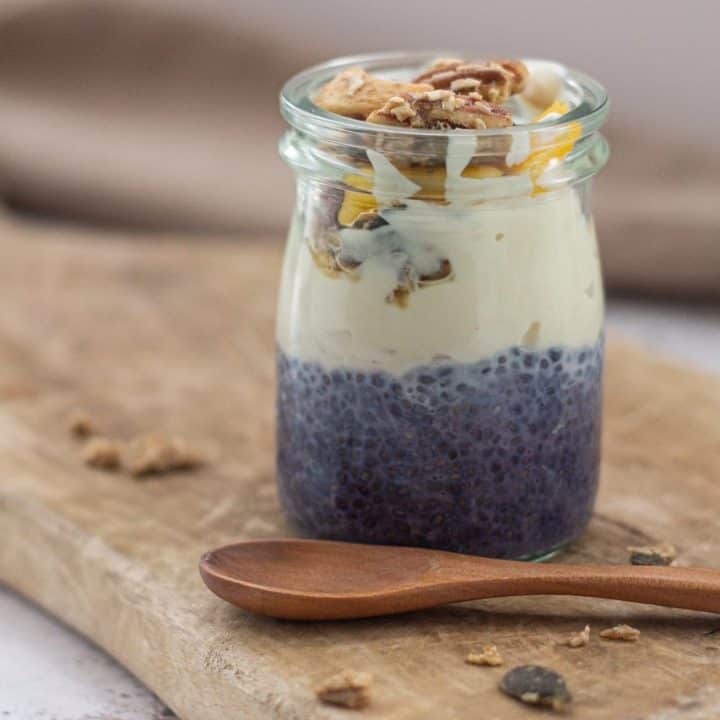 A quick and easy breakfast!
Ingredients
½

cup

Soy milk

or fresh coconut milk

2

tbsp

Chia Seeds

Maple Syrup

or you can omit the sweetener altogether

Pinch

Sea Salt

¼

tsp

Vanilla Extract
Instructions
In a small jar or vessel of your choice, whisk together all the ingredients for the Chia Pudding and refrigerate.

If you use a jar with a lid, you can give the jar a good shake every so often. If not, just give it a vigorous whisk every so often.

This helps the seeds to release their unique texture.

Leave overnight or several hours.

When ready to serve, top with granola, chopped fruit, yogurt, dessicated coconut, seeds: the options are limitless!
Nutrition Facts
One Step Chia Pudding
Amount per Serving
% Daily Value*
* Percent Daily Values are based on a 2000 calorie diet.