Easy no-knead muffin bread. Perfect for toasting and so easy to make, this will become your favorite breakfast bread! Try it spread with my fruity vegan butter!
Jump to:
Bread. There is not a country that doesn't have its variation of it. Flatbread, Sandwich Loaf, Pitta Breads, Naan Bread, Pretzels, Tortilla, Ryebreads, Sourdough, Sweet Breads, Beer Bread, Bread made with vegetables, breads made with fruit, bread made with nuts, bread made with polenta, gluten-free Bread. Keto and Paleo Bread.
A non-official History of Bread
Bread is one of the oldest food sources, dating back to Neolithic times, indeed to many early civilisations it was their only source of food. It is probably because of this limited diet that we now have bread in so many different variations. The Iberians and Gauls used Wine and Beer to get a successful rise, whilst earlier breadmakers relied on airborne yeasts. Honey was used to produce a sweet bread (and to help the rise) and seeds would have been added.
The idea of a starter, made several days in advance was one of the earliest methods of producing a light, tasty bread. Of course, over the years it has evolved. Archaeological evidence suggests that the Ancient Egyptians suffered from bad teeth due to the stones and grit in the poorly milled flour chipping their teeth. Thankfully, bread milling methods are somewhat more sophisticated nowadays and the only extras you find in bread are welcome ones.

Because of the simplicity of bread, it is intrinsically woven into our memories. Even in our poorest days we can afford bread, and it offers us a comforting respite from our woes. Who hasn't eaten slice after slice of toast and jam because they're feeling particularly down?
The difficulty here is not merely finding a bread recipe but instead deciding which recipe. There are literally millions of variations of bread in the world and everyone of them deserves to be tasted, and preferably by myself.
However, suitably buoyed by hunger (and I was also incredibly bored and boredom breeds creativity in the kitchen) I decided to make something with a retro feel. "Ahh, but what is the bread made?" I hear you all cry. It was the perfectly delicious Muffin Bread, from James Beard's Beard on Bread.
How and Why Do You Proof Yeast?
It's simple. By proving it, you are activating the dried yeast. Adding it to a mixture of warm water (110c) and sugar. The sugar helps to speed up the activation process. It is also a really helpful way to tell if your yeast is good (if it "blooms" quickly) or if you need to replace your batch (no bubbles, no activity)
A No-Knead Bread Process
I love a bread that requires no kneading and this is so perfect for that! That's right: this is an easy recipe for a no knead dough bread! You simply beat the flour and milk into the proofed yeast for a minute (you can use a hands-free mixer, but why create washing?) and then let it rise. Add some bicarbonate of soda between (this helps create a light, airy texture), mix again, rise, and that's it! If you love breads that don't need any additional kneading, you'll also love my Beer Bread!
Full ingredients in recipe card.
What Does Muffin Bread Taste Like?
Muffin Bread tastes just like toasted muffins, or English Muffins. It is nothing like cake muffins (or cupcakes). It has a fairly open crumb texture, and toasts beautifully. And much like English Muffins, you do need to serve this bread toasted otherwise it is pretty bland. I love it served with butter and jam, or try my fruit butter here!
Try my other easy breads here
📋 Recipe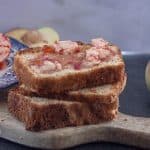 PRINT
Adapted from James Beard's Beard on Bread
Equipment
Loaf Tin

Large Mixing Bowl
Ingredients
2½

tsp

Yeast

1

tablespoon

Sugar

½

cup

Water

(at 110c)

2½

cups

Plain Flour

1

teaspoon

Salt

⅞

cup

Soy Milk

warm (or use your favourite plant-based milk)

¼

teaspoon

Bicarbonate of Soda

dissolved in 1 tablespoon warm water
Instructions
In a large bowl, prove the yeast, warm water and sugar.

Once it is a bubbly and frothy, beat in the flour, salt and warm milk.

Beat (or use the dough hook on your standalone mixer) using a wooden spoon for a minute or so, until it starts to pull away from the mixing bowl. This shouldn't take long.

Cover with clingfilm and place in a warm area. Leave to rise for about an hour and half (or until doubled).

Knock down your dough, and add the warm bicarbonate of soda water to the mixure. Beat in again thoroughly.

Now place your dough in your buttered loaf tin and leave to rise for another hour and a half.

Preheat oven to 170c and bake bread for about 25-30 minutes or until golden on top. This loaf cooks really quickly!

Leave to cool in the pan for 5 minutes, then remove to a cooling rack and leave to cool completely before cutting into slices and toasting.
Nutrition
Nutrition Facts
Easy Vegan Muffin Bread
Amount per Serving
% Daily Value*
* Percent Daily Values are based on a 2000 calorie diet.
Nutritional Information Disclaimer
The automated nutritional information on my recipes can often be inaccurate due to the limitations within the programming. For exact measurements, there are lots of apps and websites that can calculate this information more accurately.
Tried it and Loved it?
Mention @sweeterthanoats or tag sweeterthanoats!