How to Make Vegan Christmas Saffron Buns for St Lucia Day
O, Saint Lucia,
O, Saint Lucia,
Wearing white,
Lighting up the darkest
Lighting up the darkest
Winter night,
Winter night
How to make vegan Christmas Saffron Buns for St Lucia Day. Today, the 13th December, marks the Feast Day of St Lucia, a European religious holiday dedicated to the Italian saint, Lucia. Lucia is the patron saint of Sicily (also known as Syracuse), who, supposedly due to nothing more than a spurned lover, suffered a martyrs death in the 400AD.
What is St Lucia Day?
Throughout Italy, Sweden and Denmark, she is marked by either the eldest daughter of the household wearing a white dress (to symbolise the sainthood and purity of Lucia) with a red band (symbolising her death – she had miraculously survived the traditional martyrs death of burning, the flames refusing to lap near her feet, so her spurned lover stabbed her). A crown of candles completes Lucia's image, originally enabling her to use both hands to bring ample food to the banished Christians in the dark catacombs of Sicily.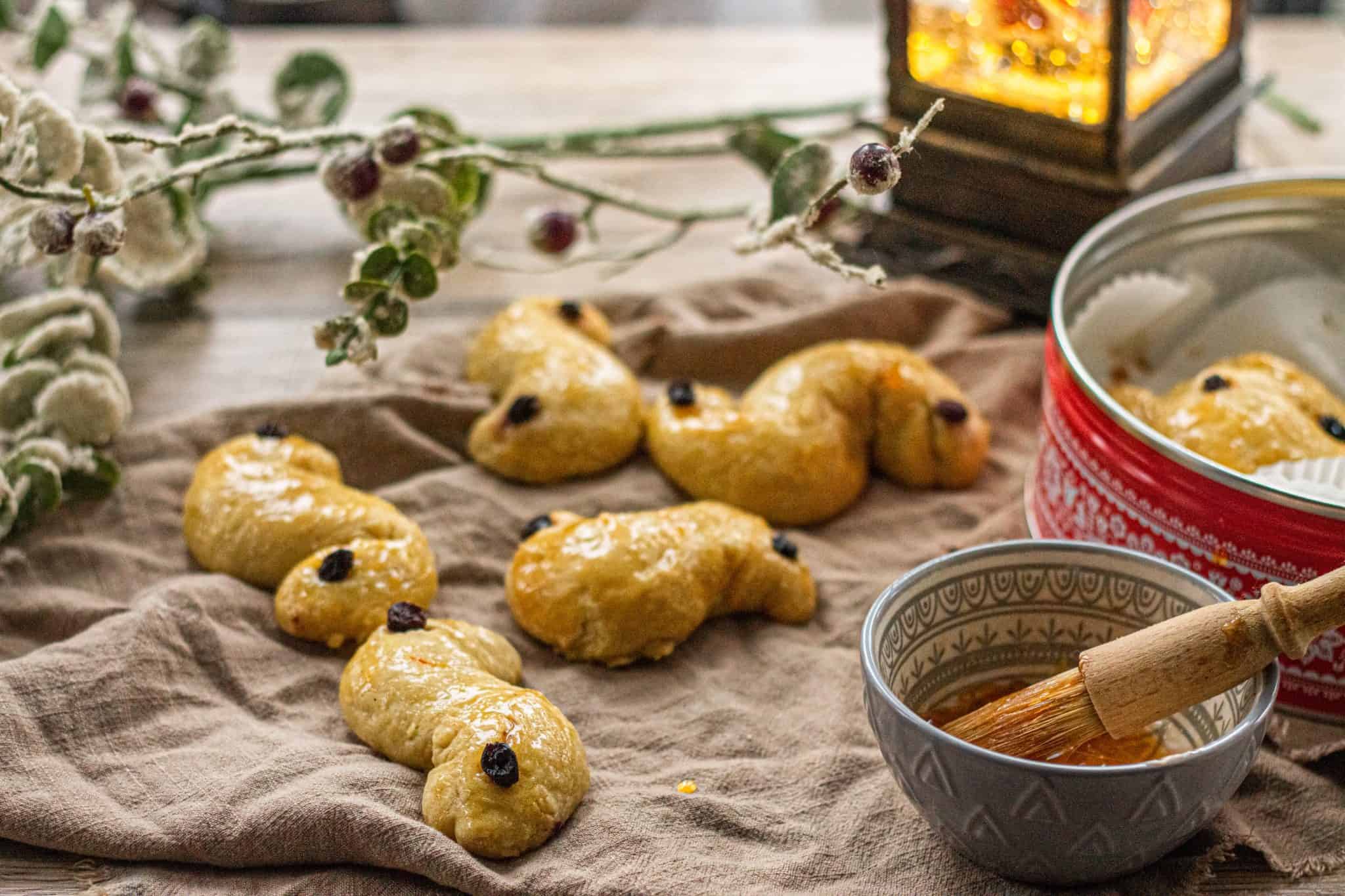 These days, the symbolic eldest daughter brings Saffron Buns or Lussekattes (St Lucias Cat) to their parents for breakfast or to school teachers. It is an exciting remembrance as it also represents the beginning of the Advent and, whilst not an official holiday, it is spent celebrating with lots of food and seasonal jollity. It is known as the Festival of Lights.

What are Saffron Buns?
us miserable Brits not celebrating such joyous remembrances, it would be well worth adding the St Lucia Bun to your all-year-round baking repertoire. An incredibly tender (due to the two packages of yeast and a whole cupful of cream), sweet Saffron scented dough that requires no kneading and is so easy and generous to handle that you can form the buns into traditional "cat" shapes, swirls or plaits, complicated knots and twists or simple Brioche-style rolls.
They are delicious served hot with lots of melting, unsalted vegan butter and spread thickly with jam or, they also suit the tangy filling of greek-style vegan cheese with cucumber. St Lucia Buns also freeze remarkably well, given their delicate disposition, and this recipe makes quite a few so this could come in handy. Also, with a pinch more salt added to the dough, these would also make a delicious dinner roll.
The recipe is adapted from The Great Scandinavian Baking Book by Beatrice Ojakangas.
Try my other easy bread recipes
Vegan Saffron Buns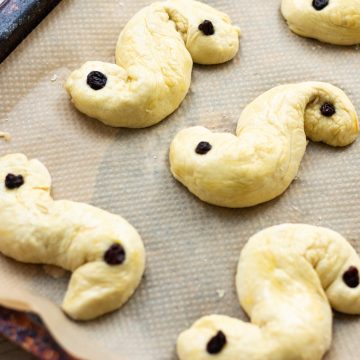 A simple sweetened yeast bread
Ingredients
2

sachets

Dried Yeast

½

cup

water

warm, but not boiling

½

cup

sugar

½

cup

Butter

Vegan, melted, cooled

1

cup

Single Cream

Plant based, I use Elmlea plant-based

¼ – ½

teaspoon

Saffron

preferably powdered

2

Egg Replacer

I use Orgran egg replacer, so in this instance, it will be 2 tbsp egg replacer whisked with 4 tbsp water

4

cups

plain flour

Raisins

optional, for decoration

1

teaspoon

salt
Glaze
4

tbsp

Soy Milk

¼

tsp

Tumeric Powder
Instructions
Sprinkle the dried yeast over the warm water, add a tablespoon of the sugar and leave to bubble up, about 5 minutes or so.

Add the melted butter, cream, saffron and eggs and beat until you get a smooth, shiny batter.

Beat in the salt, then add one cupful at a time of the flour, ensuring that you beat well between additions to ensure that you maintain the shiny, smooth batter. Once all the flour is amalgamated, cover with clingfilm and refrigerate for between 4-24 hours.

The dough will now have easily doubled in size and you will be able to break of small handfuls of the dough. Lightly flour your hands and shape them, either in traditional St Lucia formations (often a cat, ox, boar or Christmas cross) or in simple bread rolls or plaits. You could also make one large wreath by dividing the dough into three, plaiting it and then curling it into a circle, pinching together the ends to form a complete wreath. This way of serving the bread is often studded with candles and used as a stunning, edible centrepiece on the table.

Place your formed buns onto lightly greased baking sheet(s) and leave to rise for another 45 minutes or so. Decorate with Raisins.

Preheat oven to 180c.

Brush with the beaten egg and milk wash and bake for between 20-35 minutes or until lightly golden.

Serve with butter and jam or experiment with sandwich fillings.
Nutrition Facts
Vegan Saffron Buns
Amount per Serving
% Daily Value*
* Percent Daily Values are based on a 2000 calorie diet.