How to Make Easy Vegan Mincemeat
Easy vegan mincemeat recipe. I may be chastised for it, but I know I'm not alone in my love of Christmas. I'm not one of these curmudgeonly people who complain about the shops having their Christmas displays up in April. I revel in the cosy feeling you get from the warm pine scent of the Christmas tree standing next to the fire, its lights twinkling like the frost on the windowpane.
I adore the idea of roasting chestnuts by candlelight and boiling Christmas Puddings for six hours. As I get older, the meaning of Christmas takes on a greater significance. It is a time to spend with your loved ones, appreciative of what you have, and not dwelling on what you don't have. To play Christmas Carols and to gild walnuts, stringing them to the tree. Satsumas in Stockings. A glass of Sherry and a Mince Pie left out for Saint Nicholas. Sugar Plums and Plum Pudding.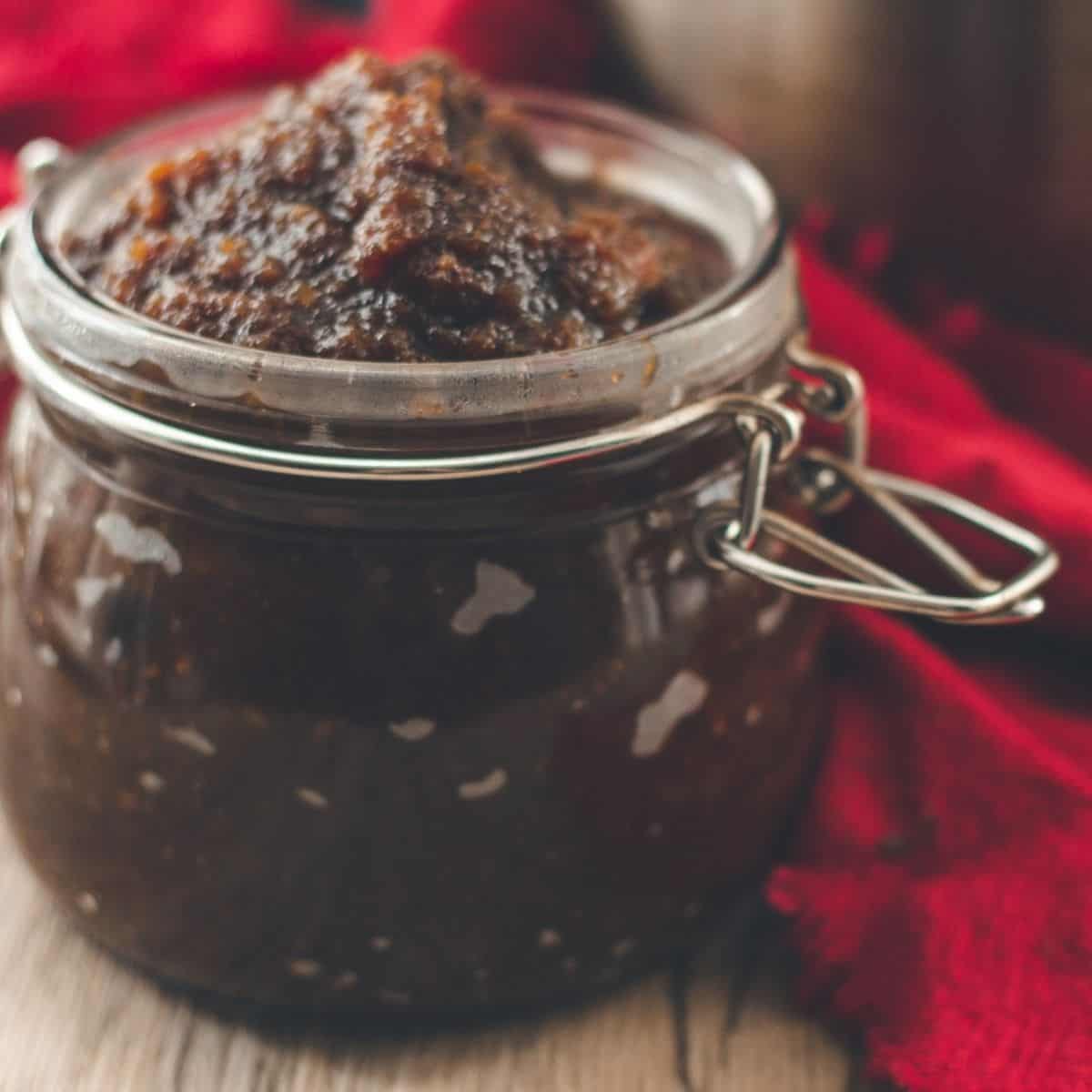 I remember my early Christmases, which were always spent at my grandparents. The men of the household would visit the local pub sometime around 10am (and I can't really blame them, if you so much as entered the kitchen, my grandmother would transform into a snarling, spitting hellcat) and re-emerge at around 1.30pm. My grandmother was demoniacal about the turkey being perfect and would quite literally pull her hair out with frustration.
One year my granddad persuaded her to cook it upside down, because he had seen a TV chef prepare one that way. However, not only did she cook it upside down, she also served it upside down. My mother had to pinch my leg hard enough to draw blood to assuage my childish snickering as this deformed, one-legged tipsy looking turkey was produced. In fact, it was the best turkey she had ever cooked but her mortification at serving a less than attractive turkey ensured that every year thereafter, the turkey was cooked – and served – right side up.
To me, it still means cooking lots of 'once a year' things, but advance prep, like pickles and preserves, for when, on Boxing Day, sated but still peckish, you serve bread, chips, hummous, peanuts, mince pies and Satsumas for people to lazily help themselves to.
I am boycotting the latent commercialism of Christmastime in my own small way by making my own mincemeat (and therefore, mince pies), Christmas cake, all baked cruelty free.
The mincemeat uses a wonderful Pennsylvania Dutch recipe, by way of Mimi Sheraton, from one of my favourite cookbooks, Visions of Sugarplums: lots of fresh fruit add a real lightness of flavour. It's also made without suet. I find that suet adds a greasiness that I don't enjoy, and omitting it, makes the mincemeat slightly healthier too! I have 2 large jars sitting, steeping, in the kitchen, flavoured with Amaretto which smells more like Marzipan than Marzipan itself.
Mincemeat FAQs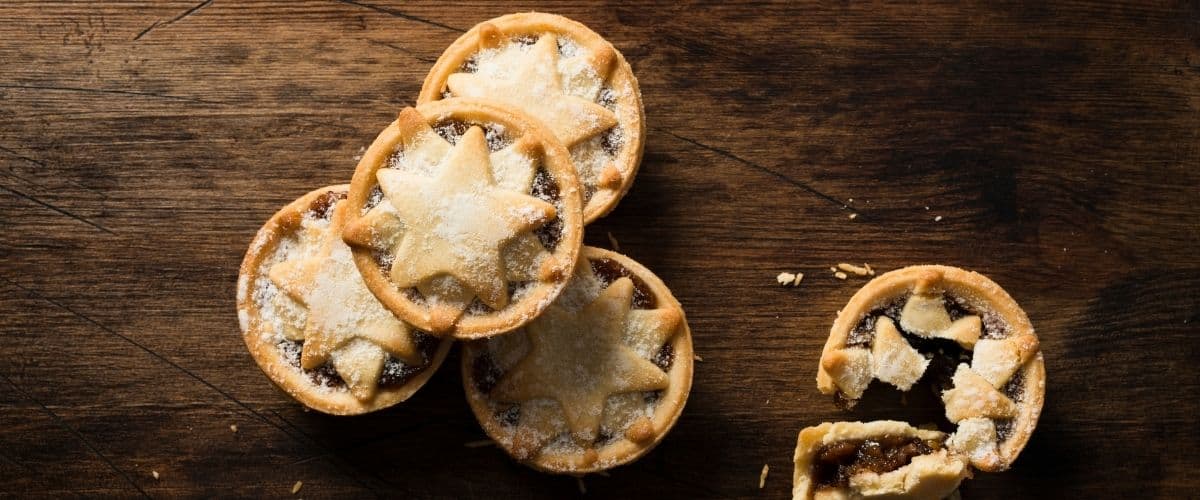 Mincemeat is really easy to make! I use my smoothie maker to blend up the fruit (I add a little cider to each blended batch to make it easier to pulse), but I don't have a food processor! A food processor will make the process even easier!
I like to keep a quarter cup of dried fruit aside to stir through to the mixture before cooking, just to add a little more texture.
Can I modify the fruit?
You can! Providing you keep the ratio between fresh and dry fruit as close as possible, then feel free to add fresh or dried cranberries, an extra orange instead of lemon, some more peel or glace cherries, or an extra apple. This recipe is very forgiving, but I would suggest if you find you've used a little more fruit that the recipe, then just cook it down for a little bit longer.
How can I tell when the Mincemeat is cooked?
You are looking for a "dry texture", which is to say, you want any liquid that might have been on the surface to have evaporated. If you still have a little liquid, just cook gently for a bit longer.
What can I use Mincemeat for?
Stir some into a Christmas Cake or Pudding
Place a spoonful into vanilla muffin batter before baking
Mincemeat Slices
Mincemeat Filo Parcels
Vegan Mincemeat Recipe (no suet)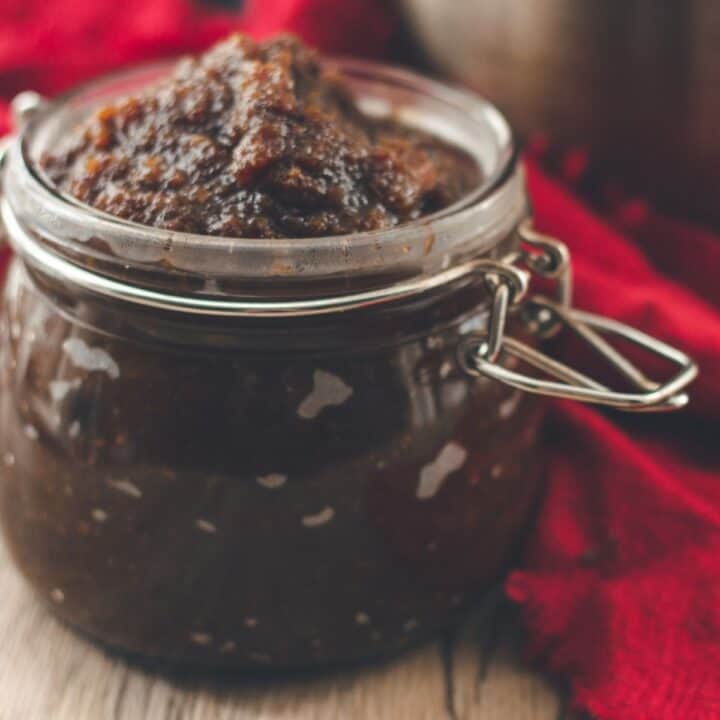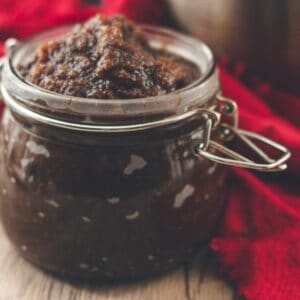 A traditional British preserve, full of dried fruits, ready for Mince Pies!
Ingredients
1

Orange

large, cut into quarters, seeded

½

Lemon

cut in half and deseeded

2

Apples

cooking, cored and cut into large chunks

1

cup

Raisins

¾

cup

Currants

or a mixture of mixed peel, dried cranberries, glace cherries

½

cup

dried Cranberries

¼

cup

mixed Peel

¼

cup

Maraschino Cherries

optional

1

cup

Cider

(I used alcoholic, but feel free to use apple juice)

1¾

cup

dark brown Sugar

½

teaspoon

Salt

1

teaspoon

each of cinnamon, ground cloves, ground coriander, mixed spice, ground ginger and freshly grated nutmeg

¼

cup

Amaretto

or Brandy or Whiskey (optional)
Instructions
Using a food processor or blender, process the apple, orange, lemon and most of the dried fruit (keep ¼ cup aside) until combined but not smooth. You don't want any large lumps, but you need some texture. I use a little of the cider to help process it easily.

Add this, along with the reserved ¼ cup of dried fruit and the rest of the cider to a large saucepan

Bring to a boil, but quickly turn down to a very gentle simmer. Do not cover.

Simmer for about 15 minutes or until the mixture starts to dry out (the cider has basically evaporated). Stir frequently to avoid the mixture from sticking.

Now add the brown sugar, salt and spices, stir well, and simmer for another 15 minutes.

Remove from heat, and, if using, stir in your alcohol of choice.

Decant into sterilised jars. Leave for at least 1 week before using.
Nutrition Facts
Vegan Mincemeat Recipe (no suet)
Amount per Serving
% Daily Value*
* Percent Daily Values are based on a 2000 calorie diet.