Vegan plum shortbread squares. Just because we 'eat sensibly' during the week doesn't mean that we don't treat ourselves at the sometimes. And this weekend was no exception.
The recipe, adapted from Diana Henry's wonderful Roast Figs, Sugar Snow, has been tempting me for some time. This recipe is a gentle introduction into the fine world of blending butter, sugar and flour to produce something sublime, yet vegan (although feel free to replace with gluten free self raising flour instead).
Jump to:
What are Vegan Plum Squares?
The recipe for my vegan plum shortbread squares involves a vanilla scented shortcrust base, whipped up in the food processor (although could be mixed up by hand), chilled for half an hour and then pressed into a baking sheet. It is then topped with stoned and halved plums or damsons, sprinkled with a generous amount of sugar and baked until fruit is verging on sweet, sticky collapse. The fruity shortbread is then glazed with hot apricot jam, left to set and cut into squares.

Aside from the dazzling, gem-like finish, this is otherwise a fairly unassuming looking cake/biscuit(?), with a flat base. Once you bite through the sticky tart and sweet fruit into the fragrant crumbly pastry, you are transported to a baroque-style café in Vienna (perhaps Cafe Sperl, from whence this recipe inspired Diana Henry), sipping hot chocolate and watching children sweep by in velvet coats on ice skates.
There is something timeless about these simple sweetmeats, so easy to make and yet incredibly complex on the taste buds.
I used some frozen plums left over from late Summer, but you could also use slices of pear or apple, fresh blackberries, greengages or gooseberries. The fruit doesn't need to emit too much liquid as it cooks, lest you should suffer a soggy bottom. A light dusting of fine cornmeal (polenta) on the base before you layer up the fruit should soak up too much ooze if you really fancy trying it with strawberries or raspberries.
A simple, sweet treat that can be made the day before you want to serve it, looks just as charming served casually with a cup of tea or a rich, creamy latte for a decadent pudding.
Try my other delicious vegan recipes
📋 Recipe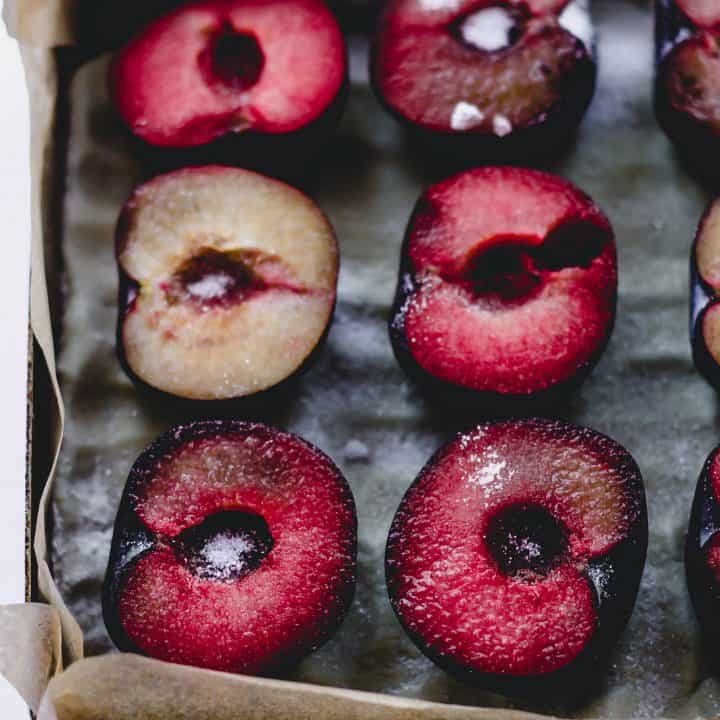 PRINT
Cafe Sperl's Plum Shortbread Squares - Vegan
A deliciously simple treat that is perfect anytime of the year
Equipment
8" x 12" Baking dish, lined
Ingredients
200

g

Self Raising Flour

100

g

Butter

vegan, not fridged

175

g

Superfine Sugar

Salt

1

teaspoon

Egg Replacer

mixed with 1 tablespoon Water

1

teaspoon

Vanilla Extract

675

g

Plums

de-stoned if necessary

2

tablespoon

Sugar

200

g

Redcurrant Jam

or Apricot Jam
Instructions
To make the base, place the flour and spread/vegan butter in a food processor fitted with the plastic blade and process until the mixture resembles breadcrumbs. Add the sugar and salt, mix again.

Add the mixed egg replacer and vanilla and process until it forms a rough ball.

Scoop out of the processor bowl, form into a ball, wrap in clingfilm and chill for half an hour.

Preheat oven 180c.

Halve the plums and de-stone.

Into a lined baking sheet 8 x 12" square, press the dough out.

Press the plums into the dough rectangle in rows, making just one layer.

Sprinkle with the 2 tablespoons of sugar and bake for 35-45 minutes until the fruit is soft, sticky and caramelised. The pastry, where exposed, should be a golden brown colour.

Leave to cool.

Melt the jam with a little water and brush generously over the fruit. It should be gleaming and glossy.

Leave to set, then cut into 3" squares, larger or smaller if you'd prefer.
Nutrition
Nutrition Facts
Cafe Sperl's Plum Shortbread Squares - Vegan
Amount per Serving
% Daily Value*
* Percent Daily Values are based on a 2000 calorie diet.
Nutritional Information Disclaimer
The automated nutritional information on my recipes can often be inaccurate due to the limitations within the programming. For exact measurements, there are lots of apps and websites that can calculate this information more accurately.
Tried it and Loved it?
Mention @sweeterthanoats or tag sweeterthanoats!