How to Make Easy Vegan Florentines
This post contains links to affiliate websites, such as Amazon, and we receive an affiliate commission for any purchases made by you using these links. We appreciate your support!
Easy vegan Florentines recipe. Florentines are an extremely sophisticated, grown-up cookie, but don't let that put you off! They are also extremely easy to make and you can make them as posh or as fun as you like.
The most important thing to remember is that the ratios are correct, this is the kind of cookie that can go from good to gloopy really quickly if you have too much sugar content.
One more caveat, make sure you use greaseproof paper. I accidentally used baking paper and oh boyyy, they stuck in the most heartbreaking way. I was kind of eating off the paper with my teeth (not wasting that Florentine goodness, no matter what!).
Gifts and Parties
Because shop-bought Florentines are pretty expensive, these dainty disks make a lovely gift, tied up with some cute ribbon, and not just for Christmas. I think they make a lovely dinner party after-coffee biscuit (when we can finally have dinner parties again!), slicked with rich dark chocolate, and studded with pistachios and dried figs, but are just as fun for a kids party, dipped messily in white or milk chocolate and stuffed full of bits of marshmallows or raisin and peanuts.
What Are Florentines?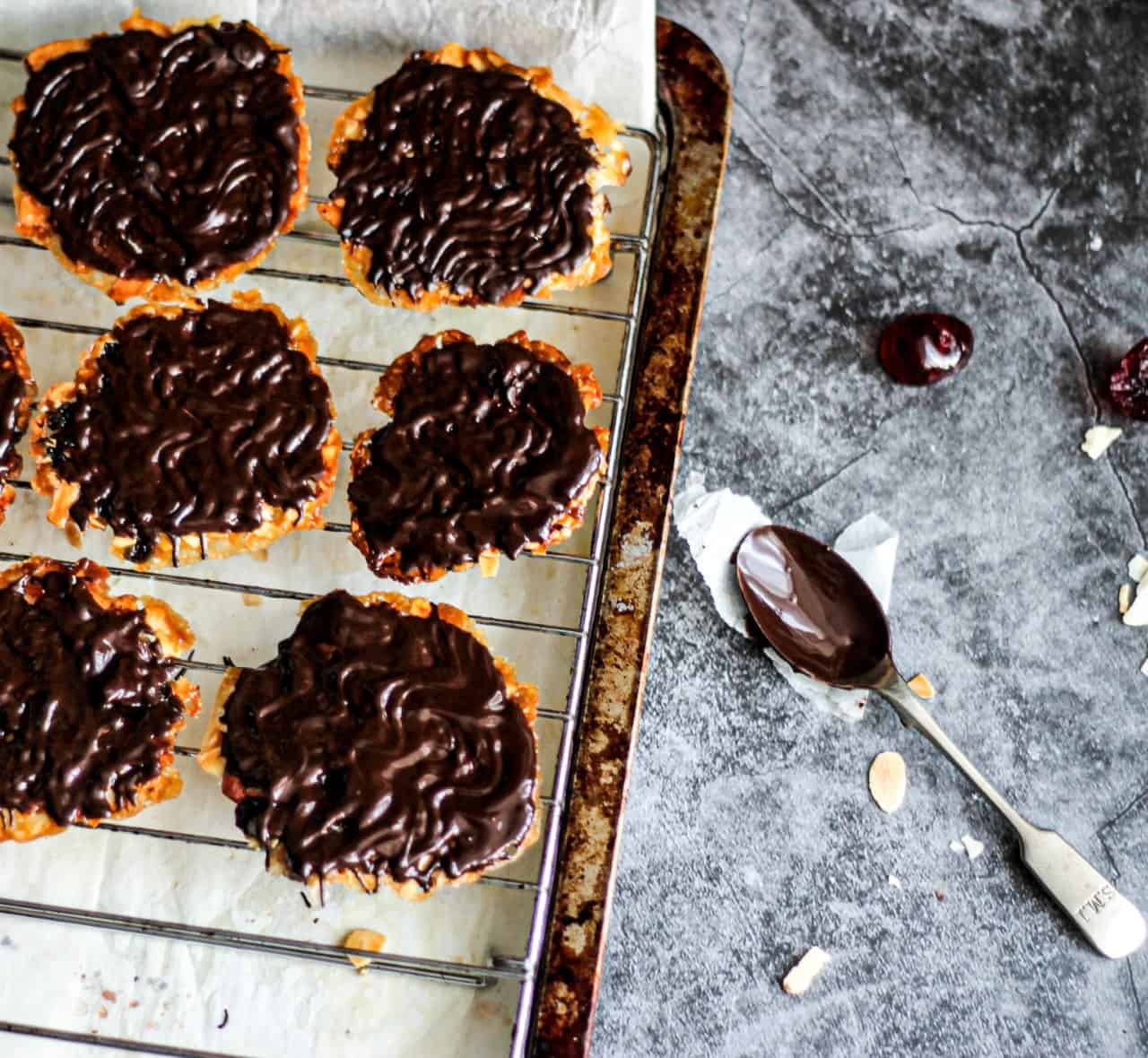 Emiko writes about the history of the Florentine so eloquently here, but the history is a little bit hazy. It is generally agreed that they do not originate from Florence at all, or even Italy, but perhaps from France, where such lacy delicacies pleased the royal palace hundreds of years ago. I am always a little obsessed with the idea that delicious food is discovered accidentally, and I wonder if Florentines were created in the same way: intending to produce a delightful little bon bon, but upon baking found instead a flat, lace-like cookie that was more ethereal than the chef could have ever anticipated.
How Do You Make Vegan Florentines?
But I digress. Wherever the delicious Florentine originated, we are grateful for this potentially accidental delight.
I have veganised them by removing the honey element and the cream, and of course using plant-based butter instead of dairy butter. I suggest you try this original recipe first and then play around with the ingredients once you are familiar with the method. And I do recommend the lemon zest. It adds a certain….je ne se quoi.
Try my other delicious vegan cookies
Vegan Florentines
A simple way to make Florentines
Equipment
Mixing Bowl

Saucepan and wooden spoon

Measuring Cups and Spoons

Baking sheets lined with greaseproof paper
Ingredients
¼

cup

Vegan Butter

¼

cup

Brown Sugar

2

tbsp

Golden Syrup

¾

cup

Almonds

-

roughly chopped

1

tsp

Lemon Zest (or Orange)

½

cup

Dried Fruit

-

Such as raisins, cranberries, currants. If they are quite dry, I recommend just soaking them for about 10 minutes first in a little hot water to plump them up. Make sure you drain them thoroughly afterwards.

¼

cup

Glace Cherries

-

Chopped. A mixture of colours is fun and very retro.

1

pinch

Sea Salt

1½

tbsp

Gluten Free Plain Flour

-

or use regular flour

1

cup

Dark Chocolate Chips
Instructions
In a small pan, melt the butter, sugar and golden syrup. You could also do this in a small dish in the microwave, melting at 1 minute intervals.

In another bowl, combine the nuts, zest and dried fruit. Sprinkle the flour over the top and mix through, so that everything is coated.

Pour this mixture into your pan or bowl with the melted butter/sugars and combine thoroughly.

Now, I use a tablespoon measuring spoon that I spray with a little oil to stop everything sticking too much, but a teaspoon or any spoon will do!

Drop tbsp size dollops of the mixture onto your prepared baking sheets, making sure you leave plenty of space around them (see photo) as they will spread a lot during cooking!

Bake for about 5 minutes, or until golden.

Leave them to cool on the baking sheets, then remove to a cooling rack ONLY once they are no longer flexible (they will fall apart otherwise).

Melt the chocolate chips in a small microwaveable bowl at 30 second blasts in the microwave.

Using a spoon, gently drizzle the melted chocolate onto one side of your florentines. Let the chocolate set for a minute or so, and then go over the chocolate with the prongs of a fork, to give the distinctive florentine swirl. Let cool completely and then enjoy!
Please note that where the recipe asks for milk, butter or yogurt, this refers to any plant-based version that you prefer.
Nutrition Facts
Vegan Florentines
Amount per Serving
% Daily Value*
* Percent Daily Values are based on a 2000 calorie diet.