The Best Vegan Chocolate Chip Cookie Recipe – chewy, chocolatey and perfect!
The best vegan chocolate chip cookies recipe. Easy, quick and yummy, if you need to prepare a batch of dairy-free cookies in a hurry, this recipe is perfect, full of chocolate chips, chewy with crunchy edges: these cookies rock!
There are two things that I really love in this world, no, three things: coffee, true crime books and chocolate. There have been instances where I have combined all three, sipping a coffee with one hand, the other in a bag of chocolate buttons, listening to the latest true crime book on Audible. Utter bliss.
Whatever your favorite things are in life, I feel like these my vegan chocolate chip cookie recipe should be one of them.
Inspired to buy the Tate's Bake Shop Cookbook some years ago, after watching an episode of the Barefoot Contessa (my forever cooking hero), I finally found myself cooking their famous Chocolate Chip Cookies, thin, crisp, and as large saucers. Of course, I also found myself veganising their original recipe, removing the egg and butter element. The result? Still a light, crisp, large as a saucer cookie, a bit like those you buy in paper bags from the grocery store, but better!
I am normally a crunchy cookie gal, I love British "biscuits", and find that I am normally a crunchy cookie gal, I love British "biscuits", and find that chewy cookies are a little incongruous with what I'm used to. However, these chewy chocolate chip cookies, whilst a little soft in the middle, are just a delight. And if you dislike that chewy center, then just bake them for a few minutes longer to get crisp edges.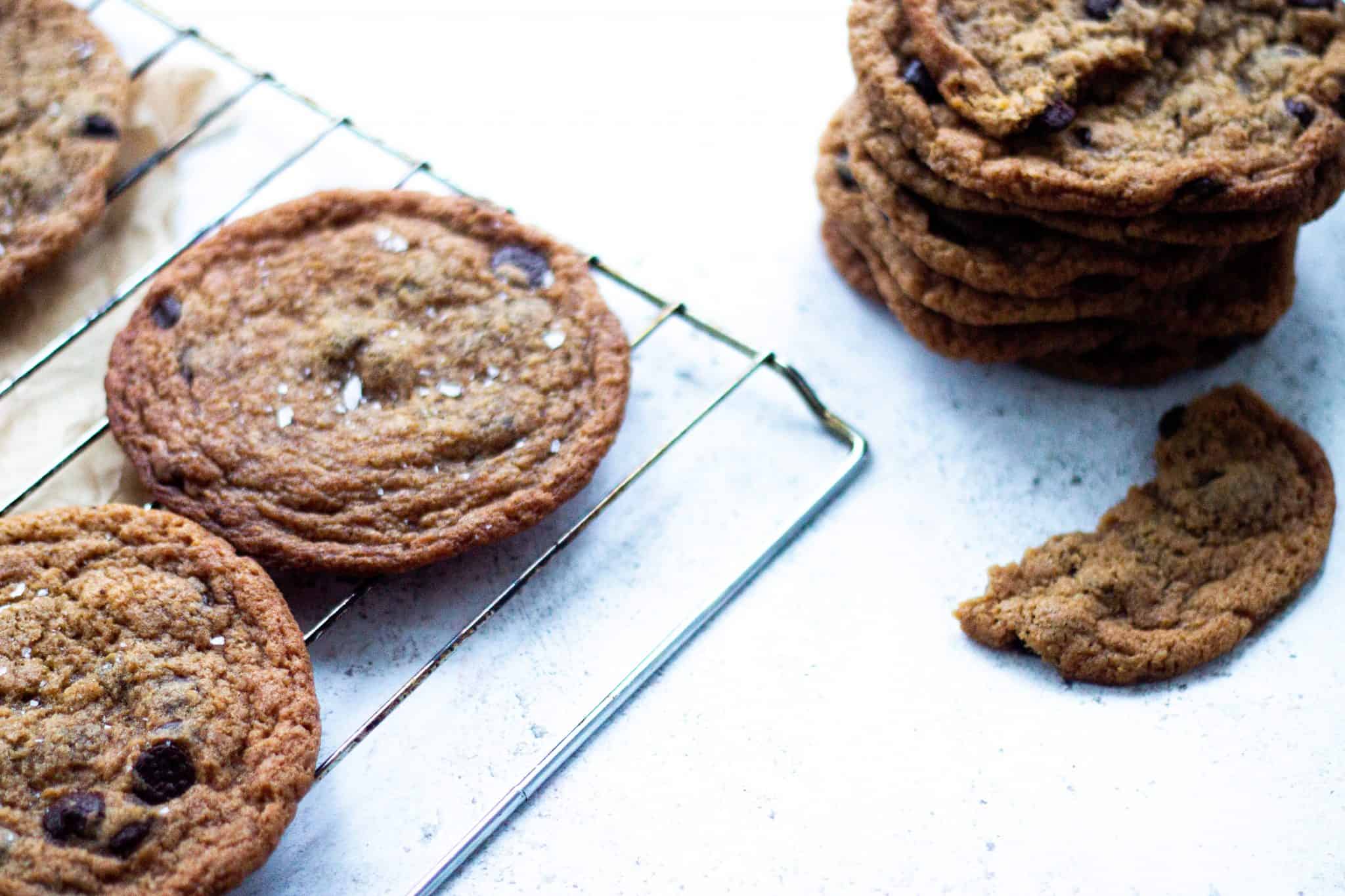 But are Chocolate Chips Vegan?
Yes! And no. Doesn't it seem like I'm always giving that answer? Well, as with most things vegan, that IS typically the answer. Just like regular bars of chocolate, chocolate chips come in a variety: white, milk, dark milk, and then the good stuff that vegans can eat: the dark chocolate. Be careful when buying chocolate chips though. I like to buy large bags of chocolate chips, like these from Callebaut. Callebaut only uses the finest cocoa beans to produce their chocolate, and they are honestly the best dairy-free vegan chocolate chips you can use in your cooking. I have been caught out buying brands like Dr. Oetker, whose dark chocolate chips contain whole milk powder or milk fat! Of course, if you prefer to use vegan chocolate chunks, go ahead and chop up your favorite bar of vegan chocolate and use that instead!
Now, let's talk about size. When I say that these are huge cookies, they are big, like 4" in diameter! I use a standard size ice cream scoop to measure them all out equally but feel free a mini cookie scoop if you want to make them smaller. You will need to adjust your cooking times accordingly, from 12 minutes to maybe 8.
You will also need to space them out generously on your prepared baking sheet (lined with parchment paper). I currently use a mini oven to bake cookies, and my baking sheets are small! I could only fit 3 scoops of cookie dough balls per sheet, leaving 2" space between them. Hopefully, you have a larger oven than me and can fit more on a large sheet! Whatever size you use, just ensure that you do leave the space in between your scoops of cookie dough. These mounds of dough spread out!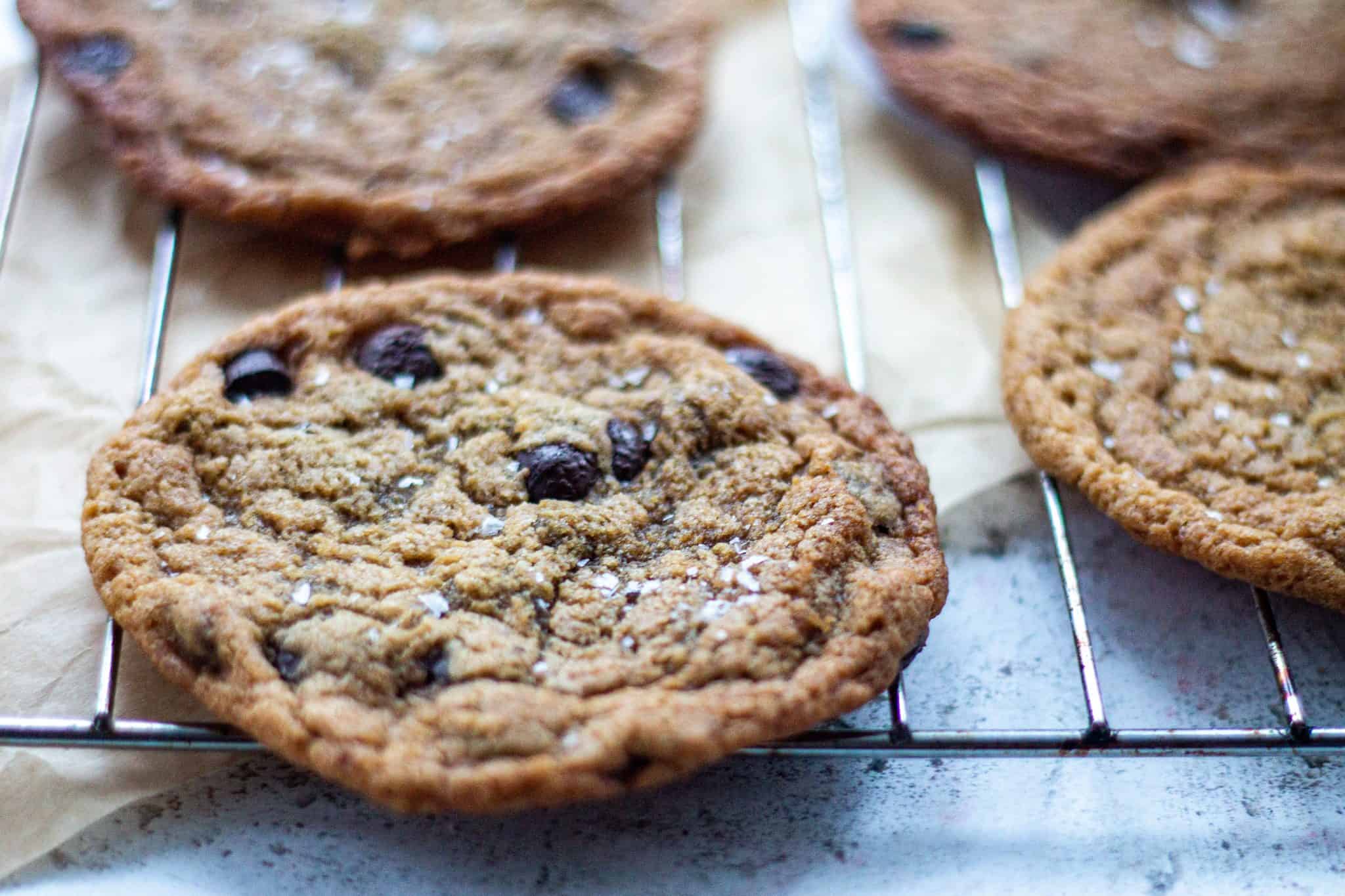 If you do find that your cookies spread a little too much during baking, you can use a spoon or spatula to gently separate them and ease them back into a round shape. And even if they are a little less than perfect, it doesn't matter: they will taste perfect and everyone will love them!
Tip: make sure to let them cool for a while on a wire rack because they are very soft when they first come out of the oven.
These amazing vegan chocolate chip cookies will cure your cookie cravings in less than an hour! My easy recipe doesn't use weird ingredients, you will have everything in your pantry.
And as a side note: do add the sea salt sprinkle if you have some. It enhances the cookie flavor immeasurably.
Stored in an airtight container, these will last about a week.
Ingredients
All-purpose flour (plain flour), or whole wheat flour. You can also use gluten-free flour or oat flour.
Vegan butter, your favorite brand.
White sugar and dark brown sugar. The brown sugar adds that distinctive chewy texture and caramel-like flavor.
Egg Replacer. I use Orgran but you could use flax egg instead.
Vegan Chocolate Chips
Water or a little soy milk or almond milk (or oat milk).
A teaspoon salt (optional) for sprinkling
Try my other delicious vegan treats!
The Best Vegan Chocolate Chip Cookie Recipe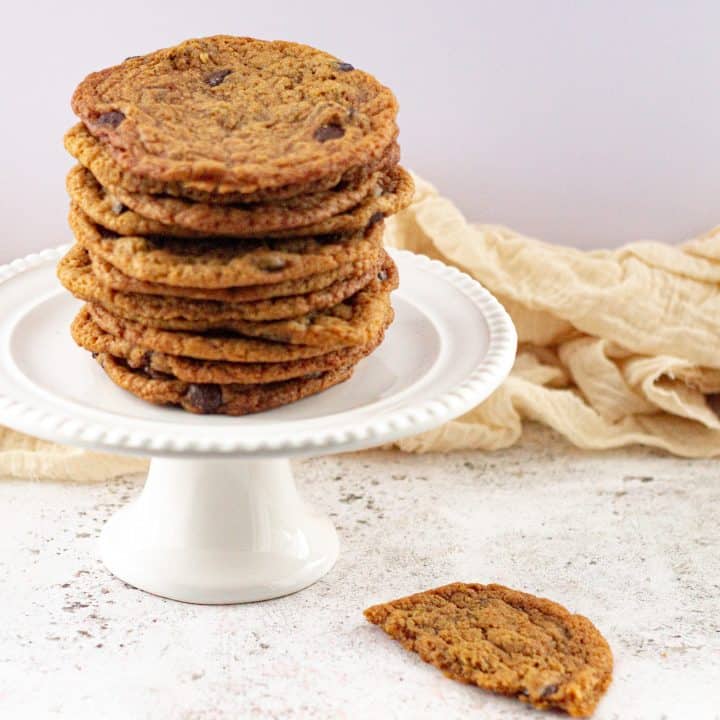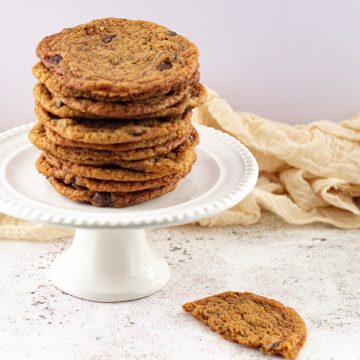 A vegan adaptation of the Tates Bakehouse Classic Chocolate Chip Cookie recipe
Equipment
Baking sheets lined with greaseproof paper

Ice Cream or Cookie Scoop
Ingredients
2

cups

Plain Flour

1

teaspoon

Baking Powder

1

teaspoon

Salt

1

cup

Butter

vegan, salted, softened

¾

cup

white Sugar

¾

cup

dark brown Sugar

2

tbsp

Egg Replacer

whisked up with 5 tbsp water

1

teaspoon

Vanilla Extract

1

teaspoon

Water

2

cups

Chocolate Chips

vegan

pinch

Sea Salt
Instructions
Sift together the flour, baking powder and salt in a bowl.

In another large bowl, beat the sugar and butter together until pale and fluffy

Beat in the water and vanilla, then, using a spatula, or wooden spoon, fold in the mixed up egg replacer.

Fold in the flour until just combined, then gently stir in the chocolate chips

Taking care to leave at least 2" between cookies, use your cookie or ice cream scoop to measure out mounds of cookie dough on your prepared sheet(s).

I only have a mini oven so could only get three on a tray at a time!

Bake for exactly 12 minutes, remove from oven and leave to cook for a minute or so before removing to a cooking rack.

Continue with the rest of the mixture.
Nutrition Facts
The Best Vegan Chocolate Chip Cookie Recipe
Amount per Serving
% Daily Value*
* Percent Daily Values are based on a 2000 calorie diet.
And try my other vegan cookie recipes: