The most delicious vegan peanut butter cookies recipe. Sometimes only a treat from childhood will do and my vegan peanut butter cookies recipe will send you back to school yard with one bite!
Jump to:
Peanut Butter is the one smell, texture and flavour that reminds me of being a kid. I remember white plastic bread smeared together with peanut butter. I remember our breaths smelling of it as we raced around the school playground. I remember laughing at friends whose parents stuffed celery with it and being grossed out and then in love with peanut butter combined with strawberry jam.
I first tried Reese's Peanut Butter Cups when I was about 11, bought at a local American airbase by friend with American family. I had to wait another 12 years before I would taste anything this good again!
But how I remembered and still can recall the thrill of tearing open the orange foil packaging. Smelling the peanut aroma. Slowly peeling off the brown wrapper and letting my teeth sink into that salty, sweet then salty again taste.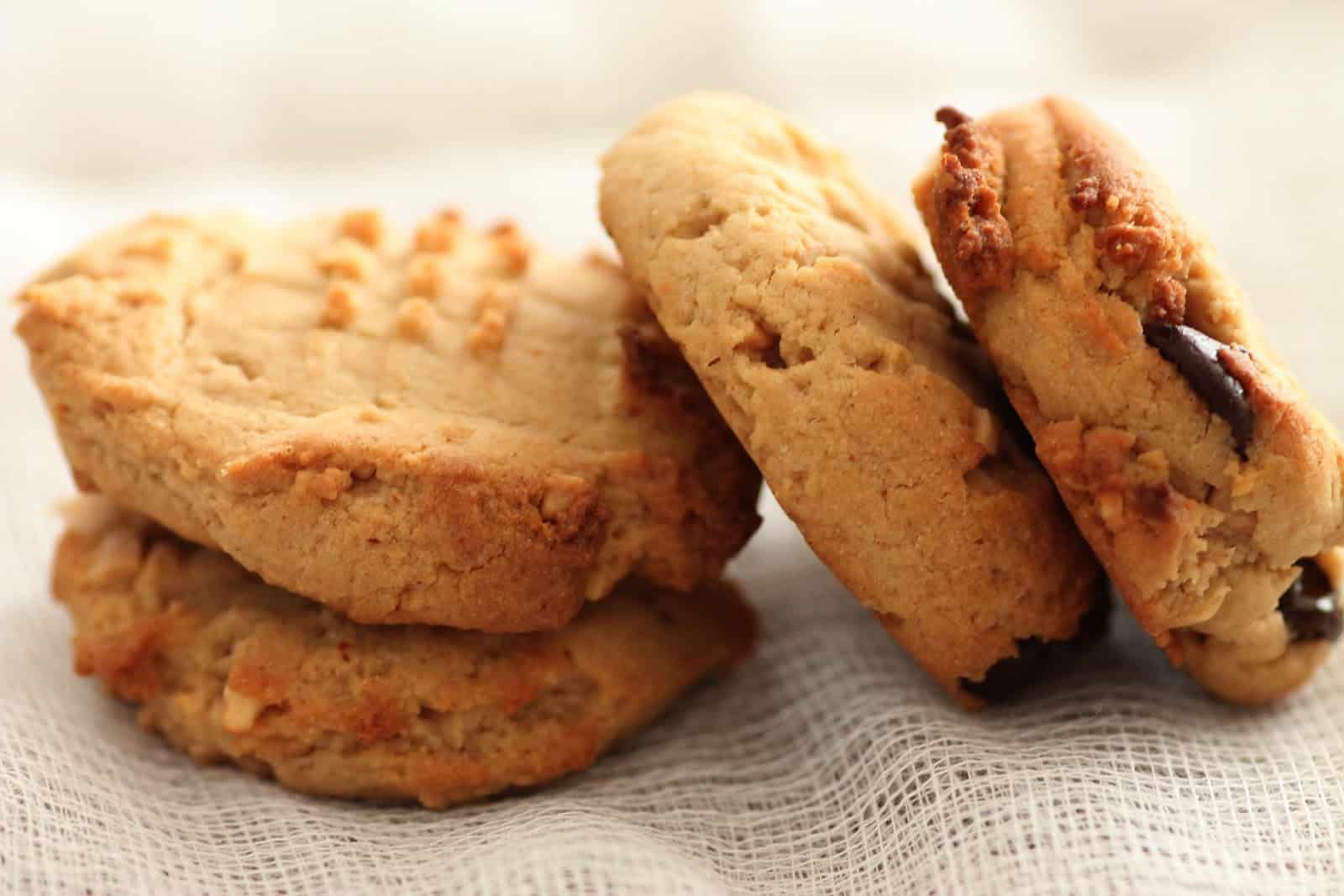 When I first became vegan, I felt sure that I would never taste something as delicious as those peanut butter cups.
BBut then I discovered the peanut butter cookie. They are buttery, more grown-up vegan cookies, tinged with the taste of peanut butter, sophisticated, but just as good made into a strawberry jam cookie sandwich. These are the perfect vegan sweet treat, and this is one of the easiest vegan cookie recipes there is! The peanut butter lovers in your life will love them!
The recipe is simple, switching out the eggs for vegan yogurt, non-dairy milk and vegan spread instead of butter. This classic peanut butter cookie recipe uses simple ingredients, found in most store cupboards.
Ingredients
Plain or all purpose flour. You can replace this with gluten free flour or oat flour.
Baking Powder
Vegan Yogurt. This is in place of egg / egg replacer / flax egg, working essentially as a binder. You could use unsweetened applesauce instead.
Soft brown sugar
Peanut Butter. Of course! You can't make PB cookies without peanut butter! I like to use a brand like Skippy or Sun-Pat, (for a stronger peanut butter flavor) but feel free to use a natural peanut butter if you want a healthy peanut butter cookie. You could also use almond butter. I like to use a creamy peanut butter, but you can use crunchy peanut butter too.
Vegan Butter. Use your favourite brand but make sure it's at room temperature.
Soy Milk. You can use almond milk or your favorite plant-based milk instead.
Vanilla Extract
Chocolate Chips (optional)
Method
Line a cookie sheet with parchment paper.
In a small bowl, mix together all the dry ingredients.
In a separate large mixing bowl, using a hand mixer, beat together the butter, yogurt, milk, peanut butter, sugar and vanilla.
Add the dry ingredients to wet ingredients and mix well until you have a soft dough. Fold in the chocolate chips, if using.
Using a cookie scoop or spoon, scoop out dough balls onto your prepared baking tray, about 2" apart.
Using the tines of a fork, press into the top of the dough making the classic criss-cross pattern.
Bake for about 10 minutes or until the top of the cookies are light golden brown.
Leave for cool for a couple of minutes before leaving to cool completely on a cooling rack.
These will last for 7-10 days in an airtight container.
Try my other delicious vegan cookies
📋 Recipe
PRINT
Vegan Peanut Butter Cookies
How to make the childhood classic cookie
Ingredients
1¾

cups

Plain Flour

¾

teaspoon

Baking Powder

¾

teaspoon

Salt

¼

cup

Yogurt

vegan, plain

1⅓

cups

Brown Sugar

soft

1½

cups

Peanut Butter

(crunchy or smooth)

½

cup

Butter

vegan, at room temperature

3

tablespoon

Soy Milk

or dairy-free of your choice

1

tablespoon

Vanilla Extract

1

cup

Chocolate Chips

(optional), vegan
Instructions
Preheat Oven to 180c.

Line 3 baking sheets with parchment paper.

Combine all the dry ingredients in a small bowl.

In a large mixing bowl, beat the sugar, spread, yogurt, milk, vanilla and peanut butter until smooth.

Add the dry ingredients and chocolate chips if using, mix until thoroughly combined.

Using a tablespoon, drop spoonfuls of mixture, 2 inches apart, on the baking sheets and bake for 10 minutes or until just turning golden.

Leave to cool for a couple of minutes before removing to a cooling rack.
Nutrition
Nutrition Facts
Vegan Peanut Butter Cookies
Amount per Serving
% Daily Value*
* Percent Daily Values are based on a 2000 calorie diet.
Nutritional Information Disclaimer
The automated nutritional information on my recipes can often be inaccurate due to the limitations within the programming. For exact measurements, there are lots of apps and websites that can calculate this information more accurately.
Tried it and Loved it?
Mention @sweeterthanoats or tag sweeterthanoats!