Easy Vegan Shortbread Fingers Recipe
This post contains links to affiliate websites, such as Amazon, and we receive an affiliate commission for any purchases made by you using these links. We appreciate your support!
Are you in search of an easy mouthwatering vegan treat? Look no further than my delectable easy vegan shortbread fingers! These scrumptious delights are made with simple, plant-based ingredients that are sure to satisfy your sweet tooth. With a delicate crumbly texture and a buttery flavor, these shortbread fingers are perfect for indulging in a teatime snack or impressing your guests with a homemade vegan dessert. Try them today and experience the irresistible taste of vegan goodness!
I enjoy baking and sharing these reasonably simple and quick recipes for the harassed, exhausted or just plain lazy (and that's ok too!) cook. The person who still wants to know that when they go to the cake tin in the week, they have a little treat in there, and a who wants a little bit of pride knowing that they filled the cake tin themselves.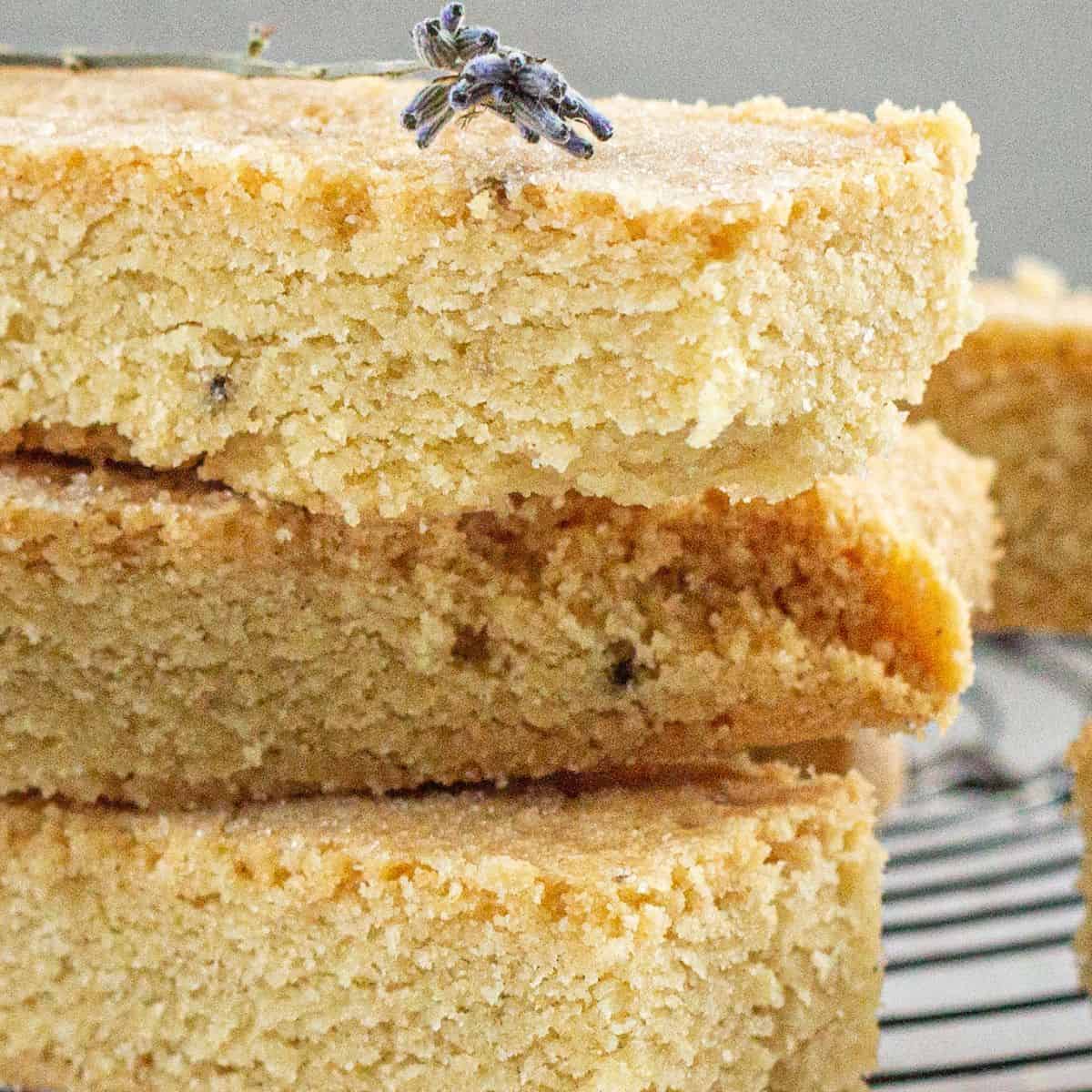 I've blogged about my easy blender method cake elsewhere on this blog and if I can get prep for anything bakeable done in 10 minutes or under, I'm a happy bunny.
If you loved this recipe, I highly recommend you try my vegan Millionaire's Shortbread or my coffee shortbread recipes!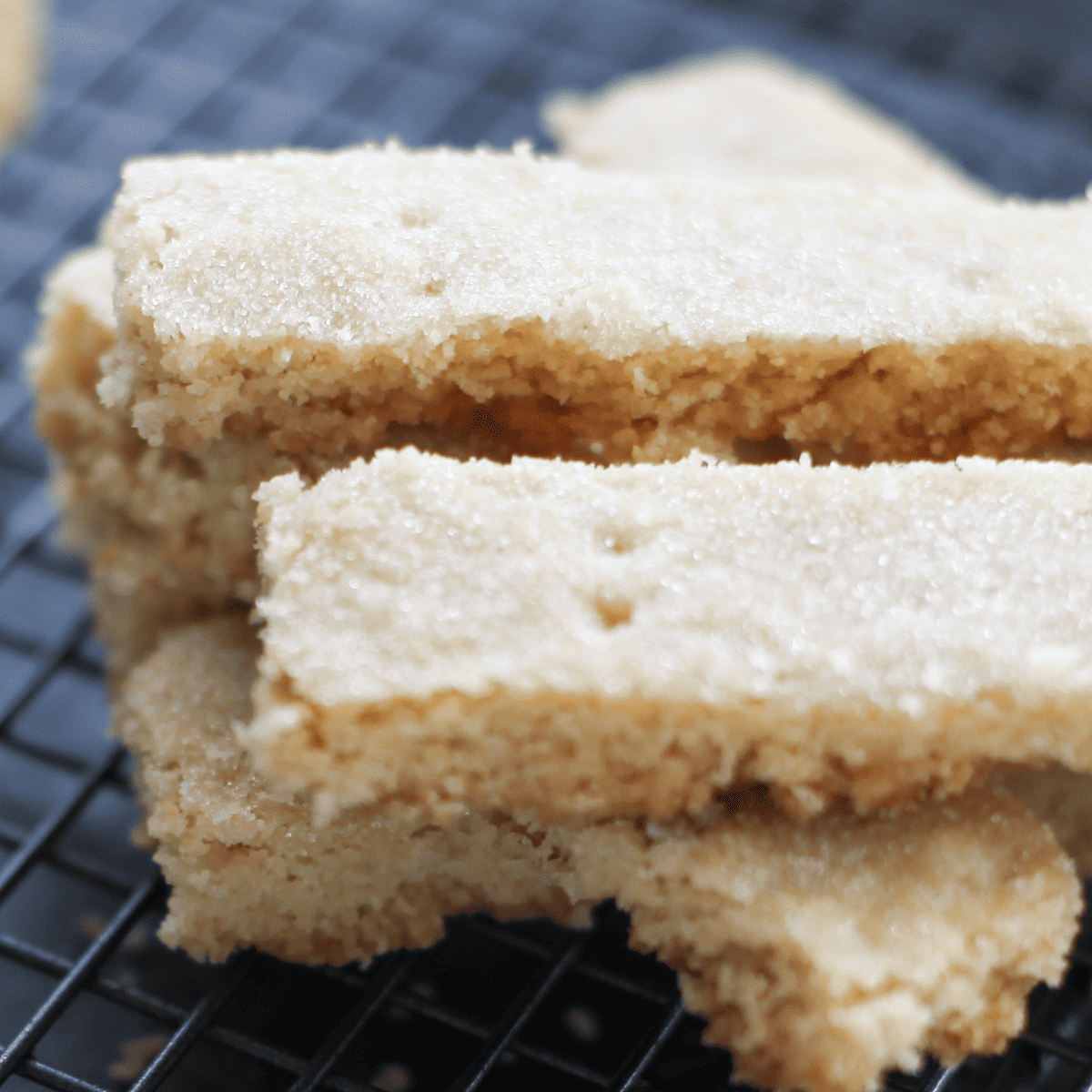 This shortbread recipe, based on a vintage Delia Smith one, but veganised, of course, and given a special (optional) twist.
What is Shortbread?
Shortbread is not bread. It doesn't have yeast or any levening in it, and is certainly closer in texture to cookies than anything else. The word short refers to both the crumbly texture of the biscuit, but also that it uses a high quantity of shortening.
Of course, as the tartan on the boxes you see in the shops might suggest, Shortbread originated in Scotland, perhaps as early as the 12th Century. According to Sir Wiki, the first printed recipe for Shortbread appeared in 1736, carefully scribed by a Scotswoman called Mrs McLintock. I think she would have had some really interesting recipes in her repertoire, and if only I had a time machine, I would arrive in her kitchen to try her traditional Scottish recipes, perhaps somewhat disturbingly to her, probably never having heard of time machines.
Note: Shakespeare also wrote about an Alice Shortcake in the Merry Wives of Windsor, and no doubt he had tried the delicacy and fell in love with the romantic nature of the name.
If you have never tried shortbread, you must give this recipe a go today (or, at the weekend, I'll approve). It's also a really great recipe for children as it is such a simple recipe: just put all the ingredients in a large mixing bowl and beat until you have a thick shortbread dough. You can make shortbread fingers, as I have here, or you could turn them into buttery cookies too. Perfect with a cup of tea, shortbread is the quintessential British (and Scottish!) tea-time treat, sold in large tins at Christmas, but perfect any time of year.
The buttery flavor comes from the few simple ingredients, so make sure to use the best quality vegan butter you can find. And contrary to common belief, you don't need dairy butter to make proper shortbread.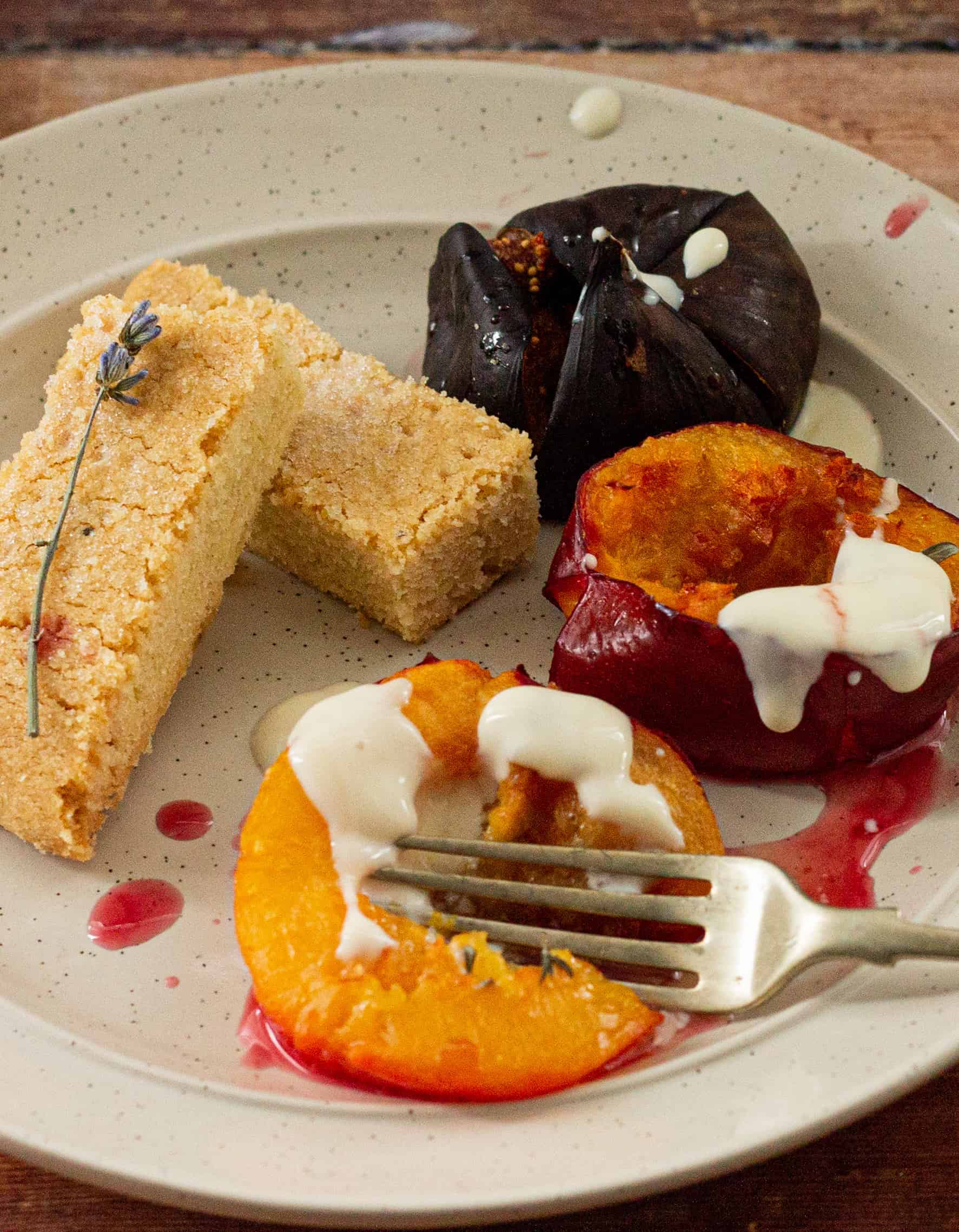 This is a great entry point to vegan baking as it is so simple, but gives you delicious cookies.
Ingredients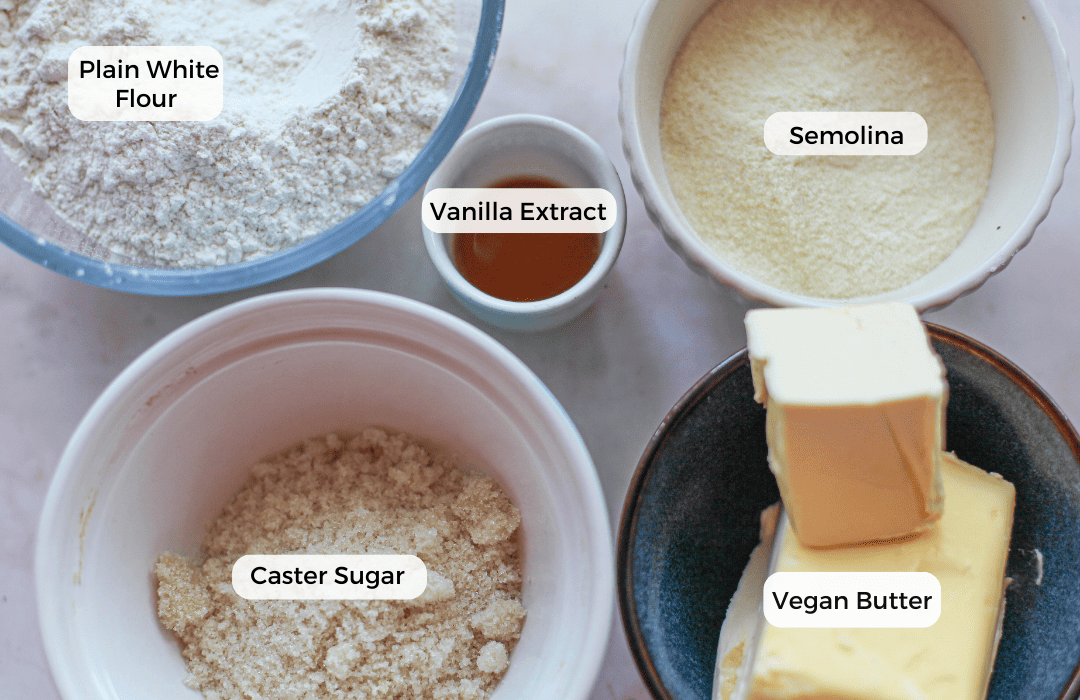 Plain or all purpose flour. You could make gluten free shortbread cookies using a gluten free flour blend too.
Semolina. This adds the distinctive "sandy" or crumbly texture that makes shortbread so delicious. You could use almond flour instead, although this will be slightly less "grainy". Rice flour is often used too.
Vegan Butter. This ensures a buttery shortbread. It must be at room temperature.
Vanilla Extract. Of course for flavour.
Lavender Flowers. These add a haunting flavour to the shortbread. Of course totally optional.
Sugar. I love to use vanilla sugar.
This is ONLY a list of ingredients for the recipe; please see recipe card below for complete printable recipe.
Method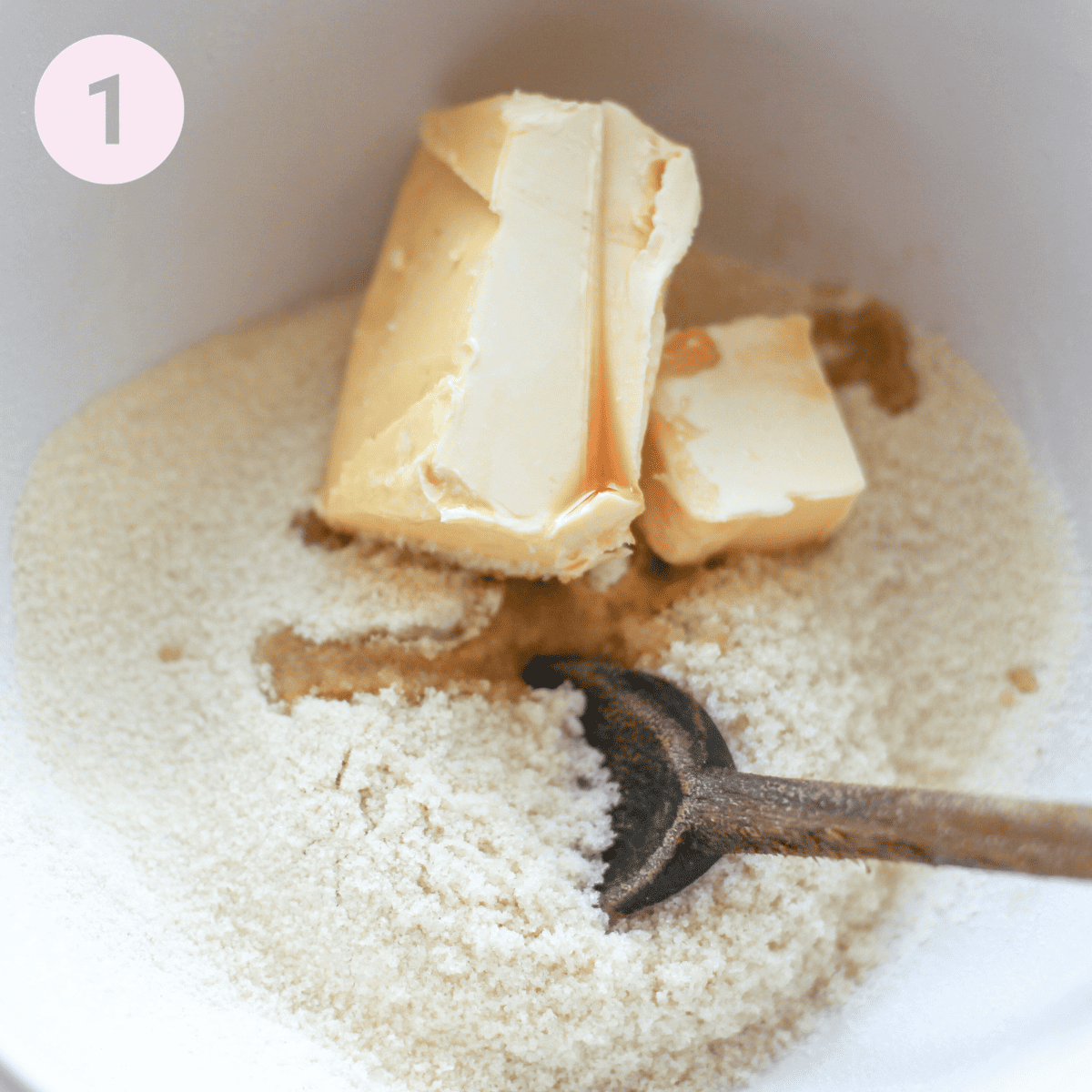 Preheat oven to 150c.
In a large bowl mix together all the ingredients until you have a soft dough.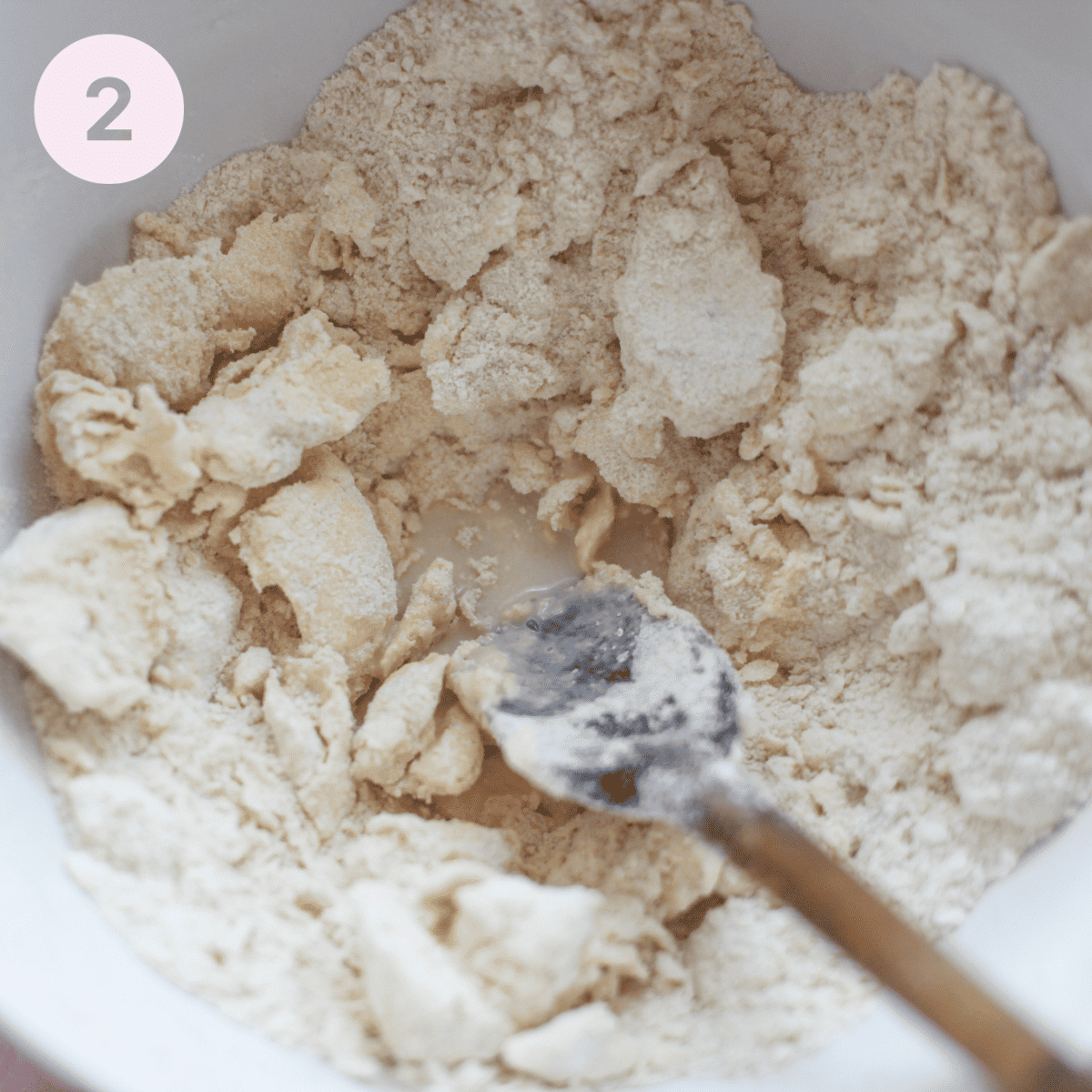 I use a wooden spoon but you could use a food processor.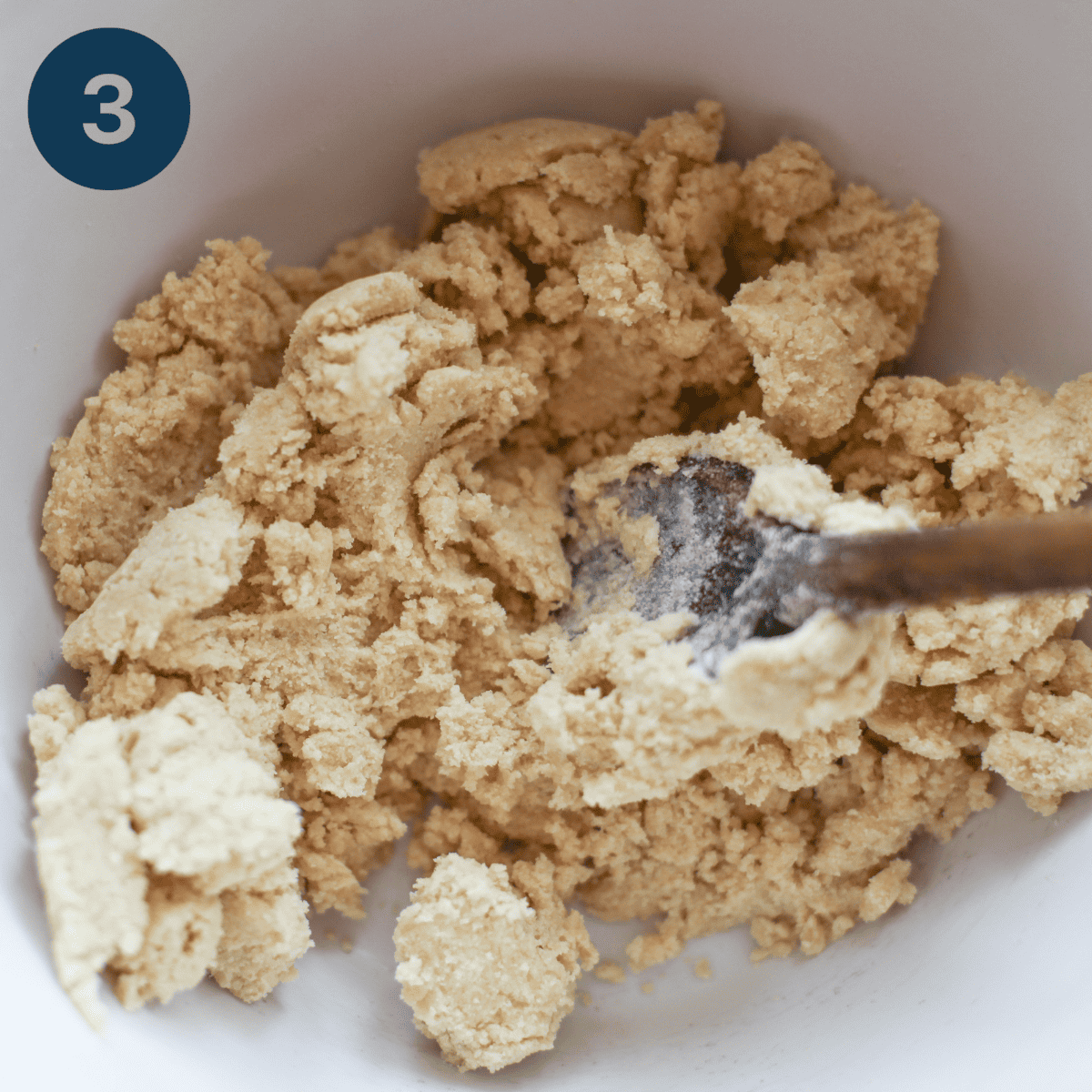 Ensure your butter is at room temperature.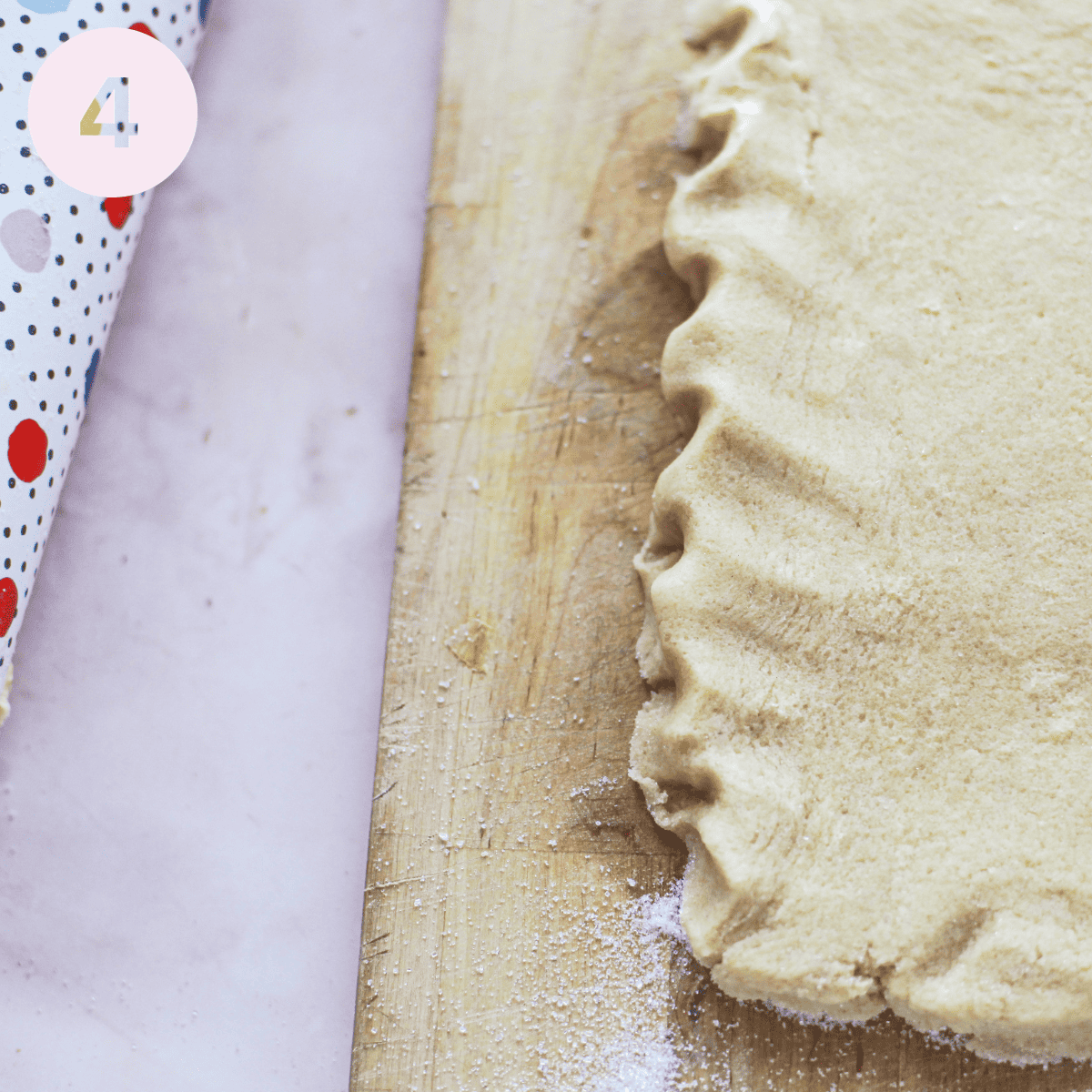 Lightly sprinkle a clean work surface with a little granulated sugar and turn out your dough. Using a rolling pin, gently roll your shortbread cookie dough into a square, about 5mm thickness. Prick all over with a fork and place on baking sheet.
Bake for 40-45 minutes or until pale golden. Leave to cool for a couple of minutes.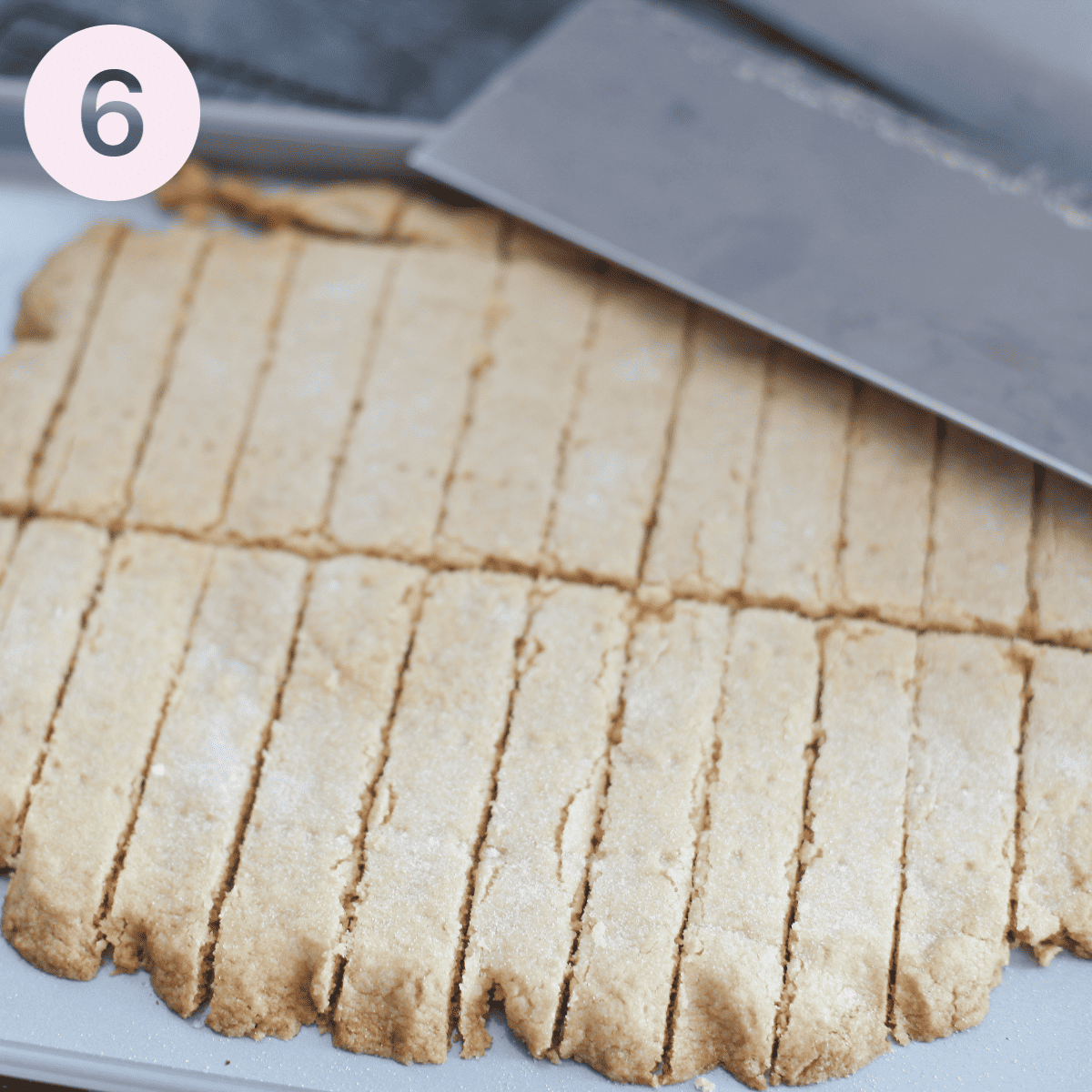 Whilst the shortbread is still warm and a little soft, cut into fingers, then leave to cool completely.
Useful Tips for Making Vegan Shortbread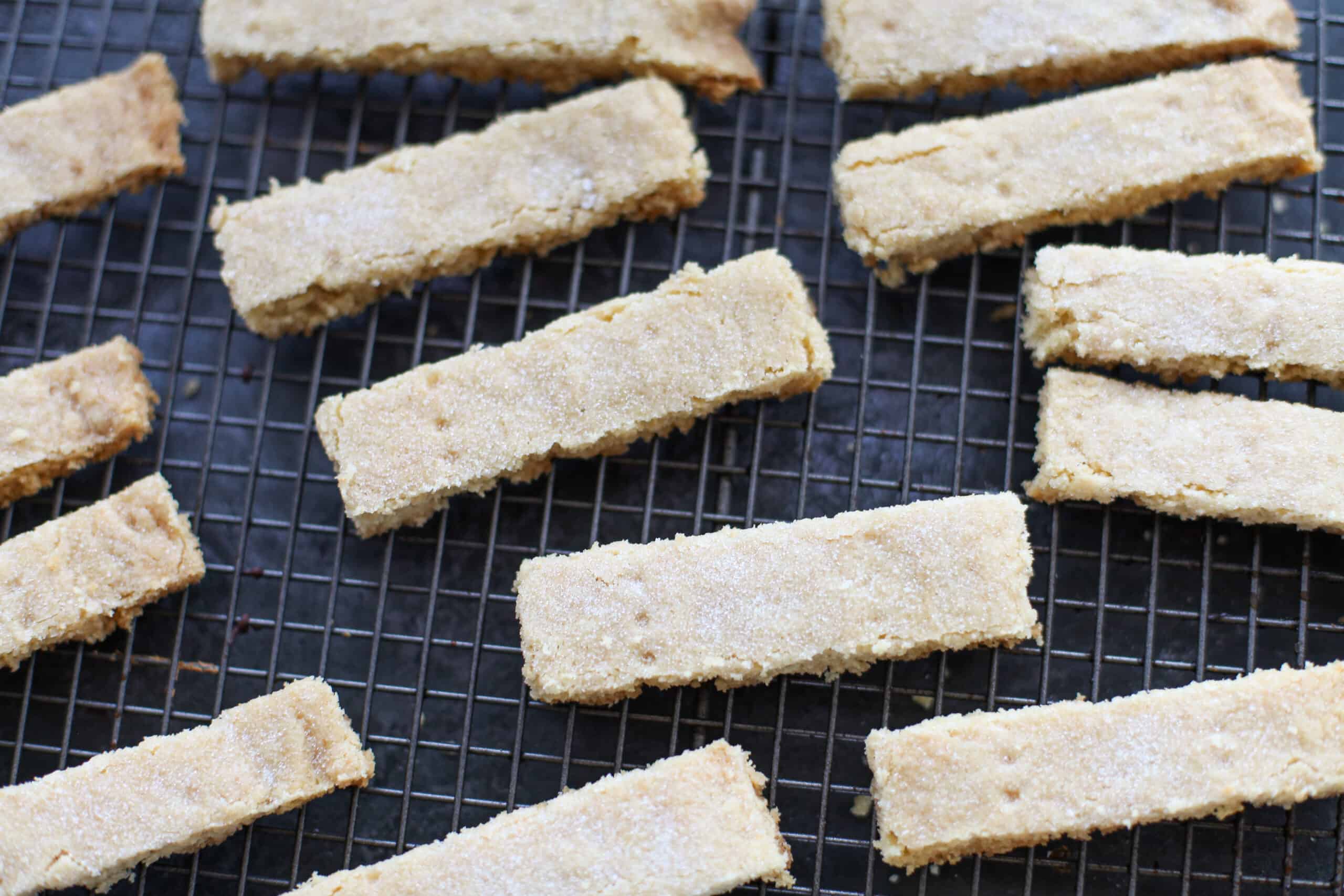 Make sure that you use the best quality vegan butter you can, this does make all the difference to the taste. Salted is fine.
and make sure your butter is at room temperature to make the beating of the dough much, much easier
Don't omit the Semolina, this adds the distinctive "sandy" texture that all traditional shortbreads have.
Because the dough doesn't really need to rise (although it will puff up a little on baking), you can be quite vigorous with the dough. This is not a biscuit dough that needs to be handled too carefully.
You can customise your shortbread, as I did, by adding flavourings such as finely chopped dark chocolate (2 tbsp), some finely nibbed pistachios (2 tbsp), lemon zest and poppy seeds, or finely chopped lavender flowers. Of course, shortbread is perfect as it is, without any extras too.
You can roll out the shortbread and use a cutter to make cookies instead.
If you find that your shortbread dough spreads during baking, it is either because the butter was too cold during mixing and you overworked the dough, or that the vegan butter was not the best quality and had a high water content (a common issue with vegan butters). Either way, the shortbread will taste delicious, it might just not be as thick as you want.
Storage
To store shortbread, place in an airtight container. It will last for about a fortnight.
You can freeze vegan shortbread dough if you'd like to make a double batch and have some ready to make another time. Simply roll into a ball and flatten into a disk. Clingfilm tightly then place in a ziplock bag and freeze. To thaw, remove from the bag and clingfilm and leave at room temperature.
Try my other vegan cookie recipes
Easy Vegan Shortbread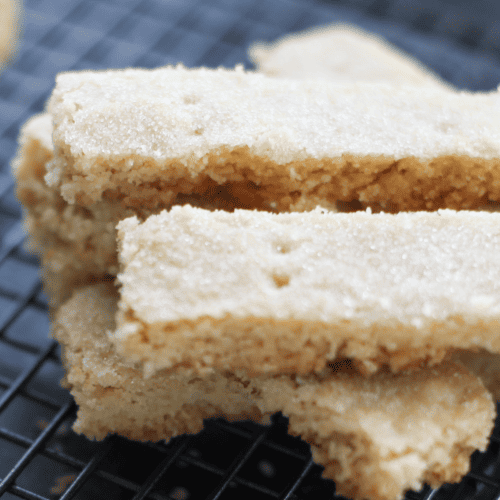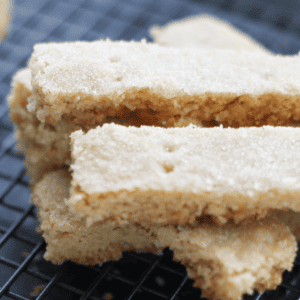 A delicious, crumbly biscuit
Ingredients
175

g

Plain Flour

-

sifted

85

g

Semolina

75

g

Superfine sugar -

(caster sugar)

175

g

Butter

-

vegan, at room temperature

½

teaspoon

Vanilla extract

½

teaspoon

Lavender, fresh, finely chopped flowers

-

Optional
Instructions
In a large mixing bowl, beat together all the ingredients until they form a cohesive dough. I used a wooden spoon and did it by hand, but feel free to use your mixer

Lightly sprinkle a work surface with a little sugar and turn out your dough

Roll out until you have a rectangle that is approx ¾" thick.

Place this gently onto your greased baking sheet and prick all over with a fork.

Bake for between 45 minutes to an hour, until it feels firm to the touch, and no longer soft. Make sure it doesn't overcolour.

Remove from the oven, leave to cool for 10 minutes, then carefully cut into fingers. Leave to cool completely.
Please note that where the recipe asks for milk, butter or yogurt, this refers to any plant-based version that you prefer.
Nutrition Facts
Easy Vegan Shortbread
Amount per Serving
% Daily Value*
* Percent Daily Values are based on a 2000 calorie diet.