Vegan Tiffin or Chocolate Biscuit Cake
This might have been the first thing you made as a child, that or rice krispie cakes, perhaps, but my vegan tiffin – chock full of biscuit, raisins and nuts – is a bit more sophisticated and probably (but not definitely) less messy!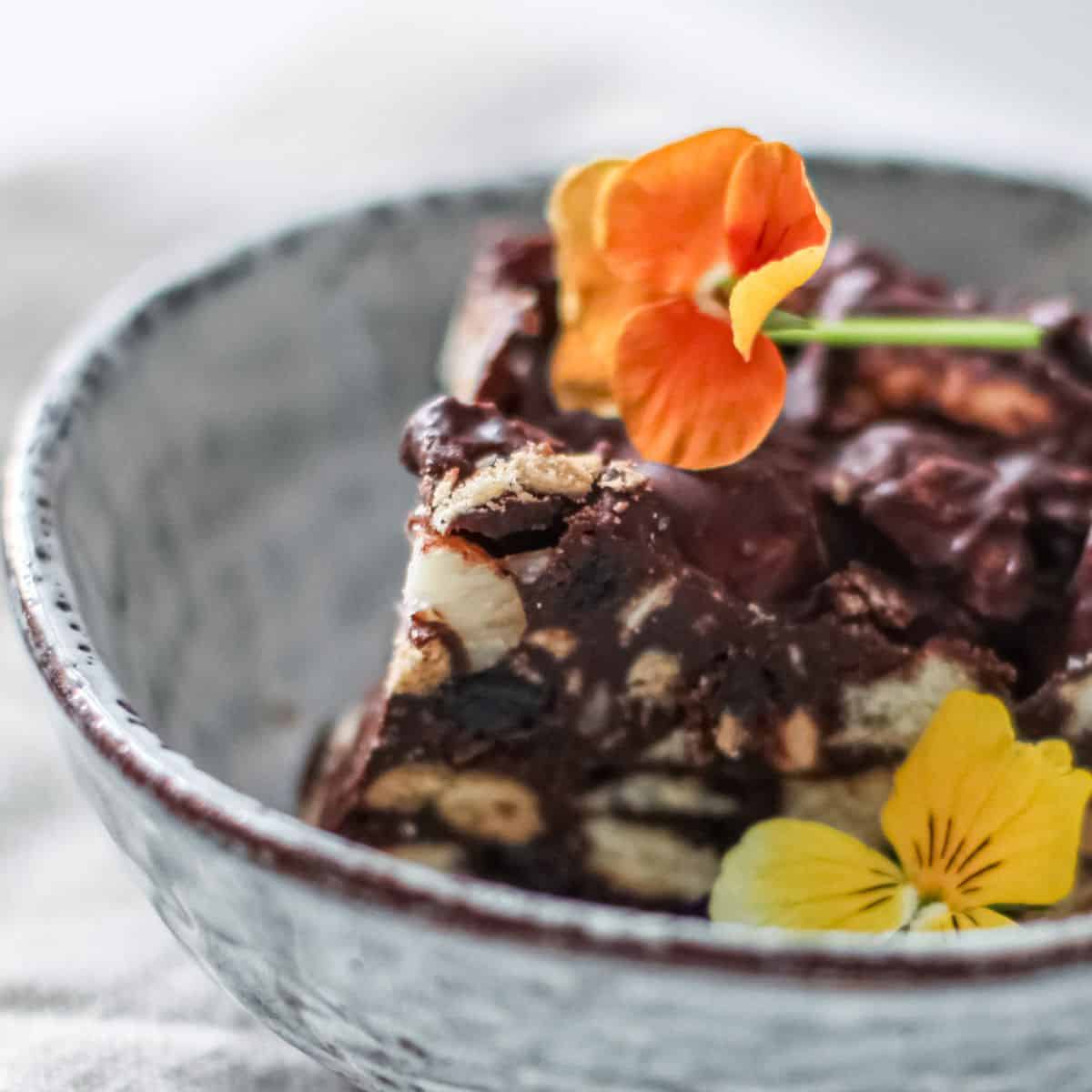 No baking required and only five minutes of prep? Yes please!
Tiffin is known in South India as a between-meals snack or light lunch. Much like Japanese Bento Boxes have immaculately compartmentalised and curated lunches, in India there is the tiffin box.
By striking contrast though, tiffin in the UK is simply refrigerator cake or chocolate biscuit cake. For many, along with flapjacks, it will have marked the start of a lifetime of cooking; pour and stir recipes offering children a quick and satisfying treat.
Both Tiffin and Flapjacks are subject to much universal confusion. In the UK, Flapjacks are an oaty/sugary/buttery concoction, beloved by schoolchildren from a certain generation everywhere. American readers may know Flapjacks, however, as a sort of pancake.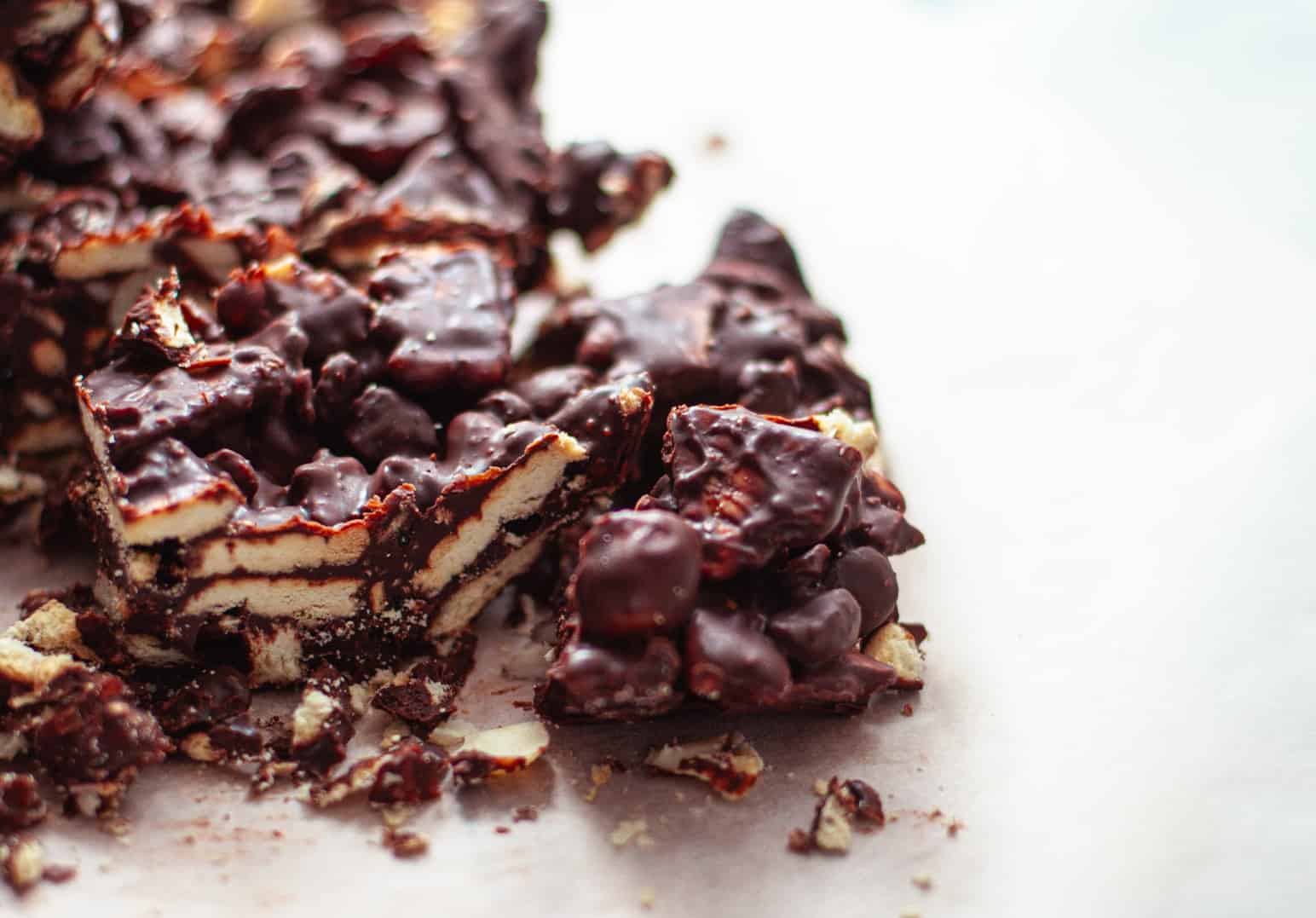 Much like flapjacks, tiffin is made by melting butter and golden syrup, but instead mixed with molten chocolate, bolstered generously with crushed biscuits, raisins, hazelnuts and coconut or perhaps glace cherries. The options are endless. And, if you use a decent dark chocolate, tiffin makes a rich, decadent treat for grown ups too.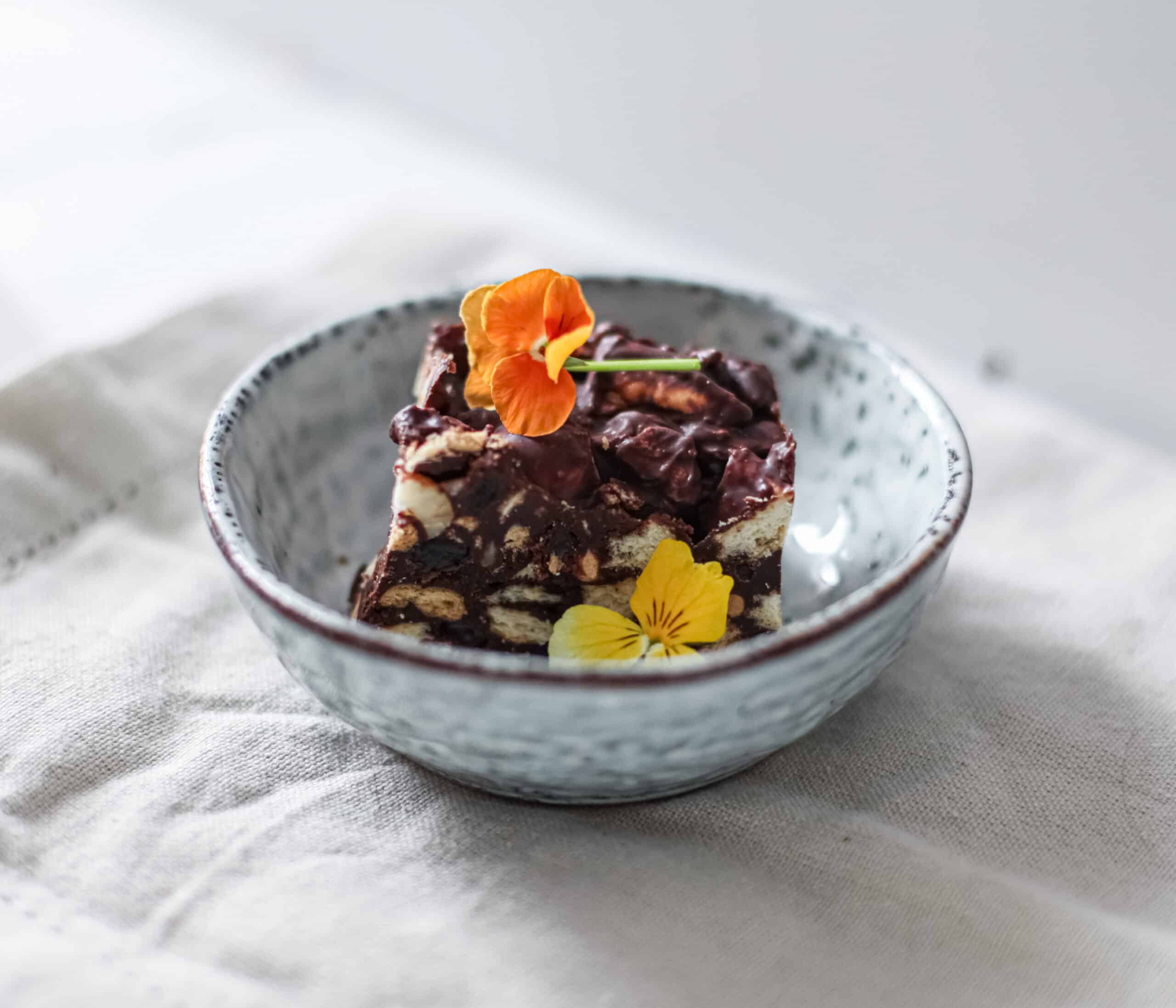 I am choosing to keep some small pieces of tiffin and squares of Flapjacks in our biscuit tin whilst "eating healthily" because I know exactly what has gone in them and I feel that we have greater control over our intake of sugar and fat this way. Besides, both are so rich that you only require a small square to feel that your sweet tooth can take that well-earned break from bugging you.
I love to make easy vegan traybake treats, and my tiffin is perhaps the easiest of all!
Ingredients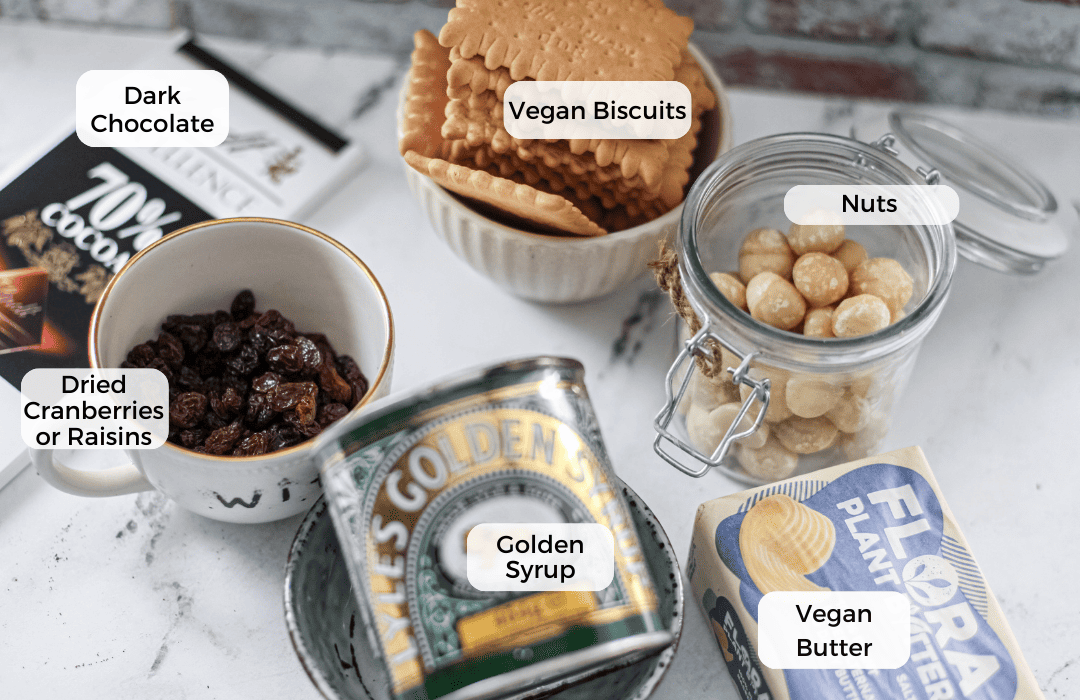 good quality vegan or 70% (or higher) dark chocolate
vegan butter
plain biscuits, like rich tea or digestives (I used petit beurre)
raisins
nuts (optional)
This is ONLY a list of ingredients for the recipe; please see recipe card below for complete printable recipe.
Instructions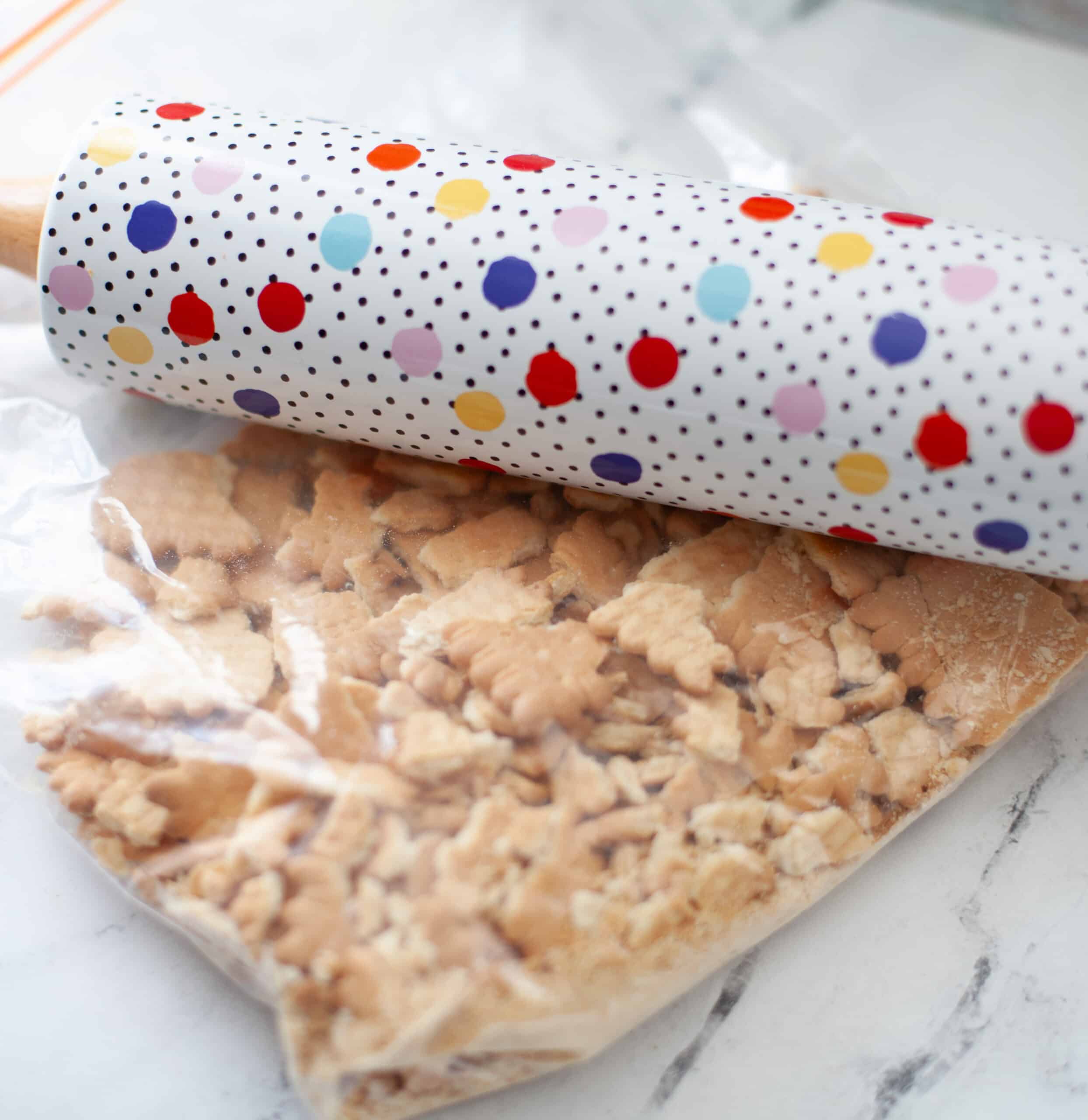 In a plastic bag, bash the biscuits with a rolling pin until they are in large pieces. Place in a large bowl with the nuts and raisins and combine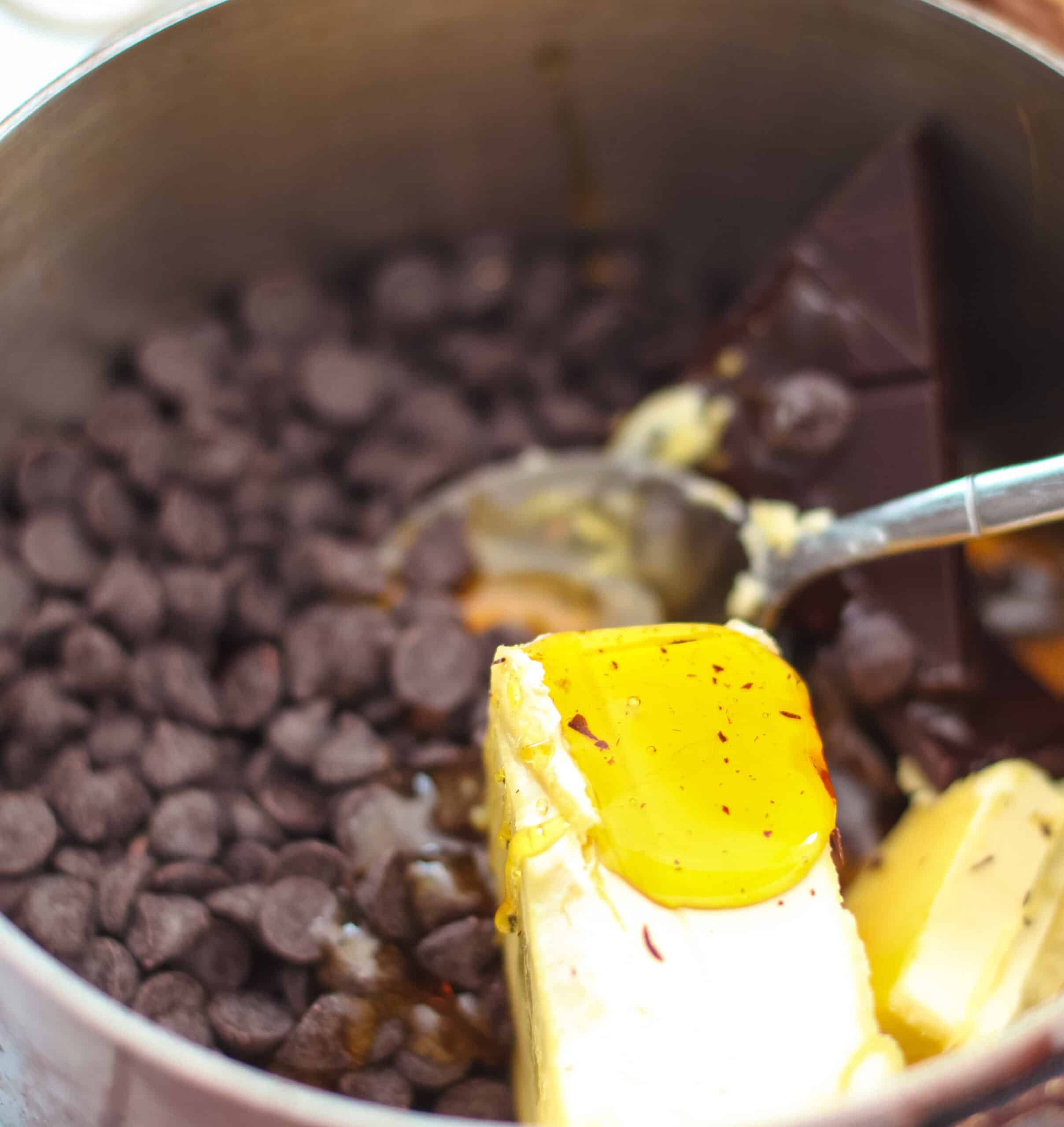 Melt the butter, chocolate and golden syrup in a saucepan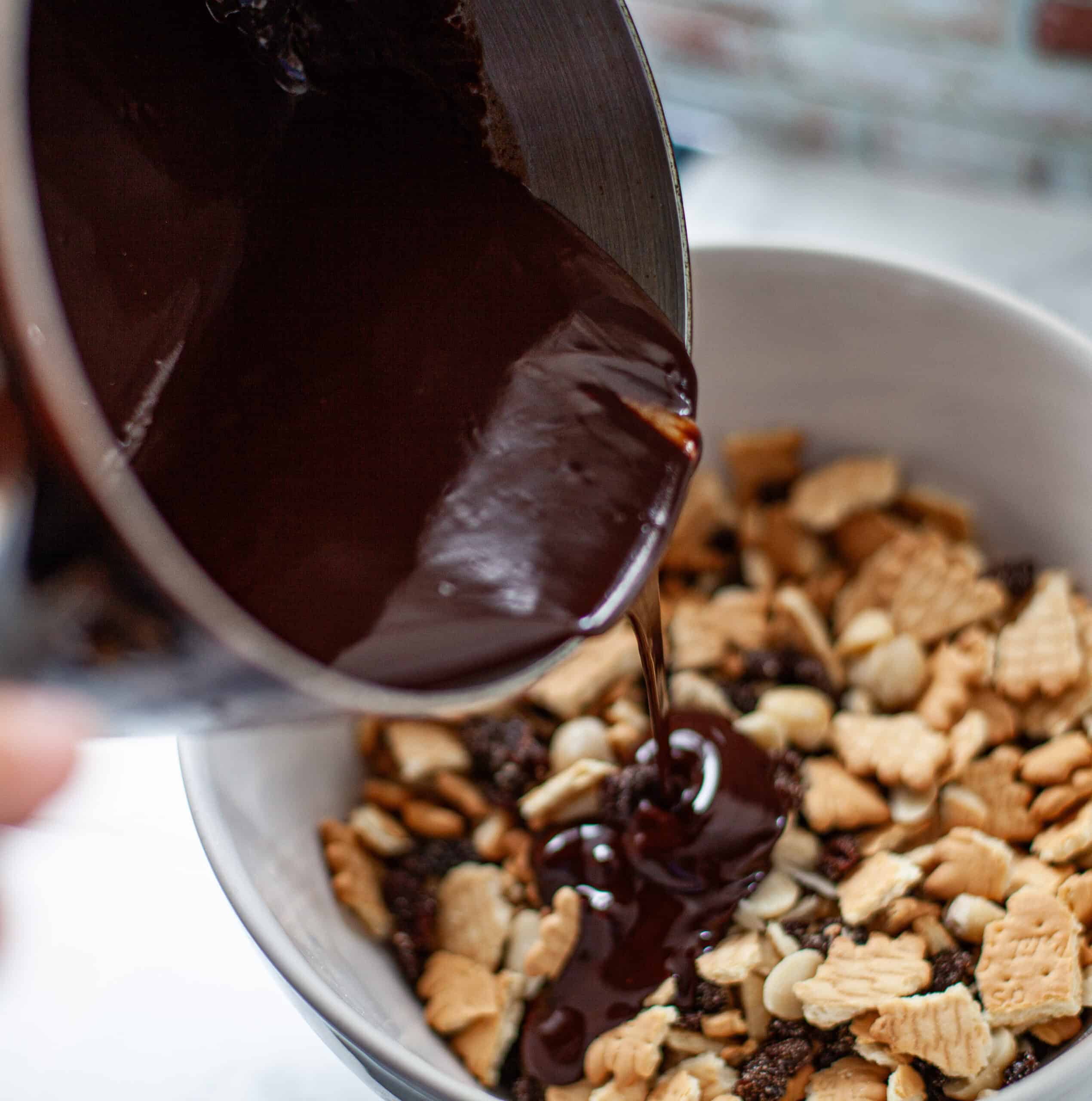 Pour this over the biscuit/fruit/nut mix and combine with a spatula until everything is coated.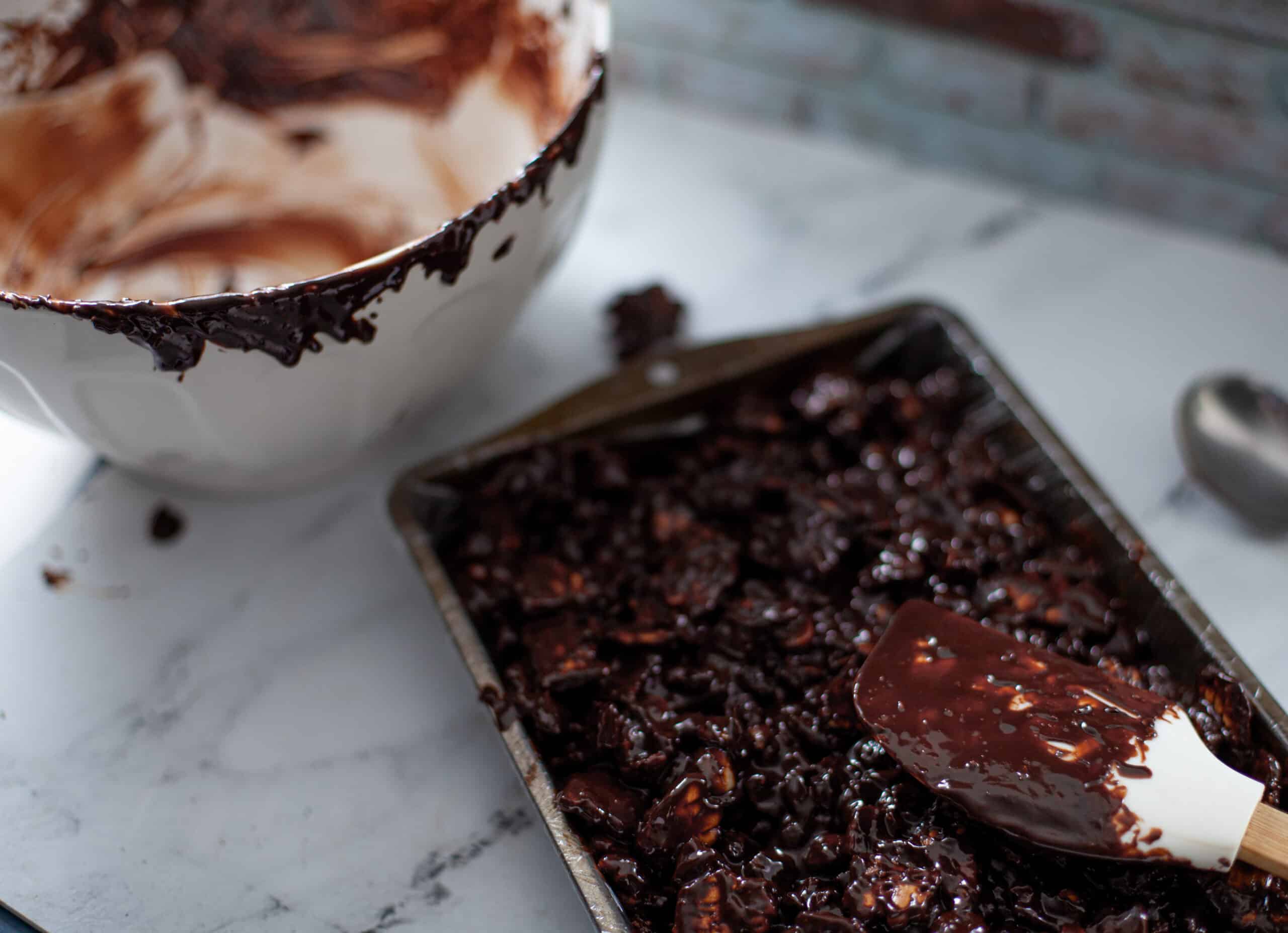 Pour into a lined cake tin and chill for at least 2 hours. Cut into wedges or squares and serve.
Hint: line your tin with clingfilm to ensure that your tiffin doesn't stick to the tin.
Substitutions
Biscuits – to make this gluten free, just use your favourite crunchy GF biscuits
Raisins – use any dried fruit instead
Butter – replace the butter with coconut oil instead
Golden Syrup – you can use corn syrup, agave syrup or honey (although not vegan) instead
Variations
Deluxe – add a tablespoon or two of rum or your favourite liqueur, chopped dried apricots, chocolate chips and macadamias for a sophisticated tiffin
Kid friendly – use vegan milk chocolate instead, crushed Oreos and add some vegan marshmallows for a rocky road experience!
Storage
Store tiffin in an airtight tin in the fridge (if particularly hot), or just at room temperature if not melty weather. It lasts for ages in the tin.
Tiffin doesn't freeze that well as the biscuits tends to lose its crunch, so I wouldn't recommend it.
Top tip
You can halve the raisins and add 85g of coconut or replace the raisins with glace cherries. Play around with whatever nuts, dried fruit and biscuits or cookies you have lying around.
Vegan Tiffin Recipe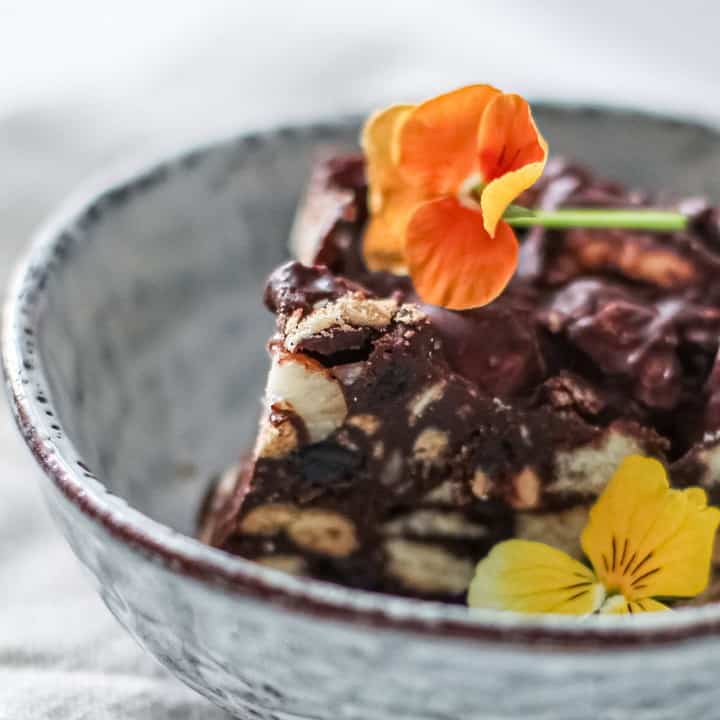 Ingredients
175

g

butter

vegan

2

tablespoon

golden syrup

1

tsp

Vanilla extract

250

g

dark chocolate

good quality vegan

280

g

Rich Tea biscuits

or digestives or a combination, crushed roughly in a freezer bag

170

g

raisins

85

g

hazelnuts

roasted and coarsely chopped (or nuts of your choice)
Instructions
Crush the biscuit pieces using a rolling pin in a large Ziplock bag, place in a mixing bowl with the raisins and nuts (if using)

Gently melt the butter, vanilla, chocolate and golden syrup in a large saucepan until melted and glossy.

Stir into the crushed biscuit pieces, the raisins and the hazelnuts until everything is thoroughly coated

Turn out into a lined cake tin, 9" square and smooth firmly with the bag of a spoon.

Refrigerate for at least 2 hours, preferably overnight, before cutting into squares and gorging.
Nutrition Facts
Vegan Tiffin Recipe
Amount per Serving
% Daily Value*
* Percent Daily Values are based on a 2000 calorie diet.