Guide to Vegan Food and Drinks at Pret a Manger (Updated October 2023)
This post contains links to affiliate websites, such as Amazon, and we receive an affiliate commission for any purchases made by you using these links. We appreciate your support!
Are you wondering what vegan food and drinks Pret has to offer? My helpful guide will explain what you can and can't order on their menu!

Click here for my guides to vegan food and drink at Starbucks, Costa Coffee, Caffe Nero and here to find the best vegan food options in the UK!
A Brief History of Pret
Pret or Prêt à Manger to give it its full name, first opened in 1986 at 75b Victoria Street, Westminster, London. Prêt à Manger, meaning ready to eat, was a witty pun on the fashion term, prêt-à-porter, or, ready to wear. Britain was beginning to flourish financially in many areas, particularly in fashion, and gave rise to the "affordable" designer clothes concept, birthed by designers such as Vivienne Westwood, Katherine Hamnett, Jasper Conran and Betty Jackson.
During these hedonistic days in the mid-80s, London was painfully trendy, full of yuppies needing to enjoy a delicious yet sophisticated coffee outside of the usual greasy spoon cafes, and Prêt à Manger fulfilled that need. That first store in Westminster was perfectly poised to supply MPs, bankers AND students their daily coffee fix, along with a menu showcasing homemade organic foods. The store took off and quickly spread throughout London (there are currently 273 branches in London and 161 throughout the rest of the UK).
Pret have expanded worldwide, and are certainly the most popular coffee shop in London. Curiously, where Costa Coffee have overtaken most high streets in the UK, they are not as widespread in London.
Pret recently opened ten experimental "Veggie Pret" stores, supplying just vegetarian/vegan options, but unfortunately they have decided to gradually rebrand these stores as standard pret coffee shops, maintaining the stance that their vegan options in all stores should be robust.
So, here are drinks that are vegan friendly and can be found in your local branch of Pret. Please note, some stores may not stock all the vegan food options.
It's really important to remember that if you're unsure what is vegan, just to ask your barista: they are trained intensively to know exactly what you are after and give you coffee advice. Of course, if you have an allergy, always ask your barista to check for cross-contamination risks with products too.
More Vegan Roundup Guides!
I love to share recipes from my fellow plant-based food bloggers and here are some of my latest roundup posts!
What Coffees are Vegan at Pret?
All pret coffees can be veganised, just ask for your preference of milk:
Flat White
Americano
Filter
Latte
Cappuccino
Espresso
Macchiato
Mocha
Dirty Chai Latte (a chai latte with an espresso shot)
What Plant Based Milks are available at Pret?
Soya
Coconut-Rice
Oat (the oat milk used by pret is not guaranteed to be gluten-free)
Almond
What Syrups and Speciality Flavours are Vegan at Pret?
None of pret's syrups contain nut or dairy allergens, so these are all good to choose from:
Hazelnut
Vanilla
Caramel
Pumpkin Spice (seasonal)
What festive drinks are vegan at Pret?
Pret are less about the flashy, sugar-laden festive drinks and more about crafting a great coffee. However, they do have a pumpkin spice latte on their menu. This is vegan if made with the plant-based milk of your choice.
Pumpkin Spice Latte
Chocolate Chai Latte
You can of course ask for any seasonal syrups in your favourite coffee/mocha drink too.
Are Pret Express Machines Vegan?
Yes, I have seen a few Pret Express machines in the wild (in some co-op supermarkets) and they do offer plant-based milks!
What Non-Coffee Hot Drinks are Vegan at Pret?
So what can you drink at Pret if you don't like coffee?
Ceylon Breakfast Tea
Earl Grey
Peppermint Tea
Tropical Green Tea
Chai Latte
Matcha Latte
Is Pret Hot Chocolate Vegan?
Pret Hot Chocolate is Vegan, just ask for it to be made with your plant-based milk of choice. Pret do not do a vegan whipped cream at this time.
What Cold / Iced Drinks are Vegan at Pret?
The following iced drinks can all be made vegan, simply ask for the milk of your choice.
Iced Latte
Iced Chai Latte
Iced Dirty Chai Latte
Iced Pumpkin Spice Latte
Iced Chocolate Chai Latte
Iced Matcha Latte
Iced Mocha Latte
Iced Americano
All Pret coolers are vegan: Applejito, Berry Bliss, Feelin' Peachy and Rhuberry Breeze.
Unfortunately, because Prets frappes and milkshakes (shakers) use a milk powder as their base, these drinks cannot be made vegan.
What Food is Vegan at Pret?
Pret are famous for serving high-quality food, and much of this is vegan-friendly, although this is often store dependant.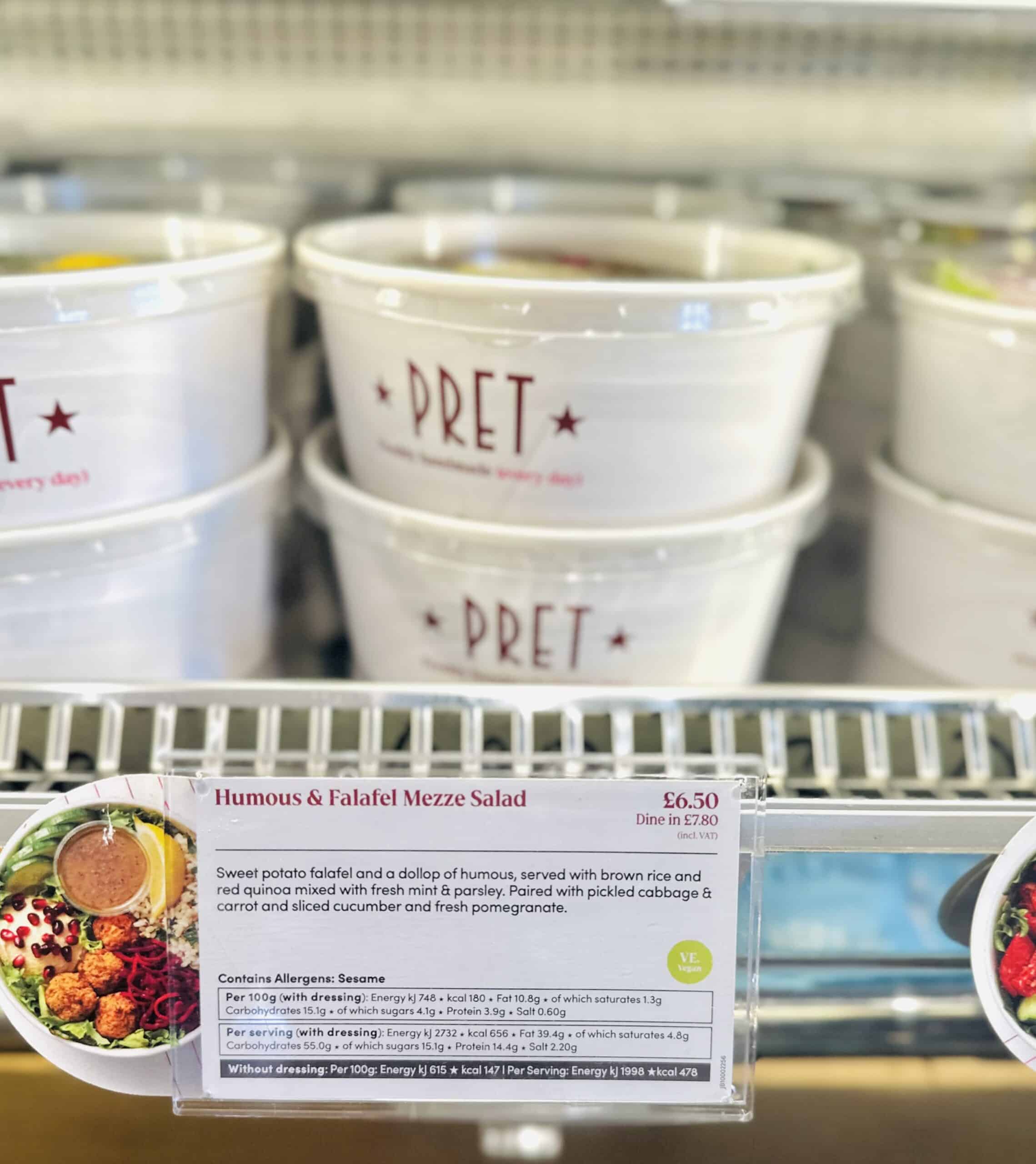 I find that periodically this list of vegan food changes, possibly with seasonal updates, but these are usually on the menu throughout the year (albeit sporadically).
Vegan Breakfast items at Pret
Acai and Almond Butter Bowl
Smoothie Bowl – Mango & Banana Sunshine
Avo & Mushroom Breakfast Baguette
Breakfast Baguette – Eggless Mayo & Avocado
Breakfast Baguette – Eggless Mayo & Roasted Tomato
All day vegan breakfast bap
Coconut & Quinoa Porridge
Pastries: vegan croissant, vegan almond croissant, vegan chocolate croissant and vegan very berry croissant.
Vegan Lunch Options at Pret
Scandi Style Smoked Carrot and Eggless Tofu Mayo
Scandi Style Smoky Carrot Eggless Mayo Roll
Artichoke, Olives & Tapenade baguette
Avo, Olives & Tomato baguette
Plant Ploughmans Baguette
Vegan Eggless Mayo & Cress baguette
Humous & Veg sandwich
Smashed Avocado open sandwich
Smoky Carrot and Falafel sandwich
The VLT sandwich
Falafel, Avocado & Chipotle Wrap
Humous & Chipotle Wrap
Vegan Hoisin Mushroom Wrap
Vegan Chilli Wrap
Sweet Potato Falafel Mezze Salad
Vegan Hot Food Options at Pret
Chilli Enchilada
Meatless Meatball Hot Wrap
Vegan Mac n Greens
Vegan Ragu & Red Pepper Hot Wrap
Butternut & Sage soup
Red Thai Veg soup
Souper Greens soup
Souper Tomato soup
Sunshine Dhal soup
Vegan Cakes and Sweet Treats at Pret
Hazelnut Truffles
Ultimate Vegan Brownie
Chocolatey Coconut Bite
Dark Chocolate & Almond Butter Cookie
Fruit and Seed Bite
Pret a Mango (mango fruit pot)
Dark Chocolate Salted Almonds
Almond Butter Protein Ball
Updated Oct' 23