Vegan Food Options at Westfield Shopping Centre, Stratford
This post contains links to affiliate websites, such as Amazon, and we receive an affiliate commission for any purchases made by you using these links. We appreciate your support!
Vegan food options at Westfield, Stratford. Stratford Station is the first stop for many of us travelling via train from outside of London, and indeed many of us go just for a day shopping. And the truth is, it is very easy to lose 4 or 5 hours walking around. If you've found it mindboggling the amount of food options you have here, here's a quick guide to all the vegan options at Westfield Stratford to glance over before you visit.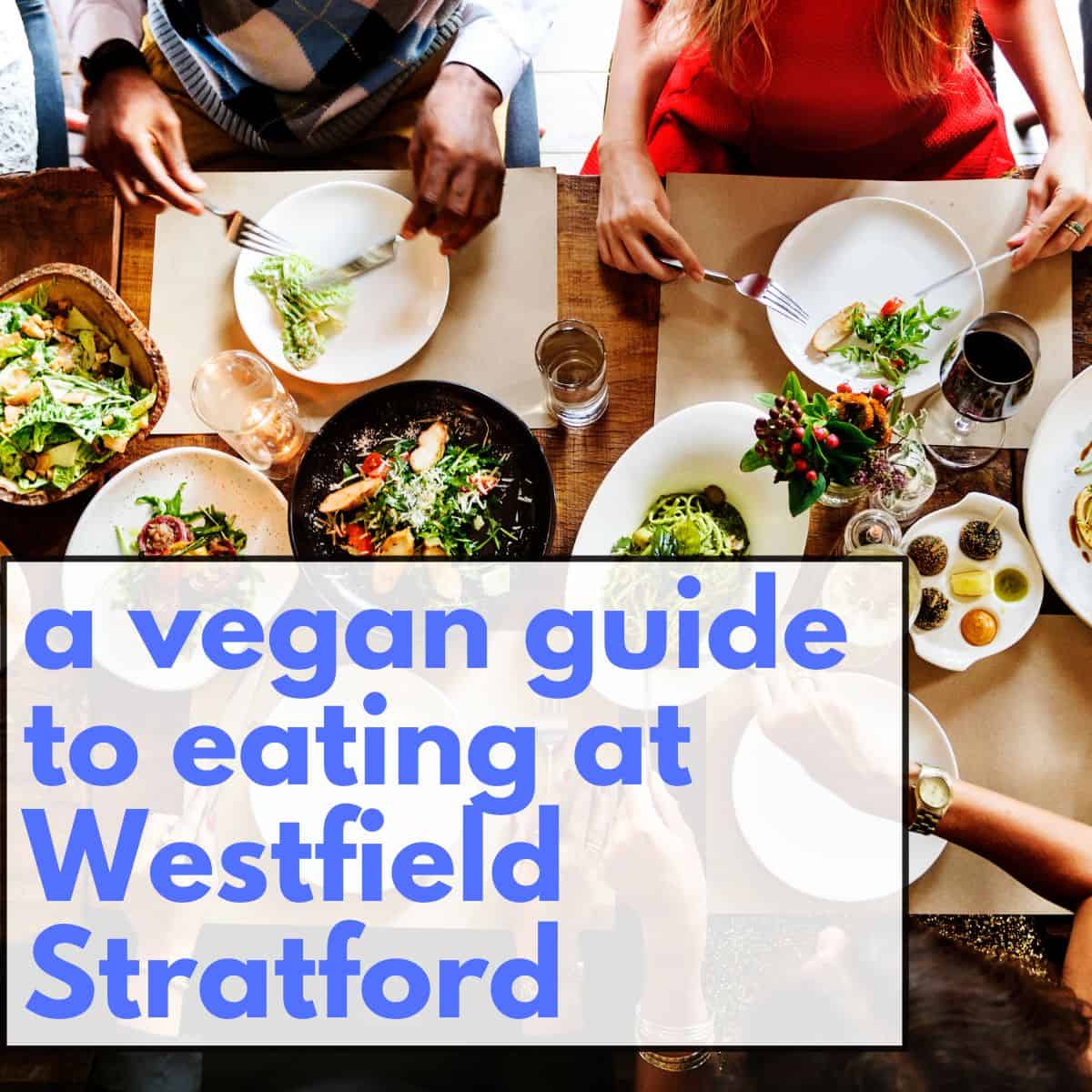 Note: restaurants and locations are subject to change and were correct at the time of publication.
Whilst I can't say I find mall shopping entirely enjoyable, Westfield has some really nice places to eat and get coffee.
Firstly a disclaimer. I can't promise how accurate my directions are to find places at Westfield. I always get lost there! I will try my best to be accurate though 🙂 Secondly, these restaurants and menus were correct at the time of publication (June 22). Obviously menus change seasonally, and hopefully, with each new season change comes more vegan options. I have not eaten at all of these places, although that is the dream, but where I have, I have mentioned. I should also mention that I have not been sponsored by Westfield or any of the eateries listed below.
Coffee and Beverages at Westfield
I highly recommend grabbing a coffee as soon as you arrive. You will need it. My favourite place to get coffee, Karaway, is located on the lower ground, in the food court section. Karaway also sells amazing Baltic breads (link to their vegan options) and cakes (most cakes are not vegan, sadly). I usually enjoy a soy flat white whilst I recharge from the train.
Other coffee shops with vegan options are the usual suspects of Costa Coffee (1st level), Starbucks (lower ground), Caffe Nero (ground), and of course we have Pret, lower ground floor, near the entrance. If you do have a favourite coffee chain, it is likely to be here! I highly recommend Joe Blake's (lower ground) for a speciality coffee and to support a small local chain.
If coffee is not your jam, you could get a juice from a Boost Bar (lower ground), Boba tea from Bubbleology (level 1) or, one my personal favs, a Nut Mylk tea from Nuttea. There are several other coffee places, including Caffe Concerto, which looks amazing but is always packed to capacity so I have never been there! A quick glance of their website shows a delicious vegan pistachio cake, so I might need to leave a little earlier next time!
Vegan Food on the Go at Westfield
Now that you're sufficiently refreshed, I like to grab a little snackette whilst I'm walking around. Mr Pretzels is the perfect on-the-go food to eat whilst you build up an appetite with all that browsing. The sesame seed, vanilla, cinnamon and salt toppings are vegan.
Snowflake Luxury Gelato sell little pots of delightful vegan Sorbetto, in flavours like chocolate, lemon and Strawberry. They also do granitas and the avolato (although not sure if this is still available).
Doughnut Time (ground floor) have some delicious vegan options if you're after something sweet! They also sell vegan DIY kits, so you can ice your own doughnuts! The David Hasselhoff doughnut is particularly outrageous: Filled with Lotus Biscoff spread, dipped in caramel glaze, drizzled with chocolate glaze, topped with caramel buttercream and a Lotus biscuit!
Greggs (lower ground) are always good for a vegan sausage roll.
Lola's Cupcakes (lower ground) have a great range of free-from options and their delicious looking cakes are hard to resist!
Vegan Junk Food, Pizza and Burgers at Westfields Stratford
Of course there are lots of junk food and burger options! I wrote about the best and easiest places to find vegan junk food in my article here, and discuss in more detail the options available.
Big Easy (ground floor) do a Vegan Beyond Burger and Vegan Bacon Cheese Burger, along with some tasty vegan sides too.
Chopstix Noodle Bar (lower ground) is great for speedy Asian food, reasonably priced and has some delicious vegan combo meals.
Five Guys (Level 2) if you fancy veg in a bun, is an option. I honestly feel like Five Guys need to step up their vegan burger game though.
Franco Manca (level 1) Sourdough Pizza with a small but delicious selection of vegan pizzas and sides.
Gourmet Burger Kitchen (level 2) GBK have a vegan burger menu, including their Cluck Free Burger (chicken-style), Beyond Meat burgers and a couple of bean burgers too. I love that they have options!
McDonalds (lower ground) offer their popular McPlant range for an old-skool fast food treat.
Nandos (level 2) offer a rather nice selection of vegan alternatives, and not just the same old burgers. Now you don't just have to sit and watch your friend's have a cheeky Nandos!
Neat Burger are a pure plant based burger company, and their vegan junk food is absolutely epic (see my write up about them here!). They are on the Balcony at Wesfield.
Pizza Hut have a wide range of vegan options. Find them on the lower ground floor for your slice!
Pizza Express (level 2) have slightly less choice but I think their pizzas are adaptable. Enquire in store.
Rice Guys (ground floor) do an amazing Funghi Mapo Tofu bowl.
Shake Shack do a mouthwatering Shallot Burger, along with fries. Sadly, none of the shakes at Shake Shack seem to be dairy-free options at the moment.
Subway. If you're bored of burgers or sausage rolls, Subway is always a great option and are constantly updating their vegan options.
Thunderbird Fried Chicken (lower ground) have a surprisingly diverse selection of vegan options, and I can't wait to give their Veggie Thunderbun a try!
Tortilla (level 1), I love burritos and Tortilla do such a great selection that you can modify yourself.
Vegan Options at Restaurants at Westfield
By now you will probably be feeling shopped out and like you need something substantial to eat. You have many, many options to suit all budgets. It is lovely, on a bright sunny day to sit upstairs and enjoy a cocktail at Wahaca, or one of the other "outdoor" restaurants, but be prepared to jostle for a seat. Westfield can become ridiculously busy on a nice day.
Ask Italian. Several vegan options including pizza.
Balans Cafe/Bar (ground) has some delicious and unique vegan options.
The Bat and Ball (ground) has a great American bar vibe and serves classic vegan options such as burgers and hot dogs.
Busaba Eathai (ground), Thai eatery with plenty of delicious vegan options.
Cally Munchy (ground) African inspired build-your-own style dishes, with plenty of spice and texture.
Honi Poke, fresh and flavourful Poke bowls, found on Level 1. They have four very different vegan poke bowls to choose from.
Las Iguanas (level 2), not a huge variety of options but you can design your own vegan burritos and the sides are delicious.
Lokma Turkish Bar and Grill, located on the ground level, they offer a range of vegetarian and vegan options. Note, I would ask the staff for specifics as menu items don't denote vegan.
Passyunk Avenue (level 1), American dive-style bar and restaurant with batting cages. Visit for the vibe and fun rather than a huge vegan selection, but they do have a selection nonetheless!
Pasta Remoli (lower ground), a very clear to read menu that lists their pasta options, simply select your pasta type, then your sauce, then toppings.
Pho (level 1). I love Pho, their noodle soup bowls are so generous and it is really easy to customise them. Their summer rolls are amazing!
Tapas Revolution (ground) Spanish Tapas with a few nice options.
The Hungry Bedouin (lower ground), Moroccan inspired street food.
Wagamama, the ever-popular noodle canteen offers some of the best vegan options of all the larger chain eateries.
Wahaca (ground) – a true taste of Mexico, with thoughtfully prepared menus. Wahaca were the UK's first carbon neutral restaurant. The vegan options here will not leave you disappointed or unfulfilled.
Zizzi (level 2), Italian pizza and pasta dishes, a reasonably good selection including a delicious Zillionaire's slice for dessert.
So that is a pretty comprehensive guide to the vegan food available at Westfield Stratford. If I have missed anything, let me know in the comments below! I hope you find this little guide helpful on your next shopping trip!
For more Vegan Food Guides to London