Simple Vegan Florentine Squares
Easy Vegan Florentine Squares: chewy, crunchy, chocolatey and easy! These Florentine squares are so quick to make and are just as good as Florentine cookies!
I first made vegan Florentines a couple of years ago for a work colleague. It was his favorite biscuit/cookie and he was my secret Santa. He loved the Florentine biscuits and refused to share them, although I did try one before I wrapped the rest up, so I know they were pretty good!
The thing about Florentines is that they are a bit of a faff. They require speed of preparation to avoid the mixture going sticky before you've had time to spoon it into a nice round shape, and then you have to coat them with chocolate once cool.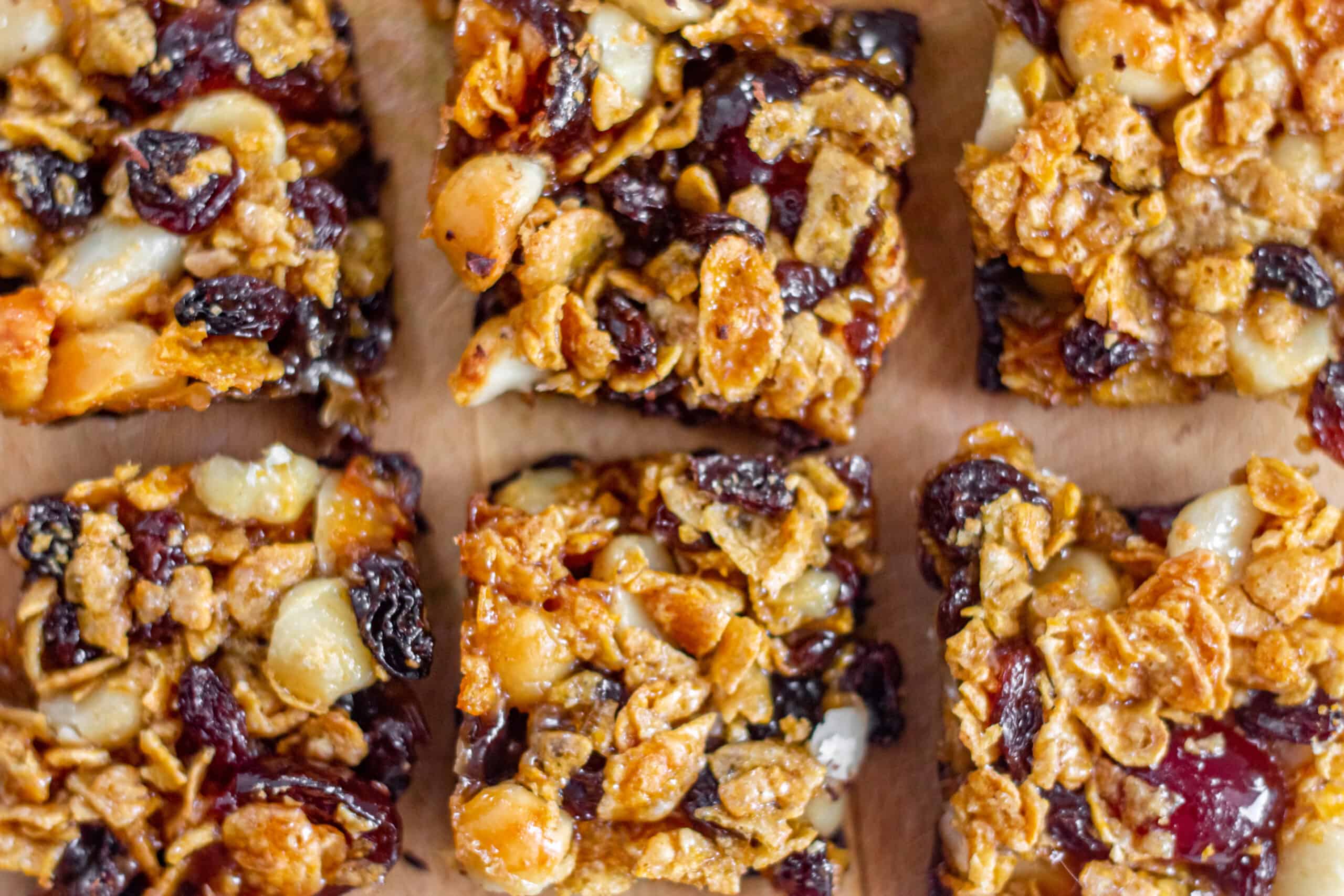 This is where Australian Women's Weekly Home Library saved the day, rendering the making of Florentines easy and hassle free.
I love browsing old cookbooks, and this particular one, Beautiful Biscuits, is a wealth of fabulous cookies, many of which are so simple to make, but taste delicious!
Of course, my attention was drawn to a recipe for Florentine Squares, not quite the delicate, lacy Florentines that I had made, but actually something much simpler, but just as yummy!
What are Florentine Squares?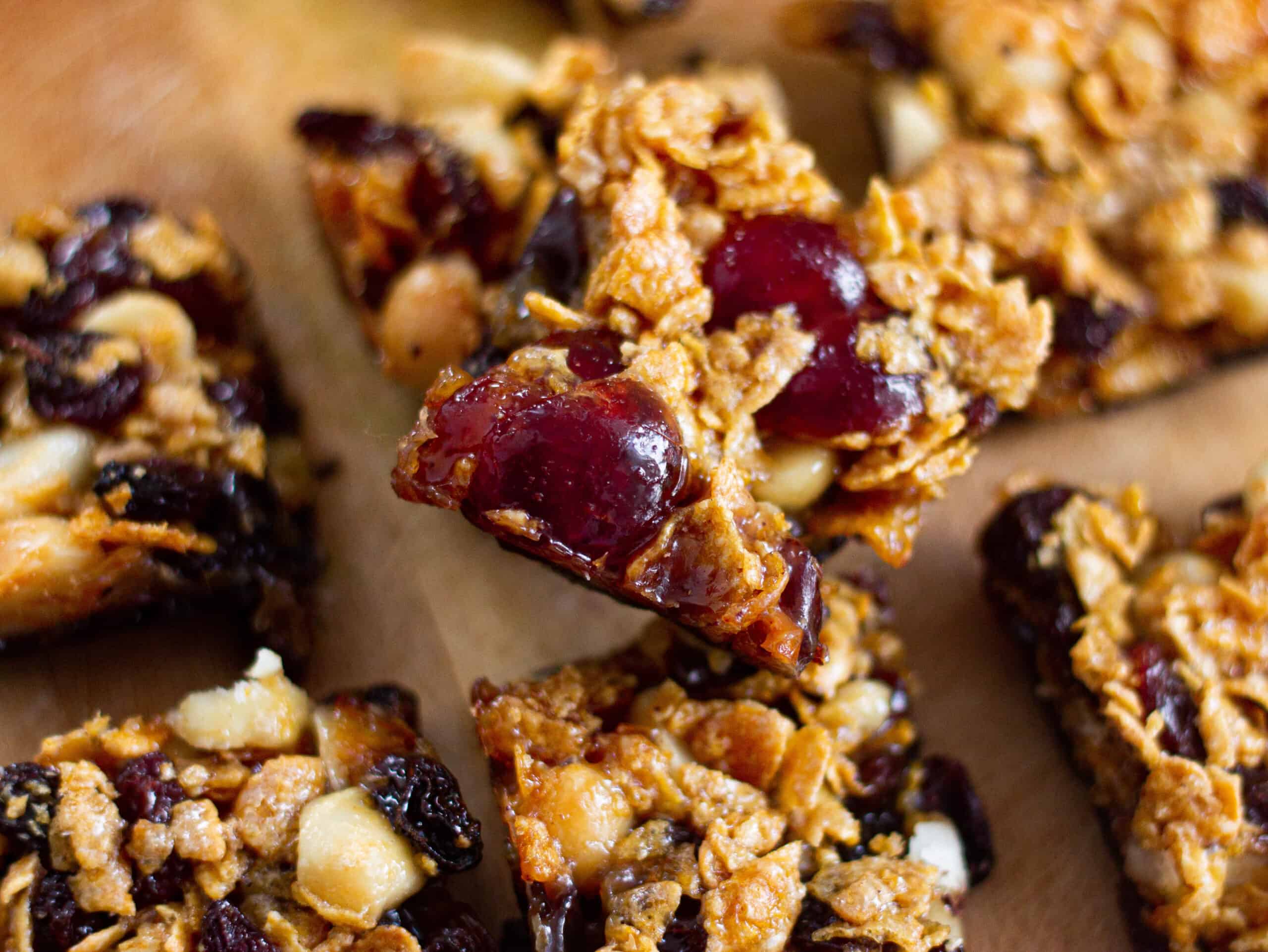 Florentine Squares are a quirky little retro Australian bake, whereby you pour melted chocolate into a lined brownie pan and refrigerate. Then you mix vegan condensed milk, cornflakes, nuts, raisins, glace cherries together and pour this over the cooled and set chocolate. And then the weird part. You bake it! I trusted the process, and assumed that during baking, the thick layer of dark chocolate would melt and adhere to hold all the goodies together, and this was exactly what happened. The cornflakes and condensed milk worked as bricks and mortar, suspending the red glace cherries, dried fruit and macadamia nuts together, ensuring that you have a wonderfully chewy, crunchy, cohesive bake.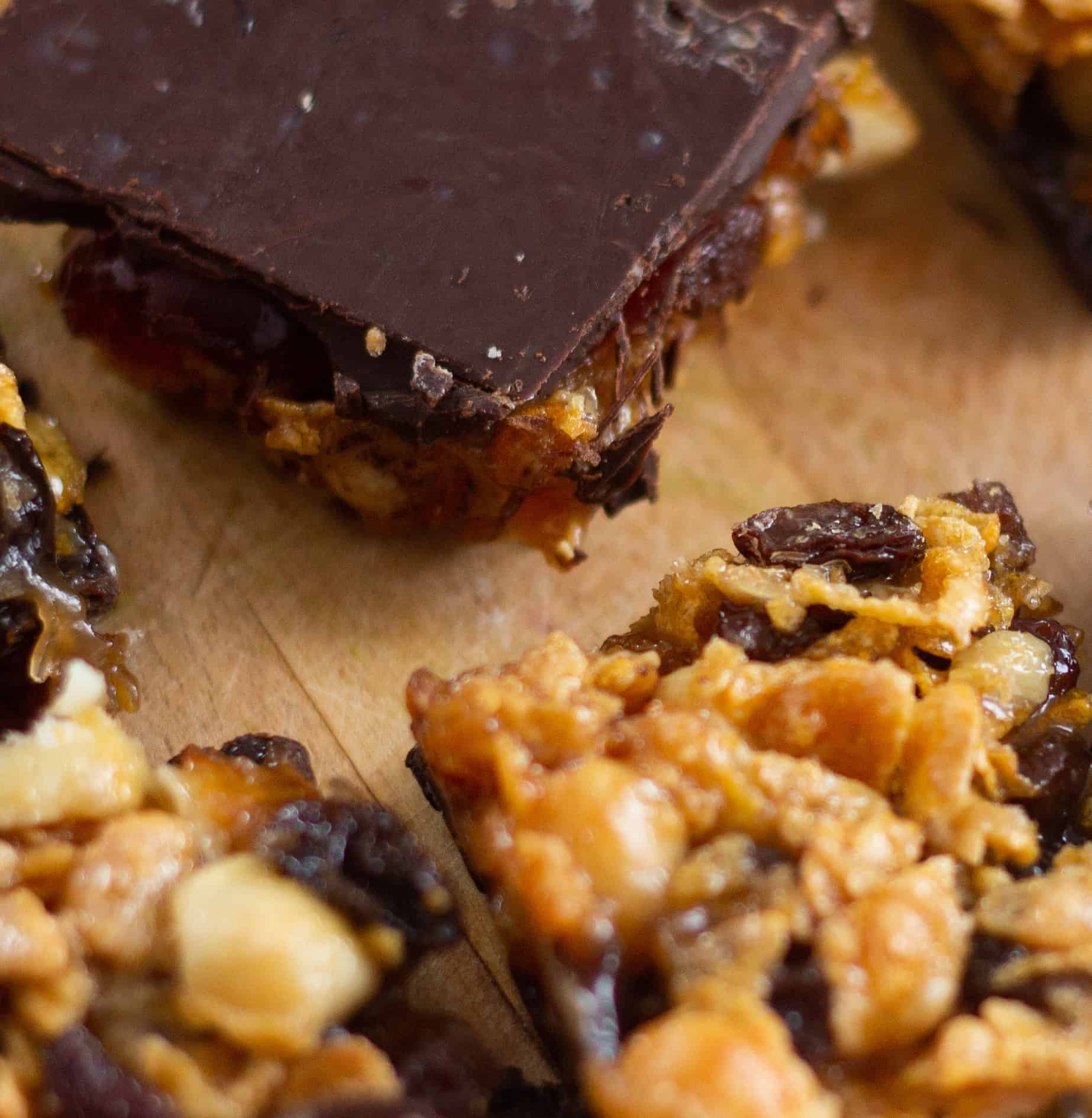 The use of cornflakes is instead of the flaked almonds and I prefer it as it makes the mixture easy to handle.
Ingredients
Dark Chocolate. Use a good quality brand. I love to use Callebaut callets in baking. They melt beautifully and have a rich, fruity flavor. They are pricy but a bag does last a while, and for a special recipe, I think they are worth it. You can also use your favourite brand of vegan chocolate chips.
Vegan Condensed Milk. For this vegan version, I use Carnation Vegan Condensed milk which you can find easily in the UK. I think other brands make something comparable too. I have seen coconut condensed milk in my local health shop. Failing that, you could use sweetened cream of coconut instead. Do make sure to get cream of coconut and not coconut cream. Cream of Coconut is thick and sweet, the stuff you use in tropical cocktails!
Cornflakes. You can happily use a cheap brand as you'll be crushing them up anyway. You can also use gluten-free cornflakes or even puffed rice cereal.
Glace Cherries. I can't imagine a Florentine without glace cherries, the sticky red fruit is such an intrinsic element of them.
Raisins, or your favourite dried fruit: cranberries, chopped figs, sultanas
Macadamia Nuts. You could also use chopped almonds, unsalted peanuts or brazils. I love the waxy sweetness of macadamia nuts though.
Method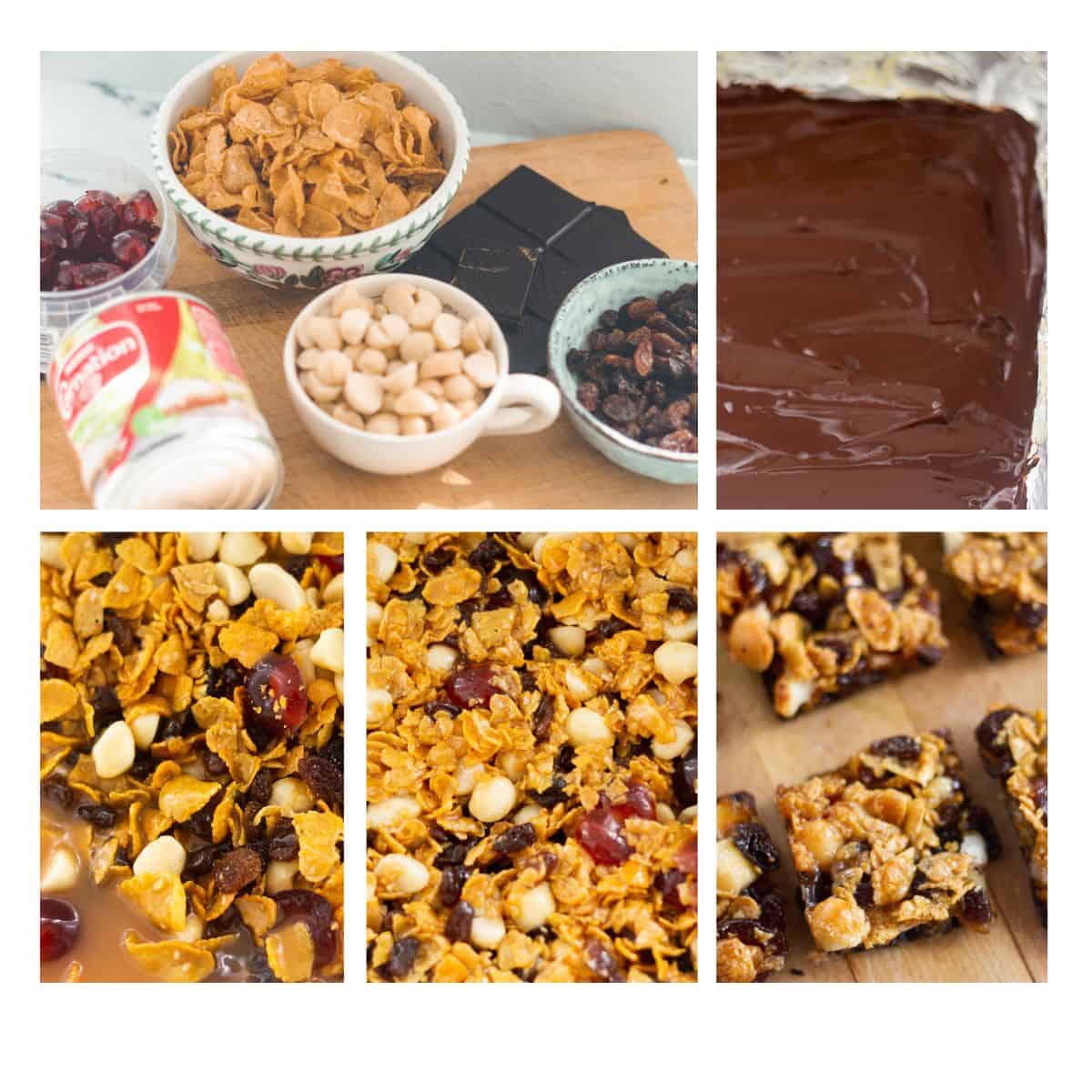 Line an 8″ brownie pan with lightly oil tin foil, non-shiny side up.
In a small saucepan or heatproof bowl, gently melt the chocolate until it is liquid and glossy, and pour into the bottom of the prepared pan. Spread evenly.
Refrigerate for an hour or so until set.
Preheat oven to 160c.
In a large mixing bowl, mix together the crushed cornflakes, cherries, raisins and macadamia nuts, and then pour the condensed milk over everything, stirring until all the ingredients are completely coated.
Pour this over the top of the cold, set chocolate and spread out into an even layer.
Bake for 20 minutes or until starting to turn a light golden colour.
Leave to cool completely and then refrigerate for several hours.
Once completely cold and set, you will be able to cut into small squares using a sharp knife.
Store in an airtight container for up to 2 weeks. If it's particularly warm, keep refrigerated.
Can I make Gluten-Free Florentine Squares?
You can! Simply ensure that the cornflakes are a gluten-free brand. The rest of the ingredients are naturally gluten-free anyway (although Carnation vegan Condensed milk contains oat flour, so please be mindful of this).
Try my other delicious simple vegan baked treats!
Easy Vegan Florentine Squares
Nutty, chewy, fruity, dipped in chocolate. These might be your new favorite bar.
Equipment
1 8" square brownie pan

lined with oiled tinfoil
Ingredients
2

cups

Cornflakes

crushed

1

cup

Dark Chocolate

chips or chopped

⅓

cup

Glace Cherries

chopped roughly

¾

cup

Raisins

or sultanas

½

cup

Macadamia Nuts

⅔

cup

Condensed Milk

vegan
Instructions
Melt the chocolate in a microwaveable bowl in 20 second bursts.

Pour into the lined brownie pan, spreading evenly.

Refrigerate for about an hour or until set.

In a large mixing bowl, combine all the other ingredients until thoroughly coated in the condensed milk.

Spread evenly on top of the chilled chocolate base.

Leave to cool completely, then refrigerate for a couple of hours.
Notes
Use all dried fruit if you do not want to use nuts. 
You can use chopped almonds or slithered if you prefer
Nutrition Facts
Easy Vegan Florentine Squares
Amount per Serving
% Daily Value*
* Percent Daily Values are based on a 2000 calorie diet.