How to Make A Delicious Meat Free Meatloaf
Easy delicious vegan meatloaf recipe, made with nuts, mushrooms and lots of great, herby flavors! Prepped in just a few minutes, you can make the mixture beforehand and bake later!
Meatloaf is no-nonsense comfort food but even when I ate meat, I had a strong dislike of minced beef (ground beef) (or minced meat in any form). I found it to be gristly and fatty. I have, however, always loved nut roasts.
There is something so quaintly, wonderfully retro about both Meatloaf AND Nut Roast and indeed, they are a bunch of seasoned ingredients, slammed into a loaf tin and baked. This is the perfect Thanksgiving vegan meatloaf, served with my perfect vegan mashed potatoes and my chunky bread stuffing, followed by my fabulous nutty vegan pecan pie!
To that end, my vegan Meatloaf recipe is that, but it combines the dense meaty texture of meatloaf with the delicious wholesome flavour and goodness of a Nut roast plus more flavour punch with an Enchilada sauce topping.
There are a lot of ingredients here but actually, they all just go into the food processor, no chopping, and that is pretty much it!
How do you make a Vegan Meatloaf Sandwich?
Why do I think this is the best vegan meatloaf ever? Well, it's based on the finer elements of the traditional meatloaf, which are flavour, texture and the ability to put leftovers in a sandwich! Meatloaf served with mashed potatoes, roast potatoes, green beans, brussels sprouts and gravy is perhaps the ultimate comfort food but also perfect for special occasions, like Thanksgiving or Christmas.
Yes, if you've never tried meatloaf sandwiches, you're missing out! Take a cold slice of meatloaf, fry it off in the pan on both sides, then put it between 2 slices of your favourite bread (I won't judge), with maybe some ketchup or mustard. And enjoy!
Modifications to the Recipe
For my festive version of my vegan no-meat meatloaf, I love to change up the For my festive version of my vegan no-meat meatloaf, I love to change up the sauce by swapping out the enchilada sauce for my Puttanesca sauce. It's a rich, spicy Italian sauce, decadent and delicious and one of my favourite vegan recipes.
If you want to go even more festive, omit the sauce altogether and simply top your vegan meatloaf with a cornucopia of dried cranberries and nuts, then If you want to go even more festive, omit the sauce altogether and simply top your vegan meatloaf with a cornucopia of dried cranberries and nuts, then serve with your favourite gravy. The loaf itself is so moist that it won't dry out during baking, and it looks stunning when you serve it on the festive table. Try serving it with my sweet potato casserole and green bean casserole a real people pleaser meal!
Can I Omit the Nuts Altogether?
For those of you with a nut intolerance, allergy or simply don't like them, you can replace the nut element in the loaf with some cooked Quinoa or bulgur wheat instead. Simply substitute a cup of your favourite cooked grain and omit the walnuts. This is really an easy recipe, and if you make sure you cook a little of the mixture before baking, you can always make sure it tastes delicious!
Ingredients
TVP (see my post on how to prepare TVP here). You can also use frozen or chilled vegan mince of your choice in this vegan loaf, just omit the soaking element.
Nutritional Yeast aka Nooch. This adds a delightful savoury element that non-veggie meatloaves might get from, say, parmesan.
Walnuts, toasted. I simply toast them in a large skillet over medium heat until they start to smell fragrant and toasty. Keep moving them though, as they will burn.
Onion, white, peeled
Dried Oregano
Olives, use whichever you like, but of course, ensure they are stoned
Garlic, fresh, peeled
Mushrooms. I use small white mushrooms, but you could use whatever you have.
Tomato Puree (tomato paste).
Cornmeal to bind. You could also use some precooked brown lentils, bread crumbs, panko breadcrumbs or even a flax egg.
Additional optional flavourings if you decide to omit the Enchilada Sauce:
Vegan Worcestershire Sauce
Soy Sauce
Liquid Smoke
BBQ Sauce
Chopped bell pepper
A mixture of different nuts: almonds for texture, hazelnuts for flavour etc.
Full ingredients in recipe card
Method
Make the Enchilada Sauce.
To make the meatloaf, place the soaked TVP in a large bowl.
Add all the other ingredients (except the cornmeal) into a food processor and pulse until you have a coarse pate-like texture. You don't want it totally smooth, but you do want it to adhere together.
Add to the TVP and mix until completely combined.
Add the cornmeal to the mixture, gradually, until you reach a consistency that is not too wet and sticky, but not dry.
At this stage, I recommend taking a spoonful of the mixture and frying it in a small pan, just to taste it for seasoning. This is really the only way you can check the flavouring, and the only time to adjust it.
Pack into a loaf tin lined with parchment paper, cover with the enchilada sauce, and bake for about 40 minutes or until starting to turn toasty around the edges.
Now remove from the oven and leave to cool slightly before unmoulding from the tin. This maybe controversial, but I love to serve my vegan loaf at room temperature, cut into individual slices.
FAQ
How do you stop a vegan meatloaf falling apart?
This is a great question. You need a good mix of wet and dry ingredients, and nothing cut too chunky. If it is too wet, it will just spread out and turn mushy on baking, if it's too dry, it will just crumble.
However, you can be fairly sure if you follow my recipe above that your meatloaf will stay whole!
If you are a little unsure, I find it works really well to pack the meatloaf into a loaf tin and refrigerate for several hours too.
Vegan Nut Roast Recipe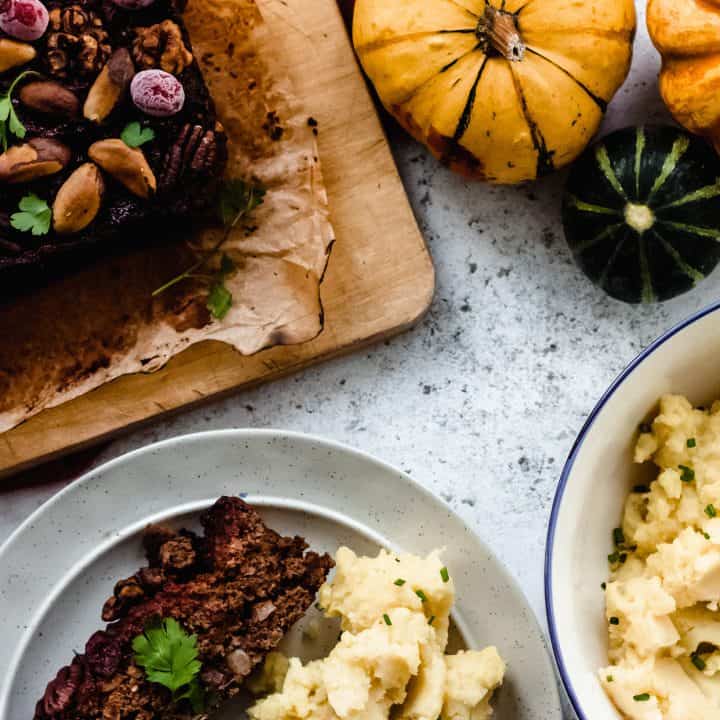 This is my delicious take on a meatloaf, completely plant-based and full of flavour
Ingredients
Enchilada Sauce
1

tbsp

Vegetable Oil

1

tbsp

Flour

-

gluten free can be used here

½

cup

Passata

½

cup

Water

3

tsp

Ground Cumin

1

tsp

Salt
No-Meatloaf
2

cups

TVP

-

soaked in 1 cup of water

1

tbsp

Oregano

4

tbsp

Nutritional Yeast

¼

tsp

Chilli Flakes

-

optional

2

tsp

Salt

1

tsp

Ground Black Pepper

1

cup

Walnuts

-

toasted

½

cup

Olives

-

your favourite type

2

Cloves

Garlic

-

peeled

7

oz

Mushrooms

2

tbsp

Tomato Puree

3

tsp

Olive Oil

1

Onion

-

peeled

1

tbsp

Parsley

¼

cup

Cornmeal

-

or flour for binding
Instructions
Preheat oven to 180c.

To make the Enchilada Sauce, melt together the vegetable oil and flour in a small saucepan, cooking over medium heat until it turns golden.

Add the Passata, water, Cumin and Salt and cook until the sauce is thickened and unctious, about 10 minutes.

To make the meatloaf, place the soaked TVP in a large bowl.

Put all the ingredients, upto (but not including) the flour into a food processor or blender and whizz up until you get a coarse pate-like texture. You may prefer to do the walnuts first, add this to the TVP and then the other ingredients. It doesn't matter.

Add this to the TVP, stir well. If your mixture seems very wet, add some cornmeal (or regular flour) to bind it slightly. Not too much as you want to keep it moist.

Pack it into a loaf tin and cover with the Enchilada Sauce.

Bake for about 40 minutes or until the top looks burnished and you've got those yummy toasty bits around the side.

Leave in the pan to settle for about 10 minutes before serving.

Best served with – of course – mashed potatoes, green beans and ketchup!
Please note that where the recipe asks for milk, butter or yogurt, this refers to any plant-based version that you prefer.
Nutrition Facts
Vegan Nut Roast Recipe
Amount per Serving
% Daily Value*
* Percent Daily Values are based on a 2000 calorie diet.