Delicious and Simple Vegan Bread Stuffing
Bread Stuffing is the perfect side dish for the vegan festive table – crunchy, soft, full of flavor and textures!
I love to serve stuffing with any roast dinner I make, or for special occasions like thanksgiving and Christmas day, it's crunchy and herby and soaks up gravy so deliciously! It works perfectly alongside my braised red cabbage too!
When I was a kid, we always had Paxo stuffing, which comes dried in a little blue box and you had boiling water to it. It's basically breadcrumbs, dried onion and some dried herbs. We never stuffed chickens or turkeys with it, just baked it in the oven alongside everything else. I always loved the crunchy bits around the side.
Some people make sausagemeat stuffing or stuffing balls, which, even before I was vegan, I really didn't like, although I'd love to try one with vegan sausage meat!
This chunky vegan bread stuffing is the perfect side dish for your festive table: full of herby flavor and texture, it's like my childhood stuffing, but amped up!
Served alongside my sweet potato casserole and green bean casserole, your thanksgiving vegan side dish dilemmas are solved!
Ingredients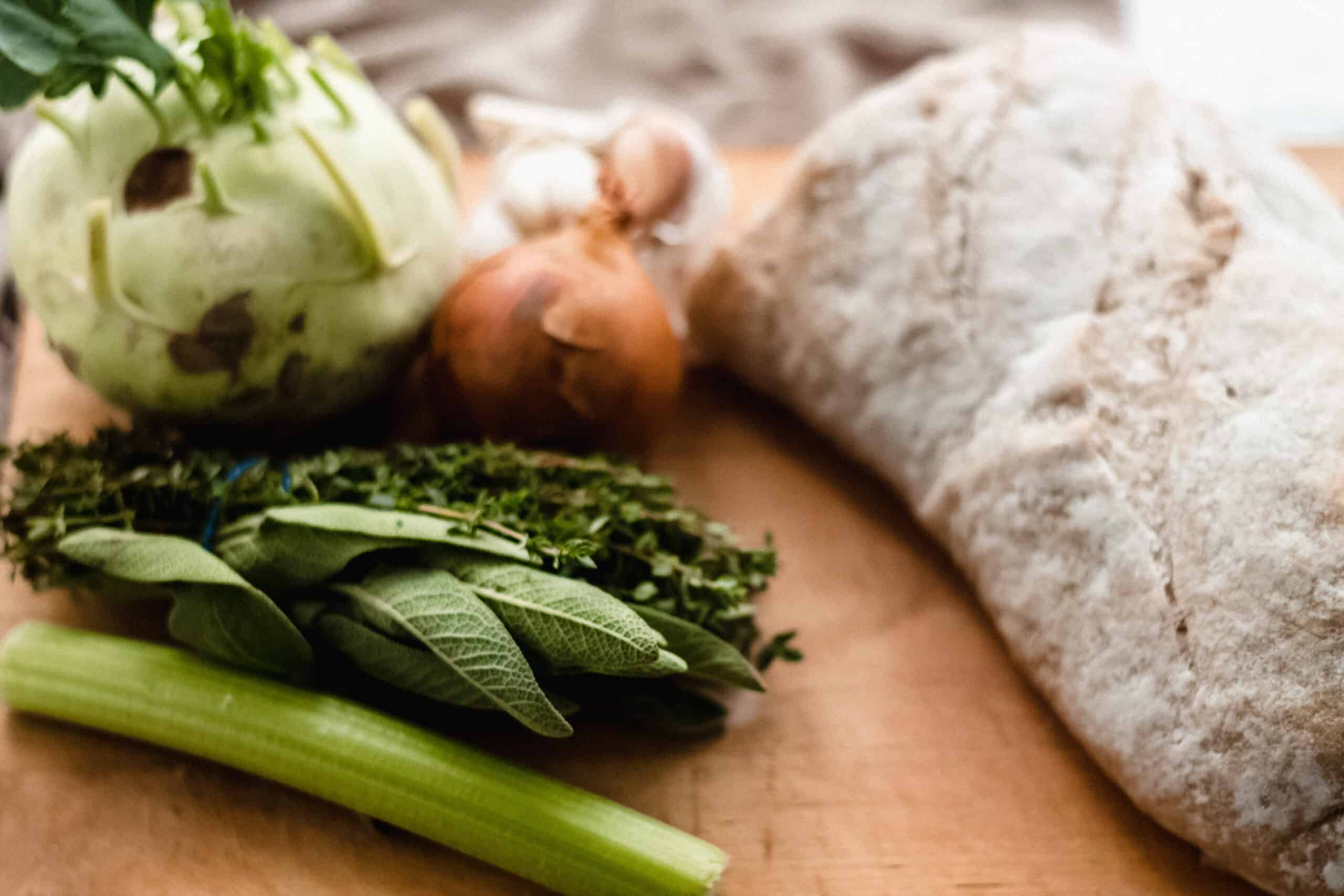 bread. I like to use a sourdough or a firm, open textured rustic loaf as these absorb flavors and moisture well, whilst not turning mushy!
onions, garlic and celery
fresh sage and thyme
vegetable stock
See recipe card for quantities.
Instructions
Sauté the garlic, onion, celery and herbs with a little vegan butter until tender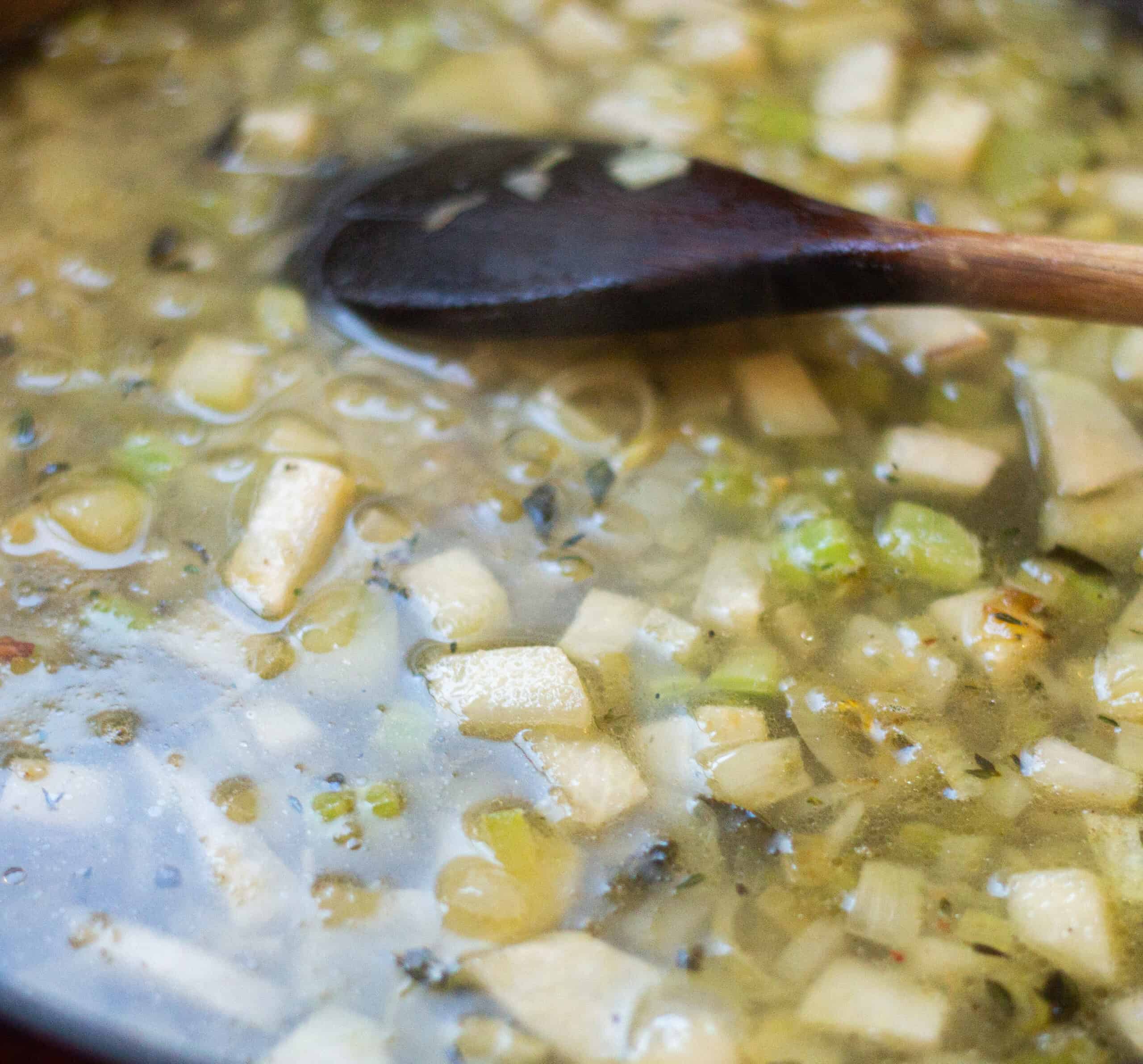 Add the vegetable stock and gently reduce down a little
Now add the stale bread cubes and mix well
Add a little more stock and tip into a baking dish. Bake at 180c for 40-50 mins until golden brown
Hint: cut your bread into cubes the night before and leave it out to dry out.
Substitutions
bread – use gluten free bread instead if you are following a gluten-free diet, but try and use a good quality gluten-free sourdough
herbs – use a mixture of different herbs if you prefer, parsley or chives, perhaps
Variations
Spicy – add chili pepper flakes or chopped jalapenos to the onion mixture
Deluxe – add crispy onions for a really festive flavor or add some chopped, toasted pecans
Storage
Store the prepped dish, covered with foil, in the fridge the day before you want to bake it. If you want to reheat leftovers, I recommend throwing them into a frying pan with a little more oil and frying them up!
This recipe doesn't stand up well to freezing, but can be prepped the day or two before.
Top tip
Make sure to use a good quality rustic loaf, a white sourdough is perfect. I cut mine into cubes a day or two before I'm going to make the stuffing and leave it out on a baking sheet to dry out.
FAQ
How do you dry out bread for bread stuffing?
You can do it one of two ways. You can cut it into cubes a couple of days before you want to use it, and just leave it open on a baking sheet to dry out. This is the energy saving way and the way I do it. Bread that is exposed to the air dries out really quickly.
However, if your bread is still a little to fresh, you can cut it into cubes, place on a baking tray in one layer and place in a low oven (about 120c) to dry out slowly.
What kind of bread is used for stuffing?
I think the best kind of bread is a rustic open textured loaf, something like a white sourdough would be perfect.
Easy Vegan Bread Stuffing
An easy bread stuffing for the festive table
Ingredients
3

cups

Bread

-

cubed, stale

1

Onion

-

peeled, cut into small dice

1

Garlic

-

clove, peeled and finely chopped

1

Celery

-

stick, finely chopped

2

Thyme

-

stems

3

Sage

-

leaves, chopped finely

1

tbsp

Olive oil

1

tbsp

Butter

-

vegan

1½

cups

Vegetable stock

salt and pepper
Instructions
Make sure you have cut your bread into cubes a couple of days beforehand to let it dry out.

Add the butter and olive oil to a frying pan and

sauté

the onion, garlic, celery and herbs until tender.

Add 1 cup of stock to the onion mixture and simmer it, just to reduce and thicken it down a little.

Remove from the heat and add the cubed bread, mixing gently but thoroughly.

If the bread seems quite dry, add the remaining half cup of stock.

Bake for 40-50 minutes until golden brown and toasty on top.
Please note that where the recipe asks for milk, butter or yogurt, this refers to any plant-based version that you prefer.
Nutrition Facts
Easy Vegan Bread Stuffing
Amount per Serving
% Daily Value*
* Percent Daily Values are based on a 2000 calorie diet.