How to make Marron Glacé. Have you ever tried Marron Glacés, the most expensive of all festive confections? You might have seen them referred to, quite iconically, in The French Dispatch, Wes Anderson's celluloid love letter to publications like Gourmet magazine, or Time during the 50s and 60s.
You might think that making glacé fruit is difficult, but in fact, it's terribly easy. All that is required here is patience and time to peel them. I am excited about giving them as gifts this year because they really do taste rather special and are wonderful chopped up in rich, decadent puddings. Plus, they last for ages and ages. At least until New Years…
And to the Marron Glacé. Less labour intensive than popping to your local posh deli to buy a box, the success of these preserved, candied chestnuts relies almost entirely on the quality and age of your chestnuts. Mine were a little bit older, they had shrivelled ever so slightly in their shells and would have been useless for anything else.
Once glacéd, they tasted pretty much like those expensive ones you buy at said posh delicatessens, but visually they were slightly weedier looking. I imagine mine would have been the rejects that the workers at the Factoire du Marron Glacé would have been allowed to take home at the end of the week. Nonetheless, scrawny nuts aside, they will be wonderful chopped up and used in all sorts of luxurious desserts and biscuits and cakes. And it saved me ten quid for not much effort at all.
To conclude, things that might initially seem daunting or complicated can actually be very simple. Whilst I don't have the patience to knead bread dough for 15 minutes, I can just about muster up the strength of character to bring a pan of chestnuts in sugar syrup up to the boil once a day for three days. What's next? Vegan Jerky? Growing my own Cacao Beans to produce my own chocolate? You'll be the first to know…
How to Prepare Chestnuts
When I said that this was not a labour intensive job, I was a little loose with the truth. Peeling the chestnuts is a tedious although somewhat satisfying job, and works best if you put on your favourite playlist (I chose the Beatles) and just set aside an hour to crack on with it. Unfortunately, because you need a knife, it is not the kind of job you can give to children to do.
However, there are ways to make this job slightly easier.
Bring a pan of water to the boil
Add your chestnuts and boil for about 3 minutes. Any less and you still won't be able to peel them. Any more and you risk the flesh starting to crumble. Peel one, and if it's still a little too hard, boil for a minute or 2 more.
Drain the chestnuts.
Leave to cool until you can handle them.
Using a small paring knife, carefully cut a hole into the top of the chestnut and slice all the way around. Hopefully you will feel the out shell, and the inner furry skin start to come away.
Once you have sliced the top off, you should be able to peel the layers away.
Try my other vegan festive treats
Marron Glacé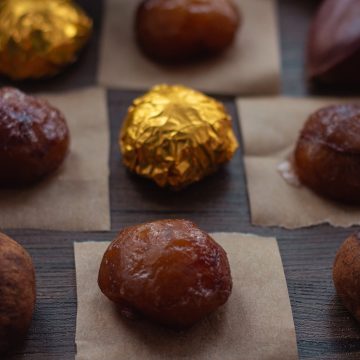 How to Make the Festive Sweet
Ingredients
300

g

Chestnuts

-

fresh, shell on

Vanilla

-

or regular Caster Sugar 300g. Remember that whatever the weight of peeled chestnuts you have, match that in sugar.

300

ml

Water

1

teaspoon

Vanilla Extract

-

best quality
Instructions
Cooking and Peeling Chestnuts
The easiest and quickest way to complete this unenviable task is to plunge the chestnuts into boiling water for anything between 2-5 minutes. The brown papery skin should come away with the outer shell.

Once you have peeled the chestnuts, place them in a large pan of cold water and bring up to the boil. Simmer very gently for 15 minutes or until a skewer pierces them easily. Take care not to overboil them or they will disintegrate. If they do start to disintegrate, it isn't the end of the world. Continue the process anyway using the broken pieces. You can now buy Marron Glaces pieces as well as whole Chestnuts,

Gently using a slotted spoon, remove the chestnuts to a colander and drain.

Weigh your peeled, cooked chestnuts. I had exactly 198g. So, I needed to use 198g of sugar, and 198g of water for the syrup.
To make the Glace
Heat together water and sugar until boiling and the sugar is dissolved.

Carefully add the Chestnuts, bring back to the boil, then immediately turn off. Cover the pan with the syrup and chestnuts and leave to cool in a warm environment.

The next day, bring the pan of chestnuts and syrup up to the boil again, turning off as soon as it starts to boil. Cover and leave.

Repeat the next night, adding a few drops of vanilla extract if you didn't use vanilla sugar. By this time, the Chestnuts should have absorbed all the syrup. If there is a lot left, repeat the process once more.

This process of gradually inundating the nuts with the sugar syrup preserves them but also helps to keep their shape. If they were boiled for longer at a time, they nuts (or fruit) would stand the risk of disintegration.

To complete the process, again using a slotted spoon, delicately remove the candied nuts and place them on a cooling rack that has been lined with greaseproof paper.

Preheat the oven to 70c and place the nuts in the oven to dry out. Leave the oven door open.

Once they have set up, you can place them daintily in little petits four cases if you're feeling in a giving and sharing mood, or just eat them straight down!
Please note that where the recipe asks for milk, butter or yogurt, this refers to any plant-based version that you prefer.
Nutrition Facts
Marron Glacé
Amount per Serving
% Daily Value*
* Percent Daily Values are based on a 2000 calorie diet.
Try my other festive cookies: