Best Vegan Waffles Recipe
This post contains links to affiliate websites, such as Amazon, and we receive an affiliate commission for any purchases made by you using these links. We appreciate your support!
The best vegan waffles recipe – light, fluffy, crispy and sweet. Oh and they're eggless, dairy-free and so delicious! If you're looking for the perfect vegan waffle recipe, you've found it!
I have only recently discovered the joys of making your own waffles. Sure, I have eaten Birds Eye Potato Waffles (waffley versatile) in my misspent youth, and have indulged in an ice-cream laden waffle dessert, but I have never really tried them as an actual breakfast dish.
I have definitely missed out! Homemade waffles are crisp, fluffy and good enough to eat with maple syrup, without syrup, with fresh fruit, sweet, savoury or reheated the next day in the toaster. This is definitely one of my best vegan breakfast recipes!
I have also listed some additions to your delicious, eggless waffles, stirring through some chocolate chips, for example, or chopped fruits, or even pumpkin spice waffles!
Now, I have worked through quite a few vegan waffle recipes to find the perfect one. Some use flax egg, some use egg replacer. Even more use lots and lots of sugar and oil.
This recipe doesn't need vegan egg replacer, it doesn't need a lot of sugar (although I use sugar, because I love my waffles sweet!) and it uses only a small amount of oil, which helps with the rise and the crispy waffles texture. This is just a delicious and easy recipe for homemade waffles.
Tips for light and fluffy vegan waffles
Self-raising flour and baking powder. Good old-fashioned ingredients that our grandmothers used, and that work well. As you might imagine, they help with a great rise.
Adding a little cornflour to the dry ingredients helps with a nice crisp waffle.
I experimented with mixing plant-based yogurts and milk in the batter, but I have found that soy milk, slightly soured with a little lemon juice (making a sort of vegan buttermilk) gives the best results too. Use the plant milk of your choice.
A little oil in the batter. I have suggested melted coconut oil, but I've also used vegetable oil with no noticeable difference in the taste or texture. Melted vegan butter is also great.
A good quality or well-oiled waffle maker makes a huge difference. My Belgian waffle maker was very cheap on Amazon, but I lightly oil the waffle irons after each use, just before putting them away again.
I use 3/4 cup of batter in my particular waffle maker. 1 cup is too much, and the batter will ooze out the sides, too little and it won't fill the irons properly, so through trial and error, that's just enough for me. Your machine will no doubt take a little more or a little less than mine!
The texture of your waffle batter needs to be quite thick, almost like cake or muffin batter. If it's too runny, your waffles will not rise, and, whilst they'll taste fine, they will be pretty flat! If you find your batter is quite thin, add another quarter cup of flour.
Are waffle and pancake batters the same thing?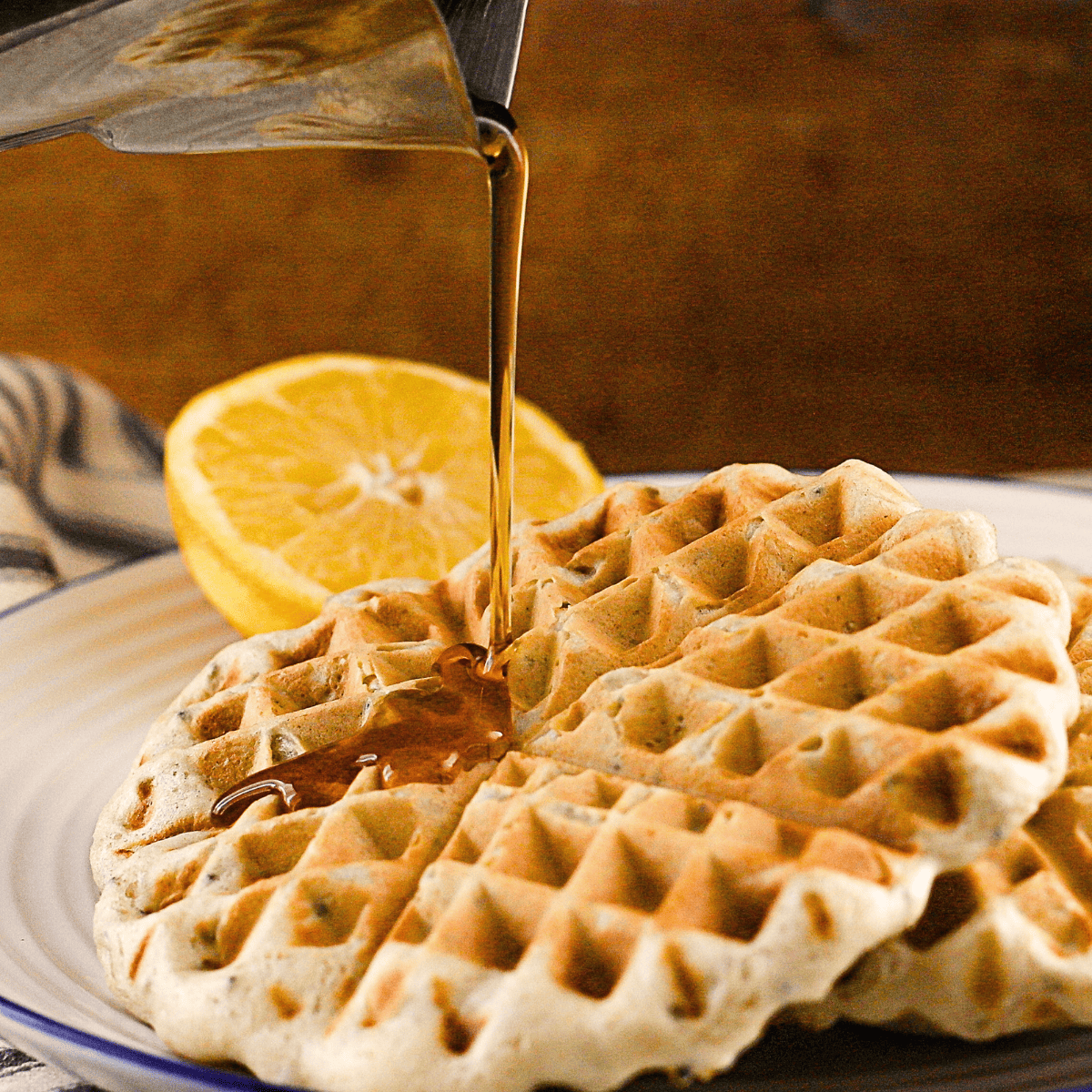 No they are not. I applied a logic when I was first starting out making waffles, that waffles are simply a crispier pancake and therefore the batter must be the same. Nope.
Whilst the intrinsic ingredients are the same, the quantities are quite different. Waffle batter really needs to be quite thick to fill the irons but to puff up at the same time. Don't forget that they are also cooked in an enclosed space, as opposed to in a frying pan or on a griddle.
However, I am not sure if this methodology fails in reverse. I think that you could use waffle batter to make pancakes, but I haven't tried. If anyone has, let me know in the comments below!
Ingredients
This makes enough batter for about 8 waffles.
Self-Rising White Flour. You could use all-purpose flour, but add another teaspoon of baking powder. Using this type of flour gives you fluffy waffles.
Cornflour. This helps with the lightness and gives you crispier waffles.
Baking Powder.
Sugar. You can completely omit this if you want to make savory waffles.
Milk. I use soy milk, but you could use almond milk or oat milk, or coconut milk.
Lemon Juice to "sour" the milk.
Melted Coconut oil. I sometimes use melted vegan butter, canola oil, or olive oil if you prefer
This is ONLY a list of ingredients for the recipe; please see recipe card below for complete printable recipe.
Method:
I start by souring my soy milk with the lemon juice in a large jug. I like to leave it for at least 5 minutes.
Whilst your milk is souring, sift the flour, cornflour, baking powder, salt, and sugar into a large mixing bowl.
Add the vanilla extract and oil to the milk/lemon juice and whisk well.
Pour the wet ingredients into the dry ingredients and whisk until you have no more lumps of flour visible.
Preheat your waffle iron and make your waffles by the manufacturer's instructions.
Place your waffles on a cooling rack to ensure that you still have crispy waffles once you've completed the batch!
Some essential equipment for making waffles
Try some of my other delicious vegan breakfast recipes
How To Make Vegan Waffles
The easiest, fluffiest vegan waffles
Ingredients
300

g

Self Raising Flour

50

g

Cornflour

2

tsp

Baking Powder

¼

tsp

Salt

4

tbsp

Sugar

500

ml

Soy Milk

-

(or plant-based milk of your choice)

1

tbsp

Lemon Juice

60

ml

Coconut Oil

-

melted

1

tsp

Vanilla Extract
Instructions
Preheat your waffle maker according to manufacturers instructions

In a large bowl, sift the flour, baking powder and salt. Whisk in the sugar.

In a large jug, whisk the milk and lemon juice together. Leave for 5 minutes, then add the vanilla and melted coconut oil.

Pour the wet ingredients into the dry and mix until just combined.

Leave batter to stand for 5 minutes

Cook on your waffle maker, again, as per manufacturers instructions
Please note that where the recipe asks for milk, butter or yogurt, this refers to any plant-based version that you prefer.
Nutrition Facts
How To Make Vegan Waffles
Amount per Serving
% Daily Value*
* Percent Daily Values are based on a 2000 calorie diet.