Easy Vegan Shepherd's Pie Recipe – The Ultimate Comfort Food
This post contains links to affiliate websites, such as Amazon, and we receive an affiliate commission for any purchases made by you using these links. We appreciate your support!
Are you looking for a delicious and easy vegan recipe that will satisfy your taste buds? I have the perfect dish for you – my easy Vegan Shepherds Pie. A plant-based twist on the classic comfort food, made with wholesome ingredients that will leave you feeling satisfied and nourished. With a hearty filling of vegetables, lentils, and flavorful seasonings, this vegan Shepherds pie is sure to become a family favorite. It's quick and easy to make, perfect for busy weeknight dinners. Give this recipe a try and enjoy a scrumptious meal that is both healthy and satisfying!
Shepherd's pie is an old English dish. If you are British you will have always been served Shepherds pie as a child (or a vegetarian variant of it, if you are a non-meat eater). At Primary school we were served up instant mashed potato served on top of a greyish brown meat sauce (origins of meat unknown), padded out with marrow fat peas and tinned carrots. I still shudder at the thought of it. I remember on more than one occasion unscrewing the lid of the ketchup dispenser so that when I went to squirt 'just a little' tomato sauce on my plate, everything was flooded with watered down sauce. "Miss, I can't eat this, it's covered in ketchup!"
What is Shepherd's Pie?
The true origins of Shepherds Pie (or Cottage pie) go back even further than my own schooldays (and that was sometime in the 1980s!), although it is not as archaic as I had expected. Of course, the Spanish brought potatoes to Europe in the 15th century but those choosy Elizabethans and the so-hard to please Jacobeans chose NOT to utilise the humble potato (or any vegetable for that matter), preferring the higher protein meals.
At some point though, some wily old-timer discovered the joy of the potato and henceforth the joy of the potato combined with protein (i.e. meat). Shepherds Pie came into being in the 1800s, the first official naming of the dish not until the 1870s.
Technically it is not a pie; it doesn't have a pastry crush and is not baked in a pie tin (although it could be). It is simply a layer of rich (plant based) meat sauce, topped with creamy mashed potatoes. Whilst you can make this dish as luxurious as you like, it is a one-pot meal that sprang out of the need for frugality. In the olden days, leftover meat from the Sunday Roast would be finely ground to make the saucy layer, made to go further with leftover carrots, turnips, parsnips, whatever.
Whilst researching this dish, I asked my American friend if they ate Shepherds Pie in the US, to which I was given a dubious "yeeeeeah" which means something like "I don't know but I'll say yes because it seems like something we might eat".
Actually, a cursory glance on Google reveals any number of transatlantic variants, a scary number of them using the ubiquitous mushroom soup and green beans that Americans seem to love so much, some replacing the potato with sweet potato or even noodles, others pepping it up with chipotles.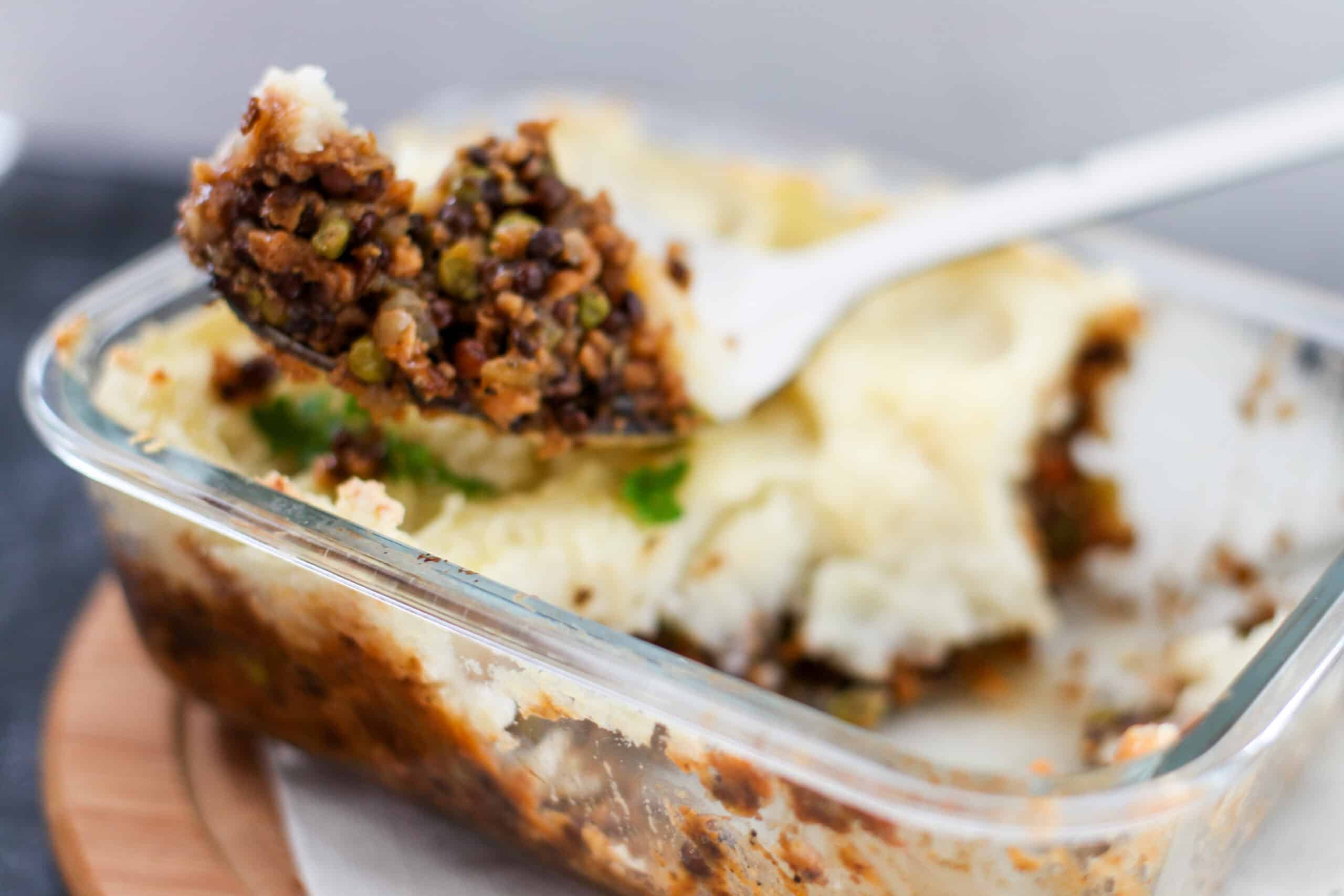 Do a search of English recipes and they are all much the same as each other, very little wavering from grandmas original recipe. I'm not here to state which is right or wrong. I think that creativity is the mother of invention and all dishes naturally evolve, regionally, culturally and financially.
My easy vegan Shepherds pie recipe is, for the most part, traditional apart from the use of vegan minced meat substitute instead of lamb or ground beef. Whilst a traditional shepherd's pie is a thing of beauty, a vegan shepherd's pie is nourishing and soul-satisfying. It is the ultimate comfort food for the whole family.
And, with a tip of the hat to the late Gary Rhodes, from whom I copy his scalloped shaped topping, the final dish was particularly auspicious. The potato had crisped on top but was still fluffy beneath and the sauce had dyed the potato with it's rich goodness. And as for the vegan lentil shepherd's pie sauce? Rich, dense and delicious.

How to make Vegan Shepherd's Pie
I find that the best shepherd's pie is prepared the night before, and I usually prep my sauce one day, and then make the potato the next day. It gives the sauce time to chill and all the flavours to mingle.
Ingredients and Substitutions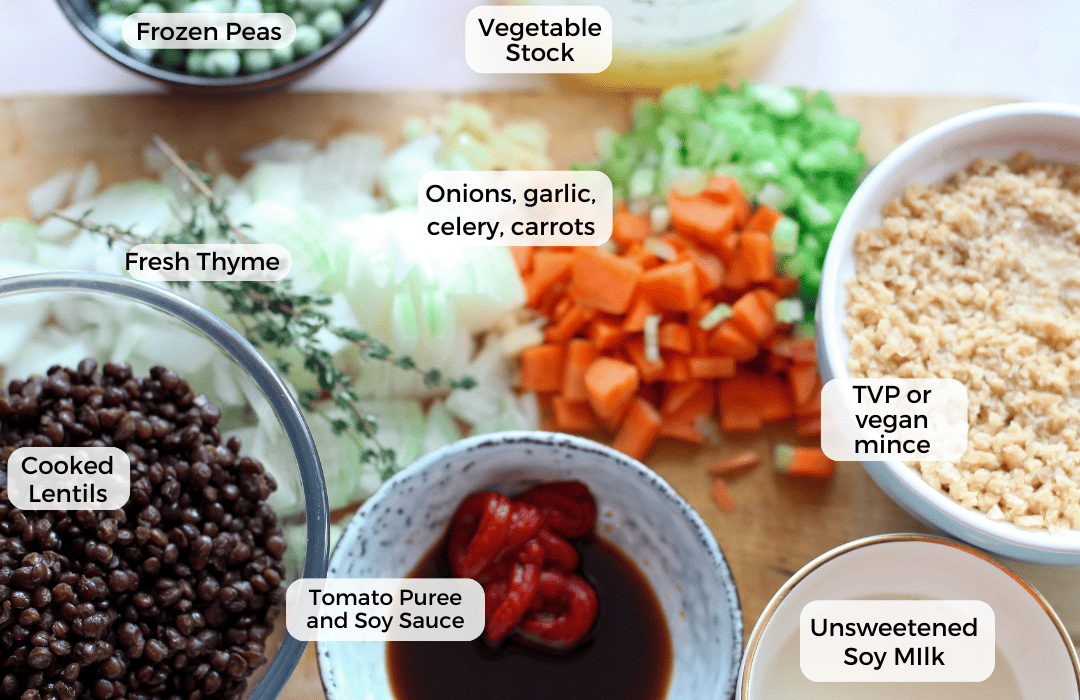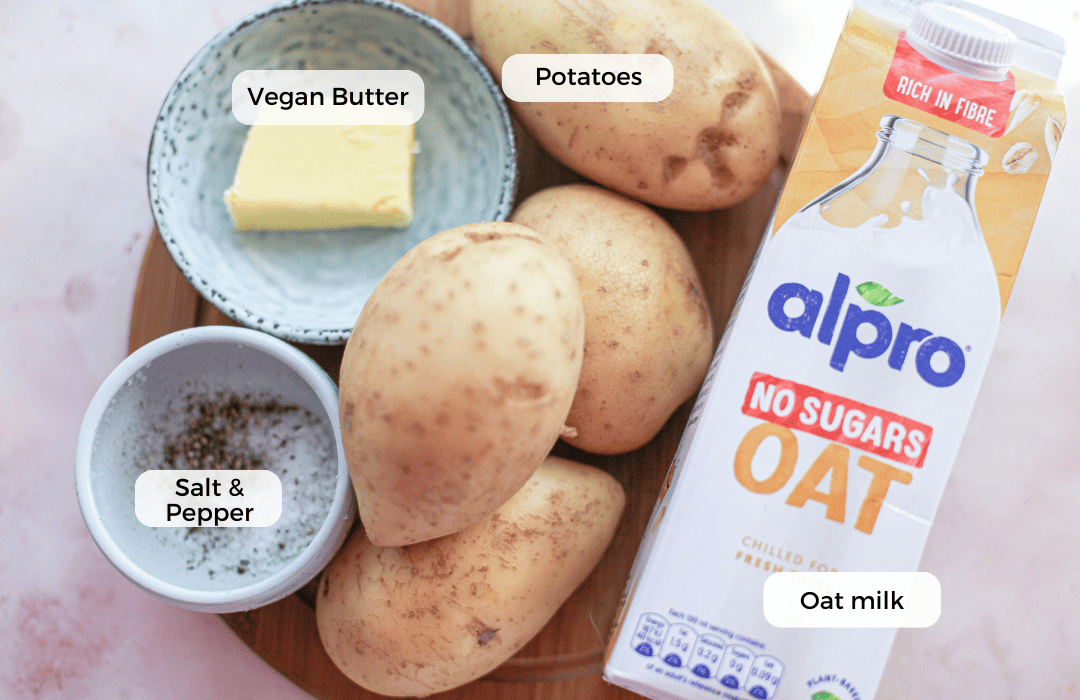 Vegan substitute mince. I could call this my vegan TVP shepherd's pie recipe, but you could use a frozen or chilled brand. This, of course, replaces the ground meat element.
Onion, garlic, carrots and celery. These add a traditional flavor to the "meat sauce".
Cooked green lentils. I use canned lentils for ease of use. If you want to make your vegan shepherd's pie with no lentils, simply add more vegan mince instead, or add 200g of finely chopped mushrooms.
Tomato Paste
Vegan Worcestershire sauce, you could also use soy sauce. This adds a umami depth of flavor.
Potatoes for the topping. You could also use sweet potatoes too.
This is ONLY a list of ingredients for the recipe; please see recipe card below for complete printable recipe.
Instructions
Firstly you need to make your "meat" sauce. I actually use a lentil and TVP (or vegan mince) filling. I flavour this with onions, carrots and celery, and give it a deep savoury flavour by adding soy sauce and some vegan gravy granules. I allow this to cool for a bit while I make the potatoes. It's much easier to spread the mash over the top if the sauce is not really hot.
Secondly you need to make your mashed potato (see below). You can make this whilst your sauce is gently simmering away.
Sauté onions, celery, carrots and garlic until tender.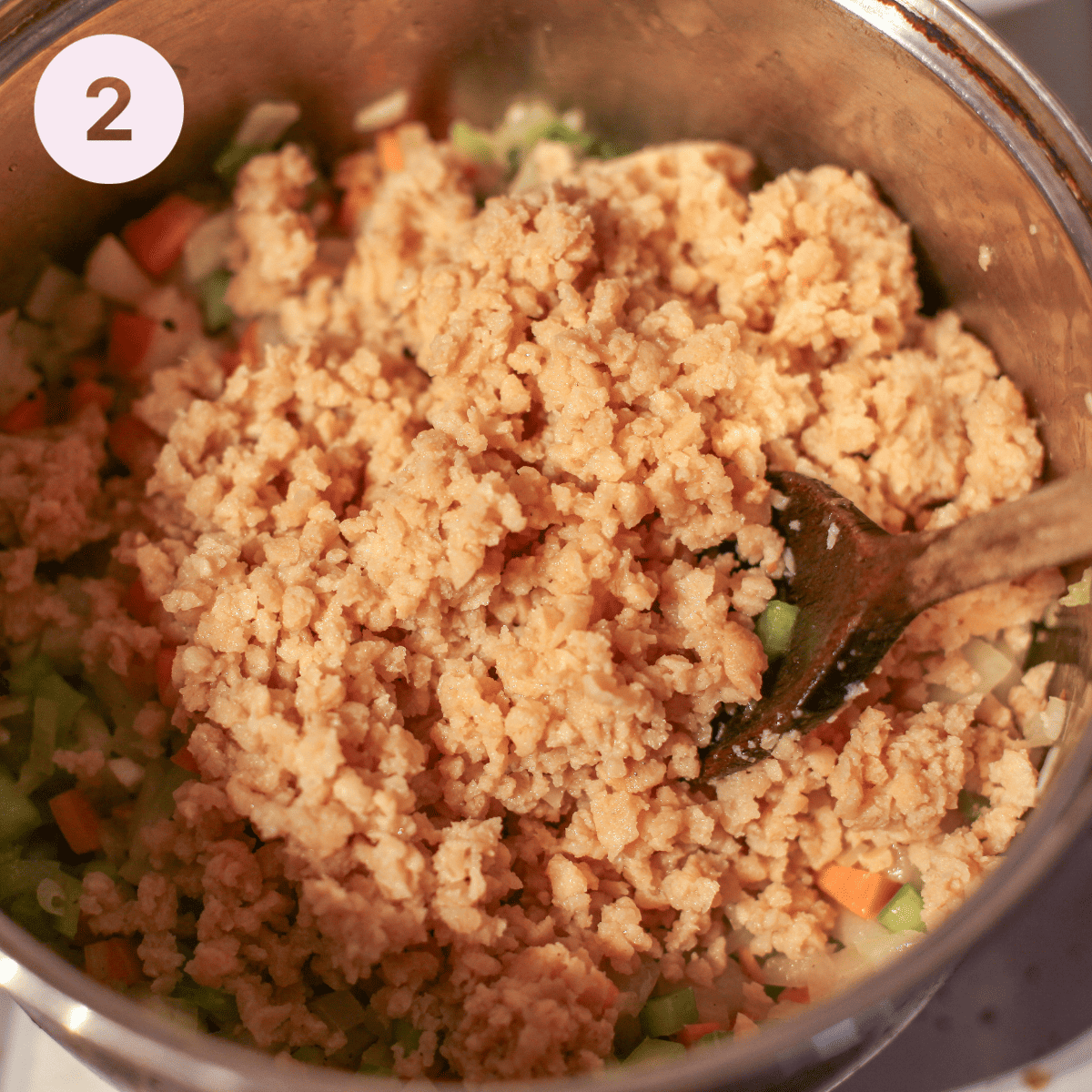 Stir in the TVP or vegan mince substitute.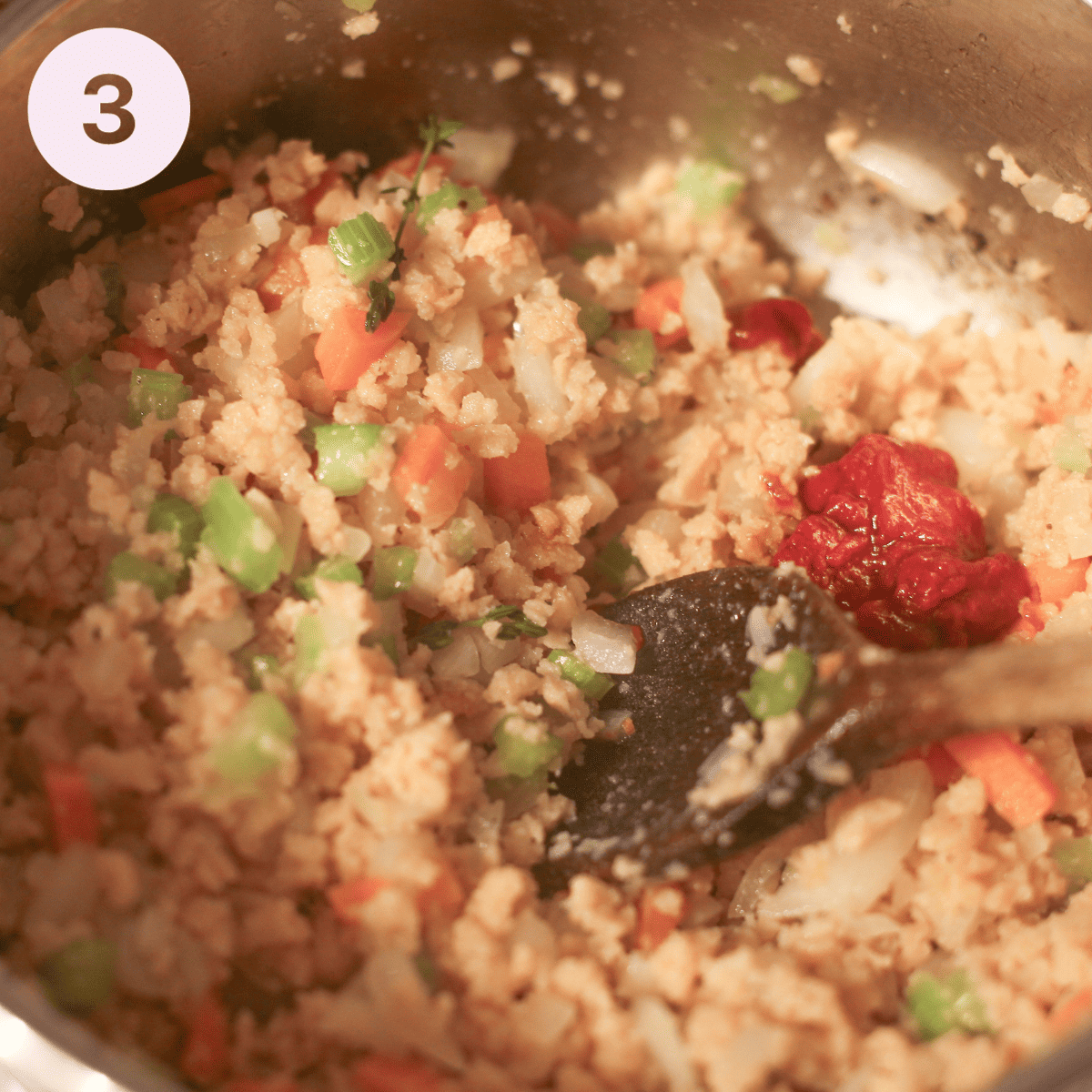 Add the tomato puree, milk and soy sauce and stir gently.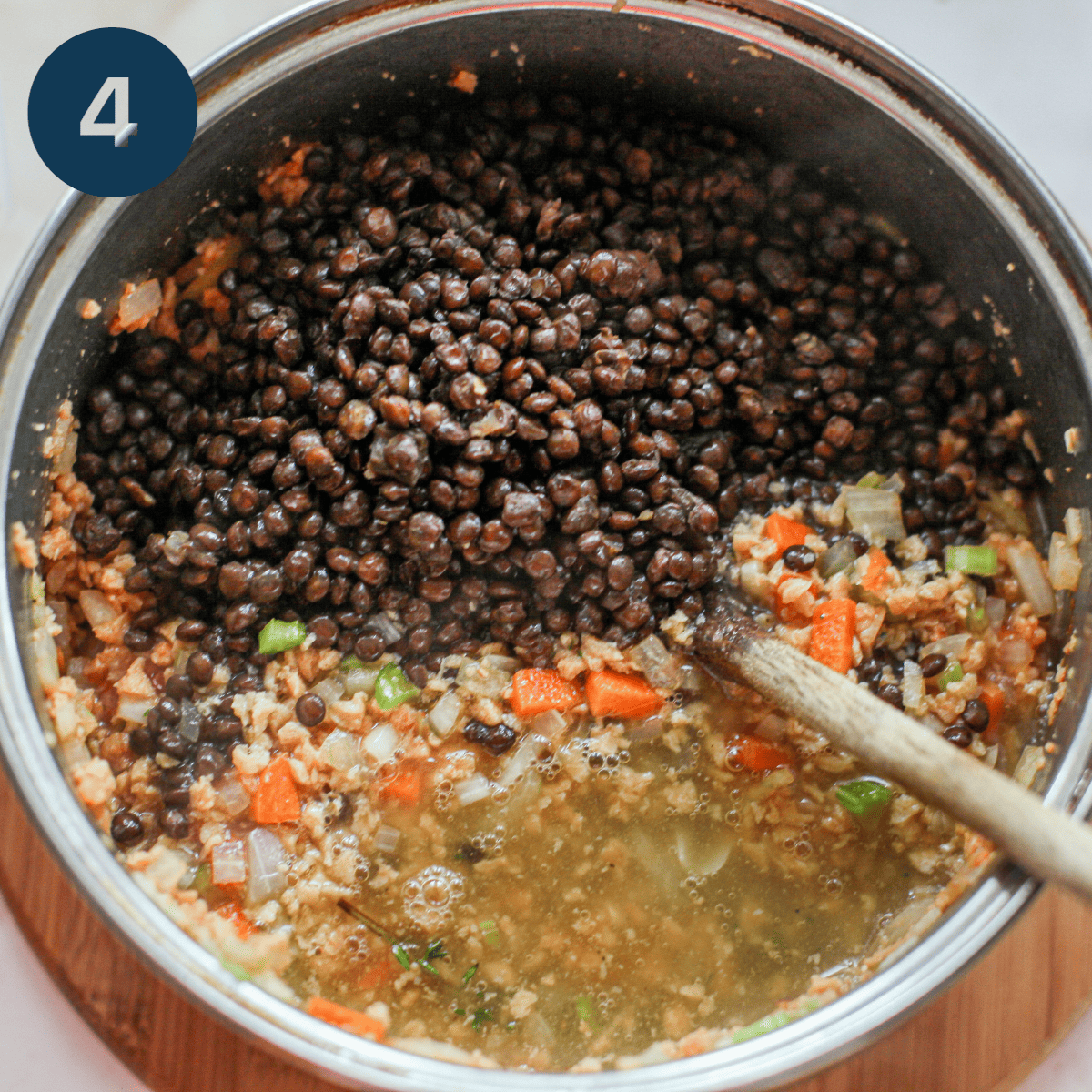 Now add the lentils. Simmer for 5 more minutes.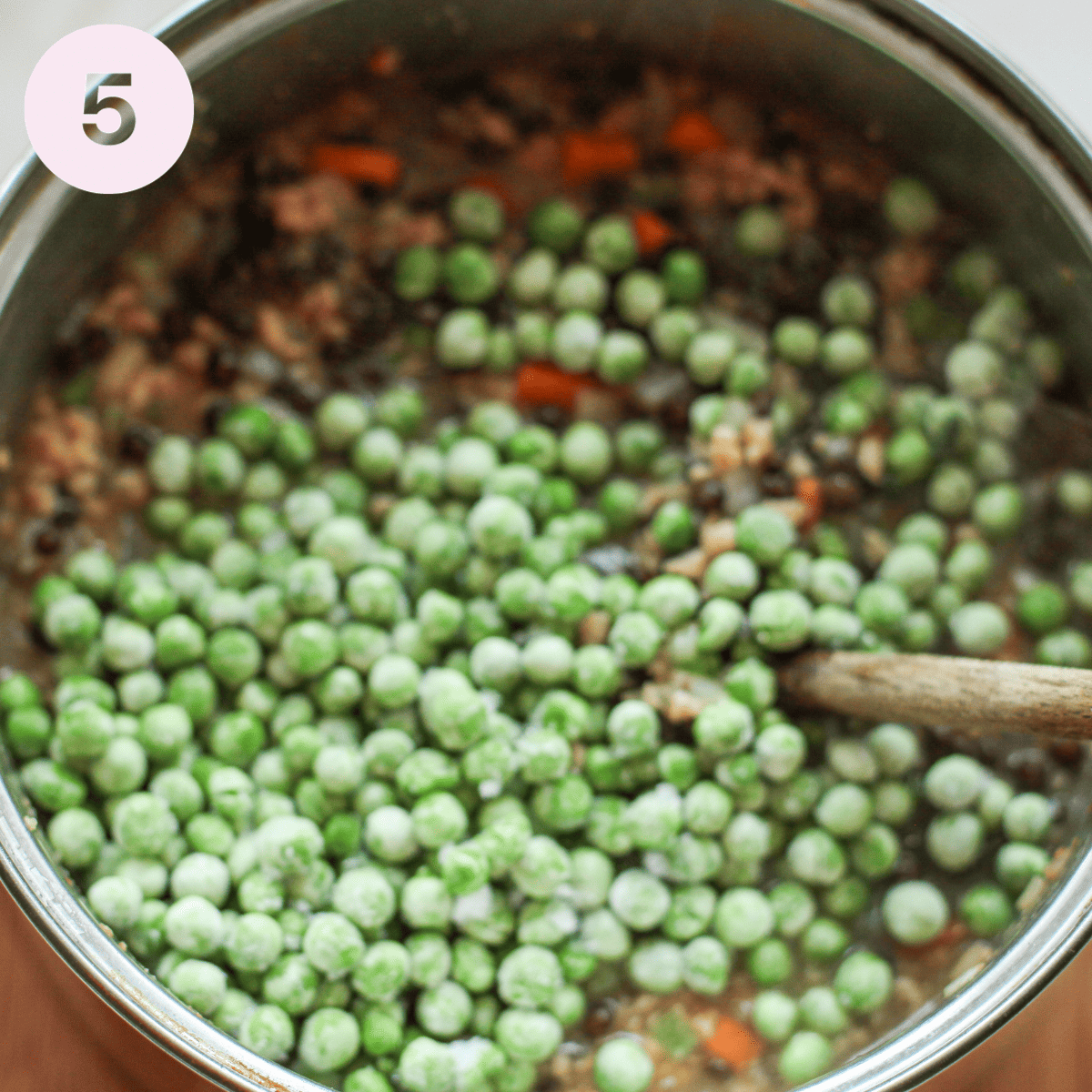 Add the frozen peas, simmer for 5 more minutes, before adding the gravy granules. Taste for seasoning.
Pour the sauce into your baking dish and leave to cool whilst you prep the potatoes.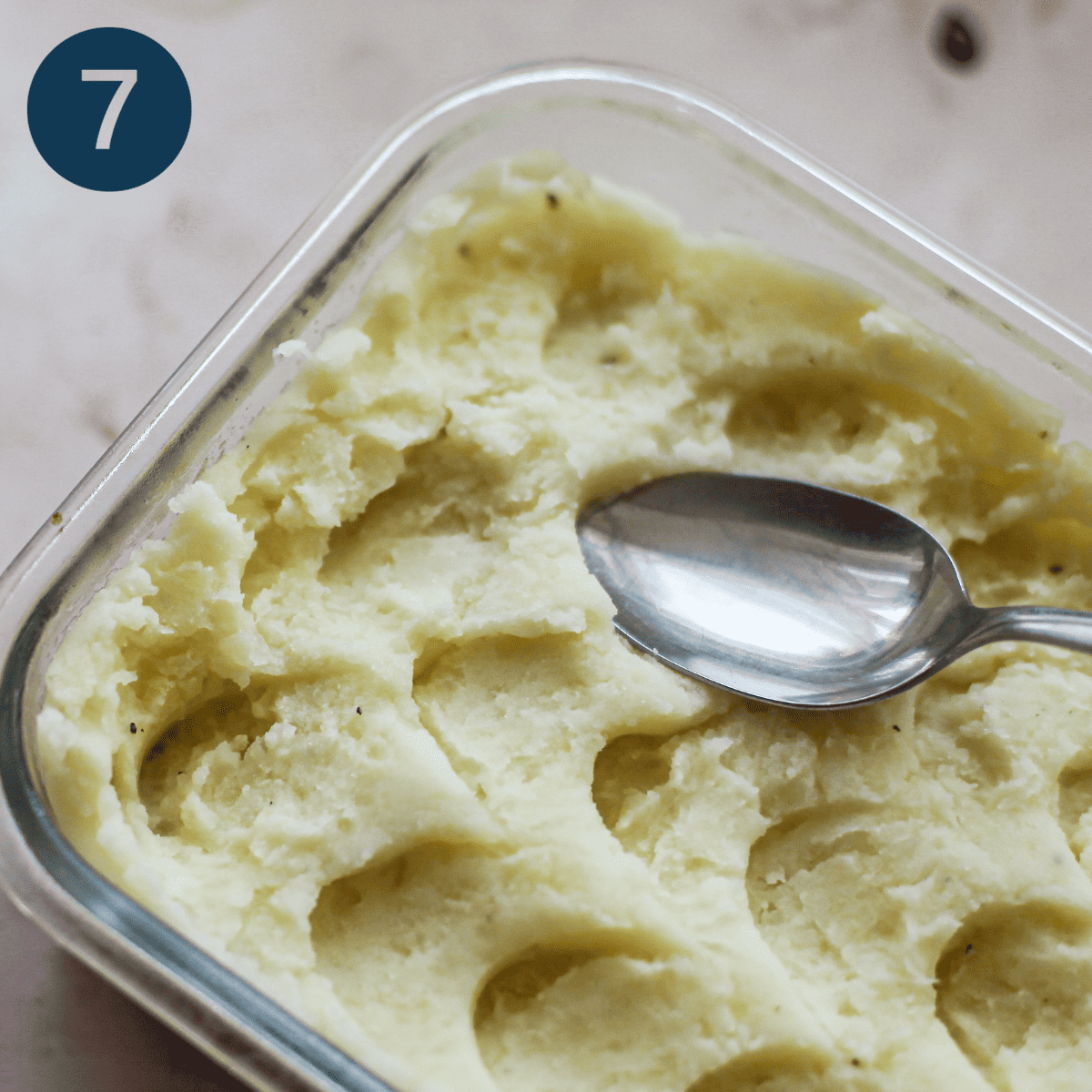 Using the instructions below, make the mashed potato and cover the cooled sauce. Bake for half an hour at 180c.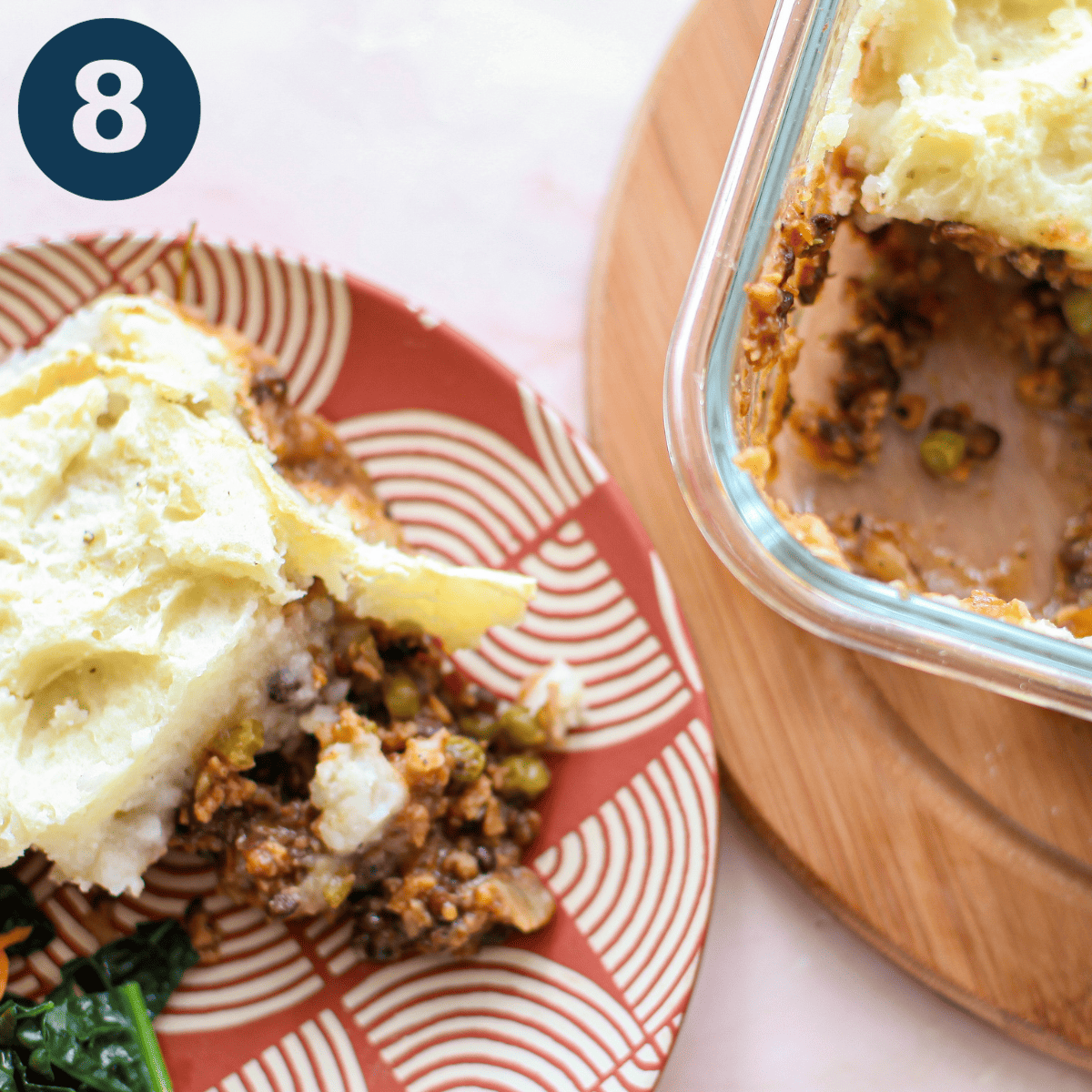 Once golden and slightly crispy around the ages, remove from oven and leave to cool for 10 minutes before serving.
Perfect Mashed Potatoes for Shepherds Pie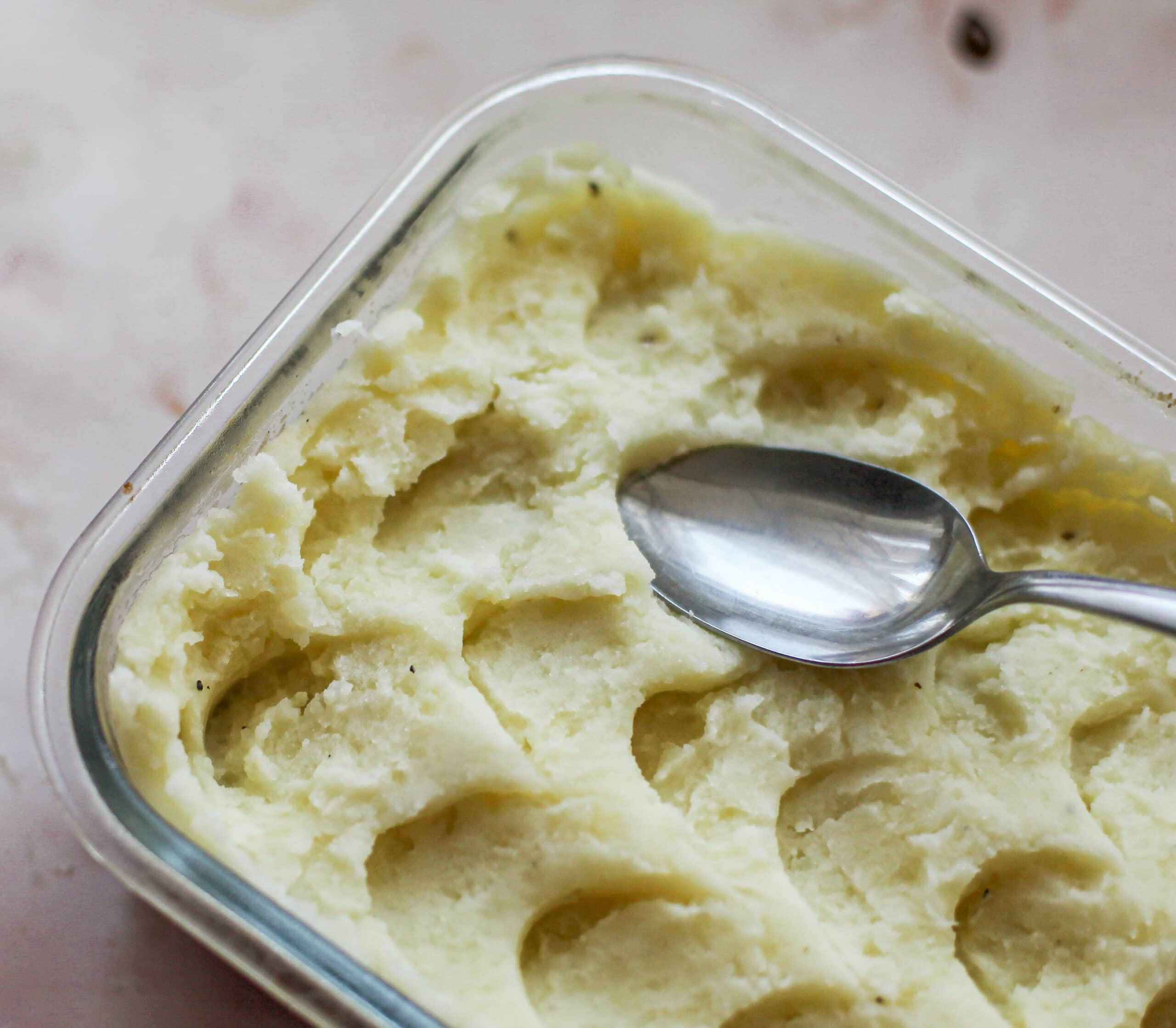 Use a red skinned potato if available, they have a creamier, but firmer texture. I love russet potatoes.
Peel and boil potatoes until just soft, then drain.
Put tablespoons of the butter in a pan, only adding soy milk (or use almond milk) when the butter has melted.
Season with salt, pepper, AND paprika. The paprika adds a delicate smokiness to the potato, but also a beautiful rich color (optional).
Add potatoes back to the pan and mash using a potato masher to the desired consistency.
Spoon the mashed potato onto the cooled filling, and spread evenly.
If you like, use the back of a spoon or palette knife to scallop the surface of the potatoes.
Can you reheat vegan Shepherd's Pie?
Yes you can! Allow leftovers to cool, clingfilm, refrigerate and reheat the next day in a low oven, or just microwave.
My vegan shepherd's pie can also be prepped in advance. Simply add the mashed potato topping but instead of baking, allow to cool and then cover with foil and refrigerate until you are ready to bake. This will last in the fridge for a couple of days.
Can I freeze vegan Shepherd's Pie?
I don't think that mashed potato freezes particularly well, but you can make the "meat" sauce in advance and freeze that.
Try my other Vegan Supper Dishes
Vegan Shepherds Pie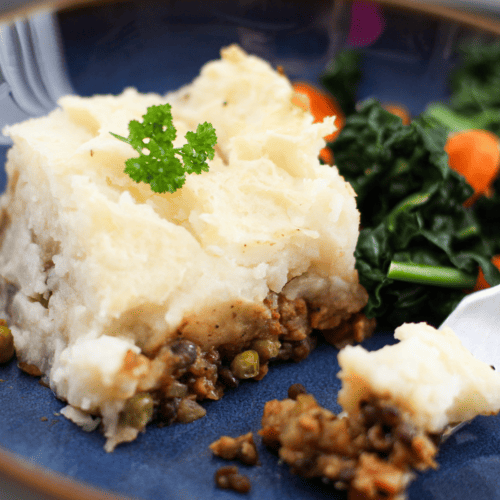 How to make the classic, cosy supper dish
Equipment
Baking Dish, or mini baking dishes to make individual pies
Ingredients
Lentil Sauce
3

tbsp

Olive oil

1

Onion

-

peeled and finely chopped

2

cloves

Garlic

-

finely chopped

2

Carrots

-

peeled and finely chopped

2

stick

Celery

-

finely chopped

2

Thyme

-

fresh, (optional)

250

g

Quorn mince

-

or similar vegan mince substitute

250

g

Puy lentils

-

cooked

50

g

Peas

-

frozen, optional

1

Vegetable stock

-

dissolved in 1 cup boiling water

1

tbsp

Soy sauce

2

tbsp

Ketchup

-

or Tomato Puree

¼

cup

Soy Milk

-

or unsweetened plant based milk

1

tsp

Salt

½

tsp

Black Pepper

1

tsp

Gravy Granules

-

vegan
Potato Topping
6

Potatoes,

-

medium red, peeled and boiled to mashing consistency

1

tbsp

Butter

-

vegan

Salt and Pepper to taste

a little unsweetened Plant-Based Milk
Instructions
To make the Lentil Sauce
Gently heat olive oil in a large saucepan and add the chopped onion, carrots, celery, thyme and garlic. Saute until softened.

Add the vegan mince, stir into the vegetable mixture thoroughly, then add the stock, milk and ketchup/tomato puree.

Let gently simmer until thickened, another 5 minutes or so, and then add the drained lentils, soy sauce, and seasoning.

Taste for seasoning, then stir in the gravy granules.

Finally, stir through the frozen peas, let cook for another couple of minutes then pour into your baking dish(es).
To Make the Mash Potato Topping
Peel and boil the potatoes until just soft. Drain.

Put butter in a pan adding milk when the butter has melted.

Season with salt, pepper, AND paprika. Add potatoes back to the pan and mash to the desired consistency.
To Assemble
Gently dollop your mashed potato on top of your cooled mince base.

Working from one end, firmly press the tip of the knife into the potato leaving a semi-circular indentation repeating the process across the dish left to right. Repeat the procedure until the entire surface is scalloped.

Dot with a little more butter, then bake in the oven until golden brown and bubbling, about 30 minutes.

Remove from oven and leave to cool for about 10 minutes so that it's easy to remove from the dish. Leftovers reheat perfectly too!
Please note that where the recipe asks for milk, butter or yogurt, this refers to any plant-based version that you prefer.
Nutrition Facts
Vegan Shepherds Pie
Amount per Serving
% Daily Value*
* Percent Daily Values are based on a 2000 calorie diet.