How to Make Delicious Vegan Moussaka
This post contains links to affiliate websites, such as Amazon, and we receive an affiliate commission for any purchases made by you using these links. We appreciate your support!
Delicious vegan moussaka recipe. Much like Italian cookery, Greek cuisine is entrenched in history. It is lovingly prepared and enjoyed with such gusto that visitors to Greece cannot help but be entranced by their simple, delicious meals.
In a hot country like Greece, the climate dictates much of the food so there are cooling yogurt drinks, spiked with fresh or dried mint to sooth, fresh salads made with sun-ripened tomatoes, thirst-quenching watermelon and salty feta. Desserts come in the form of rosewater drenched cakes or multi-layered pastries like Baklava.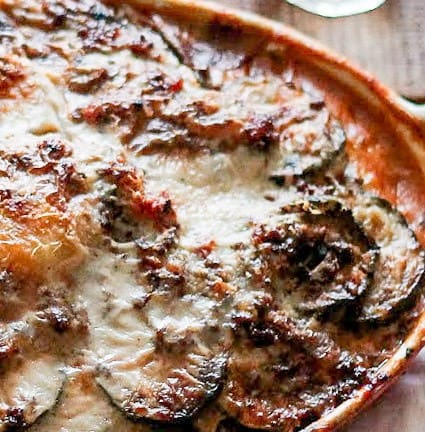 Possibly the most famous Greek dish is Moussaka. Once a mainstay of 1970s restaurants, the dish is rarely seen over here nowadays, except as a ready-meal in your local supermarket freezers, relegated to that regretful footnote in British cuisine known as "out of fashion", along with Arctic Roll, Lasagne and Melon Balls.
What is Moussaka?
Moussaka (from the Arabic musaqqaa meaning "chilled") is a many strata-ed dish, layers of eggplant, combined with a creamy béchamel sauce, with complex flavours running throughout. The 'meat' sauce layer, heavily seasoned with Allspice, Cinnamon and Honey, yet none of these strong spices are overwhelming. The result is, conversely, deeply savoury and would work as a wonderful ragu with pasta if you didn't want to go to all the trouble of making the Moussaka.
Other than the apple pie spices, what is unusual about Moussaka is that it should be served, like revenge, lukewarm or even completely chilled (hence the origins of the name). In fact, it makes total sense. All the flavours vie for attention when eaten straight out of the oven, when cool, they start to mingle and meld in the most delightful way – a true meeting of minds, or at least, ingredients.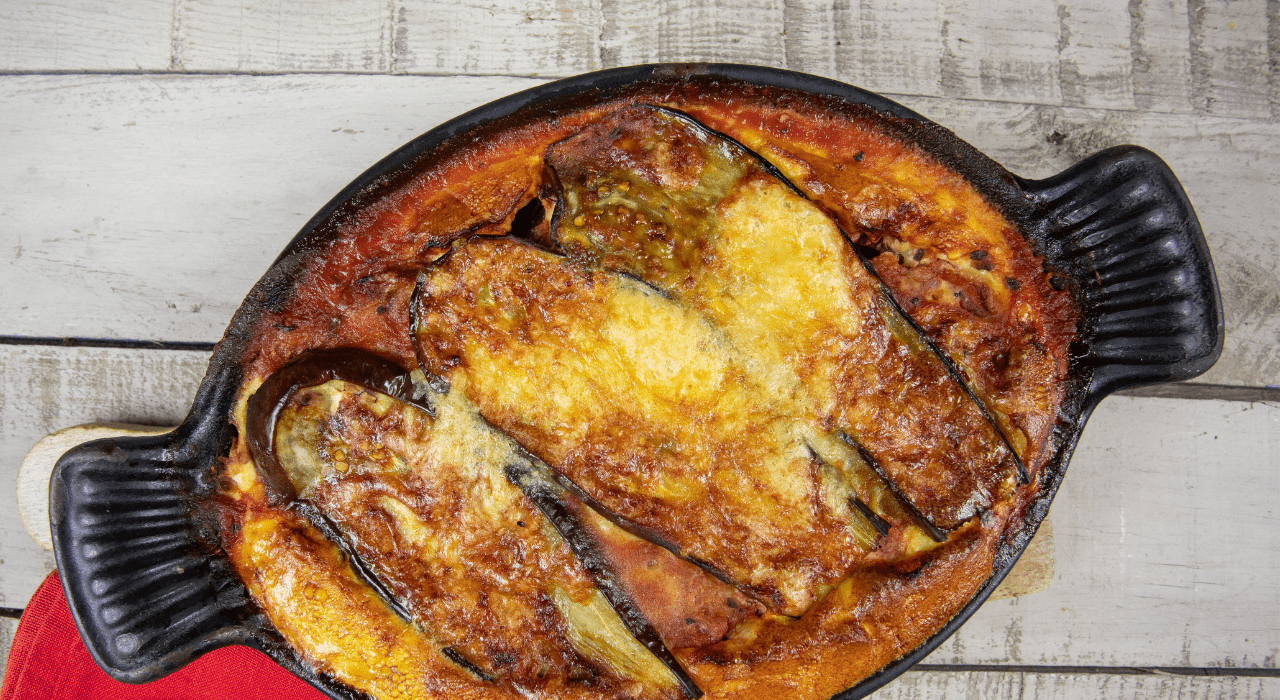 What ingredients are in a Vegan Moussaka?
Well, for those of you unlucky enough never to have been to Greece (that's me too!) and/or try Moussaka, it is notable for its additional layers of fried eggplant slices and boiled potatoes.
And then there's that wonderful, soufflé-like cheeze sauce topping, the creamy blandness of which ties all the other ingredients together. Traditionally stuffed with Gruyere or Mozzarella, I have replaced the dairy sauce with my favourite non-dairy cheese sauce, made from coconut milk.
Now, you're correct when you think that this is a slightly labour intensive dish. But it is well worth the effort and it is certainly best prepared at least the day beforehand, the ragu can be made several days ahead, left to cool in a baking dish. This is just as perfect for a mid-week supper as it is for a special occasion.
Also, it is versatile. No aubergines (eggplant) in the store? Then use courgettes (zucchini). You can omit the potato layer if you're not too keen. You can make a colourful dish by layering potatoes, courgette, aubergine AND the ragu, or you can keep it simple. As with Lasagne, you must make this to suit your time-schedule but most importantly, your palate. My vegan version of a traditional moussaka recipe is so full of flavour, you will not miss the meat sauce at all! It is the perfect comfort food and I think it's a bit like the Greek equivalent of Lasagne or shepherd's pie.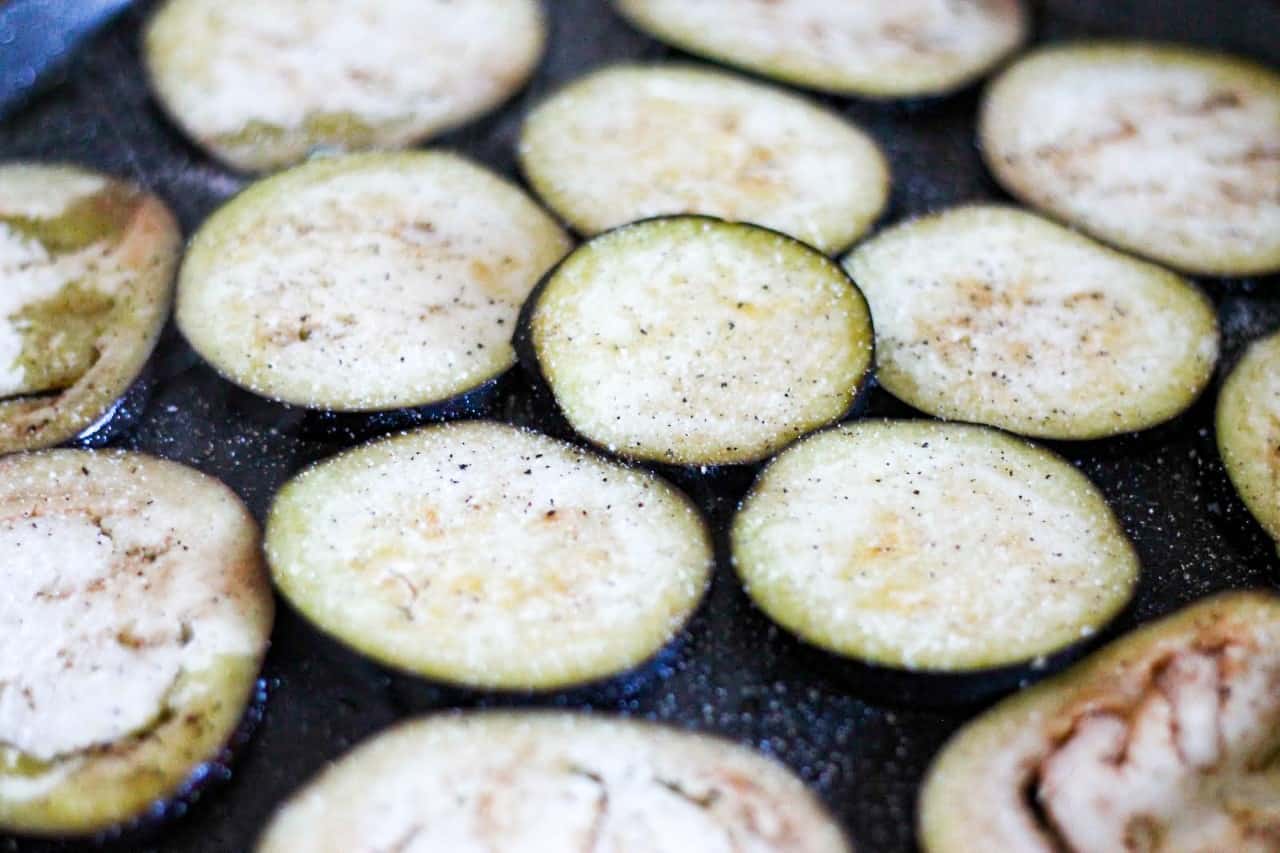 How do you make a Vegan Bechamel Sauce?
It's really quite simple. Heat up the coconut milk (canned, not fresh), then add the rest of the ingredients and whisk until thickened. It is so much easier and you will not get the lumps that you might in a regular white sauce.
This rich creamy vegan bechamel sauce is quite different to a traditional one. It doesn't use flour and butter as its base, nor does it use milk.
The thickening agents come from Agar powder and some Tapioca Flour (although you could use cornflour/cornstarch instead).
It is flavoured with the ubiquitous vegan cheeseifier (not a real word), Nutritional Yeast.
Note: if you find making a béchamel sauce too much faff, then buy a jar of vegan white sauce. I won't tell.
How do you make Vegan Eggplant Moussaka?
I like to make the ragu of this classic greek dish first. This is very simple to prepare, and can be made well in advance, and even frozen until you are ready to make the Moussaka.
First things first, soak your TVP. Just cover with a little a water, no more than 100ml. This replaces the ground meat element.
Then, in a medium saucepan, sauté onion and garlic until very soft.
Now stir in the TVP.
Turn up the heat and throw in the red wine (if using). Let bubble up and turn down heat.
Let wine reduce, and then add the rest of the sauce ingredients, the tomatoes, brown rice syrup, tomato puree (tomato paste), bay leaves, allspice and oregano.
Let this simmer very gently for an hour or so, until thickened and unctuous. There should not be much liquid left.
Whilst the sauce is cooking, prepare your vegetables.
Slice your eggplant into centimetre thick rings. I like to place them in a colander and sprinkle with a little salt before cooking. The salt draws out any bitterness from the aubergine, and will ensure you have delicious browned slices. Leave for about 10 minutes, then you're ready to cook!
Sauté in olive oil and vegan butter until golden brown. Sprinkle salt on each side of the sliced aubergine as you turn them. You may need to cook half of the eggplant at a time, depending on the size of your pan.
Leave the slices to drain on kitchen towel.
Assembling the Moussaka
In a large baking pan, place a single layer of eggplant, then sliced potatoes, a layer of ragu, then a layer of creamy bechamel sauce.
Keep repeating these layers, making sure you finish with a layer of the bechamel.
I like to add a few slices of fresh tomatoes on the top before baking.
Finally, bake for about half an hour or so, until bubbling and browning on top. That golden brown puffy topping is what makes a moussaka so delicious and comforting!
Leave to stand for a while so that when you serve it, you can see all the beautiful layers. Or serve it straight away (this is what I usually do!)
Try my other delicious vegan supper dishes
Vegan Moussaka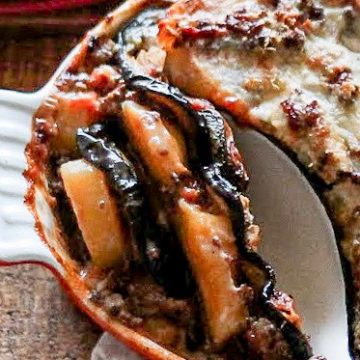 The Greek classic, veganised!
Ingredients
Ragu
1

cup

TVP

-

soaked in 100ml water

3

tbsp

Olive Oil

1

Onion

-

large, finely sliced

2

Cloves

Garlic

-

finely sliced

14

oz

Tomatoes

-

can

150

ml

Red Wine

1

tbsp

Dried Oregano

½

tsp

Brown Rice Syrup

2

tsp

Cinnamon

½

tsp

Allspice

Salt and Pepper
Vegetables
1

Eggplant

-

cut into slices or 3 zucchini, cut into slices

300

g

Potatoes

-

peeled, cut into slices and cooked until almost tender

OR

Use a combination of all three of the above

-

using 1 eggplant, 2 zucchini and 200g Potatoes
Bechamel Sauce
1

14oz

Coconut milk

-

can, full fat

1

tsp

Coconut vinegar

1

tsp

Agar powder

1

tbsp

Tapioca Flour

-

dissolved in 1 tbsp water

2

tbsp

Nutritional Yeast

Salt and Pepper

-

to taste
Instructions
Make the Ragu
Heat the olive oil in a large, deep frying pan. Gently saute the onion until soft, then add the rehydrated TVP, saving the soaking liquer for later.

Pour over the red wine.

Once the red wine has reduced by half, sprinkle over the brown rice syrup, cinnamon, allspice and oregano and season with salt and pepper.

Pour over the reserved stock and tinned tomatoes and leave the sauce to simmer for at least half an hour or until thickened and slightly reduced. Your sauce will be a rich, mahogany colour. Taste for seasoning, does it need more cinnamon? More salt? Remove from the heat and leave to one side.
Prepare the Vegetables
Heat about 3 or 4 tablespoons of olive oil in a large frying pan until really hot, then fry off the slices of aubergine or courgette until golden on both sides. Drain on kitchen paper.
Make the Bechamel Sauce
Place the coconut milk into a small saucepan and whisk over medium heat. Add the coconut vinegar, salt, agar and white pepper. Whisk briskly until it comes to a small boil. Remove from heat and add the tapioca flour/water mixture and the nooch. Whisk until well combined. Set aside.
To Assemble
Preheat oven to 180c.

Place a layer of potatoes in the bottom of your baking dish, then a layer of ragu, then aubergine/courgettes, then some of the Bechamel sauce.

Repeat, ensuring you end with the Bechamel sauce.

Grate some Vegan Parmesan over the top and bake, uncovered for about 45 minutes, until the top is puffy and golden.

Remove from the oven and leave to cool completely.

Serve with a crisp salad and a rustic loaf of bread.
Please note that where the recipe asks for milk, butter or yogurt, this refers to any plant-based version that you prefer.
Nutrition Facts
Vegan Moussaka
Amount per Serving
% Daily Value*
* Percent Daily Values are based on a 2000 calorie diet.