Vegan Battered Banana Blossom (Vegan Fish and Chips Recipe!)
This post contains links to affiliate websites, such as Amazon, and we receive an affiliate commission for any purchases made by you using these links. We appreciate your support!
Vegan Banana Blossom fish and chips are a delicious alternative to traditional fish and chips. Made from marinated and battered banana blossom, these vegan "fish" fillets are crispy on the outside and tender and flaky on the inside. Paired with perfectly golden and crispy chips, this plant-based version of a classic dish is sure to satisfy any craving.
For anyone who has tried to fry things encased in batter and failed, it can be quite daunting. For one thing, there's all that hot, bubbling fat. Up until a couple of years ago, I wouldn't even stand within a 10-meter radius of boiling fat, lest it should irrationally spew itself all over my delicate skin.
Of course, whilst fat does spit a little, notably when you drop things in it, if you're careful and sensible, there should be no house fires, no third-degree burns, and certainly no horrible fried food.
And, unlike buying from the local chippy, you can control what goes in your batter, how long you cook it for, and the cleanliness of the oil.
We all know that fried food is almost as bad for you as dating an unrehabilitated serial killer but damn! it does taste good. There is nothing in the world so good as biting through crisp batter (drained thoroughly and not soggy) into a delicious creamy filling. And the best batter of all? Beer Batter.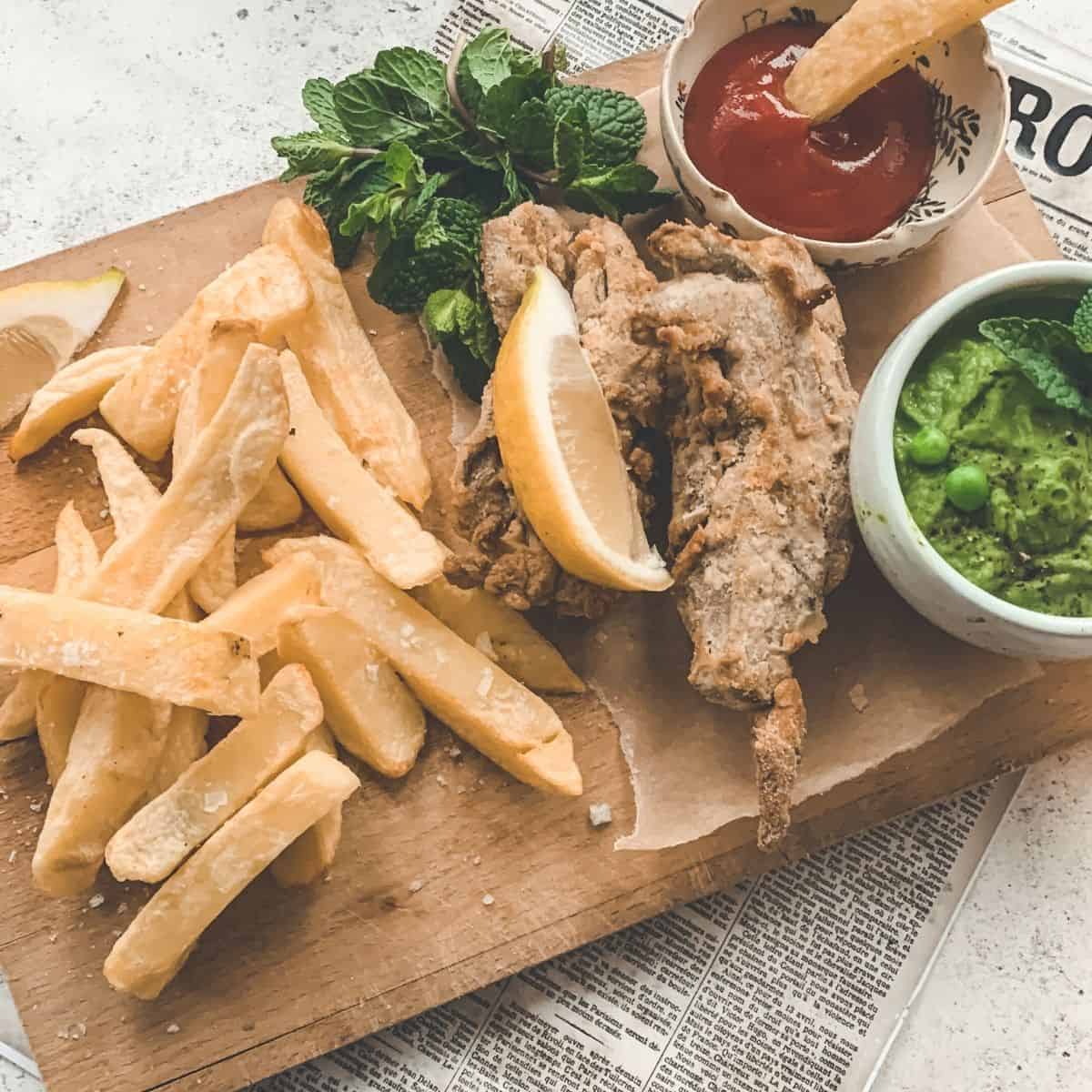 Beer Batter is like the Rolls Royce of the battered kingdom. Not light enough to coat delicately sliced vegetables tempura style, but not stodgy enough (and too expensive) for chip shops. It coats fish, onion rings, mushrooms, and probably Mars bars, beautifully. There is no pappy underbelly and it provides a wonderful coat of armour for whatever you choose to dip in it, protecting your food from the intense heat, ensuring that it remains piping hot and steamy, rather than dried out and yukky.
And once you start using batter, you may never stop finding things to try. We restrained ourselves at mushrooms but we gave serious consideration to bananas and then various chocolate bars. Thankfully, we didn't have many lying around. We had planned on serving our battered banana blossom in the traditional style, which is to say, with chips. However, the potatoes can fry up a little too sweet at this time of the year so we parboiled some new potatoes then fried them up and served the whole thing on a bed of bitter leaves.
Another consideration would be cider batter, a perfect medieval coating for perhaps elderflower blooms or courgette flowers or slices of apples. Finally, there's the matter of who's going to drink the leftover beer…
What is Banana Blossom?
Banana Blossom is a new (well, newish to the vegan world) and exciting fish and meat substitute from Southeast Asia. It is the edible flower that grows at the end of a bunch of bananas, on the banana tree. The banana flowers are a beautiful aubergine (or eggplant!) color, with a texture similar to the heart of an artichoke. And much like jackfruit, it has a delicious flaky texture, making it the perfect thing to replicate battered fish. Thankfully it doesn't have the flavor of bananas, and, again, like Jackfruit, has quite a neutral taste, which makes it extremely versatile.
You can buy it conveniently prepared in a can at most health shops, supermarkets or online.
How to flavor Banana Blossom
I like to soak banana blossoms in a marinade of cold water, paprika, lemon juice, a crumbled nori sheet, and kelp powder. This helps to add a marine-like flavor. It doesn't give it the taste of fish, but that's not necessarily a bad thing!
How to Deep Fry Banana Blossom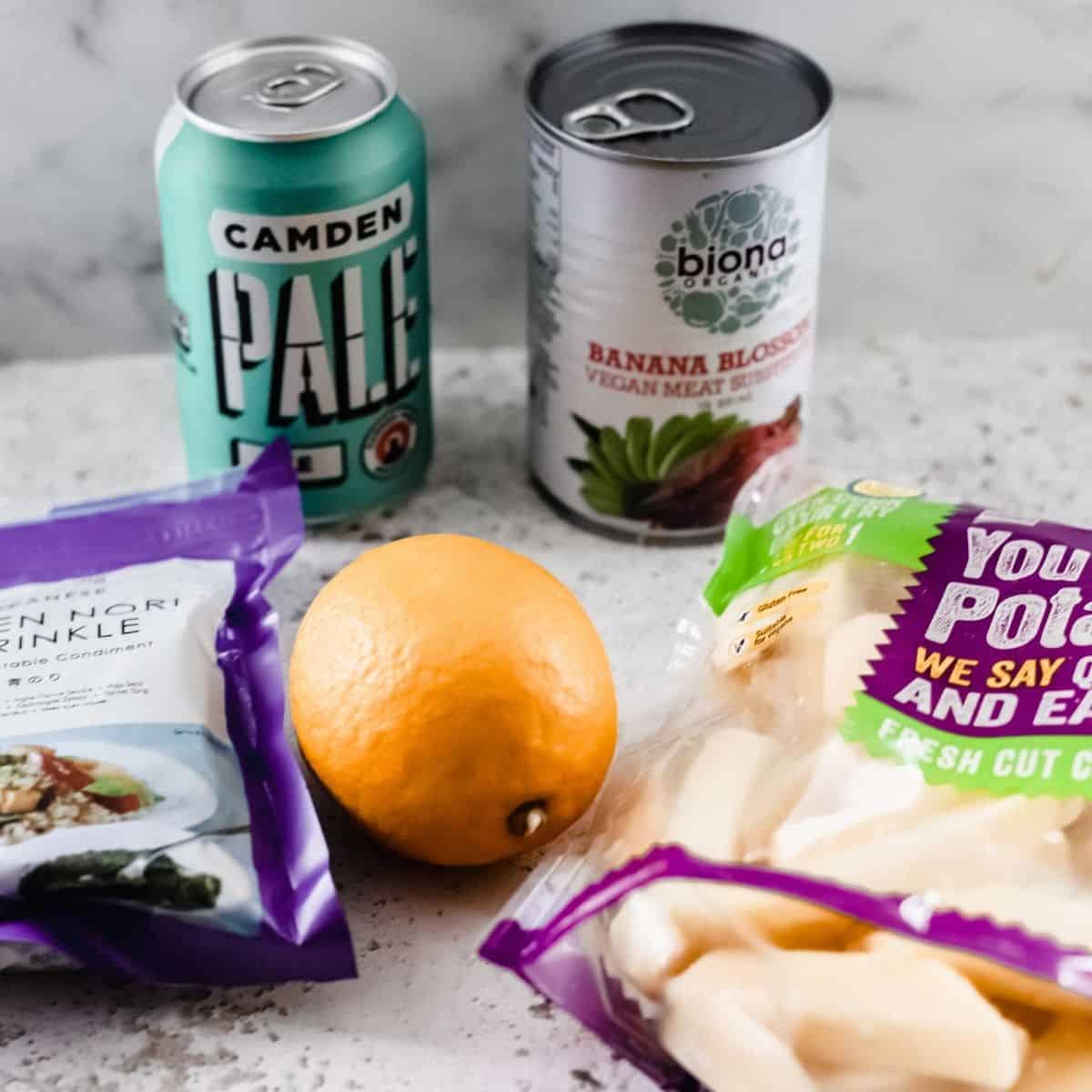 Taking a lot of care! If you have a deep fat fryer, please use that. I use a large saucepan, and heat my oil to about 160c. You'll know if it's ready because a droplet of batter will sizzle!
Leave about 3-4″ from the top of your pan when filling with oil. It will bubble up and you do not want it to overspill!
Use oil with a high smoke point. This means it will take higher temperatures before it starts to taste burnt. Vegetable oil, sunflower oil, canola oil, or rapeseed is one of the best options. Gently drop your pieces of battered banana blossom into the oil, away from you, cooking until they bob up to the surface and the batter has turned a rich golden brown.
Alternatively, use an air fryer. I use the Ninja Foodi 9-in-1 Multi-Cooker (Affiliate link), and, whilst it doesn't give you the same unctuousness as fried food, it is pretty good, much safer, and healthier! To do this, I coat the banana blossom as above, but then I spray the cornmeal with a little spray oil. This stops the cornmeal from flying around the air fryer! Turn halfway through the recommended cooking time.
Ingredients
Can Banana Blossom, marinated (see note above) and drained
Self-raising flour or gluten-free flour. You can also use plain flour but add a teaspoon of baking powder.
Cold beer, vegan (or use sparkling water or soda water)
This is ONLY a list of ingredients for the recipe; please see recipe card below for complete printable recipe.
Method
Drain the marinated banana blossoms thoroughly and dry them on a clean kitchen towel to remove excess water.
Whilst your banana blossom is draining, whisk up your batter in a large mixing bowl, by adding the beer to the flour, with a little salt and pepper. Mix well until you have a creamy coating.
Dip your banana blossom in the batter and deep fry, as per the instructions above (or your favorite method for deep frying).
If air frying, follow the instructions in the recipe card below.
Drain excess oil on a paper towel before serving immediately with chunky chips (or French fries!), lemon wedges, vegan tartare sauce (or tomato ketchup), and my posh mushy peas.
My thoughts on banana blossom: texture-wise, it is very flaky like fish so works in place of fish. I do find that jackfruit is easier to use. When you buy cans of banana blossom, it doesn't like very attractive, but also tends to fall apart. I am interested in other vegan fish recipes I can make using it though, and I think it would be perfect for vegan fish tacos. I do think that my banana blossom fish recipe was successful overall.
Try my other delicious vegan supper dishes
Deep Fried Banana Blossom
How to make vegan fish and chips using banana blossom!
Ingredients
400

g

Banana Blossom

-

canned, drained

150

g

Self-Rising Flour

100

ml

Chilled Lager, vegan

Salt and Pepper

½

cup

Semolina -

fine (only use if air frying)

Canola oil for frying
Marinade for Banana Blossom
500

ml

cold water

2

tsp

Salt

1

tsp

Paprika

-

smoked

½

sheet

Nori

-

crumbled

1

tsp

Kelp

-

powdered

1

Lemon

-

juice only
Instructions
To marinade the Banana Blossom
In a medium bowl, add 500ml cold water, lemon juice, paprika, salt, powdered kelp, and crumbled nori. Stir well.

Add the drained banana blossom and leave to marinade for at least an hour, but even better overnight.

Make sure to drain your banana blossom thoroughly once marinated.
To batter your Banana Blossom
Preheat your frying oil, either in a deep fat fryer or a large saucepan to about 160c. You want the blossom to fry gently not ferociously in the fat.

In a large bowl, whisk together the flour, some seasoning and the beer. It should be the texture of thick double cream to ensure a good coating. Add more beer if necessary, more flour if too thin.

Season the banana blossom on both sides, then lightly dust with flour. This will help the batter adhere to the it.
To deep fry Banana Blossom
You may need to fry the banana blossom in batches so dip one piece at a time, making sure it is completely coated before gently plunging into the hot oil. It will fizzle as the batter starts to bubble up and then gradually turn a beautiful golden brown.

If you are cooking in a saucepan, you may need to turn the blossom over using tongs as it tends to bob up to the surface.

Fry the banana blossom for between 5-6 minutes.
To air fry Banana Blossom
If you want to air fry your banana blossom, dip the banana blossom in the batter, and then coat in the semolina. This will stop the batter from flying off the blossom whilst air frying!

Spray lightly with oil, then air fry according to manufacturers' instructions, turning halfway through.

Drain on kitchen paper and serve with the potato based dish of your choice, preferably chips, and a wedge of lemon
Please note that where the recipe asks for milk, butter or yogurt, this refers to any plant-based version that you prefer.
Nutrition Facts
Deep Fried Banana Blossom
Amount per Serving
% Daily Value*
* Percent Daily Values are based on a 2000 calorie diet.