If you fancy doing something different with the parsnip this festive season, try serving my fried parsnip balls, a prep-ahead dish that is easy to fry up just before serving and is quite different from roast parsnips!
PIN my Fried Parsnip Balls to make later
Parsnips are usually seen at Christmas, but you can certainly buy them frozen all year round. I love their delicate, sweet flavour and find it works so deliciously with other veg, and in soup too.
As a change from the traditional roast parsnips, I love to serve my fried parsnip balls alongside by roasties, red cabbage and Brussel Sprouts, for a perfect festive meal.
Jump to:
Easy to make, you can freeze blanched parsnip in December and make these delicious little treats in April if you like!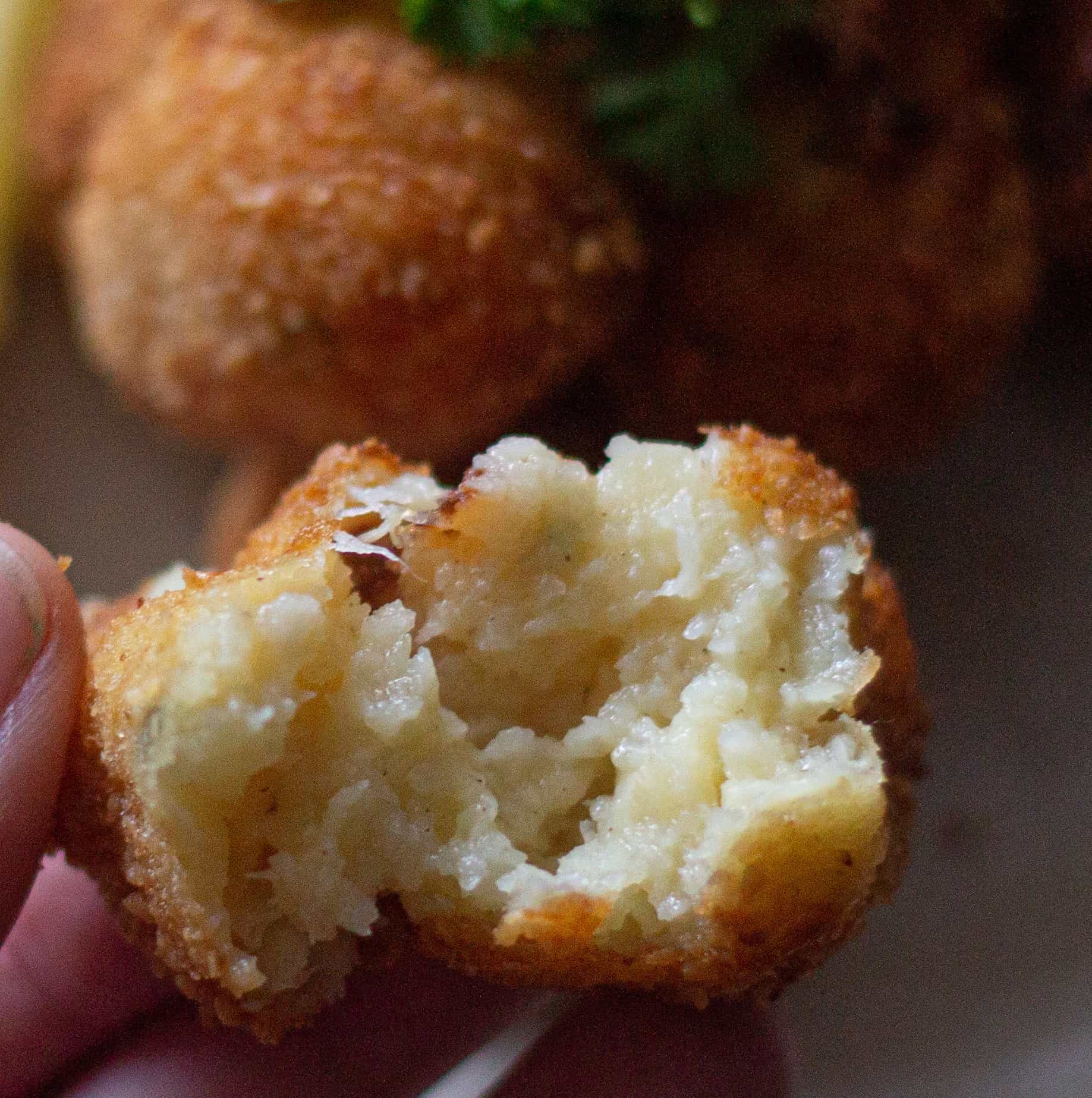 Simply cook parsnip until tender, then mash with some vegan butter, yogurt, chives and seasonings. Chill this dough for a couple of hours, then roll into balls and coat in breadcrumbs. I used Matzoh meal as I had a lot left from my No-Chicken Soup with Matzoh Balls!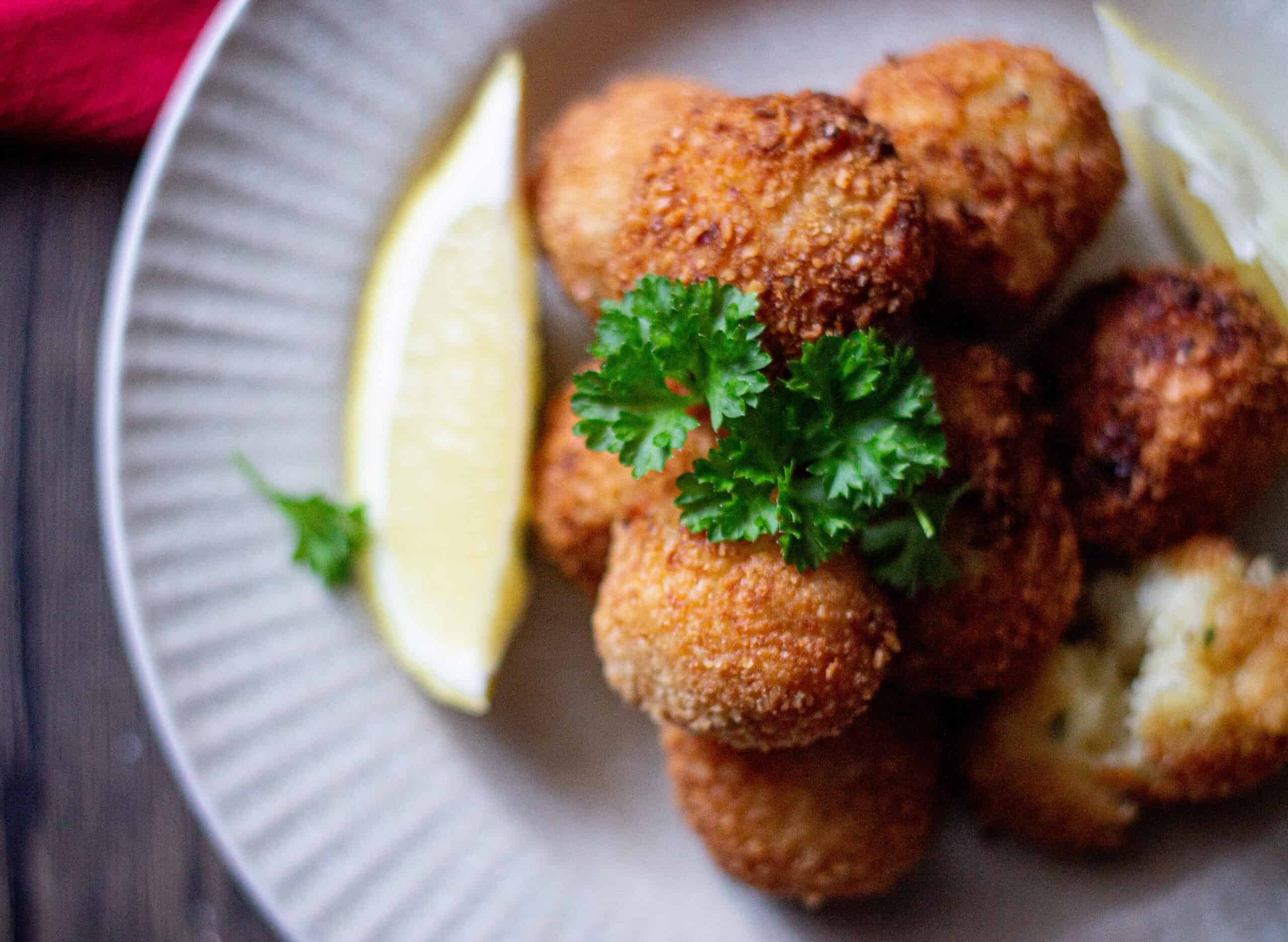 Once fried, these parsnip balls having a sweet, melting texture that is sure to win over the most ardent parsnip hater!
Ingredients
parsnips, fresh or frozen
breadcrumbs
melted butter
seasoning
(This is ONLY a list of ingredients for the recipe; please see recipe card below for complete printable recipe. Or if you use the JUMP TO RECIPE at the top of the page, it will take you directly to the complete recipe.)
Instructions
Simmer the parsnips until tender.
Mash parsnip with chives, butter, yogurt and seasoning
Chill mixture for an hour then roll into balls, coating in breadcrumbs
Deep fry until golden brown
Hint: prep the parsnip balls a couple of days in advance and you only have to fry them on the day!
To Air Fry Parsnip Balls
Preheat your air fryer to 200c on the air crisp function (Ninja Foodi).
Spray the balls with a little oil and fry for 5-10 minutes until golden and crisp, turning them halfway through cooking.
Storage
Store the unfried balls, covered with clingfilm, in the fridge for upto 3 days before frying.
Once fried, cool and freeze, then reheat them in an air fryer to crisp them up again.
📋 Recipe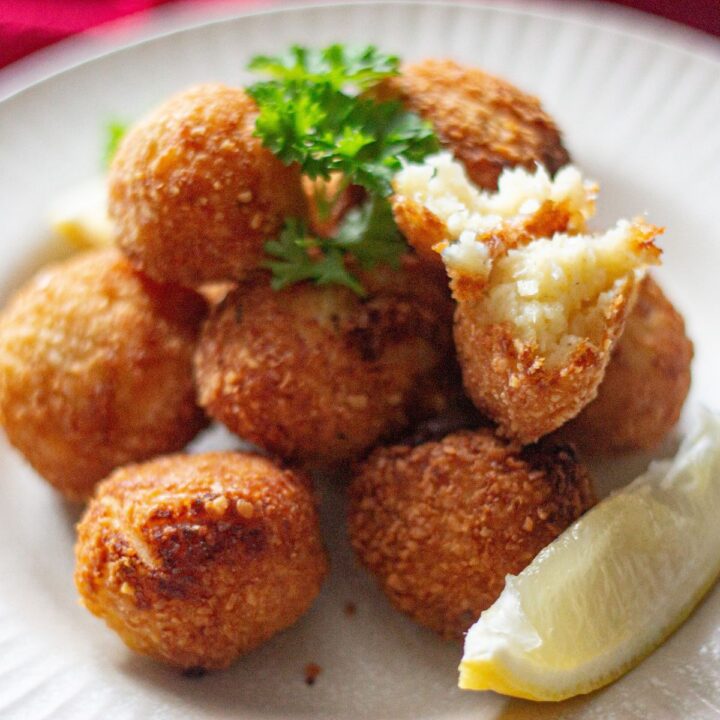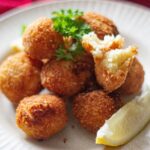 PRINT
Bored of roast parsnips? Try this unusual way of serving any leftover parsnips!
Ingredients
250

g

Parsnip

peeled, topped and tailed, cut into dice

25

g

Butter

vegan

1

tablespoon

Yogurt

plain, vegan

1

tablespoon

Soy Milk

unsweetened

⅛

teaspoon

Nutmeg

freshly grated

½

teaspoon

Salt

½

teaspoon

Pepper

1

teaspoon

Chives

freshly chopped, optional

¼

cup

Breadcrumbs

I use Matzo but you could use panko

Vegetable oil for frying
Instructions
Boil the diced parsnips in some lightly salted water until tender. Drain.

Mash the parsnips in a mixing bowl, adding the butter, milk, yogurt and seasonings until you have a smooth(ish) puree.

Stir in the chopped chives if using.

Place mixture in the fridge for an hour or so to firm up.

Once chilled, roll into walnut size balls and coat in breadcrumbs. Chill overnight or for another couple of hours.

Shallow fry in some vegetable oil until golden brown on all sides.

Drain and serve with a further sprinkling of chopped chives and some slices of fresh lemon.
Nutrition
Nutrition Facts
Fried Parsnip Balls
Amount per Serving
% Daily Value*
* Percent Daily Values are based on a 2000 calorie diet.
Nutritional Information Disclaimer
The automated nutritional information on my recipes can often be inaccurate due to the limitations within the programming. For exact measurements, there are lots of apps and websites that can calculate this information more accurately.
Tried it and Loved it?
Mention @sweeterthanoats or tag sweeterthanoats!
Food safety
Cook to a minimum temperature of 165 °F (74 °C)
Don't leave food sitting out at room temperature for extended periods
Never leave cooking food unattended
Use oils with high smoking point to avoid harmful compounds
Always have good ventilation when using a gas stove