Vegan Oatmeal Flourless Cranberry Cookies (dairy-free, gluten-free and fat free)
These cookies seem like someone took all the fun out of them: no flour, they're vegan and they don't have any fat! But wait! These little guys taste amazing! Try them and try to convince me otherwise.
PIN my Flourless Oatmeal Cookies to make later
Just after Christmas is when we all start to feel a little sluggish, a bit like we need soups and salads and we've just had enough of rich, heavy food. Well, except maybe a cookie…
This was inspired by Sally's Baking Recipes flourless peanut butter cookies, but I have adjusted the recipe so that it is also vegan. Plus I had run out of peanut butter that day, so I used applesauce instead!
So the recipe for these cookies came about when I had to quickly conjure (for cooks are magicians) up a secret Santa gift. Sadly, the gift I had purchased for her online hadn't arrive (thanks Royal Mail strikes!), so I went back to the drawing board. I knew that Lissy was gluten intolerant and had hinted before that I make her a gluten-free treat (pumpkin pie, to be exact. Maybe next year, Lissy).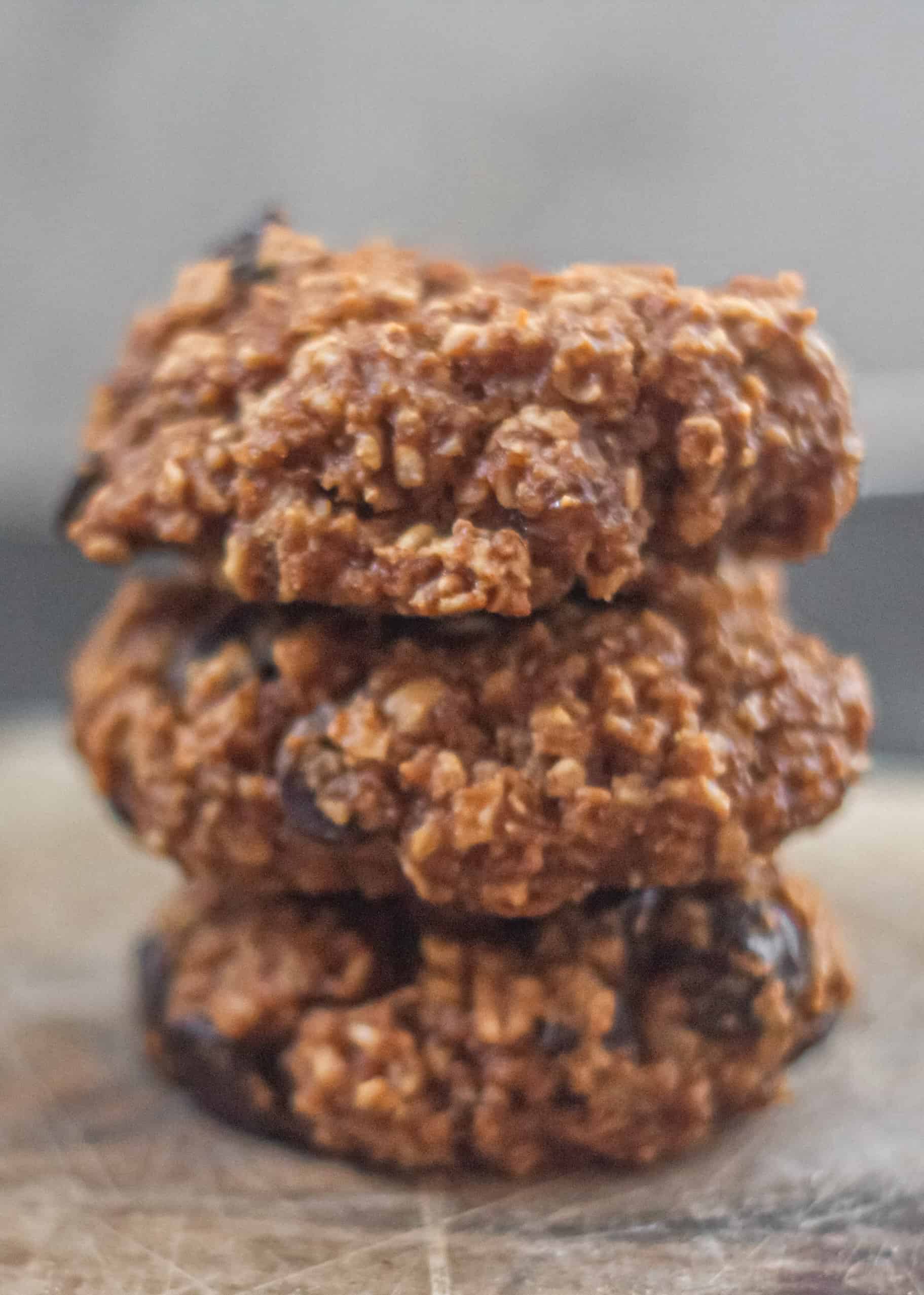 Unfortunately, I didn't have any gluten-free flour in the house, so, after having a little browse online for flourless cookies, I came across Sally's Baking Recipes. Her recipe seemed ideal, I could replace the egg with more applesauce, but I was all out of peanut butter, short for a scant quarter cup. Yikes! So, yes, I used more applesauce, 3/4 of a cup to be exact. However, I think you could use half a cup of peanut butter, and half a cup of applesauce for a better flavour, although these are great as they are!
Sally's original recipe also uses less oats, and my original cookies were very flat! So, I upped the oat content by an extra quarter of a cup.
TIP: Also ensure that you leave these flourless cookies to stand for at least an hour before baking. This allows the oats to absorb the mixture and to swell up, giving structure to the cookie.
These are a filling, wholesome sweet treat for when you're feeling like you want to be healthy but still need something nice in the biscuit tin! These are amazing for your gluten-free friends as well (just ensure that you use gluten-free oats).
For my traditional vegan oatmeal cookies or oaty flapjacks or try my delicious Anzac cookies or Melting Moments.
Ingredients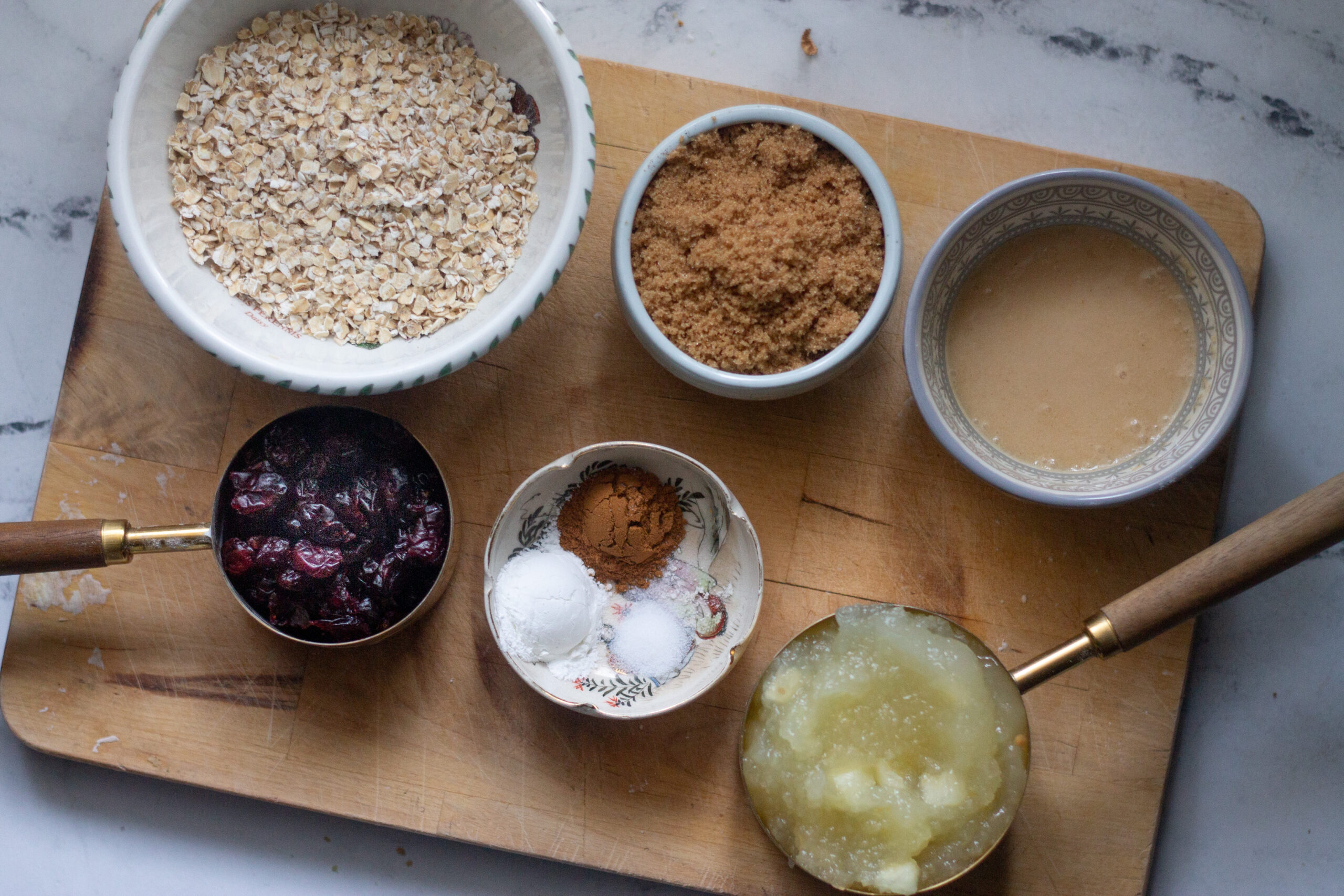 oats, use old fashioned, not instant and not pinhead or coarse
applesauce – this replaces both the fat element and partially the egg. Go for unsweetened
peanut butter. Just a touch for flavour and texture. If you prefer, omit it and replace it with a seed butter (like pumpkin seed butter) or use more applesauce
brown sugar
Instructions
Toss the oatmeal with the cinnamon, baking powder and salt
Mix the sugar, applesauce and peanut butter together, then fold in the oats
Leave to chill for at least an hour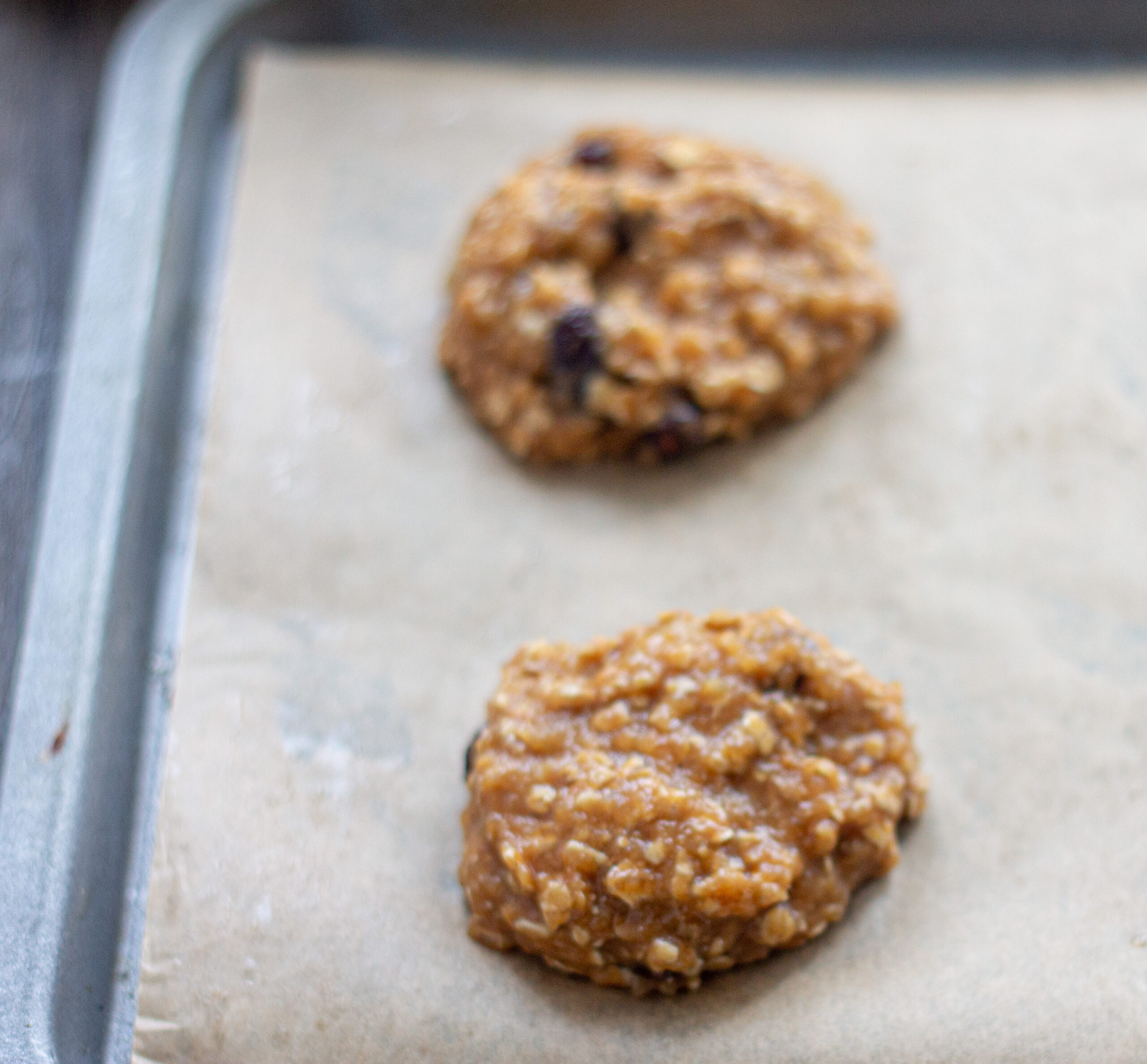 Using a cookie dough scoop, scoop out four cookies, 2″ apart onto your prepared baking sheet. Bake at 180c for 15-20 minutes
Substitutions
Cranberries – you could use raisins or chocolate chips or walnuts
Chopped Nuts could be added to the mixture too
Peanut Butter and Applesauce – you could make this mixture half and half, i.e. half cup of each, if you want a more peanutty taste
Storage
These cookies last about a week in an airtight container.
Flourless Cranberry Oatmeal Cookies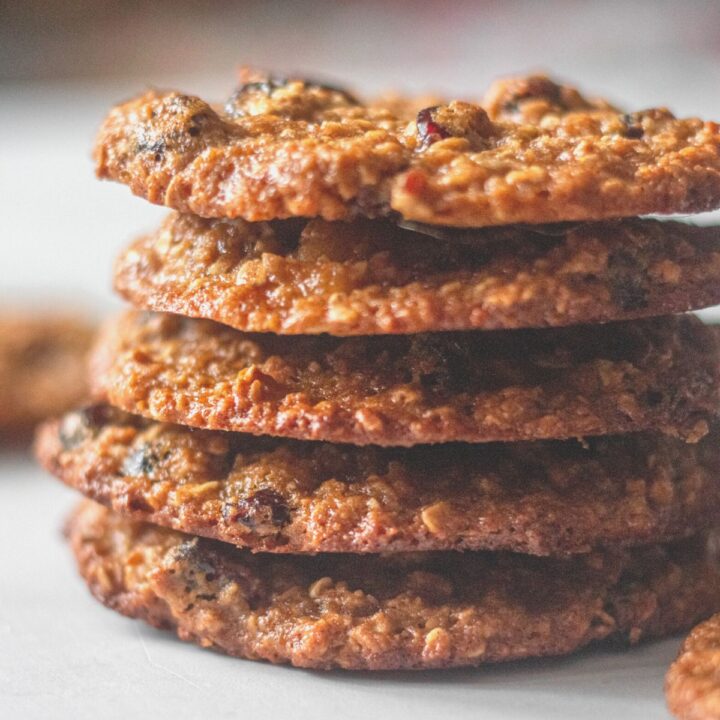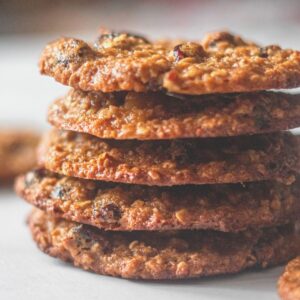 These are possibly the quickest cookies ever to make, they are fat-free and flourless!
Equipment
1 Baking Sheet

lined with greaseproof paper
Ingredients
1

cup

Oats

-

rolled oats, not instant

½

tsp

Cinnamon

1

tsp

Baking Powder

½

tsp

Salt

¼

cup

Peanut Butter

¾

cup

Apple Sauce

-

unsweetened

90

g

Brown Sugar

½

cup

Cranberries

-

dried, or you can use raisins
Instructions
Mix the oatmeal with the cinnamon, baking powder and salt. Set to one side.

In a mixing bowl, beat together the brown sugar, peanut butter and applesauce until smooth.

Stir in the oatmeal mixture and the dried cranberries until well combined.

Chill the mixture for at least an hour. Overnight is fine too.

Once chilled, using a cookie scoop, dollop out 4 cookies on your prepared baking sheet, leaving 2" between them. They will spread out a lot during cooking.

Bake for 15-20 minutes. This may seem a long time but trust the process.

Once cooked, they will still seem a little soft on top. Leave them to cool on the baking tray until you are able to gently lift them up using a spatula (maybe 3-4 minutes). Leave to cool completely on the cooling rack.
Please note that where the recipe asks for milk, butter or yogurt, this refers to any plant-based version that you prefer.
Nutrition Facts
Flourless Cranberry Oatmeal Cookies
Amount per Serving
% Daily Value*
* Percent Daily Values are based on a 2000 calorie diet.