Classic Vegan Oatmeal Raisin Cookies
Vegan oatmeal raisin cookies, the classic, the OG, the cookie everyone needs in their repertoire. Simple, delicious.
I was a weird child. I didn't really like normal stuff like milk and cookies or peanut butter. I disliked things with raisins in. I didn't like onions or tomato skins. I would slice a tomato in quarters, suck out the seeds and then discard it. Fortunately, as I grew, and learned to cook for myself, and became passionate about cooking, my tastes evolved rapidly.
I learned to love the raisin and it's brethren, the currant and the sultana, and found that rock cakes and mini buns that my grandma made when I as a child, I suddenly loved. A cream tea was one of my favourite treats. I even fell in love with Christmas cake, mince pies and Christmas pudding (although, only once a year).
It is shocking to me, then, that I only discovered the joys of the oatmeal raisin cookie, having previously eschewed it in favour of chocolate chip cookies (try my vegan oatmeal chocolate chip cookies instead, if you're not a fan of raisins). I use juicy raisins, the golden ones are delicious if you can find them, but if not, just make sure to use a fresh bag. Curiously, for something already dried, they can dry out even more. That said, I have used ancient raisins in fruit cakes, having soaked them in brandy or hot tea beforehand.
Oatmeal Raisin cookies are such a classic because they are packed full of comforting, warming flavours: oatmeal, cinnamon, brown sugar, and of course, the chewy raisins. They last for ages in the biscuit tin, and can be made as large or as small as you like.
The key to the success of any cookie is baking it to the consistency that you love. Sure, the classic oatmeal cookie should be a chewy cookie, but if you prefer yours a little crisper, then bake for a little longer. I am not a fan of the chewy oatmeal raisin cookie, preferring the crispy edges, but you do you.
What makes these Chewy Vegan Oatmeal Raisin Cookies vegan?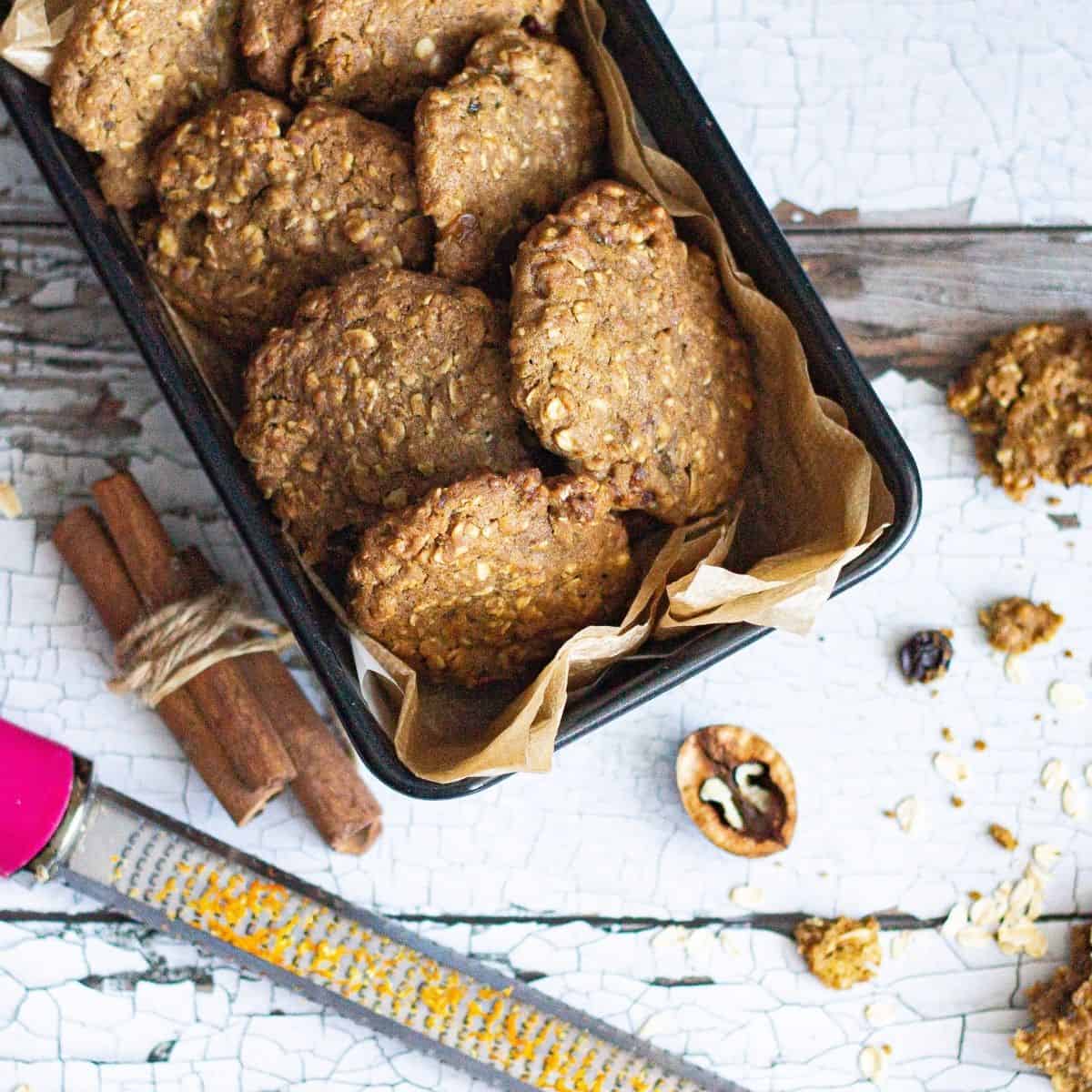 Firstly, we have replaced the butter element with vegan butter.
Secondly, we have made these oatmeal cookies egg-free by removing the egg element, and replacing it with flax eggs.
And that's it! Sometimes vegan baking is really that simple, particularly with a forgiving cookie recipe like this one.
Ingredients
My classic oatmeal raisin cookies recipe uses simple ingredients that we all have in our store cupboard.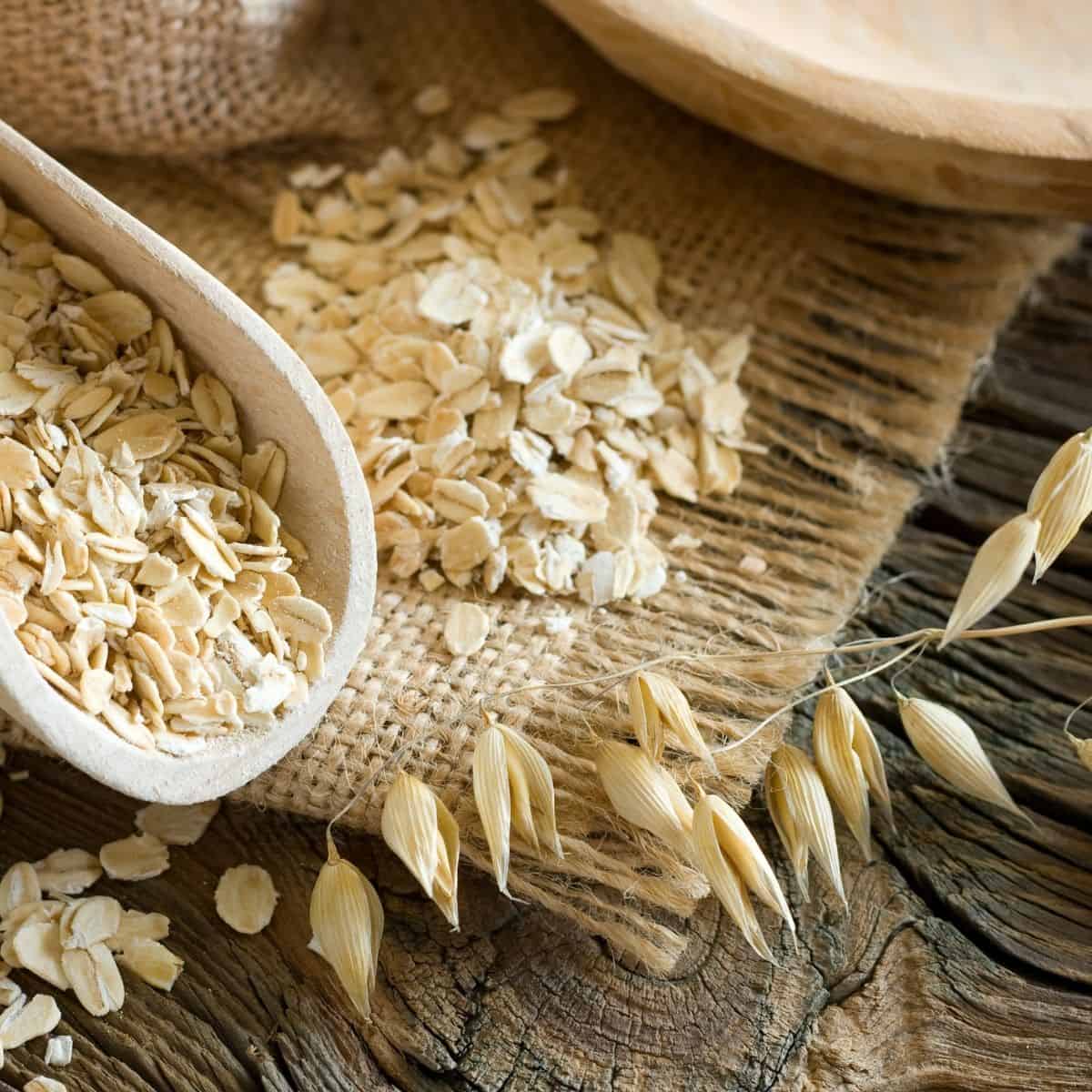 Oats or oatmeal. I like to use old-fashioned rolled oats but you can use quick oats. You could also use steel cut oats but they do have a coarser texture, so the overall cookie may be a little denser.
Soft dark brown sugar and white sugar. One adds flavour and chewiness, the other adds a deeper sweetness and crispness. You could use coconut sugar instead.
Flour. I use plain flour, you could use gluten free all purpose flour, or even oat flour for an additional oaty hit! You can also use self-raising flour.
Baking Powder
Vegan Butter: use your favourite brand at room temperature.
Maple Syrup. Again this adds texture and chewy texture to the cookie, along with it's distinctive flavour.
Flax egg made with 1/2 tbsp ground flaxseed whisked up with 1 tbsp water.
Vanilla Extract. I can't think of any vegan cookies that don't use vanilla extract!
Raisins. Use the best quality ones you can find. Unless you are a fan, don't use currants as they are just a little bit too bitter tasting. You want nice plump, sweet raisins. You could also use dried cranberries too.
Cinnamon. Buy a new jar just for these cookies. Like all spices, if it's been opened for more than a couple of months it will be stale – replace your spices regularly!
Orange zest. Optional buts adds a delicious citrus sweetness and aroma to the cookies.
Instructions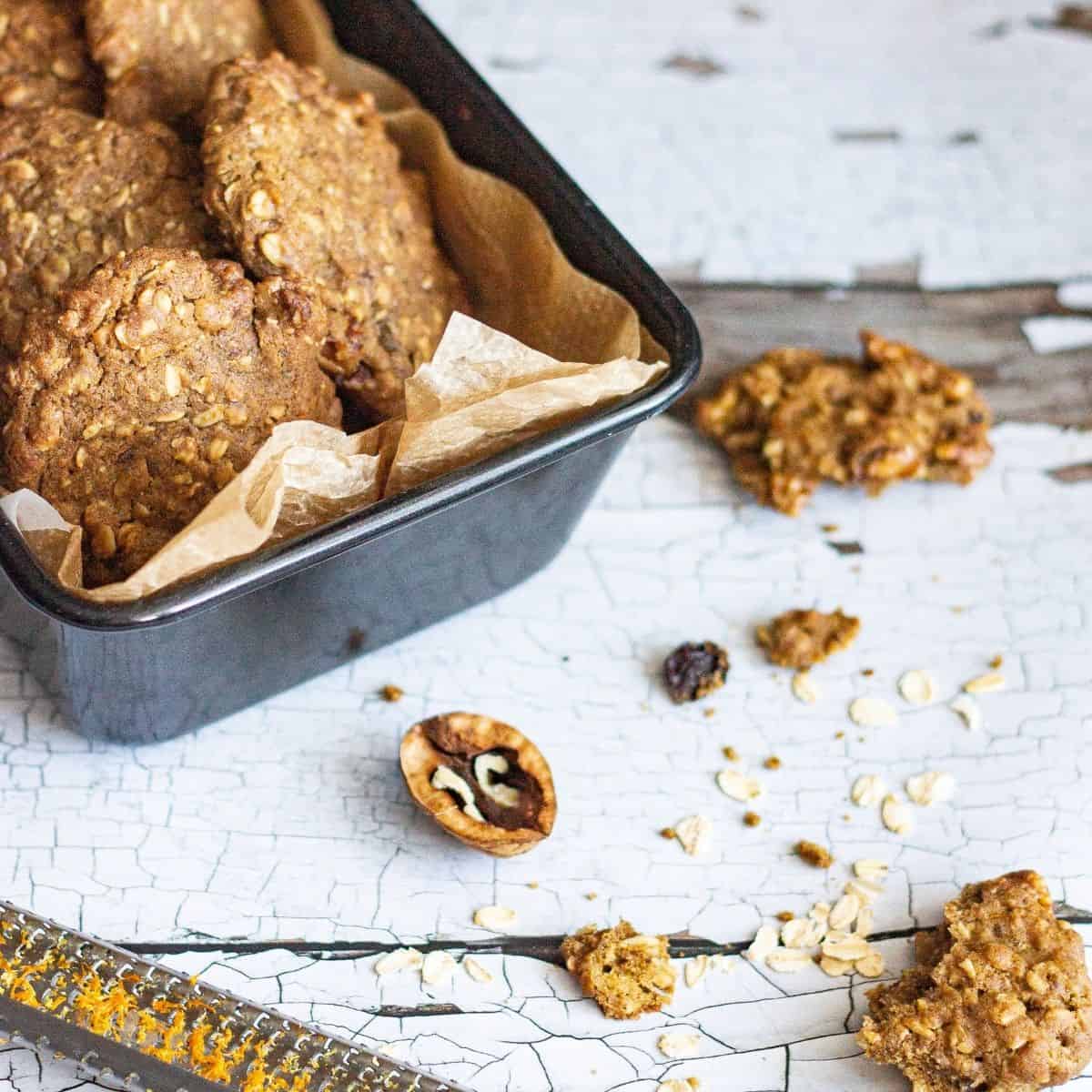 In a large mixing bowl whisk the flour, cinnamon, salt and baking powder.
Stir in one cup of the porridge oats.
In a small bowl, prepare your flax egg.
In a blender, whizz up the sugars and remaining oatmeal.
Using a hand whisk, stand mixer or electric mixer, blend butter and maple syrup in a large bowl for a couple of minutes.
In two lots, add the dry ingredients of flour, salt, baking powder and unprocessed oatmeal.
Then mix in the flax seed egg, vanilla and sugar/oatmeal blended mixture using a hand mixer or food mixer with the paddle attachment on medium speed.
Fold in the raisins.
You will have a very stiff cookie dough. Note: if dough seems too thick or you still have patches of flour showing (you shouldn't), add a little almond milk or non-dairy milk.
Line a large cookie sheet with parchment paper.
Using a cookie scoop or spoon, scoop dough, dropping them onto the baking tray. You can make larger or small cookies, depending on how many you want to make.
Side note: If you want your cookies to be a little more uniform, lightly dust your hands with flour, and roll between your hands into cookie dough balls.
Gently flatten cookies a little.
Bake cookies for between 10-12 minutes or until lightly golden brown.
Leave to stand for a minute before placing on a wire cooling rack to cool.
These will keep for 7-10 days in an airtight container
Try my other delicious vegan cookies
Vegan Oatmeal Raisin Cookies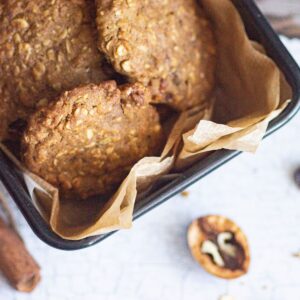 A comforting and delicious oatmeal cookie
Equipment
Mixing Bowl x 2

Electric Whisk

Baking Sheets and Paper
Ingredients
1¼

cups

Oatmeal -

coarse

6

tbsp

Brown Sugar

-

soft

⅙

cup

White sugar

¾

cup

Plain Flour

-

or Gluten Free

½

tsp

Salt

¼

tsp

Baking Powder

1

tsp

Cinnamon

100

g

Butter

-

vegan

1

tbsp

Maple Syrup

½

tbsp

Ground Flaxseed

-

whisked with 1 tbsp water

1

tsp

Vanilla Extract

1

cup

Raisins

Orange Zest

-

optional
Instructions
In a bowl, sieve together the flour, cinnamon, salt and baking powder. Add 1 cup of the oatmeal and mix.

In a blender, process the white and brown sugars, along with remaining ¼ cup of the oatmeal, until fine.

In a large bowl using hand whisk or food mixer, blend butter and maple syrup. Then add the blended oatmeal/sugar mixture in two lots until blended. Add flax egg and vanilla, mix for another minute.

Incorporate the dry ingredients in two lots until thoroughly mixed, then, using a wooden spoon,

fold

in the raisins The mixture will be pretty stiff at this point.

Roll the mixture into balls, you can make them as large or as small as you like, I like to make them slightly smaller than golf balls. Place them onto a lined baking sheet and flatten them down. They won't spread out much during baking, so again you can choose to make them as chunky or flat as you want.

Bake for between 10-12 minutes or until just turning light golden. Don't overbake!

Cool on a wire rack, then eat!   
Please note that where the recipe asks for milk, butter or yogurt, this refers to any plant-based version that you prefer.
Nutrition Facts
Vegan Oatmeal Raisin Cookies
Amount per Serving
% Daily Value*
* Percent Daily Values are based on a 2000 calorie diet.