Quick Vegan Apple Turnovers
This post contains links to affiliate websites, such as Amazon, and we receive an affiliate commission for any purchases made by you using these links. We appreciate your support!
Do you struggle to think of quick vegan sweet treats to make? Try my vegan apple turnovers! Packed with the perfect balance of sweet and tart flavors, these turnovers are sure to satisfy your sweet tooth. Made with simple and wholesome ingredients, you can enjoy these treats guilt-free making these turnovers a must-try. Indulge in the irresistible combination of flaky pastry and juicy apple filling. Perfect for any occasion, whether it's a cozy night in or a gathering with friends.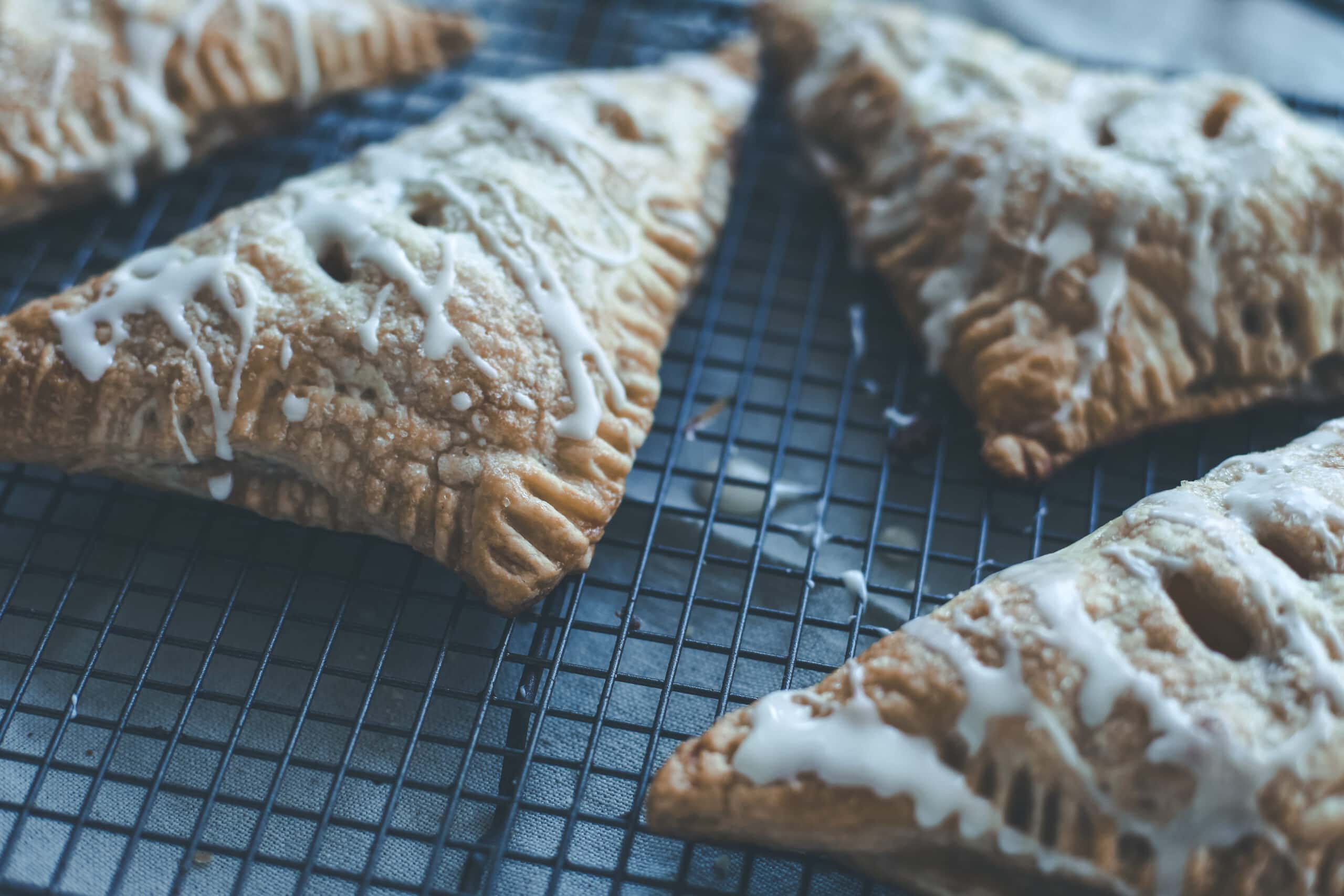 I love pastries. I think I can blame coffee shops for my addiction to them, although my grandparents both loved to treat themselves to a cream-filled pastry on a Saturday morning after shopping, so perhaps I've inherited my love from them!
Why You'll Love my Easy Vegan Apple Turnovers
Easy to make. You can even freeze the unbaked turnovers for another time!
Easily adaptable for different fillings.
Economical and much cheaper than shop-bought pastries!
Delicious eggless, dairy-free recipe
I also remember a rather harrowing first day at "big school" (comprehensive school), where I was expected to walk to my grandma's for lunch and couldn't find my way out of this huge cavernous building. I have never had the greatest sense of direction, but I'm not sure what affected me the worst: the burning sense of embarrassment as I asked laughing students "how do I get out of here?") or the fact that my grandma had made me cream horns for a lunchtime treat.
My vegan apple turnovers have helped to ease the memories of that traumatic first day, and probably many since then. They are sweet, crisp, slightly spiced from cinnamon and a joy to eat. They are also fun to make and so easy.
What are apple turnovers?
Apple turnovers are a simple pastry found in most British bakeries (sometimes topped with both apples AND whipped cream). Squares of puff pastry are filled with stewed apple, then folded, top right corner to bottom left corner to form a triangular pastry. Sprinkle with sugar and bake until golden.
I use shop-bought ready rolled puff pastry for these turnovers (luckily most shop-bought puff pastry is vegan), and whatever apples are on offer (if I can't scrump some from a tree somewhere!). You could also use pears, or add some blackberries or raspberries to the apples. Tim suggested using drained tinned peaches, which I think would be delicious too!
If you love apple recipes, try my easy vegan dessert, apples in the French style, my easy vegan spiced apple cake, my vegan Danish apple cake or my comforting apple crumble recipe.
Ingredients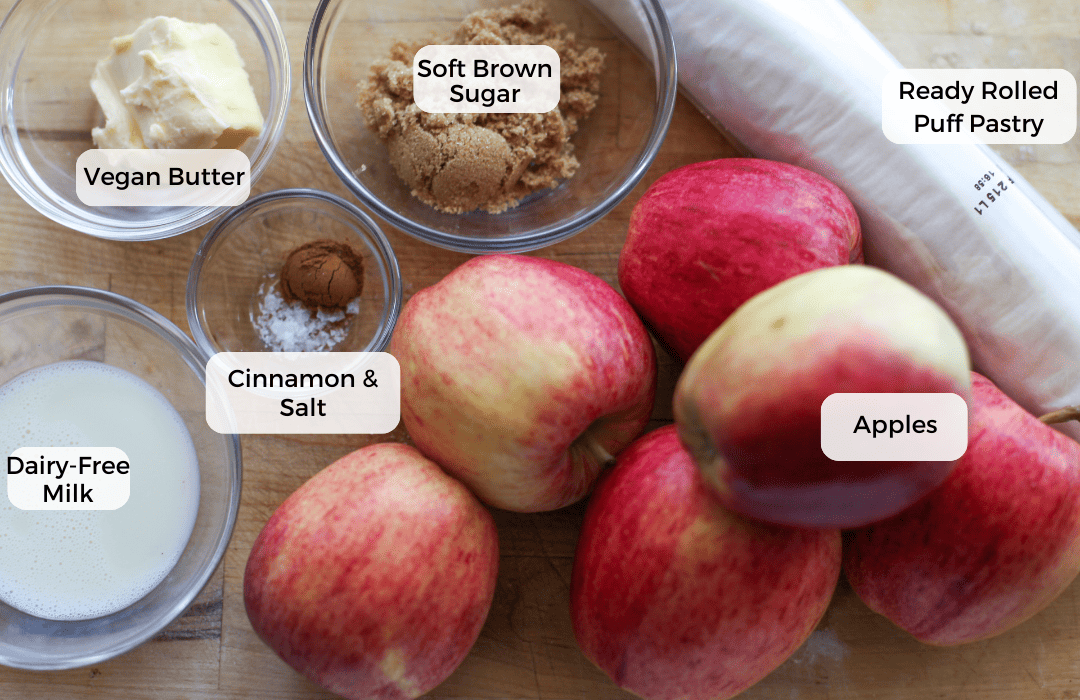 apples. I used Royal Gala, but use your favourite type. Don't using cooking apples though as they will go too mushy.
ready-rolled bought puff pastry.
brown sugar. You can totally use white sugar instead.
vegan butter.
cinnamon.
This is ONLY a list of ingredients for the recipe; please see recipe card below for complete printable recipe.
Instructions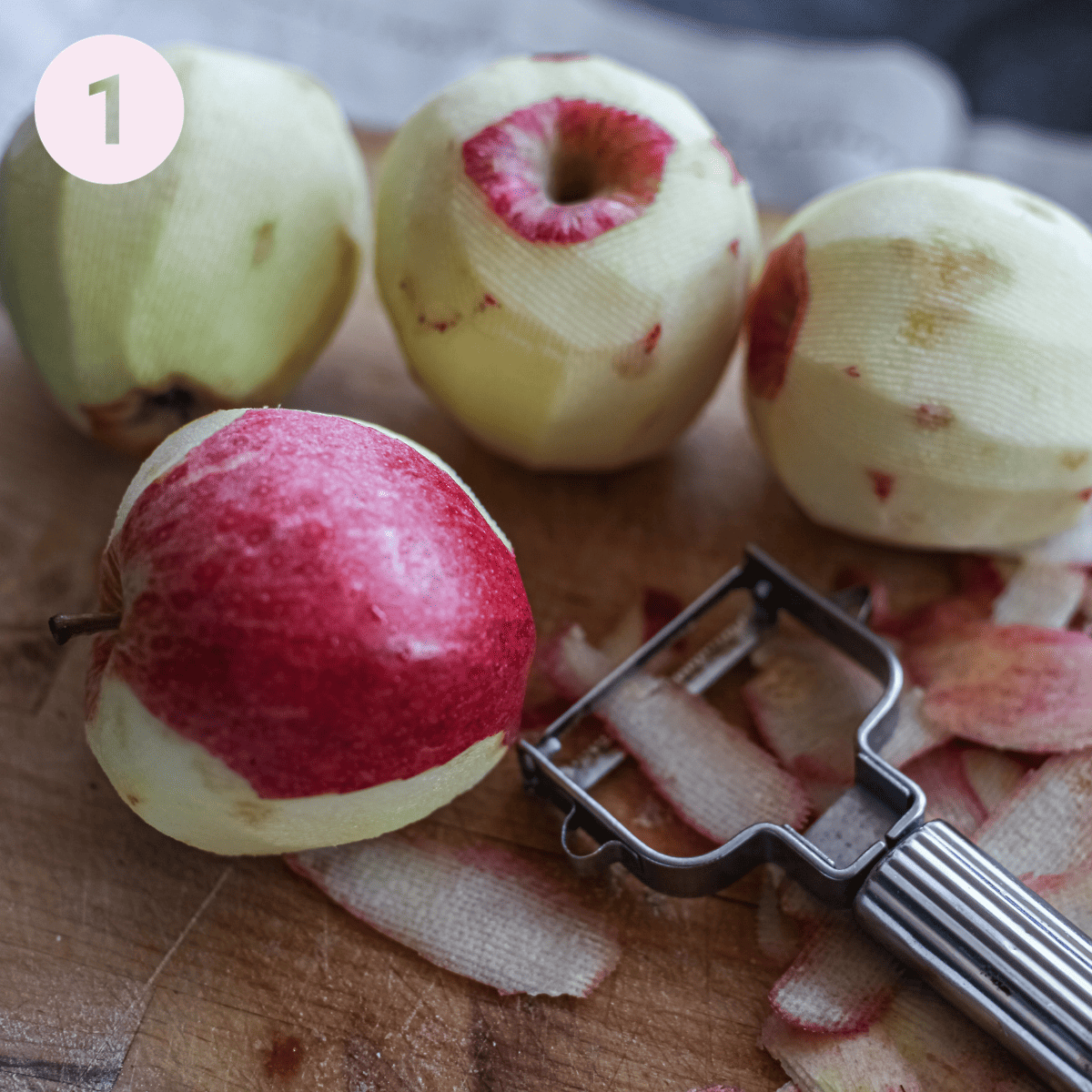 Peel the core the apples, cutting them into small dice.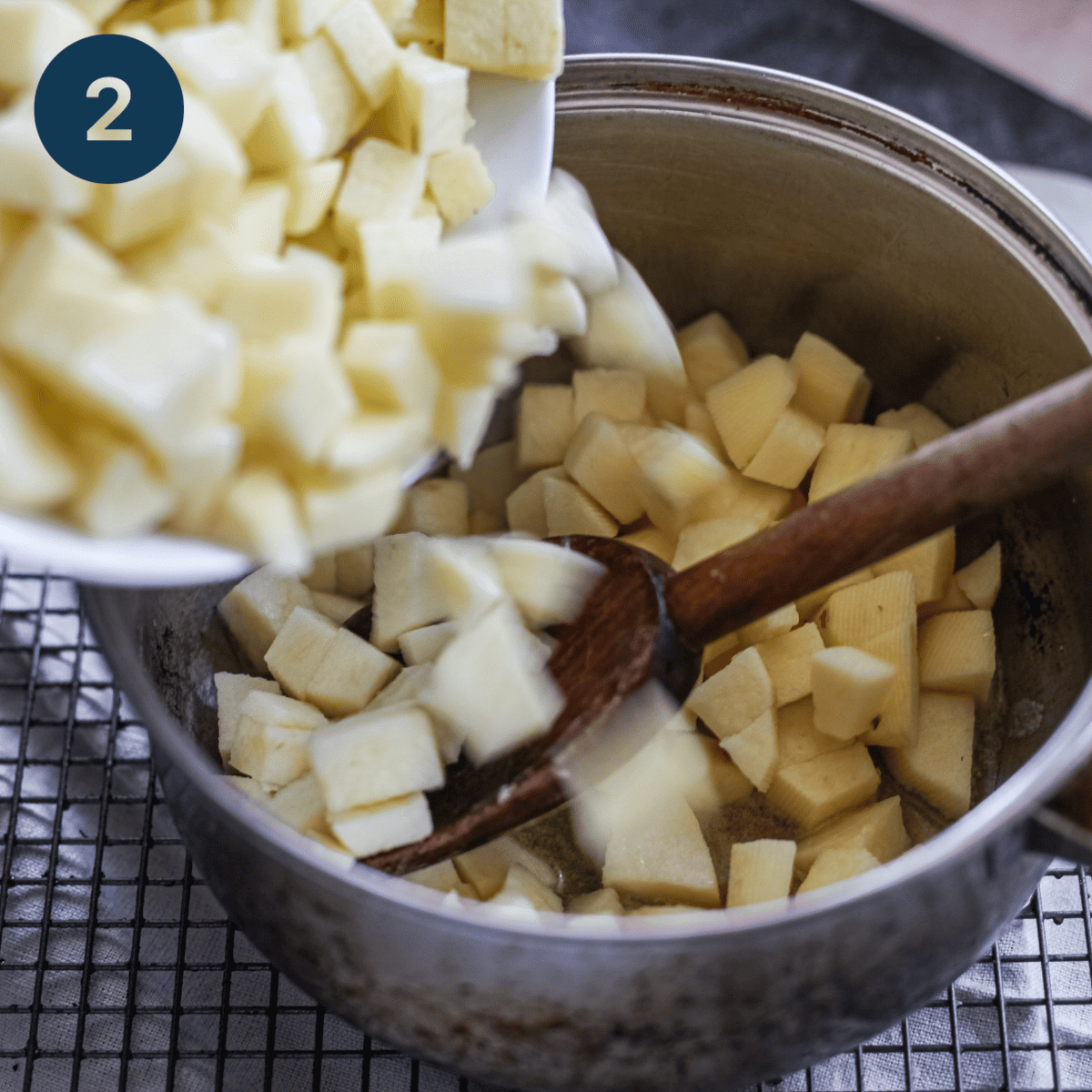 Gently melt the butter in a saucepan and add the diced apples, cinnamon and salt. Cook until they are just tender, stirring often.
Sprinkle over the brown sugar, mix gently and cook for a couple more minutes, to create a sticky caramel coating for the apples.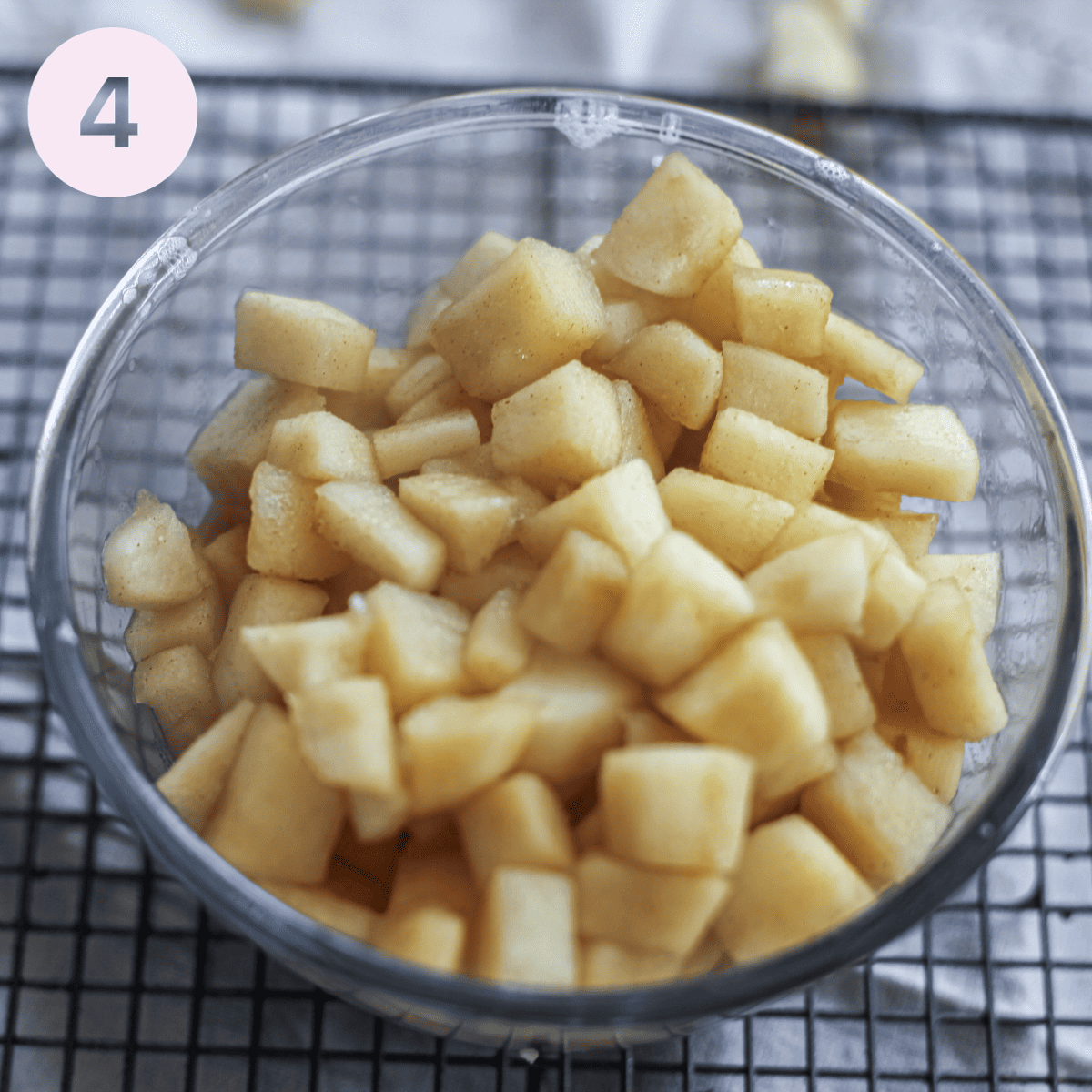 Leave the apples to cool in a bowl whilst you prep the pastry.
Cut pastry into squares. If it seems a little thick, you could roll it out a little more.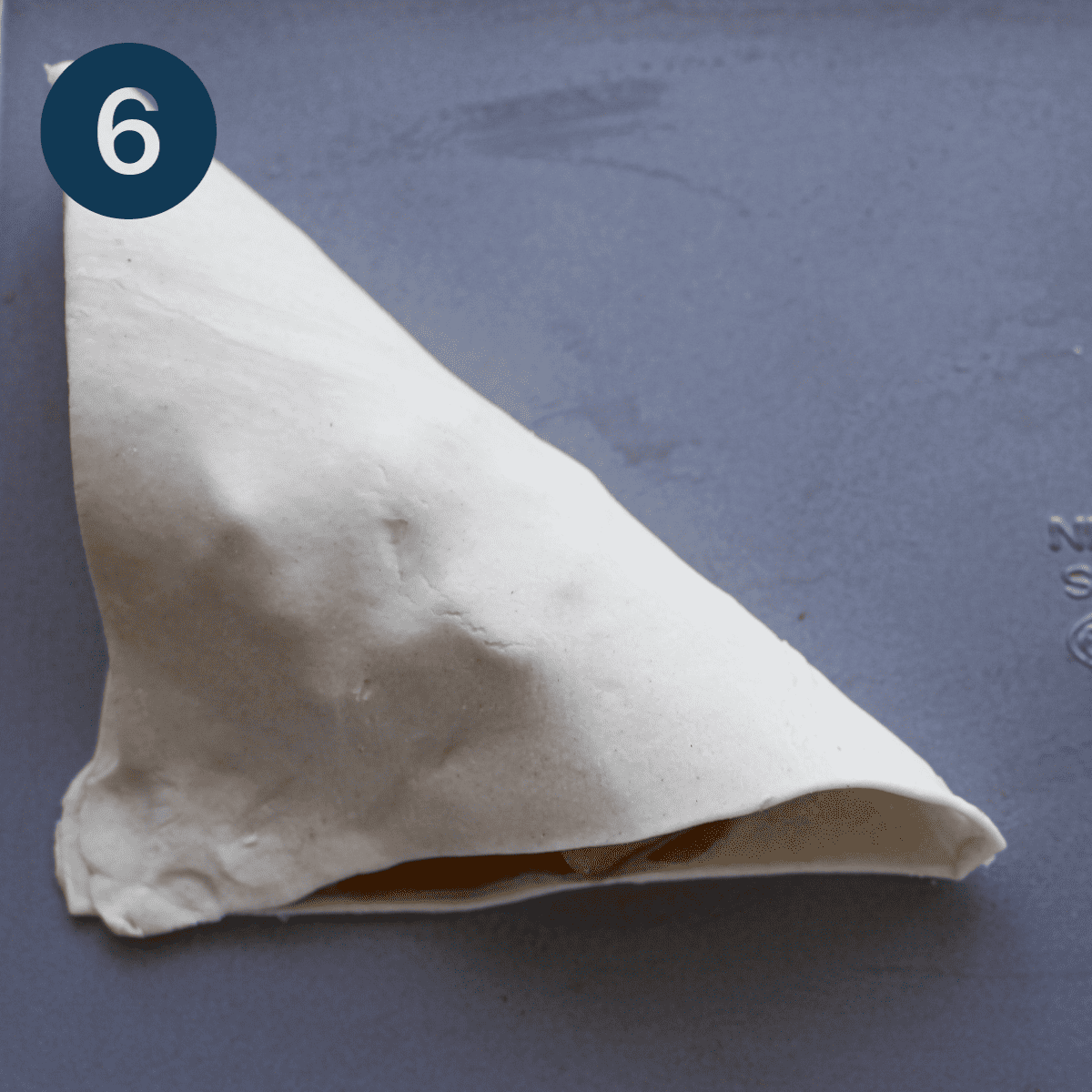 Place 2 or 3 spoonfuls of the apple mixture into the centre of the pastry squares, and then bring the top left corner over to the bottom right and press to seal.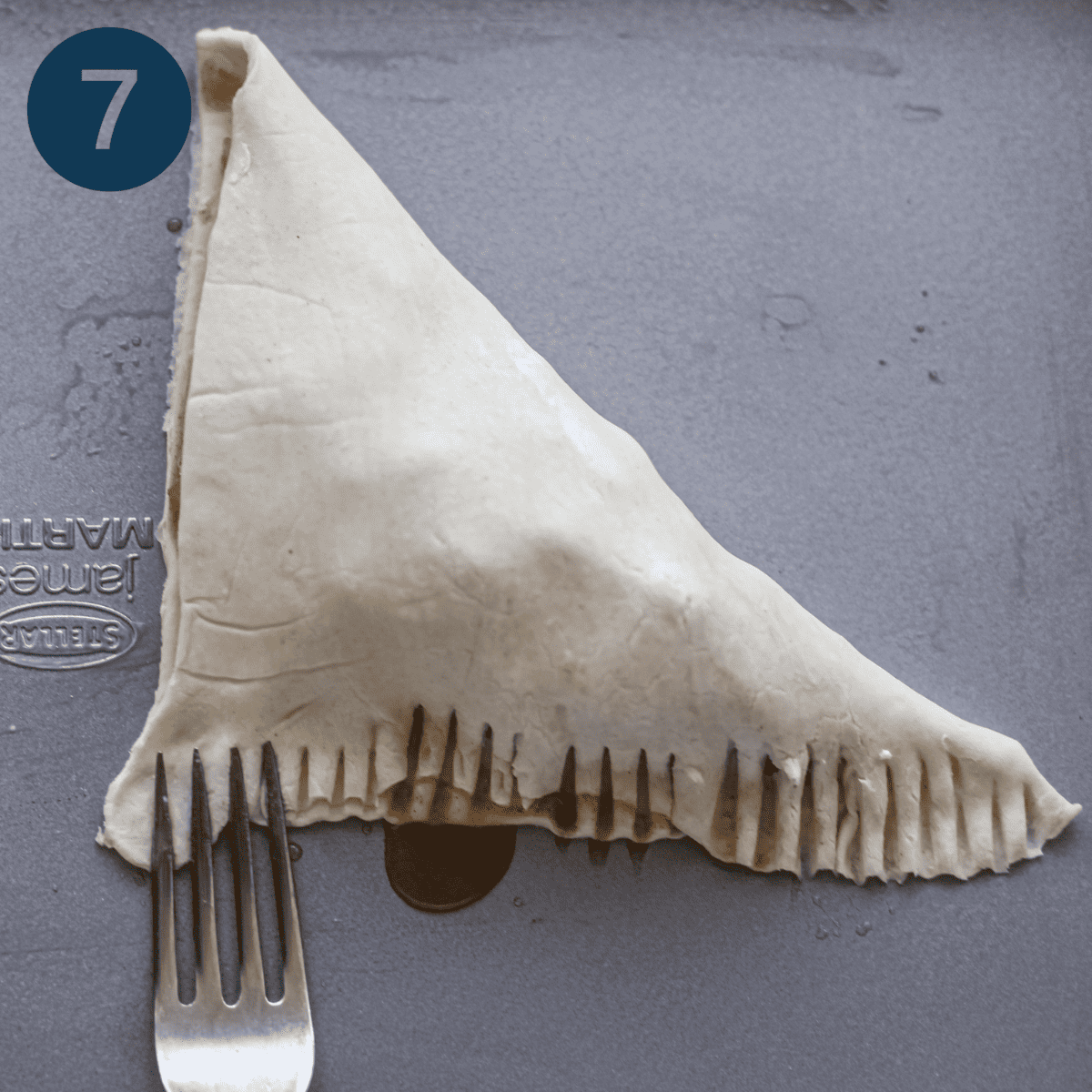 Using the tines of a fork, seal all the turnovers all the way around.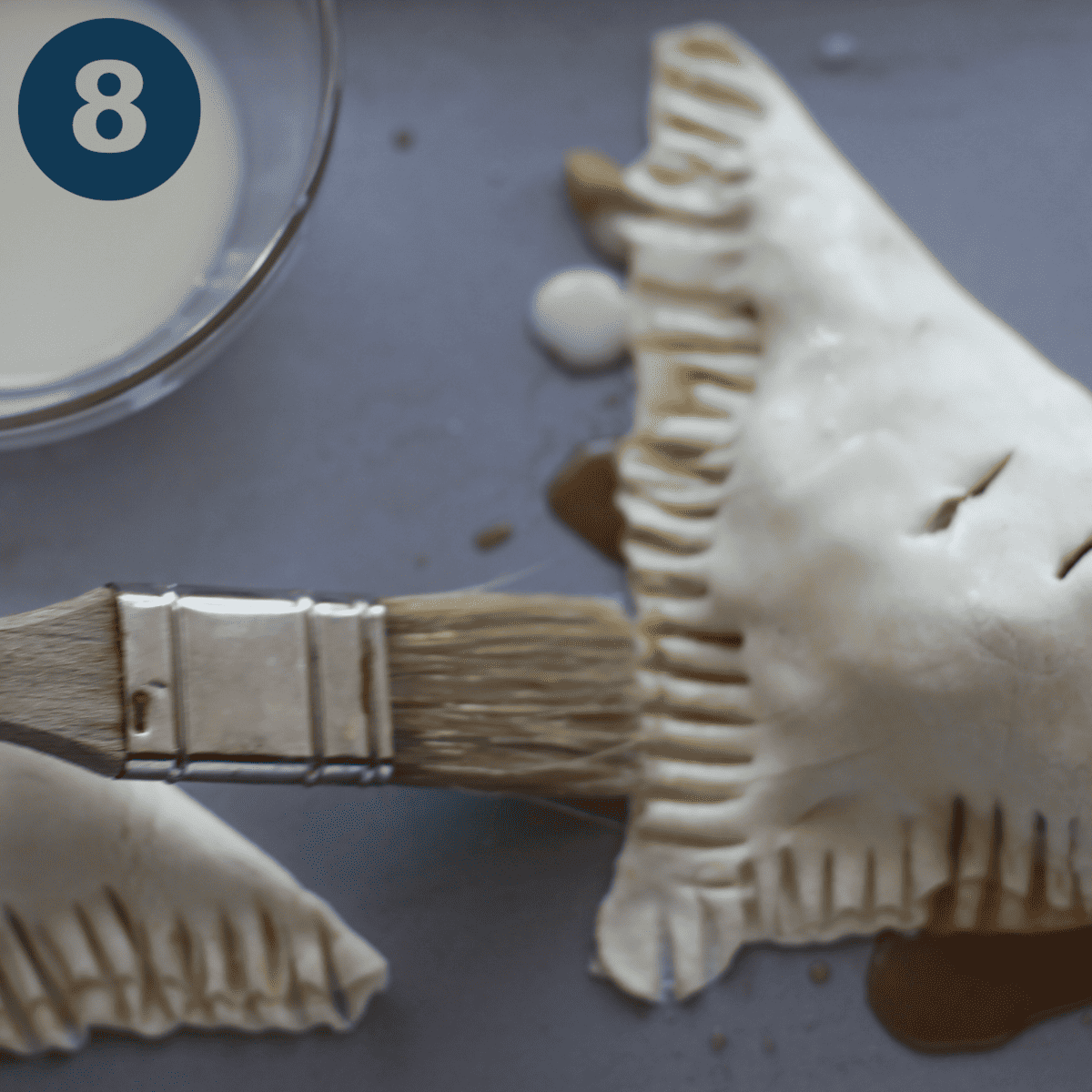 Brush with a little plant-based milk and sprinkle with white sugar. Bake for about 20-25 minutes or until light golden brown.
Substitutions
Apples – try using diced pear or raspberries and blackberries instead of apples.
Cinnamon – omit or use your favorite spice. Ginger goes very well with pear, for example.
Storage
You can chill your pre-baked turnovers to bake the next day. You can also freeze them (pre-baking). Place them in the freezer on a baking sheet. Once frozen, place in a ziplock bag and remove as needed. Bake from frozen as above.
Once baked, the turnovers are at their best on the day of cooking, however, if you keep them in an airtight tin, they will still be good the next day!
Vegan Apple Turnovers
A simple and delicious recipe, perfect to make if you have a glut of apples
Equipment
1 Baking Sheet

lightly oiled
Ingredients
320

g

Puff Pastry

-

ready rolled

450

g

Apples

-

peeled, cored and diced weight

1

tbsp

Butter

-

vegan

2

tbsp

Brown sugar

¼

tsp

Cinnamon

-

ground

⅛

tsp

Salt

2

tbsp

Milk

-

plant-based

1

tbsp

White sugar

-

for sprinkling
For glaze (optional)
¼

cup

Icing sugar

1

tbsp

Vegan cream
Instructions
Gently melt the vegan butter in a large saucepan and add the diced apples, cinnamon and salt.

Cook over low heat until the apples are tender but not mushy.

Sprinkle over the brown sugar, mix gently and cook for another minute or 2, until the sugar has melted.

Cut the pre rolled puff pastry into four squares (trimming if needed to make square).

Fill the middle of each square with a heaping amount of the apple mixture, but leave enough space to be able to seal around the edges. I used about 3 dessertspoons for each of my squares, but yours may take more or less depending on side.

Fold

the top right corner over to the bottom left corner to form a triangle, nudging any stray pieces of apples back inside the turnover.

Using the tines of a fork, press down firmly to seal all the edges.

Make 2 steam holes in the top of the turnovers, using the tip of a knife.

Brush with a little plant-based milk, then sprinkle with white sugar.

Bake for 20-25 minutes or until light golden brown.

Remove to a cooling rack whilst you make the icing.
To make the icing
Sift the icing (confectioners) sugar into a small bowl and add enough vegan cream milk to achieve a pourable consistency. Start with one tablespoon and add more if needed.

Drizzle over your warm turnovers and serve.
Please note that where the recipe asks for milk, butter or yogurt, this refers to any plant-based version that you prefer.
Nutrition Facts
Vegan Apple Turnovers
Amount per Serving
% Daily Value*
* Percent Daily Values are based on a 2000 calorie diet.