Pasta e Fagioli – a simple and hearty vegan soup
The classic Italian soup, literally translating to Pasta and Beans is so quick and simple to make, lasts in the fridge for several days, and is hearty enough for a meal!
Pasta e Fagioli – pasta and beans. The most perfect combination of ingredients since onions and tomatoes, or bread and marmalade or olive oil and balsamic vinegar.
The Italians have a graceful yet earthy way of combining the simplest and fewest of ingredients to create something that lingers in your memory for a long time. The scent of rosemary, the drizzle of oil, and the first mouthful of a delicious soup. Regionally they have mastered their local ingredients and transform them into timeless dishes.
Pasta e Fagioli is a simple traditional peasant dish, made with store cupboard ingredients and fresh vegetables. It doesn't rely on spices or pastes, simply drawing complex flavours from the combination of fresh and stored ingredients. Some fresh rosemary is the only aromatic needed to tie everything together.
Pasta e Fagioli is more like stew than a soup. It is hearty, and a meal by itself, certainly no additional bread is needed. I do think, however, the soup benefits from a drizzle of good quality extra virgin olive oil on serving, but this is not mandatory.
I prefer to use soaked, dried pinto beans because I think they retain a nicer texture (less mushy) and have more flavour. However, don't worry if you only have canned, and of course, skip the step where you soak the beans!
This classic Italian soup reheats beautifully, although you may need to add a little more water to it the next day as it does thicken up on standing (the pasta keeps on absorbing any excess liquid).
Ingredients
fresh vegetables: carrots, onions, celery, garlic, tomatoes
store cupboard: tomato puree, soup pasta, dried beans
aromatics: fresh rosemary
stock
This is ONLY a list of ingredients for the recipe; please see recipe card below for complete printable recipe.
What is a Soffritto?
A soffritto is the essential base of many dishes from across the world. In France it is called a mirepoix, in Cajun and Creole, it is referred to as the holy trinity. Simply, it is the slow sautéing of finely chopped onions, celery and carrot (often with some garlic added as well) in butter or olive oil. This process extracts the maximum flavour from the vegetables, giving them a soft, non-intrusive but essential texture to ragu or soup or stew.
To make a soffritto, finely chop celery, onion and carrot, and cook slowly, over very low heat in some olive oil until tender, stirring to ensure the vegetables don't burn or stick. Once the vegetables have reduced considerably, you can start layering the flavour of your dish by adding more ingredients.
The holy trinity of any self-respecting soffritto is onion, celery and carrot
Sautéing the soffritto until it is buttery soft with a reduced, herbaceous flavour.
Note: Ocado do a frozen soffritto kit which simplifies the whole process! You can also save 25% on your first order + 3 months free unlimited deliveries from Ocado. Enter VOU7389477 at checkout, just click here to sign up and order your soffritto and lots of other delicious goodies (affiliate link).
Instructions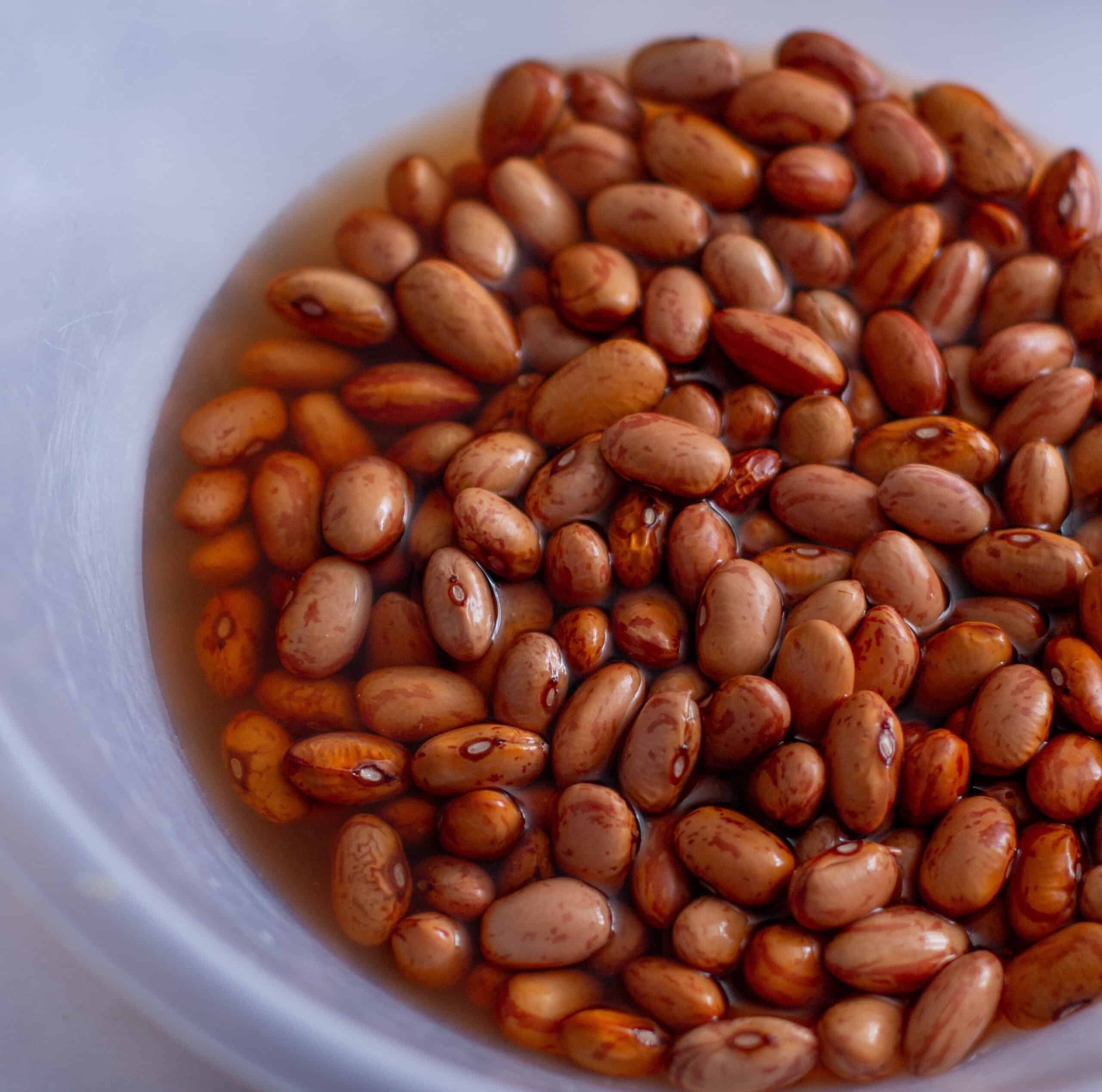 Soak your dried Pinto beans overnight. Do not salt the water. Just cover them in some cold water. If using tinned, completely skip this and the next step.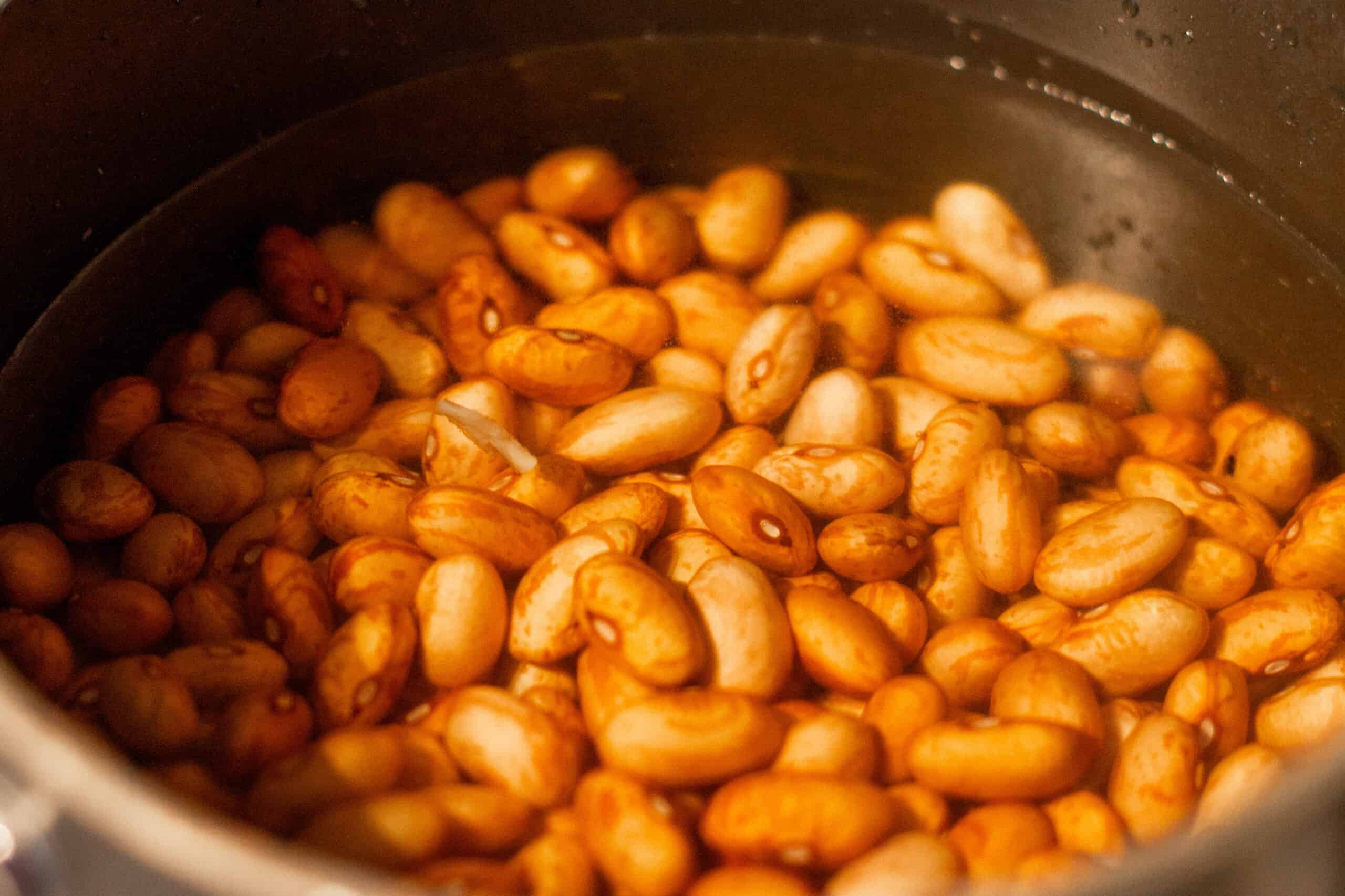 The next day, drain the soaked pinto beans and place in a large saucepan, covered with water. Bring to a simmer and cook until tender, skimming off any scum that rises to the surface with a slotted spoon. Drain.
Add chopped tomatoes and fresh rosemary to your soffritto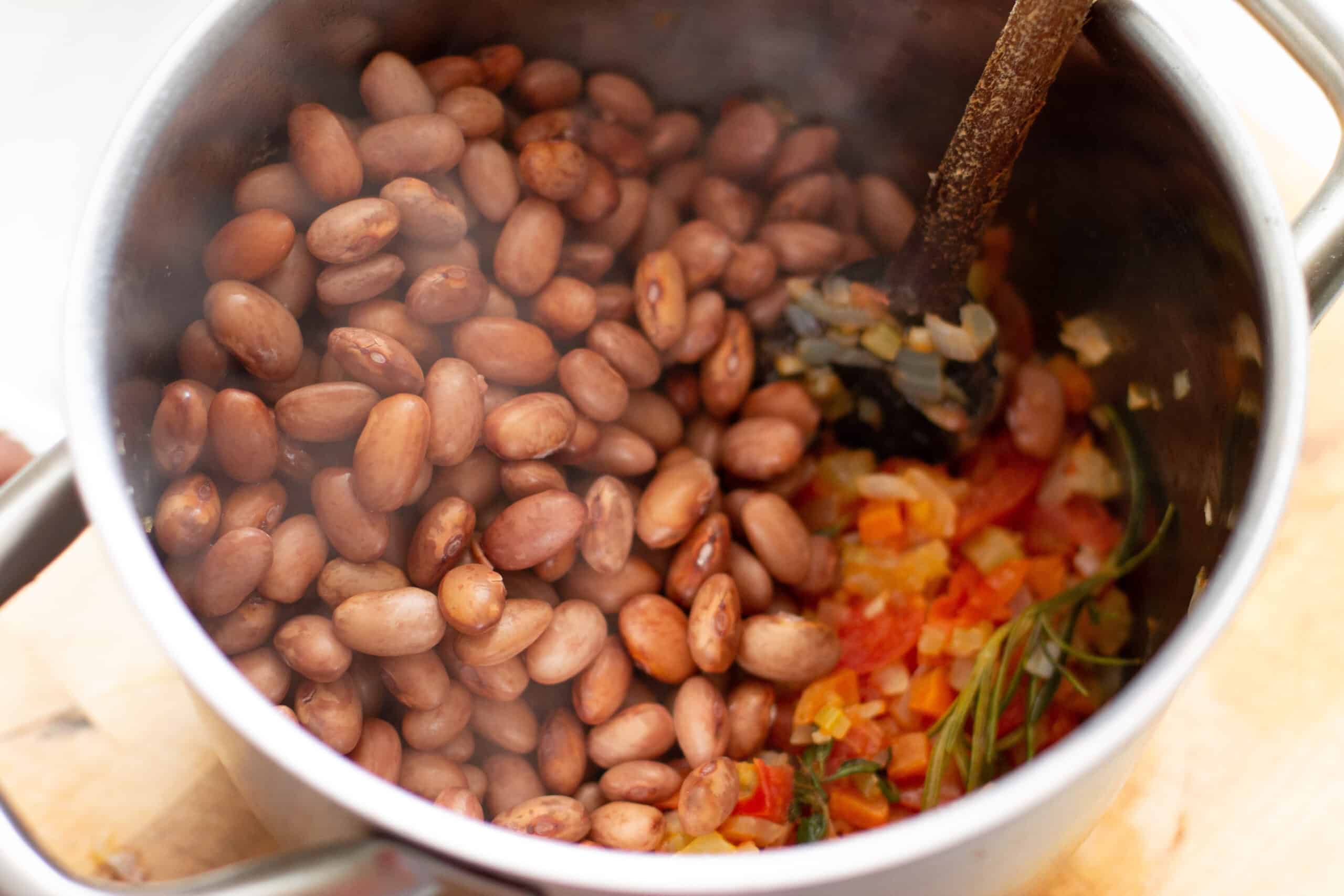 Now add the cooked and drained beans.
Hint: you can use tinned pinto beans if you are short on time. The flavour is not quite as good, but they are definitely fine in a pinch!
Remove a cupful of beans and soffritto and mash well, return to the pan. This will serve as a thickener for the soup when you add the stock.
Add the stock and pasta to the soup and simmer until the pasta is tender. Taste for seasoning and serve.
Substitutions
Beans – use drained tinned pinto beans instead of dried
Rosemary – although traditional, not everyone likes the flavour of rosemary. In that case, use some thyme springs instead.
Pasta – if you or your guest are gluten-intolerant, you can use gluten-free pasta instead.
Storage
Store the cooked and cooled soup in the fridge for up to 3 days. Because the pasta will continue to absorb the liquid from the soup, you may need to add a little water on reheating.
I wouldn't recommend freezing this soup, as I don't find that beans freeze very well.
Top tip
If you are cooking for friends or family, make the soup in advance but don't add the pasta until you are ready to heat it up for serving.
Vegan Pasta e Fagioli (Beans and Pasta Soup)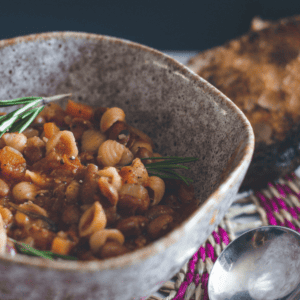 The classic Italian soup from a recipe by Marcella Hazan
Ingredients
1

cup

Borlotti Beans

dried, soaked for at least six hours or overnight

1

Onion

medium, peeled and finely diced

1

Carrot

peeled, finely diced

1

tbsp

Olive oil

1

Celery

stick, finely diced

2

Tomatoes

plum, diced

2

Garlic

cloves, finely minced

1

Rosemary

fresh, sprig

tbsp

Tomato Puree

1500

ml

Water

50

g

Pasta

soup, small

Salt and Pepper

to taste
Instructions
Dried Beans
Make sure you soak your dried beans overnight. Once soaked, drain and cook for 15 minutes in a pan of water. Drain.
To make the Soup
Gently heat the olive oil in a large saucepan and sauté the diced onion, garlic, carrot, and celery until tender. You can do this whilst the beans are simmering.

Add the chopped tomatoes and herbs and cook for a couple more minutes.

Add the drained beans to the vegetable mixture and stir gently.

Add the water and bring to a gentle simmer. Simmer for 30-45 minutes or until the beans are tender.

Remove 3 tablespoons of beans and mash with a fork before returning to the soup. This helps to thicken it.

Add salt and pepper to taste, then stir in the pasta.

Simmer until the pasta is tender then serve with a drizzle of olive oil and some crusty bread.
Nutrition Facts
Vegan Pasta e Fagioli (Beans and Pasta Soup)
Amount per Serving
% Daily Value*
* Percent Daily Values are based on a 2000 calorie diet.