The Best Vegan Chocolate Cake Recipe
This post contains links to affiliate websites, such as Amazon, and we receive an affiliate commission for any purchases made by you using these links. We appreciate your support!
My vegan chocolate cake is incredibly moist, rich, and utterly delicious. It's the perfect treat for any occasion, whether you're celebrating a birthday, hosting a dinner party, or simply indulging in a sweet craving. Made with only plant-based ingredients, but you won't believe how decadent it tastes, each bite is filled with rich, dark chocolate flavor guaranteed to please even the most discerning chocolate lovers.
You can literally get this rich, vegan chocolate cake in the oven within 5 minutes, and that includes assembling ingredients. Maybe a minute or two more to line the tin with parchment paper. But really, it's that quick to make. No creaming, just whisk and stir the dry ingredients into the wet ingredients.
I need to thank Fran Costigan for this recipe which I edited slightly to suit both my bank balance and my store cupboard. Her sublime book, Vegan Chocolate, might be ten years old now, but the recipes are still sound and don't rely on the tedious vegan ingredients like egg replacers.
I have tried lots and lots of vegan cake recipes, and if you haven't checked out my post on vegan baking, go and have a look now! And if you don't like baking? Try my no-bake chocolate biscuit cake!
I've written at length about how trickiest part of vegan baking is the egg replacers, do you use yogurt, applesauce or a flax egg? And how much? There are lots of like-for-like guides online but they don't always explain why and when you need to use specific types of egg replacer. I've written a (hopefully) useful guide that helps you choose your replacement egg in various baking scenarios, along with a selection of vegan recipes that utilise these replacers successfully.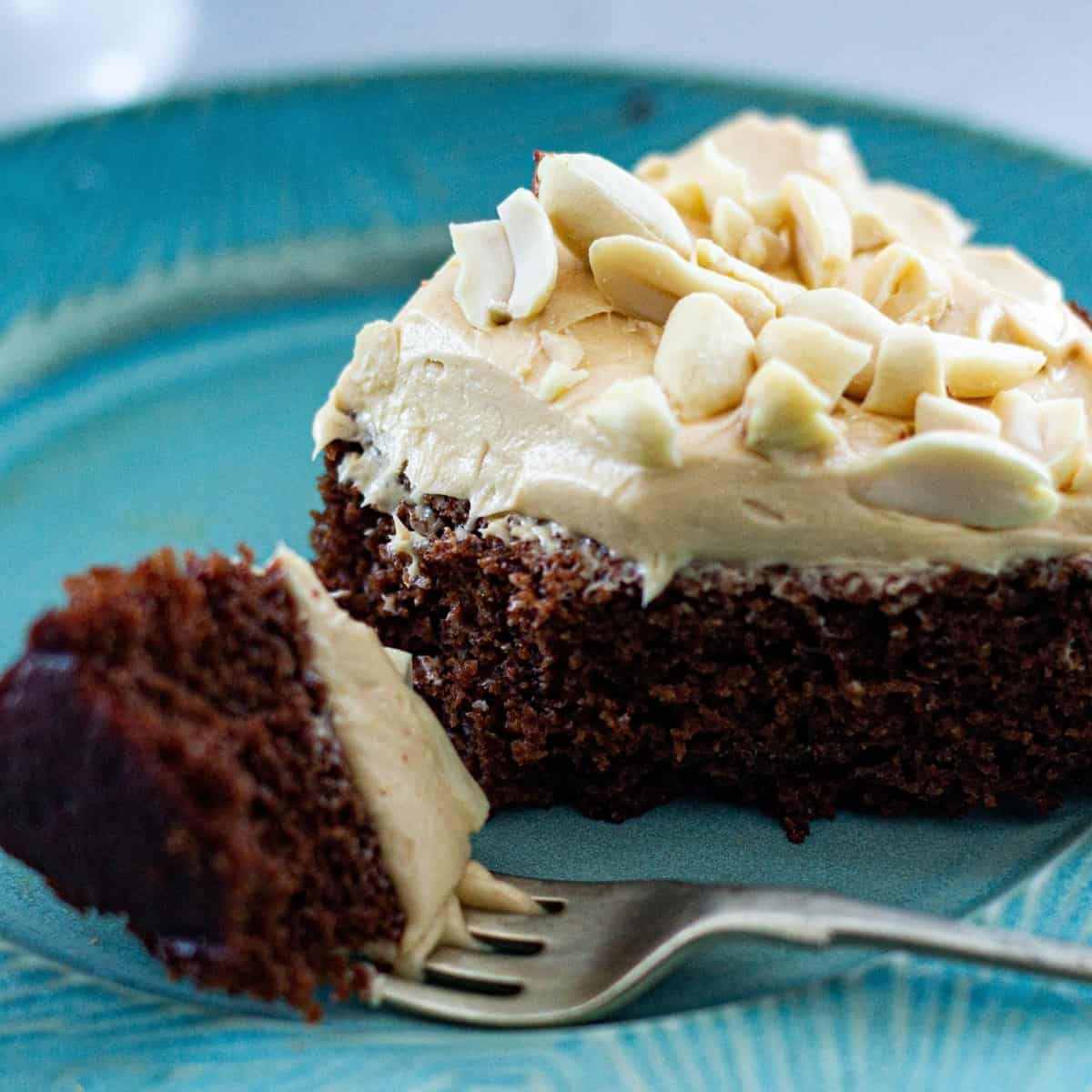 This particular cake recipe doesn't really use an egg replacer in the conventional sense, although it does utilise my favourite method, with is souring milk with vinegar (or lemon juice), to give a buttermilk-style ingredient. In this instance, I've used balsamic vinegar, as it heightens the rich, dark flavour of the cook, but feel free to use any vinegar you have.
This vegan buttermilk gives vegan cakes a tender crumb and texture that is normally given by the process of beating eggs with sugar. An egg free chocolate cake doesn't have to be stodgy and dense. This is moist vegan chocolate cake that is easily adaptable.
I have frosted mine with a peanut butter buttercream which is incredibly easy to make, but feel free to use your favourite vegan chocolate frosting, my vegan cream cheese frosting, vegan whipped cream or leave it plain.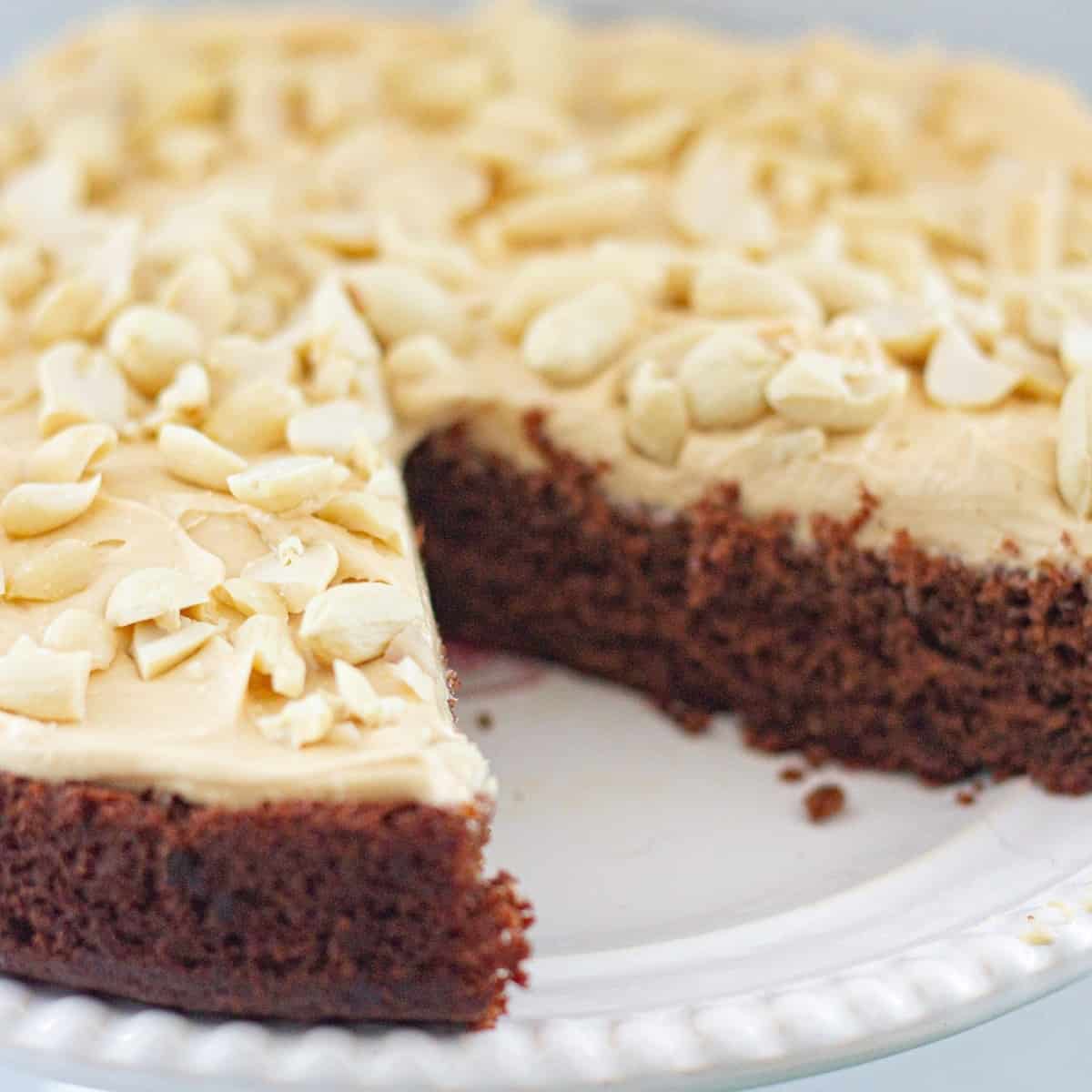 Note: this cake doesn't rise a lot so if you want to make a layer cake double the mixture and use two 9″ round cake pans. It would make a stunning layer cake for special occasions or a vegan birthday cake!
Whether you're egg intolerant, allergic to dairy or you've just made the choice to be plant based, you can have your chocolate cake and eat it!
Ingredients
Plain flour. This recipe uses two types, wholemeal and plain (all purpose flour). This offer both texture and lift.
Cacao Powder. You could use good-quality cocoa powder instead, but I love the dark bitterness of cacao, which infuses the cake batter with a rich chocolate flavor.
Baking Powder
Sugar. I used maple sugar as I have some in the cupboard and wanted to use it. Again, feel free to use granulated white sugar or brown sugar.
Sea Salt
Vegetable Oil or unflavoured oil. You could also use melted coconut oil, canola oil or a mild olive oil. This replaces the regular butter.
Maple syrup.
Soy milk or plant milk of your choice, such as almond milk.
Balsamic Vinegar.
This is ONLY a list of ingredients for the recipe; please see recipe card below for complete printable recipe.
Method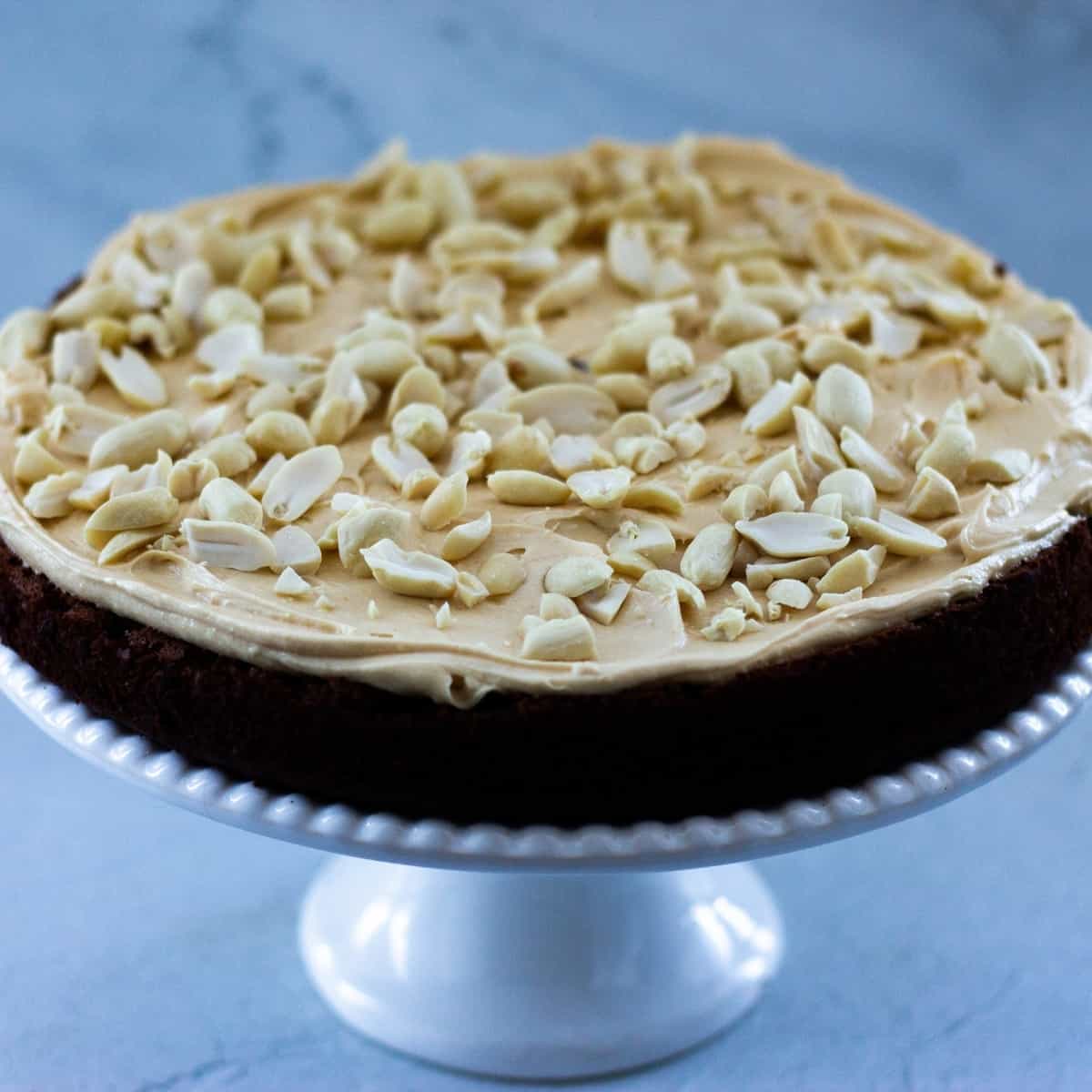 Preheat oven to 170c.
In a small jug, whisk the vinegar into the vegan milk and leave to stand for about 5 minutes to "curdle".
Line a 9″ cake pan, on the bottom only, with greaseproof paper.
In a large mixing bowl, sift the flour, cacao powder and baking powder. Stir in the sugar and salt.
Add the vegetable oil, maple syrup and vanilla extract to the milk and whisk thoroughly. Pour into the dry ingredients.
Using an electric hand whisk, blend the wet ingredients into the dry until no lumps of flour are visible. Do not overmix.
Pour into your prepared cake pan, banging on the surface of the work counter to knock out any air bubbles.
The bake time is between 30-35 minutes or until the surface of the cake springs back.
Leave to cool for 10 minutes before turning out onto a cooling rack, then leaving to cool completely before icing.
Try my other delicious vegan chocolate recipes
Best Vegan Chocolate Cake Recipe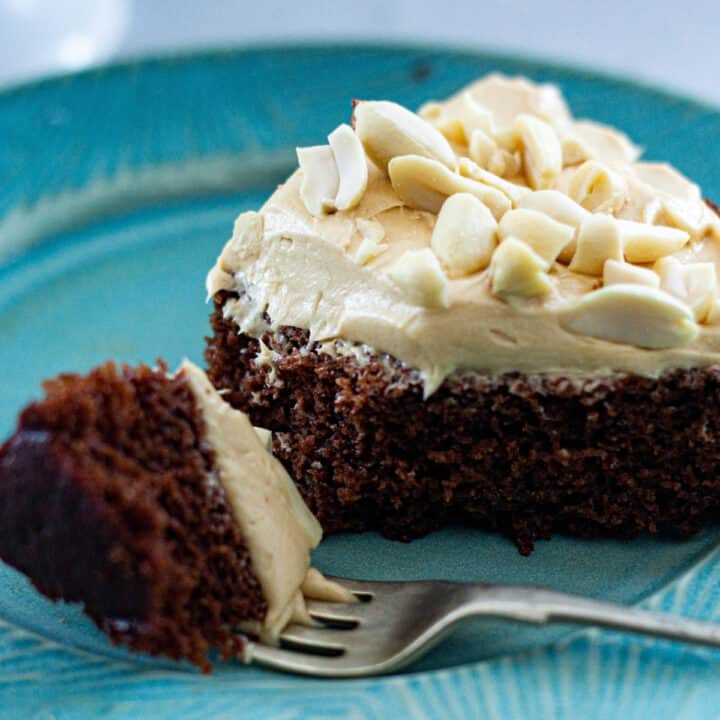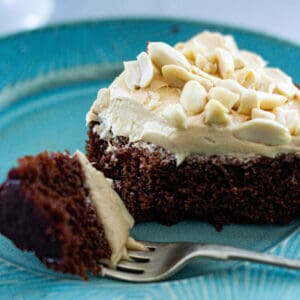 The quickest, easiest and most delicious vegan chocolate cake recipe
Equipment
1 9" Cake tin

lightly oiled and lined on the bottom
Ingredients
1

cup

Plain Flour

¼

cup

Cacao Powder

-

or use cocoa powder, very dark

¼

cup

Caster Sugar

-

extra fine sugar, or, I used maple sugar

1

tsp

Baking Powder

½

tsp

Bicarbonate of Soda

¼

cup

Vegetable Oil

-

or melted vegan butter or coconut oil

½

cup

Maple Syrup

¾

cup

Milk

-

any dairy-free of your choice

1

tsp

Apple Cider Vinegar

-

or lemon juice

2

tsp

Vanilla Extract
Instructions
Sour the milk in a large jug by adding the vinegar or lemon juice. Leave to stand for 5 minutes.

Whilst the milk is souring, sift together the flour, cacao powder, baking powder and bicarb into a large mixing bowl.

Whisk the sugar and salt into the flour mix.

Now add the oil, vanilla and maple syrup to the milk and whisk well.

Pour this into the dry ingredients and mix until thoroughly combined. Don't overmix though.

Pour into your prepared baking tin and bake for 30-35 minutes or until it springs back to the touch.

Leave to cool 10 minutes in the tin before carefully turning out onto a cooling rack to cool completely.

Now you can frost your cake.
Please note that where the recipe asks for milk, butter or yogurt, this refers to any plant-based version that you prefer.
Nutrition Facts
Best Vegan Chocolate Cake Recipe
Amount per Serving
% Daily Value*
* Percent Daily Values are based on a 2000 calorie diet.