Easy Vegan Chocolate Mousse
Easy vegan chocolate mousse. Mousse is possibly the easiest dessert to eat, it can be luxuriously dense or as light as a cloud. It can be savory or sweet and it can be baked or, um, not baked. Sadly, mousse also contains eggs. Lots and lots of eggs. But should it have to?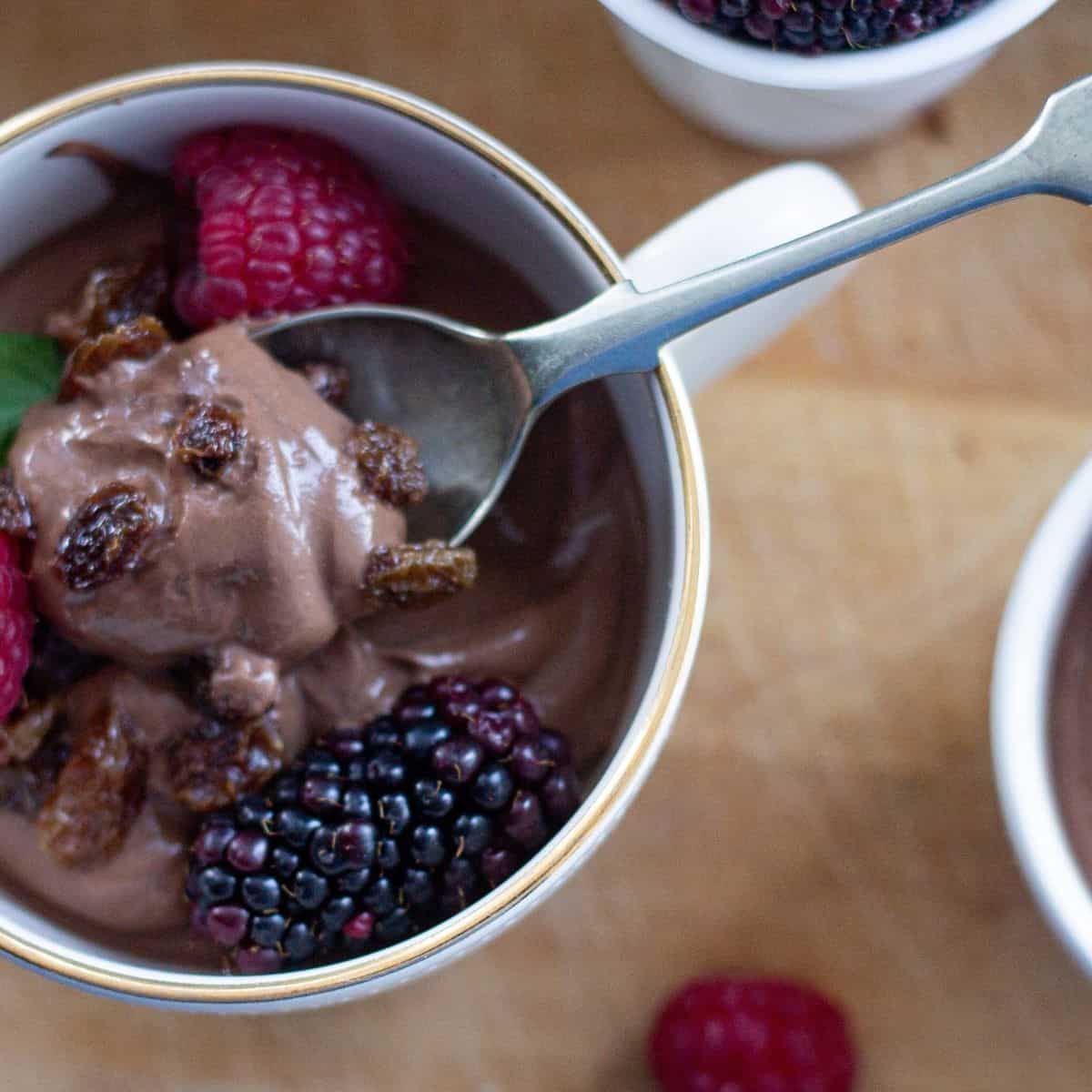 A startling solution stared up at me: Tofu Mousse. Wait. Did that say Tofu? Isn't that coagulated soy milk? The original vegetarian food and possibly the sole reason why I gave up vegetarianism as a kid? How can this be utilized in a mousse without it tasting like a health shop smells?
Actually, Tofu is surprisingly versatile if you treat it properly. I love it in Miso Soup and deep-fried tofu but have you ever tried it sweet?
What makes this mousse particularly special is that it is perfect for vegans and if you're on a keto diet (using your customary sugar replacement), yet it doesn't skimp on flavor either. So, if you find yourself with a spare box of silken tofu in the cupboard because, say, you wanted to make Miso soup with it and six months later it's still in the cupboard, or you have vegetarian guests coming for dinner that you want to impress, then this could be the mousse for you.
It requires no cooking except for melting the chocolate, which doesn't count anyway, and the flavoring options are endless. I soaked some dried sultanas in Amaretto and folded them into the mousse, but preserved cherries, fresh raspberries, rum raisins, nuts, mint essence, toasted coconut, anything would be great in this versatile mousse.
I have tweaked the original recipe to suit what we had in the cupboard, namely one block of tofu (which is about 8oz, 220g), and a 100g bar of Lindt 70% Dark Chocolate. I also had a bottle of Agave Syrup which I use on rare occasions (although you could replace this with honey or sugar if preferred) and of course, every baker's essential flavoring, vanilla extract. These four ingredients, the chocolate for flavor, the tofu to replace the egg element, the syrup for sweetening, and vanilla for flavoring are your basic mousse. What else you add to it is entirely up to you.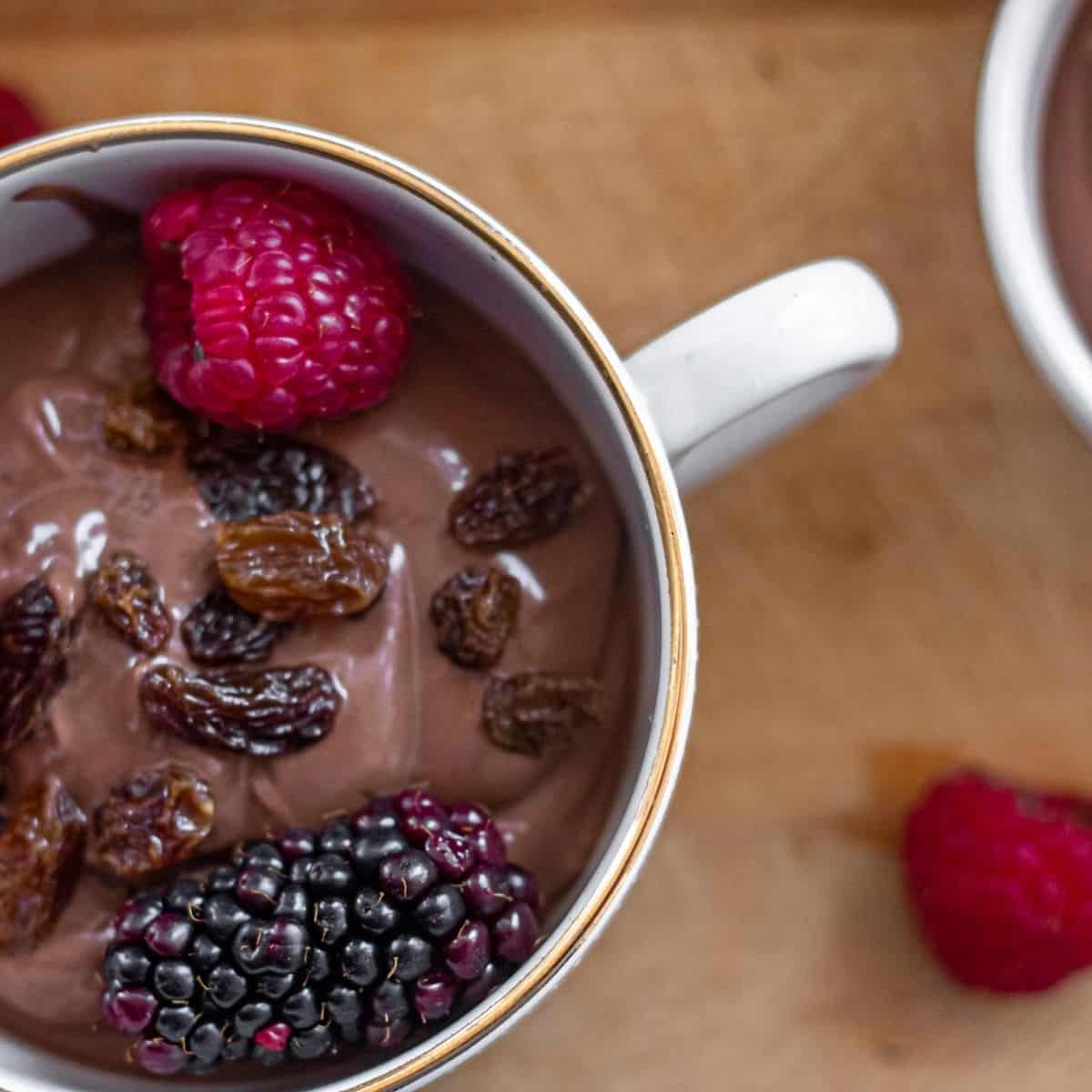 This egg free chocolate mousse makes enough to fill four generous dessert bowls with some leftover in the bowl for finger-licking.
Ingredients
Silken Tofu, drained and dried. It must be silken to achieve that smooth, creamy texture
Dark chocolate. Use your favorite vegan brand
Agave Syrup or Maple Syrup to sweeten
Method
Drain the silken tofu.
Place tofu in a food processor and blend until smooth. Add the vanilla extract and sweetener and blend again.
Break the chocolate up and place in a microwaveable bowl. Melt using 10 second bursts until the chocolate is liquid.
Pour melted chocolate into the blended tofu mixture and blend until completely smooth.
Taste for sweetener and add a little more if necessary.
I like to blend in the soaking liquor from the dried fruit.
Spoon into serving dishes and top with the soused sultanas.
You can now serve, or cover with clingfilm and refrigerate.
Will keep overnight in the fridge.
Equipment
Try my other delicious vegan chocolate recipes
Vegan Tofu Chocolate Mousse with Liqueur Soaked Fruit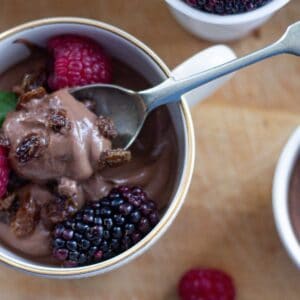 How to make a super-fast chocolate Mousse using tofu
Ingredients
220

g

Silken Tofu

100

g

Dark Chocolate

-

good quality

2-5

tbsp

Agave Syrup

-

or maple syrup

1

tsp

Vanilla Extract

3

tbsp

Sultanas

-

or raisins

2

tbsp

Liqueur

-

I like to use Amaretto
Instructions
Liqueur Figs
Cover sultanas with Liqueur.

Leave to steep for an hour or so.

Carefully remove from the muffin tin and leave to cool on a cooling tray.
Mousse
To make the mousse, melt the chocolate in a small heatproof bowl placed over lightly simmering water.

Stir in the vanilla and the agave syrup. Use just two tablespoons syrup to start. You might need to add more later depending on how sweet your tooth is.

In a food processor and using the plastic blade, blend the tofu until it is smooth.

With the blade still running, pour in the chocolate mixture and process until completely amalgamated. Taste for sweetness. Add more if necessary.

At this point you can add any other flavourings. I used the soaking liqueur from the sultanas.
Assembly
Fold

the soused sultanas into the mousse, keeping some aside for decoration.

Spoon the mousse into your dessert cups.

Sprinkle over the reserved sultanas, lightly dust with icing sugar.
Please note that where the recipe asks for milk, butter or yogurt, this refers to any plant-based version that you prefer.
Nutrition Facts
Vegan Tofu Chocolate Mousse with Liqueur Soaked Fruit
Amount per Serving
% Daily Value*
* Percent Daily Values are based on a 2000 calorie diet.