Easy Vegan Viennese Cakes. Tender, sweet and buttery, these Viennese Tartlets are so simple to make, and just melt in your mouth!
Jump to:
I first made these little crumbly cakes about ten years ago, for my nan, when I was trying to perfect vegan baking. As my harshest food critic, she gave them the family equivalent of the royal seal of approval, and I always made them for her birthday. As a natural baker, I inherited her love of cakes, but not her inherent skill. My vegan rock cakes are also inspired by her, and you will love my traditional vegan shortbread recipe too.
A long time fan of Mr Kipling's Viennese Whirls, those little buttery sandwich cakes filled with buttercream and jam, I thought that I would never be able to eat them again once I became vegan.
I found this recipe in Delia Smith's Book of Cakes, a veritable goldmine of cakes that can be easily veganised, and this is an absolute winner. Not truly from Vienna, but more inspired by their delicious patisseries, Viennese Whirls are a surprisingly easy one bowl cake/tart to make.
I love to serve that as she suggests, with a little bit of strawberry jam in them; however, I do plan to make sandwich cookies out of the same dough, just like Mr Kipling.
Ingredients
These simple little shortbread cakes with the light, buttery texture are so easy to make and use store cupboard ingredients.
Self-Raising Flour. You could use plain, but do add a teaspoon of baking powder. These little cakes puff up a little during baking.
Vegan Butter. I use Flora Plant-Based. I kept it out of the fridge overnight to ensure it was completely soft. Obviously I don't recommend this on a hot day! Use whichever vegan butter you like best. I don't recommend using margarine because it can give a slightly stronger flavor that isn't wanted here.
Cornflour. This adds a lightness to the texture.
Icing Sugar. Instead of using granulated sugar, icing sugar contributes both to the sweetness of the tarts and also to the texture. You can use superfine sugar (caster sugar) instead.
Vanilla Extract. Of course, adds a delicate flavor.
Strawberry Jam. I use a seedless one for these little cakes, and put a little in a piping bag to ensure a nice round circle in the middle. Of course, you can use a teaspoon if you prefer.
Method
Preheat your oven to 180c and line your muffin tin with muffin cases.
In a large mixing bowl, blend the plant butter and icing sugar until you have a pale, creamy mixture. I like to use an electric hand whisk for this.
Then sift in the flour, cornflour (cornstarch), add the vanilla and mix well using a wooden spoon or spatula.
You will now have a thick, but soft, pipeable dough.
Place some of your dough into a piping bag fitted with a large rosette nozzle.
Carefully pipe a circle into your muffin case, about halfway to the top. Then pipe a small circle in the bottom of the liner.
This might take a little practice if you're not very experienced with piping. My first couple were really bad, but then I got the hang of it! It doesn't really matter if they look a little wonky, they puff up during baking anyway.
Bake for 20-25 minutes until pale golden brown. Leave to cool completely before piping a dot of red jam in the centre and dusting with icing sugar.
Equipment
Try my other delicious vegan sweet treats
📋 Recipe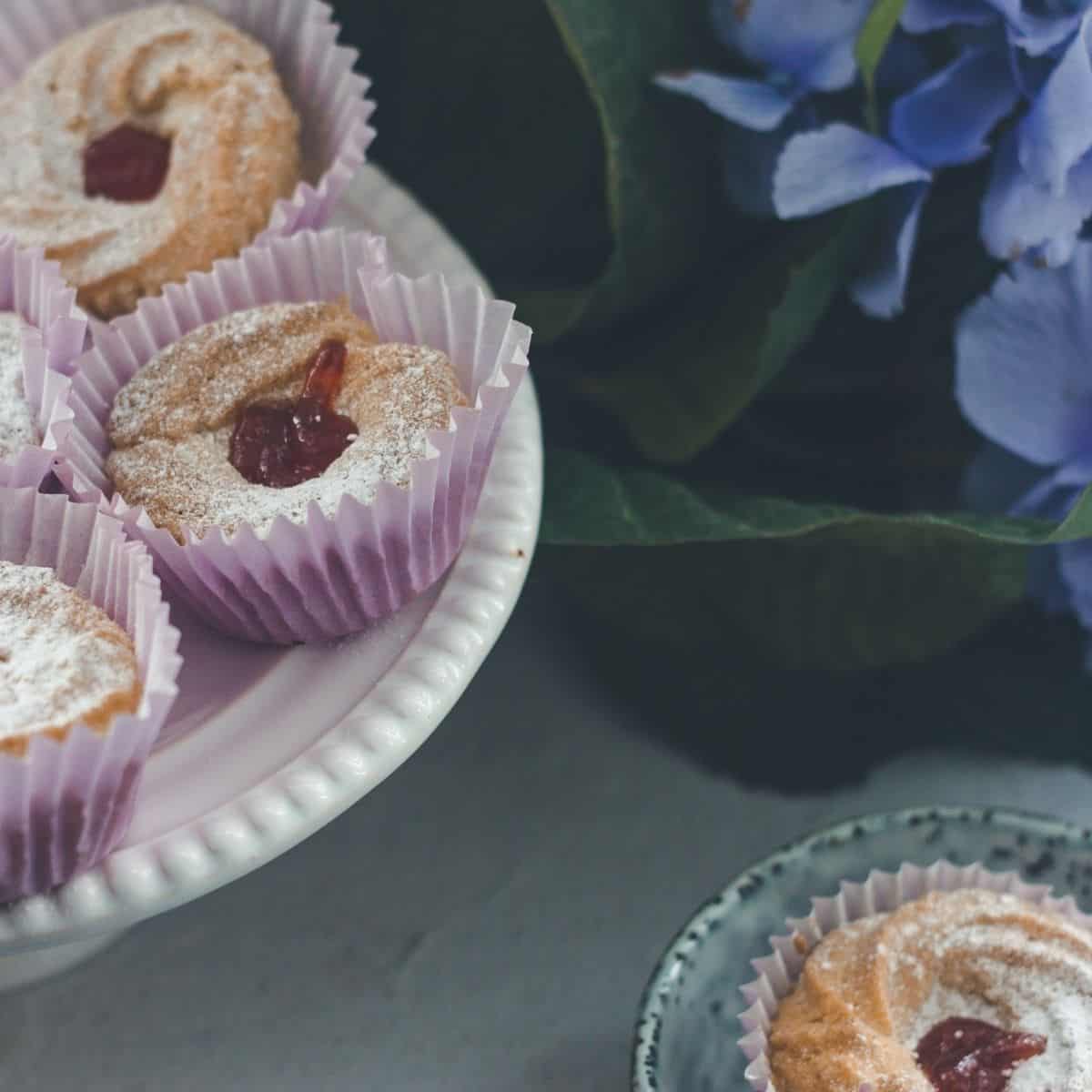 Ingredients
220

g

(

1¾

cups

)

Self-Raising Flour

250

g

(

1+1tbsp

cups

)

Butter

vegan, softened

90

g

(

¾

cups

)

Icing Sugar

60

g

(

½

cups

)

Cornflour

1

teaspoon

Vanilla Extract

Strawberry Jam

to finish
Instructions
Line a muffin tin with cupcake cases

In a large mixing bowl, cream the butter and icing sugar until pale and creamy.

Add the other ingredients (except the jam) and mix well with a wooden spoon or spatula until you have a soft dough.

Place dough into a piping bag fitted with a large rosette nozzle (I use Wilton 1M). You will need to refill the bag maybe 3 times.

Pipe rosettes into the cupcake cases, with a final blob in the middle.

Repeat until you have used up the mixture. It should make exactly 12.

Bake for 20-25 minutes until very pale golden.

Leave the cool completely before adding a couple of dots of strawberry jam in the middle, then finishing with a flourish of icing sugar.
Nutrition
Calories:
265
kcal
(13%)
|
Carbohydrates:
25
g
(8%)
|
Protein:
2
g
(4%)
|
Fat:
17
g
(26%)
|
Saturated Fat:
11
g
(69%)
|
Polyunsaturated Fat:
1
g
|
Monounsaturated Fat:
4
g
|
Trans Fat:
1
g
|
Cholesterol:
45
mg
(15%)
|
Sodium:
135
mg
(6%)
|
Potassium:
24
mg
(1%)
|
Fiber:
1
g
(4%)
|
Sugar:
7
g
(8%)
|
Vitamin A:
521
IU
(10%)
|
Calcium:
8
mg
(1%)
|
Iron:
1
mg
(6%)
Tried this recipe?
Mention @sweeterthanoats or tag sweeterthanoats!