Vegan Carrot Halwa Recipe
Vegan carrot halwa – a classic sweet Indian dessert but dairy free. Perfect to serve after a spicy meal
The North Indian dessert, carrot halwa, also known as gajar ka halwa is surprisingly simple to make, but full of sophisticated flavours, and is the perfect dessert for a spicy meal.
This was inspired by using vegetables in desserts, like my rich vegan beetroot muffins, and makes a perfect dessert for my spicy tamarind lentils.
I am always prowling around for the next sugar high. I thought it was chocolate but I was wrong. I have found something so delectably sweet, so tooth-achingly saccharin that one small square will satisfy the world's most prolific craver of sugar – halwa.
What is Halwa?
I know what you're thinking – "Isn't this something you get from a health shop? How can that be so great?" Well, doubters and naysayers, have I got news for you. The word halwa comes from a derivation of 'sweet' in Arabic. Any confection that contains six whole tablespoons of pure white, completely refined sugar has got to live up to its namesake. Halwa does that with aplomb.
Indian sweets are not as popular in the UK as their savoury counterparts, curry being one of the most popular dishes in the country, but if anyone has tried one of these scrumptious squares (or balls) of joy, then you will be hooked for life.
There are many varieties, (here's a link to over 100 different recipes!) some containing honey, some containing ground pistachios or almonds, some made with coconut. They can be scented with rosewater or coloured with turmeric. Some are made with honey-rich, batters, emerging like golden, shiny spirals. They all have one thing in common: eye-blinding amounts of sugar.
Because there are so many different types, and because the process of making some is quite complex, I chose a relatively simple dessert that seems like it might offer some nutritional benefits, gajar ka halwa, gajar being the Hindi for carrot, halwa, dessert = carrot dessert.
There are several different ways to make halwa (or halva). The solid varieties are cooked with either semolina or tahini paste, depending on whether you come from Northern or Southern India and are cut into squares, much like Turkish Delight.
My vegan fragrant carrot halwa is cooked with milk (or traditionally condensed milk, to make it even sweeter!) and is a much softer confection, to be served as a dessert rather than a candy.
It is simple to make and would make a delicious and unusual finish to a meal. Despite its sweetness, the carrot gives it slight palate cleansing properties too. I eat it straight from the fridge, where I have a pallet knife ensconced on top of it, so I can slice chunks off at any given sugar-craving moment. It hits the spot every time. I think it could be the new chocolate.
If you are particularly averse to rosewater (and it can have a 'bath-time at the nursing-home' flavour if you're heavy-handed), then just omit it.
Ingredients
carrots, grated
milk, I use soya
cardomom
See recipe card for quantities.
Instructions
Bring the milk, sugar, cardomom, carrot and raisins up to a gentle simmer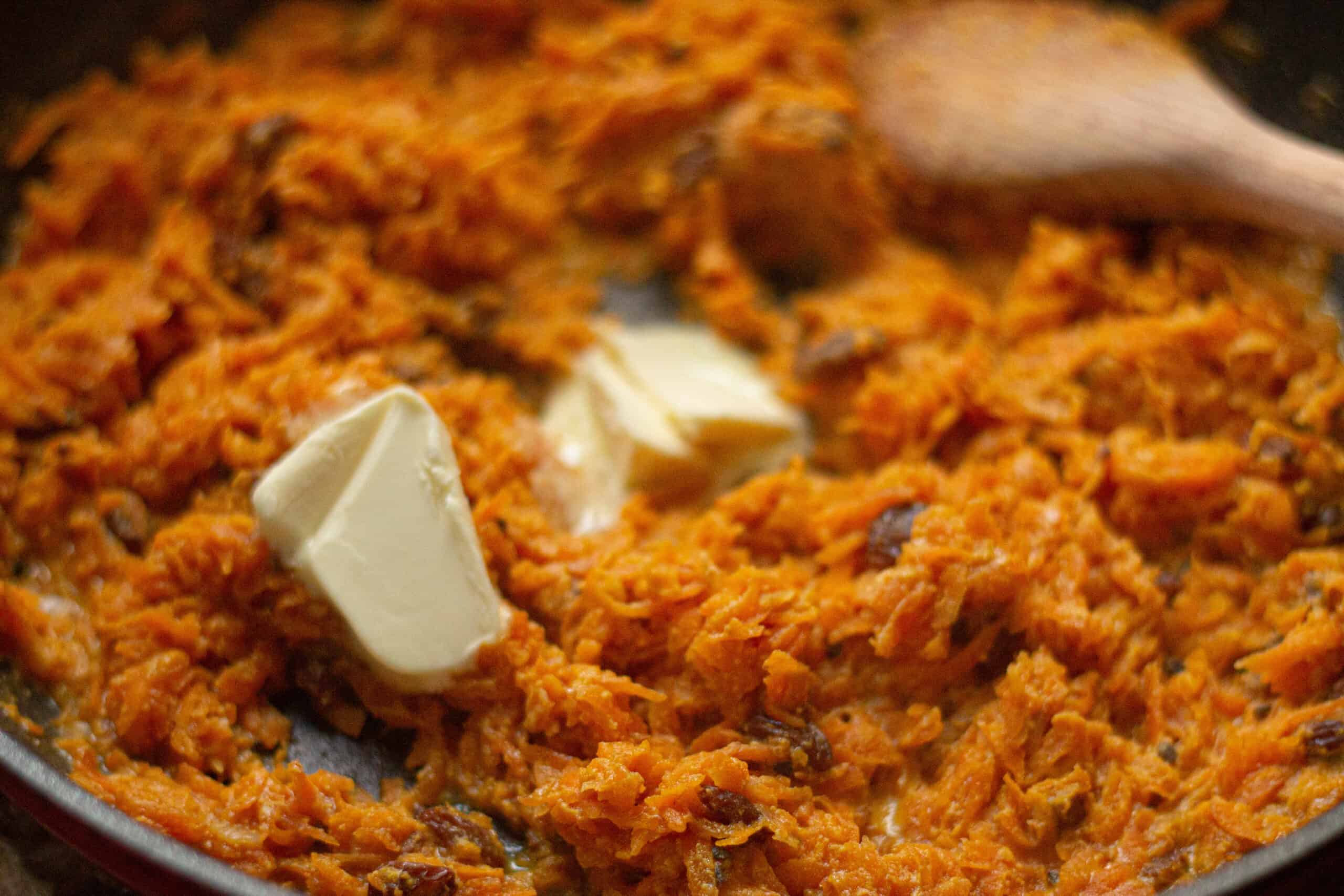 Stir in the vegan butter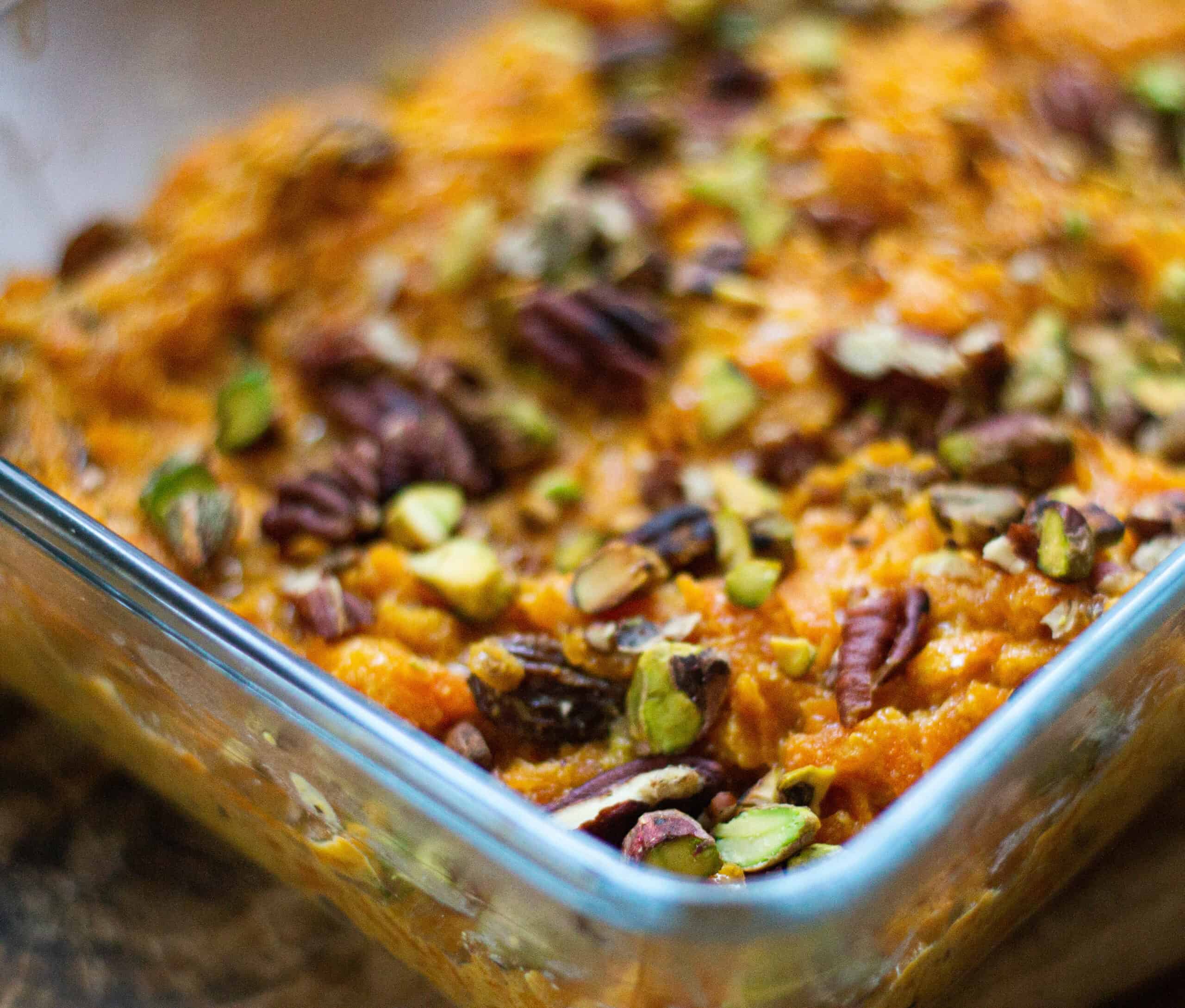 Spread cooked halwa into a dish and sprinkle with chopped toasted nuts if using, then chill
Hint: no need to peel the carrots if they are clean from the supermarket.
Substitutions
If you know how to make the recipe fit a certain diet, let the reader know here. Don't fake it – only provide guidance on topics you have actual experience with.
milk – use any dairy-free milk of your choice, but a thicker one is better
Variations
Deluxe – add some chopped dates or more toasted nuts on top, plus some gold leaf dotted here and there to make a truly stunning dessert
Kid friendly – remove the raisins and perhaps add chocolate chips
Storage
Store the halwa in the refrigerator for up to 5 days.
You can freeze halwa once cool but omit the nuts until you are ready to actually serve it.
FAQ
Is carrot halwa healthy?
Yes, kind of. The carrots make this dish healthy in the same way that carrot cake is healthy: they still add their vitamin c and nutrients. However, the sugar and butter elements somewhat cancel out the health benefits slightly! To make carrot halwa healthier, you can reduce the sugar or use a sugar replacement.
Carrot Halwa
A sweet, delicious unusual dessert
Ingredients
450

g

Carrots

grated

1

teaspoon

Cardamom Pods

crushed, remove the husks, they are horrible to chew on

500

ml

milk

vegan, I use soy

2

Tablespoons

Butter

vegan

6

Tablespoons

Sugar

1

Teaspoon

Rosewater

optional

2

tbsp

Raisins

or sultanas

2

tbsp

nuts

toasted in a hot oven, for 5 minutes, at 200c, a mixture of any of the following: pistachios, cashews, almonds, toasted and crushed into chunks
Instructions
Heat the milk, grated carrot, raisins and Cardomom Pods in a large frying pan. The frying pan is important because you need maximum surface space for the carrot/milk mixture to thicken.

Once most of the milk has evaporated, maybe 10 minutes, add the butter, nuts and Rosewater if using.

Stir well to amalgamate and pour into a shallow dish. I used my Brownie Tin which is approximately 8" square.

Chill until you are ready to serve, but at least 3 or 4 hours.

Sprinkle with some more toasted nuts if you are serving as a dessert.
Nutrition Facts
Carrot Halwa
Amount per Serving
% Daily Value*
* Percent Daily Values are based on a 2000 calorie diet.