Crunchy, nutty, sweet and sticky, my easy no-bake vegan Cheerio Peanut Treats are incredibly moreish and so easy and quick to make!
PIN my Vegan Cheerio Peanut Treats to make later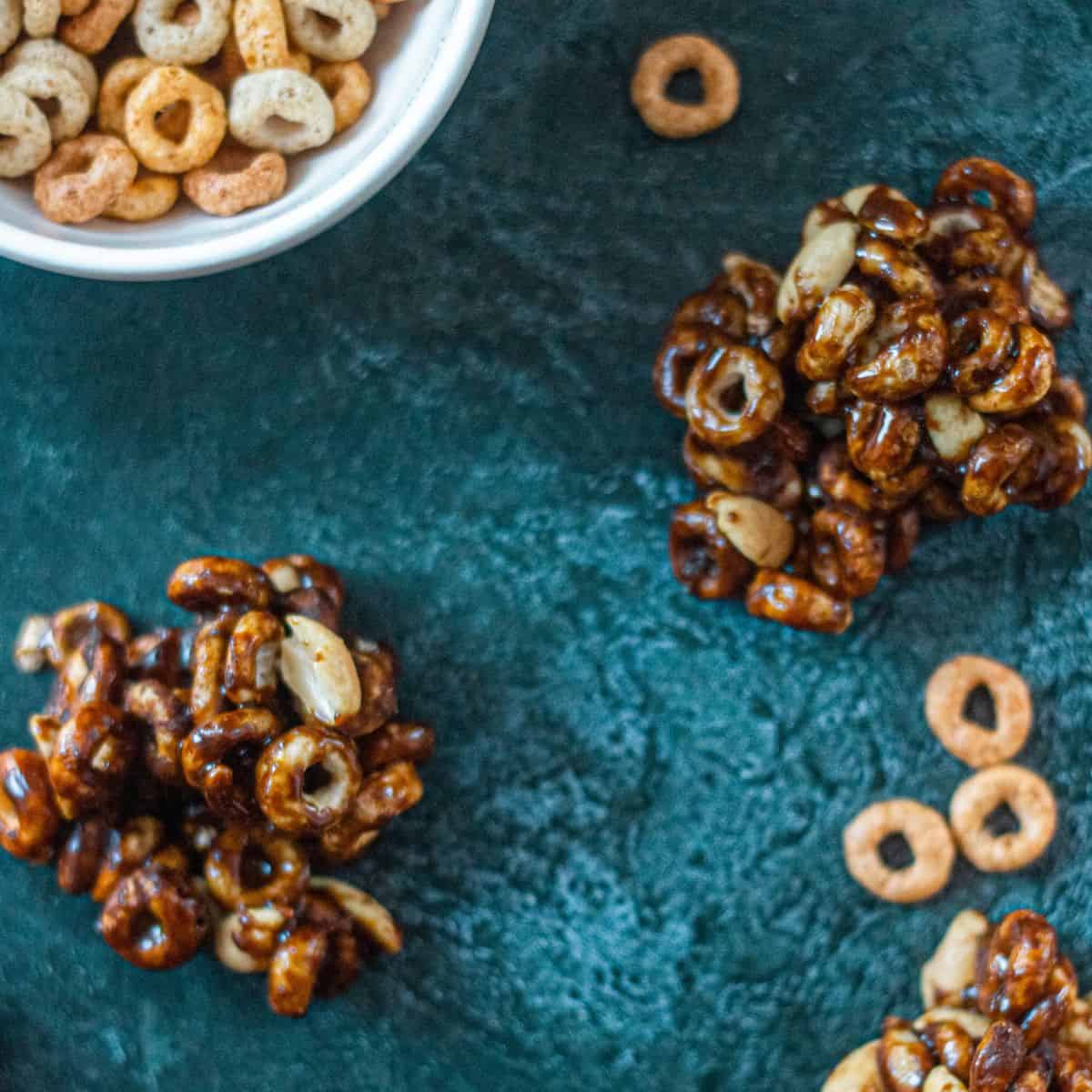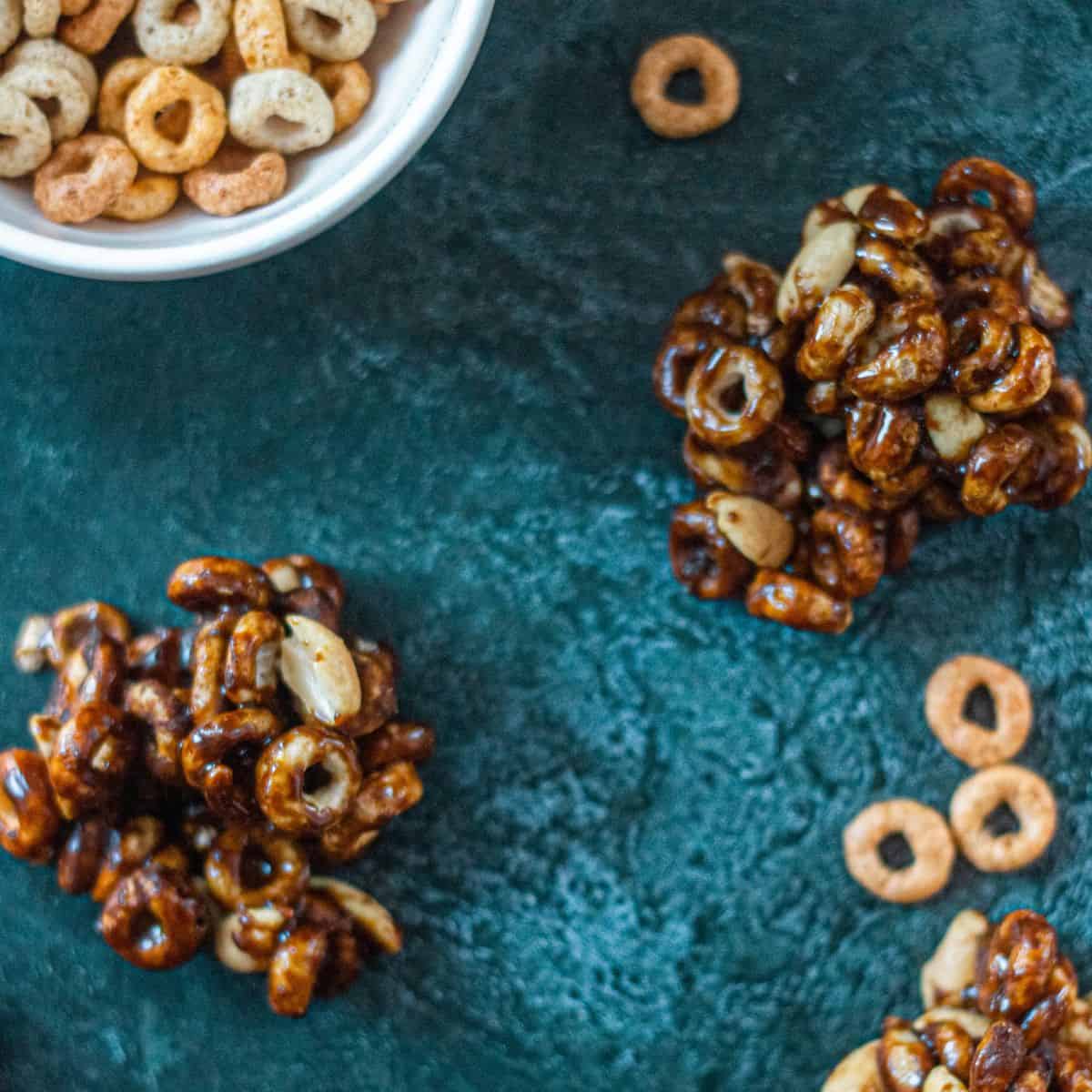 These are obviously delicious whatever time of the year, but they make an unusual addition to the festive selection of sweets and are a great gift too! They last a surprisingly long time, and seem to improve in flavour as well!
This was inspired by my hot buttered cheerios and my vegan puppy chow!
Jump to:
Regular readers of my site will know that I love reading vintage cookbooks (1950s/60s era is my favourite), and I have an enduring love for the Pillsbury Bake-off pamphlets. And that is where I found this recipe. What caught my eye was the fact that it used Cheerios, and I had a box of cheerio-style cereal that I had bought for another recipe. I am not a big cereal eater, so the box will stay half full until I find another recipe to use them in!
So, to make these crunchy treats requires not too much effort at all, but it does require a sugar (or culinary) thermometer to ensure that the coating is the correct consistency when you pour it over the cereal and nuts.
Adding the bicarbonate of soda to the cooked caramel is an essential step which stops the caramel setting really hard. The air bubbles caused when the bicarb is stirred in, give the coating a less brittle texture, aerating the caramel.
Because of the molasses, these treats are not as sweet as you might think. Molasses has an almost smoky flavour that really is divine in these treats.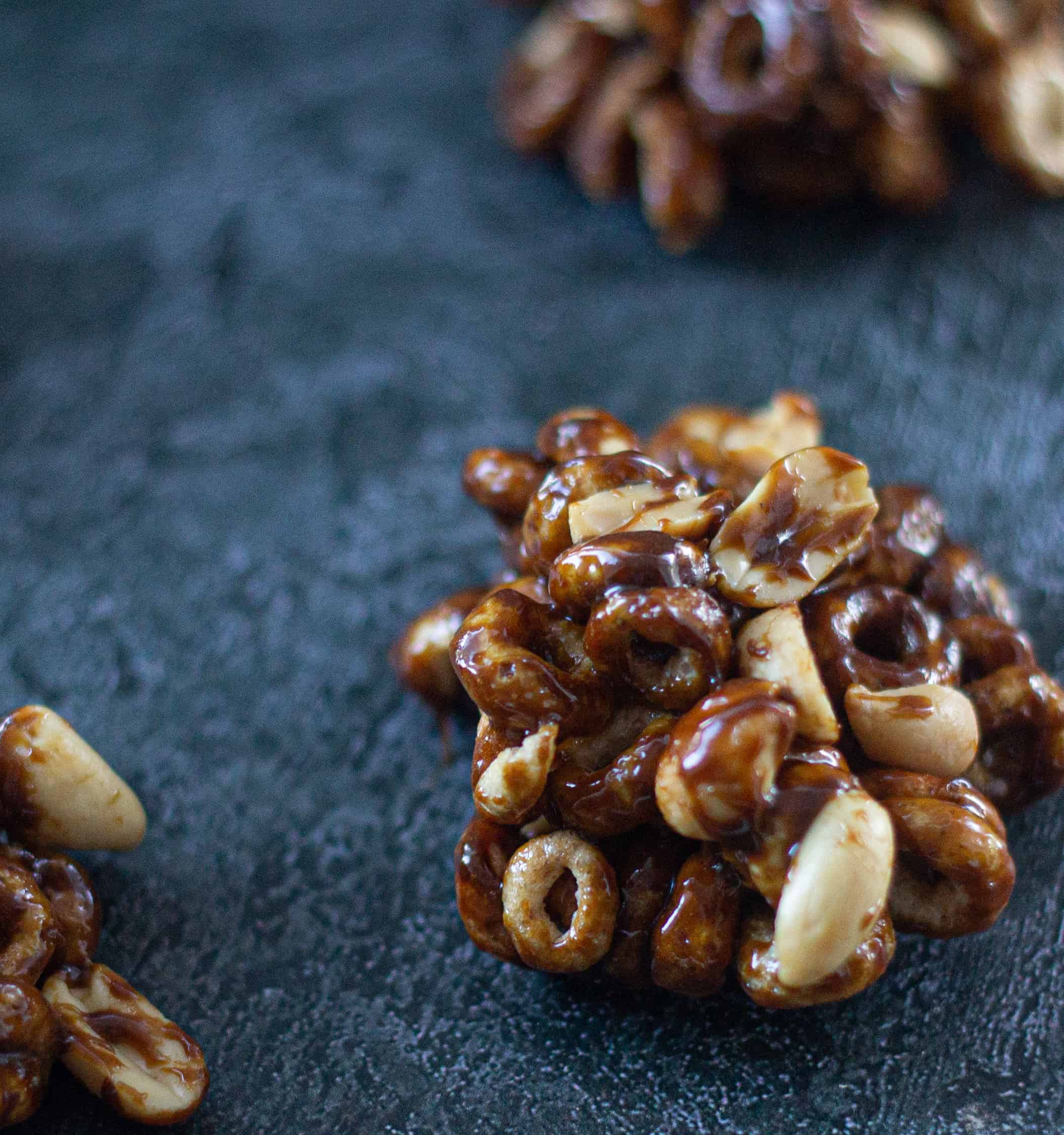 Ingredients
Cheerios (or similar cereal)
Salted Peanuts
Molasses
Brown Sugar
Bicarbonate of Soda
Apple Cider Vinegar
(This is ONLY a list of ingredients for the recipe; please see recipe card below for complete printable recipe. Or if you use the JUMP TO RECIPE at the top of the page, it will take you directly to the complete recipe.)
Instructions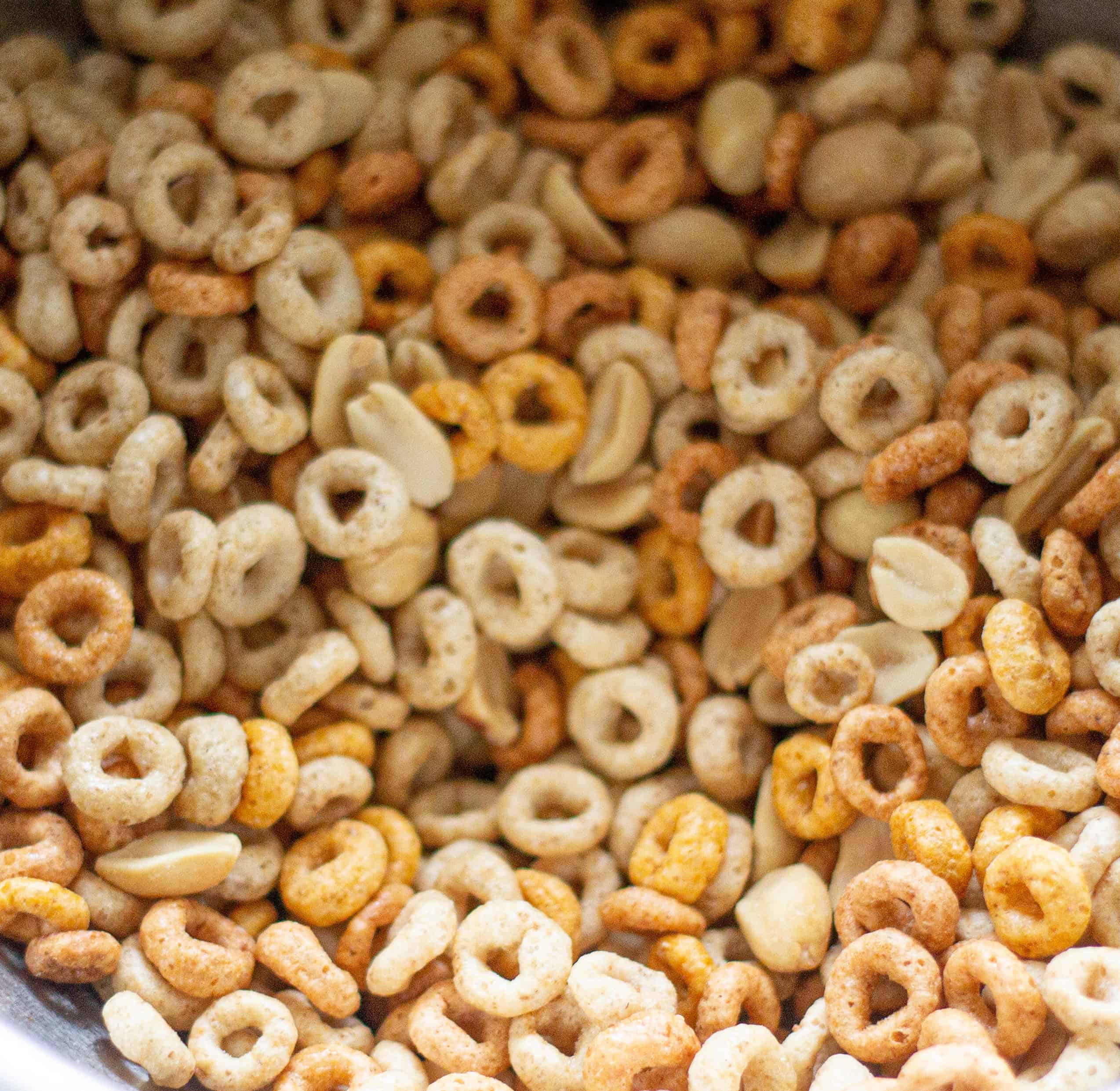 Mix the Cheerios and salted peanuts together in a large, oiled bowl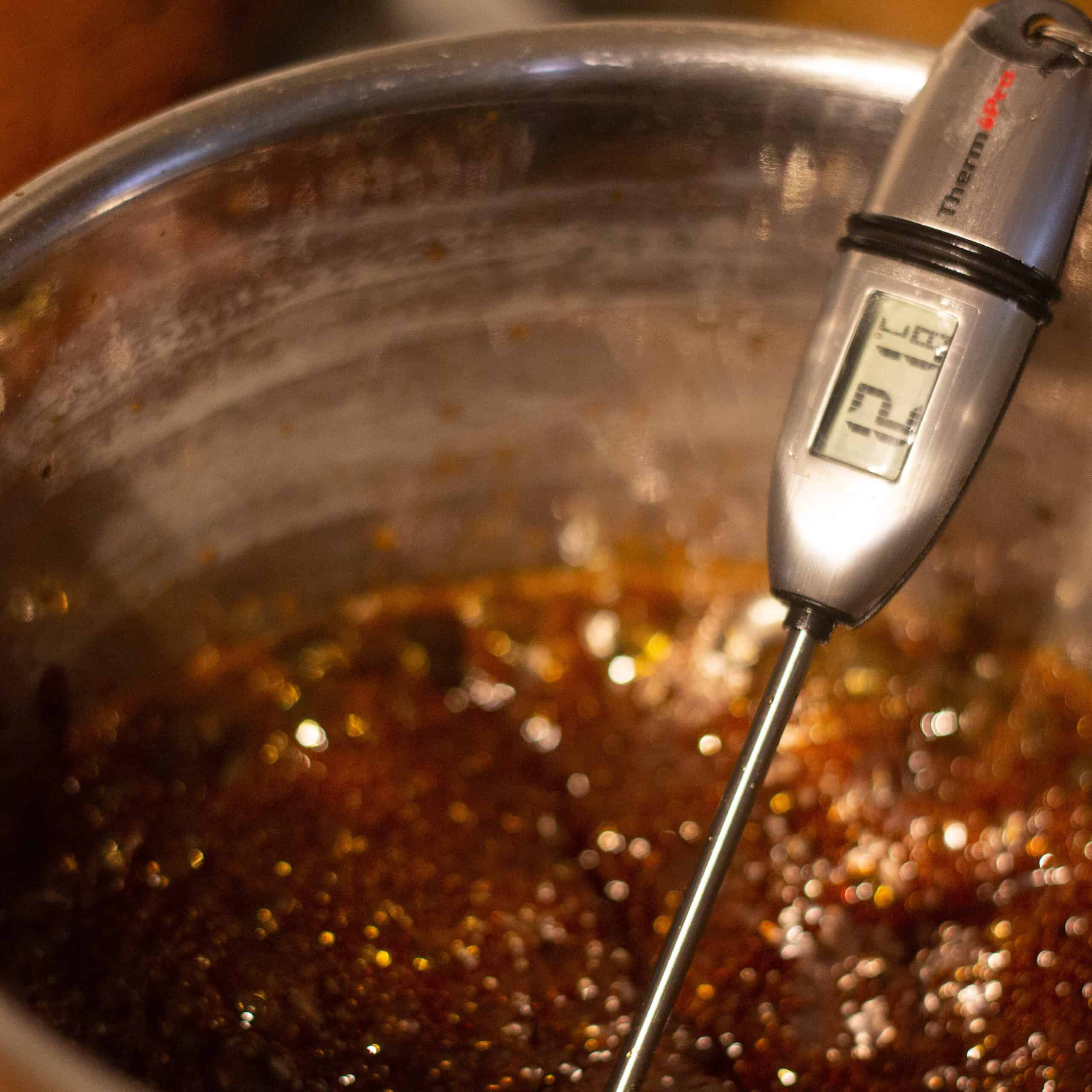 Heat the sugar, molasses, water and vinegar in a large pan until it reaches 250f.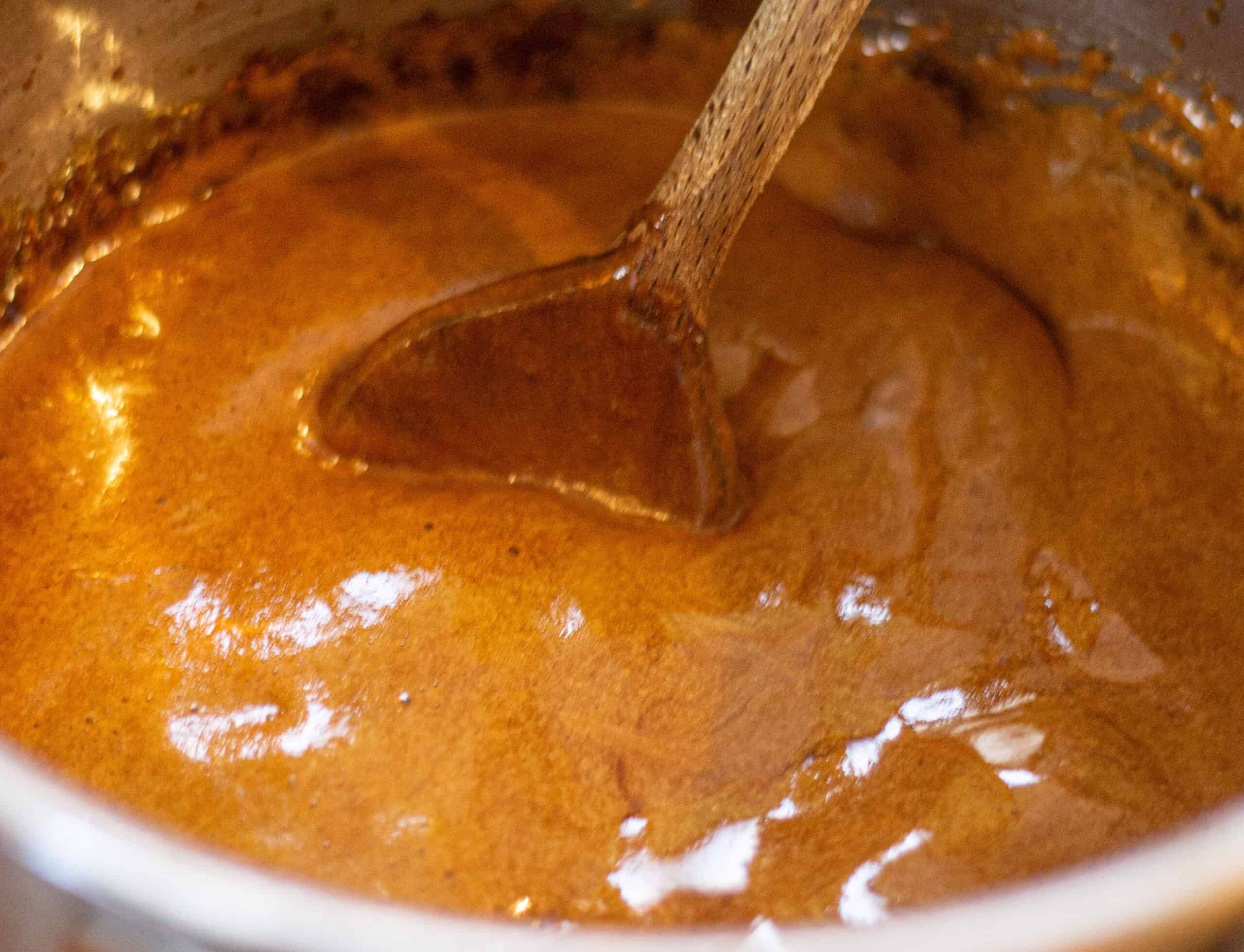 Add the bicarbonate of soda to the caramel and mix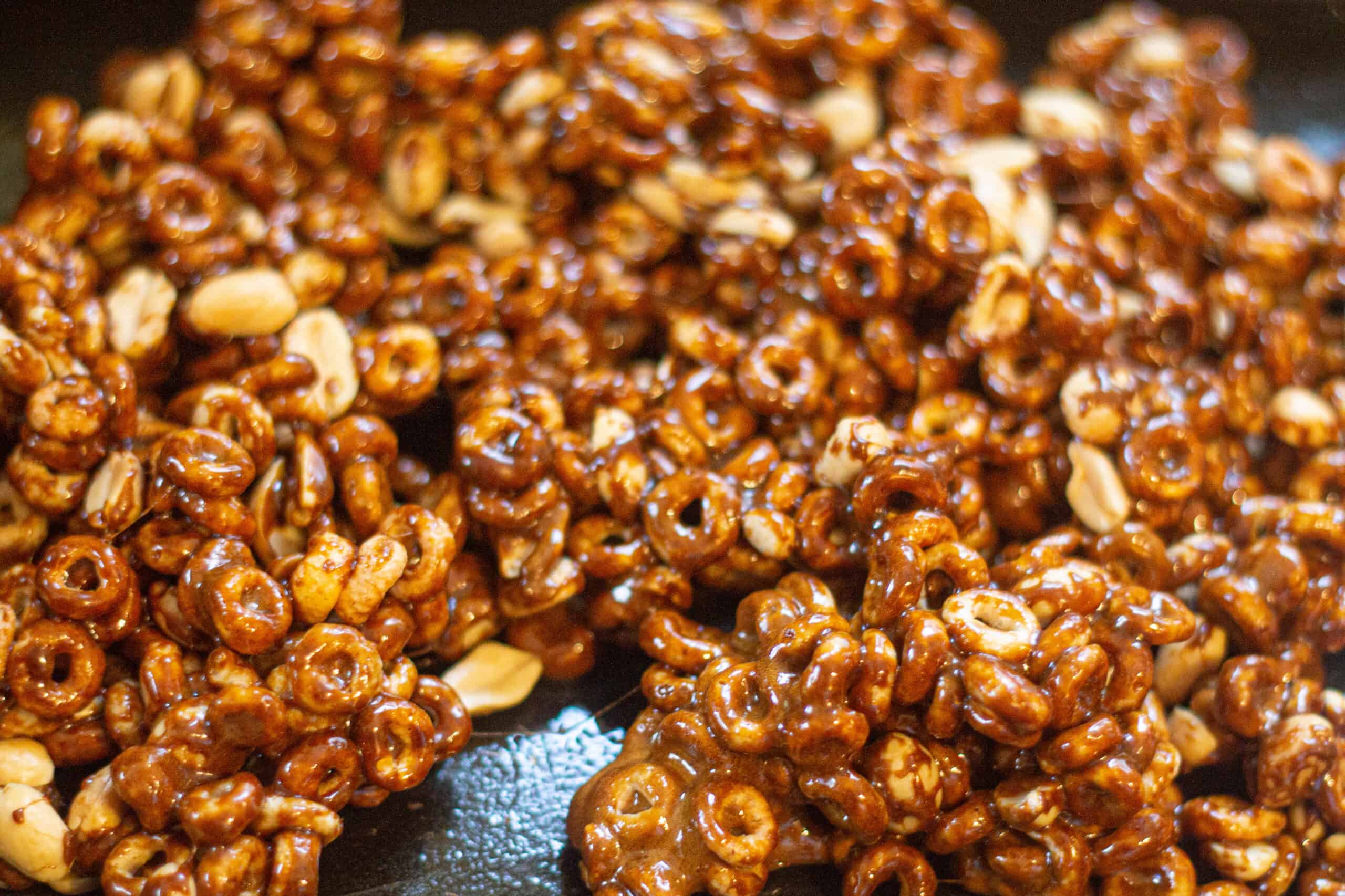 Pour over the nuts and cheerios and mix well
Hint: whilst the treats are cooling, quickly fill the used saucepan with some very hot water to make cleaning it out easier!
Substitutions
Peanuts - use a different type of nut or omit the nuts altogether and use sunflower seeds instead. Alternatively, make up the difference with more cheerios.
Molasses - use golden syrup (UK) or corn syrup.
Variations
fruity - add some chopped dried cranberries or raisins to the mixture along with the nuts!
Equipment
I use this food thermometer for quick and accurate measuring of caramel.
Storage
Store the cooled treats in an airtight tin, good for at least 7 days (although may get stickier with time, depending on temperature)!
FAQ
Are Kelloggs Cheerios vegan?
I discussed the vegan Cheerios topic on a recent post, here. Unfortunately, there is only one type of Kelloggs Cheerio that is vegan (the low-sugar oat variety), so I suggest sourcing that one, or using an alternative brand of cereal hoops.
Related
Looking for other recipes like this? Try these:
📋 Recipe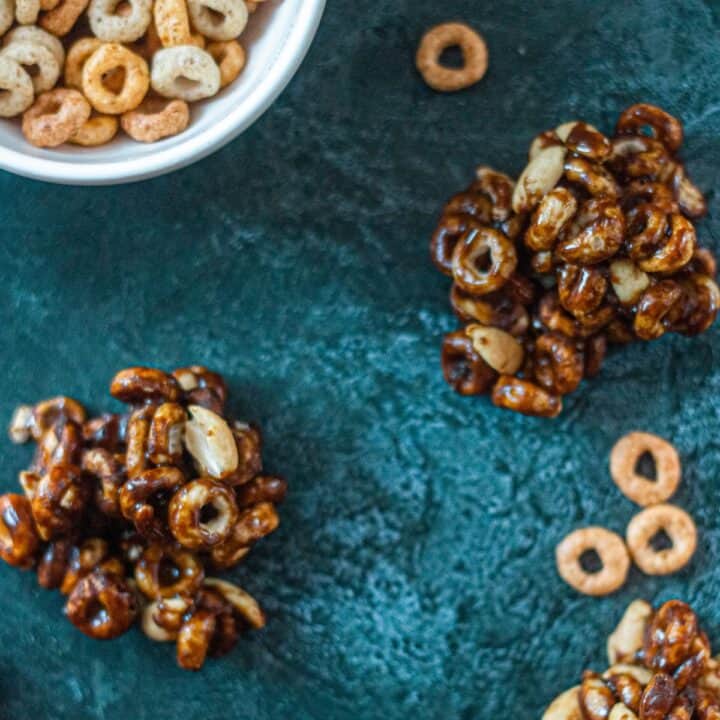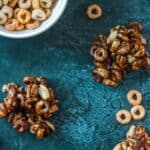 PRINT
Vegan Peanut Cheerio No Bake Treats
A crunchy, sweet and sticky treat that's easy and quick to prepare and very yummy to eat!
Equipment
1 large baking sheet, lightly oiled

1 large mixing bowl, lightly oiled

1 Cooking or candy thermometer
Ingredients
2

cups

Cheerios

we use the low fat oat Cheerios or an alternative brand (see note in post)

¾

cup

Salted Peanuts

chopped coarsly

⅓

cup

Molasses

or golden syrup

¾

cup

Brown Sugar

1

tablespoon

Vinegar

I use apple cider

¼

cup

Water

1

teaspoon

Bicarbonate of Soda
Instructions
Place the Cheerios and chopped peanuts in the oiled mixing bowl and combine. Set to one side.

In a large heavy bottomed saucepan, heat the brown sugar, molasses, water and vinegar until it reaches hard ball stage (120c/250f). This should take less than 5 minutes.

Quickly but carefully remove the pan from the heat and stir the bicarbonate of soda into the caramel using a wooden spoon.

It will lighten up in colour and look foamy.

Quickly pour this over the Cheerio/nut mixture and mix thoroughly until everything is coated.

Pour onto your large oiled baking sheet.

Leave to cool for a minute or two before you are able to handle the mixture (it cools off surprisingly quickly).

Whilst you wait, run some really hot water into the caramel pan to clean it off. Or put it in the dishwasher if you have one!

Once you are able to easily handle the mixture, gently ease it into small piles pressing together any bits that have come unstuck. Leave to cool completely.
Nutrition
Nutrition Facts
Vegan Peanut Cheerio No Bake Treats
Amount per Serving
% Daily Value*
* Percent Daily Values are based on a 2000 calorie diet.
Nutritional Information Disclaimer
The automated nutritional information on my recipes can often be inaccurate due to the limitations within the programming. For exact measurements, there are lots of apps and websites that can calculate this information more accurately.
Tried it and Loved it?
Mention @sweeterthanoats or tag sweeterthanoats!
Food safety
Cook to a minimum temperature of 165 °F (74 °C)
Don't leave food sitting out at room temperature for extended periods
Never leave cooking food unattended
Use oils with high smoking point to avoid harmful compounds
Always have good ventilation when using a gas stove