Easy Vegan Hot Buttered Donut Cheerios
Inspired by the internet and so easy to adapt, this addictive snack of hot butter toasted cheerios coated in cinnamon sugar should not be served very often but it is a wonderful treat!
PIN my Vegan Donut Cheerios to make later
You could eat these hot buttered cinnamon cheerios all year round, but with the cinnamon spices, this feels like a really Autumnal/Winter treat.
This was inspired by my vegan puppy chow, and my no-bake molasses cheerio treats, this is a great snack for game night or if you're chilling watching the latest crime documentary on Netflix. I enjoyed these Donut Cheerios the other night whilst re-watching Mindhunter. I'm absolutely gutted that it hasn't been commissioned for a third season. Now I'm holding (or holden) out for a movie instead.
What are Donut Cheerios?
Somebody somewhere on the internet had the amazing idea of coating toasted Cheerios in cinnamon sugar, kind of like a donut, and this is possibly one of the best snacks ever. Not quite as good as the vegan puppy chow, but it's up there. And you can control the sugar and butter quantities to make them not too naughty a treat. And one cheerio has much less calories than a donut…
Are Cheerios Vegan?
Whilst researching what cereals are and aren't vegan, it was brought to my attention that some of the cereals fortified with vitamins are not vegan, notably those containing vitamin D3, which is derived from lanolin (a by-product of sheep's wool production). Unfortunately, in the UK and the US, Cheerios do contain Vitamin D3 (except for their Low Sugar Oat Cheerios).
A quick search of several UK supermarkets, however, yielded none of the Low Sugar Oat Cheerios, so I am not sure if they are discontinued. However, Sainsburys do their own variety, Hooplas, and so do Doves Farm (Ancient Grain Cereal Hoops). I am sure other stores do their own versions as well. If you see Vitamin B2 written on the box, that is plant-derived, and therefore fine for vegans!
Ingredients
cheerios (vegan)
vegan butter
vanilla and cinnamon
sugar
Instructions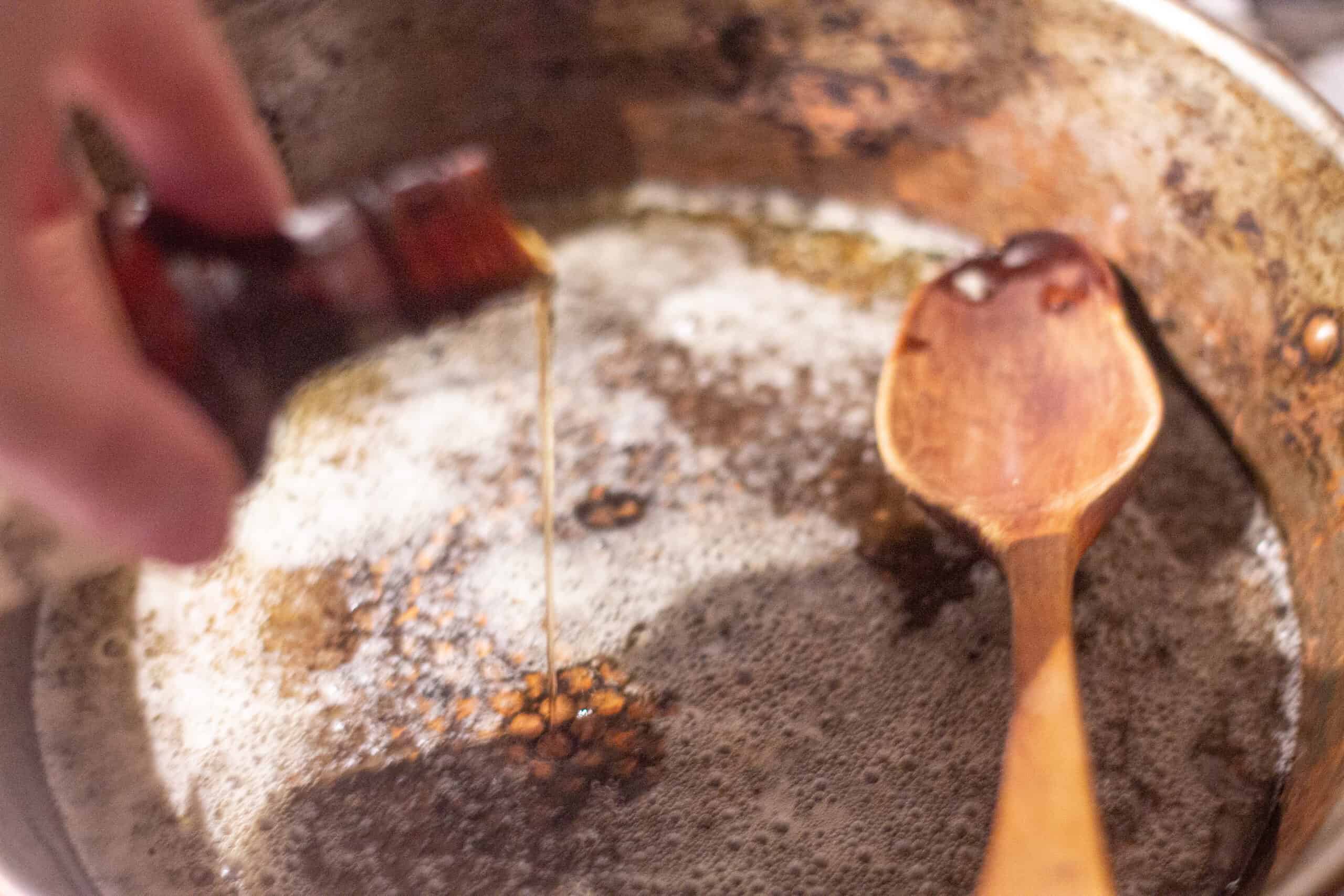 Melt the butter in a frying pan or skillet and add a dash of vanilla extract
Stir in the cheerios and coat thoroughly in the butter
Toast for 5 minutes until golden brown (oops, burnt a couple)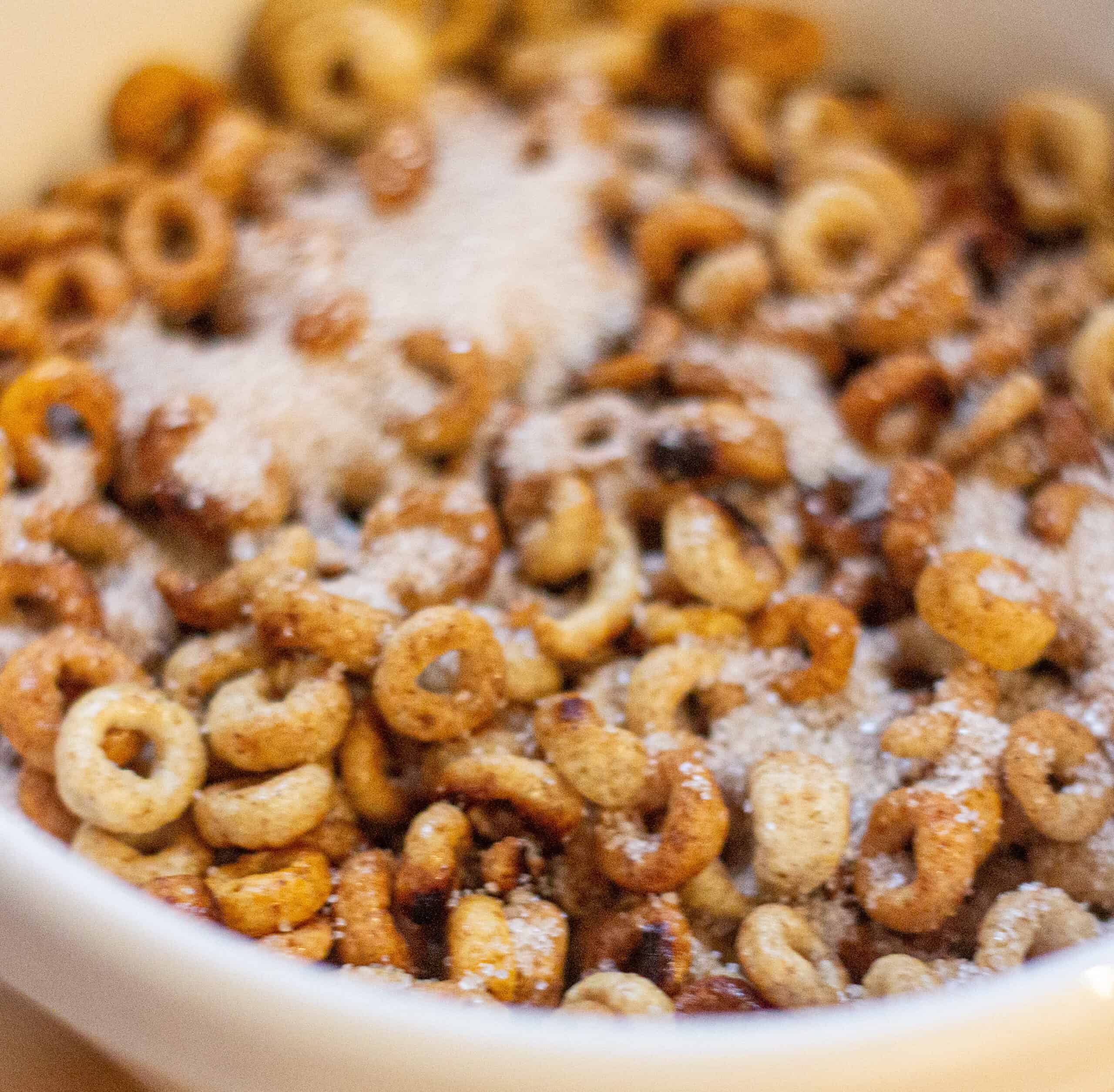 Sprinkle with cinnamon sugar and serve
Hint: try adding half the sugar to start, then tasting and seeing if you need to add more.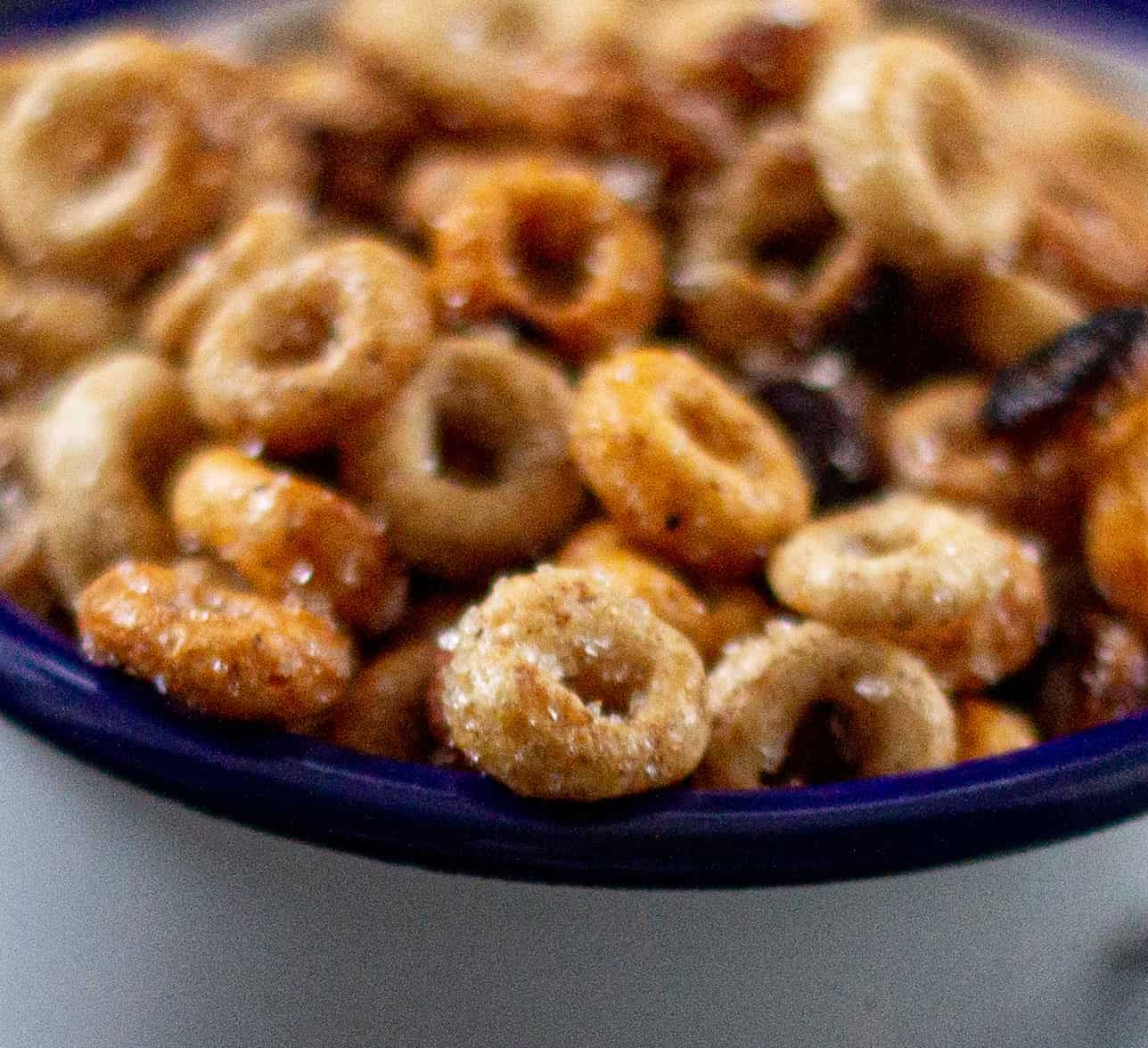 Substitutions
Cheerios – use a gluten free brand or any other brand to suit your diet
Cinnamon – omit if you don't like cinnamon!
Storage
Store the toasted cheerios in an airtight container for a few days!
Top tip
Do not leave the frying pan unattended as these little babies will catch really quickly and a couple of burnt cheerios will spoil the taste of the batch.
Vegan Donut Cheerios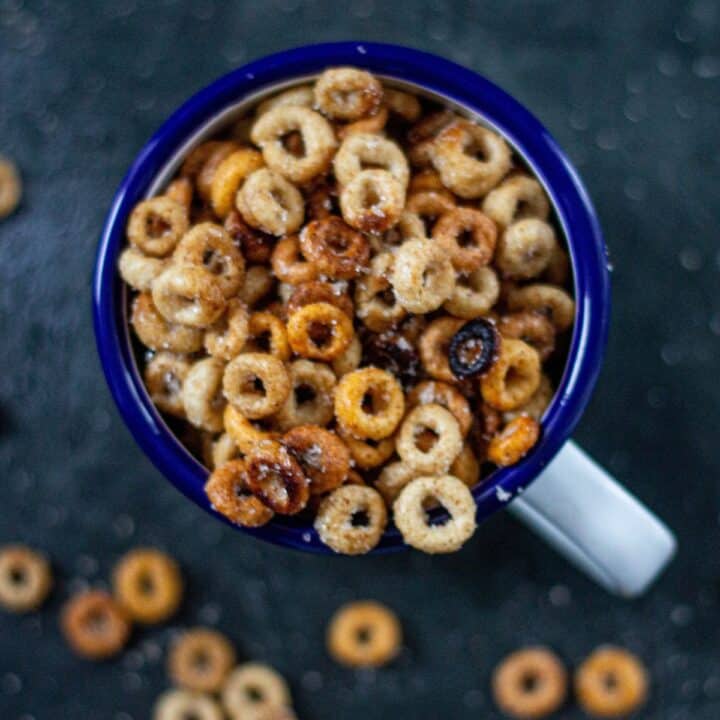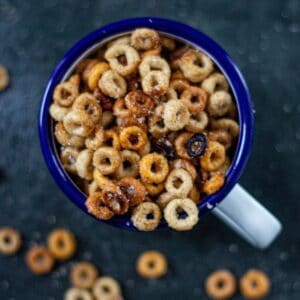 A super quick and delicious treat for all you cereal lovers out there!
Ingredients
2

cups

Cheerios

-

vegan or supermarket own brand

30

g

Butter

-

vegan

½

tsp

Vanilla Extract

¼

tsp

Cinnamon

-

optional

⅓

cup

Sugar

-

white, granulated
Instructions
Melt the butter over low heat in a frying pan or skillet.

Mix the sugar and cinnamon together in a little bowl.

Now add the cheerios. Cook over medium heat, turning all the time, until you see the cheerios starting to look toasty. Do not leave unattended as they will scorch and burn really quickly! This will take about 5 minutes.

Place the toasted cheerios in a mixing bowl and sprinkle with the cinnamon sugar mixture.
Please note that where the recipe asks for milk, butter or yogurt, this refers to any plant-based version that you prefer.
Nutrition Facts
Vegan Donut Cheerios
Amount per Serving
% Daily Value*
* Percent Daily Values are based on a 2000 calorie diet.
Food safety
Cook to a minimum temperature of 165 °F (74 °C)
Don't leave food sitting out at room temperature for extended periods
Never leave cooking food unattended
Use oils with high smoking point to avoid harmful compounds
Always have good ventilation when using a gas stove
See more guidelines at USDA.gov.