Vegan puppy chow recipe. Sweet, crunchy, chocolatey, what's not to love? This classic American snack is quick and easy to make!
I first heard about this strange looking, strange named snack a couple of years ago. An Instagram friend from California had made a huge bowl for the holidays. This bowl contained white, dusty coated squares of something or other and I had never seen anything like it before. I asked Kate, what on earth is that, and she explained that Puppy Chow is a cereal-based snack, coated in chocolate, peanut butter and a LOT of icing sugar.
If you love other cereal treats, try my cinnamon donut cheerios and my molasses cheerio treats!
Jump to:
I mentally made a note to look up how to make Puppy Chow, but then forgot all about it, and so here I am in January, on a sugar detox, making a bowl of this sugary delight.
What is Puppy Chow?
If you're from outside of the Americas, you may never have heard of it. Puppy chow is a sweet snack, also referred to as Muddy Buddies, made from an American cereal called Chex. Now us Brits don't have Chex. However, we have Shreddies, which are an oat-grain based cereal, flavoured with malt. They're not too sweet, but have a firm, unrelentingly crisp texture.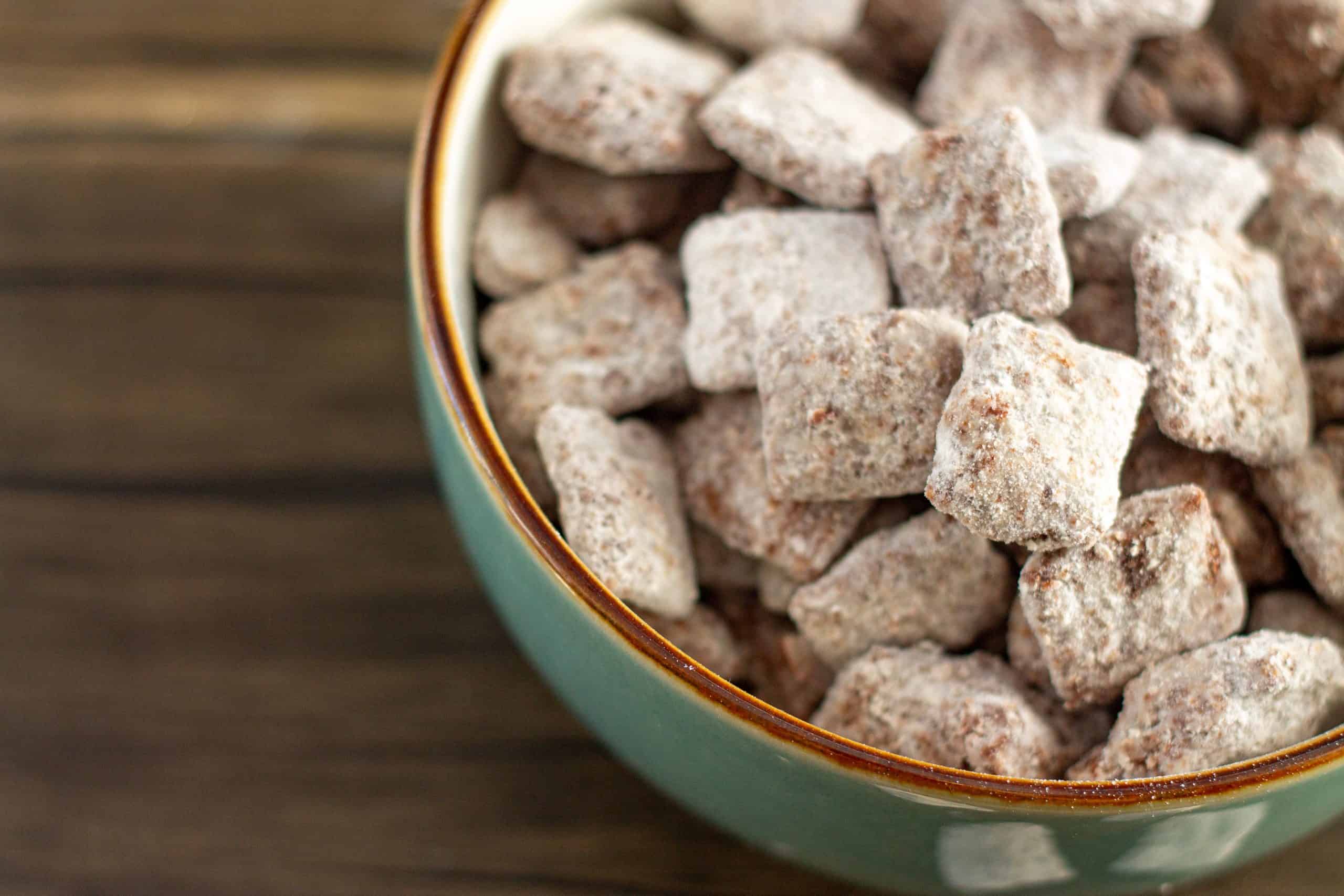 The cereal is coated draped in melted chocolate and peanut butter, then doused with icing sugar, giving it the white, powdery finish.
So yes, this is not a snack for the faint of heart, it is very calorific, very delicious, but, because the pieces are small, you can be strong and restrict yourself to only three handfuls a day....!
How do you make Vegan Puppy Chow?
It's easy! And very similar to traditional recipes. Melt dark chocolate chips (I always use Callebaut 811 semi-sweet chocolate chips that do not contain milk) and peanut butter with some vegan butter. I'm currently using Flora Plant-Based, but whatever your preference is. Pour this over your Shreddies and coat thoroughly.
Tip: leave to cool for a couple of minutes or until at room temperature. If the chocolate mixture is still hot, when you add the icing sugar, it will just melt and soak into the chocolate rather than coat it.
Dust liberally (and I mean liberally) with icing (confectioners) sugar until you have an ethereal looking bowl of this divine treat. You can knock up a batch in less than 15 minutes.
(This is ONLY a list of ingredients for the recipe; please see recipe card below for complete printable recipe. Or if you use the JUMP TO RECIPE at the top of the page, it will take you directly to the complete recipe.)
Substitutions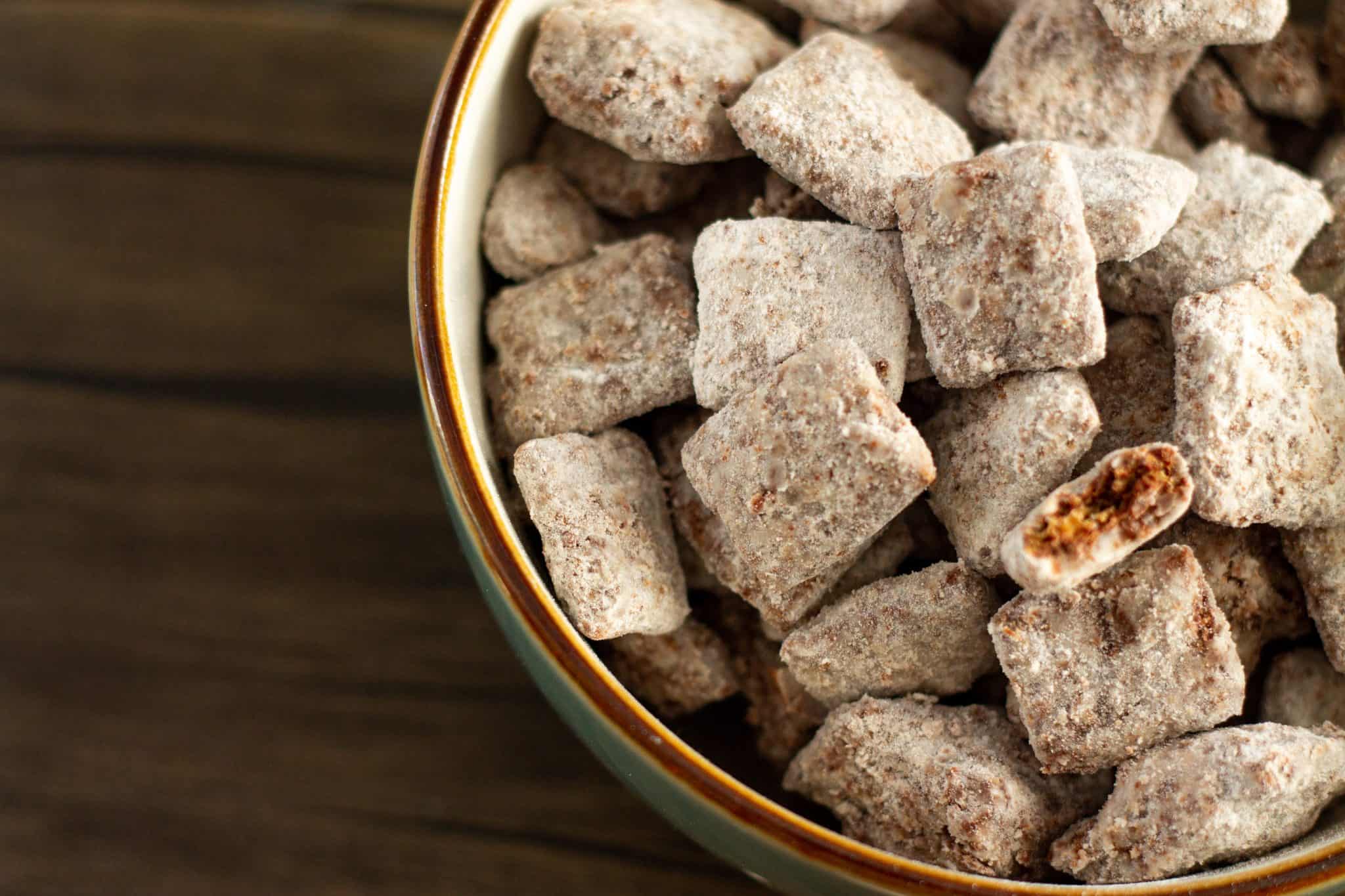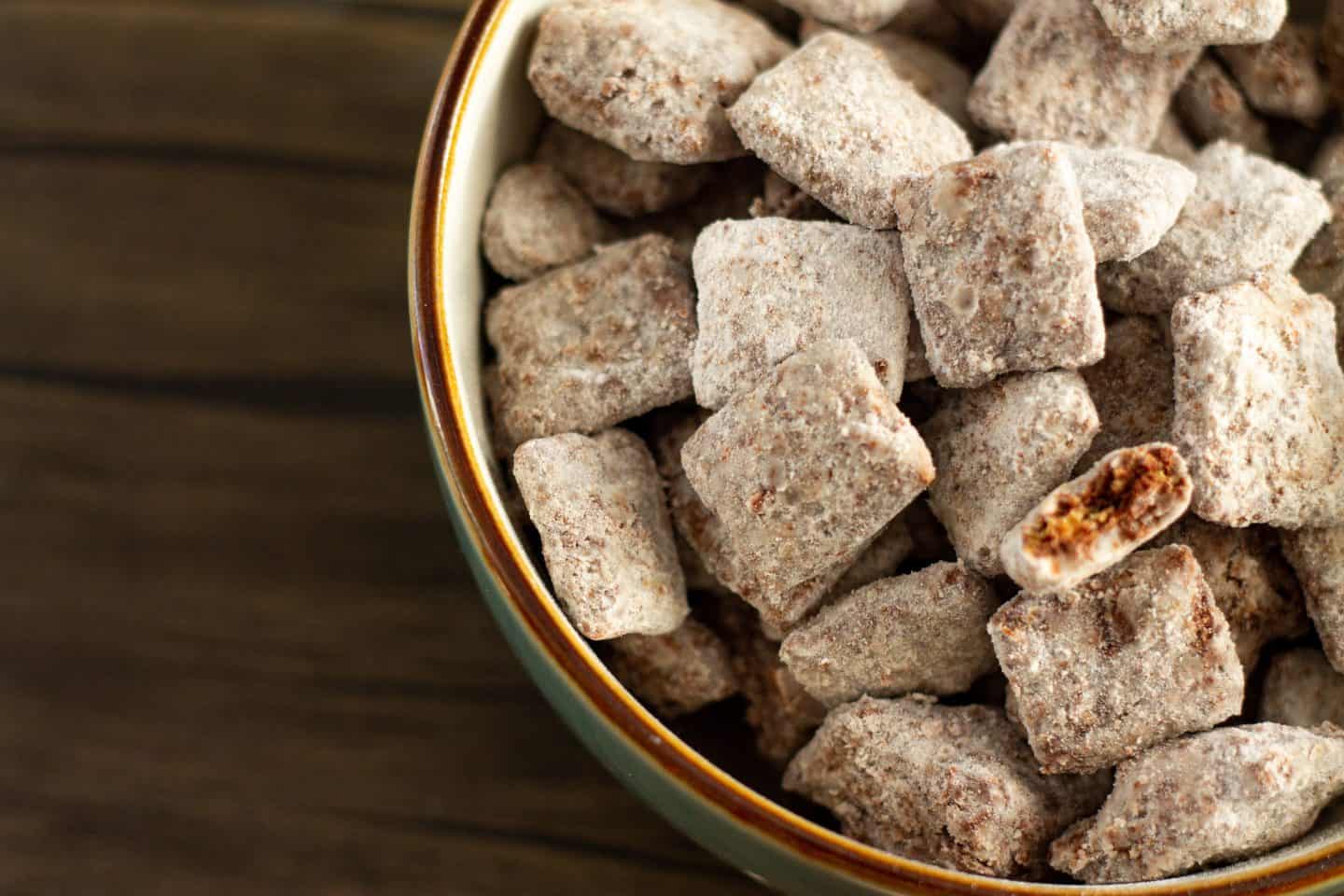 Chocolate. You can use different chocolate of varying percentages. 70% will give you a darker, richer flavour, but I'm not sure it's worth it for something you'll be smothering in icing sugar.
Peanut Butter. You can use whatever nut butter you prefer. I used supermarket own brand in smooth, purely because I'm a bit of a heathen when it comes to PB, and I do like the cheap stuff! If you have a nut intolerance, you could use seed butter instead.
Cereal. Obviously if you are reading this and you are in the US, you will have a variety of cereals at your disposal, including both Chex AND Shreddies. I have read other recipes that use Cheerios too. You could use Shredded Wheat Bitesize too. I would recommend using an unsweetened cereal, purely because of all the additional sugar you are adding, it will just be one layer of sweet too many!
Sea Salt. Now I add a good pinch of Maldon sea salt to my melted chocolate. This is because the Peanut Butter I used was on the sweeter side, and I wanted to balance out the flavours a bit more. This is optional, but does round out the end flavour.
Vanilla Extract. What sweet dish isn't enhanced by Vanilla Extract? However, omit if you don't have or you dislike the flavour.
Add-Ins. Some recipes add M&Ms or mini marshmallows, or salted peanuts, so feel free to add any little extras at the point of stirring the melted chocolate over the cereal. It's hard to find vegan versions of things like M&Ms that are reasonably priced, so I personally wouldn't bother, but if it's for a special occasion, I think it would be a great little texture note.
Doubling the Recipe. I have made a small batch here. Most recipes use a whole box of cereal which is great for family gatherings. The main ratio to remember is that you need the same weight of chocolate as you do cereal. So, 500g of cereal = 500g chocolate chips. The rest of the ingredients, simply double. The icing sugar is a little more inaccurate as it depends on how quickly it absorbs into the chocolate coating.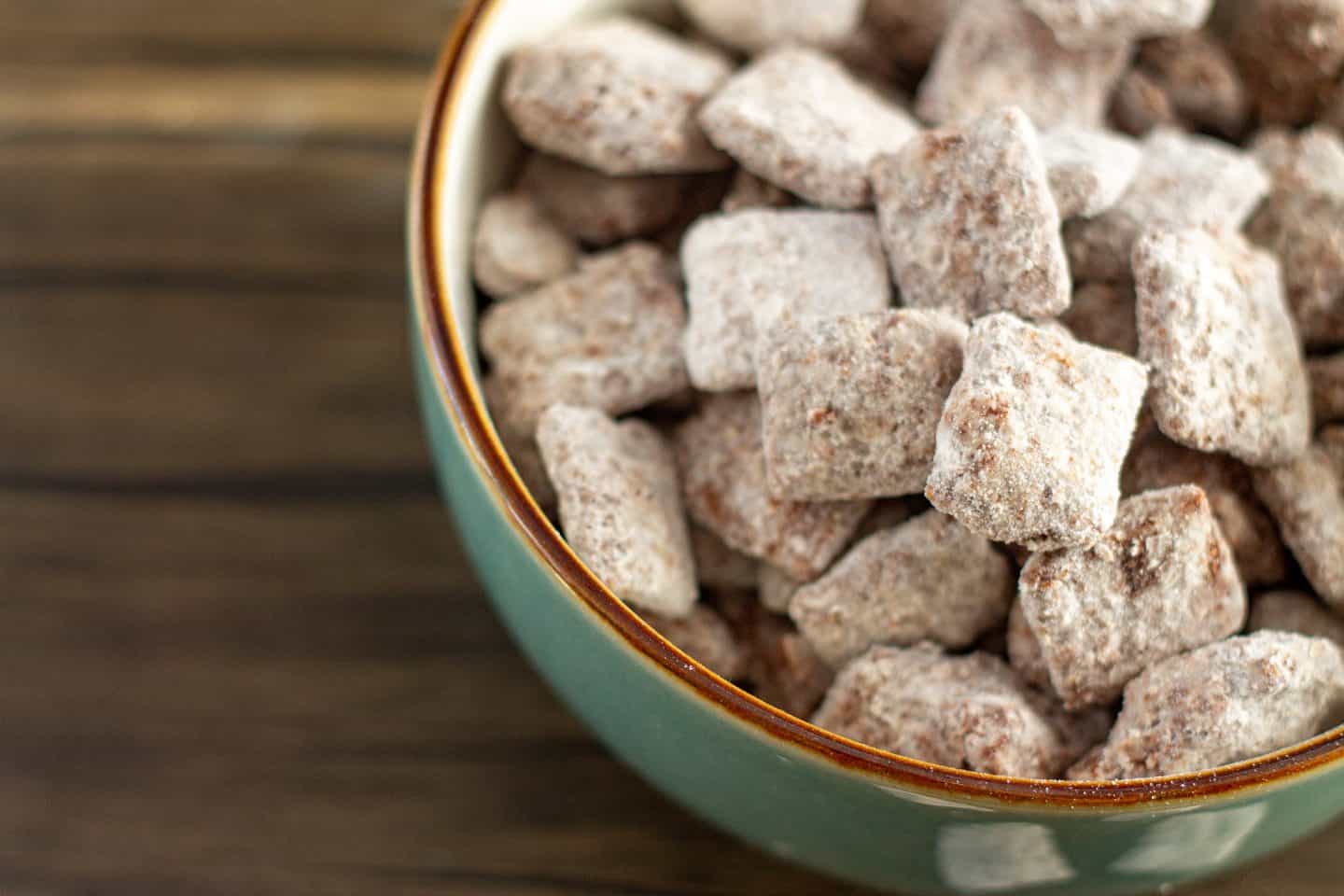 Try my other delicious vegan chocolate recipes
📋 Recipe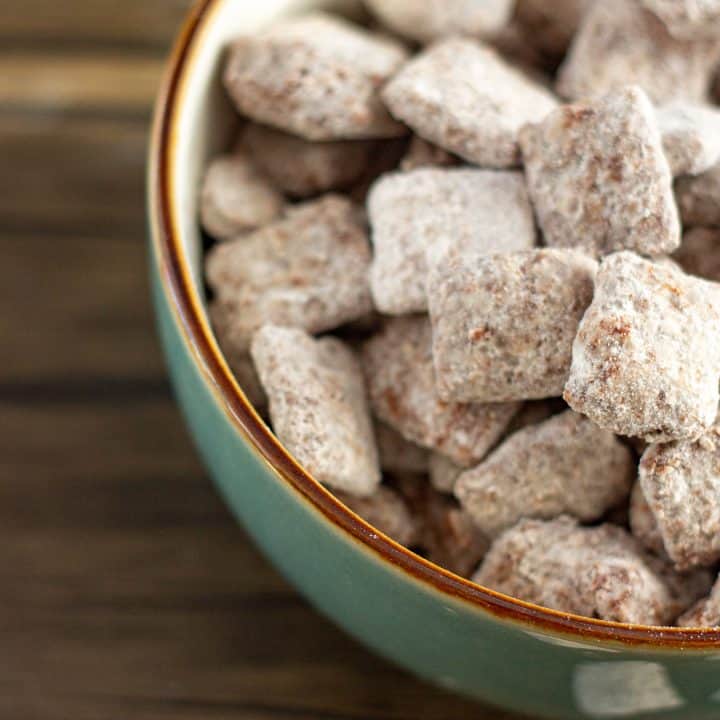 PRINT
A simple vegan recipe for Puppy Chow using UK ingredients. Small batch.
Ingredients
170

g

Chex

or Shreddies (UK)

170

g

Chocolate Chips

Vegan

100

g

Peanut Butter

smooth

55

g

Butter

vegan

¼

teaspoon

Sea Salt

1

teaspoon

Vanilla Extract

300

g

Confectioners Sugar

Icing Sugar
Instructions
Place your cereal in a large mixing bowl.

In a heatproof bowl, place the chocolate chips, butter and peanut butter.

Heat for 1 minute or until the butter has melted. Remove from microwave and stir well. If the chocolate hasn't melted entirely, microwave for another 10 seconds.

Stir in the vanilla extract and sea salt.

Pour over the cereal and mix well until thoroughly coated.

Leave for a couple of minutes to cool to room temperature.

Pour the icing sugar over the mixture and mix carefully, making sure everything is coated. You can give the bowl a little shake to promote stickage.

Store in an airtight tin for up to a week or freeze in a freezer container for upto 6 weeks.
Nutrition
Calories:
413
kcal
|
Carbohydrates:
63
g
|
Protein:
5
g
|
Fat:
17
g
|
Saturated Fat:
7
g
|
Polyunsaturated Fat:
3
g
|
Monounsaturated Fat:
5
g
|
Trans Fat:
1
g
|
Cholesterol:
18
mg
|
Sodium:
341
mg
|
Potassium:
126
mg
|
Fiber:
2
g
|
Sugar:
45
g
|
Vitamin A:
172
IU
|
Calcium:
15
mg
|
Iron:
1
mg
Tried it and Loved it?
Mention @sweeterthanoats or tag sweeterthanoats!