Roasted Beetroot Risotto – Delicious, Rich and Creamy
Delicious vegan beetroot risotto – a bit of a showstopper this one – creamy, rich with beetroot flavour and so simple to make – plus it's vegan!
Inspired by my traditional vegan risotto recipe, this also pairs perfectly with my lavercakes! And if you love beetroot, also check out my velvety vegan borscht or my Austrian beetroot knodel recipe!
I have written about store cupboard essentials and, if like many of us at the moment, you're feeling the pinch, now is a great time to start stocking up the cupboards with dried goods. The end of the month always leads me to utilizing store cupboard stuff from my fridge and cupboards and hence why I love to make a risotto.
I'm a bit fed up with regular risotto as it seemed like it was our staple diet for so many weeks when I had fussy houseguests so I fancied something different.
In the unlikely book, The Fish Store by Lindsay Bareham, I found an unusual recipe for roast Beetroot Risotto. This seemed like it would be a mood enhancer if nothing else, and with some beetroot rapidly going bad in the fridge, I thought, why not?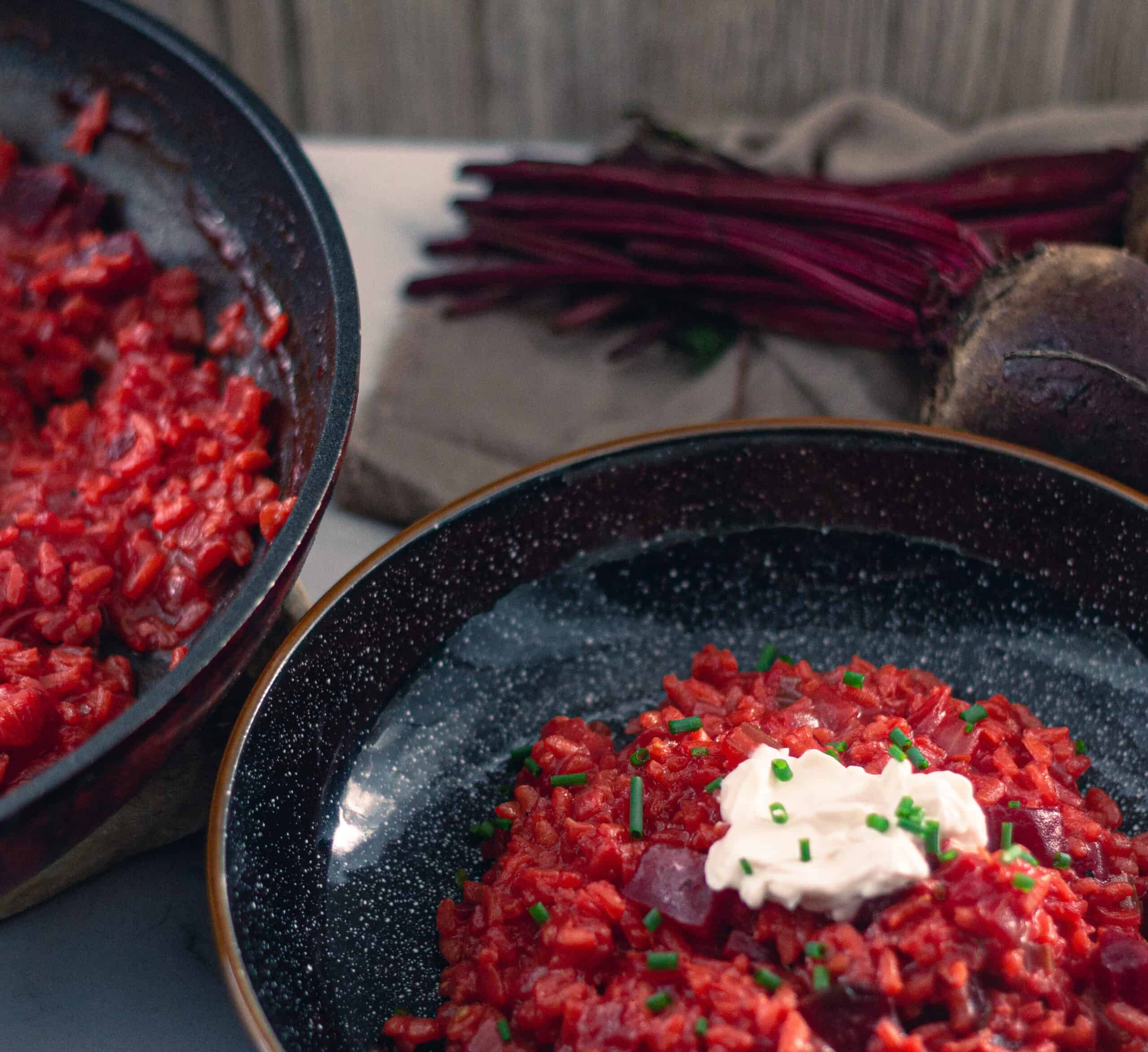 This recipe requires the roasting of the beetroots in the oven, which gives them a wonderful sweet, nutty flavour.
I love Beetroot. I have documented my use of the vegetable on this blog before, here and here. I adore its sweetness, the earthiness and the staining of my fingers. It is a much-underused vegetable in Britain which is a shame. For a country that loves sweet vegetables (carrots, parsnips and sweet potatoes), the beetroot is woefully neglected, other than being served, pickled, with cheese in a sandwich.
This rich beetroot risotto varies from a 'normal' risotto, which is to say this one has a glass of red wine instead of white wine and it also has a good splash of Balsamic Vinegar. It has clotted cream stirred through it at the end and it sharpened up with some lemon juice.
Of course, I didn't have clotted cream so I used up some plant-based natural yogurt, which seems to last forever in the fridge, sprinkled some vegan parmesan which was stirred through and a flurry of chopped chives as a final flourish.
As for the final taste test? My creamy vegan beetroot risotto has a great deal more depth than a regular risotto bianco. This can be alluded to the addition of the red wine (although this is optional, and I often omit it) and the rich, sticky Balsamic vinegar. The lemon juice is a perfect foil against the rich creamy rice.
Color wise, it wasn't the vivid Warhol-esque cerise that I had visions of. By the time the extra cream and butter and parmesan were added, it had become a sort of coral color. Very nonetheless and the flavor was pretty sensational.
Ingredients
beetroot. Roasted is better, but you can use pre-cooked
risotto rice. I like Arborio and I discuss the other types of risotto rice here
vegetable stock. I use Marigold Bouillon powder to make a good flavored broth
See recipe card for quantities.
Instructions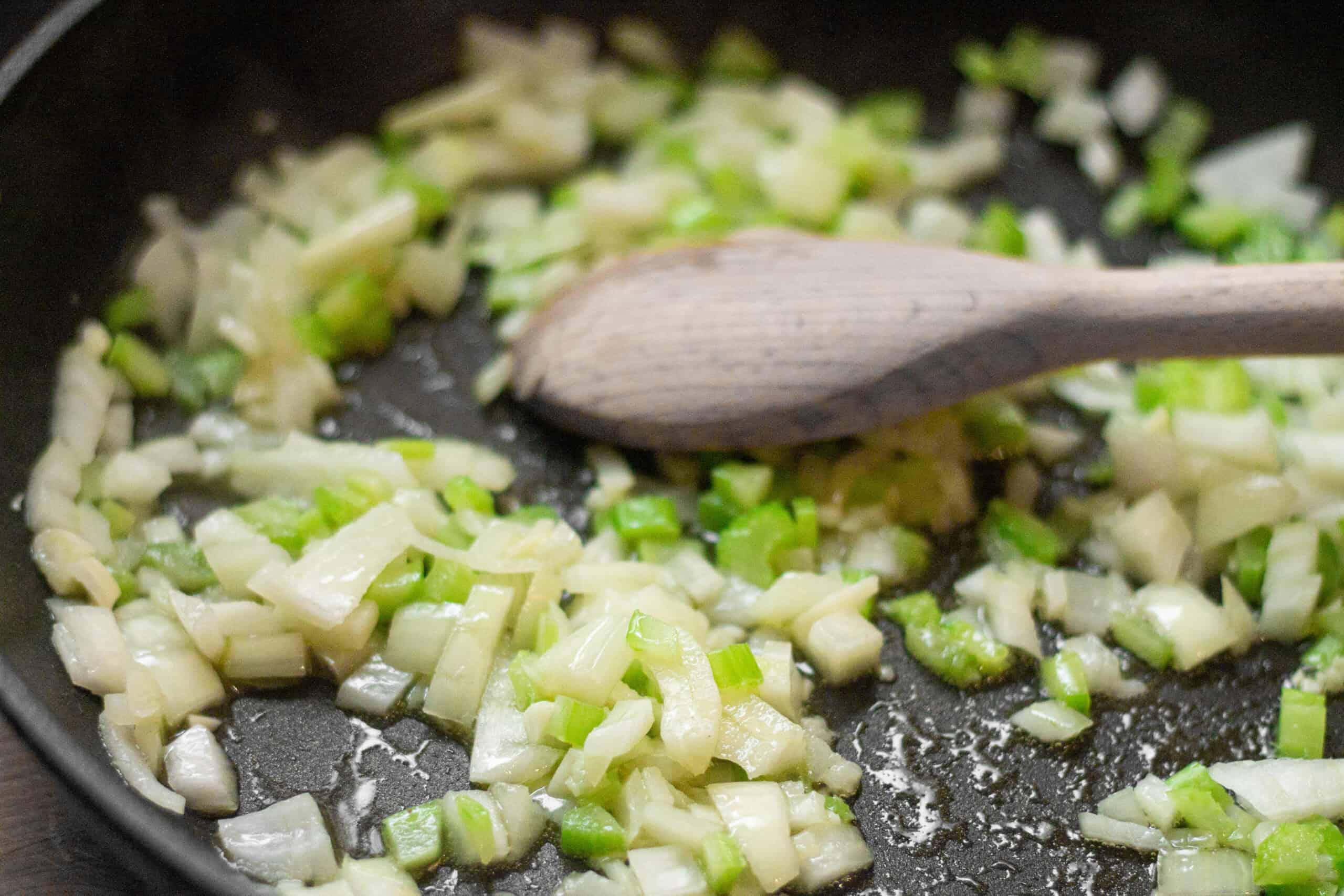 Sauté the onion, garlic and celery in olive oil
Add the risotto rice and coat in the oil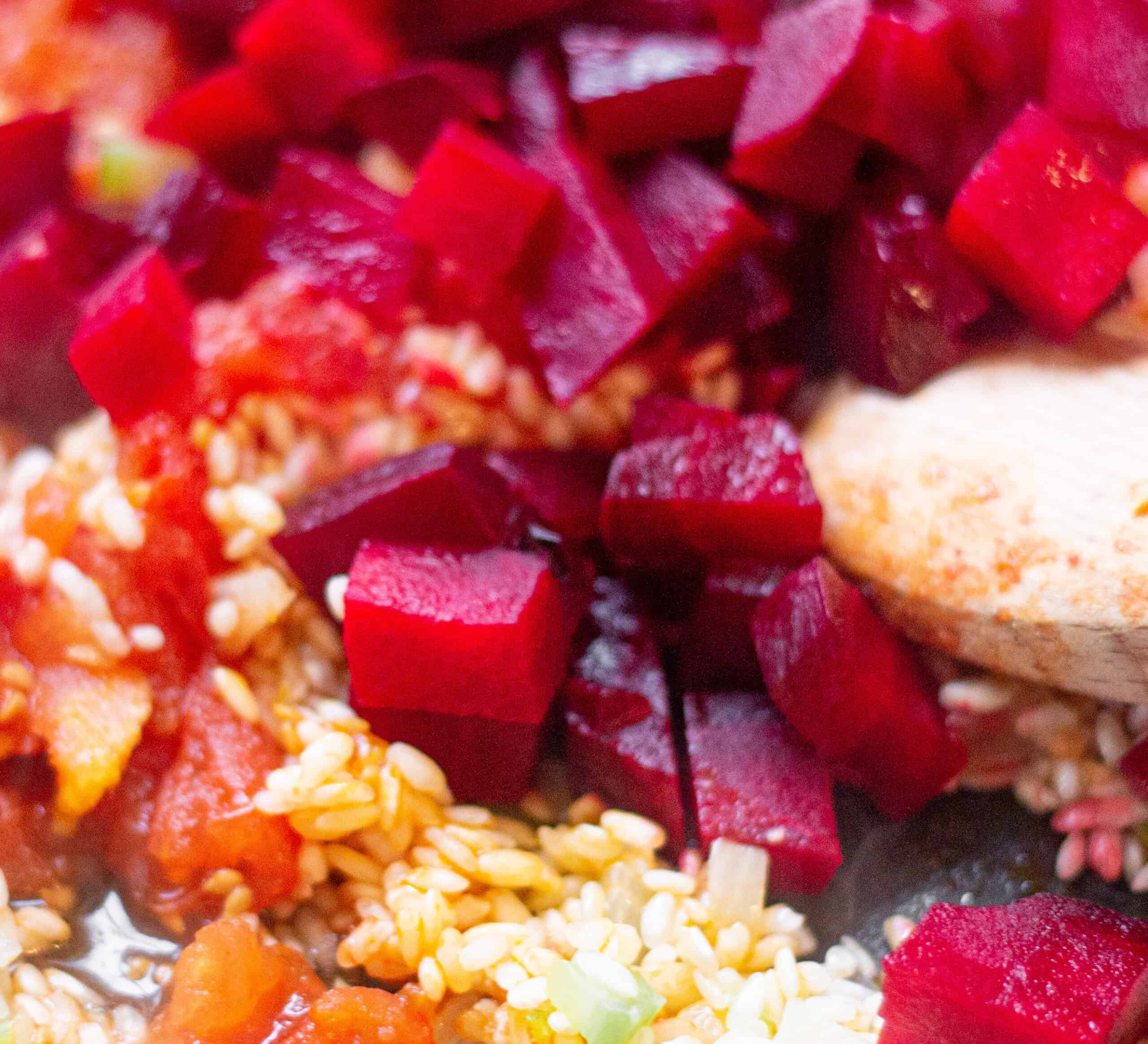 Adding the balsamic vinegar, roast tomato and chopped beets to the risotto
Gradually start adding the stock
See recipe card for full instructions.
Hint: any leftover risotto can be turned into arancini!
Equipment
I love to use my Ninja Foodi Zerostick Frying Pan (shameless affiliate link) for risotto as you don't need to use as much oil, but any heavy based frying pan or skillet is perfect.
Storage
I don't find reheating risotto to be very successful, so I'd suggest turning any leftovers into arancini instead!
Top tip
I don't particularly like al dente risotto, so I cook it a little bit longer to get it to the texture I enjoy. Don't feel you have to eat something a certain way because it is tradition.
Roasted Beetroot Risotto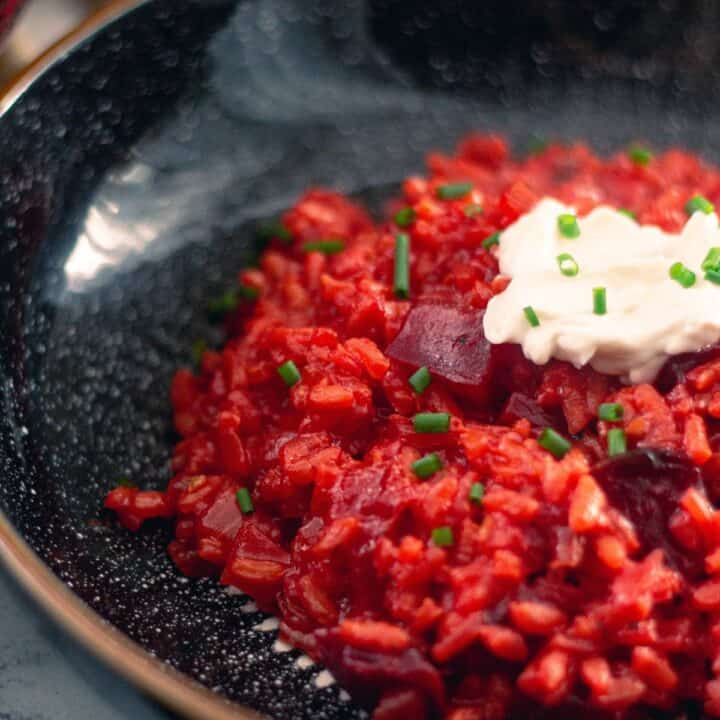 A deliciously earthy and creamy risotto, guaranteed to convert the most ardent beetroot hater!
Ingredients
4

Beetroot

roasted (wrapped in foil, unpeeled and baked for 30 minutes at about 200c)

4

Tomatoes

large, halved, depipped and roasted at the same time as the beetroot.

40

g

Vegan Butter

1

tablespoon

Olive oil

200

g

Arborio Rice

1

Onion

peeled, finely chopped

2

Garlic

cloves, peeled, finely chopped

1

Celery

stem, finely chopped

1

tablespoon

Balsamic Vinegar

1½

litre

Vegetable stock

hot

Salt and Pepper to taste

Lemon Juice

50

g

Natural Yogurt

plant based
Instructions
Remove the roasted beetroot and tomato from the oven. Remove the skins from both and chop roughly. Leave to one side.

I roasted mine in my air fryer (Ninja) at 200c, for 25-30 mins on the Roast setting.

In a sauté pan, gently heat the olive oil and half the butter.

Soften the onion, celery and garlic in the oil until fragrant. Do not allow to brown.

Toss in the risotto rice and coat well in the onion/butter mixture.

Turn the heat up and pour over the balsamic vinegar.

Once the rice has absorbed the wine/vinegar, stir in the chopped beetroot and tomatoes.

Pour over the stock, a ladle at a time, not putting more stock in until the last ladleful has been absorbed.

When the rice is starting to get creamy you can start to add a little more.

Contrary to popular belief, you don't have to watch over the rice like a new-born child, it won't stick or do anything extraordinarily horrible. It basically cooks itself. You just nourish it with the stock.

Once it has reached the texture you like, stir in the rest of the butter and the plain yogurt. Also sprinkle over a good pinch of salt. The beetroot is very sweet and benefits greatly from sea salt.

Cover and leave for five minutes.

Taste the risotto, add a squeeze of lemon and taste again.
Nutrition Facts
Roasted Beetroot Risotto
Amount per Serving
% Daily Value*
* Percent Daily Values are based on a 2000 calorie diet.