How to Make Earthy Delicious Vegan Borscht
How to make the Ukrainian classic soup, Borscht, earthy, rich and nutritious!
Love beetroot? Try my delicious vegan beetroot chocolate muffins or my creamy, comforting beetroot risotto!
Now winter is drawing rapidly closer – the clocks will soon be turned back– my desire to cook good wholesome food seems to be an all-time high. I am so excited about the impending winter events: Halloween (celebrated by the ancient Celts as part of the Samhain festival and which indicated the end of the year and thus the onset of Winter), Bonfire Night, Thanksgiving and finally Christmas and New Year's, that I have already started planning menus for all of them.
The winter months seem like the perfect time to be overly generous with your food (you should be anyway, but when it's cold, it seems like we need extra nurturing), and if it doesn't all get eaten in a sub-zero body-protecting frenzy, we have leftovers instead.
Last night was Halloween so, in true bloodthirsty mode, I used two bunches of beetroot that were lingering in the fridge, to make Borscht. Beetroot was charmingly referred to as Blood Turnips in the 19th Century, so it seems like a perfect vegetable to prepare on All Hallows Eve.
I had hoped that some unsuspecting Trick or Treaters would come to the door so I could confront them with blood pink-stained hands, half peeled beet clutched demonically in my fist, paring knife in the other. Unfortunately, there were no callers at all, despite our glowing pumpkin in the front window. Just as well as I had forgotten to buy any candy for them anyway.
What is Borscht?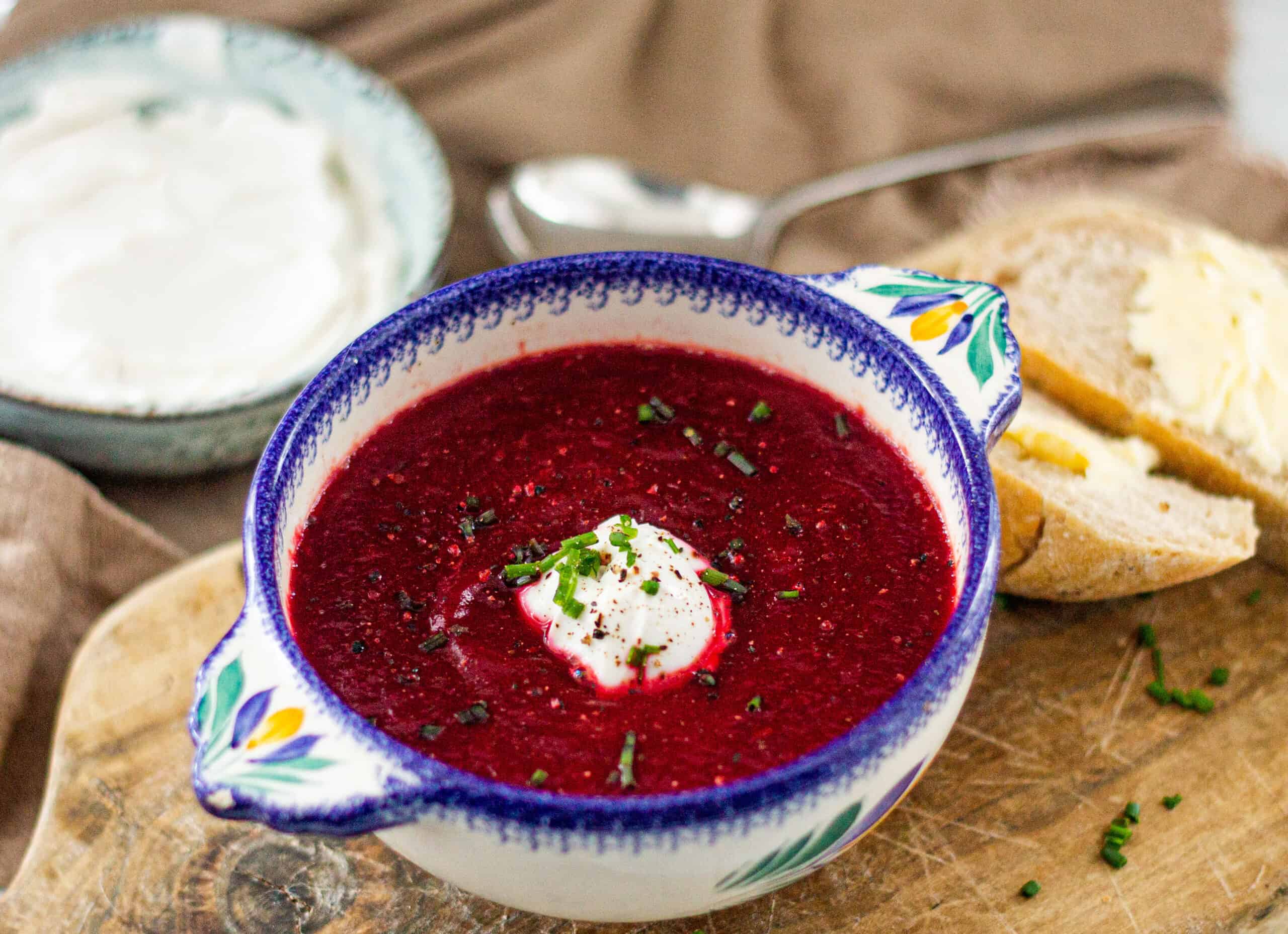 The classic Ukrainian beetroot soup, Borscht can be served in two ways, hot or cold. One important point: it must have some natural vegan yogurt stirred through it. The other base elements of the soup, excluding of course the beetroot itself, can be varied to suit what you have in the fridge and what time of year it is. If you want a substantial winter soup, you can add diced potato, carrots, turnips, cabbage or some Pierogis (tiny dumplings). For a light summer consommé style soup, you can omit the root vegetables, adding instead some celery and tomatoes, diluting the rich burgundy stained puree by adding more light vegetable stock and sprucing it up with some spring onions or chives, serving it with some ice cubes. Then it would be a Beetroot Gazpacho of a sort.
With that in mind, here then is a basic recipe for a simple, quick and flavorsome velvety, vegan Borscht, perfect for a cold winter evening, which could easily serve four as a starter, two as a main and could be diluted with some vegetable stock to go further if need be. It really is such a dense soup that it could handle it. What I love about this soup is that is also really low in fat, there is none added during cooking, which makes it a great soup to eat if you're counting calories!

The Romans thought of Beetroot as an aphrodisiac but taking into consideration that it also has a highly effective laxative quality (Apicius devoted at least five recipes to using beetroot to relieve constipation), it's probably not recommended for a romantic night in for the just the two of you.
Ingredients
beetroot. Use fresh if possible, but you can use a prepacked, boiled one. You will be cooking this from raw
onions, carrots, garlic and celery, these round out the flavor of the borscht
caraway seeds. An essential Ukrainian spice, caraway adds a delicate and indefinable flavor.
See recipe card for quantities.
Instructions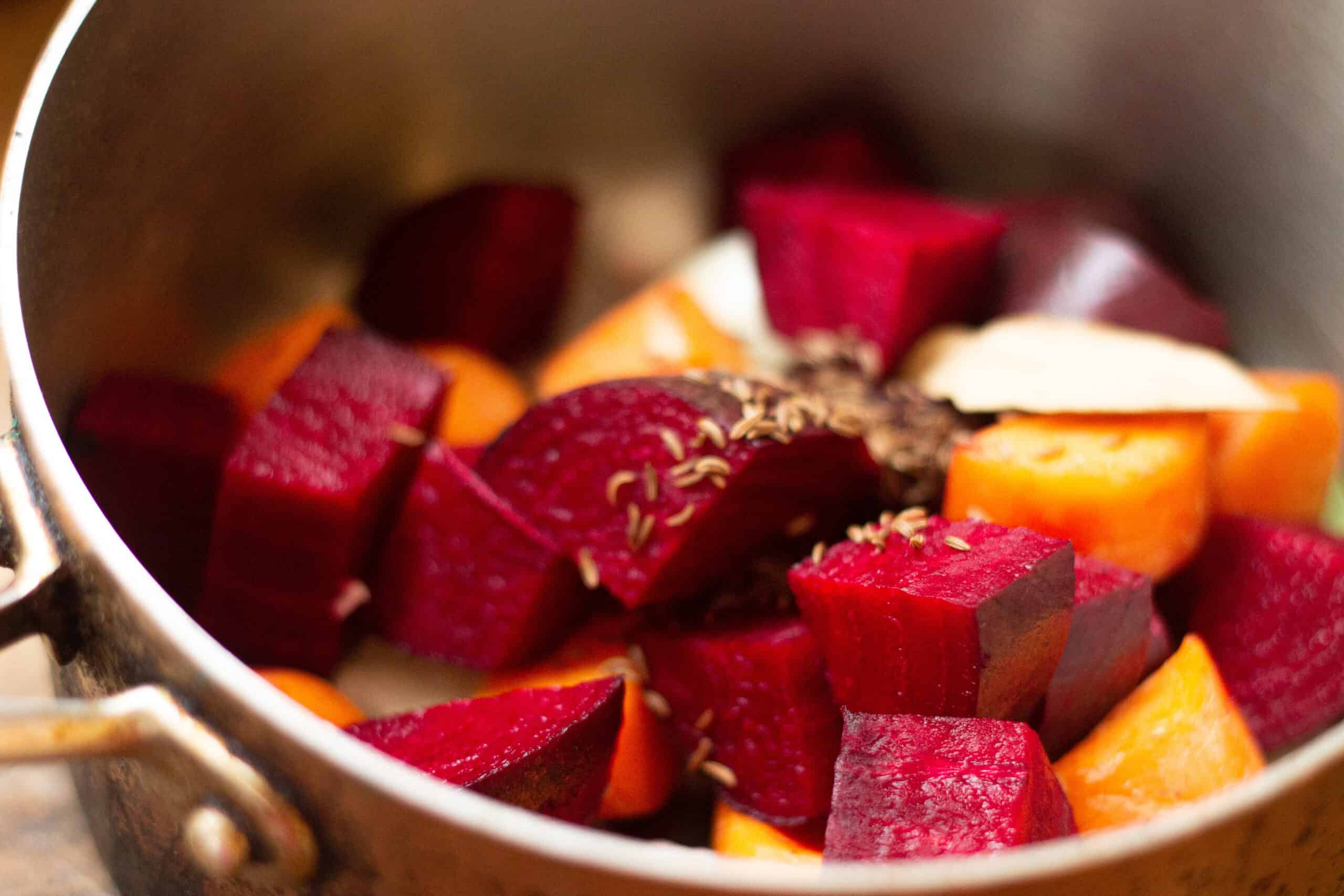 Roughly chop all veg and add to a large saucepan with the caraway and bay leaf
Cover with stock, bring to a gentle boil, then cover and simmer for 50 minutes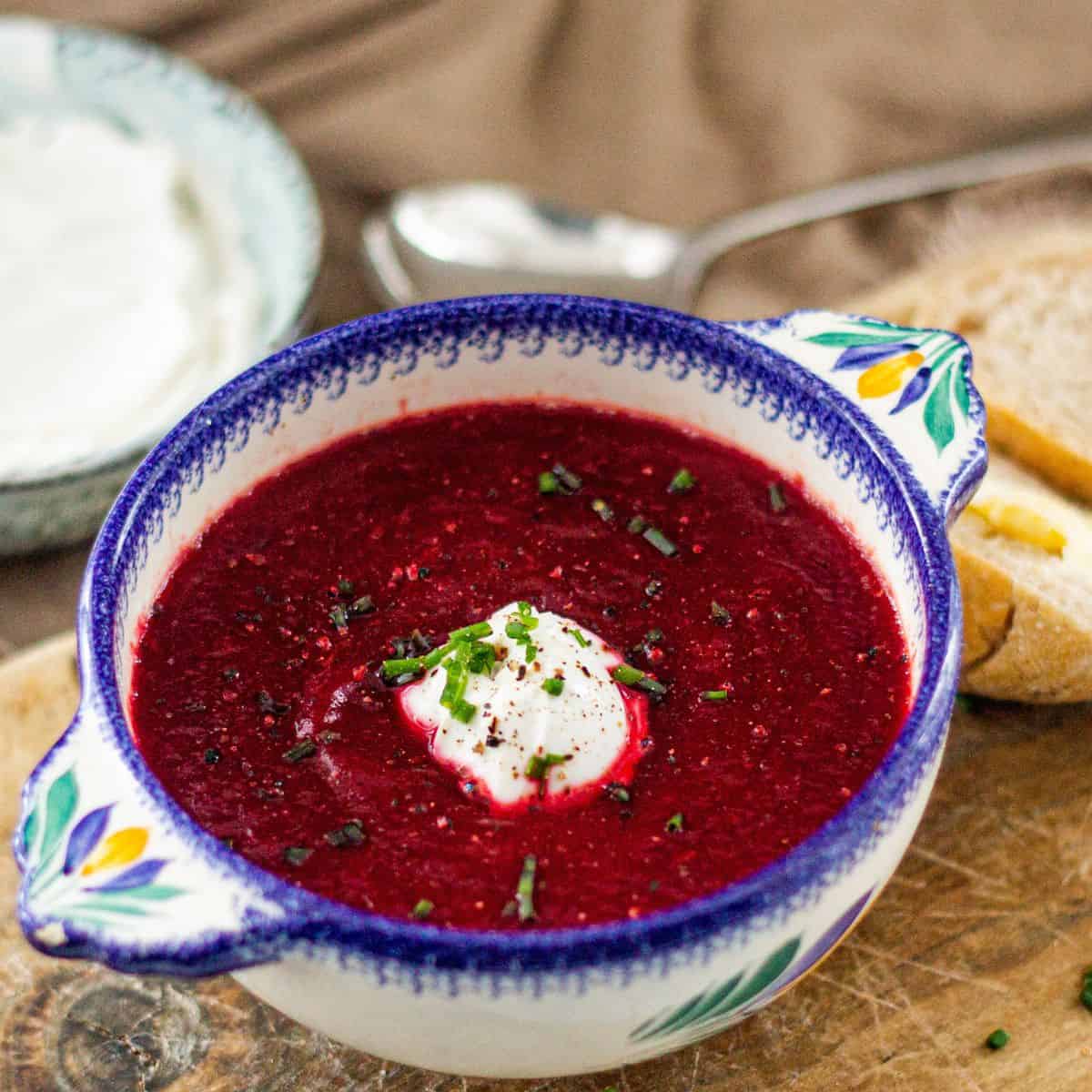 Blend to a thick puree and serve!
Hint: roughly chop the veg as you'll be blending it all up, so no need to be too precise.
Storage
Store the cooled soup in the fridge. Good for 2-3 days.
This delicious borscht freezes perfectly, for up to 3 months. Reheat gently from frozen in a saucepan.
Top tip
Make sure to wipe your beetroot clean and remove any gnarly bits of the outside, otherwise don't worry about peeling it!
Vegan Borscht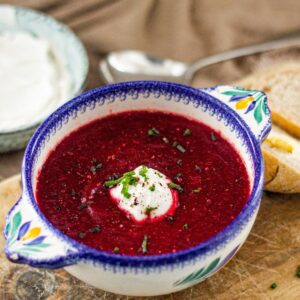 A simple yet hearty vegan soup, full of Autumnal earthy flavor
Ingredients
500

g

Beetroot

-

raw and peeled

225

g

Carrots

-

cleaned

4

Shallots

-

peeled

1

Clove

Garlic

-

peeled

Half stick Celery

1

Bay Leaf

1

Tbsp

Caraway Seeds

500

ml

Stock

-

enough to cover the vegetables (mushroom stock cubes are considered traditional)

Seasoning

Plain Yogurt

-

plant based, just for swirling at the end
Instructions
Roughly chop all the vegetables into large chunks (they will be pureed later), chuck into a large pan with the Caraway Seeds and Bay Leaf.

Cover with the stock and season well. Beetroot is a very sweet vegetable, much sweeter even than carrots or sweetcorn so need quite a bit of salt to bring out their natural flavour.

Bring to a rapid boil, turn down the heat to a simmer.

Cover and cook for about an hour, or until all the vegetables are tender.

Pour into a blender and whizz up until smooth.

Taste again for seasoning, strain through a medium sieve into a saucepan and gently reheat.

Pour into bowls and stir through an ivory swirl of natural yogurt.
Please note that where the recipe asks for milk, butter or yogurt, this refers to any plant-based version that you prefer.
Nutrition Facts
Vegan Borscht
Amount per Serving
% Daily Value*
* Percent Daily Values are based on a 2000 calorie diet.