The Easiest and Yummiest Vegan Spicy Bean Burgers in the World
Easy Spicy Vegan Bean Burgers – If you find a meaty veggie burger too much like the real thing, my spicy bean burgers are full of delicious texture, spice, low-fat and full of fiber! What's more, the basic recipe is prepared in less than 5 minutes!
I first became veggie when I was an opinionated 12-year-old kid of (mumbles incoherently) the late 80s. It was the era of Free Nelson Mandela, apartheid, ditch the Poll Tax, AIDs awareness, and lots of other things to keep a busy young mind occupied with decorating her school folder with all sorts of worthy slogans.
I felt most aligned (and most able to contribute to) animal rights. I was a fully signed-up member of Viva (against animal vivisection) and would bore my family senseless with gory renditions of how the meat on their plate got there. I am less militant these days, believing that gentle persuasion is a better way to convert people. Furthermore, small changes are better than no changes (hello meatless Mondays).
My mum, bless her, bought us some chickens, so vegetarian me so could still get some vitamins, but my diet was pretty heavy in cheese and potato! One thing I do remember though is that spicy bean burgers were on every fast food menu. And I loved them! They don't taste like meat burgers at all, they have great texture and are super filling. I remember thinking as a kid that one day, I would learn how to make spicy beanburgers! We did have boxed a burger mix occasionally but these were not the same!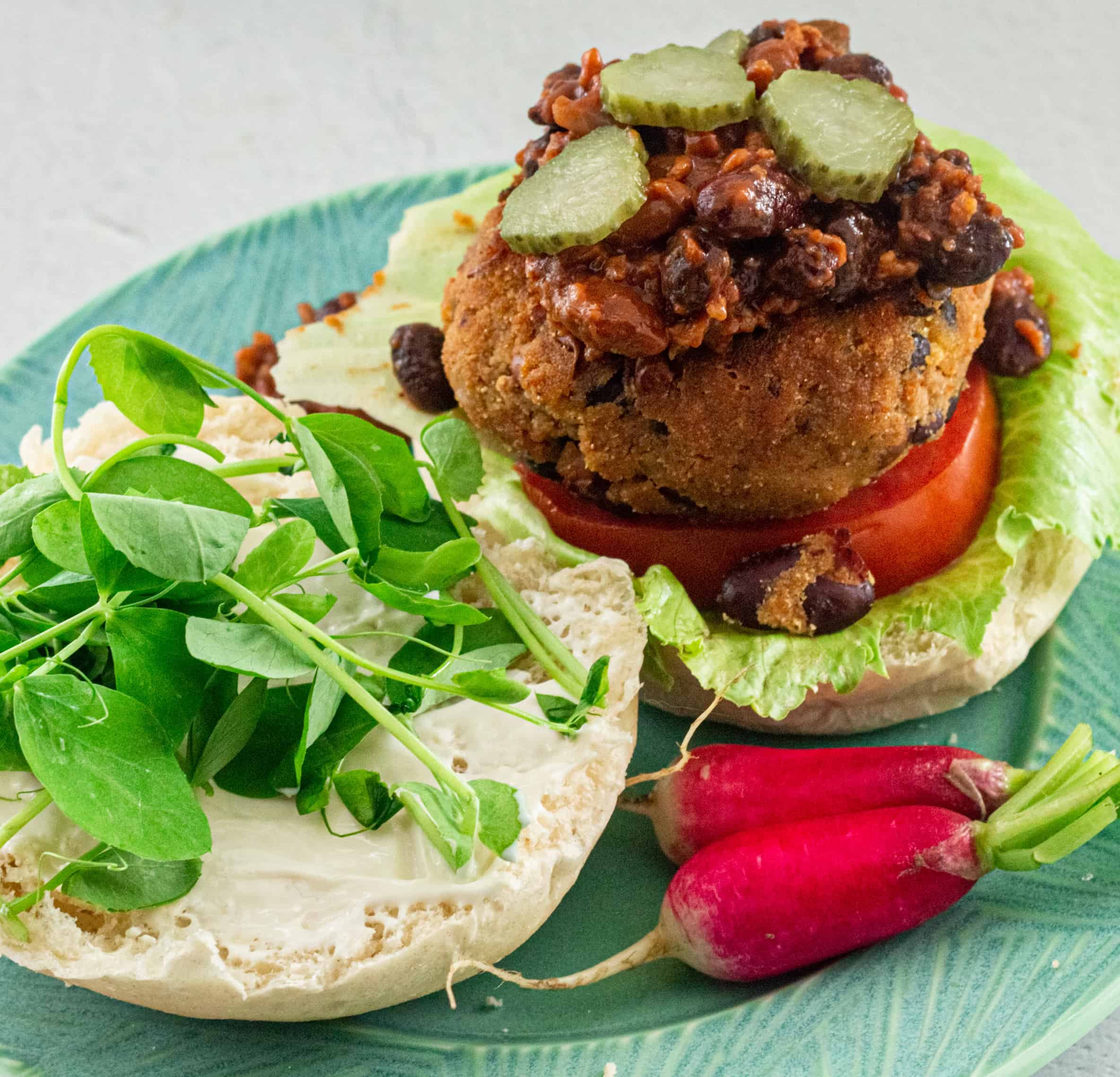 It wasn't much of a goal, and I did forget about them as I grew up and slipped into a meat-eating lifestyle once more. Ten years ago, I made the switch to a mostly plant-based diet (we all have slip-ups) and now I have my own spicy bean burger recipe.
This one is inspired by one of my favorite vegan cookbooks, The Best Veggie Burgers on the Planet, by Joni-Marie Newman. It was gifted to me when I first became vegan, and every recipe is a winner! I have amended her recipe to make it a little more accessible for UK recipes (omitting the garlic powder and onion powder, and replacing masa harina with cornmeal).
What I love about this recipe is that it is a two-for-price-of-one recipe: firstly you make chili. You divide the chili in half, mixing one half with the cornmeal and using the other half as a chili. Or, freeze one batch and you have bean burgers ready in the freezer whenever you want them! It's a win-win recipe.
I love to serve my meatless burgers in burger buns, but they are just as good served cold the next day on some salad leaves.
Furthermore, the vegan chili recipe is so simple. The only work is spent chopping onion and garlic. Then you simply throw all the beans (kidney beans, black beans, and pinto beans are my go-to beans), liquid, and all in a pan with the other ingredients. Forget about it for half an hour, then add some TVP. That's your chili. At this stage, forget the burgers if you want and enjoy this awesome three-bean chili instead!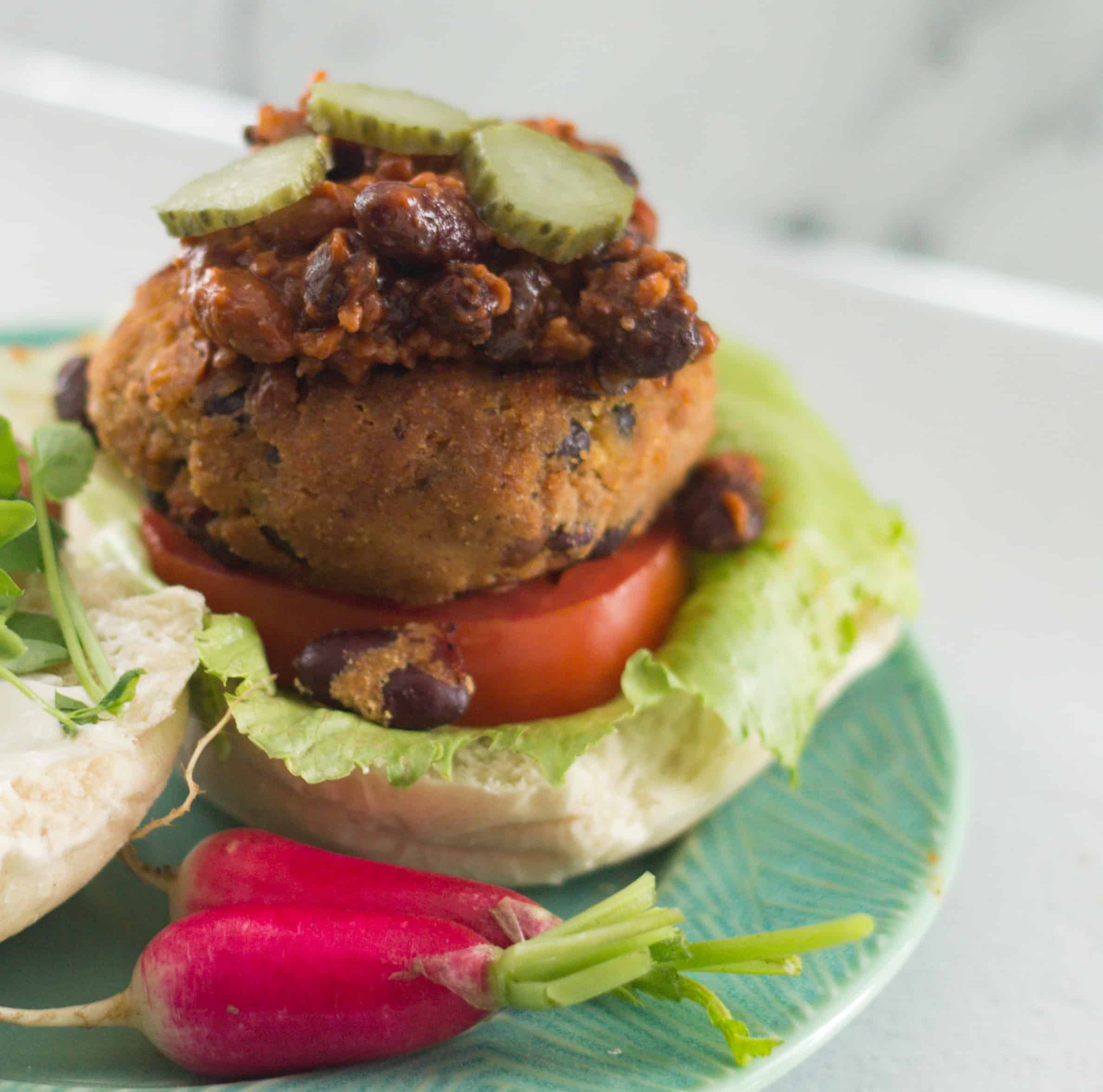 Oh and I almost forgot! These burgers have no added oil! I think of these as my healthy burgers as they only have 3g of fat. If you fry them, of course, you will need to add a little oil, but you can also cook these in the air fryer.
Ingredients
3 cans of Beans. I used a combination of black beans, kidney, and pinto. But use all of one type (if you want to make black bean burgers, for example), or mixed beans in a can. It's up to you! Try cannellini beans, black-eyed beans, etc. You can use dry beans but you will need to soak them the night before, and then cook them first before adding them to the chili ingredients.
Tomato Puree gives you an intense tomato flavor without "watering" the chili down
Onion and Garlic, fresh, chopped (in a food processor if you like). I use white onion, feel free to use red onion if you prefer
Chili powder. Use your favorite mix and add as much heat as you prefer.
Jarred jalapenos. A whole jar! Use less if you want it to be not too much heat, but these add a pleasant rather than searing heat. And this chili after all!
Ground cumin. All good chilis need cumin!
Salt and black pepper
TVP. This is your veggie mince. If you prefer, use your favorite vegan mince substitute.
Method
In a large pan add the chopped onion, garlic cloves, tomato puree, beans (including the liquid from the can), chili powder, jarred jalapenos, powdered cumin and, over medium-high heat, bring up to a simmer.
Turn down the heat to a gentle simmer, cover, and cook for half an hour.
After half an hour, add the TVP and a cup of water.
Stir well and then leave to cool for at least half an hour.
Once cooled, stir in the cornmeal and form into 8 patties. If the mixture is a little warm, chill it for a while in the fridge and it will become easier to form into burger patties.
Heat a little olive oil in a frying pan and fry on both sides until browned.
Alternatively, heat your air fryer to 200c (on bake), place in your basket, and cook until golden brown.
Serve on a burger bun (or gluten free buns!) with some lettuce, some fresh tomatoes, and your favorite burger toppings!
Try my other easy vegan suppers!
Three Bean Chili Burgers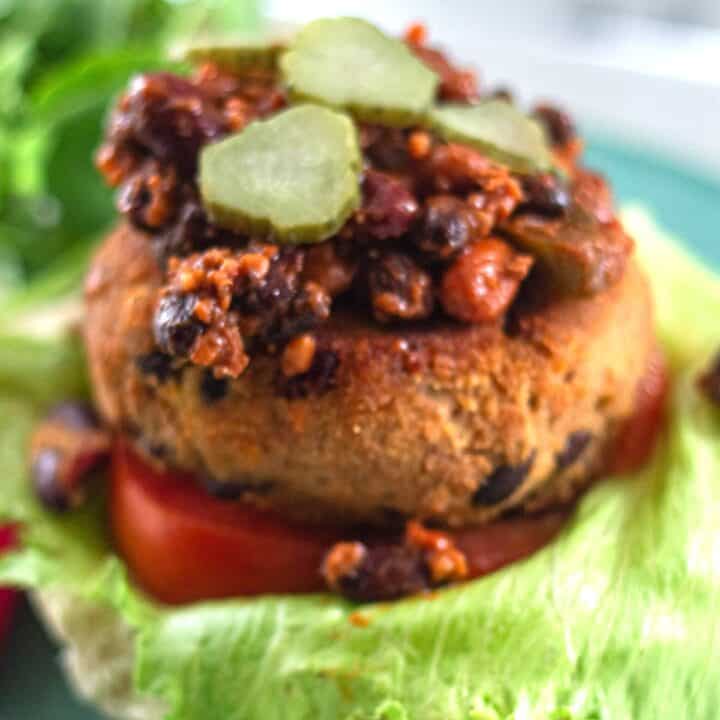 Delicious chilli burgers made with three types of canned beans, this is two dishes in one!
Ingredients
3

14.5oz

beans

canned, I used black beans, kidney beans and pinto beans

1

onion

peeled and finely chopped

2

garlic

cloves, peeled and finely chopped

1

cup

TVP

1

cup

water

1

tsp

Salt

1

tbsp

Chili powder

2

tsp

Cumin

powdered

2

cups

Cornmeal

fine, or masa harina
Instructions
Place all the ingredients except the TVP and cornmeal into a large pan, bring to the boil, then turn down, cover and simmer for half an hour.

Now add the TVP, stir well, turn off the heat and leave to cool.

Once cold, separate the chili into two. Reserve one half for another use.

Add the cornmeal to one half, stirring well until you have a handleable mixture.

Form into 6-8 patties and fry off in a little vegetable oil.

To air fry, preheat air fryer to 200c bake. Lightly spray both sides of the burgers with a little oil. Place in the basket and bake for about 10-15 minutes, or until browned and cook through (air fryers may vary)
Nutrition Facts
Three Bean Chili Burgers
Amount per Serving
% Daily Value*
* Percent Daily Values are based on a 2000 calorie diet.