Matsunomi-No-Cha-Han or Japanese-style Brown Fried Rice
This post contains links to affiliate websites, such as Amazon, and we receive an affiliate commission for any purchases made by you using these links. We appreciate your support!
Japanese style fried rice recipe with pine nuts and spring onions – a comforting, delicious rice dish, similar to risotto but with Asian flavors
From a personal perspective, I'm using 2022 as a way to wipe the emotional slate clean and start the new year with a different, positive mindset. Same me, same life but with a different attitude?
I have felt so lethargic and fairly depressed since the holidays ended, but today I woke up with a new found energy and determination to not let the gloomy, pervasive mood of 2021 continue any longer.
I enjoy food out of a bowl, why is that? Is it because I associate it with comfort food, a bowl that fits snuggly into my hands, and I can hold it close to me as I savour the goodness within?
And so, whilst the "food in bowls" theme might change or waver, for now I have this light, nourishing bowl of food (with napkins!) to share with you, a change from gravy and roast veg and stodgy wintery foods.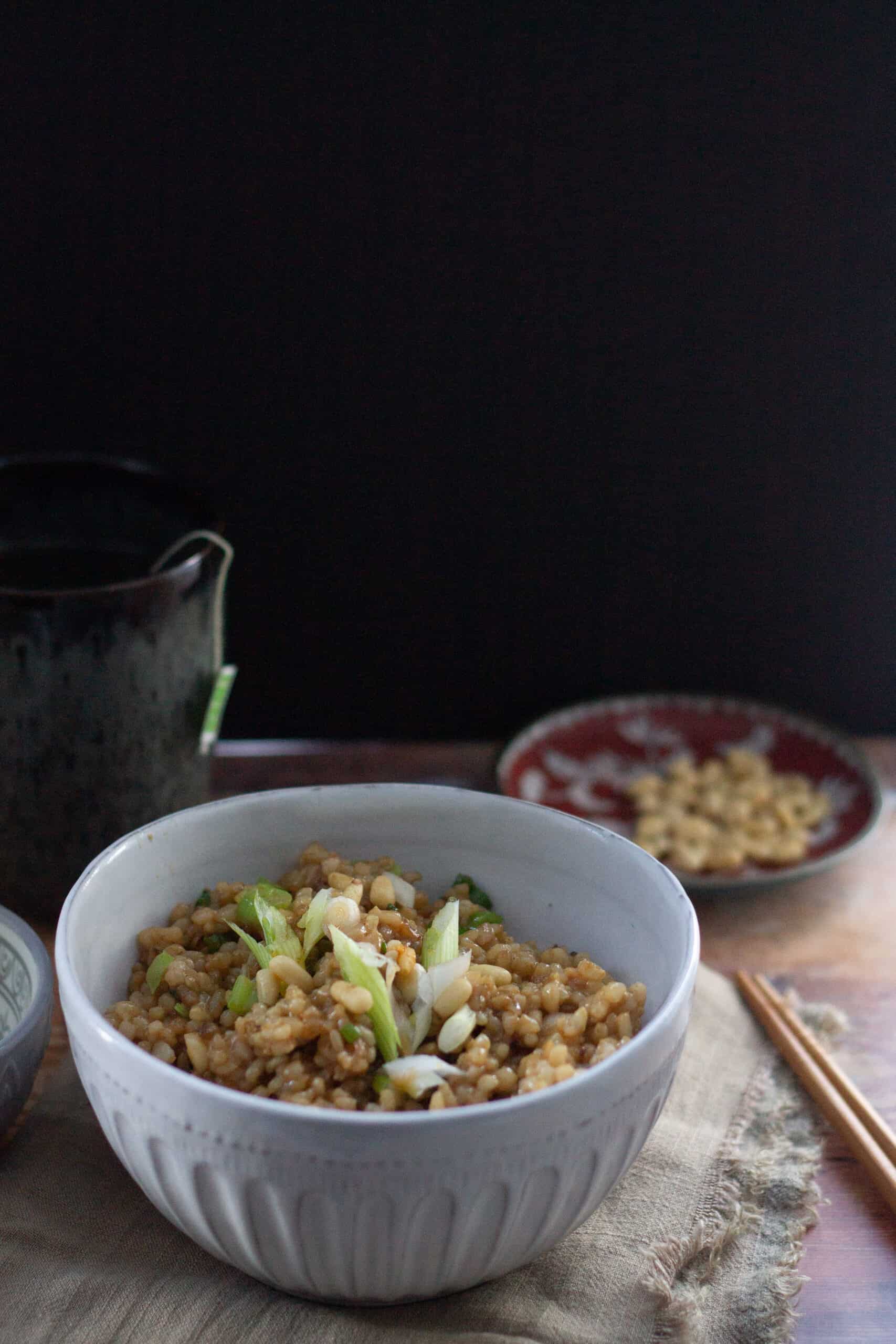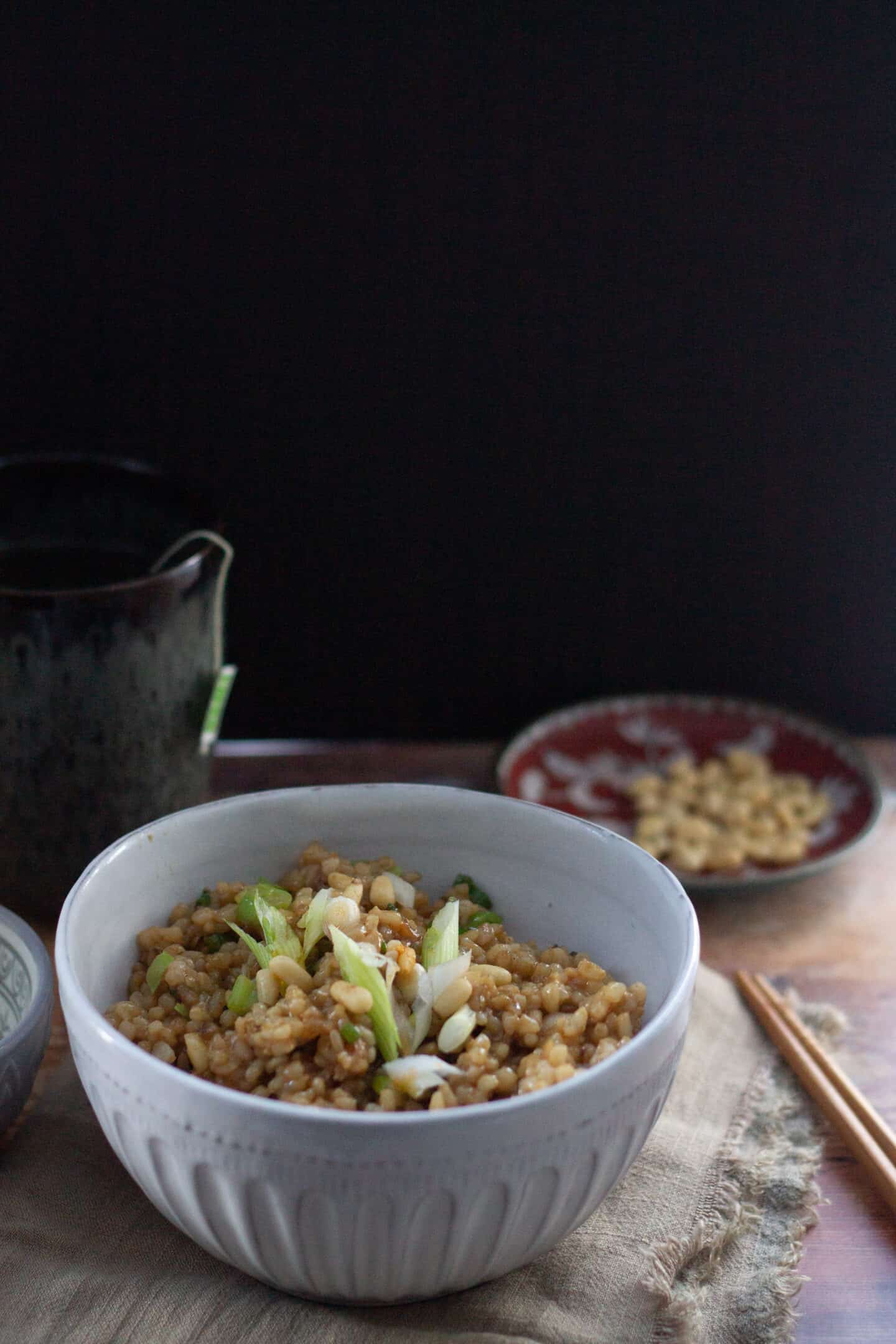 The recipe is from a really old issue of Saveur magazine, and is called Matsunomi-No-Cha-Han, or Japanese Style Fried Brown Rice. It's a super easy recipe, requiring minimal ingredients and has that aforementioned comfort in a bowl feeling. Don't let the small ingredient list fool you though, the pungent spring onion, smoky sesame oil and crunchy pine nuts really do add a lot of flavour. I had to omit the dried chilli as, implausibly, I had none in the house, but I think it would definitely add a little heat to the dish that it needs.
What makes this different to other fried recipes? I think it is a more zen dish, it has very few ingredients, but those are used with consideration and in complete harmony with the other ingredients. The brown rice gives the dish an almost risotto-like texture, it has smoky flavours, warmth from the chilli, and a little oily crunch from the pine nuts. It is a truly nourishing bowl of food.
Ingredients
You could use short grain white rice, or basmati rice if you prefer, it's not a deal breaker, although the brown rice does give the dish a really nice nuttiness that's missing from white rice. I have given the quantities and method for cooking the brown rice below, so please ensure you adjust times/water to suit if you are using white. I also link to my guide to making the perfect rice.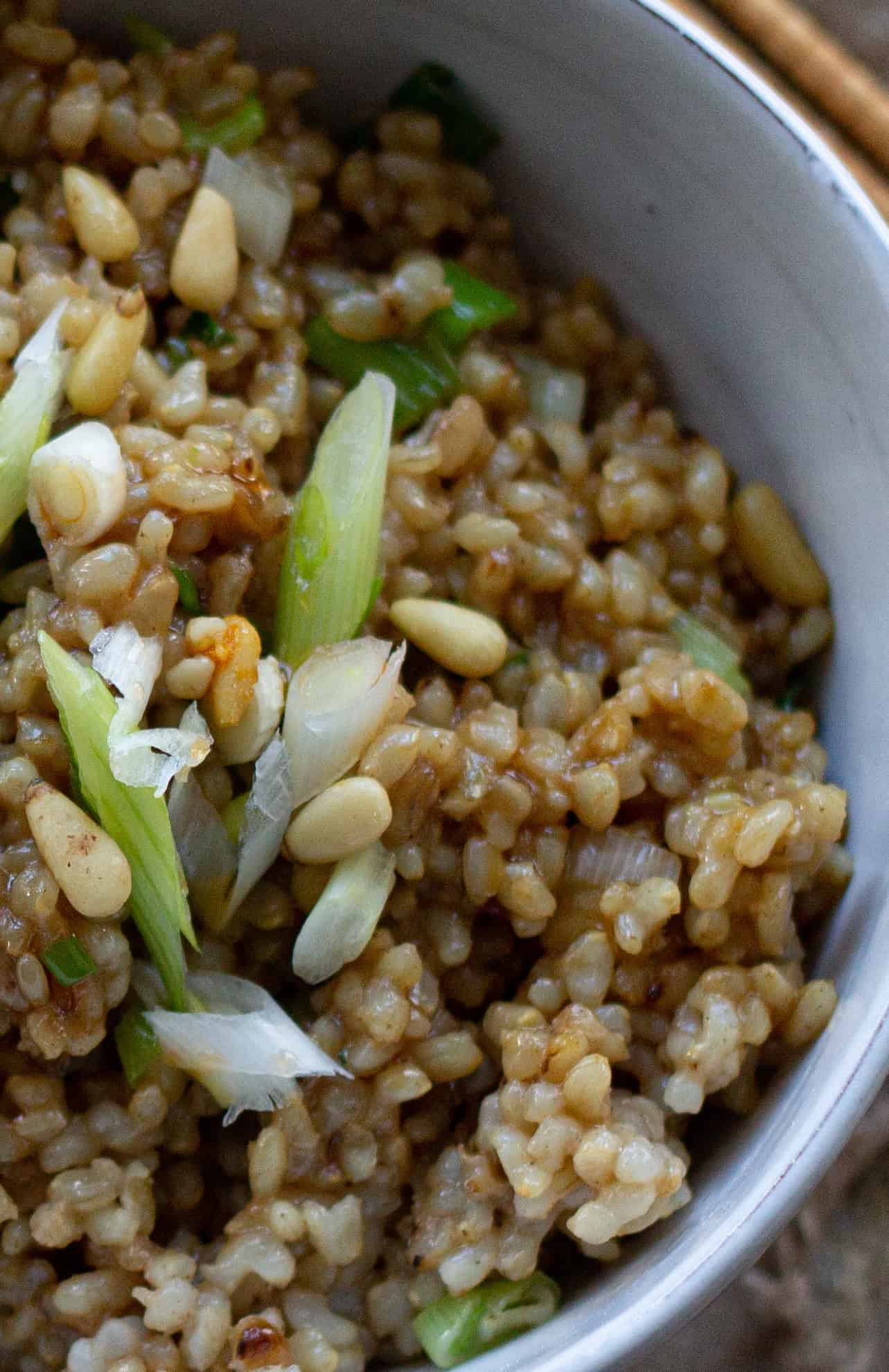 2 cups cooked and cooled short grain brown rice. My method: add one cup brown rice to a pan along with 3 cups cold water, pinch salt and tbsp oil, bring to a boil, cover, turn down to the lowest setting and simmer until tender, could be at least an hour, so I recommend making this in advance!).
Spring Onions, or Scallions, sliced into rings. I find these give a much more subtle onion flavour than white onion.
Matsunomi is Japanese for Pine Nuts. Used to give a little crunch and flavour.
Soy Sauce. Added, of course, to add saltiness and a full-bodied flavour. Very rarely do you need to use salt if you use Soy Sauce.
Sesame Oil. To sauté the green onion and pine nuts, and more importantly to impart a smoky, distinctive Asian flavour to the dish.
Dry chilli, either flaked or whole and cut into rings (as per original recipe). Chile de Arbol is the recommended chilli, I think anything with a smoky, not searing heat would be perfect
Other delicious 30 minute meals
Japanese Brown Fried Rice Recipe (Matsunomi-No-Cha-Han)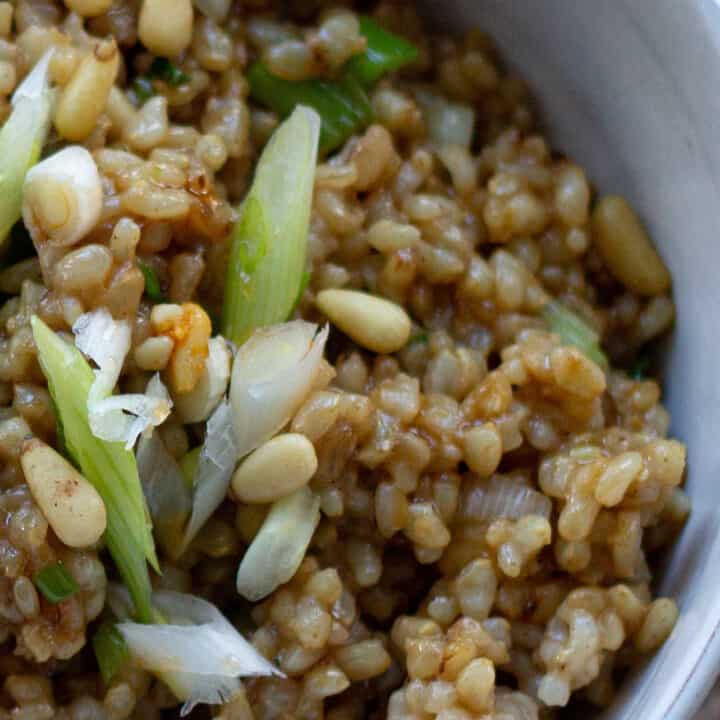 Ingredients
2

cups

Brown Rice

-

short grain, cooked

7

Spring Onions

-

chopped into rings

1

tbsp

Pine Nuts

1

tsp

Sesame Oil

3

tsp

Soy Sauce

Dry Chilli

-

flakes
Instructions
In a frying pan or wok, heat the sesame oil.             

Add the spring onion and pine nuts and

sauté

until the pine nuts are golden brown and the onions have wilted.

Make sure to keep stirring all the time, you don't want anything to burn

Now stir in the cold rice, breaking it up with the back of your spoon and making sure everything is thoroughly amalgamated and the rice is warmed through.

Add the soy sauce, stir once more and serve in large, deep bowls

Sprinkle with the dried chilli.
Please note that where the recipe asks for milk, butter or yogurt, this refers to any plant-based version that you prefer.
Nutrition Facts
Japanese Brown Fried Rice Recipe (Matsunomi-No-Cha-Han)
Amount per Serving
% Daily Value*
* Percent Daily Values are based on a 2000 calorie diet.