What can I cook With Cacao Nibs? And just what is the deal with Cacao Nibs? When I first heard about raw chocolate, years before converting to a plant-based diet, I was concerned that I wouldn't be able to source any of the above raw chocolate ingredients anywhere. Back in those early experimental days, you had to purchase things online. No popping to Tesco or Sainsburys for your Maca Powder or Cacao Nibs back then. How things have changed.
Nowadays, whole foods have become the norm, and I don't have to order unusual ingredients online and wait for them to arrive (generally). That is the beauty of the plant-based food movement: so much is now available to us that there is really no excuse for not giving it a try.
I admit, being a major chocolate fan, that I was incredibly excited to try cacao nibs. I had heard interesting things about their health properties but more importantly (to me anyway), their taste! Little did I know that raw chocolate and only the purest, unrefined chocolate would become an integral part of the vegan baker's repertoire! But, what can I cook with Cacao Nibs?
I love to deeply inhale the rich, earthy smell of cacao nibs, more redolent of purest cocoa powder than chocolate bars.
Facts About Cacao Nibs
Taste wise they are much like a very high cocoa content chocolate: the flavour doesn't come through straight away, but it gets stronger as it melts and the taste lingers on your tongue. There is a slight smokiness to the nibs and they leave a not unpleasant bitter taste in the mouth.
Cacao nibs do not contain sugar.
Cacao Nibs do not melt during baking
The nibs themselves resemble tiny wood chips and their texture is not far off wood either (not that I am a secret wood nibbler). Very crunchy but in a very pleasant way.
Throw them in your smoothie for a delicious boost of their health benefits
In this purest of form, they are apparently a great aphrodisiac, one of the greatest sources of anti-oxidants and are good for boosting your mood. I can't vouch for any of these claims but I can wholeheartedly confirm their intensely delicious taste when cooked or mixed with a natural sweetener.
Cacao Nibs are a truly raw form of chocolate, although you can also buy them roasted
Jennifer Murray has written an excellent article over at The Spruce explaining the scientific differences between Cacao and Cocoa, and I highly recommend that you check that out!
Utilising unusual ingredients into 'normal' recipes such as cookies, or even chilli is important as a cook. To familiarise yourself with recherché ingredients, and to use them in everyday recipes is the best way of achieving this familiarity.
What Can I Cook With Cacao Nibs?
I thought it would be interesting to use the Cacao Nibs in Truffles, using pureed dates for moistness and sweetness, nibs for the chocolate hit and sesame seeds as added texture. A dash of Vanilla Extract adds a delicate flavour, but you could add coffee, orange, peppermint essences too.
These are made using a simple combination of nibs, vanilla, dates and sesame seeds, taking no longer than five minutes from start to finish. Therefore, it is feasible that you can be sitting down, bowl of truffles on your lap, watching The Crown before the craving has barely kicked in. I like this kind of cooking!
Don't be fooled by the ingredients: will these taste like some mealy-mouthed, flavourless substitute for rich, dairy truffles? Far from it! Whilst the texture is unlike that of creamy truffles, these have a grainy bite that is not at all unpleasant. They taste substantial, and the caffeine in the nibs gives you a great sense of well-being. They are an instant good mood hit. The sesame seeds add a tasty nutty flavour and, when rolled in some deep, dark cocoa powder, taste sensational.
Can Cacao Nibs be used in Baking?
Yes! I decided to bake a batch of simple sugar cookies using half a cupful of the nibs used instead of chocolate chips. If you are expecting an overt chocolate flavour, you will be disappointed though. In much the same way that 100% dark chocolate is very bitter and tastes less like the chocolate we know, so to is the cacao nib flavor. You might like to try mixing in some normal chocolate chips for a textural difference: the crunch of the nib and the melt of the normal chocolate.
Interestingly, nibs don't melt like chocolate chips but retain their woody nature. For people with nut intolerances, the texture is redolent of chopped hazelnuts with the flavour of rich, dark chocolate.
Recipe for Truffles is below, click here for Cacao Nib Cookie recipe.
Cacao Nib Substitutes
What can I use instead of Cacao Nibs? If you can't find Cacao Nibs locally, Amazon supply them here, but there really isn't anything too similar, except maybe toasted nuts or very dark chocolate.
I hope you enjoyed my article on cacao nib recipes, let me know how you use them!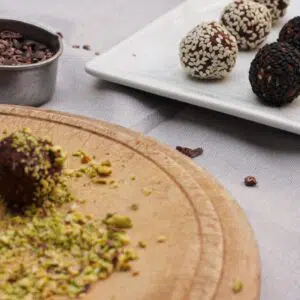 Equipment
Mixing Bowl

Scales or measuring cups

Mixing Spoon
Ingredients
100

g

Cacao Nibs

60

g

Sesame Seeds

70

g

Dates (stoned)

1

tsp

Vanilla Extract

2-3

drops

Olive Oil

Cacao Powder, Sesame Seeds, Chia Seeds

for rolling
Instructions
In a blender or food processor, blend the nibs and sesame seeds until they form a dry, crumbly mixture. It will not be smooth, rather it will be quite pleasantly textured.

In a blender, whizz up the dates until finely processed. Depending on the age of the dates (mine were old and dried out that they resembled boot leather), they may take longer to process. Tip: soak them in a little hot water for an hour beforehand.

Add the nib/sesame seed mixture and process until combined.

You can now form the mixture into small balls, the size of walnuts, and roll them into some cocoa powder or sesame seeds, depending on your preference. You can also roll them in some finely chopped nuts, coconut, chia seeds.