Vegan Cacao Nib Peanut Butter Protein Balls
This post contains links to affiliate websites, such as Amazon, and we receive an affiliate commission for any purchases made by you using these links. We appreciate your support!
Vegan peanut butter protein balls. When I'm watching my calorific intake, I try to make sure I have plenty of snacks around to help quench the sugar cravings. I am a sugar addict. There, I said it.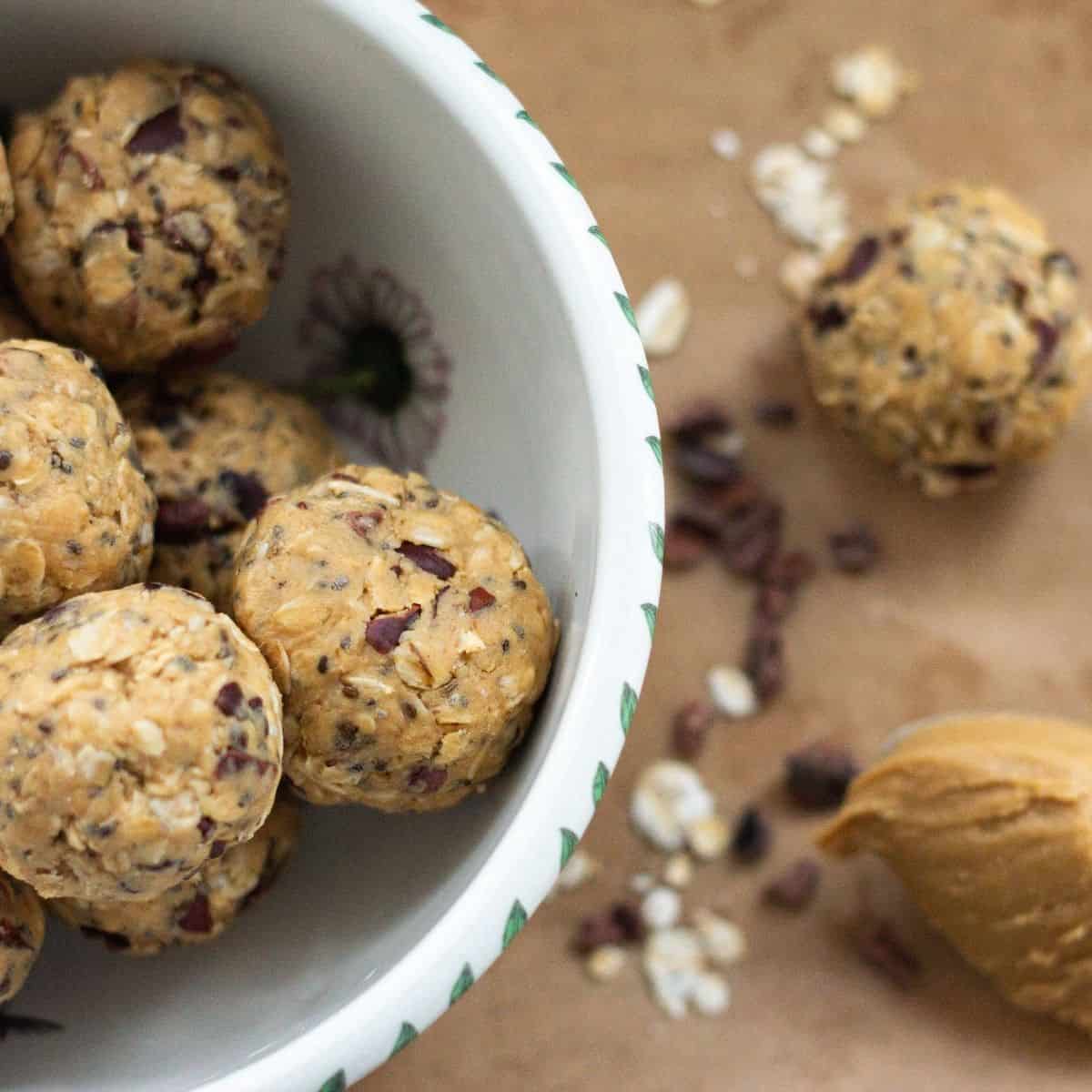 Anyone that knows me, knows how true this is. I am also a comfort eater, and on those days when I am feeling particularly low, I can consume so much sugar, that the corners of my mouth start to crack and my skin goes dry and breaks out. And that's before the weight gain.
Emotional eating is probably as much an addiction as smoking or drinking, and I am well aware that it will be a rollercoaster that I will ride my entire life. I equate sweet food with nice feelings, enjoying a chocolate biscuit before bed when I was a child, sugar sprinkled on slices of buttered white toast, and huge desserts at family meals. Just the taste of sugar.
But then I get that moment of clarity, when I feel uncomfortably full all the time, my jeans don't fit and I can only wear elasticated banded trousers to work. No amount of moisturiser helps my dry skin. I need to take immediate action.
I start eating lots of veg and cutting out sugar. I go on a complete sugar detox, removing all processed sugar from my diet. And, after the days of headaches, I start to feel better. I stop feeling puffy and I have much more energy. I need to make sure I have plenty of healthy and diverse snacks to keep me motivated though.
My vegan no bake energy balls have a great taste and texture and are so simple to make. Each ball is just 107kcal and contains 4 grams of protein. These are a great option to replace the expensive ones you see in grocery stores. They are easily adaptable and the good thing is you can mix them up in just one mixing bowl!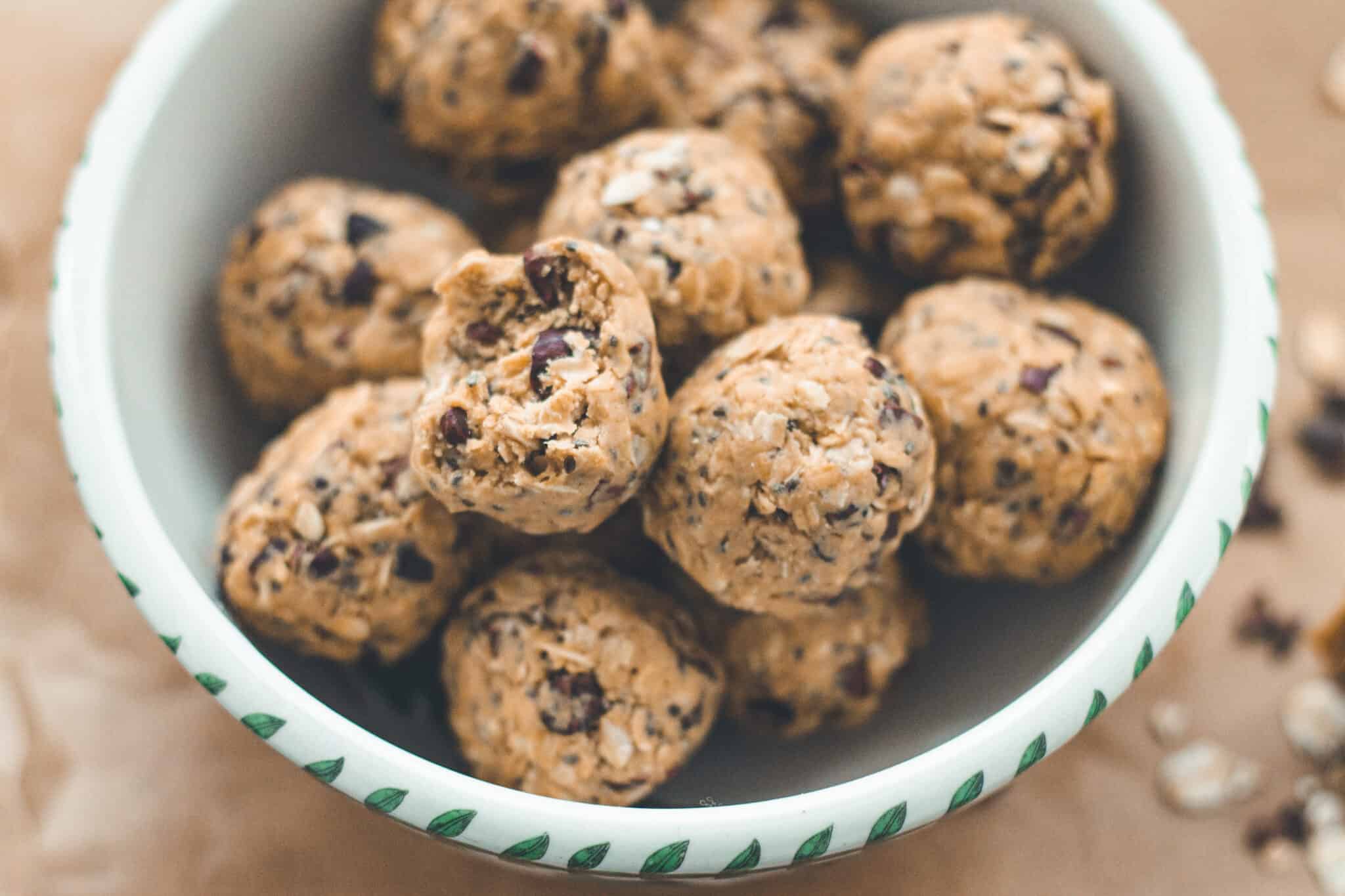 Who needs all that extra effort to go to the store and buy them, rather than make a batch at home for a fraction of the cost? Regular readers know that I love simple recipes like this and my protein ball recipe is up there as one of my favourites!
I pack them full of healthy ingredients like rolled oats to keep hunger at bay, chia seeds for fibre and nutrients, healthy fats in the form of peanut butter, plus cacao nibs for texture and a rich chocolate taste, perfect for when hunger strikes!
Ingredients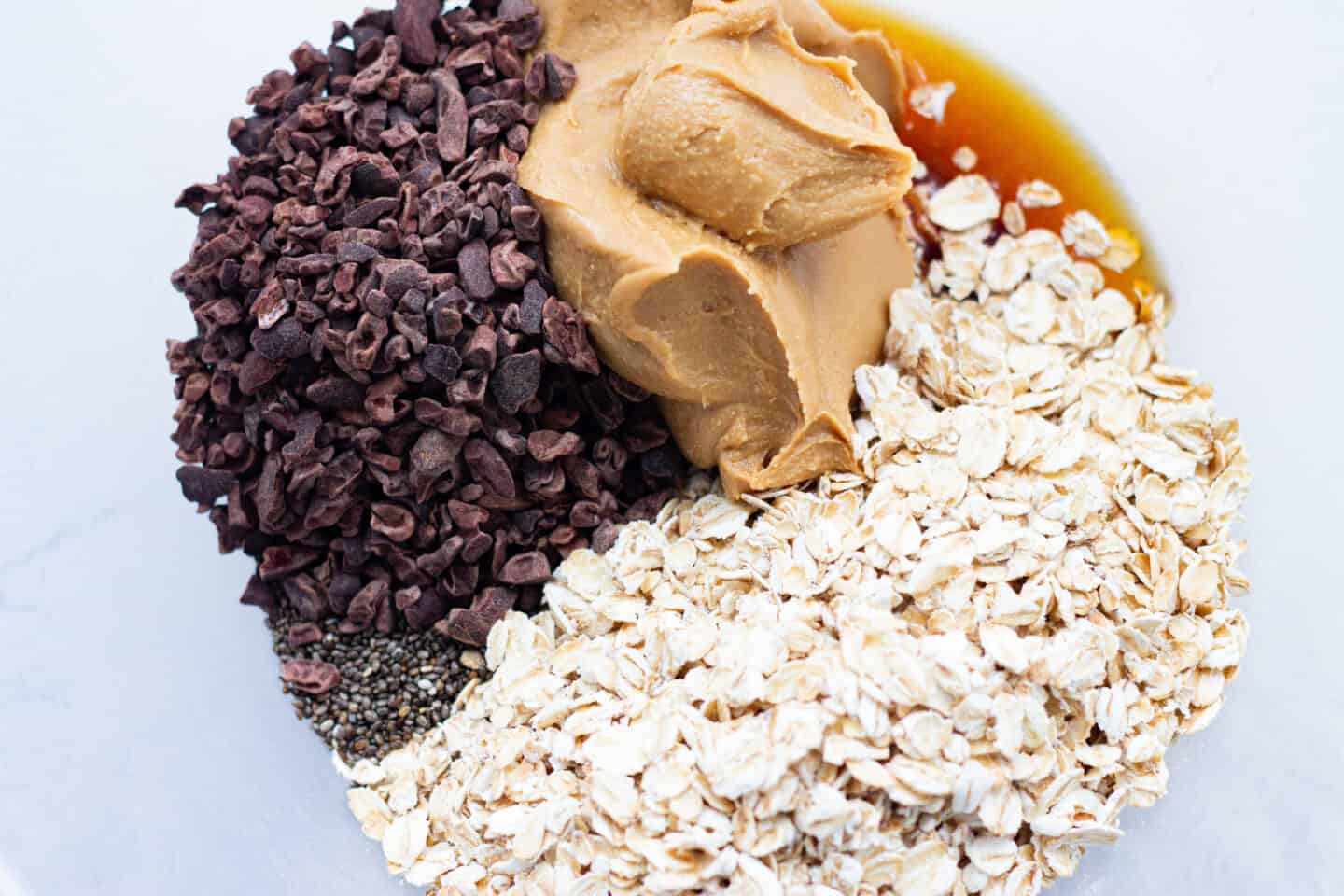 Rolled Oats or old fashioned oats or steel cut oats
Natural peanut butter or you could use almond butter, sunflower seed butter (if you have a nut intolerance and want a nut-free option), or other nut butters of your choice. You could also use tahini.
Cacao nibs. These have a strong chocolate flavor and crunchy texture, but you could use dark chocolate chips instead.
Pure maple syrup. This adds a little sweetness to the balls but is optional. You could also brown rice syrup or date syrup. You just need a sticky liquid sweetener to help hold the ingredients together.
protein powder, I use a vegan vanilla protein powder which gives them a great flavor.
Chia Seeds. Feel free to replace these with desiccated coconut or hemp seeds if you prefer.
Vanilla Extract, optional, for flavor. I don't use this if I'm using the vanilla vegan protein powder.
This is ONLY a list of ingredients for the recipe; please see recipe card below for complete printable recipe.
Method
Place all your ingredients in a large mixing bowl (or use a stand mixer with the dough hook attached if you prefer) and, using a wooden spoon or spatula, mix thoroughly until you have a cohesive ball of mixture.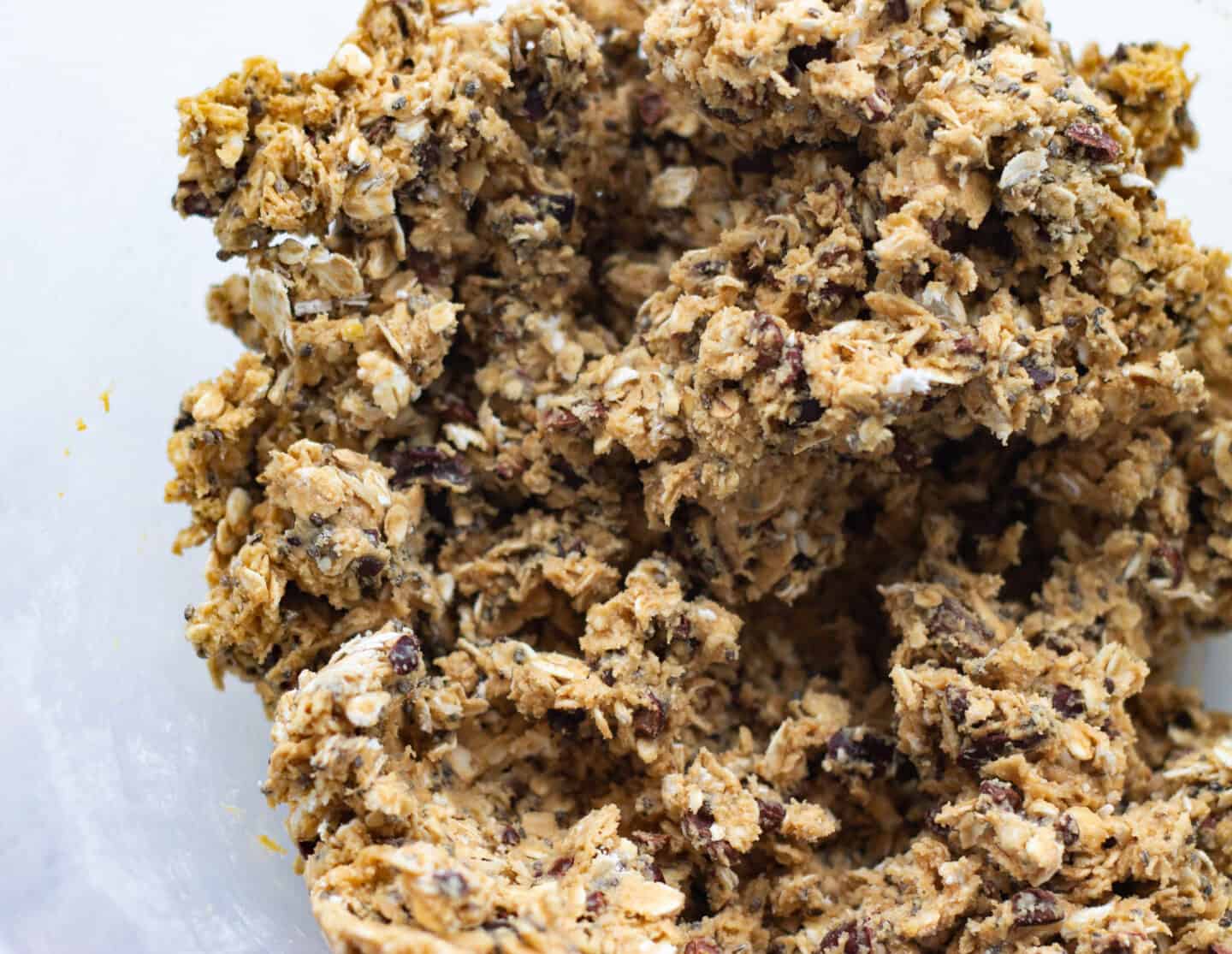 If your mixture is not too sticky (depending on what sweetener/peanut butter you use), you can roll them into balls now, before refrigerating overnight. This allows all the flavors to mingle, and they are much tastier the next day (although you can eat them now if you like!).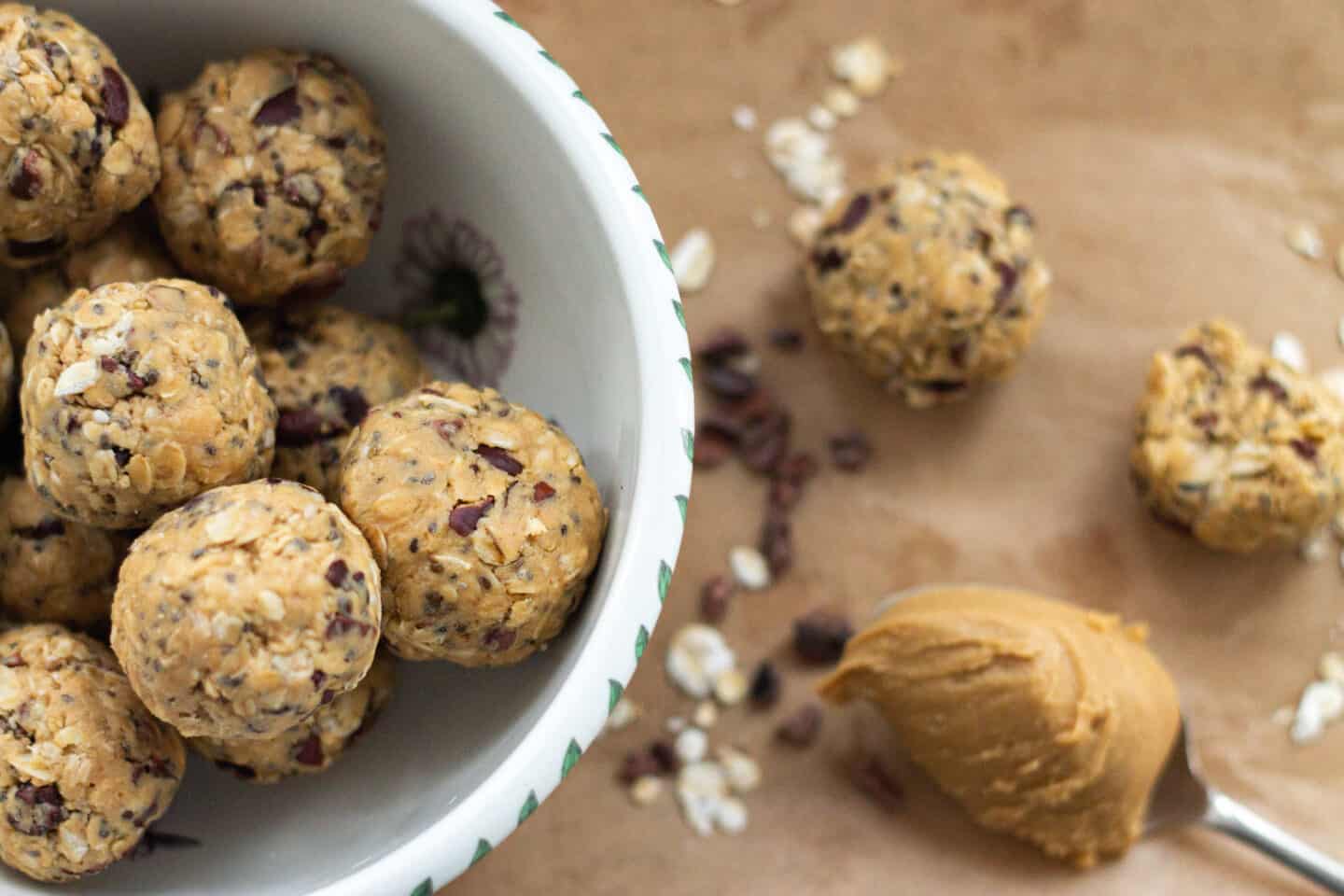 Once chilled, store in an airtight container. They are great for road trips, sports days or lunch boxes too.
Try my other speedy vegan breakfasts
Vegan Cacao Nib Peanut Butter Protein Balls
A super fast recipe for protein balls, full of flavour and texture
Ingredients
⅔

cup

Peanut Butter

-

crunchy or smooth

1

cup

Oats

½

cup

Cacao Nibs

⅛

cup

Protein Powder

-

vegan, optional

2

tbsp

Maple Syrup

-

or sweetener of your choice

⅛

cup

Chia Seeds

1

pinch

Sea Salt
Instructions
Place all the ingredients in a bowl and mix until you have a cohesive ball that sticks together

Roll into walnut sized balls (or larger if you prefer)
Please note that where the recipe asks for milk, butter or yogurt, this refers to any plant-based version that you prefer.
Nutrition Facts
Vegan Cacao Nib Peanut Butter Protein Balls
Amount per Serving
% Daily Value*
* Percent Daily Values are based on a 2000 calorie diet.