The Easiest and Best Raw Cashew Coconut Protein Balls Recipe
This post contains links to affiliate websites, such as Amazon, and we receive an affiliate commission for any purchases made by you using these links. We appreciate your support!
Here is my version of raw cashew coconut protein bliss balls containing just three ingredients, cashews, dates and coconut
PIN my Vegan Raw Cashew Coconut Protein Balls to make later
For more vegan breakfast ideas
If you have ever thought that the protein balls you see for sale in the health food section of the supermarket are expensive, here's a cheaper, healthier and tastier alternative.
Cashews are high in protein and fibre so, whilst not necessarily the ideal option for breakfast, sometimes something quick is all we have time for.
I have always struggled with breakfast. I am usually up quite early, around 6ish, and the first thing I reach for is a cup of black coffee. Food comes later. My ideal breakfast would be around 10am, and something hot and filling, like sourdough with avocado and a dairy free cream cheese. I'm definitely a brunch type of gal! Sadly, my working day starts at 8.30 so I have to eat something to see me through until lunch.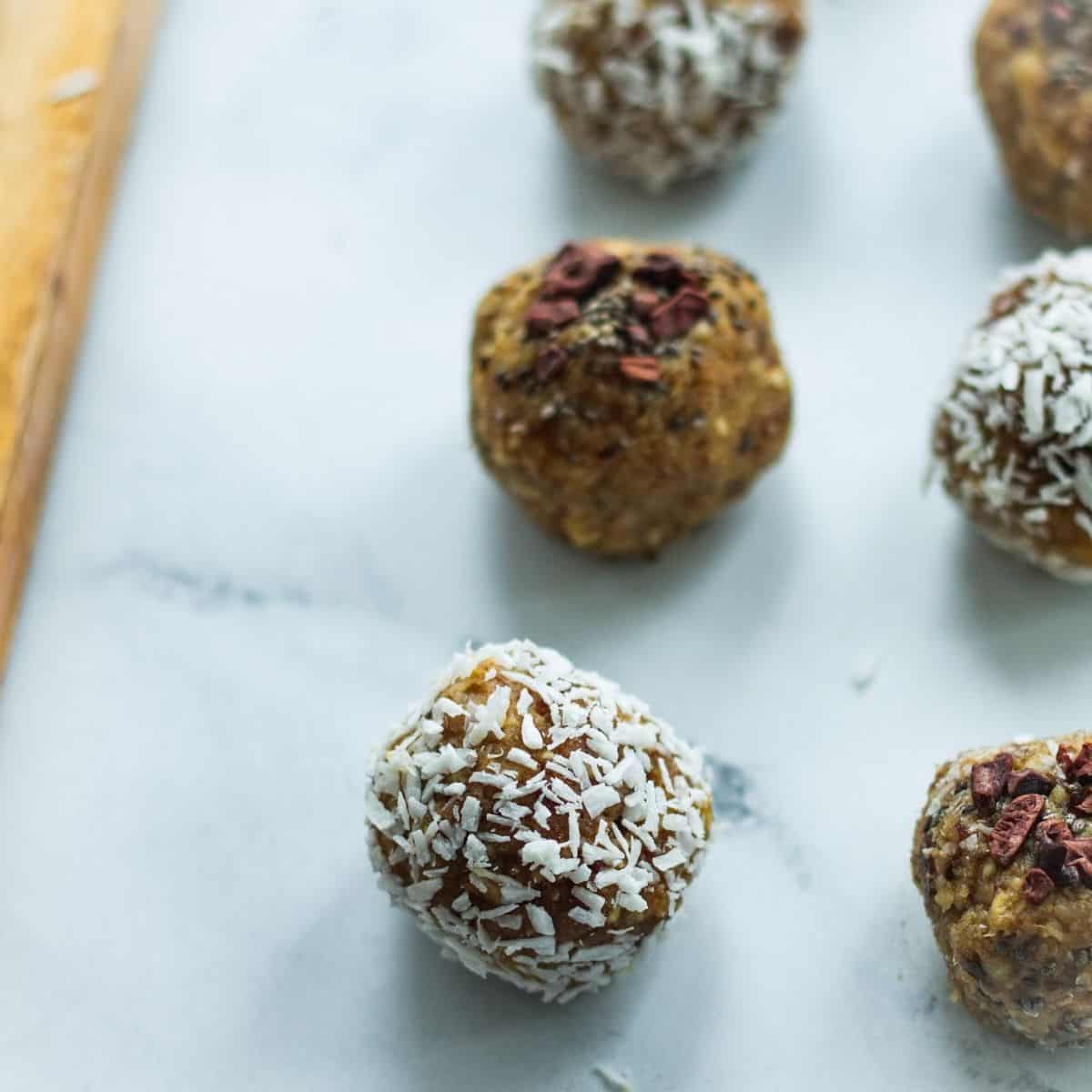 When I'm trying to lose weight, I tend to rely on meal bars. They are filling and some are actually quite tasty, but I feel like they are full of nasties that my stomach doesn't really appreciate (it tends to start grumbling about 5 minutes after eating one, and doesn't stop all day!).
I devised this easy recipe for 3 Ingredient Raw Cashew Coconut Protein Balls, one morning when I grabbed a couple of balls (!!) from the supermarket one morning when I was running late for work. I found them reasonably filling and, a quick glance of the ingredients revealed that, preservatives aside, I could probably make these at home and save myself, on average, £1.50 per ball!
How do you make Vegan Protein Balls?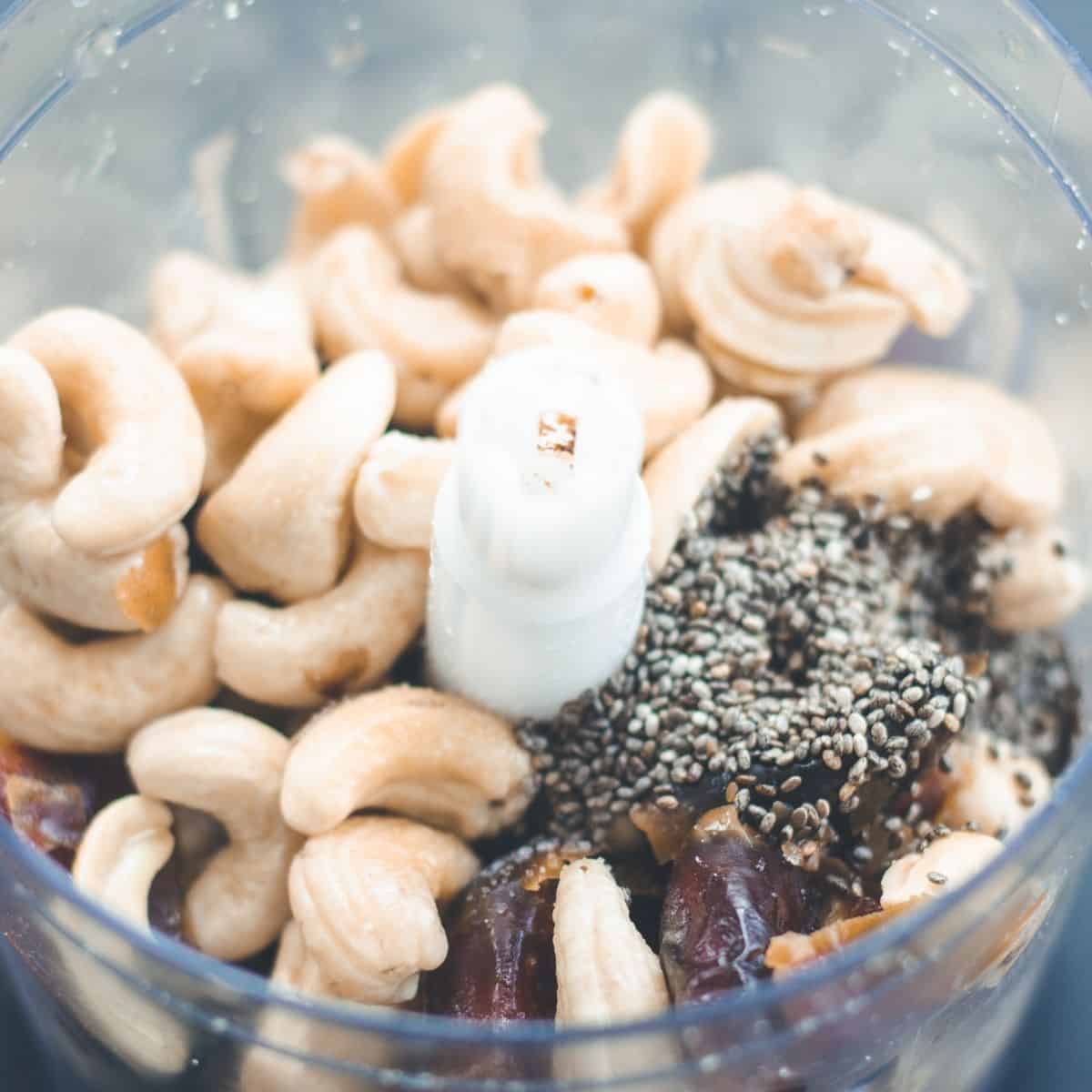 What are the ingredients? Firstly, dates. Sweet, sticky and full of minerals and iron, dates help with your digestion (goodbye squeaky, grumbling tummy!), and can even aid with anemia. I have been anemic since my teenage years, and constantly suffer with tiredness, headaches and breathlessness, so I try to pack in as many foods as I can that are iron-rich.
Secondly, we have the little powerhouse that is the cashew. If you are familiar with plant-based foods, you will know that cashews are utilised in so many different ways: to make cheese, cream, sauces. They have a delicate flavour that works with both savoury and sweet food, but more than that, they are high in protein, low in sugar and are a rich source of antioxidants.
The third ingredient is simply vanilla extract and this is optional! You could substitute your favourite flavouring instead, whether that's vanilla, coffee or chocolate. Whatever your taste preference is, is fine. I like my recipes to be flexible, so that people can adapt according to their tastebuds or what they have in the store cupboard! My raw Cashew Coconut Protein Balls love to be adapted!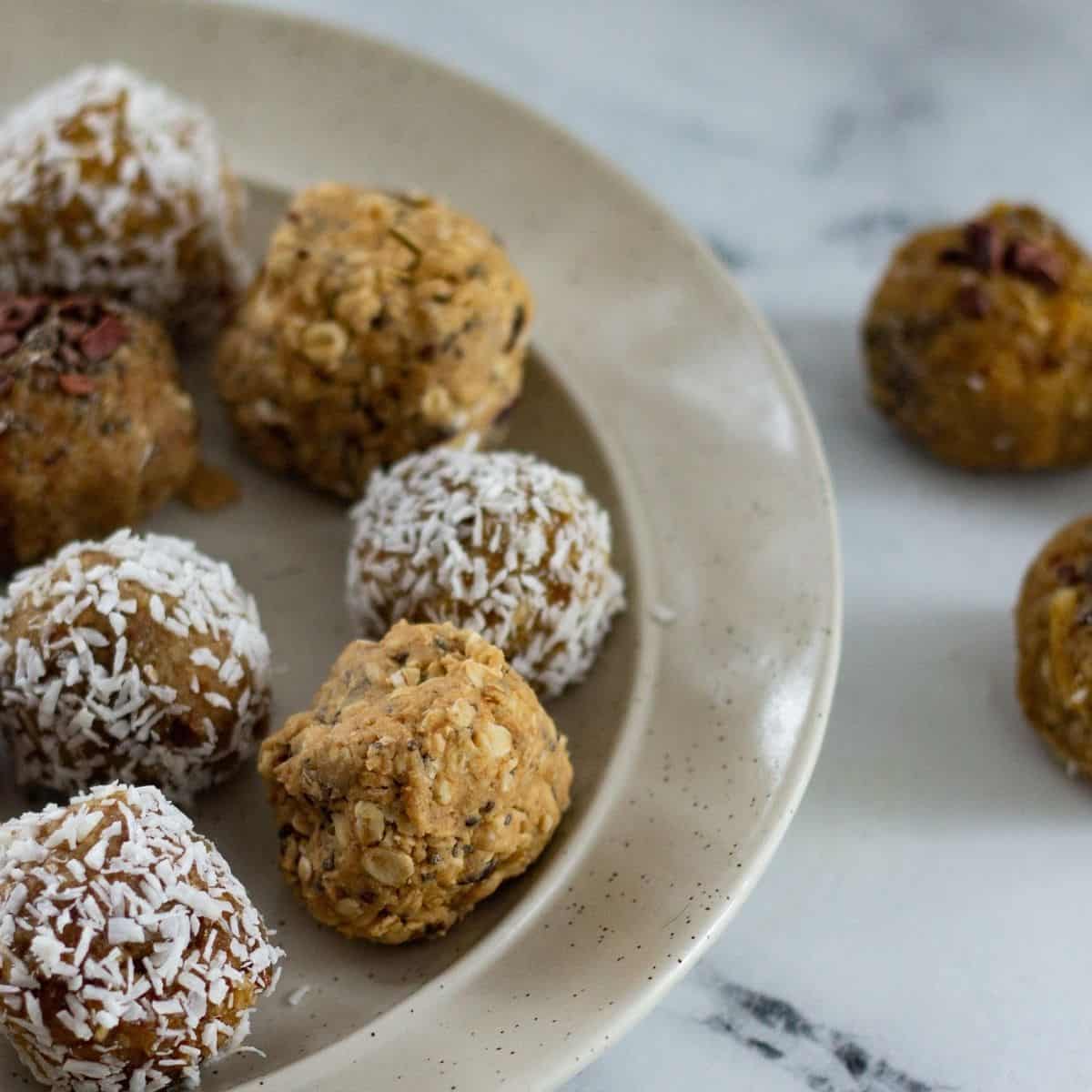 The only caveat is there is some time spent chilling, both you and the protein balls, as they do need to set up a little bit in the fridge, so I would suggest making them at the weekend ready for the week ahead (do keep them chilled as well, because they are fresh). Once made, they do keep in the fridge for about a week, so make a batch on Sunday, and you don't need to worry about your protein snacks for the week!
This recipe lends itself to lots of your own personalisation: what you want to roll them in, adding different dried fruits or nuts. Chia Seeds would be amazing and add even more fibre and minerals to the already nutrient packed protein balls! Let me know what you come up with!
Can I make Keto Protein Balls?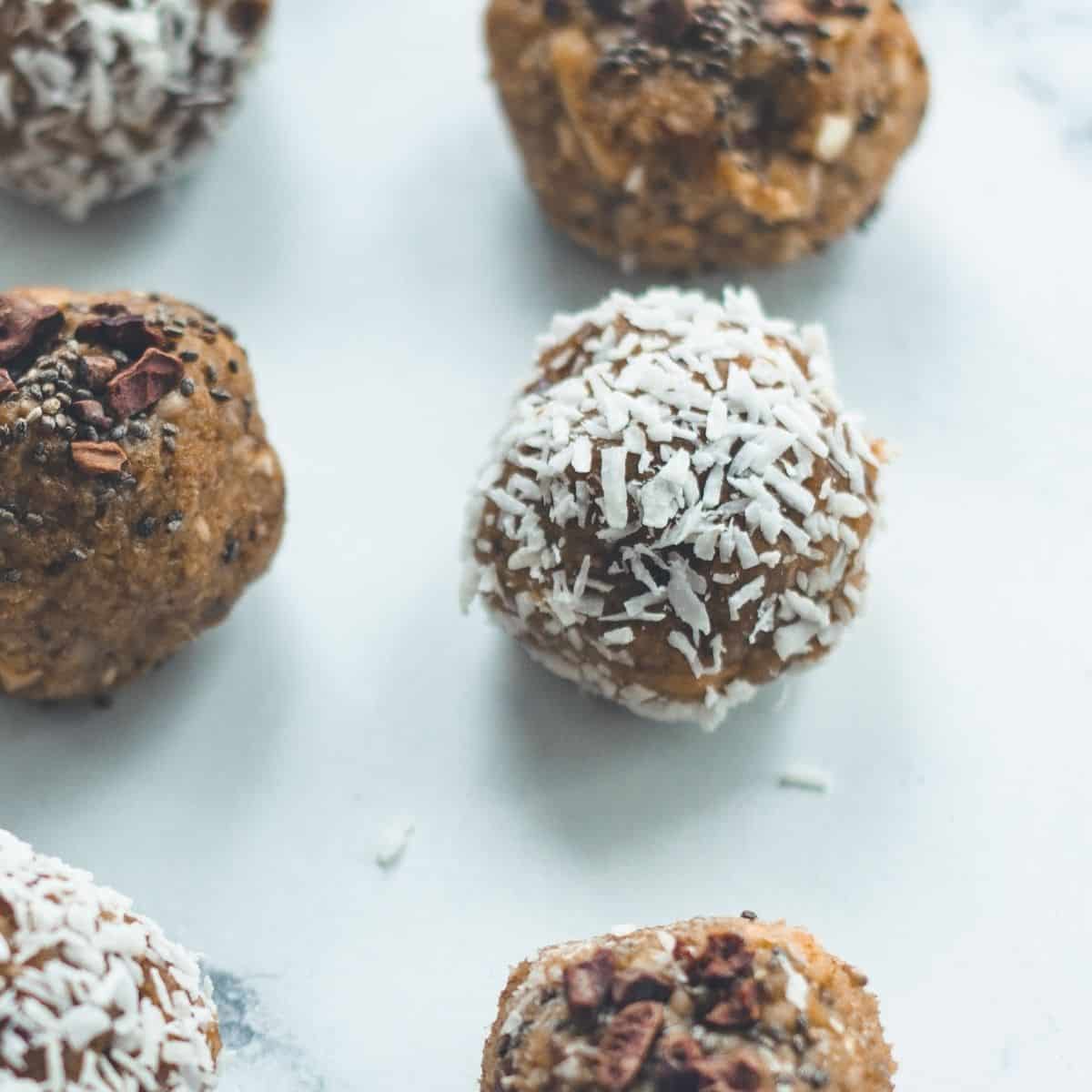 Yes! Replace the cashew nuts with Brazil or Pecans, both are much lower in carbs. Bear in mind that they still must be eaten in moderation when following the keto diet.
So, what are you waiting for? And if you want more protein ball ideas, Mama in Shape compiled a huge list of different recipes to try!
3 Ingredient Raw Cashew Coconut Protein Balls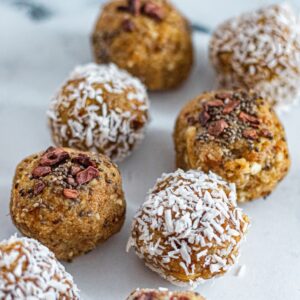 A quick and easy recipe for protein balls
Equipment
Mixing Bowl

Blender or Smoothie Maker
Ingredients
125

g

Cashew Nuts

soaked overnight in water, reserve water

90

g

Fresh Dates

Destoned. If not fresh, soak in boiling water for at least half an hour to soften

1

tsp

Vanilla Extract

or extract of your choice, almond, coffee etc

1

pinch

Sea Salt

40

g

Dessicated Coconut or Cacao Nibs, or Sesame Seeds

Optional, for rolling
Instructions
Blend together the cashews, dates, vanilla and sea salt until smooth (you may need to add some of the soaking water if the mixture is not coming together but please, not too much as the mixture will be too sticky).

Decant mixture into a bowl and chill for several hours until firm enough to roll into balls.

Form into balls of whatever size you desire (slightly smaller than a golf-ball is generous, anything bigger is greedy but who's telling?).

Roll in coconut (if using) and chill for a few hours more to set up.

Note: you can also use cacao nibs, cacao powder, chia, sesame or hemp seeds or leave plain, if coconut is not your thing.
Nutrition Facts
3 Ingredient Raw Cashew Coconut Protein Balls
Amount per Serving
% Daily Value*
* Percent Daily Values are based on a 2000 calorie diet.