Easy Vegan Dirty Rice Recipe
This post contains links to affiliate websites, such as Amazon, and we receive an affiliate commission for any purchases made by you using these links. We appreciate your support!
This easy vegan dirty rice recipe is the perfect meal for those looking for a delicious and healthy option. Made with a combination of vegetables, spices, and rice, this dish is packed with flavor. Whether you're a vegan or simply looking to incorporate more plant-based meals into your diet, this recipe is a must-try. Perfect for lunch or dinner, it's a filling and satisfying dish that the whole family will love. Give it a try and see how tasty vegan cooking can be!
I first tried Dirty Rice in the US and didn't like it. For one I have never been a fan of mince or ground beef. I found the dish to be greasy, and just unpleasant tasting. I liked the idea of it, because I love rice dishes, but the execution was just off for me. Finally, I got to try a packet mix Dirty Rice, Zatarain's. And I kind of liked that. But only if the hamburger meat was left out. As far as instant rice mixes go, it's pretty good, and super easy.
The Discovery of Vegan Mince
However, the discovery of vegan mince was one of the greatest days of my life. When I was first vegetarian, in the late (ahem) 80s, the only vegan mince on the market was TVP, a dried soy meat substitute. It was a bit of a palaver. You had to soak it first, and then if you add too much water, it can become kind of mushy, so ideal for meatloaf or meatballs, but not ideal in a dish where you want to see and taste the little bits of "mince".
Later came things like frozen Quorn mince and that really was a gamechanger (although it's still not 100% vegan). Easy, convenient and with very little prep involved. Nowadays I like to use Tesco's Plant Chef Mince, which is 100% vegan.
I always, and I mean always, love a rice dish. It's quick, easy, nourishing, filling and there's inevitably leftovers. I know, there's controversy about reheating rice, but let it cool completely at room temperature, cover and fridge it, then either bring out the fridge and come up to room temperature again (I love cold rice), or make sure you reheat thoroughly.
Where was I? Oh yes, talking about how much I love rice. Believe me when I say that I have many rice dishes I need to upload to the blog, all quick and easy. I could almost start another blog just for those to be honest. I'm pretty sure that I'm the only one in the family who is so obsessed with rice, but I just love it so much. I don't mind it if it's gone mushy, or if it sticks, or if it's clumpy, but I do not like easy cook rice. There's not really much need for it. Long Grain or Basmati or Jasmine are all so easy to cook, and my preference is Tilda Rice, simply because it just such high quality.
What Is Dirty Rice?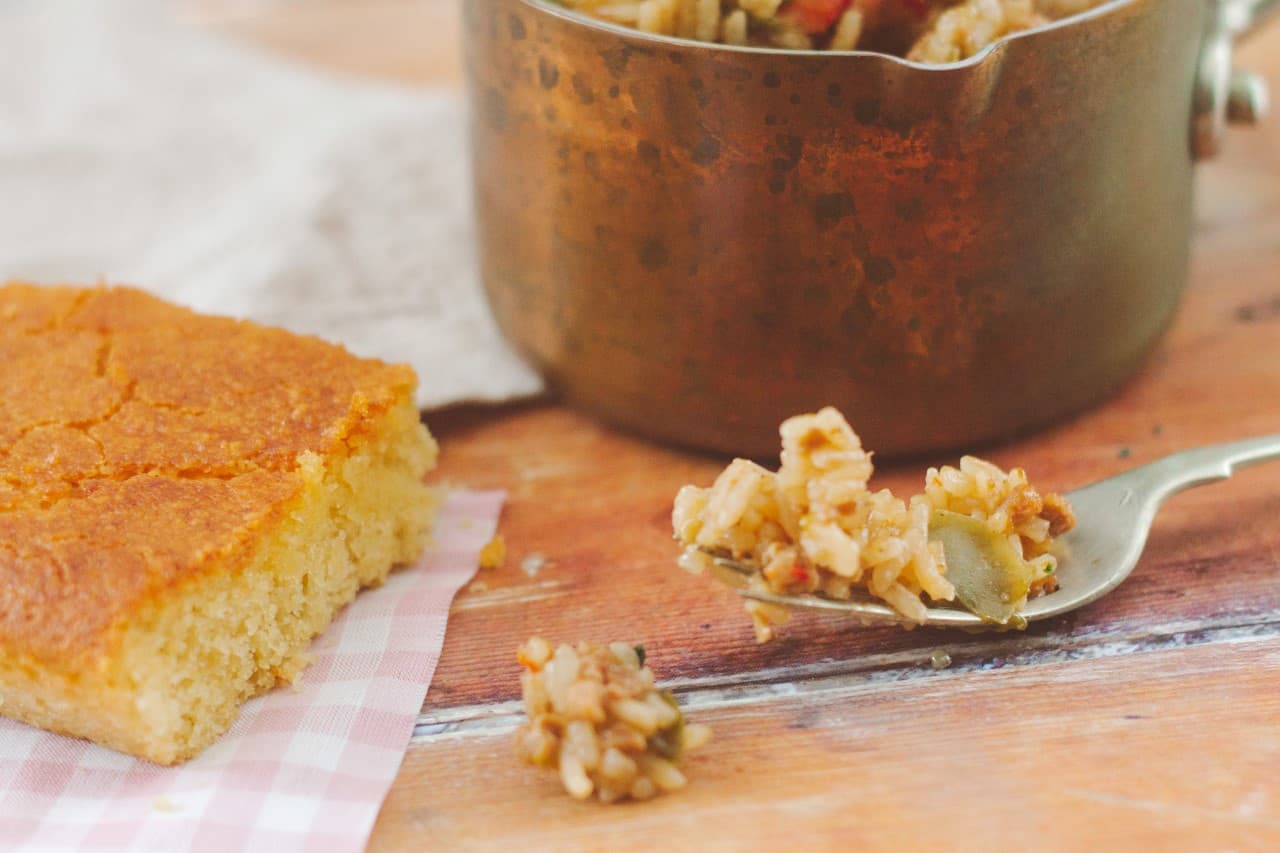 Dirty rice is a traditional Louisiana Creole dish, made with rice, which gets it's name from the additions of meat and the triumvirate of cajun seasoning: celery, pepper and onion. It "dirties" the purity of the white rice. It was a dish devised by the slaves working on rice plantations in Louisiana, a cheap way to feed to their families, using chicken gizzards or chicken livers and other organ meats to flavor it. These are the traditional dirty rice ingredients.
Since the abolition of slavery, the dish has remained a popular recipe in the South, although some of the flavors have been refined, using sausage or more expensive types of meat. Today it is still a low cost, high taste meal to make.
What Ingredients Are In Vegan Dirty Rice?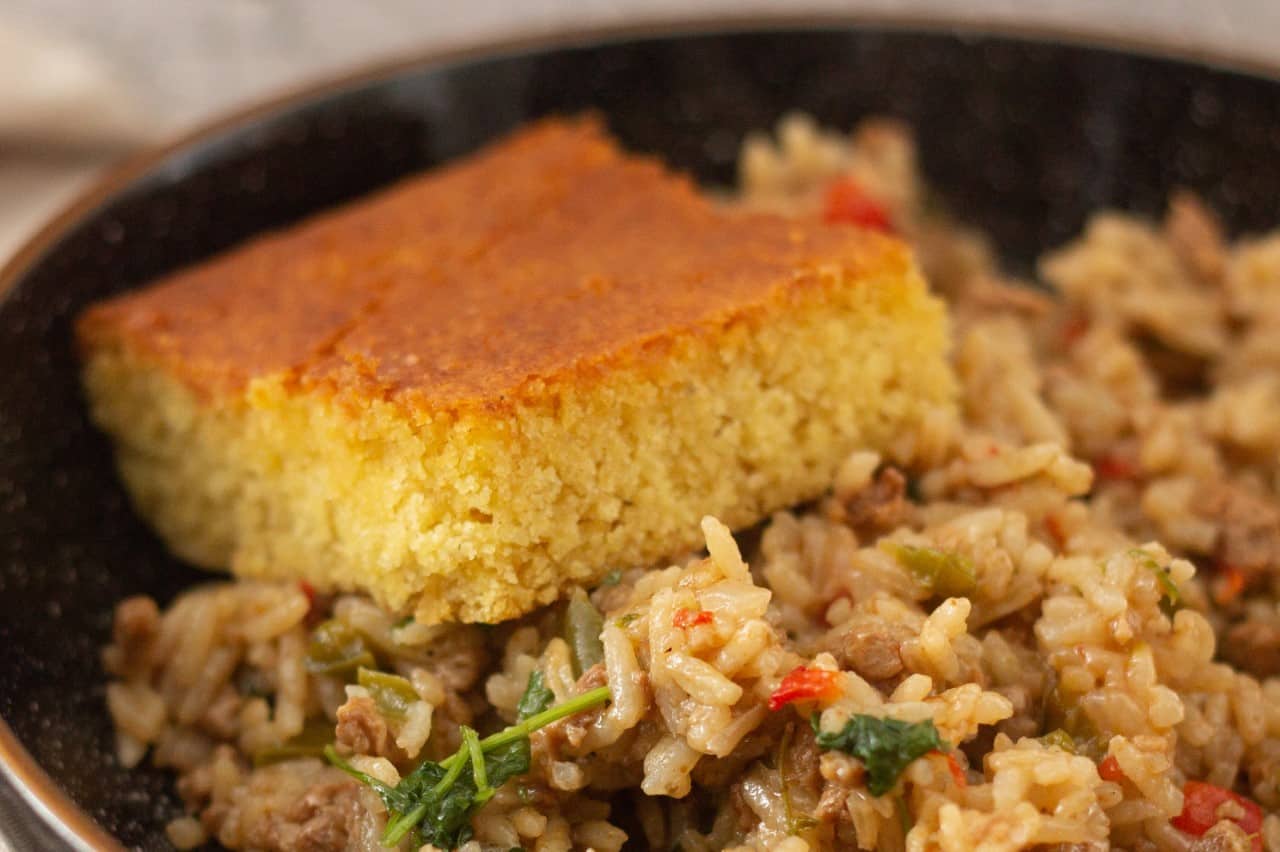 The Cajun Holy Trinity: Celery, Green Bell Pepper and Onion, these fresh vegetables are always chopped small, and sautéed down to ensure they give maximum flavour. These sautéed veggies will add flavor to any type of ragu.
Cajun Seasoning. Use whichever Cajun spices you prefer, some are spicier than others. The main constituents of a Cajun spice mix are dried Thyme, Cayenne Pepper, Garlic Powder and Black Pepper. It is full of flavour.
Bay Leaves, classic Cajun flavors right there.
Vegan Mince. I like to use Linda McCartney's VegeMince or Tesco's own proprietary brand which is really good. You could also use a cup of TVP if you prefer, just don't oversoak it.
Vegetable broth or stock. This is optional, but it adds another layer of flavour. I like to use Marigold Vegan Bouillon Powder.
Vegan Sausage, I don't always add this, but it makes it a complete meal on it's own. Cook up some of your favorite vegan sauces, then cube and stir into the rice towards the end of cooking.
This is ONLY a list of ingredients for the recipe; please see recipe card below for complete printable recipe.
I love to serve my vegan version of Dirty Rice with my Vegan Cornbread, the traditional flavors and textures compliment each other perfectly, and make a delicious and quick family meal.
Vegan Dirty Rice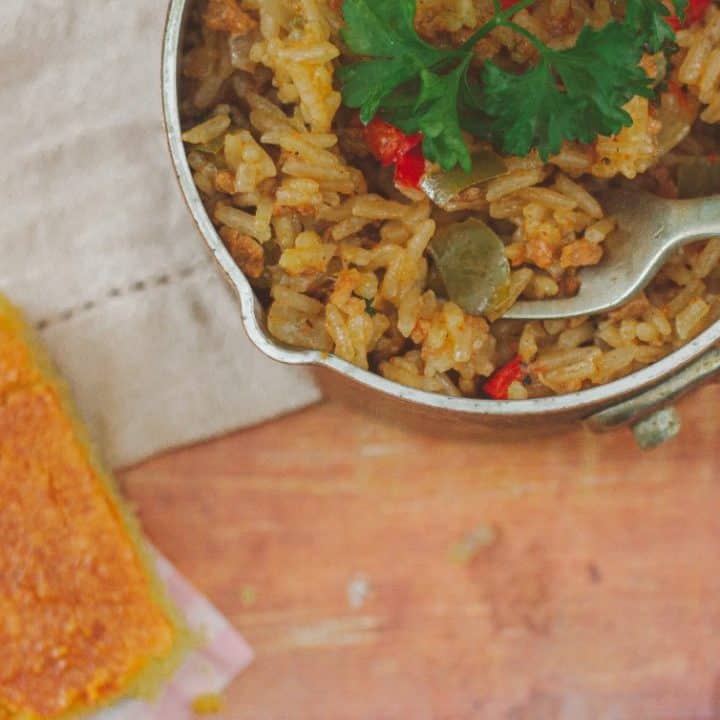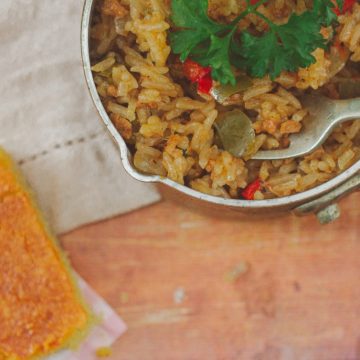 How to make a delicious spicy supper dish
Ingredients
1

Red Pepper

-

diced finely

1

Green Pepper

-

diced finely

2

sticks Celery

-

diced finely

1

White Onion

-

diced finely

1

Scotch Bonnet pepper, left whole

-

or omit you can't tolerate heat

1

Bay Leaf

1

tbsp

Vegetable Oil

1

tbsp

Butter

-

vegan

1

cup

Basmati Rice

1

Stock Cube

-

vegan

1

cup

Vegan Mince

2

tsp

Cajun Spice Seasoning

1

tsp

Black Pepper

1

tsp

Salt

2

cups

Water, just boiled

¼

cup

chopped Fresh Parsley

-

optional
Instructions
In a large pan, gently heat your vegetable oil, add your diced vegetables and saute until softened.

Add the vegan mince, rice, scotch bonnet, seasonings, butter and water and bring to a gently boil. Stir gently.

Turn down and leave to simmer for about 20-25 minutes or until the water is all absorbed and the rice is cooked.

Stir in the chopped parsley, taste for seasoning and serve.
Please note that where the recipe asks for milk, butter or yogurt, this refers to any plant-based version that you prefer.
Nutrition Facts
Vegan Dirty Rice
Amount per Serving
% Daily Value*
* Percent Daily Values are based on a 2000 calorie diet.