For a family favorite and crowd pleaser, try my vegan cold spinach dip, made with plant-based sour cream and mayo, fresh spinach, dill and seasoning. So quick to make, so easy to eat!
Jump to:
As the months drift by, I find myself in the kitchen more and more. I have been cooking like crazy for the blog, so can only make quick recipes to actually chill with and enjoy and even those are generally made late at night. If and when I get to cook now for just myself, it's never a big affair.
How do you make Cold Spinach Dip Vegan?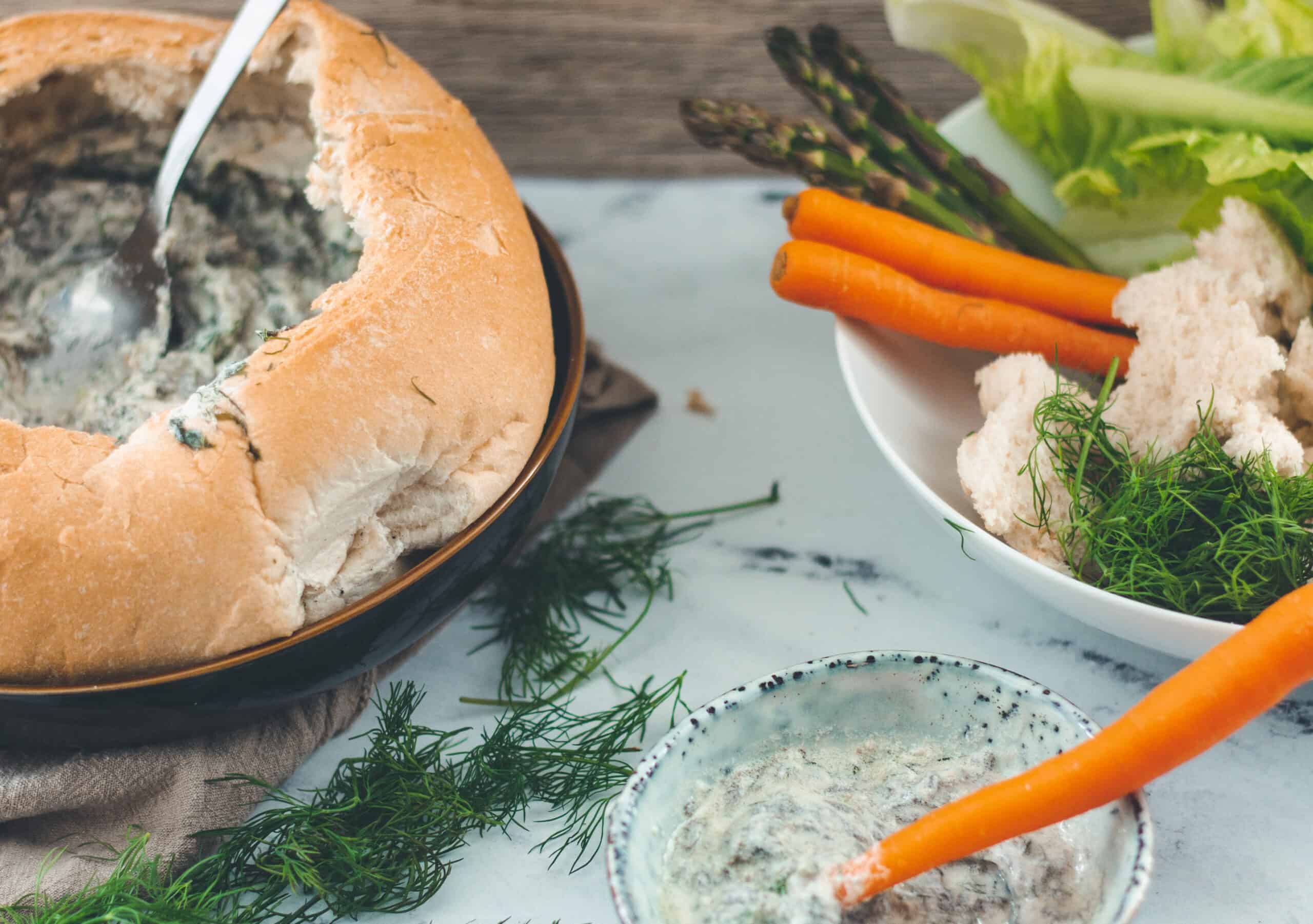 Pig in a Trough is a very simple cold spinach and dill dip. It has gone under many names in our house, but when it was first made for me and my family, it was called Pig's Delight. It must be a name unique to the Erickson family because a google search does not mind any mention of this! Back then, my grandma either genuinely couldn't remember a thing you said to her, or she thought it was funny to pretend she couldn't and so, over time the name of this dip went through several permutations: Pig in the Ghetto, Pig in a Hellhole, Pig's Soup, "that dip in the bread you make." For some reason, Pig in a Trough stuck, possibly as it was an apt description of the grandma with her face in the bread bowl (Please don't read this Nan!!)
The first thing you'll need is a decent round loaf of bread. If you're trying to keep it simple feel free to buy a nice loaf from the bakery or grocery store, but if you want to impress you could make your own. The rest of the recipe is simply a matter of measuring and mixing a few ingredients. Despite this, I have never had leftovers and everybody who's tried my spinach vegan dip has requested the recipe. A creamy dip is always a crowd-pleaser, and this is a genuine classic.
I love to serve mine in a bread bowl, but for a healthier cold dip, you can place it in a serving bowl instead. I place a selection of raw, fresh vegetables around the bowl: sliced red peppers, carrots, and cucumber, but even pita chips or tortilla chips are welcome! However you serve it, I think it's the perfect appetizer for the Thanksgiving or festive table, using basic ingredients that are available all year round. Non-vegan friends will love it too!
Note: if you're the chef, the prize for making this great vegan dip, is you get to eat the bread bowl lid, and that's the best part!
Ingredients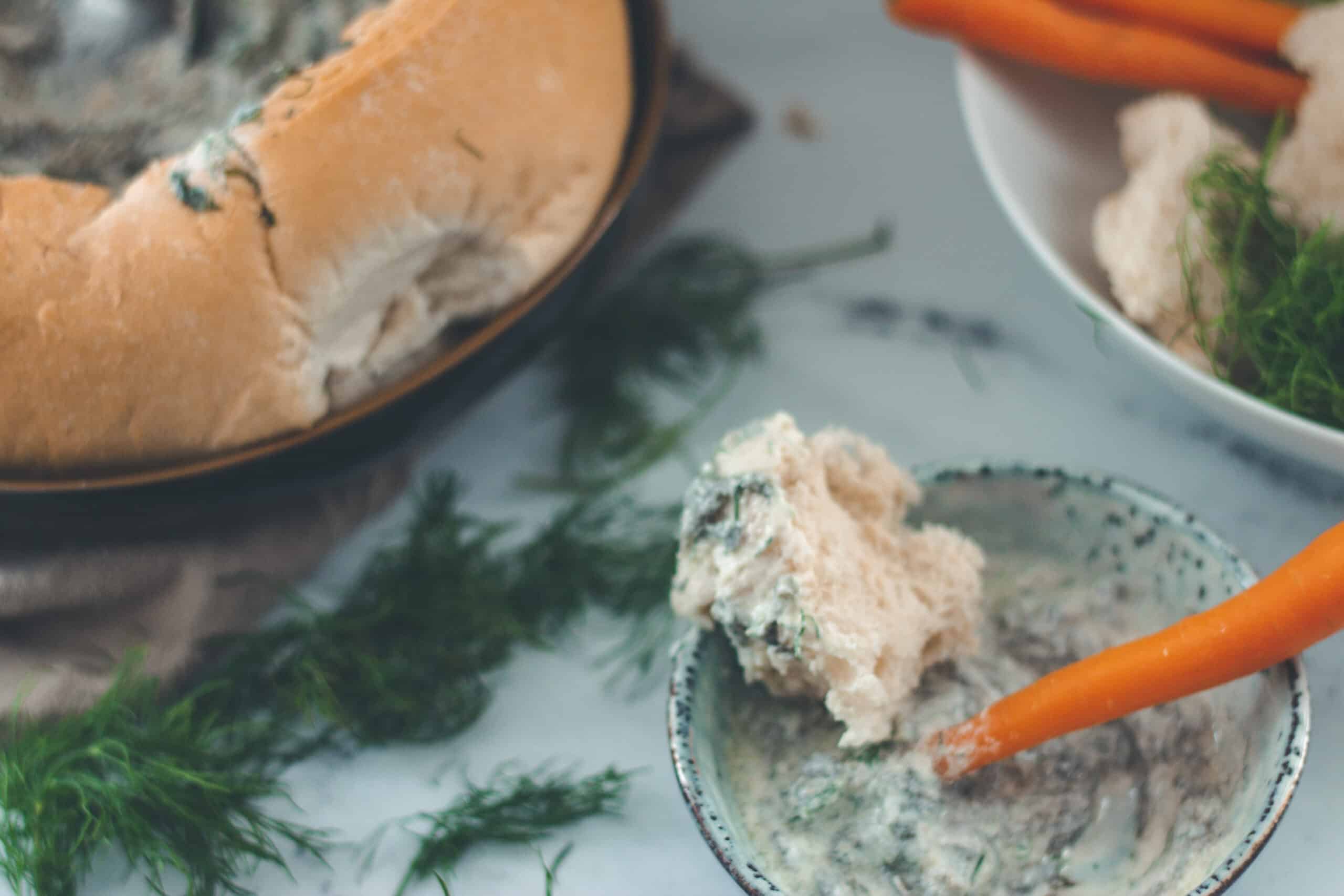 Round Boule-type loaf of bread. You want a nice sturdy bread that will stand up to being filled with the dip.
Fresh spinach. I have given options for using fresh or frozen spinach.
Vegan Mayonnaise. You could make your own, using my recipe here, or use your favorite brand. This is one of the main ingredients of this classic spinach dip.
Vegan Sour Cream. I use the Tofutti brand when I can find it. You can also use vegan Greek yogurt if you can't find sour cream, just make sure it's unsweetened! You could also use vegan cream cheese too.
Fresh dill. This adds such a distinctive, herbal kick to the final flavor.
Sea Salt and Black Pepper.
Celery Salt. Adds a unique, cheesy flavor. Some people use onion powder or garlic powder, but I find that they both can be a little overpowering. You could use nutritional yeast instead if you prefer.
Method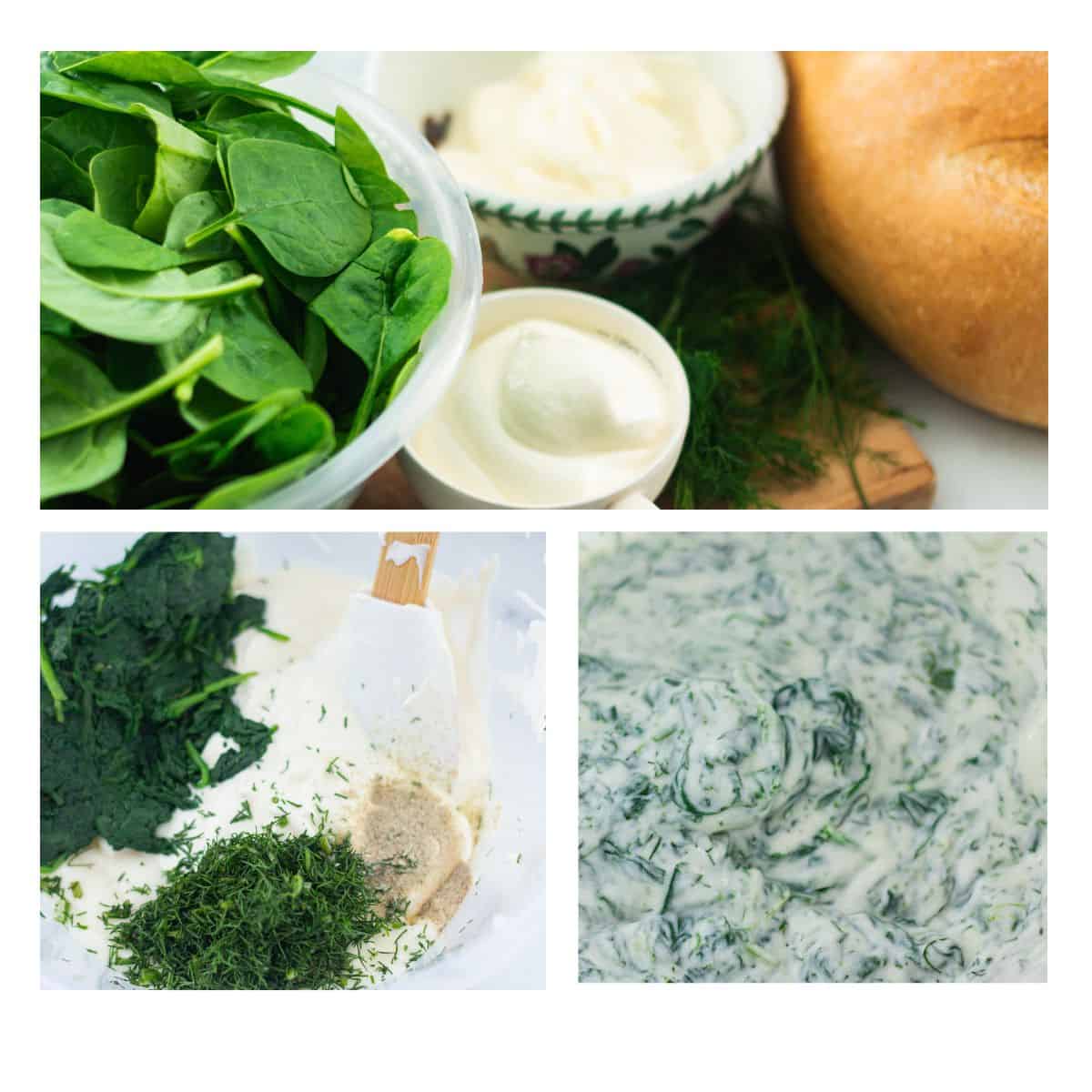 This easy vegan spinach dip recipe takes no time at all to prepare and can be eaten straight away, although I do like to chill it for a bit, to allow the flavors to mingle, I then serve at room temperature.
If using fresh spinach, place it in a large saucepan over medium heat and cook until it collapses and starts releasing water. This only takes a minute or two. Drain excess water thoroughly. Chop finely and let cool.
Meanwhile, in a large bowl, mix the sour cream, mayo, dill, and celery salt until creamy. You can use a food processor or high-speed blender for this if you like, but I just use a wooden spoon.
Add the chopped spinach and mix well.
Taste for seasoning. Take care not to over-season because the flavors will develop over time.
If you are serving yours in a bread bowl, remove the top of the bread and place it to one side. Scoop out the bread but make sure not to scoop too deeply. You want to ensure that the bread doesn't absorb too much of the dip and leak through.
Place the reserved bread to one side.
Decant the creamy mixture into the bowl, place the bread lid back on, wrap in clingfilm and refrigerate.
Alternatively, serve straight away. You could also pour the dip into a serving bowl.
Store any leftovers in an airtight container in the refrigerator for 24 hours.
Note: you may need to give the dip a little mix the next day. If the spinach was a little warm, it can cause the ingredients to split slightly, but a quick whisk can soon make it creamy again.
Try my other delicious side dishes
📋 Recipe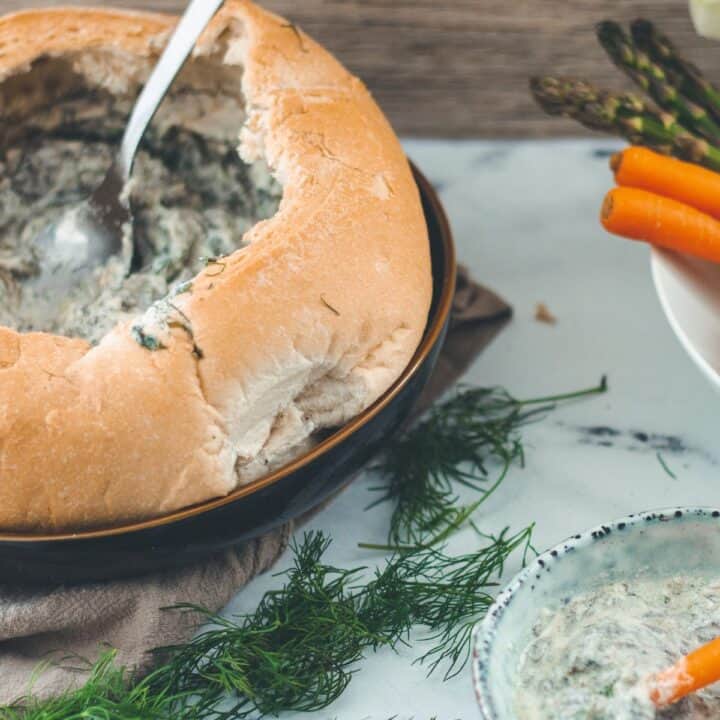 PRINT
Also known as Pigs Delight for an unknown reason, this deliciously tangy dip will please everyone
Ingredients
1

Large loaf of bread.

round, with the top cut off and insides scooped out and reserved

300

g

Spinach

fresh, or a small bag of frozen chopped spinach.

1

tablespoon

dill

we used dry out of necessity, but fresh would be better

1-2

teaspoon

celery salt

depending on taste

400

g

Mayonnaise

400

g

Sour cream

Seasoning to taste
Instructions
If using fresh spinach: Chop the raw spinach leaves and drop into boiling water for a minute until wilted (or place in a bowl and cover with boiling water from a kettle and leave for about five minutes). Drain and squeeze out all excess water.

If using frozen spinach: Thaw completely and squeeze out all excess water

Thoroughly chop spinach then mix with all remaining ingredients in a bowl. Test for seasoning.

Transfer dip into bread bowl, cover with bread lid or tin foil and refrigerate for at least one hour, preferably overnight.

Serve with cut up bits of reserved bread, raw vegetables, or crackers.
Nutrition
Nutrition Facts
Vegan Cold Spinach Dip
Amount per Serving
% Daily Value*
* Percent Daily Values are based on a 2000 calorie diet.
Nutritional Information Disclaimer
The automated nutritional information on my recipes can often be inaccurate due to the limitations within the programming. For exact measurements, there are lots of apps and websites that can calculate this information more accurately.
Tried it and Loved it?
Mention @sweeterthanoats or tag sweeterthanoats!