How to Make Posh Vegan Mushy Peas
Vegan mushy peas recipe. I love mushy peas. They may be a slightly divisive food (my boyfriend calls them northern Guacamole because it is a traditional "up north" food), but I want mushy peas if I have chip shop chips.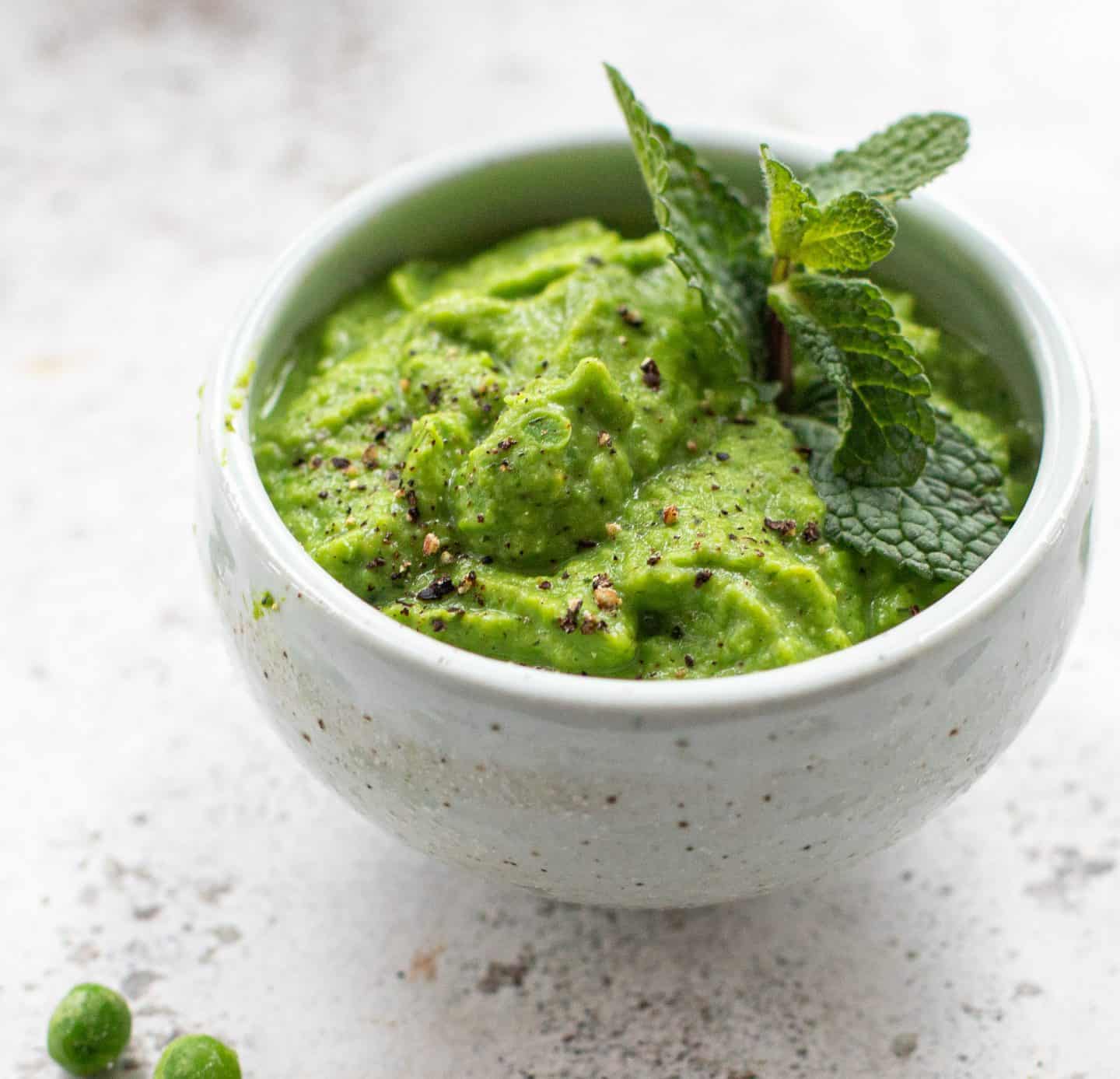 What are mushy peas?
Traditionally, mushy peas are made with marrowfat peas, a large, fully mature pea that you can buy dried or in cans. The difference between marrowfat peas and normal peas is the harvesting process. Simply, they are allowed to grow to full maturity and then are left to dry out on the field before harvesting. They have a very mealy texture, making them perfect for drying (which would have been essential during the war). These days they are imported to Japan, where they are turned into crunchy pea snacks.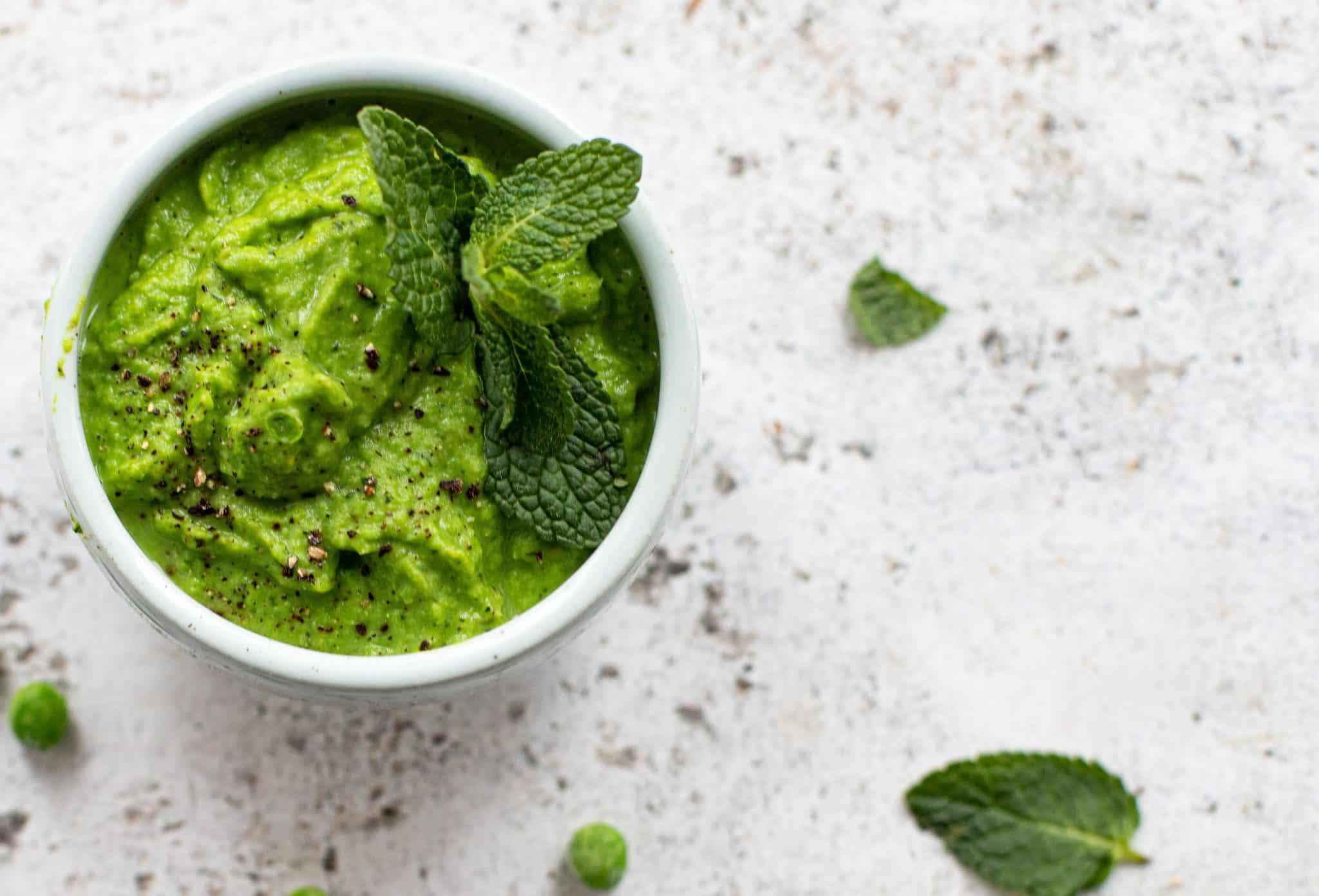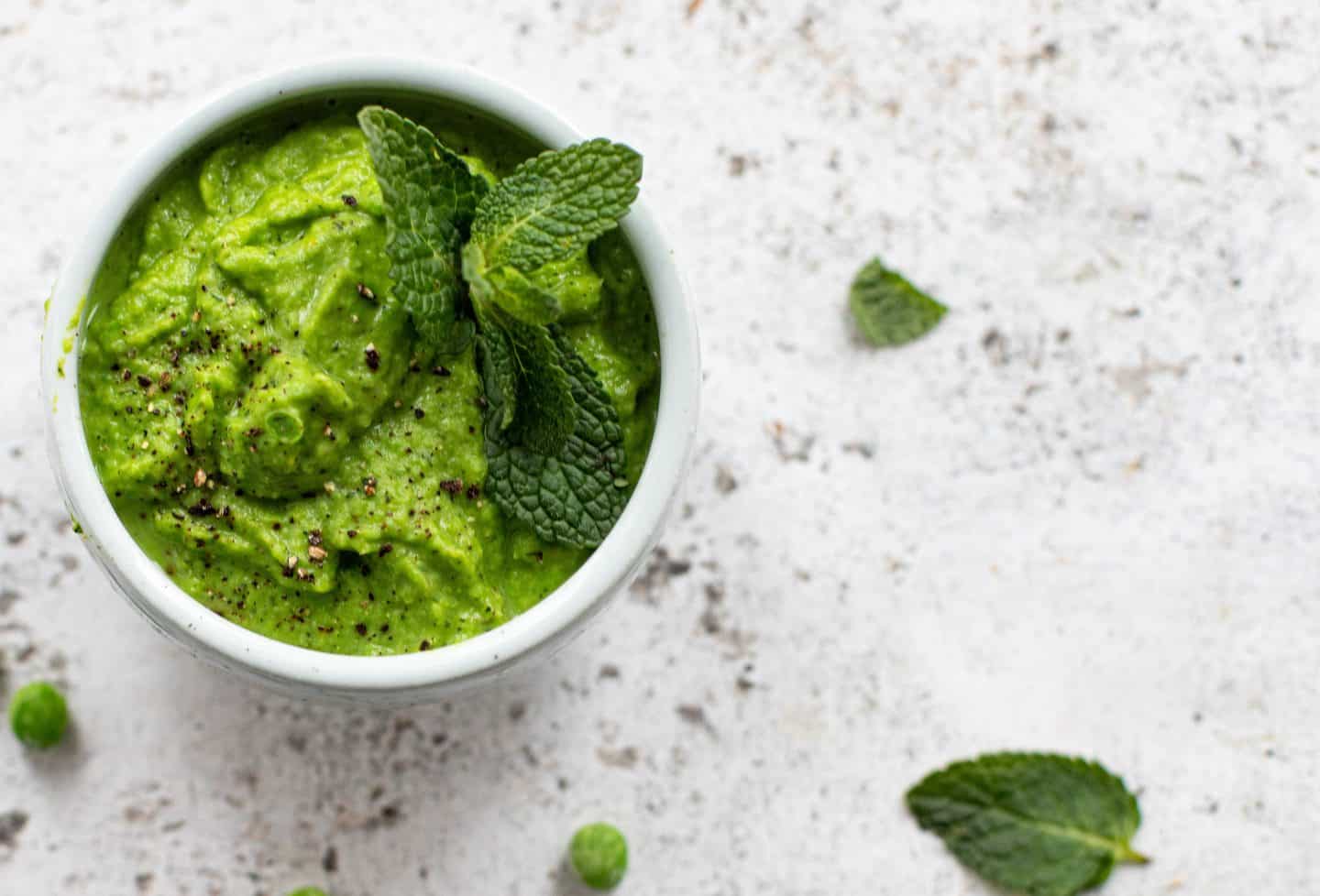 I don't find them particularly nice to eat as they are, but they add a perfect texture to thick soups, and, of course, are the key ingredient of the mushy peas you buy in your local chippy or canned in the supermarkets.
I think that traditional mushy peas have a rich, egg yolk-type flavor, despite being completely egg-free, and a thick, dense texture. They don't taste too much of peas you buy frozen!
As much as I love traditional mushy peas, I think that my mushy peas recipe is so good. I use frozen peas, you could also use cooked fresh peas. You can taste the fresh petit pois, mint and they take less than 10 minutes to prep! I love the vibrant color that the bright green peas give this delicious side dish!
How do you make Homemade Vegan Mushy Peas?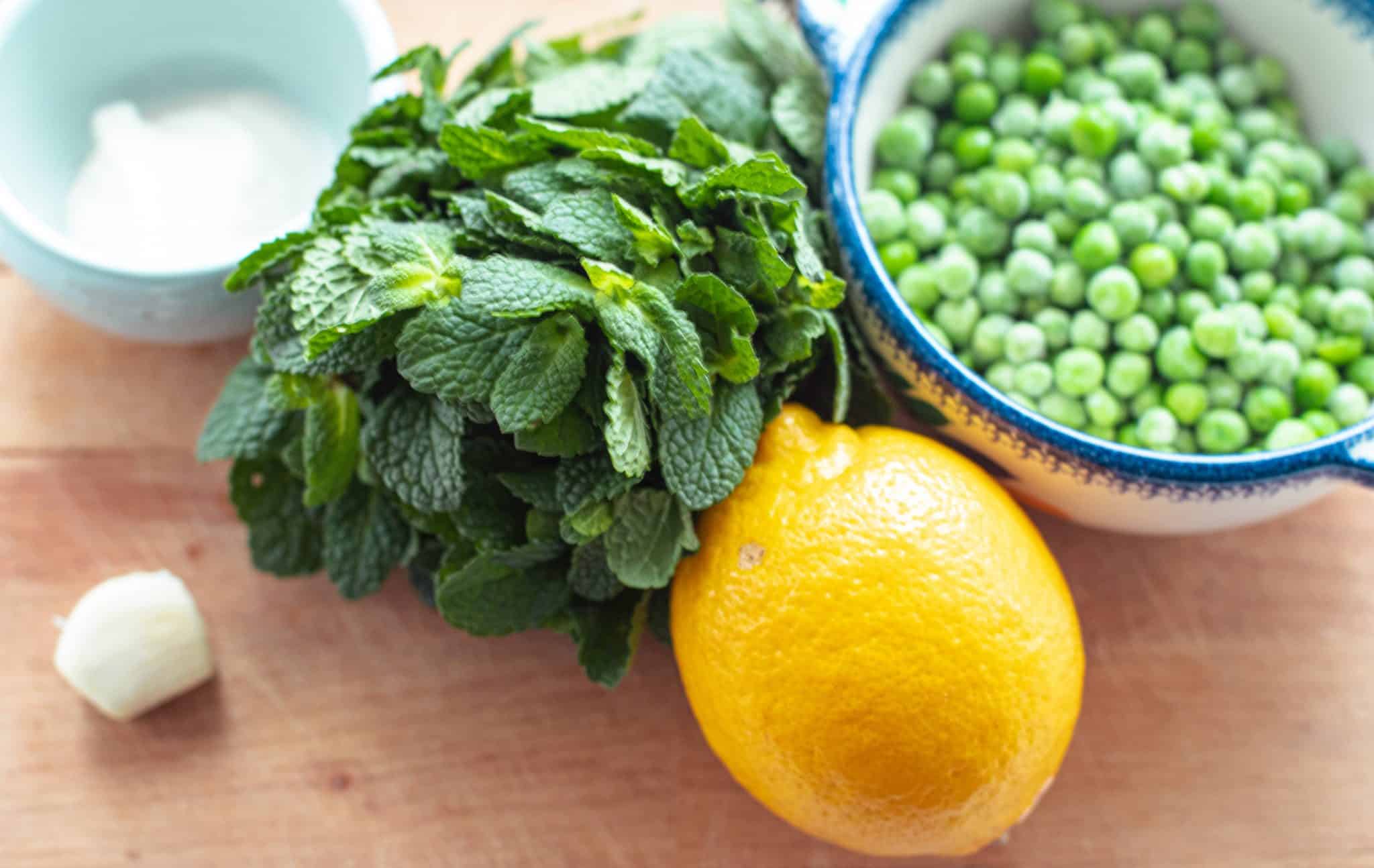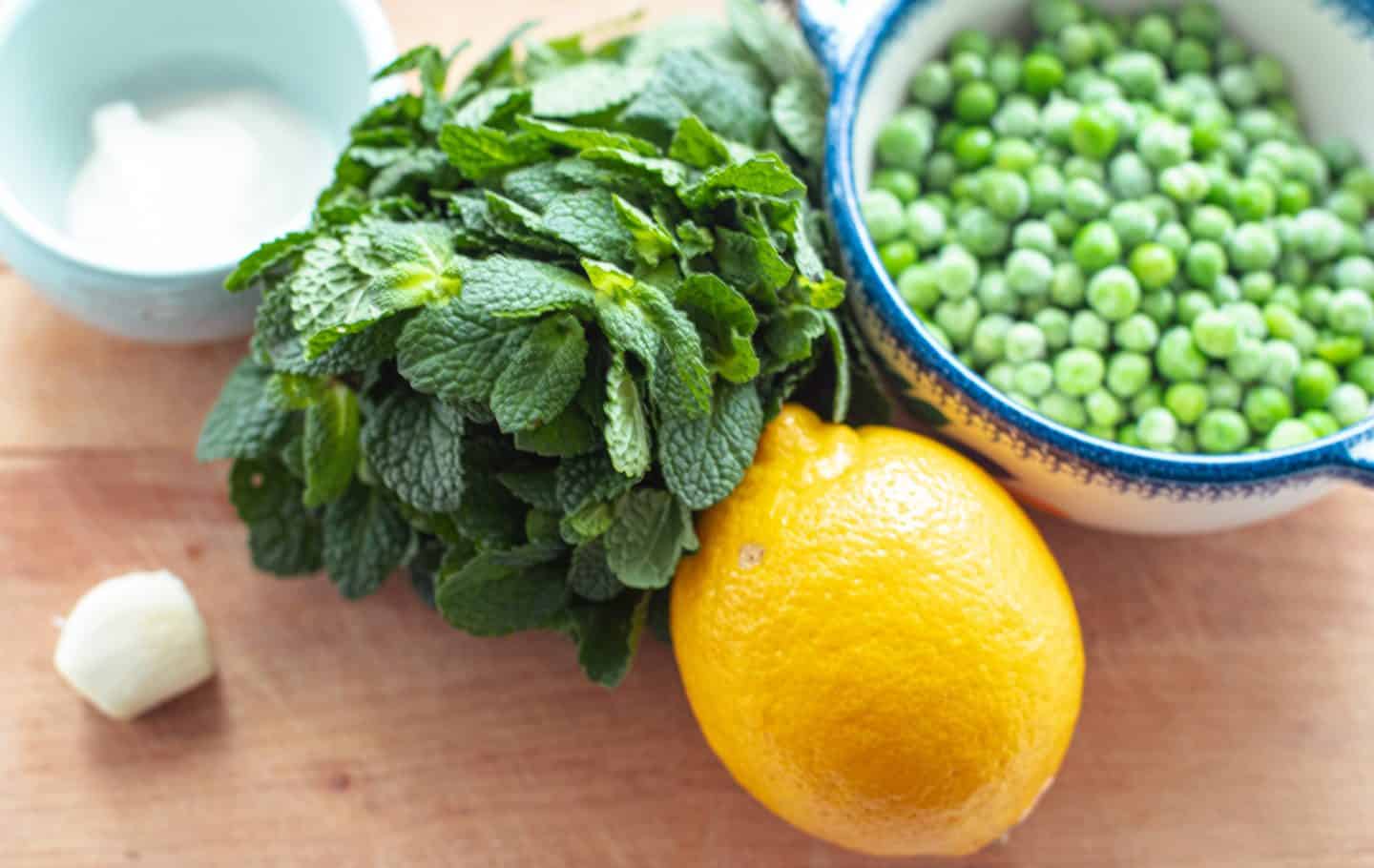 Easy peasy (sorry!).
In a medium saucepan, add a little water and a peeled clove of garlic. Bring up to a brisk simmer for a couple of minutes, to soften the clove and allow the flavor to permeate the cooking water.
Then add your frozen peas, some fresh mint leaves and simmer for a couple of minutes more over medium heat.
Drain and place the cooked peas, mint and garlic in a blender or food processor. You could also use a hand stick blender in a jug.
Add some plain vegan yogurt, some black pepper, a pinch of salt, and if you like, a little lemon juice.
Blend until chunky but not completely smooth, you want a little texture and to still taste the sweetness of the peas.
Taste for seasoning, add a little more sea salt or pepper if necessary, then add a dollop of vegan butter, allowing it to melt in the heat of the mushy peas.

How do you serve Vegan Mushy Peas?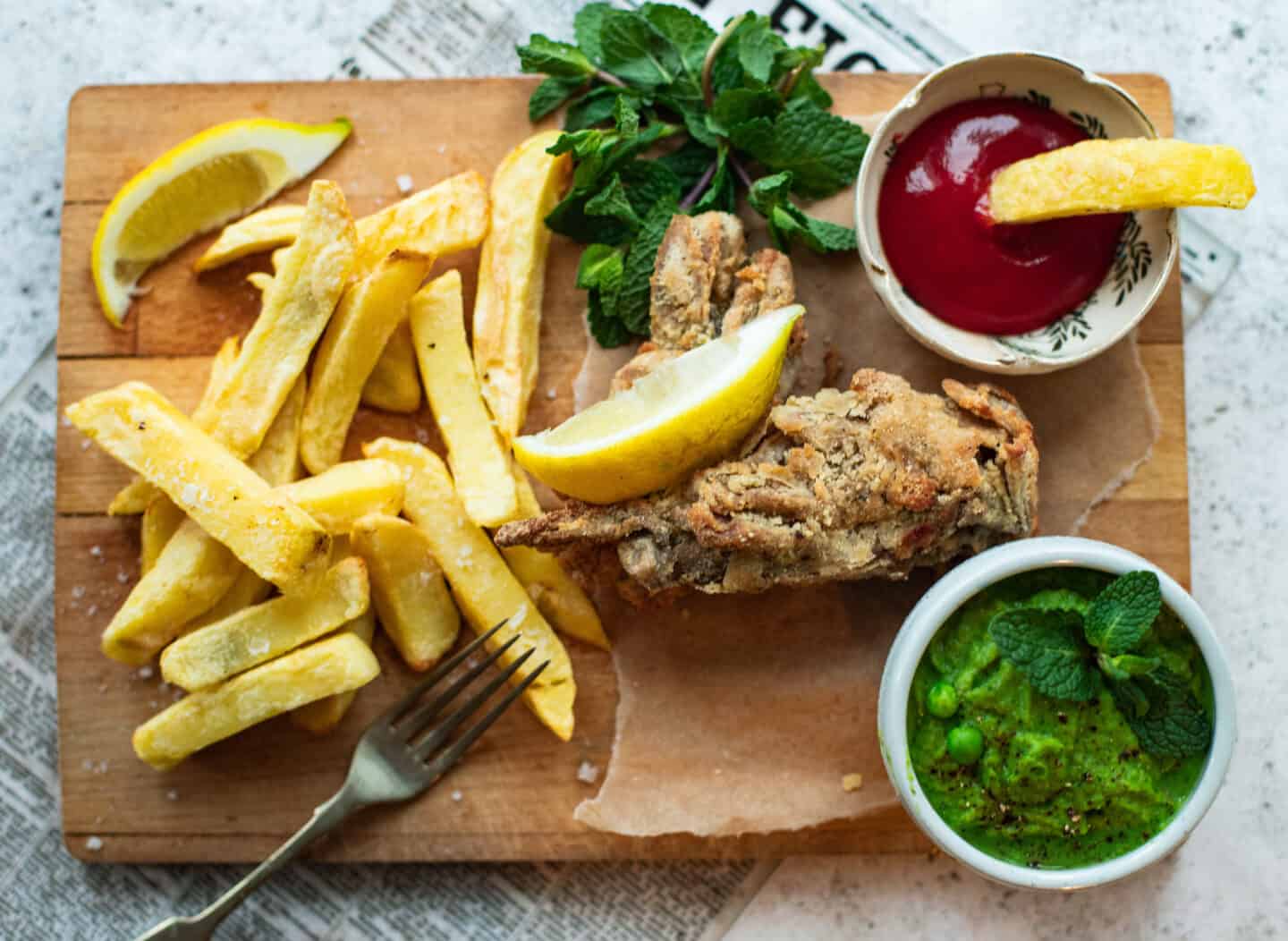 I love to serve my mushy peas with my banana blossom beer battered "fish" and chunky chips, but they are also delicious served alongside Sunday roasts,
FAQ
Are Vegan Mushy Peas gluten-free?
Yes, they are completely gluten free!
Can you freeze Vegan Mushy Peas?
You can, allow them to cool completely, then place in a freezer bag. They will be fine in the freezer for up to 6 weeks.
Try my other delicious vegan side dishes
Posh Mushy Peas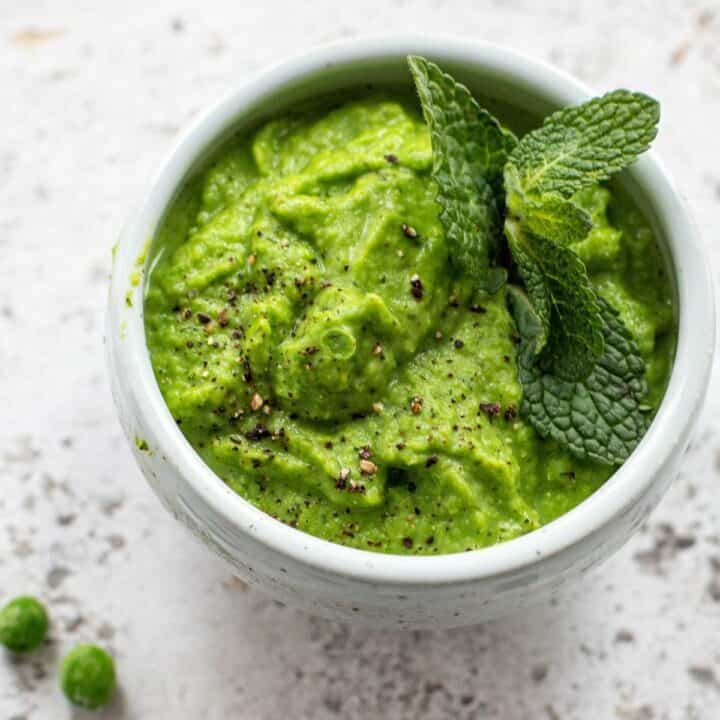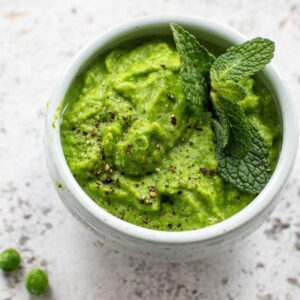 How to make the British favourite, but a bit nicer (and vegan!)
Ingredients
1

cup

Petit Pois

frozen peas

1

clove

Garlic

peeled

¼

cup

Yogurt

unsweetened, vegan

1

teaspoon

Butter

vegan

1

tbsp

Mint

fresh

Salt and Pepper

Lemon Juice
Instructions
In a saucepan, add a cup of water and the peeled garlic clove. Bring up to a brisk simmer.

Simmer the garlic for a couple of minutes, then add the peas. Simmer for a couple more minutes.

Drain the peas and garlic clove and add to blender jug. Add salt, pepper, mint, spritz of lemon juice and vegan yogurt. Blend until chunky, but not a puree.

Add the vegan butter and stir through, then taste for seasoning.
Nutrition Facts
Posh Mushy Peas
Amount per Serving
% Daily Value*
* Percent Daily Values are based on a 2000 calorie diet.