How to Make Vegan Pear and Walnut Brownies
This post contains links to affiliate websites, such as Amazon, and we receive an affiliate commission for any purchases made by you using these links. We appreciate your support!
Vegan Walnut Pear Brownies. Rich, dark, fudgy, chewy vegan brownies, studded with little bites of ripe pear and crunchy walnuts. They are everything that is right with the world.
Possibly the most perfect of all the ways to indulge in Theobroma Cacao. I have never met a brownies that I don't like yet, but I do tend to stick with traditional recipes. This one is a little different to my usual type of Brownie, utilising fruit that I had leftover in the fruit bowl, going a little bit sad and wrinkly (aren't we all?), and walnuts, which are my favourite nut to stir into a brownie!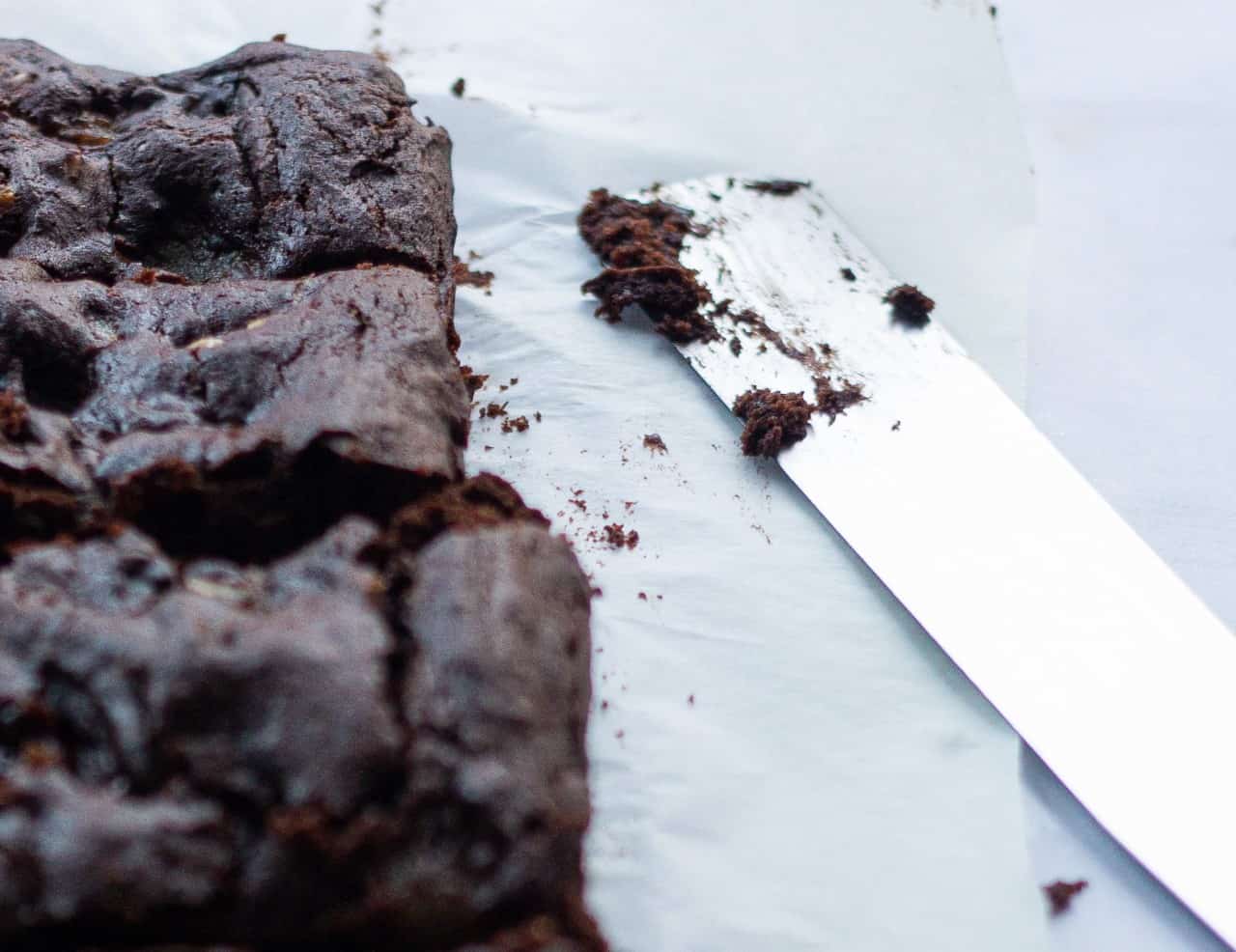 The chocolate hit in a well-made brownie is so strong it can feel like you've just downed three double espressos in less than 10 seconds flat. And there's the non-prep side of things. It takes no time at all to whip up a batch of brownies and even less time to devour them.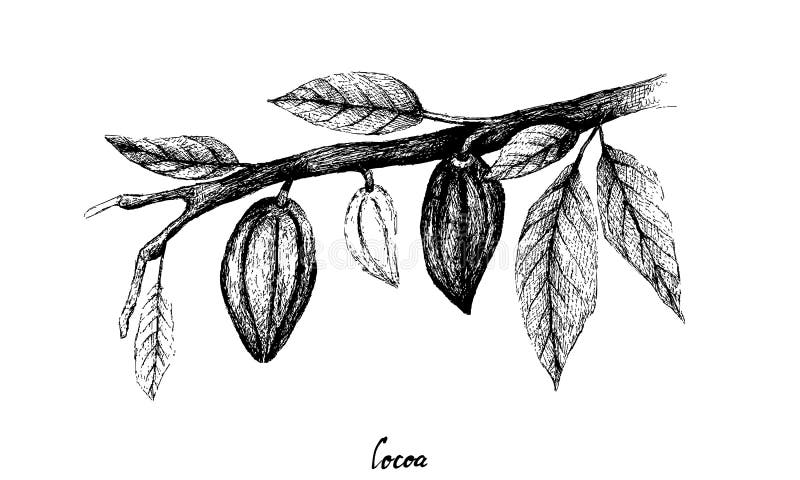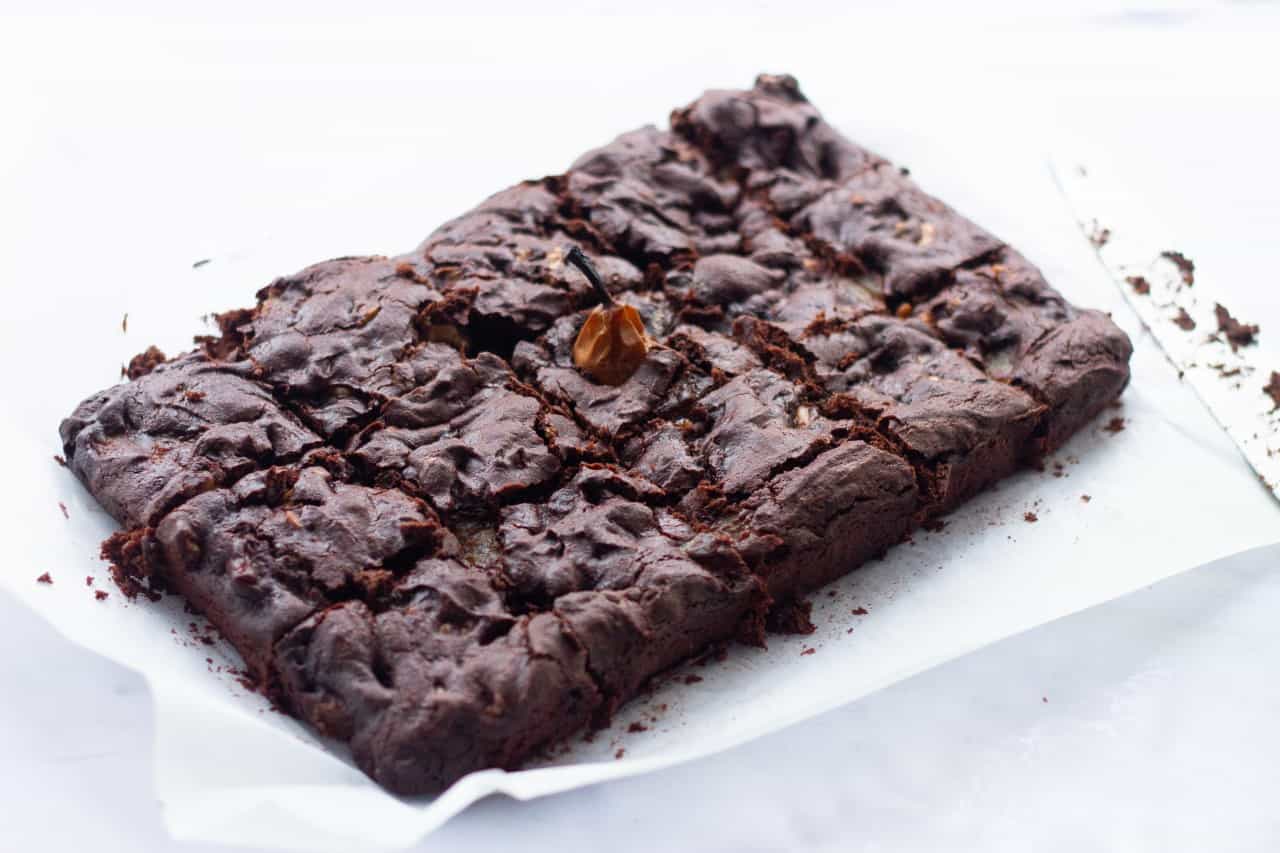 The only difficult part is deciding how you're going to pimp your brownies…and how difficult is that? Of course, there is a down side to such a simply wonderful cake. Brownies don't really look like much other than brown, heavy, stodgy bits of brick. But think again! Therein lies within a simple, evil genius. People unfamiliar with the Brownie may overlook it once, but once bitten, never again shy.
The characteristics of the brownie, whether it's chocolate or otherwise (blondies also exist and are just as yummy) is that moist, almost undercooked middle that takes very little time to get used to. This is where I always have problems. 9 out of 10 of my brownies are nearly always under or over cooked. I adore that squidgy middle so much that I have strong reservations about leaving them in the oven for the stated time in the recipe. Veganising Brownies add a further tricky element: without eggs of dairy, I am not so sure if that cracked top is even possible.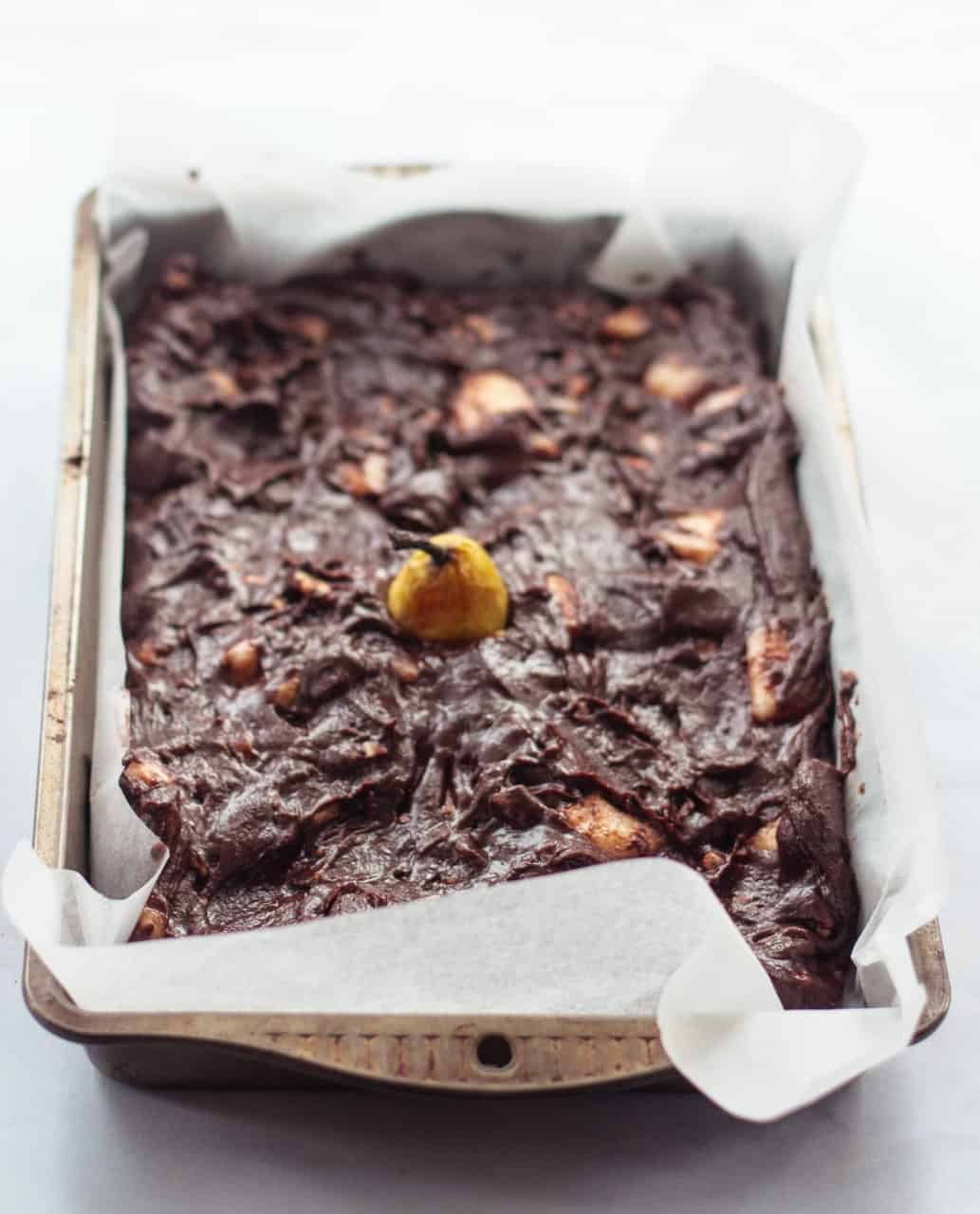 I am not worried about if my brownies are over or undercooked. Whatever. If they taste good, that is all that matters. And an overcooked brownie can be redeemed with a little warm-up in the microwave and a dollop of cream or vanilla ice cream, melting all over.
Why Is This Vegan Brownie Recipe So Special?
This particular recipe was an anamoly. As part of a foodie community that I belong to, we all decided to bake our own brownie recipes, and then photograph them. A culinary and artistic challenge if you will. I had a pear going very wrinkly (no one wants a wrinkly pear) in my fruit bowl (the innuendo gets worse) and a bunch of walnuts, and so I decided to add these to my own brownie recipe. What makes this my own? I add a hint of almond extract. It adds a sophistication to the otherwise relentlessly chocolate flavour.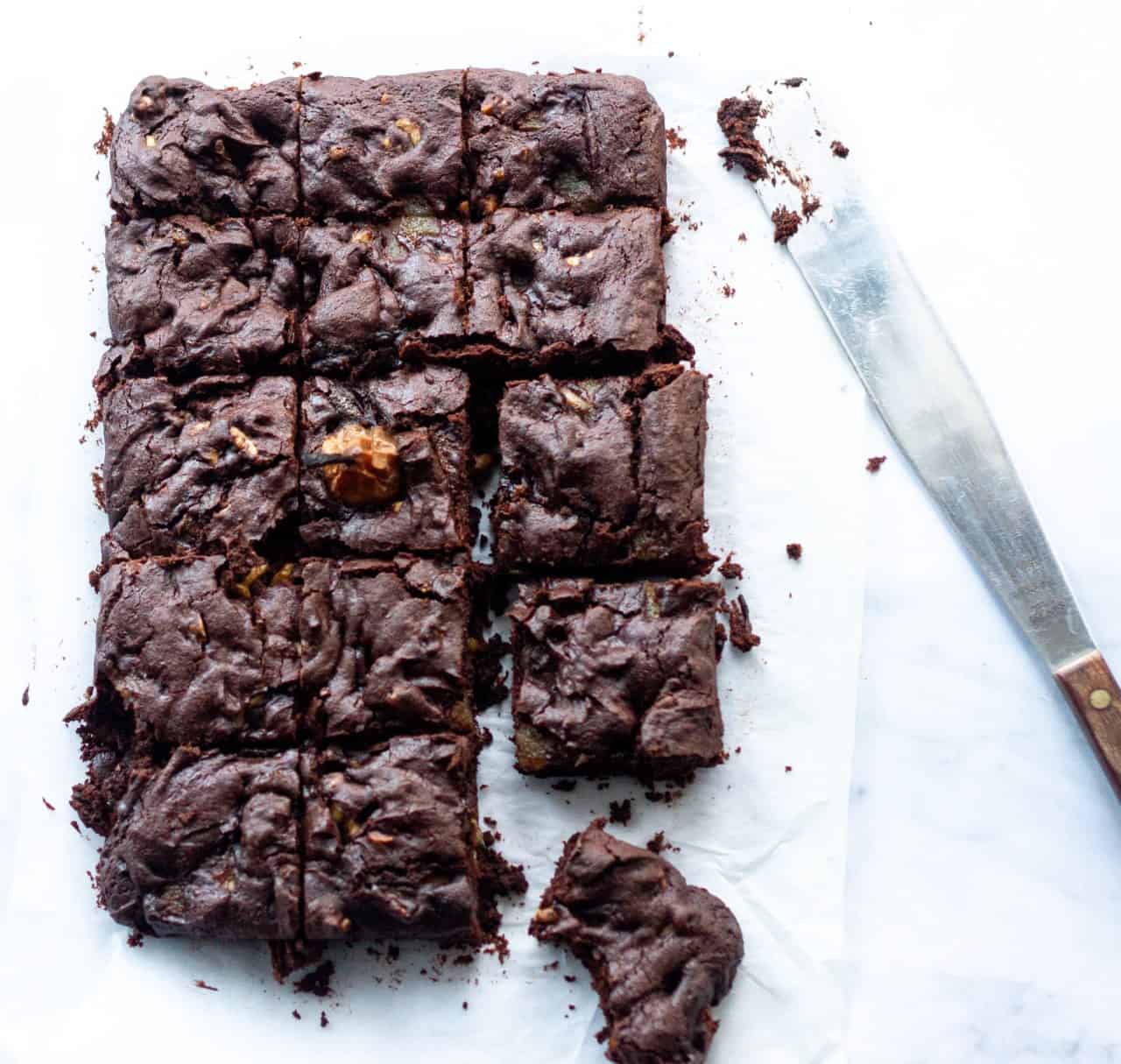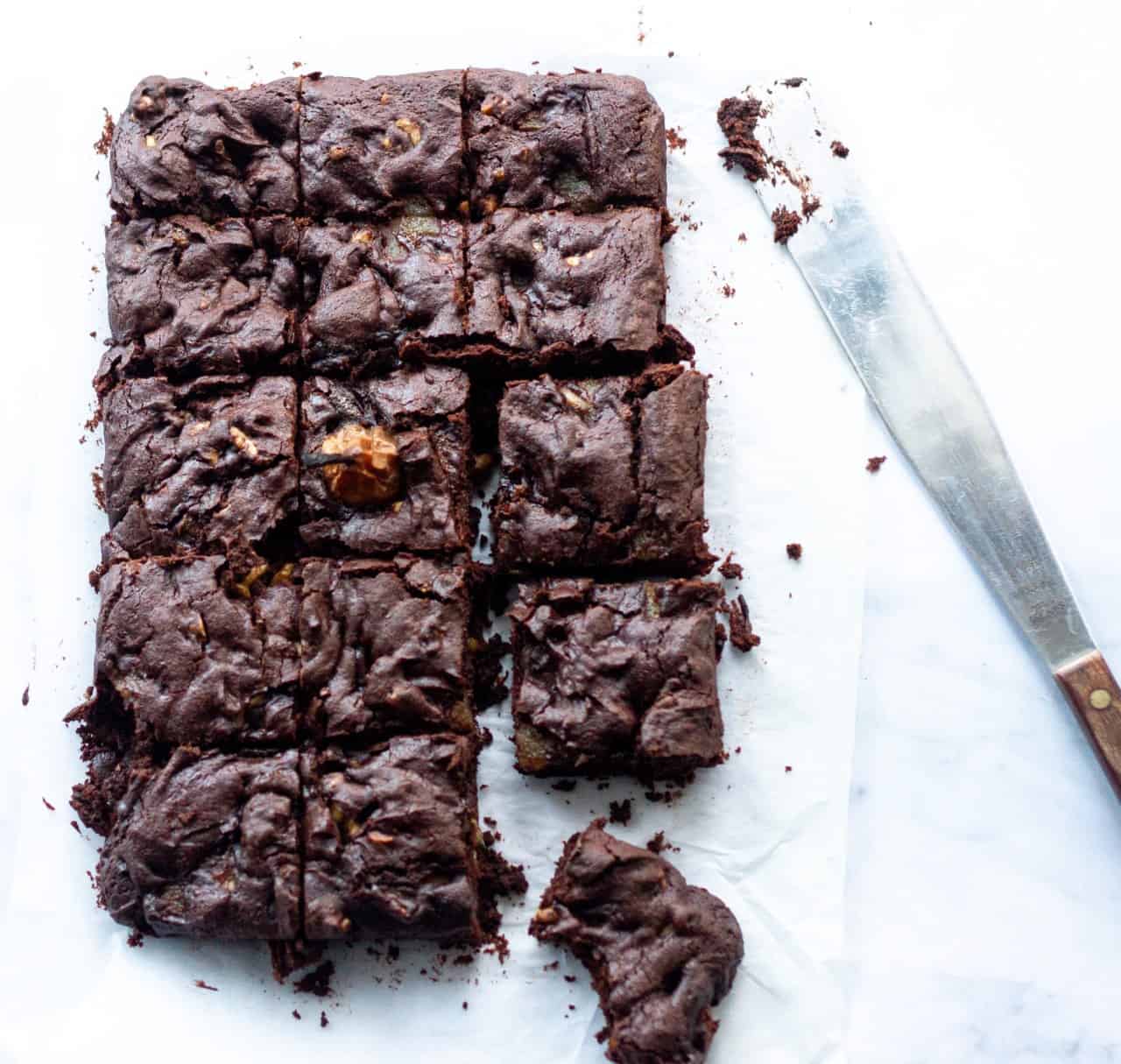 So, I whipped up my mixture in no time, and set my timer for 5 minutes less than usual, I didn't want goo, but I wanted a gently ooze. In the oven they went.
The heralding of my timer signalled me racing to the oven: not a minute longer than needed for these babies!! I plunged the knife in the middle to check just how gooey they were: not much goo. Ahh well. These were a 9 out of 10 for flavour and a 5 out of 10 for brownie idiosyncrasy.
Try my other delicious vegan treats
Pear and Walnut Vegan Brownies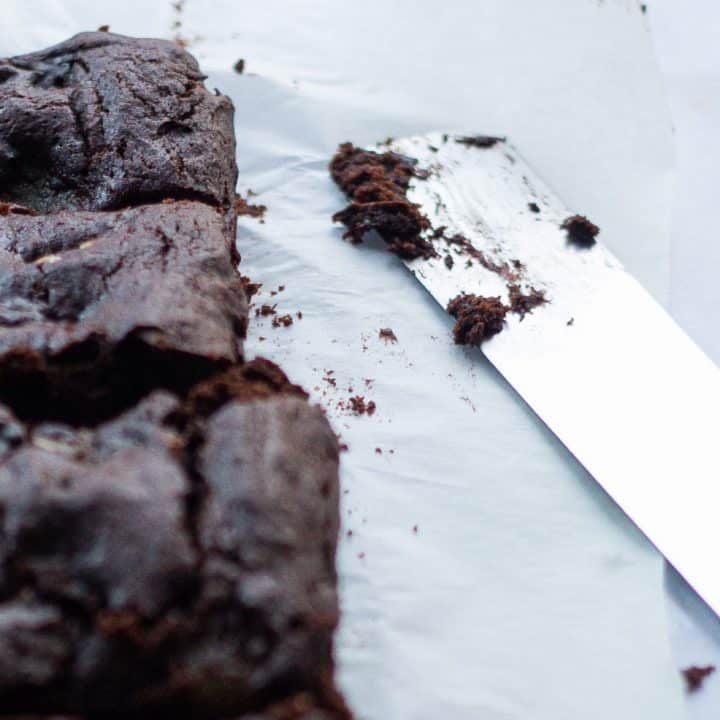 A quick and easy way to whip up a batch of vegan brownies.
Equipment
Mixing Bowl

Brownie Pan, lined

Wooden Spoon and Measuring Spoons
Ingredients
½

cup

Butter

vegan, melted

1½

cups

Brown Sugar

soft

⅓

cup

Soy Milk

or plant-based milk of your choice

2

tsp

Vanilla Extract

1

tsp

Almond Extract

¾

cup

Cocoa Powder

1

cup

Flour

pinch

Salt

¾

tsp

Baking Powder

½

cup

Walnuts

chopped

1

Pear

peeled, cored and diced

1

cup

Chocolate Chips

vegan
Instructions
In a heatproof jug, microwave the butter and brown sugar for about 1 minute. Whisk well.

Preheat oven to 180c.

Line a brownie pan with greaseproof paper.

In a large bowl, sift together the cocoa powder, baking powder, flour and salt.

Mix the milk and essences into the melted butter/sugar. Pour over the dry ingredients and stir just until you can't see any dry clumps of flour.

Fold in the choc chips, walnuts and pear chunks.

Pour your mixture into your prepared baking pan and bake for about 20 minutes. Check for goo after about 15 mins.

Remove from oven and let cool completely until removing from the brownie pan. Cut into squares and serve!
Nutrition Facts
Pear and Walnut Vegan Brownies
Amount per Serving
% Daily Value*
* Percent Daily Values are based on a 2000 calorie diet.