A simple, old-fashioned sultana loaf cake, achingly easy to make and the perfect treat to go with a cup of tea (egg and dairy-free)
I was definitely a non-dried fruit child, I couldn't stand fruit cakes, or christmas puddings, or scones. You could say that I missed out on a lot of good flavours as a kid, but I do think that our tastebuds develop and evolve over time.
Jump to:
I've written extensively here about other foods that I really didn't enjoy: tomatoes, most fruit (still am a bit fruit-phobic tbh), onion that wasn't finely chopped, most fatty meats (shout out to 12 year old vegetarian me!) and milk. To this day, I still cannot drink a glass of milk, no matter if it's coconut or almond. It still reminds me of being a dairy-intolerant child, with a nervous mother, who put the fear of god into me about drinking milk, lest I project vomit everywhere.
However. There was a few dishes that I loved that did include dried fruit, deliciously doughy hot cross buns and my nan's sultana buns.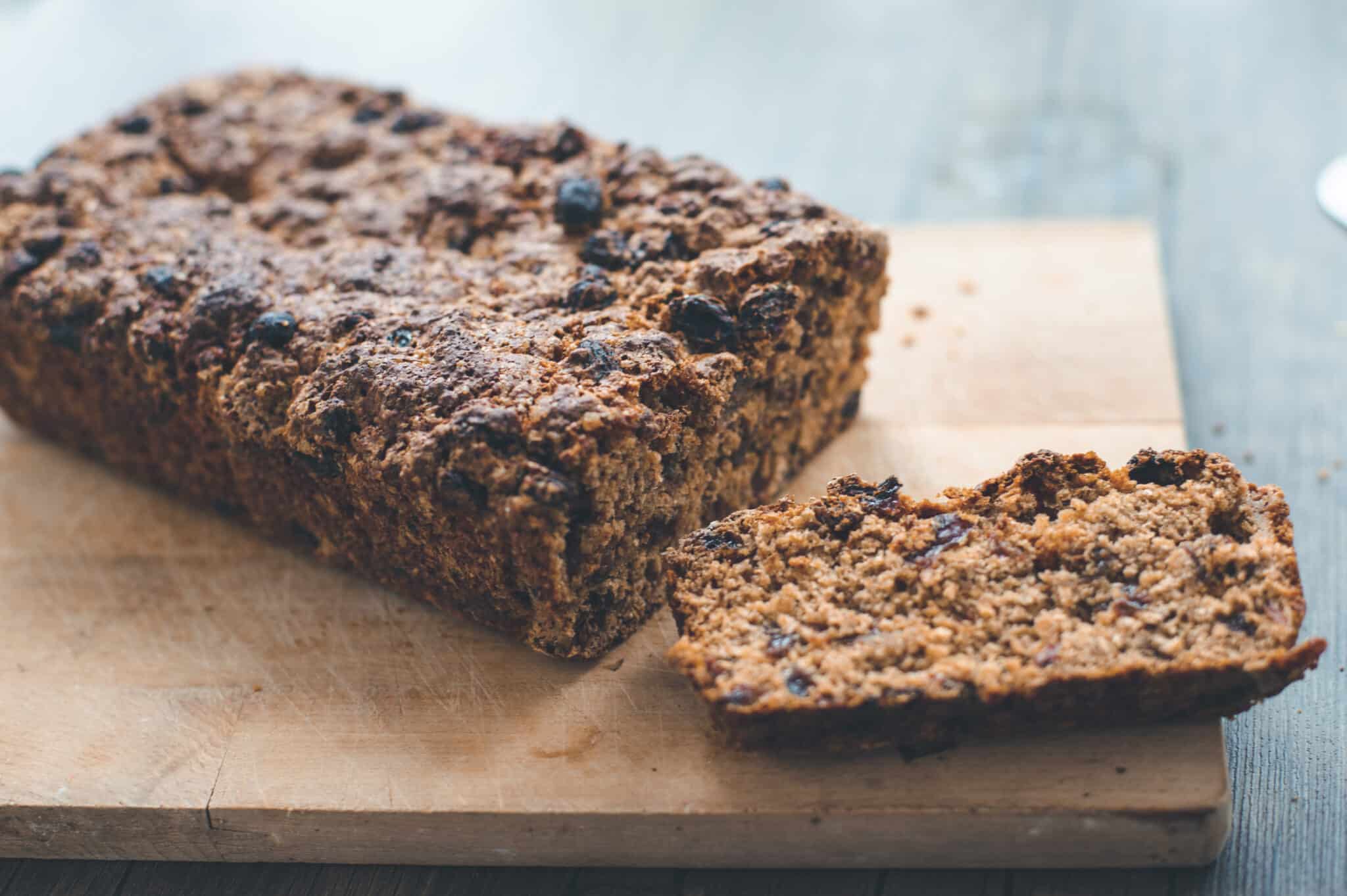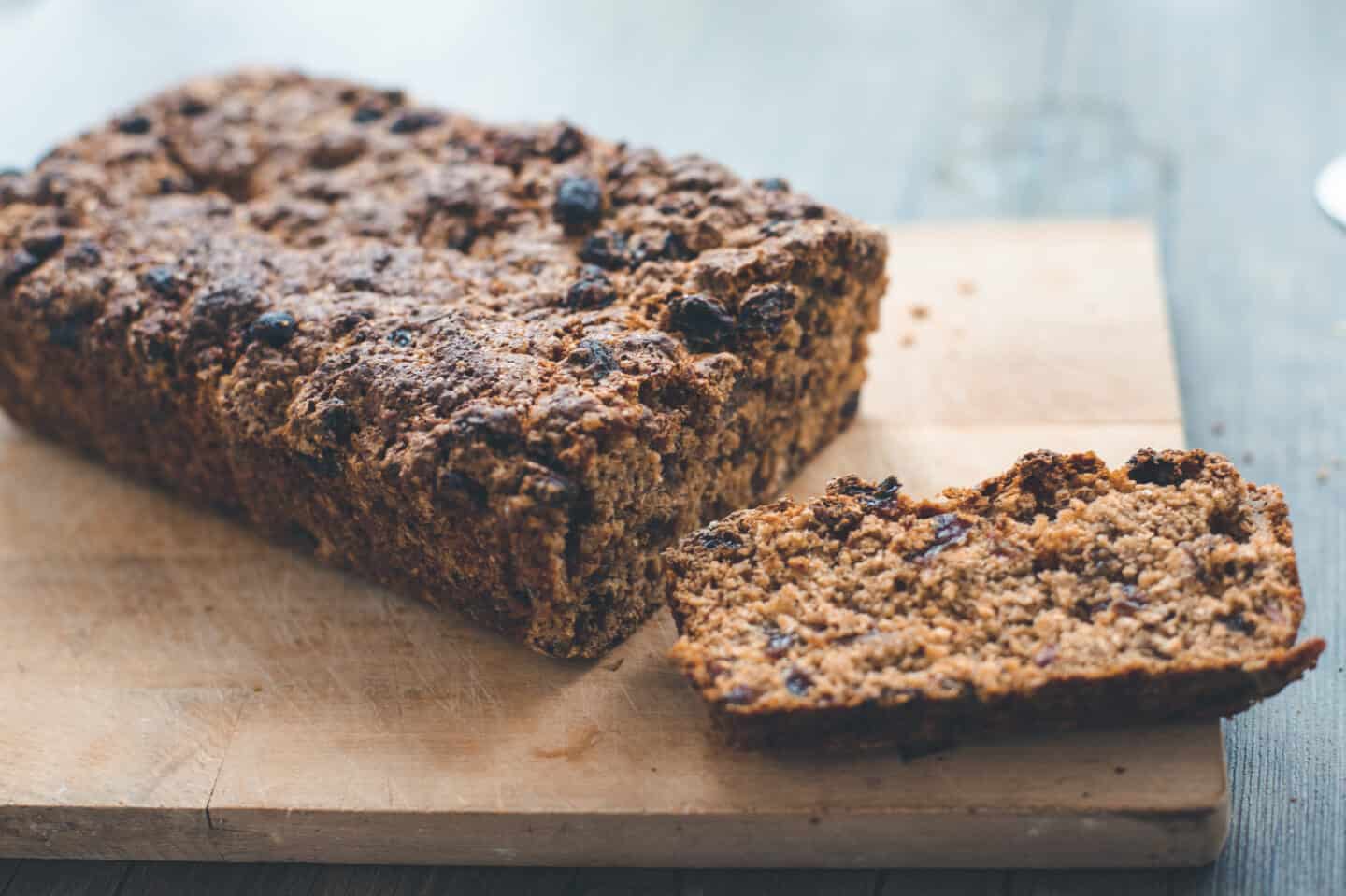 Sadly for this post however, I am not baking either of those. I am still refining buns. I find that they often sink in the middle, so that's a work in progress. However, what I did make was something that I might have enjoyed when I was younger, and that's a sultana loaf.
What is Sultana Loaf?
Sultana Loaf is, contrary to the name, not a bread, but a loaf cake. What makes this sultana loaf special is how healthy it is! I know, a healthy cake is often a boring cake, but this is full of fruity flavour from the juicy sultanas which have been soaked first in black tea.
How do you make a simple Vegan Sultana Loaf?
So, whilst this loaf is very, very quick to mix up, you do need to do a little prep the day before, by soaking your sultanas in some freshly brewed black tea.
Place the sultanas in a small bowl, and cover with the tea. Leave overnight to steep and plump up. No need to refrigerate.
The next day, add all the ingredients, including the sultanas and tea to a large bowl and mix thoroughly.
Pour into a prepared loaf tin and bake.
That's it! It really is that simple.
I do recommend that once the loaf has cooled, that you wrap it in clingfilm and leave it for a day or two, for the flavours to mature a bit more.
It will last for up to a week in the tin. Some of my work colleagues loved to spread slices of it with butter, but I enjoyed it plain.
Modifications
You can replace the sultanas with raisins, although they will not plump up quite as much. You could also use chopped dates instead.
You can use all white flour, instead of wholemeal.
You can use soft brown sugar instead of demerara sugar.
Try my other simple vegan baking recipes
📋 Recipe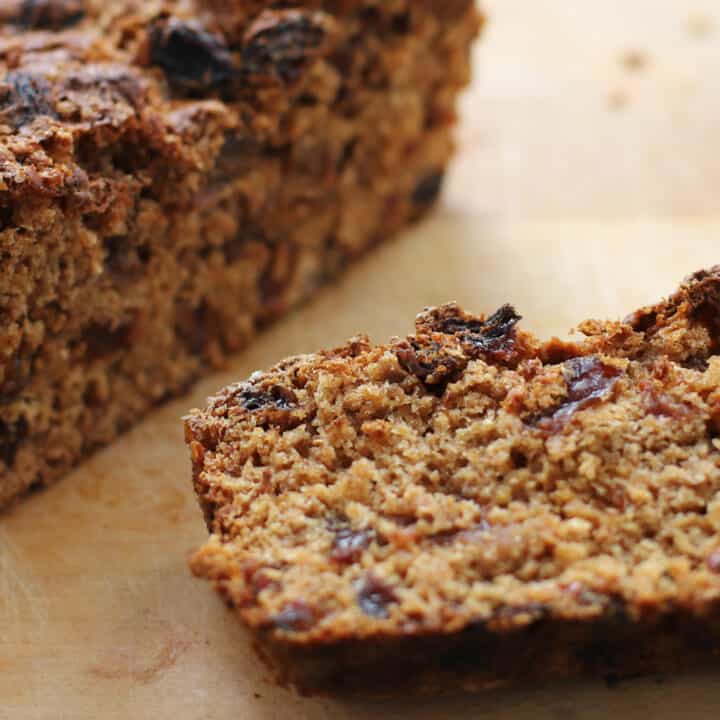 PRINT
Low Fat Vegan Sultana Loaf
A deliciously quick fruit loaf that is low in fat but high in flavour!
Ingredients
225

g

Wholemeal Flour

or use plain flour for a lighter sponge

175

g

Demerara Sugar

170

ml

Black Tea

or use your favourite tea infusion

225

g

Sultanas

60

ml

Plain Yogurt

I use Soya

¼

teaspoon

Salt
Instructions
Place your sultanas in a medium bowl and cover with the freshly brewed tea. Cover with clingfilm and leave to steep overnight or at least 4 hours

The next day (or four hours later), preheat oven to 170c

Add the rest of the ingredients to the sultana mixture and mix well

Pour this mixture into you lined loaf tin, smoothing the mixture down

Leave to cool in the tin for about 10 minutes before turning out onto a cooling rack. Leave to cool completely.
Nutrition
Nutrition Facts
Low Fat Vegan Sultana Loaf
Amount per Serving
% Daily Value*
* Percent Daily Values are based on a 2000 calorie diet.
Nutritional Information Disclaimer
The automated nutritional information on my recipes can often be inaccurate due to the limitations within the programming. For exact measurements, there are lots of apps and websites that can calculate this information more accurately.
Tried it and Loved it?
Mention @sweeterthanoats or tag sweeterthanoats!